Words: Kirsten Durward        Photos: Monica Tindall
Just off the boardwalk to the left of Pavilion's main entrance sits Quivo, waiting for a diner discerning of both taste and pocket. A stylish yet inviting decor features funky contrasts, geometric shapes and flashes of red to add a little drama.  There is no sense of being in a mall: the open style serving counter and plain in sight wood-fired oven bring a great energy to the place.
Quivo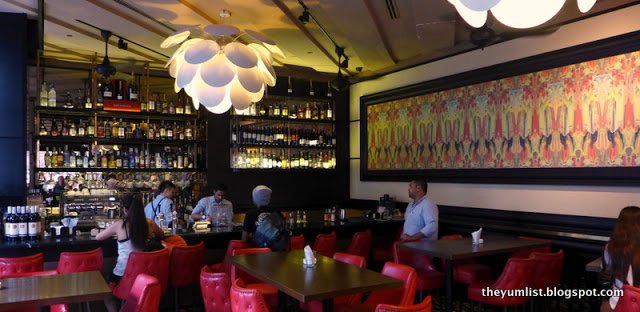 Seating and Bar
We're thirsty so start our evening with some chilled water, and all agree that the choice of citrus (lemon, lime or orange) offered is a nice touch.  Refreshed, we can now start to enjoy the offerings in earnest. First up are two twists on favourite classic cocktails. Apple Martini has a gin base melded with freshly pressed apple juice. We love the light tartness and generous apple garnish. Mediterranean Margarita blends Sauvignon Blanc with tequila in a long drink that refreshes like a white Sangria.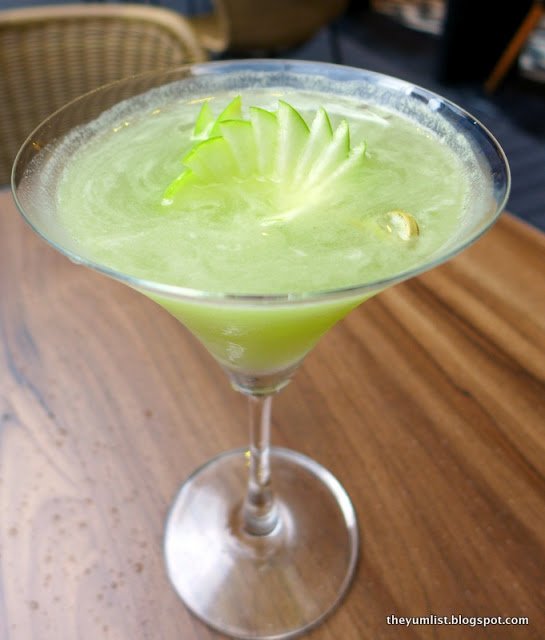 Apple Martini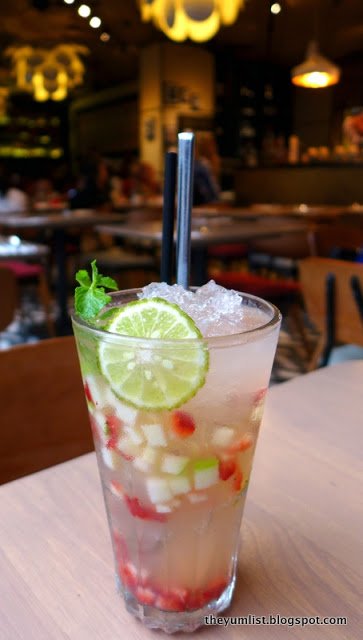 Mediterranean Margarita
With our tipples we enjoy a generous Mezze platter (RM18+). The steaming pitta straight from the oven is an instant hit. The soft fresh bread is perfect for scooping up the mild hummus and salsa dips. But we're also pleased to see plentiful fresh veggies scattered with black olive pieces.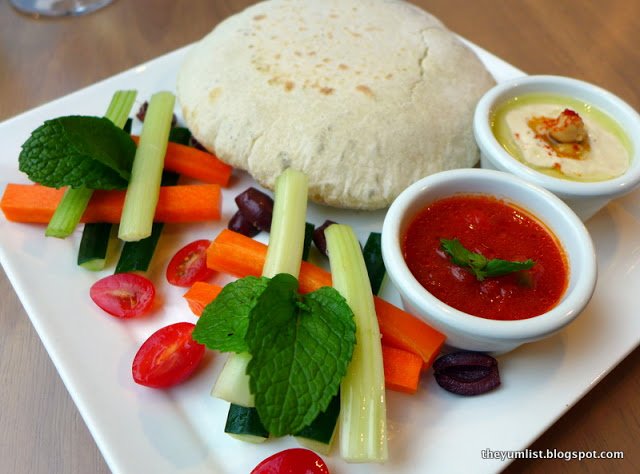 Mezze Platter
Quivo has been recommended to us by some North American colleagues as their favourite place to eat burgers, so we are intrigued to try and see what all the fuss is about. With a choice of bun as well as filling, it takes a little negotiation but we agree on the 'Piquant Cheese' from the Bespoke Burger choices. I tell you Caning is practically salivating at the sight of what arrives and waits impatiently for us to taste a sliver before quickly demolishing the rests with moans and groans of satisfaction.
Where to start? I only need a very slender serving to fill my mouth with tastes. There are hints of jalapeño through the buttery brioche bun as well as a scattering of pickled jalapeño atop the oozing cheese. The burger patty is sizeable, moist and tasty. Avocado, zingy fresh onion, salsa and ancho mole sauce add textures and flavours to the bite. 'These wedges are perfect!' Monica cries, and I have to agree. Superb Cajun seasoning, wonderfully crunchy, then soft and fluffy inside. The burger is also accompanied by a petit Quivo Mediterranean salad which turns out to be fattoush with Italian herbs and lime dressing. We enjoyed every bite (RM36+)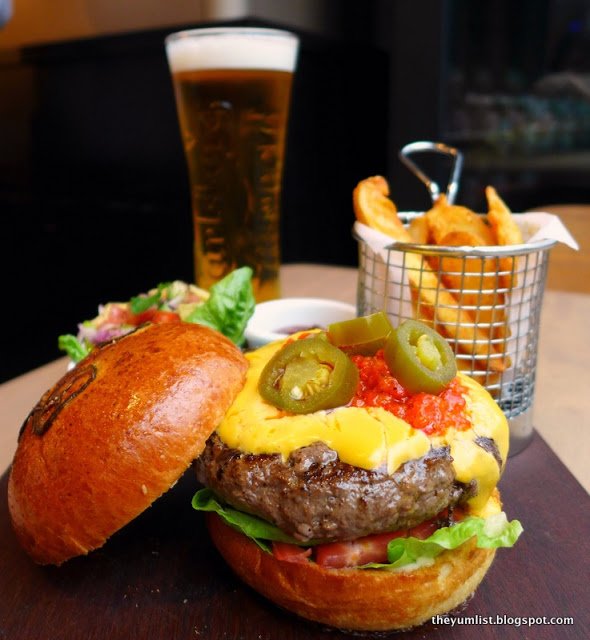 Piquant Cheese Burger
The rest of the concise menu features Mediterranean favourites, with a few innovative twists apparent. Wood fired pizza is always going to be a popular option and we are intrigued by the sound of Pizza Greek Kofta. Sometimes descriptions bely tastes, but this innovation did not disappoint. The pizza base is light and does not dominate. While the layering of aubergine and halloumi proves perfect for the soft lamb kofta topping. The tastes take me back to childhood in Greece, and it is certainly very moreish. I could nibble on this all too easily with a cold beer or glass of red.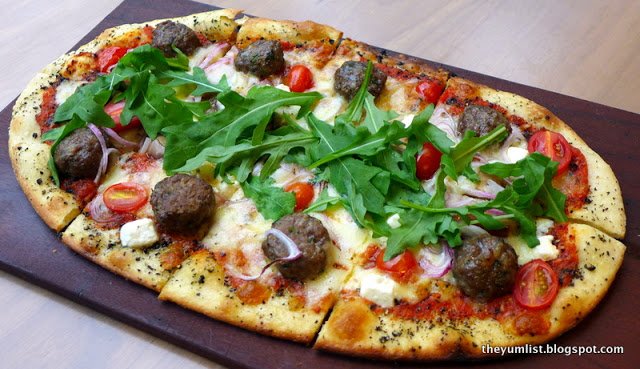 Pizza Greek Kofta
Pasta is made in house, as is everything else that we taste. Although there are several yummy sounding options on the menu we are pressed to try a dish of the day, Lobster Capellini (RM38+). Two baby lobster tails tangle on top of light cappellini strands layered with slices of squash and zucchini. A light garlic butter gives savour to the soft meat, slippery pasta and slightly crunchy veg. A surprisingly delicate dish for pasta, and the benefits of freshly made pasta cannot be underscored enough.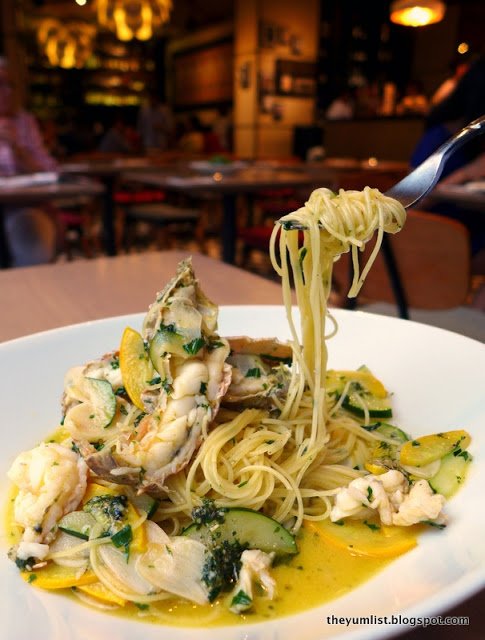 Lobster Capellini
We try two more main dishes. First up is Rangoli Barramundi (RM39+), which quickly zips onto my list of 'fish to eat in KL.The well seasoned flesh is just slightly crispy and slathered with cracked black pepper. Crunching through this reveals beautiful white flesh with a depth of flavour and a great flaky texture. All of which would be quite enough, but we are spoiled as this generous helping basks in a clear soup scattered with baby clams and resonant with the flavours of red and green peppers. Delicious. An unwooded Australian chardonnay sets off the fish very well and I conclude that the Willowglen De Bortoli 2014 is a decent drinking wine for a house pour. On the dryer side and not too buttery for a chardonnay.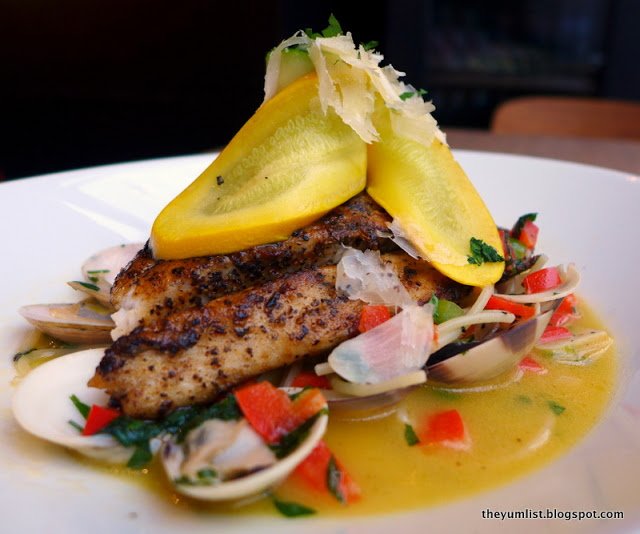 Rangoli Barramundi
Our last main is 32 hour slow cooked Brisket with Wild Mushroom Risotto (RM32+). This dish is lightened extensively by the mound of greens and slender shavings of Parmesan scattered through. The brisket literally drips from the fork to the mouth, it is so blessedly tender. Scoop some of this savoury succulence up with a mouthful of sticky risotto, fresh greens and melty Parmesan for a yum yum yum! The house red Willowglen De Bortoli Shiraz Cabernet 2013 lends itself as a great companion to the beef, with a smoky slightly peppery taste.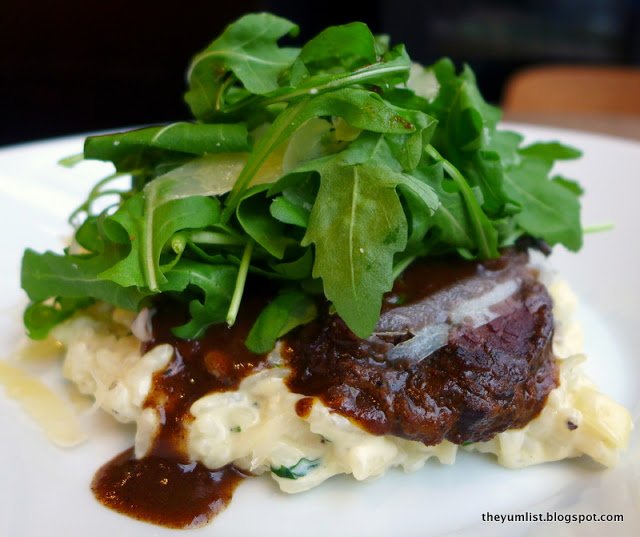 Brisket with Wild Mushroom Risotto
Dishes of the day rotate on a weekly basis so should you want to taste any of the above, call to check which day they are on. Included in the price is a daily changing tasting platter. A pleasant surprise for you!
As this is the home of the well loved and famed Oreo Brownie, it would be impossible to leave without tasting two new dessert creations. We learn that the pastry chef is from the UK and all pastries and breads are made in house. We've been impressed with the burger buns so are hopeful for what is in store with pastry. First up is Summer Pudding, which glistens with purplish temptations. The soft raspberry soaked sponge falls apart easily, spilling oodles of fresh and tasty berries. As we spoon up blackberries, blueberries and rasps bursting with flavour we claim that this is a 'healthy' dessert option.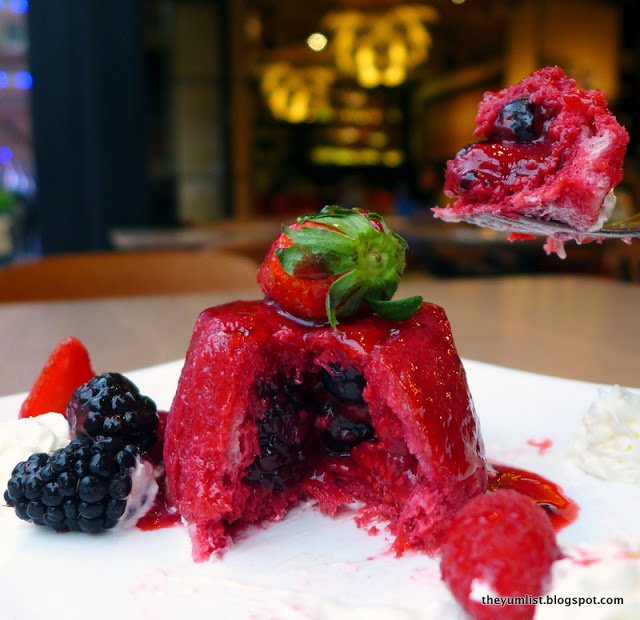 Summer Pudding
Which cannot be said of our second taste! Salted Pecan Caramel Tart instantly replaces Oreo Brownie as favourite Quivo dessert. Definitely one that is worth blowing the diet for. Poor Caning can only look on sadly as four girls refuse to pass the plate over. Thick dark caramel fills a perfectly baked pastry shell. You know I am fussy with pastry, but this is spot on, breaks to the touch, a lightness behind. Salted pecans and mini cookies add crunch and tantalisation, all topped by a house made Horlicks ice cream. The malty creamy ice cream takes the dish over the edge, and it all sits atop a swish of dulce de leche – so glorious I immediately demand take out. Destined to be a top seller and you read it here first!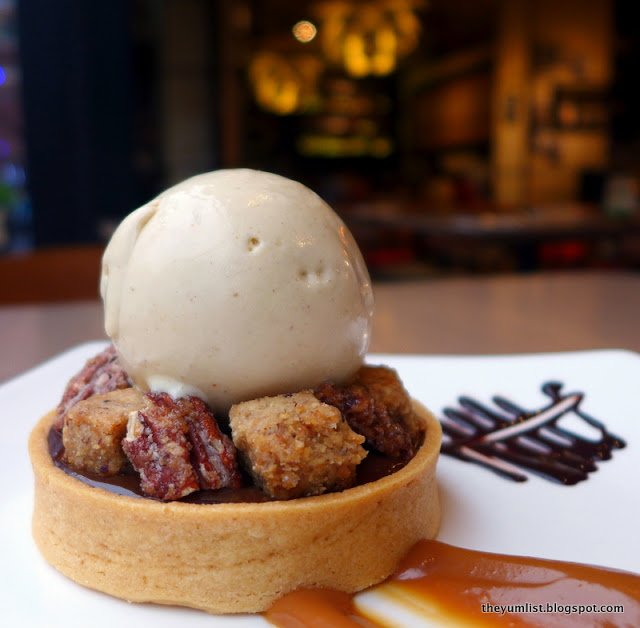 Salted Pecan Caramel Tart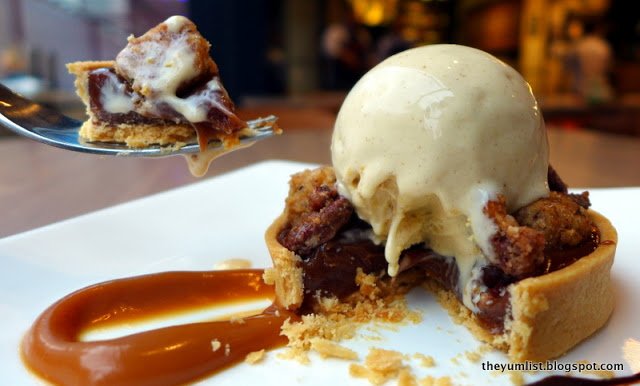 Salted Pecan Caramel Tart
Quivo offers what I think must be one of the best happy hour deals in town. From 4 – 8pm daily feast on a mix and match selection of four mini burgers at a very special price. Wash these down with a choice of 2 for 1 wine, 2 for 1 cocktails and great deals on beer. All in you can treat yourself and a date for under RM100.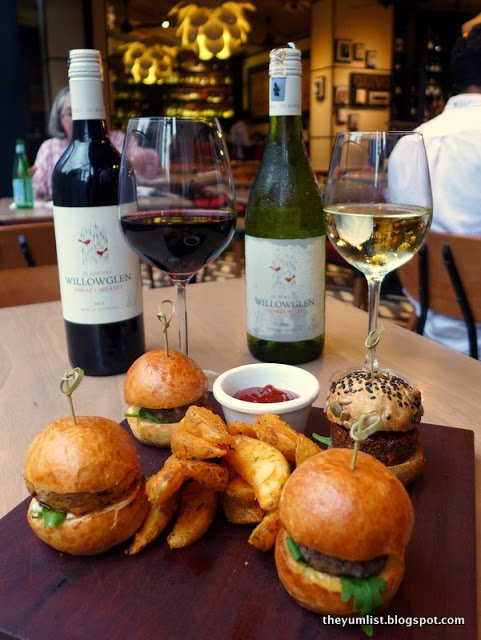 Happy Hour Deal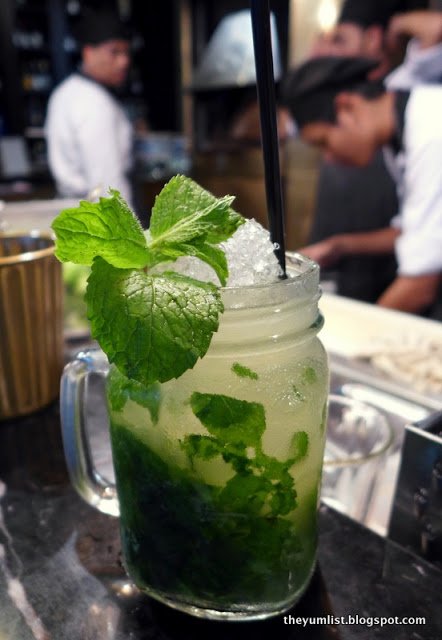 Mojito
Reasons to visit:  Charming buzzy atmosphere; good value tasty food well presented; delectable desserts; Happy Hour wine!
Quivo
Lot 3. 09. 02
Level 3, Pavilion
Kuala Lumpur 55100
Malaysia
+6 03 21417711