"Near the secret alley way café, things happen in the Narrow
Marrow."
Squished between two senescent shop houses in busy Carnarvon Street, Narrow Marrow percolates with charm and character. Lovingly made-over by an architect and interior designer team (Alvin and Jamie), the structure of the pre-loved property has been given minimal plastic surgery. Rather it's been donned a new look with make-up and accessories.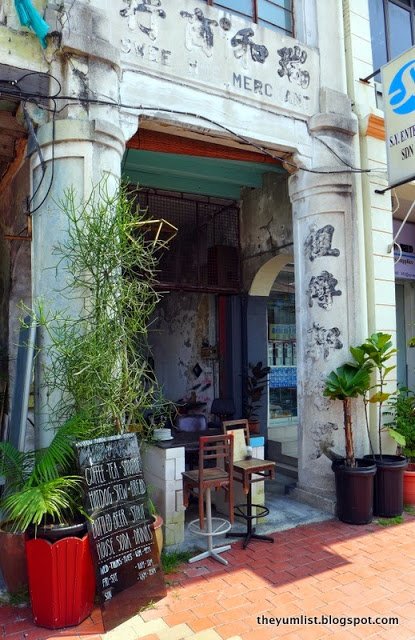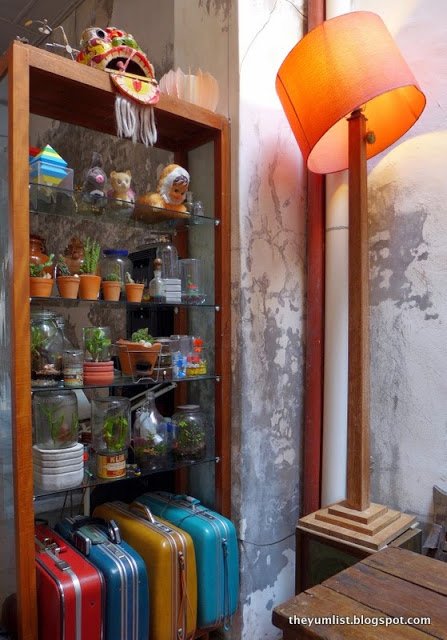 Quirky Decor
The former shop frontage of Swee Hup Merchant remains, with only a small signboard giving any hint to the café that can be found inside. Bare walls back an assortment of odds and ends including a rack of colourful suitcases, mixed media art pieces, and terrariums made in a miscellany of reused glass jars. Punk rock music takes hubby and I back to university days and quickly peps up our mood. Up-cycled furniture in a pot-pourri of configurations supplies seating and, judging by the bottoms occupying chairs, both tourists and locals alike have deemed this café worthy of a perch.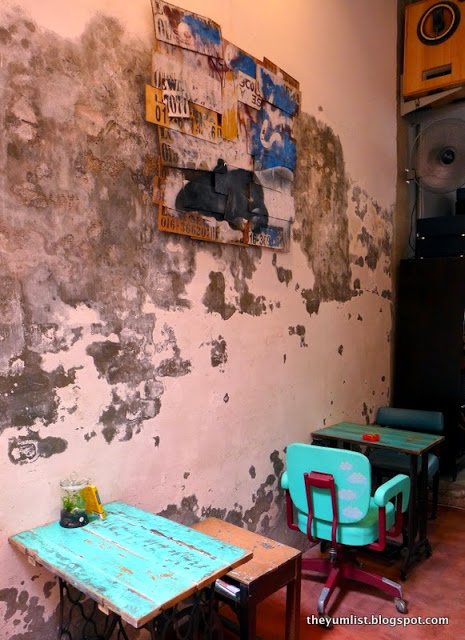 Tables for Two
Serving breakfast, lunch and supper, the team at Narrow Marrow, back up a mix of western and Asian favourites, with a drinks menu of excellent espresso based coffees with some decent mocktails, beer, toddy, and fresh smoothies thrown in to please non-caffeine preferences.
Drinks
You know we love our coffee, so a Cappuccino (RM10) and a black coffee are our first orders. Using a medium roast of Mokka beans, all espressos with milk are double shots. I'm lured into trying the Black Lemongrab (RM10). Co-founder Alvin tells that it's a result of experimenting over time with the goal of making his morning brew even perkier. Spruced up with the unlikely additions of honey and lemon, I declare, "Goal achieved!"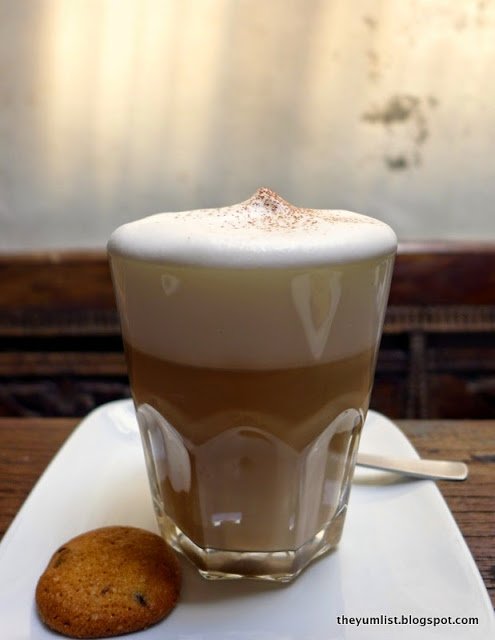 Cappuccino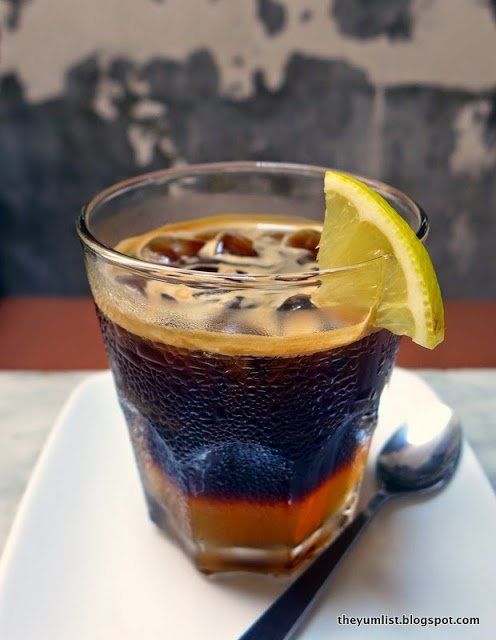 Coffee Lemongrab
Toddy Mojito (RM10) makes the palm wine base less pungent, and turns out to be the founders' secret plan of warming customers up to the idea of Toddy (a drink traditionally seen as one of the poor and drunken). The ploy: to introduce the beverage in a non-offensive form and gradually get guests accustomed to the distinctive taste before moving over to trying the local liquor all on its own.
Sodas are made in house with homemade syrups and sparkling water. We try the Ginger Palm Sugar Lemon Mint Soda (RM9). Ginger bits, lemon slices and a sprig of mint float in the glass bringing freshness to the beverage, while the palm sugar contributes colour and sweetness.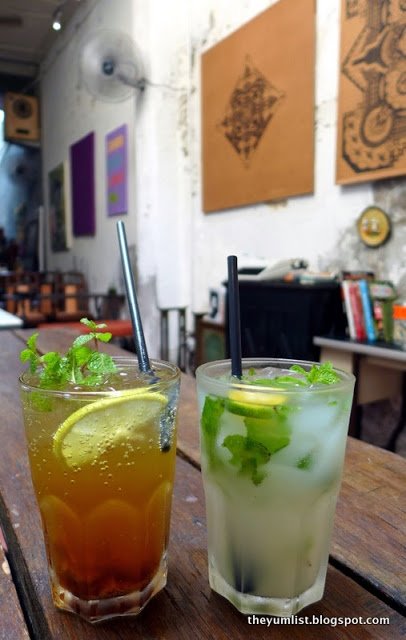 Homemade Soda and Toddy Mojito
Savouries
A compact menu of comfort food, composed of the founders' personal favourites, is good value and guaranteed to satiate hungry tummies. Lamb Stew with Bengali Bread (RM14) is a Hainanese recipe. Lamb is pan-fried and battered, then transferred to a pot and cooked with chunks of radish, peas, carrots and seasonings. The fat fluffy slices of toasted white bread on the side are adept sponges for sopping up the flavourful gravy.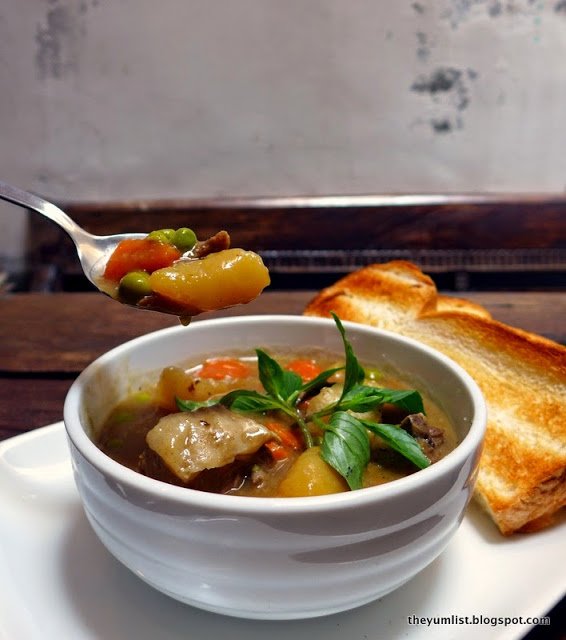 Lamb Stew
Curry Chicken (RM12) is Jamie's mum's recipe and too is served with Bengali bread. Halved potatoes and chicken pieces soak up a rich orange curry with a slightly peppery edge, and again the bread is well utilized to polish off the final dribbles.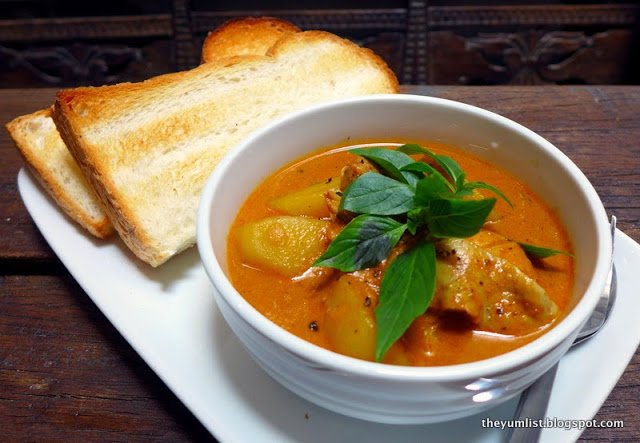 Chicken Curry
Sweets
Sweets reflect the overall homeliness of the rest of the menu with all items being made in house or by a family member. We try a Cranberry Butter Cookie (RM5) supplied by Jamie's aunty. It's a flawless partner to the espresso-based drinks: melt-in-the-mouth goodness.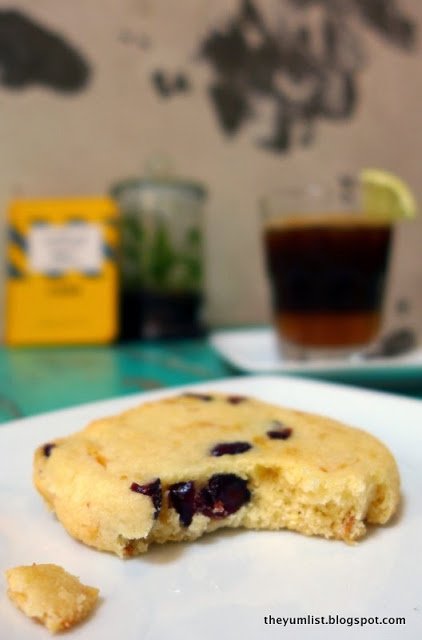 Cranberry Butter Cookie
Reasons to visit: cosy café full of character; interesting twists in the beverage menu; good value meals; Toddy Mojito; Cranberry Butter Cookie.
Narrow Marrow
252 A Carnarvon Street
George Town,
Penang, Malaysia
016-523 9278
Hours:
Tues – Thurs 8am – 4pm
Fri – Sunday 8am- 1:00am