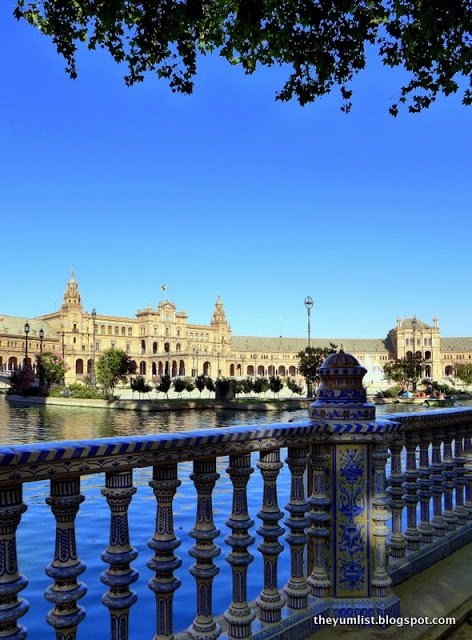 Plaza de España Seville
Favourite Foodie Finds in Seville, Spain
The beautiful town of Seville is the perfect starting point for an exploration of Andalusia, Spain. Remarkable architecture, numerous parks, delicious dining options and wonderfully friendly people all make it a charming tourist destination. Along with tourists however, come tourist traps. With a little help of our local amigos, The Yum List shares with you a few places that you might not step into on your own, but which we think are well worth a visit.
This quaint tapas bar is squeezed in between a plethora of fancy (and just as fancily priced) restaurants catering to tourists near the cathedral. This bar however is more of a local's hangout: you'll find an older crowd here during the late afternoon, and the young ones at the bar until early hours of the morning. The draw card: local (not tourist) prices, home cooked cuisine, and friendly down-to-earth owners. Must tries are the salmorejo (similar to gazpacho but slightly thicker and generally served with serrano ham or diced hard-boiled eggs on top), paella, and carne con tomate (a rich tomato based beef stew).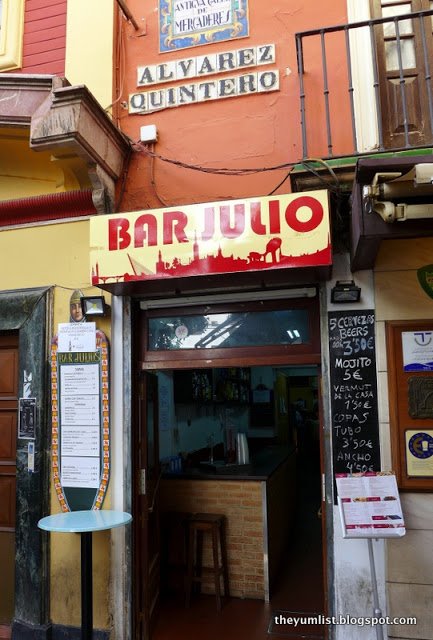 Bar Julio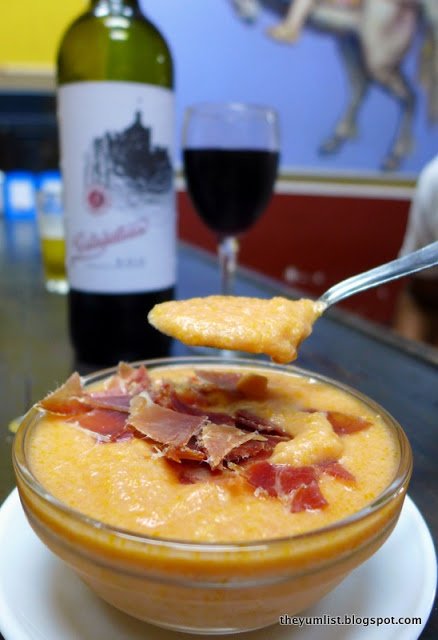 Salmorejo and House Wine – Bar Julio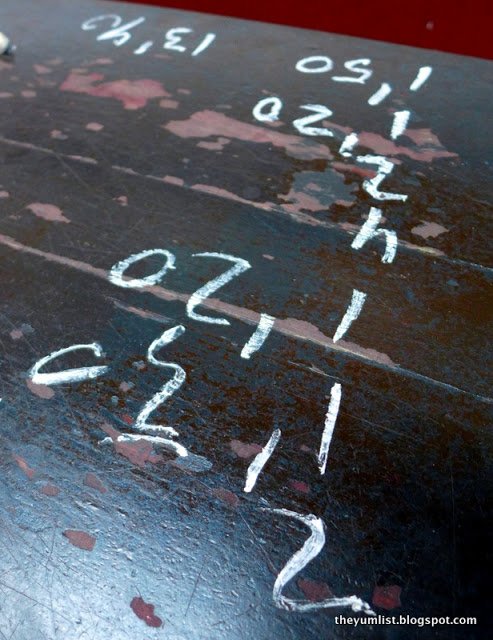 La Cuenta (The Bill) done old school – Bar Julio
Okay, so this one is on the travel websites, but for good reason! It's reportedly the oldest tapas bar in all of Europe. A 15 minute stroll out of the town centre through some narrow cobble-stoned streets led us to one of the most enriching experiences we had in Seville. Met with a room packed full of locals curious as to why I was snapping so many photos, we learned with much shared enthusiasm why this bar has stood the test of a very long time. Must order the Espinacas con Garbanzos (spinach and chickpeas).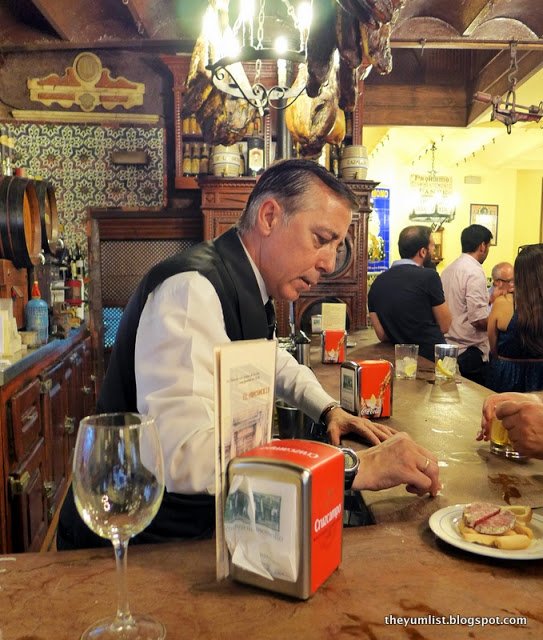 Writing the account on the bar
This out of the way bar was recommended to us by some foodie friends who lived and worked in Seville for six months. Despite hubby's quibbles about the walk (it was hot, our last day, and I was on a mission so the pace was not at his usually leisurely amble), putting up with his gripes on the way was well worth it as this jewel in the backstreets was one delicious find (and hubby soon changed his humour when presented with a cold beer and luscious small plates of Spanish goodness). Tapas are priced a good deal less than that of the historical centre, and the quality is supreme. Go early to get a seat, as by 9pm the locals have taken over and you will be elbowing for a stool at the bar.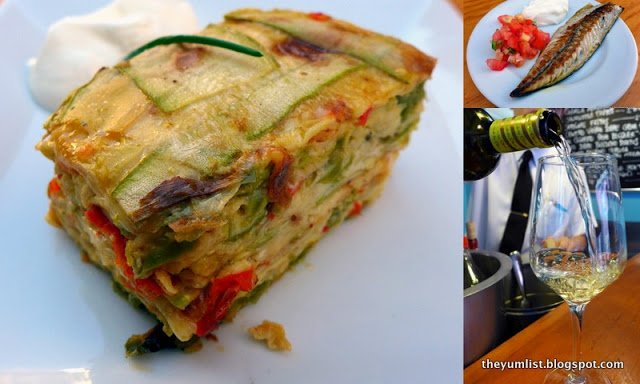 Eslava Tapas
Situated on the main street just up from Plaza de Toros and near the bridge that crosses to the restaurant strip of Barrio Triana, Mercado Lonja de Barranco is a light, bright and cheery change to the dimly lit wooden tapas bars around the city. This gourmet food court is oft frequented by stylishly dressed locals looking for a social bite after work. With over 20 food and beverage stands to choose from, it's a fantastic place to explore the city's cuisine. It's also one of the few places in the city where you can sample Cruzcampo Radler, a refreshing lemony twist on the nations' beer, on tap.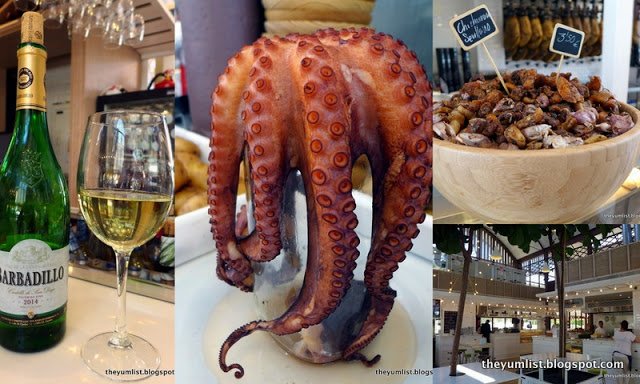 Mercado Lonja de Barranco
For those looking for a healthy change from tapas and the excessive calories that come with them, the cafe in this fashionable clothes store sells a variety of salads, sandwiches and gluten-free desserts. We tried the Mediterranean Pasta Salad and the Quinoa Salad and found them both to be fresh, tasty and reasonably priced. The staff here too are very amiable and clearly passionate about what they do.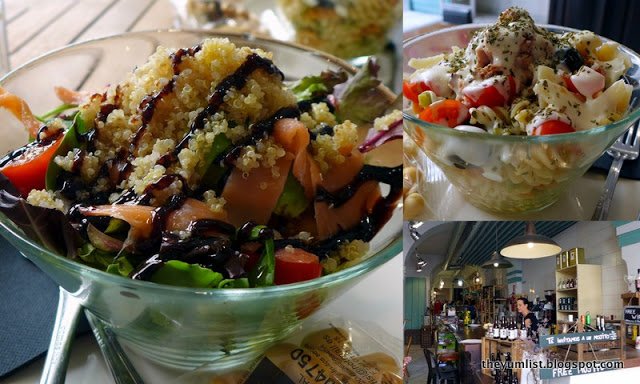 Libelula Cafe
Eme Catedral Hotel houses one of the most chic places to enjoy a beverage in the area. Perched on the fourth floor of the boutique hotel it offers stunning views of the top of the cathedral. In the afternoons, if you can bare the summer heat, you'll find you have the bar to yourself. In the cooler part of the evening though make sure to have a reservation to partake in the spectacular of the cathedral lit up at night. Be warned though, drinks are triple the price of what you'll pay at nearby outlets on the ground level – consider the extra a small viewing fee for a little taste of exclusivity.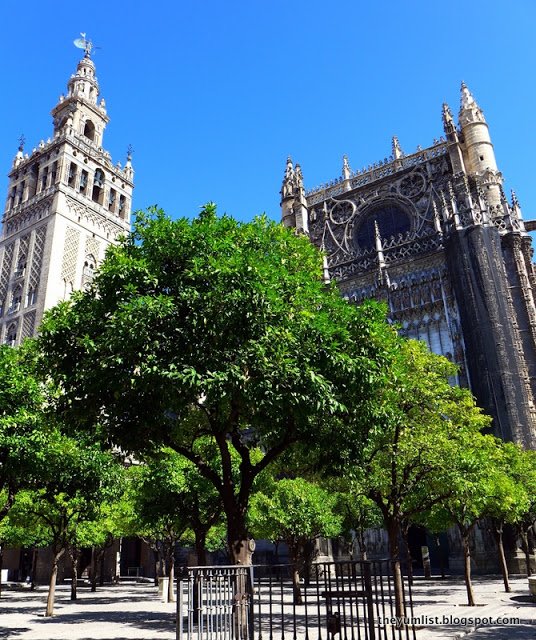 The Cathedral from Ground Level
Mercado de la Encarnación
Encased in glass walls, this light bright market showcases beautiful produce in a friendly atmosphere. At times I'm a little camera shy when it comes to taking photos in such places as I've been met with more looks of annoyance than I care to count. Here though, the vendors were all curious, talkative and very hospitable. We stocked up on: gorgeous summer fruits including the sweetest cherries I've ever tasted, nectarines and peaches; delicious cheeses such as my favourite Manchego; some cured meats sliced fresh off the leg; and a little cream-filled snack from the bakery for hubby.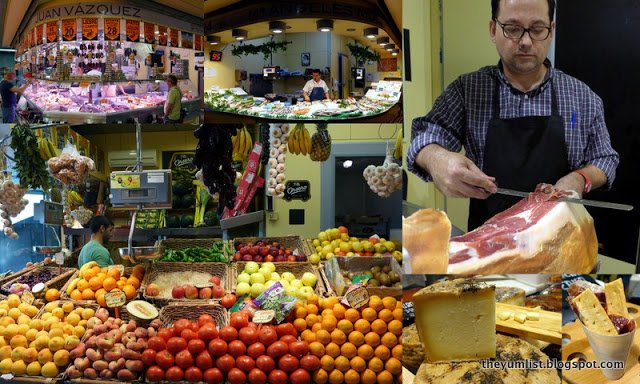 Mercado de la Encarnación
Mercado de la Encarnación
Beneath the Espacio Metropol Parasol (the galactic looking installation piece in Las Setas)
Open Monday – Sunday, 8am – 3pm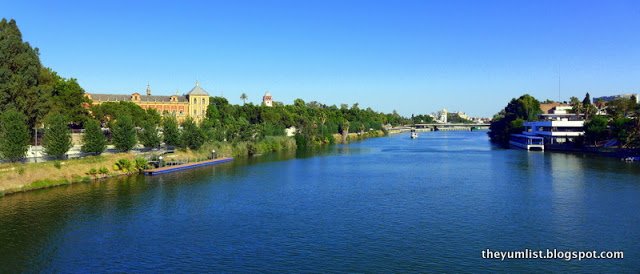 The River in Seville (lots of restaurants on the banks here too – but we'll save those for another article)
Buen provecho and happy travels, eating and drinking in this beautiful city in the south!