Monica Tindall
My first meal at Nobu Kuala Lumpur disoriented me somewhat. Being one of the most talked about restaurants in the world, located in a prime position in KL and with rumours of extravagant pricing, I felt excitement but also a mild apprehension before the visit. Would I find it too pretentious to thoroughly enjoy an evening here?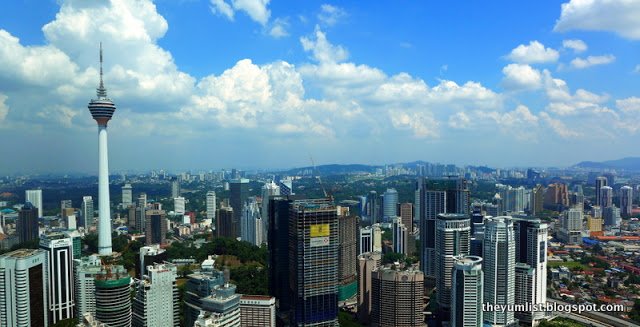 Lunch Time Views
Huge smiles from the doormen (multiple led my way through the lift maze to reach the 56th floor), equally broad beams from Nobu's receptionist, and then a cheer of welcome, "
Irasshaimase
!" soon had me feeling that the night was going to be infused much more with a sense of fun, than stiffness. We found no white table clothes, or haughty waiters: on the contrary, amiable staff, disposable chopsticks and even some booth seating. Add to that, cocktail in hand, and the dinner continued splendidly. Read Kirsten's thoughts on the
Celebration Omakase menu we sampled via this link.
Needless to say, we were impressed by impeccable cuisine, good-natured hospitality and some pretty amazing views. While the pricing of dinner might not be in everyone's budget, the recently launched set lunch menus make a visit to Nobu Kuala Lumpur much more accessible. It's for these good value meal deals that I return today with hubby.
Set Lunches
Nobu Kuala Lumpur's lunch menu is rather extensive. For those pressed for time, or just not wanting to make another a decision in their already busy day, the newly introduced lunch sets make choosing easy. Accompanied by a tempura assortment, salad (in chef Matsuhisa's distinctive dressing with predominant flavours of pepper, onion and soy), a large bowl of rice, pickles and a scrumptious miso soup, diners only need select their main. Fish, chicken and beef are all possibilities.
Hubby predictably goes with the Beef Tenderloin (RM125). Cooked medium rare, it's pink nearly all the way through to the lightly browned edges. Tender, soft and melt-in-the-mouth good, it's clearly expertly prepared and hubby gives it a huge "yums up." It's not until we mouth the stack of green pea sprouts underneath though that we truly appreciate the Peruvian twist: anticucho sauce. An elegant chili sauce is precise in its punch and a squeeze of fresh lime enhances the flavour. It's like dating a bad boy: common sense says to stop, but you just can't help going back for more.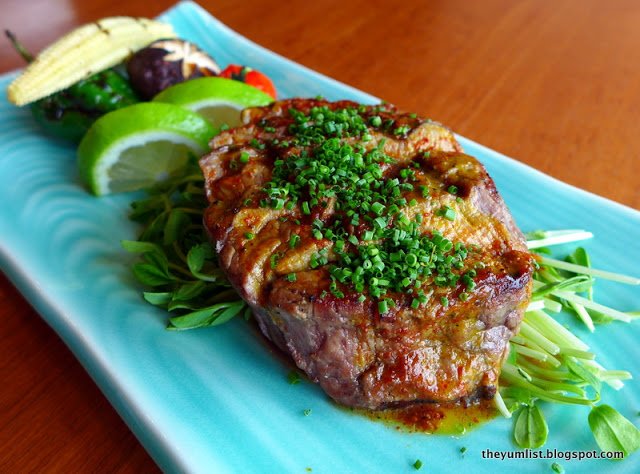 Beef Tenderloin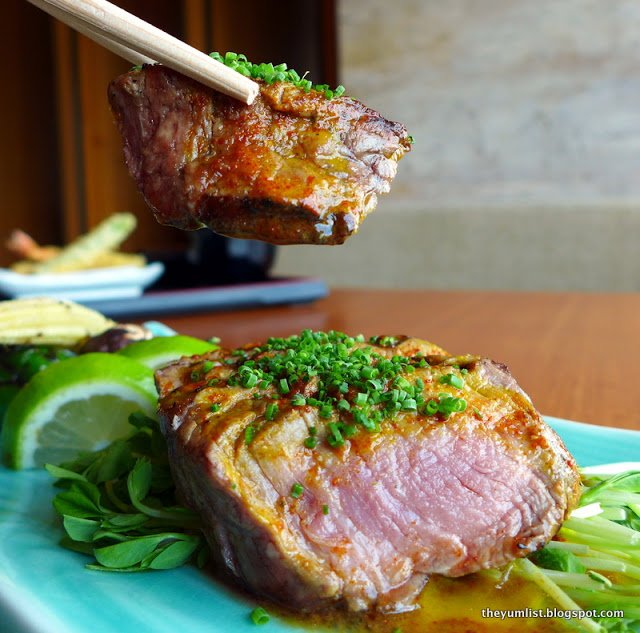 Beef Tenderloin
Norwegian Salmon Crispy Leaves (RM65) catches my attention. Turns out it's prettily presented too. Soft coral coloured flesh is encased in a crispy skin. The greens have been fried gifting a delicate crunch and also a contrasting bitterness to the buttery salmon. Vibrant orange pearls of roe explode softly, tickling the mouth with their juice.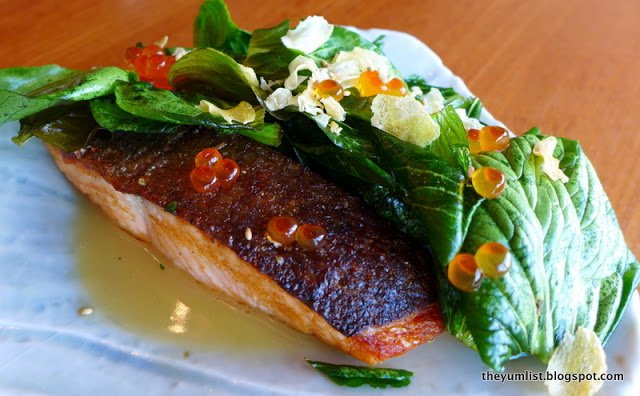 Norwegian Salmon and Crispy Leaves
There are two other options as well, and we are lucky to also sample these.
Crispy Skin Chicken (RM55) is a large portion languishing seductively along the rectangular plate. A sticky teriyaki sauces bases the free-range chicken, and it's cleverly arranged so that you can dip as much or as little as you like. Chicken and beef sauces can be interchanged, so if you have a fondness for spice you might like to try the chicken with the Peruvian anticucho dressing.
Crispy Skin Chicken
The Sushi and Sashimi (RM75) platter is superbly fresh, just as expected. A lavish selection of carefully sliced fish glistens solo or atop faintly sticky rice. From the top right and moving anti-clockwise we find shrimp, tamago, salmon belly, yellow tail, tuna, fluke, horse mackerel.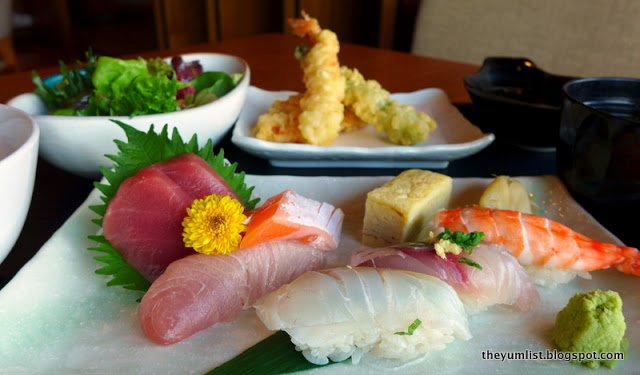 Sushi and Sashimi
Green tea and handmade Nobu biscuits complete the meal. The small rounds of shortbread-textured green tea cookies are rolled in sugar and their crowns specked with black sesame. They're a perfect bite of sweetness: just enough to end the meal on a dulcet note while still feeling energized to return to work in the afternoon.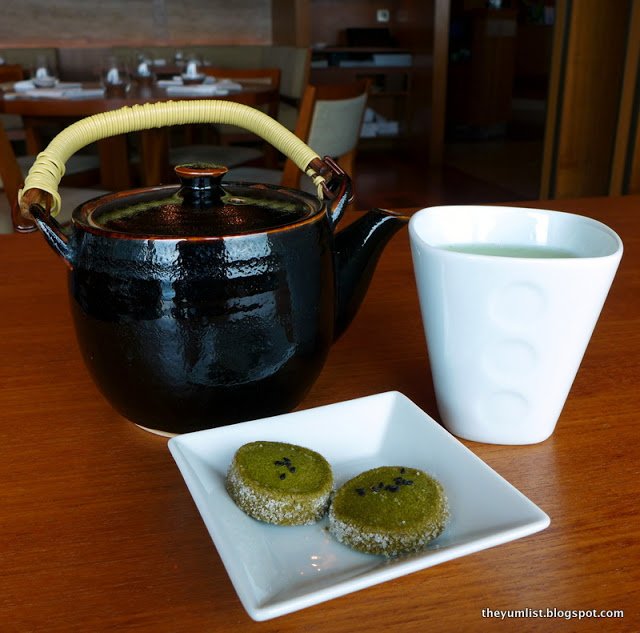 Nobu Biscuits and Green Tea
Lunch sets are price from RM55++ to RM125++.
Desserts
Although the set lunches are more than enough to assuage lunch cravings, we can't resist trying a couple of desserts while here too: all in the name of serving our readers better, of course.
Bento Box (RM35++) is the signature dessert across all Nobu restaurants. Chocolate fondant and green tea ice cream come in their own corners in the traditional serving dish. I have to admit, writing about menus most nights, I have become a little jaded when it comes to those crowd-pleasing dishes, such as the infamous lava cake, that make an all too common appearance (in my opinion) on menus. Frankly, I fight an eye roll when it's suggested at the 'must try' dessert. Nobu gives me a curt lesson however in not making assumptions when I try the decadent-velvety-smooth-rich-liquid chocolate that flows, at just the right temperature, from its frame. Warm mildly bitter chocolate eaten with a dob of the chilled creamy ice cream presents a magnificent model of this popular sweet.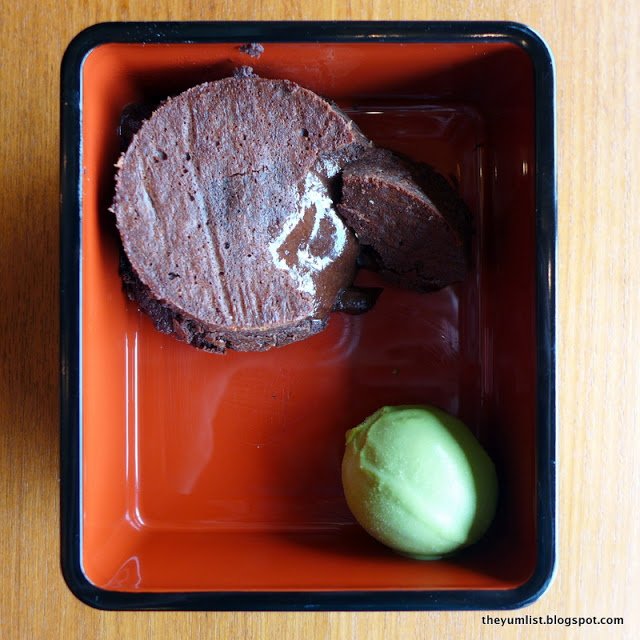 Nobu Bento Box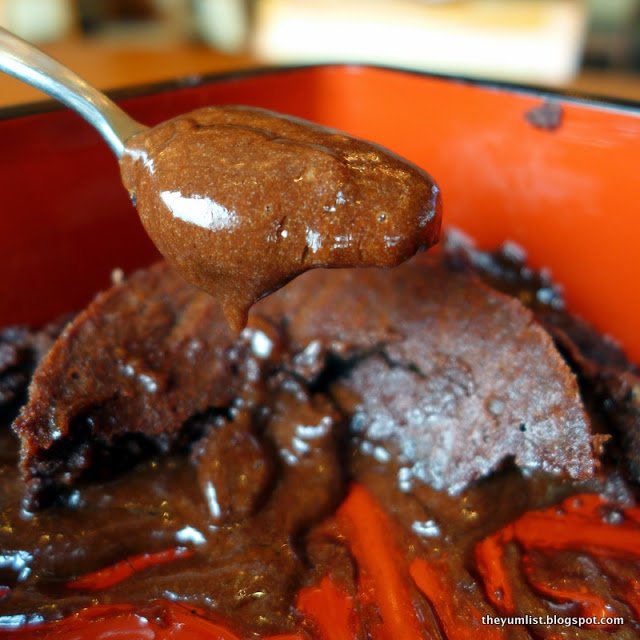 Mmmm… Chocolate
Hubby drools while reading "Suntory Whisky Cappuccino (RM30++)," featuring two of his favourite ingredients, cream and whisky, so there's no escaping this order. Coffee crème brulee, cocoa crumble, milk ice cream and whisky foam are arranged in exquisite harmony in a petite white mug. Froth bubbles over the top tempting fingers to scrape up the overflow before a more well-mannered spoon enters the scene. "Worth the pennies," declares hubby with that childish beam he gets when eating cream.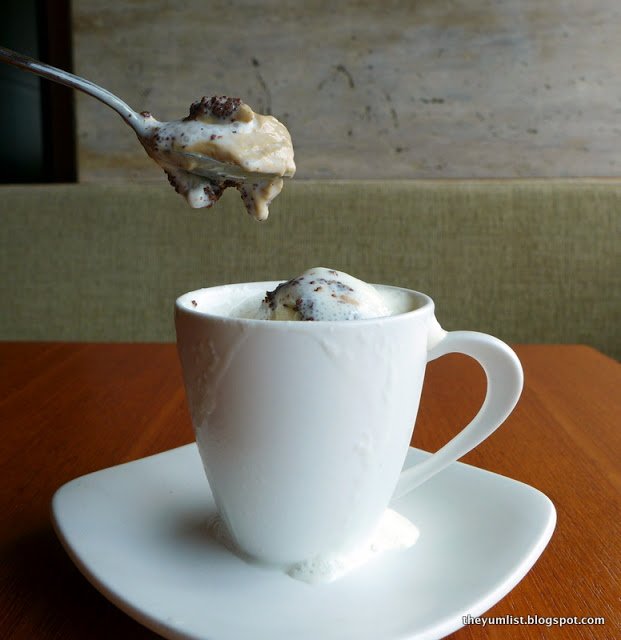 Suntory Whisky Cappuccino – First Bite
Folks, Nobu Kuala Lumpur has some excellent value midday menus worthy of exploration. Open Monday to Friday, 12 noon to 2pm for lunch, get yourself a reservation to sample some fine fare at one of KL's most talked about locations.
Reasons to visit: a reasonably priced way to try a meal at one of KL's most renowned restaurants; Beef Tenderloin in Anticucho Sauce; lovers of the lava cake should be sure to try the Bento Box dessert; brilliant city views; friendly service.
Nobu Kuala Lumpur
Level 56, Menara 3 Petronas
KLCC
Malaysia
+6 03 2164 5084
Lunch is available Monday to Friday 12 noon – 2pm.