Kirsten Durward and Monica Tindall
If the cityscape is getting you down and your eyes long to gaze on the horizon over ocean seas, an afternoon in the aVi Spa's lounge will rest your tired spirit and bring back a sense of well being. I've rarely visited a better sited spa. We sit and watch the tide slowly cover the vast flat sandbanks, gently cresting waves peeking hints of white amongst the ever changing greens that stretch out to the dim horizon.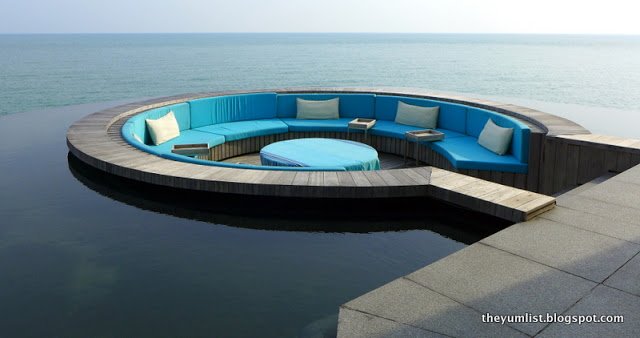 Outdoor Lounge
Both design and furnishing have been carefully construed to take best advantage of the superb location, double story windows are framed in soft white, pale wood with accents of faded turquoise and gold relax the eyes and give a soothing feeling of continuity with the natural environment. Residents or day guests taking advantage of aVi Suites or aVi Space for a rejuvenating treatment, can while away the hours before or after in this peaceful calm space, reading, dreaming or enjoying a variety of refreshments.
First comes a choice of fruity drinks, and I decide on the Gingerly Orange (RM17.50), which is certainly a refreshing cooler but I am missing my desired kick of ginger. I love the taste of fresh ginger and it is such a wonderful boost to all our body systems also.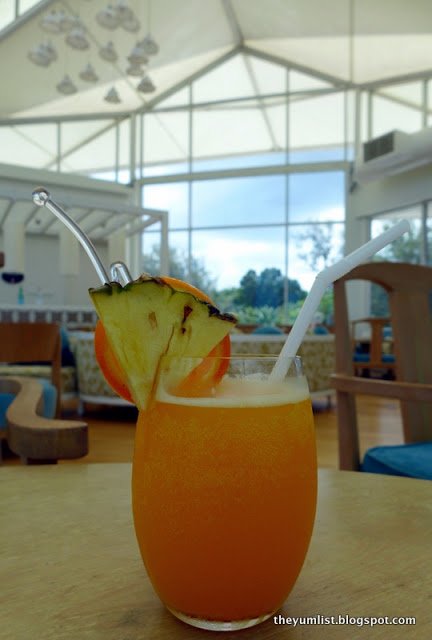 Gingerly Orange
Monica has opted for the Pink Strawberry Margarita (no alcohol!) (RM21), which blends kiwi, strawberry, watermelon, yoghurt and a little cold milk to create a frothy pink smoothie.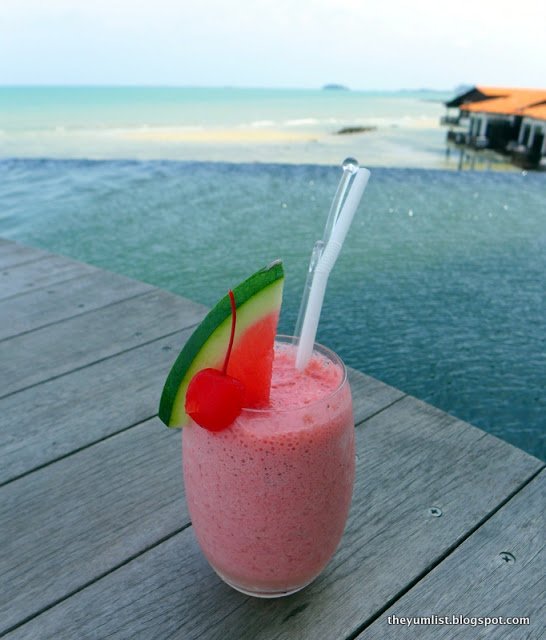 Pink Strawberry Margarita
Monica's choice of Sweetcorn Soup (RM25) arrives served in a mini loaf of charcoal bread. Yes, that is right, the bread is the bowl, a very simple yet creative presentation. The soup is creamy and thick with full beads of sweetcorn throughout.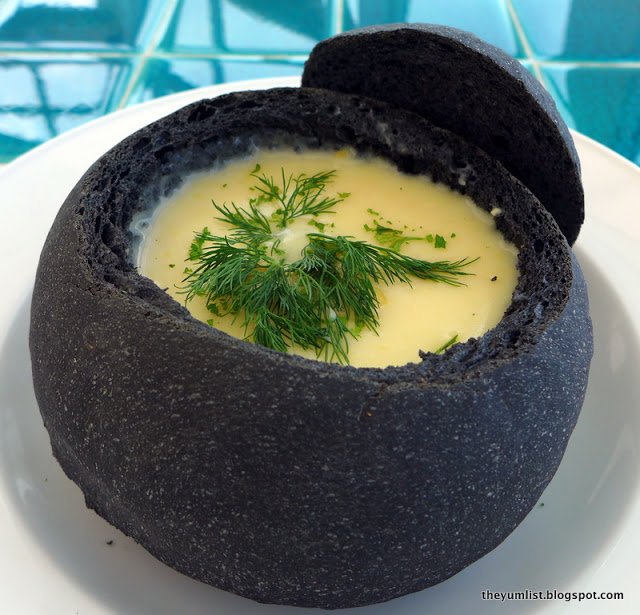 Sweetcorn Soup
My choice of Salmon Carpaccio (RM36) is served in a fan with a light vinaigrette, leafy side salad, lightly grilled melon and Parmesan shavings.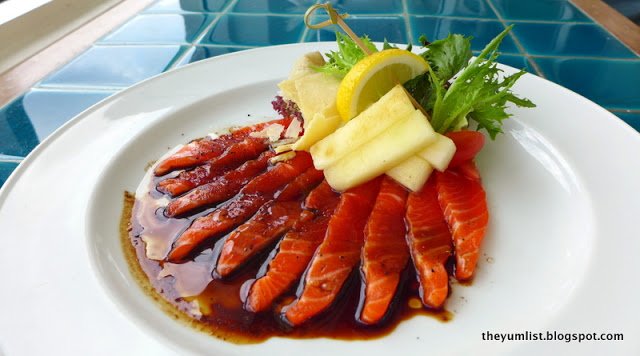 Salmon Carpaccio
The Green Garden Salad (RM32) proves a great choice for a healthy spa style lunch. The plate overflows with  plentiful green leaves, fresh mushrooms, black and green olives, zingy onion rings capsicum strands, carrot fronds and quenelles of creamy ricotta cheese.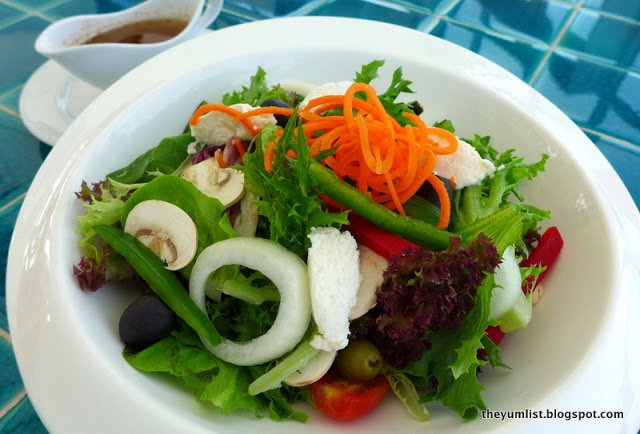 Green Garden Salad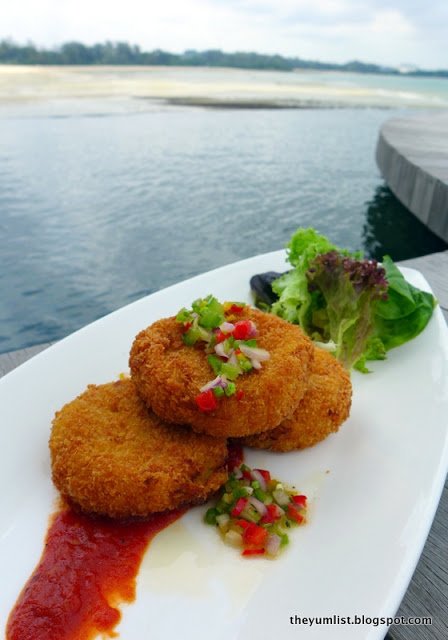 Pumpkin Cutlets
The Tropical Fresh Fruits Platter (RM18) platter wows with vibrant colours. Kiwi, dragonfruit, mango and strawberry vie for attention.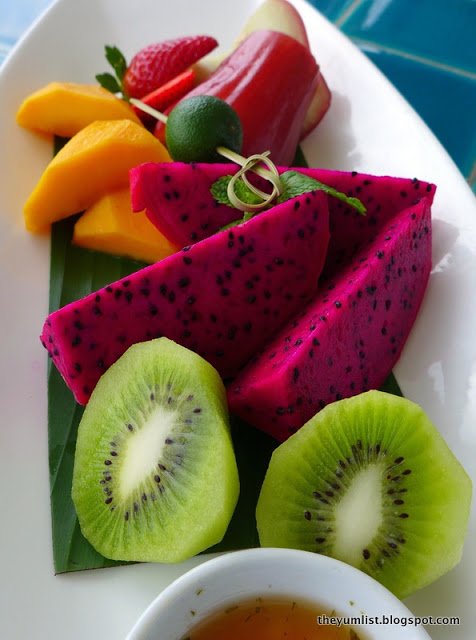 Tropical Fresh Fruits Platter
Monica pronounces the Organic Locally Roasted Coffee (RM12) more than satisfactory to her (quite particular) tastes.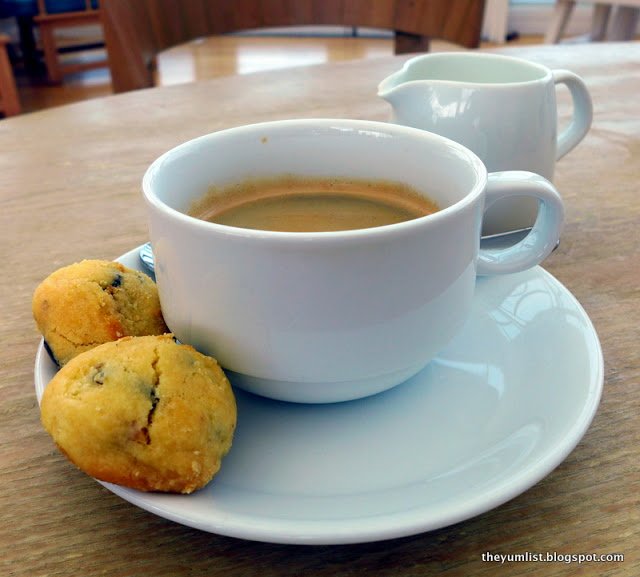 Organic Locally Roasted Coffee
From the range of Caffeine Free Tea (RM14), the rosebud tea variety that I select as something different, proves very light and refreshing, and it is certainly a generous pot. The classic white China settles perfectly into our delightful surroundings.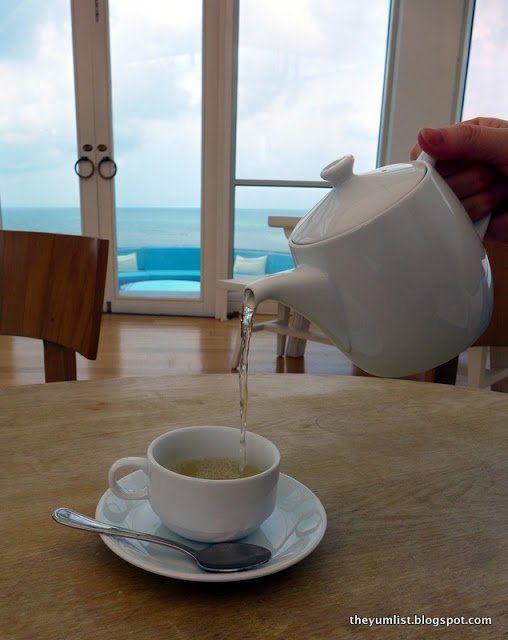 Rosebud Tea
We while away a couple of pleasant hours writing and chatting, enjoying the gentle ambience, and glorious outlook, glide back to aVi Suites for a further spa treatment, before returning for High Tea and Cocktails, as we are being thoroughly spoiled today. aVi Lounge offers a daily choice of bite sized pastries and savouries together with a choice of tea, coffee or fresh juice.

A Light Afternoon Tea
We finish with a cocktail outside in the sea breeze. Swing Siti is a sweet blend of mixed tropical fruit juice with rum, while Gin Fizz tickles our tastebuds with a refreshing zing of fresh lemon, topped up with soda – a suitable way to end a very restful day.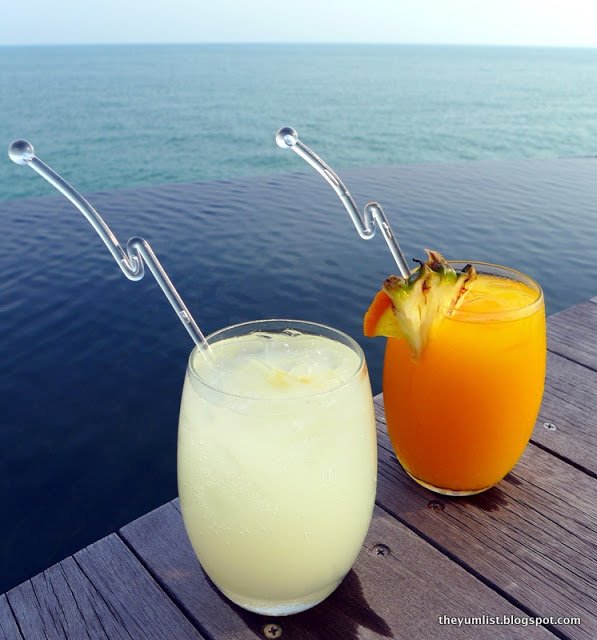 Cocktails
The evening is so beautiful that we cannot resist a glass of house red, enjoying the contrast of colours against the softening light as we gaze out to sea.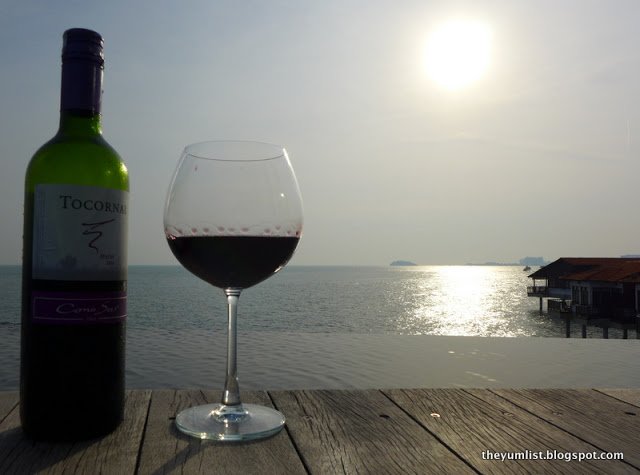 Red Wine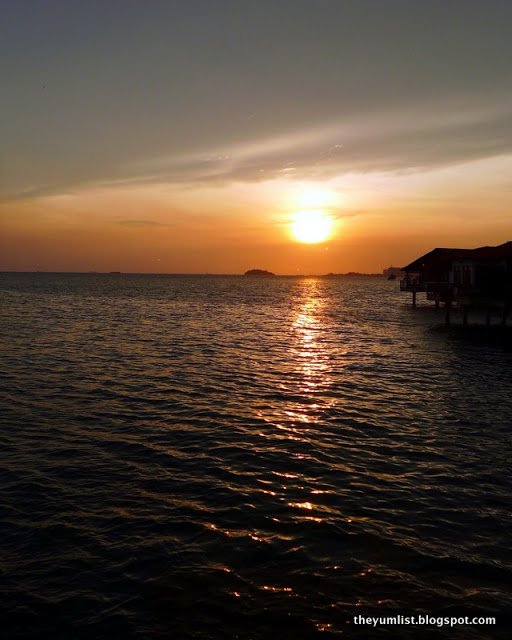 Sunset from aVi Spa
High Tea and Evening Cocktails are served every day and are complimentary for guests staying in the Water Villas and Premium Water Chalets at Avillion Port Dickson.
Reasons to visit: an ultimate chill out experience, panoramic sea views.
aVi Lounge
Avillion Port Dickson
3rd Mile, Jalan Pantai,
71000 Port Dickson,
Negeri Sembilan, Malaysia
+6 06 647 6688