Two Michelin-starred Frederic Prouvoyeur, chef de cuisine at Chateau Magnol, joins the team at The Olive, Resort World Genting's fine dining restaurant, for four days only to celebrate the 50th birthday of the iconic property. But, it's not just a Michelin-starred chef that brings cheer to the party: the oldest wine merchants in France, Barton & Guestier, also brighten the festivities.
A six-course degustation menu by Chef Frederic with wine pairing by Barton & Guestier is part of the honour, so of course this is in what we partake.
A basket of warm bread is an irresistible temptation on our table. Hubby dives directly for the soft white rolls, while I eat all three slices of the raisin and walnut before the meal even begins. Squid ink braids are the third bread type offering a hearty dark contrast.
An appetizer of Salmon Rillettes begins the sextet with petite rolls of elegance. The creamy middle is surrounded by soft pink flesh and tiny pearls of caviar dot the top along with dainty snippets of chives. Barton and Guestier Passeport Sancerre is the pairing for both this and the soup to follow, and does a marvellous job of playing good friends to both.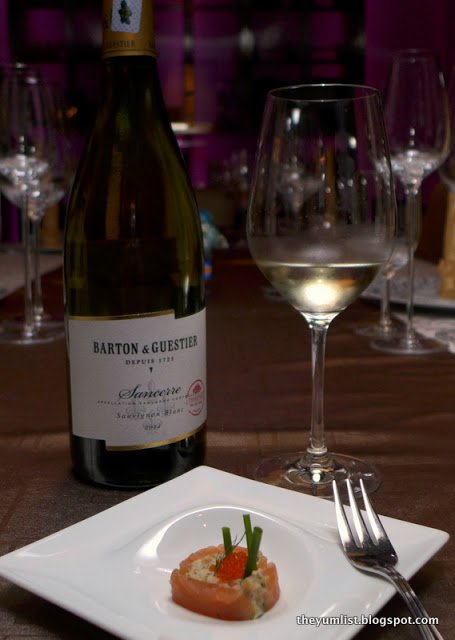 Salmon Rillettes and Barton and Guestier Passeport Sancerre
Provencale Soup releases a mouthwatering aroma. Rich and thick in the bowl, the dark broth is lushed up with a spoon of codfish in the centre. It's so flavourful that every corner of the mouth is reached by its more-ishness.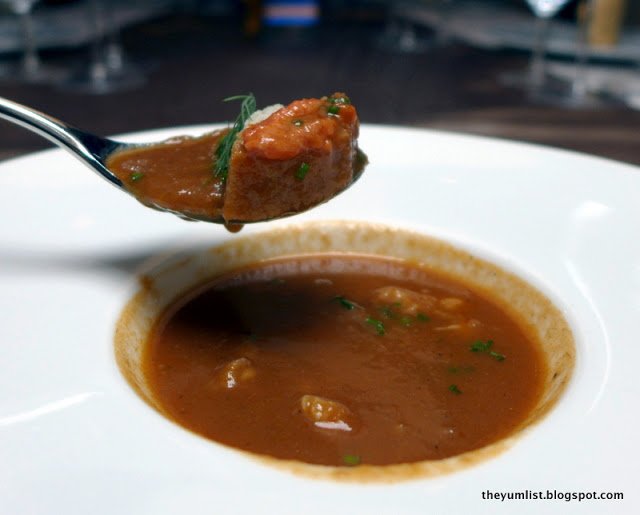 Provencale Soup
Scallops Croustillant with Saffron Sauce proves a decadent starter. Tender bivalves are lovingly layered between two slender sheets of pastry and fresh basil leaves. Chef is a master of sauces, and the pastel yellow ring surrounding the dish mustn't be dismissed as pure adornment. The creamy goodness makes me wish I hadn't succumbed to devouring all of the warm bread in the basket: that I'd left at least a crumb to scrape the plate clean of the very last saucy remains.
Scallops Croustillant with Saffron Sauce and Barton & Guestier Passeport Cotes de Provence
Barton & Guestier Passeport Cotes de Provence accompanies and complements the seafood. I can't help but continue to stick my nose in the glass in an attempt to identify the scent. It's a pale rose in the crystalware and I get a faint hint of minerals on the nose. It's delicate, gently bringing out the flavor of the scallops, but slicing through the yellow cream, furnishing the perfect balance.
Choosing sometimes pains me, especially when presented with a duo of appetizing options. That's why I'm delighted that we don't have to make any decisions, this menu gives a sampling of both!
Duck Breast Fillets with Pear in Wine Sauce are presented as a splendid trio brushed across the plate. First, succulent slices of duck sit in a semi-sweet sauce. Next poached and thinly sliced pear offers a burst of sweetness. Finally a tangle of shredded potato and crisp baby vegetables deliver a savoury variance. The three works in harmony and a sip of wine, Thomas Barton Reserve Saint-Emilion, serves to elevate the experience.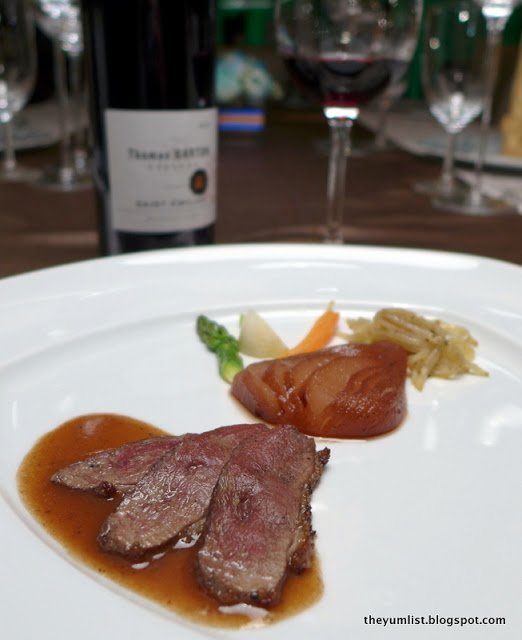 Duck Breast Fillets and Thomas Barton Reserve Saint-Emilion
We each take a forkful of the Tourenedos of Beef with Foie Gras in Balsamic Sauce at the same time and mirror each other's mmmms of pleasure. The meat is soft and succulent: like a pillow. The liver crown is velvety and buttery. We continue eating without a word. Even veggie loving me, who usually gets through a max of two slices of beef, wickedly carries on until the very last bite of flesh has disappeared. The wine pairing of Thomas Barton Reserve Margaux is magnificent, bringing to the fore the quality of wines presented in this line-up. It's a classic case of why red wine and red meat is such a successful pairing.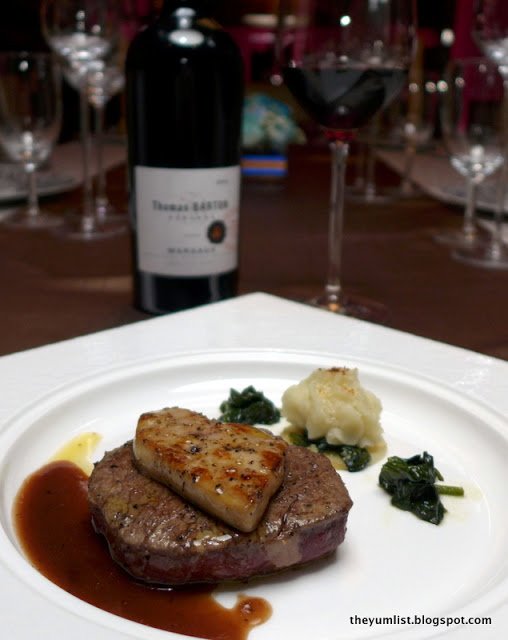 Tourenedos of Beef with Foie Gras in Balsamic Sauce
Dessert is appropriately named the Chocolate Delice and now it's hubby's turn to act out of character. The customary chocolate-avoiding man is totally smitten by the luscious creaminess of the last course. A thin dark base supports a whipped chocolate-y middle, and delectably thick layer of mascarpone caps the top. Dessert wine (an oft-forgotten ending in Malaysia), a Thomas Barton Reserve Sauternes, is much appreciated. Leggy in the glass and gracefully dulcet in the mouth, this wine smells just as good as it tastes. For the lightweight sweet tooth, just nosing the honeyed perfume might prove sufficient.
The portions of food and wine have been just enough to leave us satiated but not uncomfortably stuffed (or woozy). The French really do have it mastered when it comes to enjoying fine food. The six-course degustation menu is priced at RM298 per person. With wine pairing, add RM130 per person. This particular promotion runs from August 7th to 10th.
If you can't make it to Genting in time for this promotion, don't worry, there will be a number of special events in honour of their 50th birthday. The next guest chef arrives early September, so do check out Genting's website for details and make an early reservation.
Reasons to visit: a completely different experience to what you find in KL; quality food paired with excellent wine; always something new and exciting to look forward to; guest chef promotions.
The Olive
Resorts World Genting
+6036105 9668