Shangri-La Hotel Sydney's Café mix has been gifted a boost of pizzazz with a tantalising street food menu developed by chef Bo Sorenson. Drawing on his experiences of growing up as an expat kid in Hong Kong, alongside his fine dining training, chef Bo has managed to turn classic street foods upmarket with smash hit success.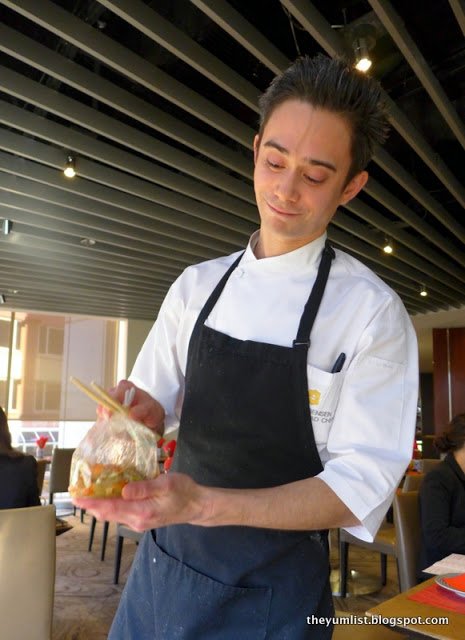 Chef Bo Sorenson
Awaiting renovation, the café gives no indication as to the excitement to be found on the menu. With a facelift planned for early next year, food takes centre stage, and we feel as though we've uncovered a covert operation – amazing food prepared in an unsuspicious location served only to those in the know.
It's love at first bite when Chef Bo presents a dish that's a current special. A soft yet hearty rice bun filled with satay marinated quail breast, jalepeños and chillies proves a scrumptious bite of juicy deliciousness. Don't leave Sydney without trying this beauty. It's something that will stick in taste bud memory for quite some time.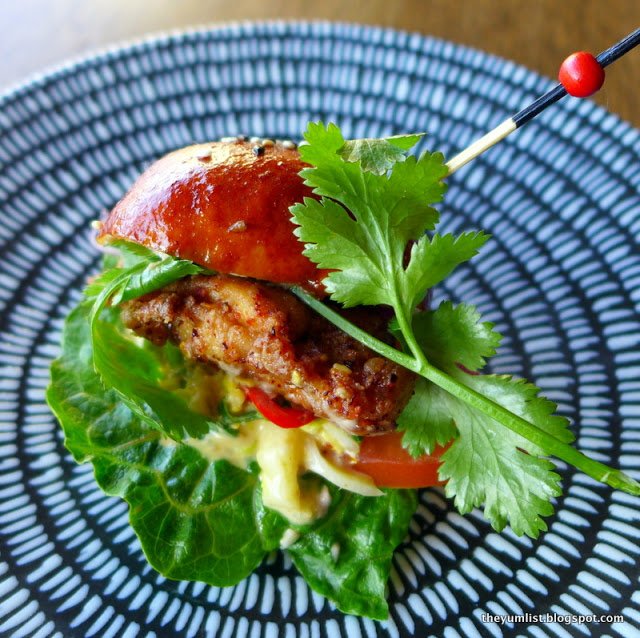 Quail Satay Rice Bun Burger
Mirroring the Asian tradition of serving food and drinks in a bag, the Shake 'n' Plate ($12) salad comes in plastic ready to be shaken by the diner before either emptying into the bowl, or eating directly from the bag. Chef Bo beams as he explains, "You get to add a little drama yourself." This green papaya salad shows its Thai origins with flavours of sweet and sour, a punch of spice and some crunchy peanuts in the mix.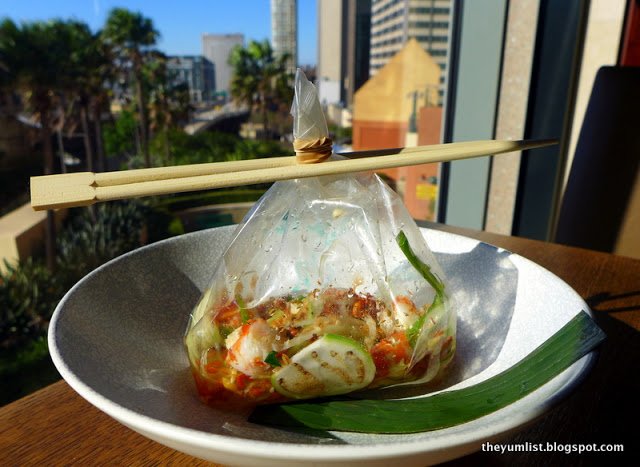 Shake 'n' Plate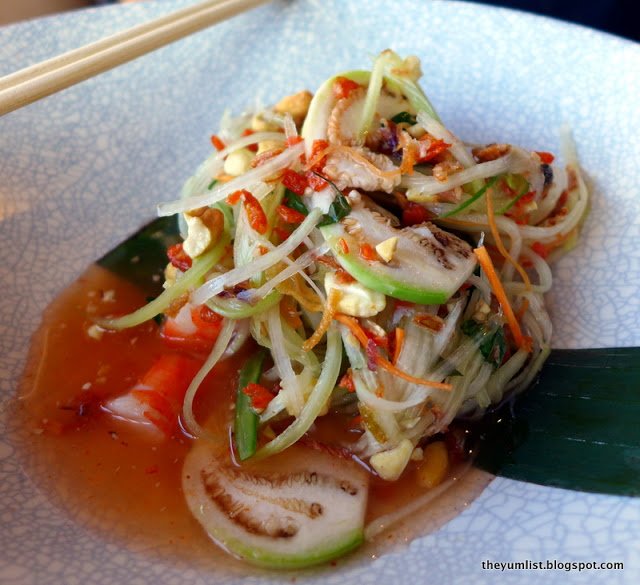 Shake 'n' Plate
Lap Cheong San Choi Bao ($15) does honour to the traditional dish in presentation and flavour, but shows western influence in cooking technique with the meat cooked sous vide. Water chestnuts, fried beans and peanuts mirror the texture of the crisp lettuce bowls in which the juicy contents are all contained. It's another yum!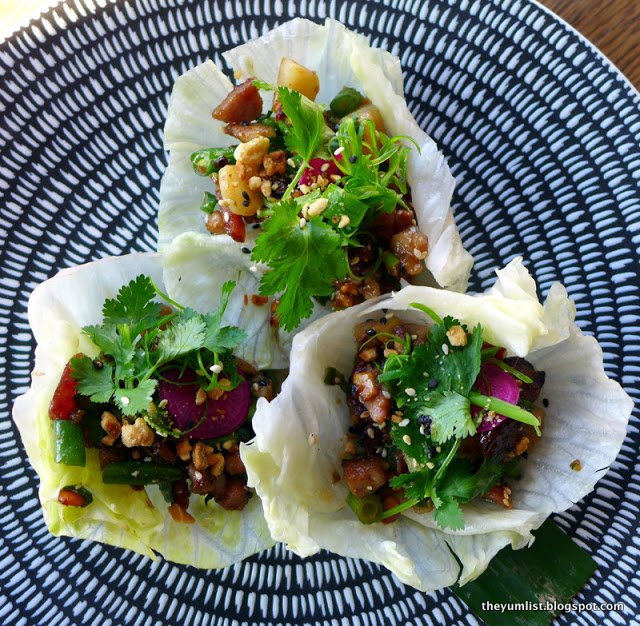 Lap Cheong San Choi Bao
Sticky Chilli Caramel Pork Belly "Boagers" ($15) are what you might expect to find when Chinese bao meet western burgers. Rice buns are fried rather than steamed, and embrace slices of sweet sticky pork belly in soft warm hug. Salted cucumber, pickled daikon from the Blue Mountains, and sriracha mayo balance out the sweetness.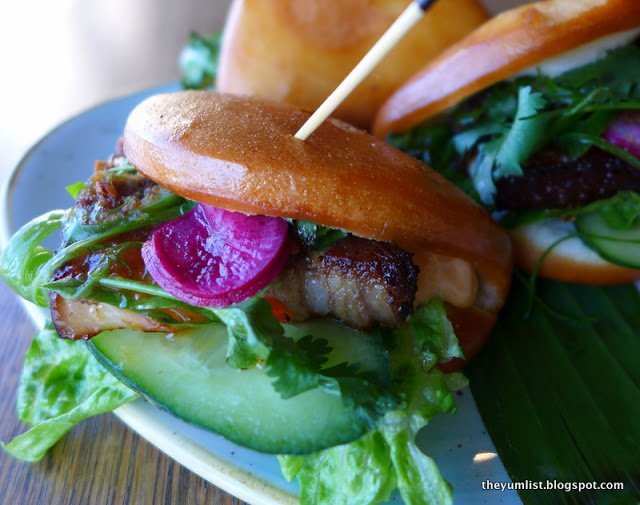 Sticky Chilli Caramel Pork Belly "Boagers"
Continuing with the do-it-yourself idea, "SHAKE IT" Numbing Chicken Wings ($21) are hidden in a bag with a side of Szechuan salt for additional seasoning. Add as much or as little as you like and give the case a good joggle. The wings however are succulent and flavourful enough on their own, so if you're chilli shy, you'll find sufficient seasoning to relish these babies without the racy supplement.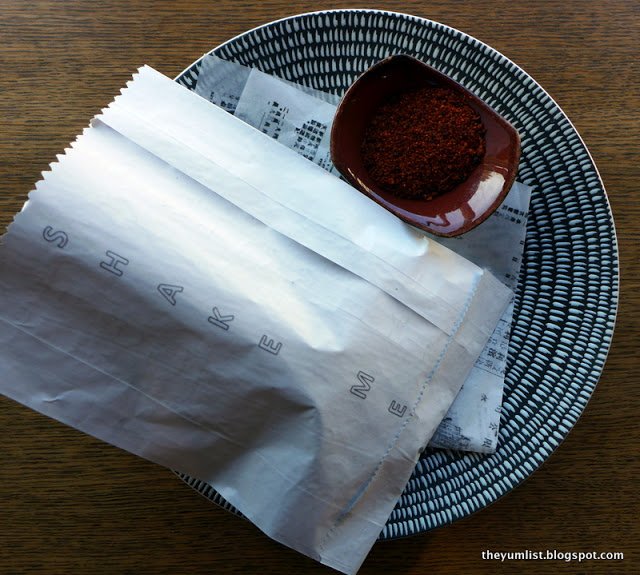 "SHAKE IT" Numbing Chicken Wings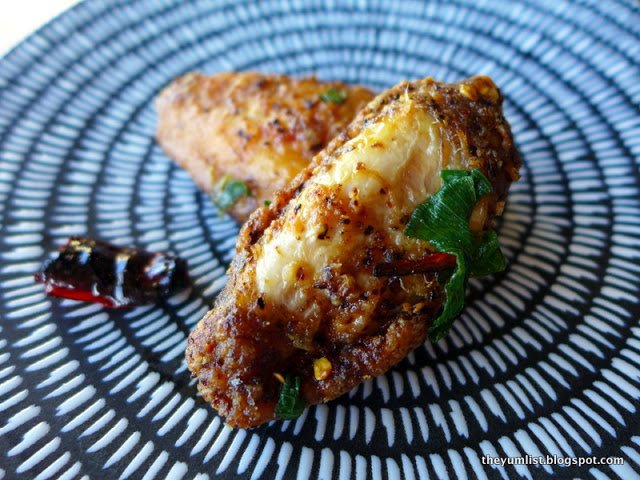 "SHAKE IT" Numbing Chicken Wings
A whole cob of corn is the result of a current experiment: one of which we're ever so happy to be the guinea pigs for. Brushed with kimchi and jalapeño seasoning, pushed in Tasmanian cheddar, it's then blow torched caramelizing the kernels. Finally the cob is rolled in roasted black and white sesame seeds, and diners are invited to give it a squeeze of lime to assist in cutting through the fattiness. It's like no corn on the cob we're ever tasted, and we hound the chef to walk us through its preparation in the hope of replicating the recipe at home.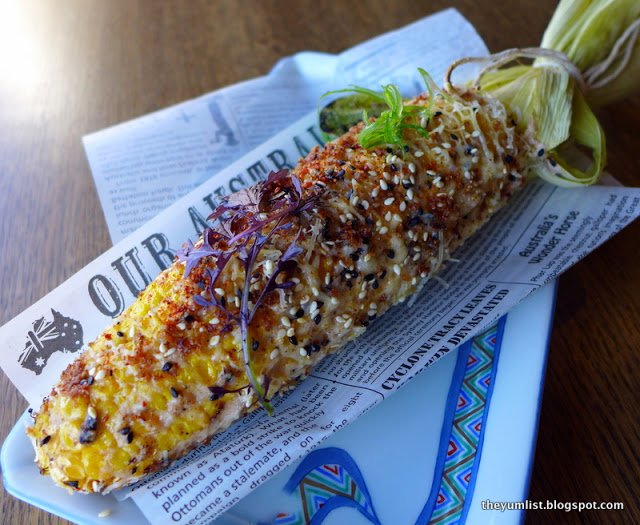 Corn on the Cob
Chef's eyes are twinkling as he brings out the next dish. He reports going through a stage of eating if for breakfast, lunch and dinner as a kid in Hong Kong. "I enjoy it plain Jane, but you can put a splash of chili oil on it depending on how adventurous you are." The cause of enthusiasm is Chee Cheong Fun – flat rice noodles rolled in a ball and dressed with a spritz of sauces. Hoisin, peanut, and soy sauces are mixed together and spruced up with some crunch from roasted sesame and sliced chilli. It's a great sharing plate, prodded with long slender skewers for picking up the rolls.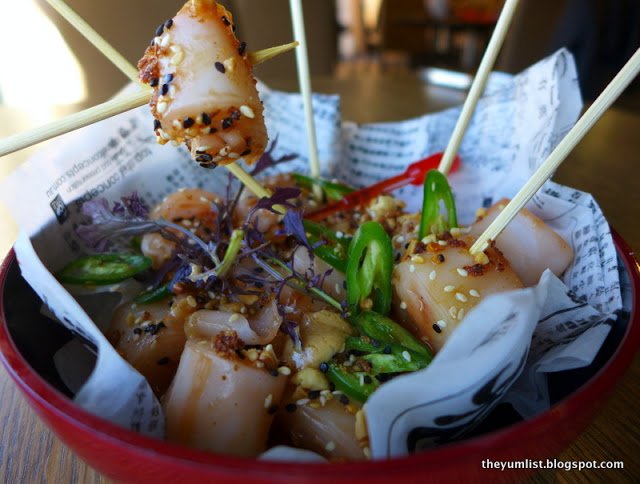 Chee Cheong Fun
Braised goat and NSW Brie encrusted in a rice cone is delivered as chef announces, "Mamacini," then follows with a whisper "'cause it's a big one." Resembling the Sicilian classic aracini, chef's version is much larger and finished with a shower of sauce dripped seductively over the top.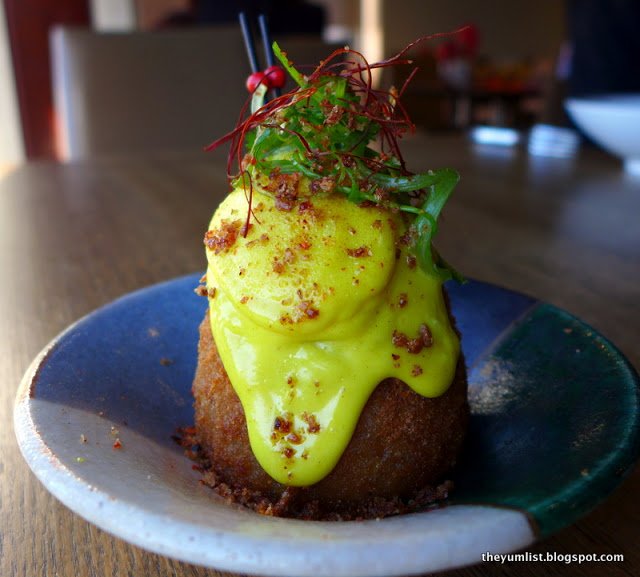 Mamacini
I'm a little skeptical when we learn the next plate will be Rendang – surely it can't match the many Malaysian versions of the spicy beef dish I've tried. How wrong I am. This is the gourmet epitome of a dish pimped up to extreme levels of deliciousness. Made with luscious beef cheek, decadent macadamias and rich thick coconut cream, I can't imagine a more opulent or more appetising take on this dish. MUST eat the Rendang.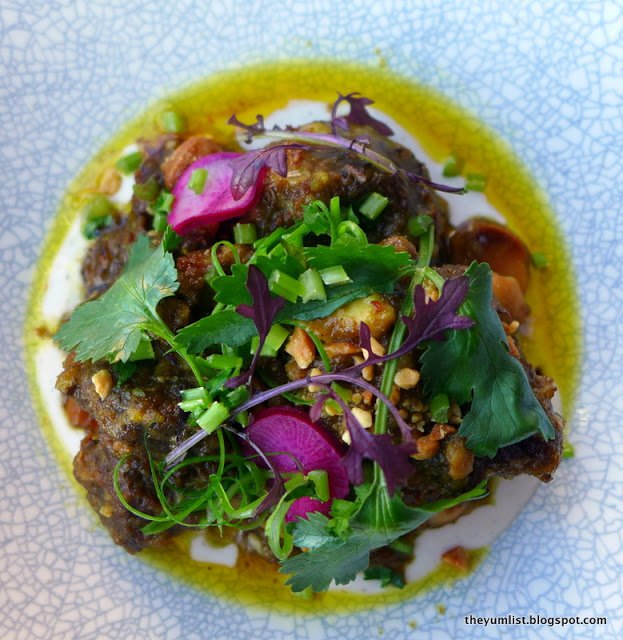 Rendang
Much to our delight, chef Bo introduces us to pastry chef Zoe and we learn we're to try ALL of the desserts on the menu! Bitter Chocolate ($15) is a rectangle of pleasure. A chocolate pastry flanks banana, salted caramel, peanuts and a smooth chocolate ganache. Caramelized peanuts, sesame tuile and black sesame ice cream complete a deeply satisfying formula.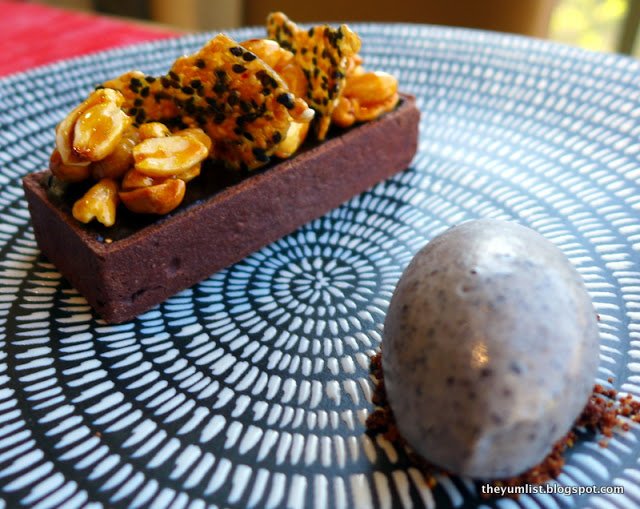 Bitter Chocolate
Crème Caramel ($15) wobbles on the plate as it's placed on the table. Poached spiced mandarins, crispy rice noodles and coconut rice pudding contribute interest to the perimeter of the velvety custard.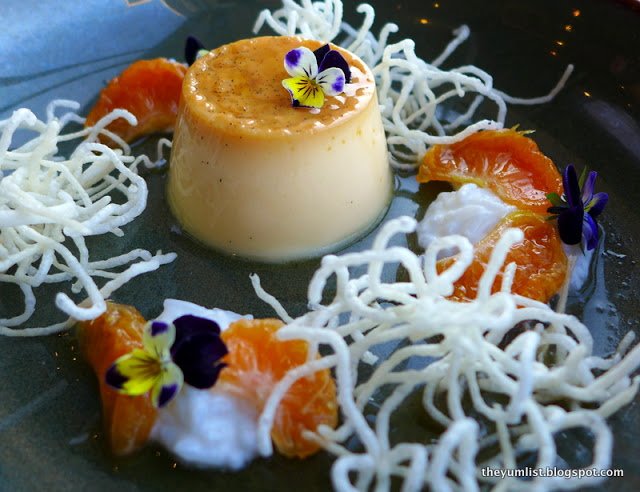 Crème Caramel
Halo Halo ($15) with shaved pineapple ice, a tropical compote of pineapple and passionfruit, lychee pearls, pineapple and ginger sorbet, and baby coriander would be the perfect sweet for a hot summer's day.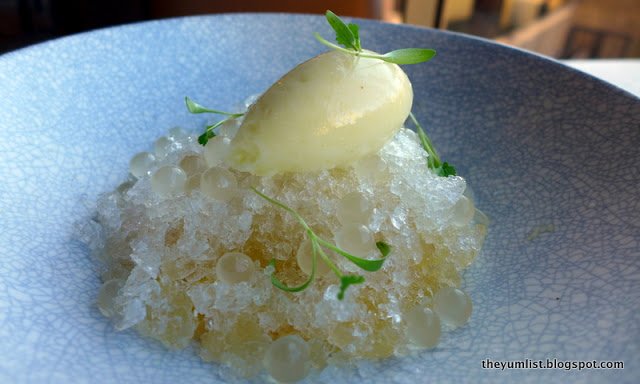 Halo Halo
Ending the line-up, Zoe presents Fried Coconut Mag-Anna Ice Cream ($12), because "my boss is called Anna and she likes to put her name in things." We're talking celebrity Master Chef and deconstructed Carrot Cake fame, chef Anna Polyviou. Resembling a magnum, a stick of coconut ice cream is wrapped in joconde, rolled in shredded coconut and panko crumbs, deep-fried and then flumped in a pond of palm sugar sauce. Presentation is impressive, but so is the taste and we like this twist on "fried ice cream" so much that we might even declare it on equal grounds with the chocolate number – and you do know we love our chocolate.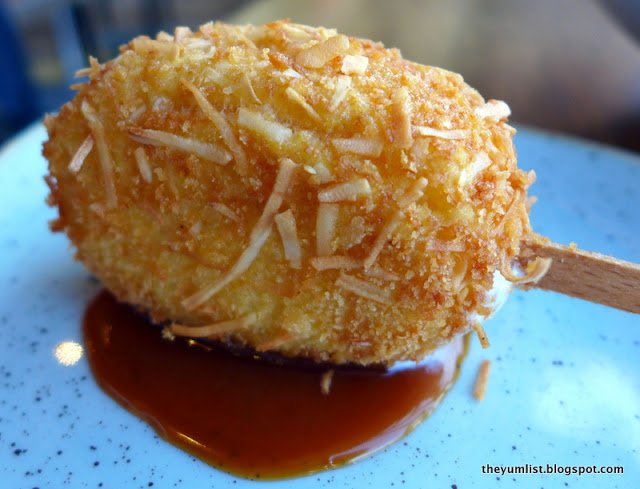 Fried Coconut Mag-Anna Ice Cream
Reasons to visit: Rice Bun Burger with Satay Quail Breast; Rendang; Corn on the Cob; Bitter Chocolate; Fried Coconut Mag-Anna Ice Cream.
Shayan Quarter at Café mix
Shangri-La Hotel Sydney
176 Cumberland Street
The Rocks
Sydney
NSW 2000
Australia
+61 (0)2 9250 6000