Sungeeta Singh and  Monica Tindall
IPPUDO turned 30 and we decided to join the celebrations with their great Happy Hour deals!
We came for the cocktails, and soon proved that happy hour doesn't have to be just beer and greasy pub food. IPPUDO has developed an innovative concept that combines Japanese inspired cocktails, draft beer, sake and delicious grilled options that will have us coming back time and again to this speciality bar.
Located in Bangsar Shopping Centre, it makes a perfect stop after shopping, for a sundowner or a party! The terrace doors open to a lush, green garden and the sound of trickling water from the nearby fountain makes it ideal to relax and enjoy a few drinks. It is hard to believe that we were in a shopping mall!
Sharyn Lee, the marketing manager received us warmly and shared the vision behind IPPUDO's new concept that was introduced earlier this year. They wanted to offer what other pubs do not and promote the idea that Japanese alcohol is more than just sake, and Happy Hour is more than just serving beer. Of course sake and beer is on the menu, so too is Japanese whiskey (so popular that they cannot get enough stock!) and some prettily presented Japanese cocktails too.
There is 30% off all sake until the end of October, so this is what we first tasted. Before our beverages arrived, we were asked to choose our own sake cup. Each glass is unique in colour and design (no need for wine glass charms!), and this detail, however seemingly small, got us off to a positive beginning with a little sense of fun. Our first pour was Sparkling Sake (7% alcohol) which is a new trend in Japan. It went down VERY easily! It was light, not overly sweet or bubbly. It was very pleasant and could be enjoyed as a pre- or after dinner drink! It can certainly add a dash of sophistication to a drinking experience! Moving from contemporary into more traditional, a flight of sake came next.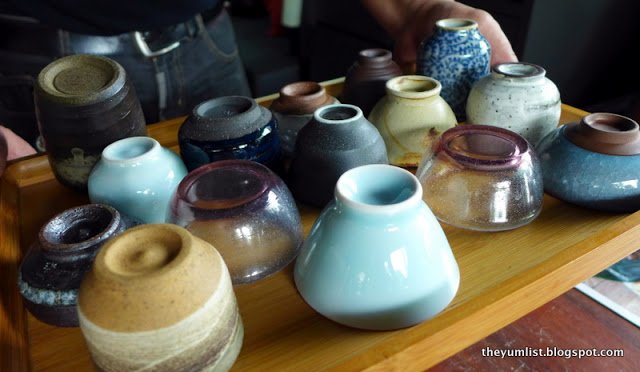 Choose Your Own Sake Cup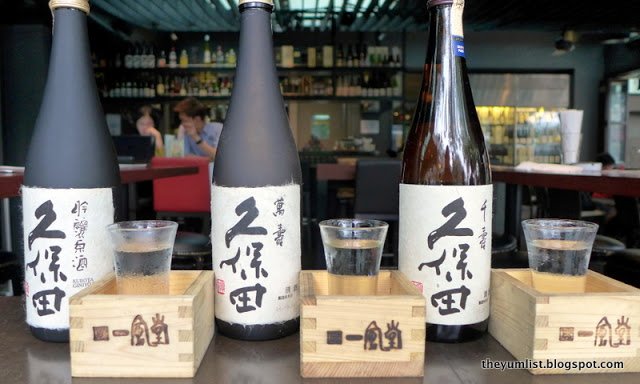 Sake Special
Kubot Senjyu (RM67 ++, 300ml) is the lightest traditional sake on the menu with 15% alcohol. It pairs best with salty, savoury food and kushiya (a plate of assorted grilled skewers, but more on that later). This sake was easy to drink, light and refreshing.
Kubotu Ginjyo Genshu (RM78++ 300ml), with 19% alcohol provided more a wallop in the the mouth. The difference in alcohol percentage was definitely felt in this case, giving the drink a stronger more robust flavour. The dryness of this sake makes it a good pairing with fried items such as tempura.
Moving up the scale, Kubota Manjyu (RM151++ 300ml), with 15% alcohol is much more elegant drinking. Its subtle complexities and lingering flavours make a good companion for seafood, salad, sushi and sashimi. All of the sake can be served warm or cold, depending on your preference, but the team generally recommends a chilled version to counteract the warm weather.
The Suntory Draft Beer is brewed in Japan and is considered a premium beer. This beer is light, yet rich and full of aroma. It's a generous pour too. During this celebration period you pay RM22++ per glass or three glasses for RM60++ during Happy Hour.
Our adventure with delicious Japanese cocktails started with Kyuri Mojito (RM26++). This was the creation of IPPUDO's local mixologists. Who knew that Bacardi, white rum, Monin wild mint, lime and kyuri (cucumber) together could create such a refreshing drink with just a lingering hint of mint and cucumber?
For something with a kick, the Wasabi Martini (RM26++) really hit the spot. The combined flavours of Bombay Sapphire gin, Monin green apple, wasabi and lime made a light and refreshing drink. There was just enough wasabi in the glass to present a gentle heat. For lovers of a more powerful punch however, a spoonful sits on the side waiting your addition.
Consider this a caution about the Kiss of the Geisha (RM28++): it's so prettily presented and very agreeable drinking, that stopping at just one will be difficult. We were seduced by the combination of shochu (Japanese alcohol), Monin Peach, Monin passion and lime. It's fruity, not too sweet and so, so easy to drink! You have been warned!
The bar snacks served at IPPODU set this place apart from many bars found in the city. Everything we tasted was fresh, flavoursome and well presented. The Kushiyaki platter is the perfect companion with beer and whiskey. It's a generic platter that includes many choices, so it can satisfy the palates of most guests. Vegetarian and fish selections are available and you can choose any five skewers to make the platter, or order individual servings as you please. We started with Beef Skewers (RM12++). Cubes of tender, succulent karubi beef, alternated with cherry tomatoes and okra proved to be my favorite! Another tasting was of Salmon Cubes (RM15++) with salmon roe. The salmon was moist and flavoursome. Another winner on the platter was Ebi Mentai Yaki (grilled shrimp) covered with a unique fish roe sauce (RM10++). The Pork Bacon with soft boiled egg (RM12++) was Caning's favorite. He described it as an explosion of amazing flavours in his mouth. Enough said!
Besides the Kushiyaki, there are many items on the menu that make suitable nibbling with a beverage. The pan fried Gyoza (five for RM12++) make fantastic bar snacks. The casing is paper thin and the flavoursome pork filling not too greasy. Roasted Pork (RM25++) was something I also enjoyed immensely. A generous serving of tender pork slices were lifted with a teriyaki wasabi sauce. The accompaniment of steamed, crunchy cabbage dressed in an orange juice sauce is not just an afterthought, but an a fine balance to the meat.
Digressing from the pork theme, the Fried Shrimp Sushi (RM29++) with spicy mayonnaise and Sweet Corn Tempura (6 pieces for RM 13++) are also yummy. In the former the batter is light and crisp with the mayonnaise furnishing a soft contrast. In the latter, fresh corn is removed from the cob, lightly battered and deep fried. It's topped with paprika seasoning, and the end result is a tempura that is crisp on the outside and juicy within: a welcome option for our veggie loving Mon.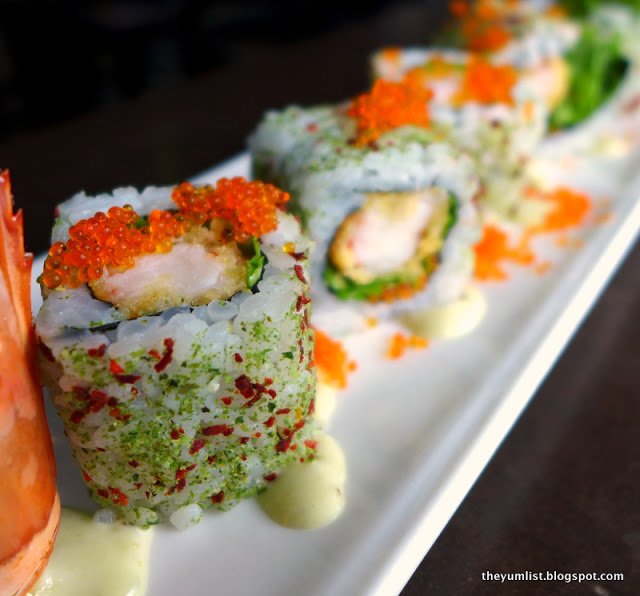 Fried Shrimp Sushi


Reasons to visit: a relaxed setting with a green outlook, some good happy hour deals, a chance to try sparkling sake, pretty cocktails, tasty kushiyaki.
IPPUDO
Lot G1 10 Ground Floor
Bangsar Shopping Centre
Jalan Maarof
59100, Bangsar
Kuala Lumpur
Malaysia
+6 03 2011 6238
Open daily: 11am – 12am
Happy Hours: 11am – 8pm