The Never-Ending Stream at 103 Coffee Workshop
Han San Hau and Monica Tindall
It's no secret that many café-hopping Instagrammers have a preference for an "empty" setting when they visit the latest industrial chic eating establishment to pop up in a trendy locale. They'd arrive as a team right as the café starts their breakfast service, then take advantage of the scene that's devoid of any living being; not counting the staff unless they're in the way. The greatest disservice to this group of savvy individuals who, more often than not, dress impeccably (but only in monochrome) is not a bad cup of coffee, but that uncalled for patch of hair in the photo from a man passing by, or the visual asymmetry produced when more customers choose to sit in one side of the café than the other.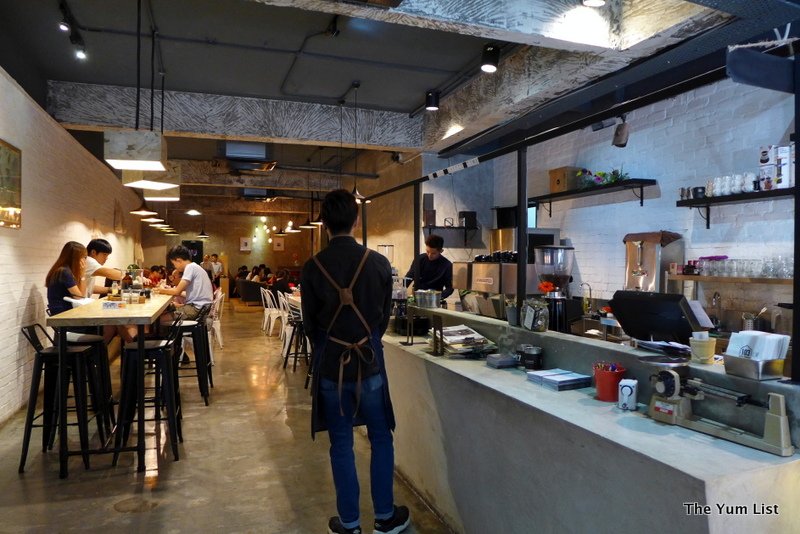 Don't get me wrong: these are some of the most creative and talented individuals with awe-inducing galleries you'll ever see, but boy would 103 Coffee Workshop be a challenge to even the most competent of photographers due to the never-ending stream of customers entering the café. Business was so good that Sunday, it was almost impossible to find a white patch of wall as a photo backdrop that's uninhabited by someone's shadow. According to our host, Ken, the place is always packed like this, except on Mondays when the kitchen is closed, which subsequently offers many coffee aficionados a chance to enjoy a cuppa in relative peace. Thus, with the crowd, I somewhat hesitantly put away my phone—being unable to capture the chic Zen ambiance that oozes from the walls, disrupted by cacophonous chatter—and found myself, for once, to completely focus on the meal for the day.
We start off with the irresistible and cute-sounding Buchi Buchi Tomato, which are cherry tomatoes wrapped with pork bacon. The savoury bacon had most scrumptious crunch that is balanced beautifully with the zesty and sweet cherry tomatoes that burst with every bite. I love how simple and effective this dish is; it's not too filling, and I can imagine myself coming back here having this while I wait for my main to arrive. A great light snack and a lovely start.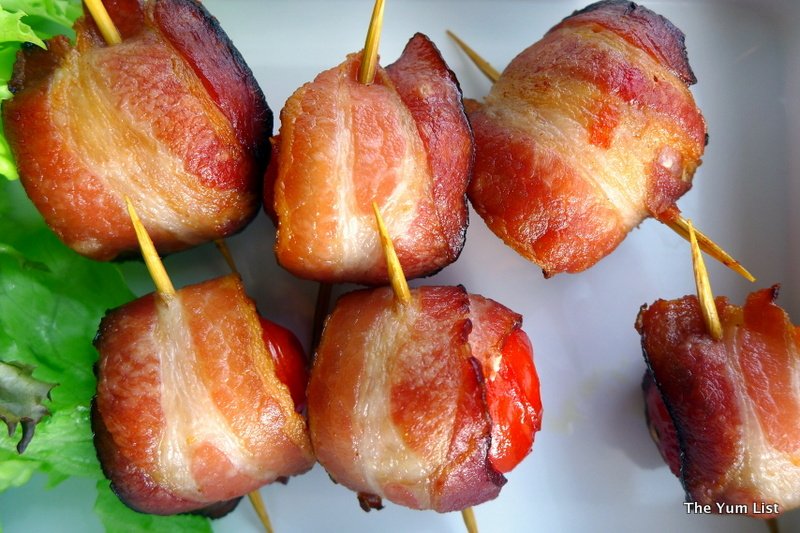 Next up are a pair of items that are perfect for breakfast: the Egg Kumo and the Chasu Grilled Cheese. The Egg Kumo trumps visually with the unique looking "cloud" of fluffy egg white resting on top of a slice of crisp bread. As you slice into this little piece of heaven, the egg yolk then dribbles like magma onto the plate, and you'll have to be quick to take a bite out of the cloud that's peppered with bacon. The Chasu Grilled Cheese on the other hand, is a marvel in flavour and texture. Not that the Egg Kumo was lacking in the flavour department, but the Chasu Grilled Cheese made me swoon with the brittle and oh-so-fragrant Danish toast, topped with rich mozzarella, Japanese aburi-chasu, and sliced cherry tomatoes. Two onsen tamagos are served on the side, and I can't tell you how my stomach cried in joy as I slurped the egg yolks from my spoon immediately after taking a bite out of the toast.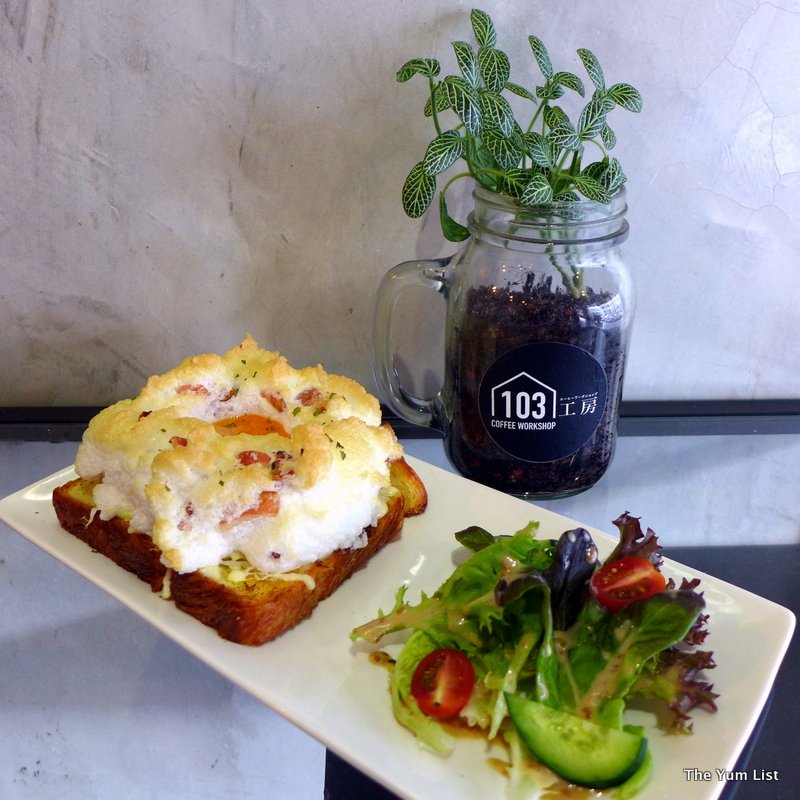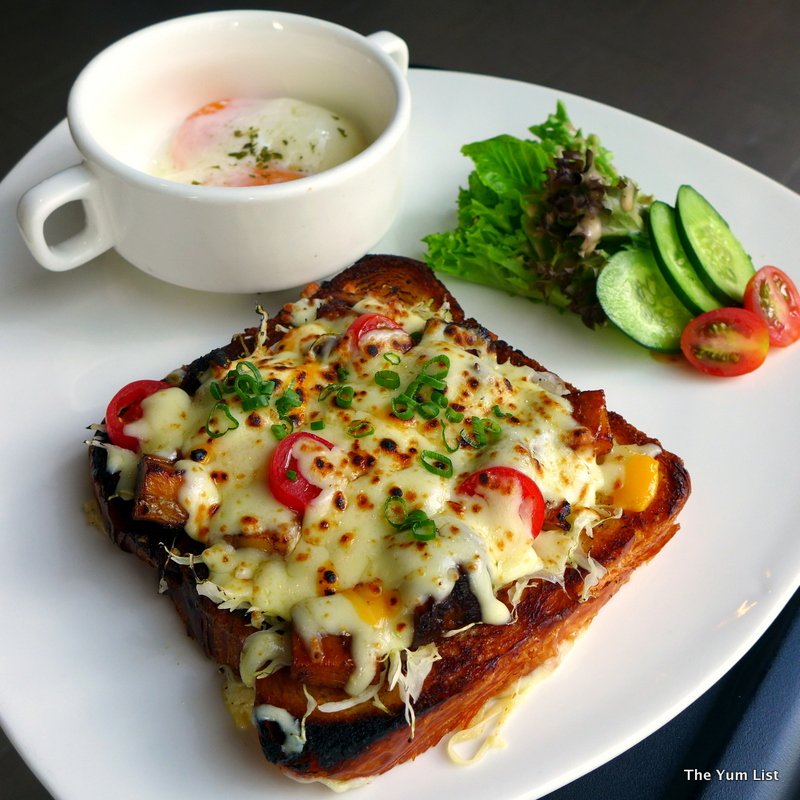 With such a "rich" start, we thought it apt to cleanse our palates with some drinks before diving into the mains. We begin with the signature 103 Chocolate Mocha, a bestseller at the place and it isn't difficult to understand why. The Chocolate Mocha isn't cloyingly sweet, and is more coffee than it is chocolate. I honestly wouldn't mind ordering a couple of these as I plough through a good book on a Monday. Light and smooth, the Chocolate Mocha slides down the tongue with ease and doesn't envelop it with a sugary coat that begs to be washed down with water.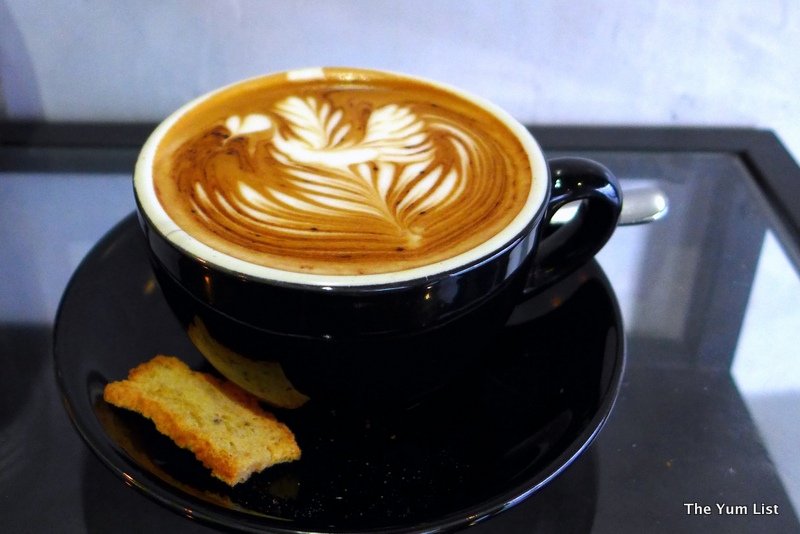 The presentation for the following Costa Rica Las Lajas Alma Negra prepared as a V60 pour over was picture perfect. Served hot and cold with the latter chilled in a glass sake carafe that comes with an ice reservoir containing dry ice, the escaping smoke beckons you to whip out your phone and to take a snapshot. A little unconventional, but it elicited the desired effect. I agree with how Ken described drinking this, which is very similar to sipping on really strong tea: the subtly sweet flavour rests pleasantly on the tongue, isn't punishingly bitter, and is really smooth. Immediately, a sense of calm envelops you as you drink, and you feel your taste buds awakening and reacting to the complex flavour. Perhaps the only thing more impressive than the sobering cup of coffee was the young barista who made it. At only 18, he was already educating us on the beans' properties and dishing out advice on how best to enjoy them! With coffee, the beans are only as good as the person who knows how to bring out the best in them, so kudos to this chap who found a vocation he could pour his heart and soul into.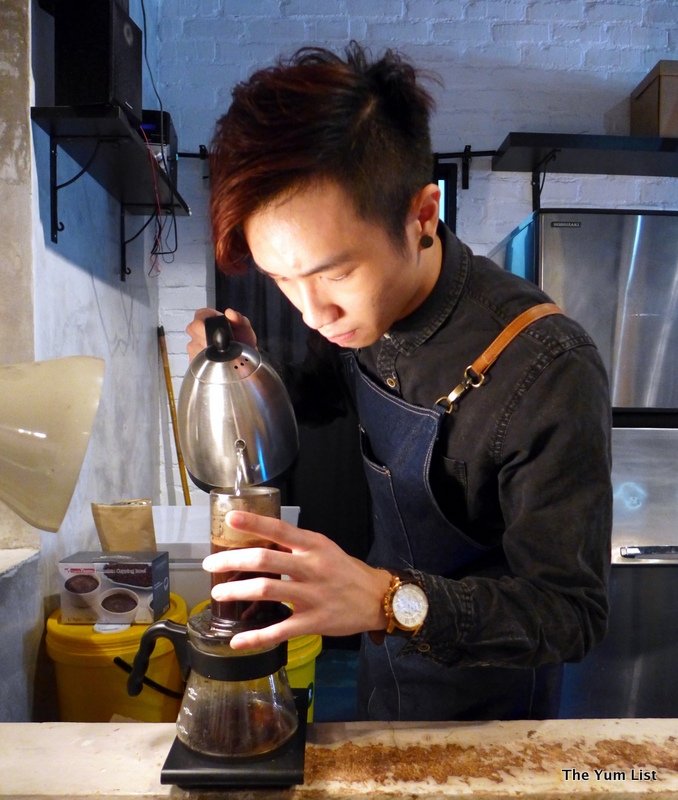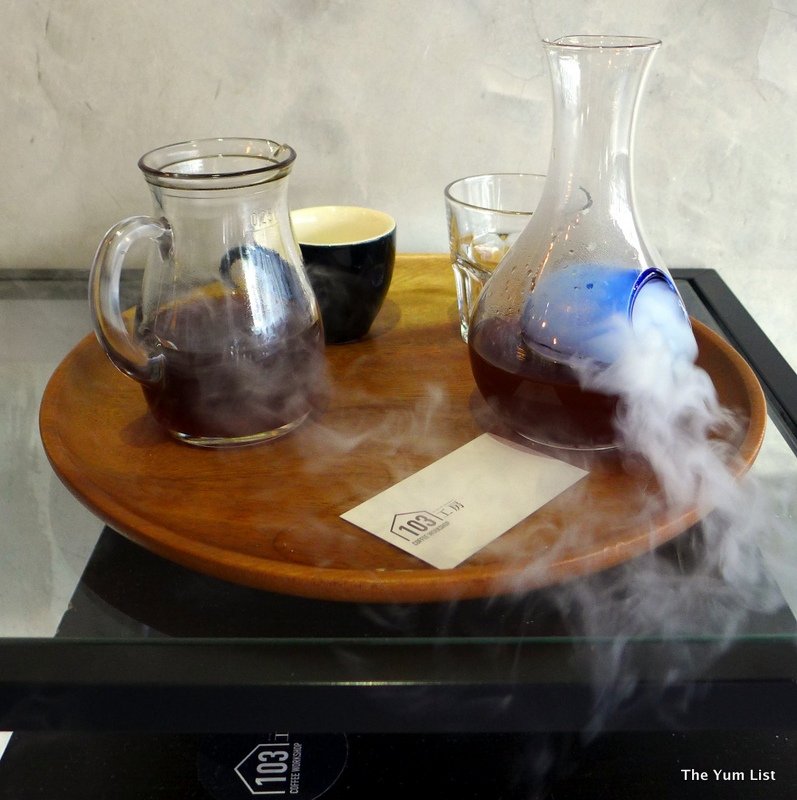 Just when we thought we've sampled a very good cup with the Costa Rica, Ken then treats us to the very expensive and very exclusive Panama Don Julian Pacamara. It is a privilege to be served this and it is amazing to able to whiff let alone taste this beauty. You don't need to be a coffee connoisseur to appreciate the Panama, though I would be terrified if I was ever given a packet of these because I wouldn't know what to do with them. At 103 Coffee Workshop however, you can trust their barista to care for and prepare the bans with their utmost attention.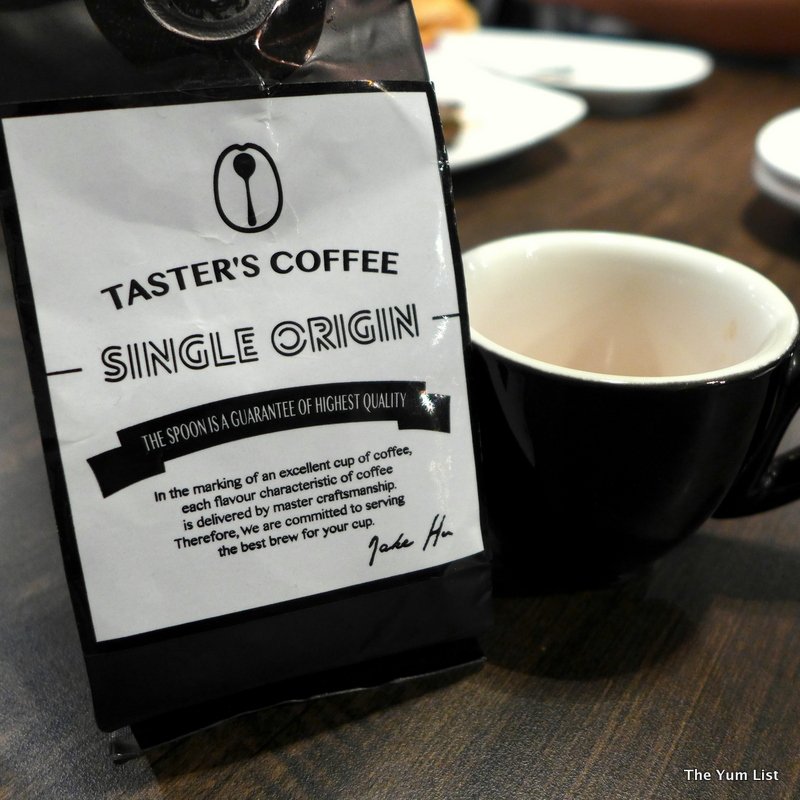 Having sobered up a little, we tackled the pair of mains: the Toriniku Curry Pie and the Pan Seared Sake Teriyaki. At this point, we notice that the dishes have been served as competing pairs. There are shared elements: first the Egg Kumo and the Chasu Grilled Cheese with their eggs, and now the mains with their tempura vegetable sides. Well if everything here is a competition then the Toriniku Curry Pie has my vote with its rich curry containing sweet potatoes, carrots, and tender chicken chunks. The flaky and crusty pastry served with this breaks to the touch, so be careful with this lest you make a mess of the entire table. What amplified this dish for me is the accompanying tempura cauliflower and broccoli drizzled in goma (sesame) sauce: no child would ever hate broccoli if they were fed these.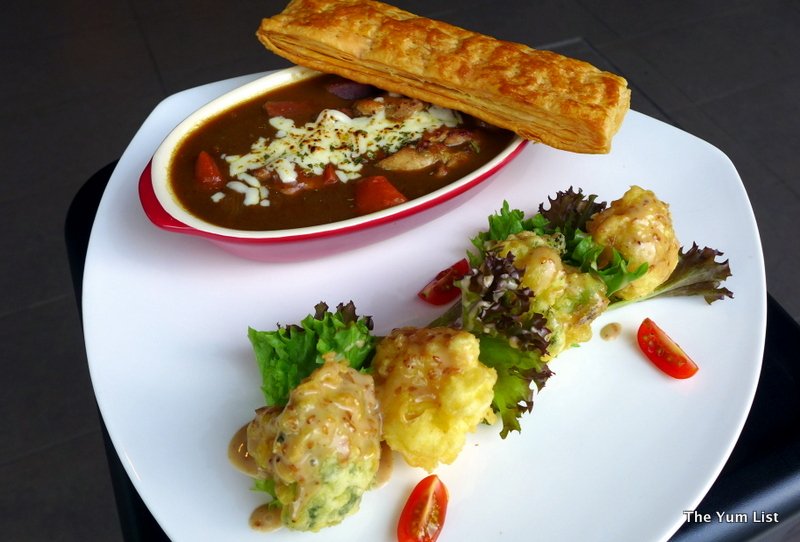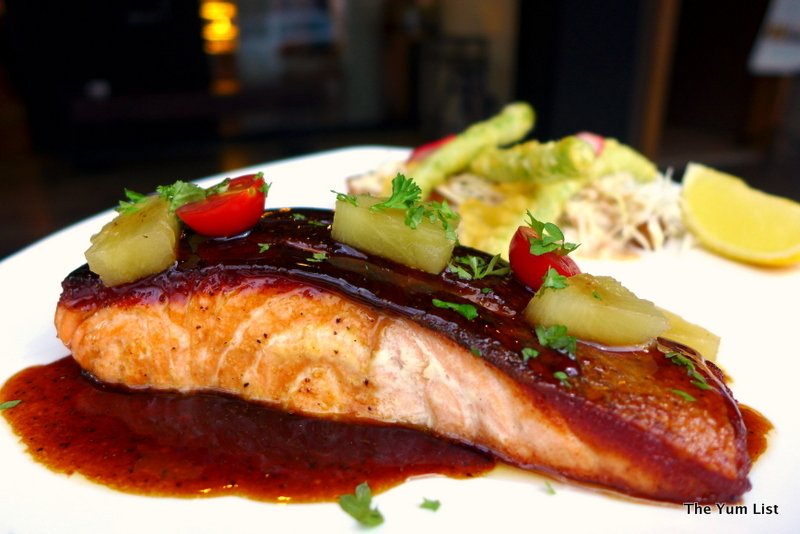 In contrast with the Toriniku Curry Pie, the Pan Seared Sake Teriyaki placed a really well-cooked piece of salmon coated in teriyaki sauce as its star. The thick cut of fish isn't too dry, is moist to the lips, and is prepared in a rather "safe manner" to appease the majority of 103 Coffee Workshop's Chinese clientele. The potatoes and light coleslaw in goma dressing with tempura long beans on the side were decent too, but were no contenders to the tempura cauliflower and broccoli in the other plate—those had a better bite and complemented the main star (the curry) better in flavour and mouthfeel.
Finally, our sweet, sweet ending to this eye-opening adventure in this innovative café includes the Banana Pinnatsu, the Matcha Panna Cotta, and their signature Bonsai Latte. The Banana Pinnatsu features matcha dorayaki served with caramelised banana and drizzled in honey, peppered with crunchy peanuts and sweet Azuki beans, and topped with a scoop of vanilla ice cream. The sweetest things on the plate were the bananas and ice cream, but their incredible sweetness was balanced by the peanuts' savoury profile. I also appreciate the smaller sized matcha dorayaki instead of the usual pancakes, which sets this dessert apart from the usual pancake-and-ice-cream combo found elsewhere. The Matcha Panna Cotta topped with Azuki beans and a crown of whipped cream is pretty straightforward, but it is also comes with delectable fried pasta coated in honey and sesame seeds served on the side, which should be eaten with every spoonful of the panna cotta. Again, there's the whole competition thing going on here with the matcha and azuki beans.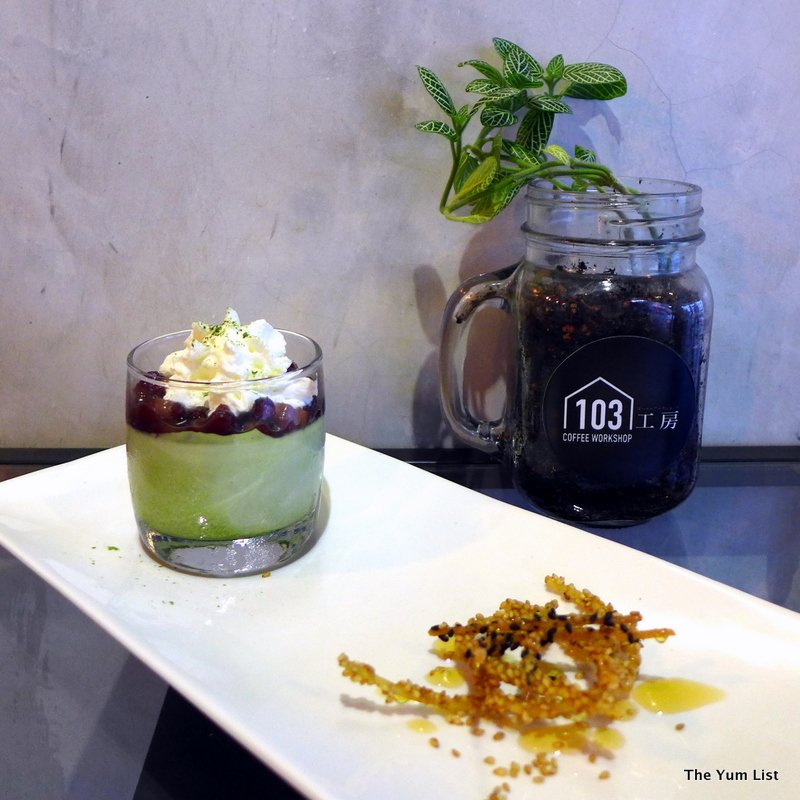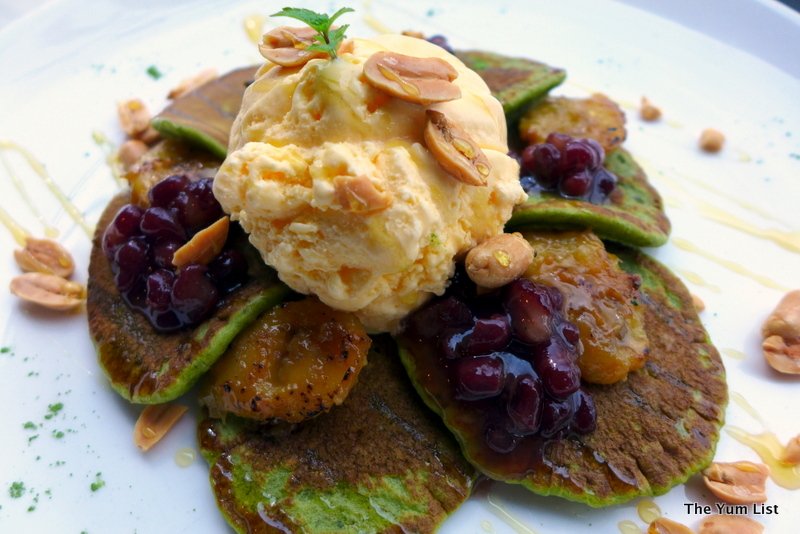 Last but not least we have the signature Bonsai Latte, which blends in perfectly next to a group of potted plants. An amalgamation of the quintessential affogato and the potted plant dessert trend, the Bonsai Latte combines the best of both worlds with ice cream, pieces of biscotti, Oreo crumbs (to give it the appearance of dirt when viewed from above), and a sprig of mint growing out of it. While the concept isn't completely new, we can see why this would be a crowd favourite. Can't decide between coffee and ice cream? Have them both with the Bonsai Latte.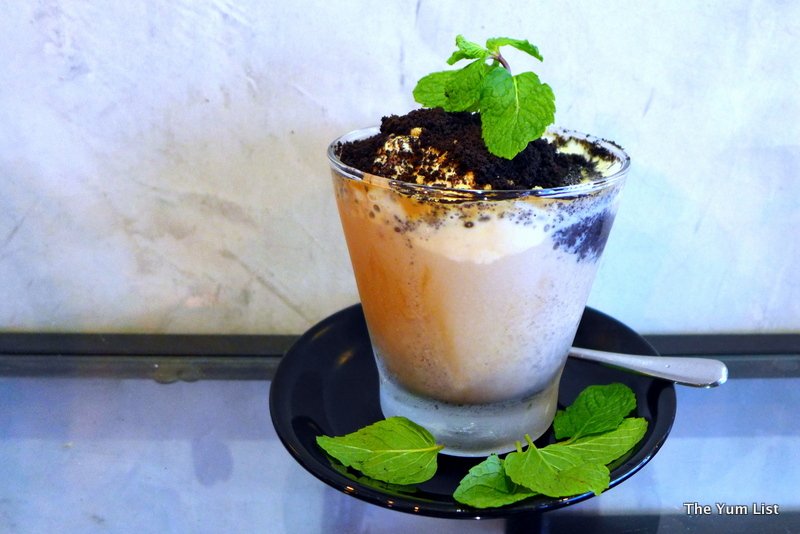 To sum up our trip to 103 Coffee Workshop, we would recommend the place to anyone who enjoys a little innovation in their plate as 103 Coffee Workshop gives a very muted yet fun approach to their Japanese inspired dishes. At first glance, it might be easy for anyone to simply pass the place as another establishment riding high on the industrial chic trend wave with a focus on fusion cuisine, but don't be too quick with that assumption: the team behind 103 Coffee Workshop are an incredibly passionate bunch with what they do. They thrive in a healthy, competitive internal environment, which motivates everyone to continually better their craft—the long queue outside the café is testament of their quality. So, whenever you're driving around the rising Sri Petaling area, be sure to drop by 103 Coffee Workshop for a culinary experience you have to sit in and appreciate.
Reasons to visit: Buchi Buchi Tomato; Egg Kumo; Chasu Grilled Cheese; Toriniku Curry Pie; while it isn't mentioned explicitly above, they have an exceptional selection of seasonal coffee beans done right, so be sure to order a cup when you visit.
103 Coffee Workshop
103 Jalan Radin Bagus
Bandar Baru Sri Petaling
WP 57000 Kuala Lumpur
Malaysia
+603 9054 5512
https://www.facebook.com/103coffeeworkshop
Kitchen closed on Mondays, but coffee is still served.