What was formerly an asylum brandishing distinctive Colonial architecture in the heart of Colombo has recently been bestowed a renewed lease of life: this round with a much swankier theme. Now housing some of the city's finest shops and galleries, Arcade Independence Square, is also home to Kaema Sutra, chef Dharshan Munidisa's latest culinary brainchild. Already strapping two of Asia's 50 Best Restaurants under his belt, we're more than just a little curious to discover what his third concept encompasses.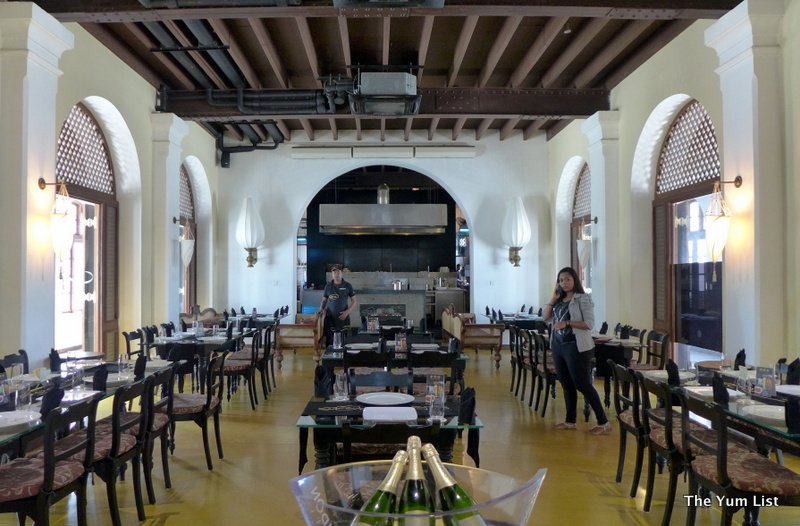 Kaema Sutra, not to be confused with karma sutra, means the art of food. And this truly is a place where culinary craftsmanship shines. The kitchen, oft hidden out of view in many restaurants, has been brought to the forefront in a multi-tiered assemblage resembling a grand stage. A giant pestle and mortar bridges the kitchen to the dining area, resting between tables and providing live eatertainment as sambols are made from scratch with each order.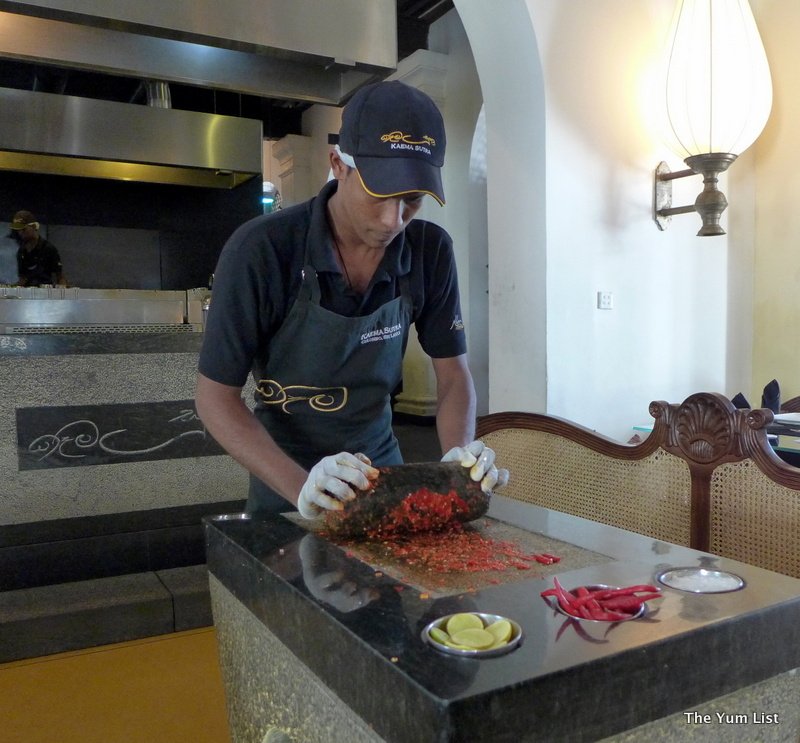 Everything has been custom-designed in accordance with Chef Dharshan's meticulous standards, and this includes the insistence that no freezer be found in any of his kitchens. He explains, "No freezer means you have to have really good ingredients on your doorstep. There's no cutting corners and sourcing everything fresh and local also reduces food miles." He even challenges other chefs to prove the freshness of their produce with the hashtag #nofreezerrestaurant.
These perfectionist inclinations don't halt in the kitchen either. Chef Dharshan's eye for design and avowal to provide a complete dining experience carries over to the elegant composure of the dining hall too. Exposed wooden beams in the ceiling are mirrored in colour in the intricately carved window shades that frame tall arches along both sides of the restaurant. Table runners are embroidered in gold with the handwritten script of the man himself naming the restaurant in curvaceous Singhalese, and smooth contemporary jazz tunes hum from a quality sound system.
Growing up a child of the globe with one parent from Sri Lanka and another from Japan, Dharshin proudly concedes that while he benefited from worldly experiences with food, he never went to culinary school. He discloses that his passion for cooking began from, "the eating side of things." Finding himself in the USA as a young gentleman, he found the food experience unfavourable, which served as the capitalist for becoming a chef himself. He asserts that he has a hands-on learning style and that much of his learning about food is "done through eating." His inspiration for continuing is "hunger, and thinking I can make something better than someone else. Not just hunger, but hunger to eat good stuff."
To be honest our experiences with Sri Lankan cuisine are limited. With the luck of knowing a few Sri Lankan chefs back in our home base, we've dined on what are claimed as authentic dishes, and are well tasted in the delicacies of the larger region, but a broad depth of knowledge we have not. We're a tad excited to expand our palates and are pleased that Chef Dharshan does the ordering for us.
Mini carafes of iced tea soda begin the experience. They're a replacement for Coke as chef refuses to sell the stuff. We're not complaining and find it the perfect pair for the dishes to come. The sparkles clear the palate and the sweetness tames the spice.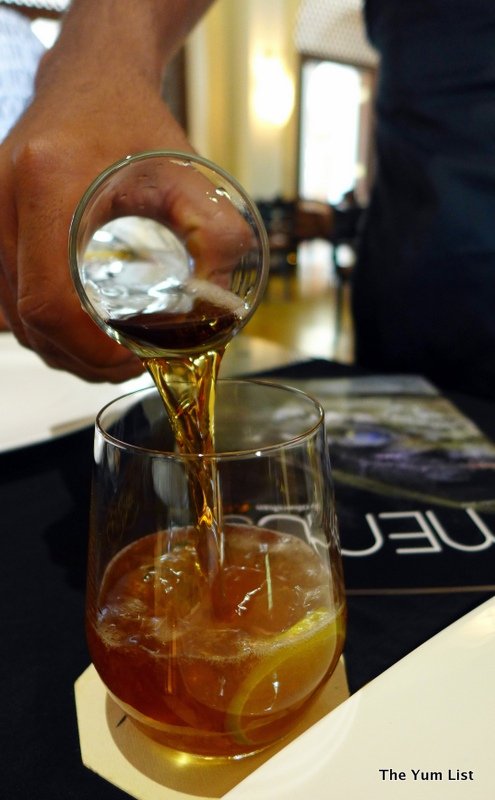 Clearly the first dish is a source of pride. When I say I haven't seen much like this before, chef replies, "Sri Lankan's haven't seen this food before," giving strength to the concept of contemporary Sri Lankan cuisine – traditional ingredients brought to life in new ways. Chicken Curry Salad with Egg (700) features crispy iceberg lettuce, curry chicken cold cuts and a soft yolk egg just waiting to be forked on top. Papadam and a sprinkling of manioc floss add some crunch and savoury interest.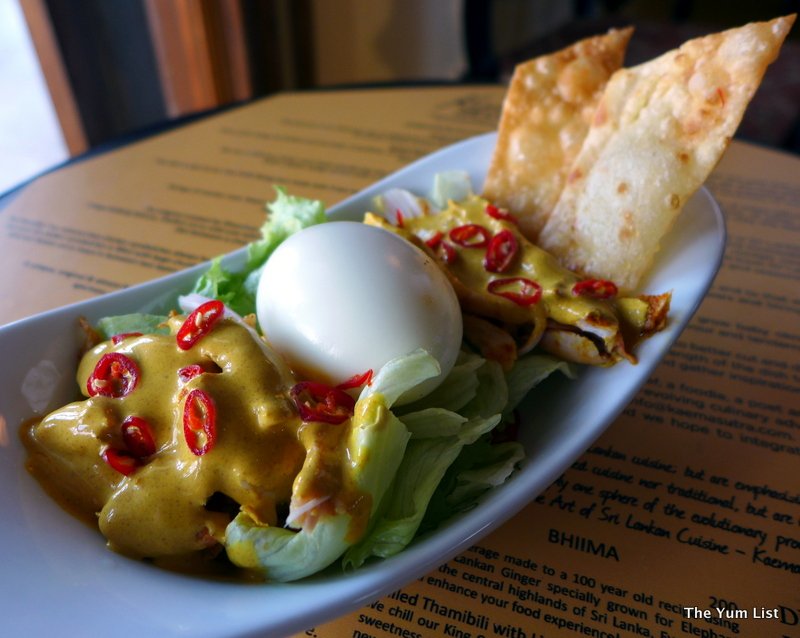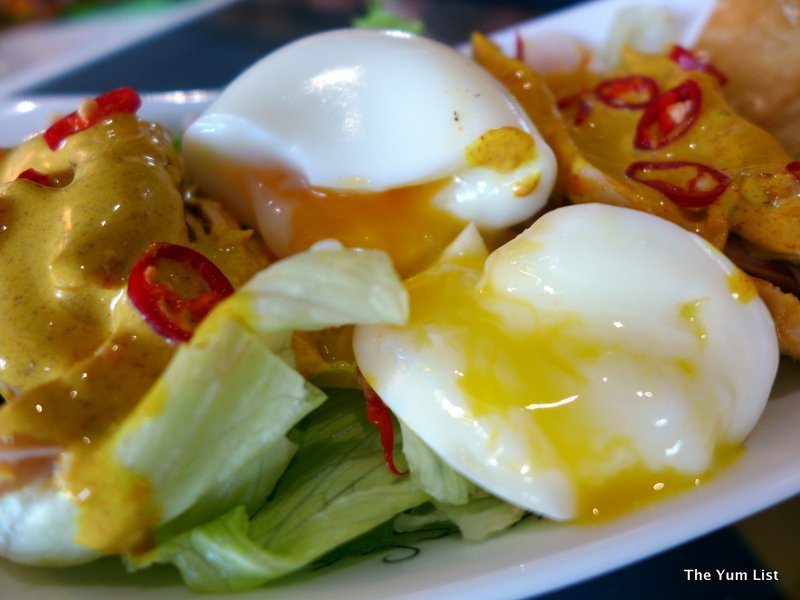 The Banana Leaf Barrumundi is described as being cooked in its own natural "Teflon coating" (the banana leaf that is), and it's chef's own recipe. Fish is harvested to order and finished on the teppanyaki grill. The moist flaky flesh is barely seen under a soft flavourful coat of vegetables and seasoning.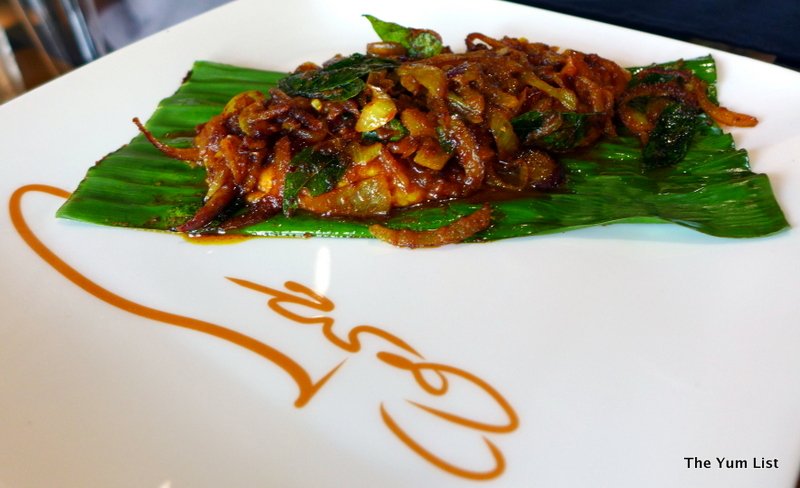 The same fish is used as bonito flakes atop the cleverly presented sambol in avocado. The smooth creamy fruit flesh disperses the hot spicy and sweet filling. Plain hopper arrives as a perfect half moon bowl, mirroring a satellite dome, and forming a consummate mate to dabbing up every last dab of sauce.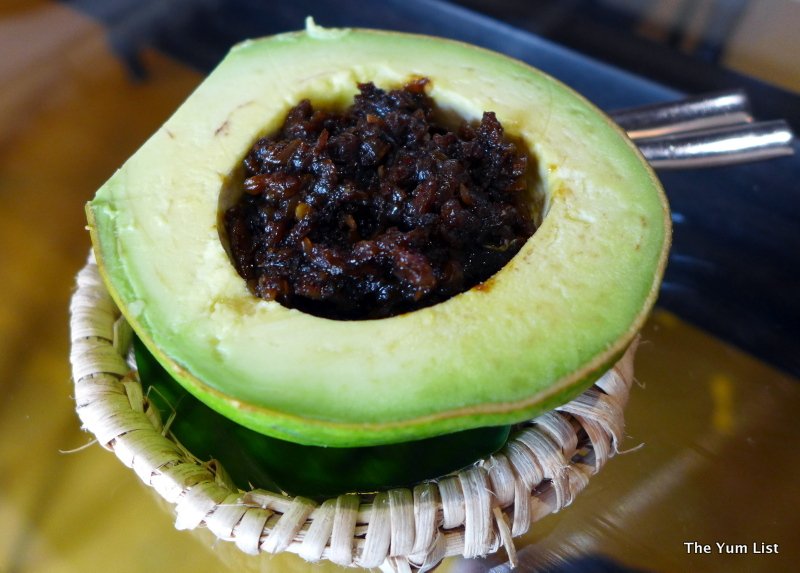 Chef's dual heritages are married into one box in the Kaema Pettiya: Sri Lankan food in a bento box. A colourful mosaic of vegetables, prawns, dhal and what surprisingly turns out to be jackfruit (the meaty texture reminded us of tenderly cooked lamb or beef – could be the new tofu ;-), makes one square of powerful savour that I'm pretty sure most Japanese have never seen the likes of. If I lived nearby, I could see this as a weekly lunch order.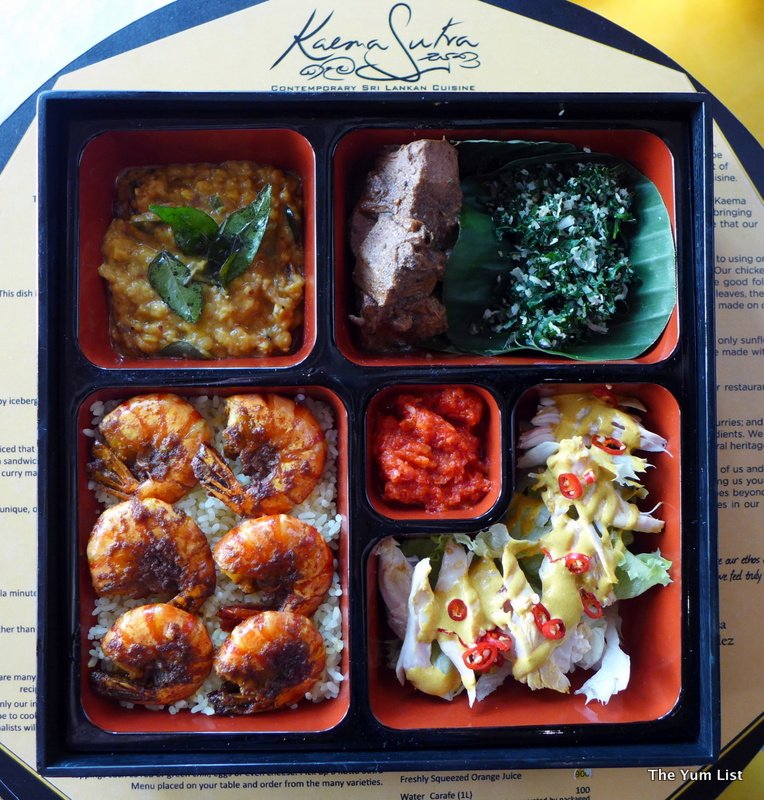 Kottu Sutra at Kaema Sutra is a heart-warming rendition of the traditional street food. Made with prawns and a roti base, we think it's the bee's knees until the next plate lands on our table. Dharshan's No Carb Kottu is the delicious gluten-freee sister of the original. It's been a huge hit amongst diners, and we note the use of egg white, instead of the whole egg, which gets an extra thumbs-up from the health conscious.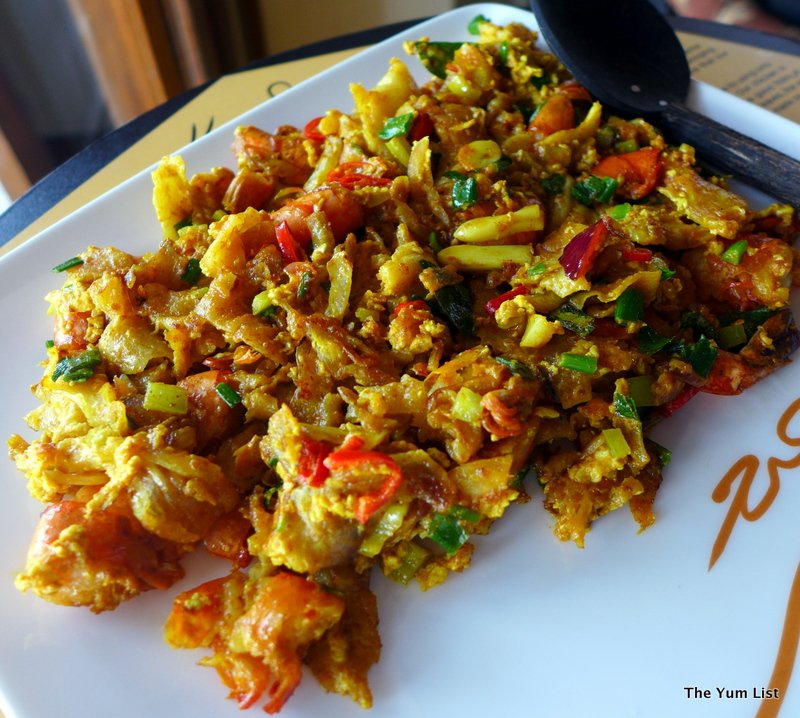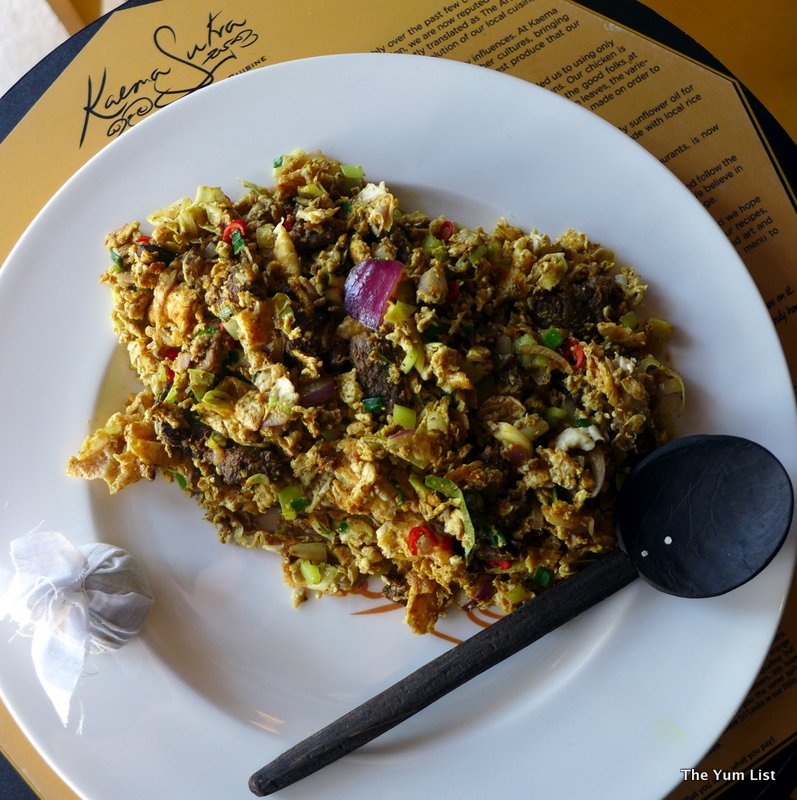 Pol Sambol, and Lunu Miris served in a coconut, add relish to Chef's take on a Sri Lankan Omelette. And really, all there is left to say on this tasty version is, order it. Yum.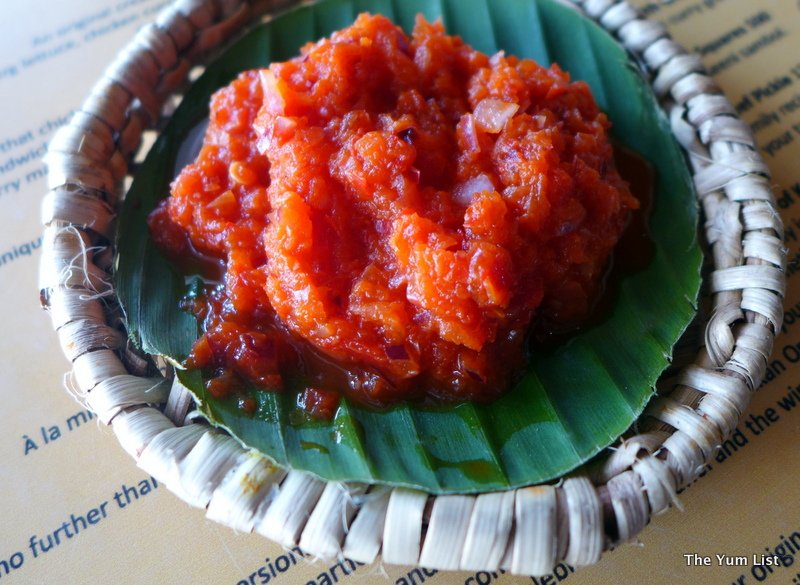 Aiding with a digestive we conclude our experience with Centella  – The Ultimate Gotukola Elixier – a Dharshan Munidasa Creation. Composed of coconut water and a carefully selected blend of greens, it's refreshingly light, a great palate cleanser, and a wonderful pick-me-up before heading back out onto the sultry streets of Colombo.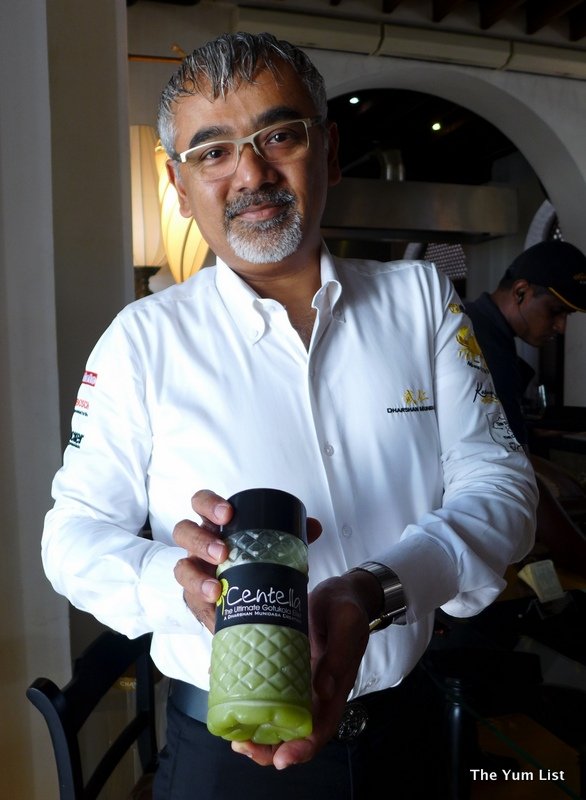 Reasons to visit: contemporary Sri Lankan cuisine; perhaps a chance to try the next restaurant in Asia's 50 Best before it's discovered; elegant setting.
Kaema Sutra
Colombo 7
Sri Lanka
+94 112 670 722
[email protected]
www.kaemasutra.com
Lunch: 12 noon to 3:00pm daily
Dinner: 6pm to 11pm daily