Patricia Podorsek and Monica Tindall
The foundation of a good restaurant is always the quality of its food. And as its name suggests, Bedrock Restaurant Café in Subang Jaya provides the groundwork for a solid meal.
Tucked into an unassuming upper corner of Subang Jaya, Bedrock's pared down ambiance can be the perfect spot to catch a quiet coffee out of the rain or a have an uninterrupted gathering of friends.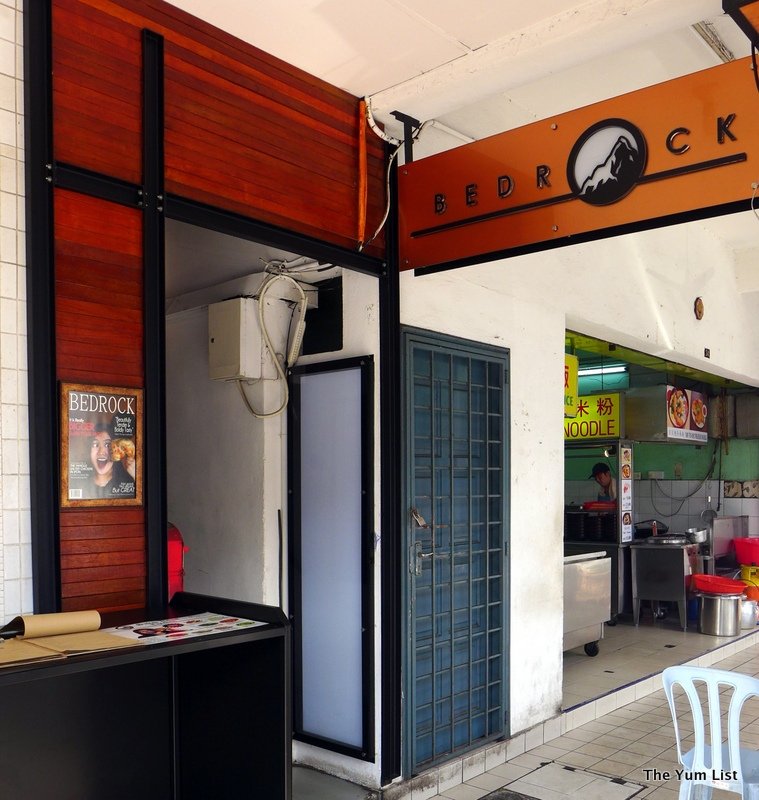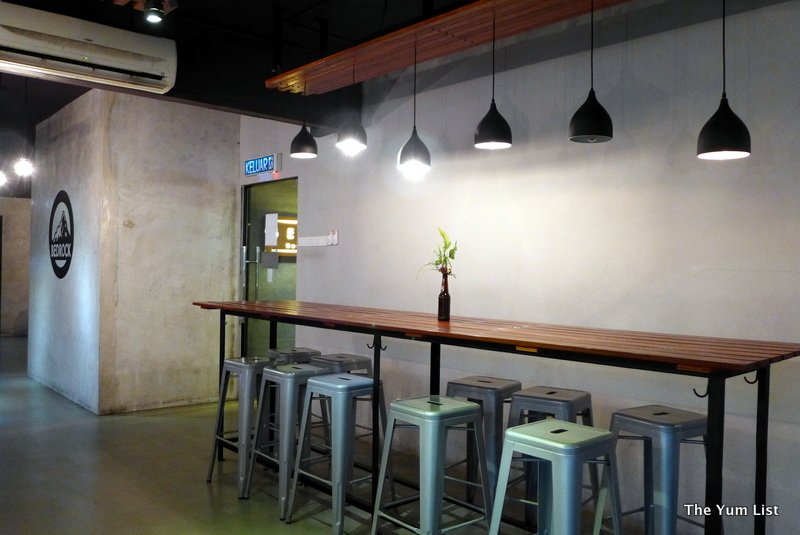 A talented barista delivers well-festooned and well-balanced cappuccinos (RM9) to our tables as we arrive damp from a downpour. The typical array of coffees grace the menu, from long blacks to Americanos. Teas and fresh juices are also on hand, as well as a modest selection of beers.
Weekenders will find breakfast served all day, so even though it was 3:00 in the afternoon, we began our tasting journey with the Middle-Eastern egg dish, Shakshouka (RM16). Adding their own spin, Bedrock combines pulled chicken with capsicum and cherry tomatoes to create a rich stew from which to mount baked eggs. The runny yolks melted into the broth for a filling and soulful meal that took the chill off the rain.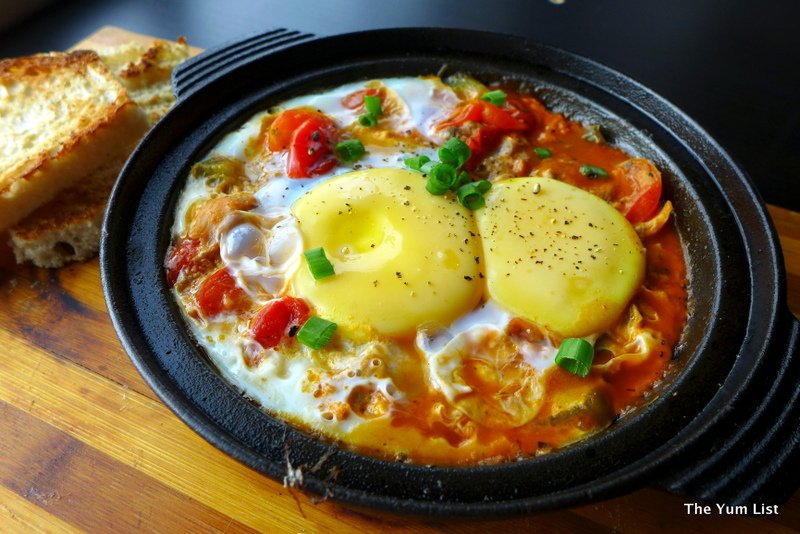 Also found on the All-Day Breakfast menu is Smoked Salmon with Potato Rosti (RM15), an excellent rendering of this European classic.  Thickly-layered shredded potatoes with a bit of onion are fried into crispy patties and topped with sour cream. Not at all greasy, the potato flavor stands tall. Curls of tender smoked salmon are balanced with a fresh salad complemented by ripe avocado and Greek style mustard-oregano dressing. Every piece of this plate was well-composed, right down to the onion relish: Bedrock pays attention to the details.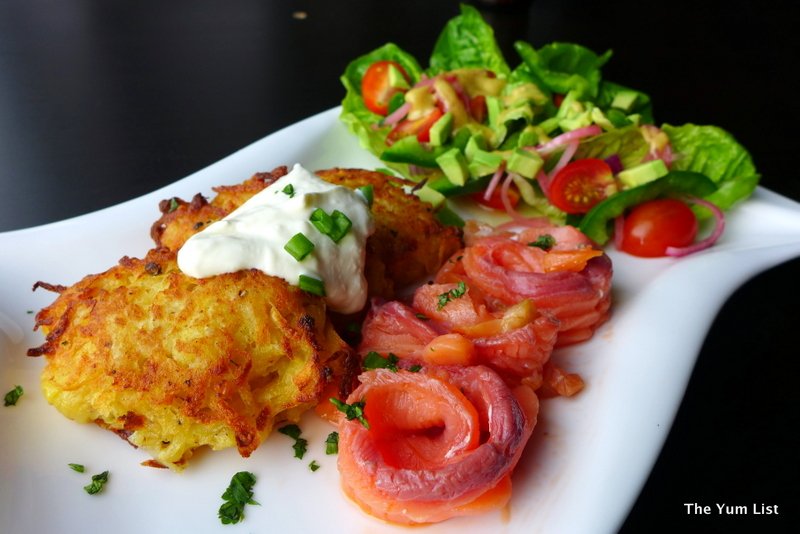 The specialty of the house, Salted Roast Chicken (RM 19.9) combines a generously proportioned leg-thigh combo with a choice of two side dishes. Taking fourteen hours to prepare, including twelve hours of brining for maximum juiciness, dark meat lovers will rejoice over the depth of flavor and moist texture. Side dish options include potatoes, coleslaw, corn salad, and minty mashed peas. We enjoyed the cajun rice, a southern American staple peppered with onion, paprika, cumin, garlic, and oregano.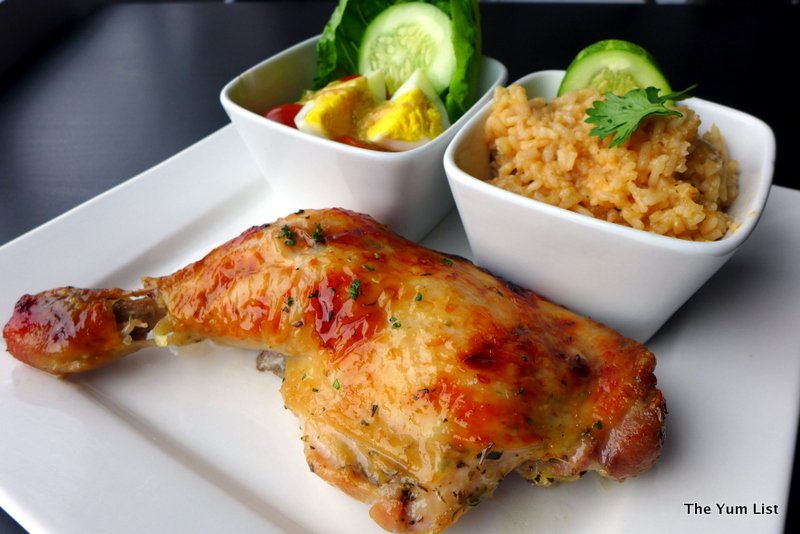 Bedrock's standard menu contains a number of rice and pasta dishes, including Pasta Primavera with Smoked Salmon (RM19). Simply prepared with the highest quality parmesan, flakes of smoked salmon, and a little cream, this dish is as fresh as the season it's named for.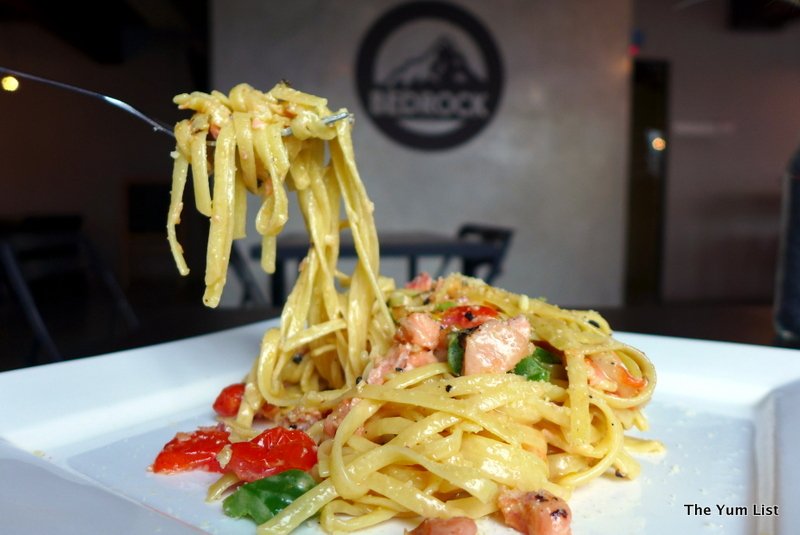 Bedrock will be featuring a special Christmas menu from 18 – 26 December. We were lucky to sample a few of the items as they were testing them. Two special mains will be added to their normal fare. The first is Pan Seared Duck Breast (RM22), which showcases tender slices of duck overlaying mashed potatoes that have been softened with duck fat, rosemary, and cream. For added decadence, a caramelized balsamic reduction ornaments the plate and add sweetness to the roast.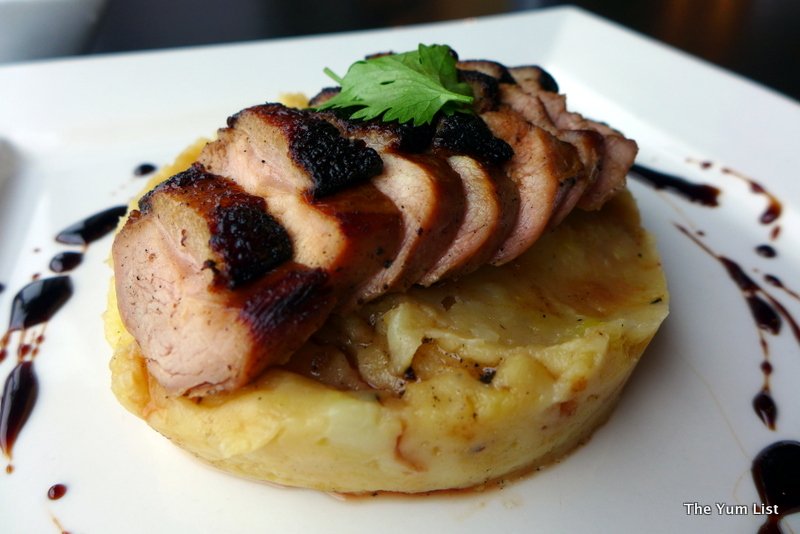 The second main featured on the Christmas menu is Duck Confit Pasta (RM22). Two prepared duck legs are served over pasta tossed with garlic and cheese, then laced with lime and a little chili. The simplicity of the pasta heightens the deeper flavors of the duck.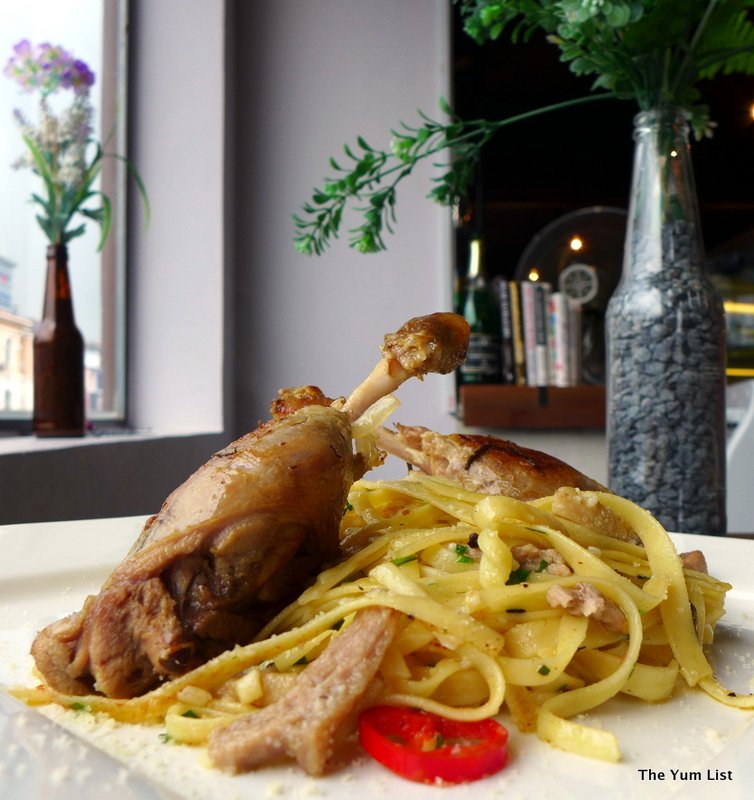 The Christmas menu also offers two appetizer options, bruschetta and waldorf salad, as well as three desserts. We sampled the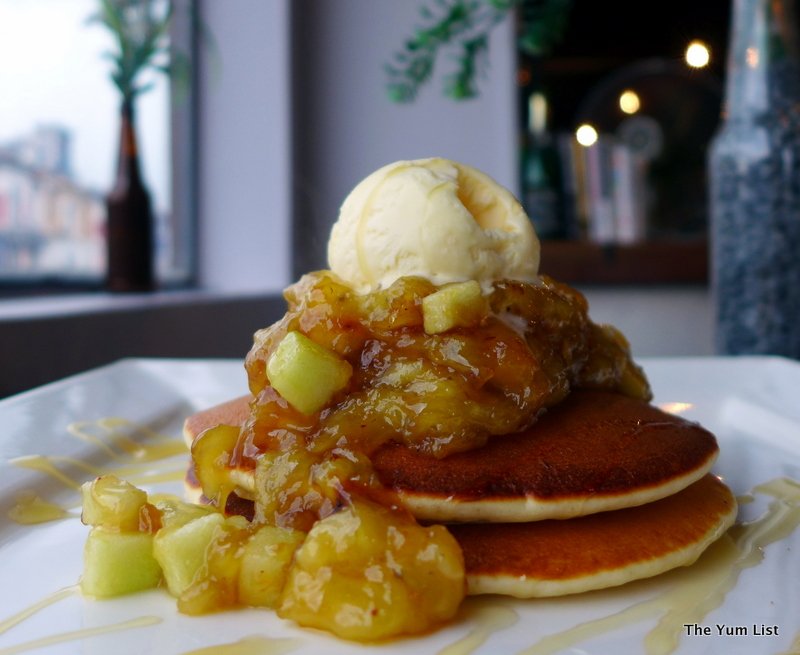 (RM15), two fluffy American-style flapjacks covered in a fresh-fruit compote and homemade vanilla ice cream. I think "Hubby" was ready to add this one to his Christmas list!
Bedrock Restaurant Café lives up to its name when it comes to foundational cooking. When I asked Nicholas, Bedrock's founder, about his vision, he replied, "Our mission is to provide good food right here in Subang so our neighbors don't have to go all the way to Bangsar, PJ, or KLCC. We've got it right here." And they do.
Bedrock is open daily 11:00 a.m. – 10:00 p.m. weekdays and 9:00 am – 10:00 pm on weekends. The restaurant is pork-free but not halal.
Reasons to visit: delicious rosti like my grandmother used to make, a light touch on the pasta dishes, and general, all-around well-prepared international food at reasonable prices.
Bedrock Restaurant and Café
36-1, Jalan USJ 10/1, Taipan Business Centre
47620 Subang Jaya, Selangor
017-3527250, 017-3160983
http://bedrockrc.wix.com/bedrockcafe