Christmas is not a public holiday in Phuket, but hotels and restaurants sure do their best to bring a little piece of the festive spirit to their properties for visitors and residents wishing to celebrate. We're fortunate to be staying at The Pavilions in the Laguna area over Christmas and are treated to a Yuletide meal with a contemporary twist.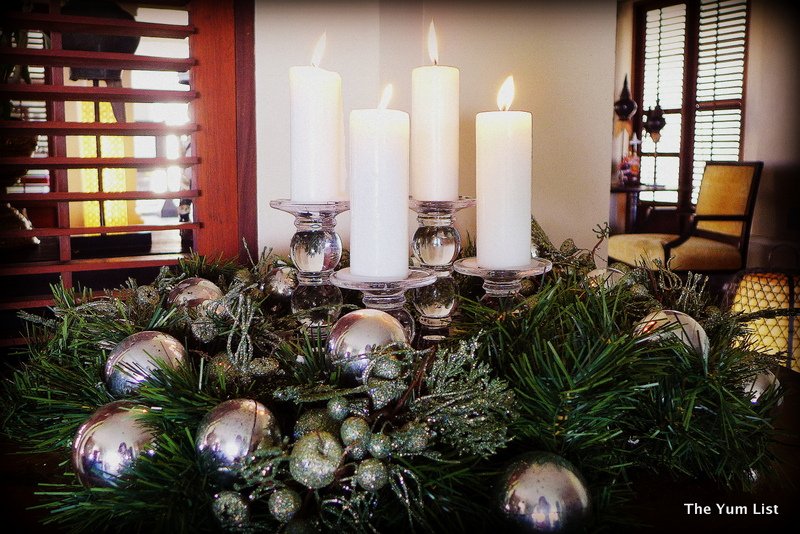 The Pavilions signature restaurant, Plantation Club, sits atop a hill providing beautiful views over treetops, roofscapes and further beyond to the deep blue sea. Shaped like a hand fan the space spreads out to an open-walled dining area, where cool breezes and smell of fresh air is just as stimulating to the senses as are the magnificent views.
Chef Belinda Tuckwell leads the kitchen team, and on previous visits we've been inspired by her use of high quality ingredients and injection of imagination into her recipes. She has a way of adding interest to the familiar without overwhelming guests by going over the top.
This Christmas Eve dinner begins with a chilled mulled wine, canapés and a spot of socializing with other guests, before we casually take our seats in the main dining area. Decorations, much like the food, are done tastefully without being overblown. Red and green runners cross the tables, angels sit in glass vases and petite gingerbread Christmas trees centre each table.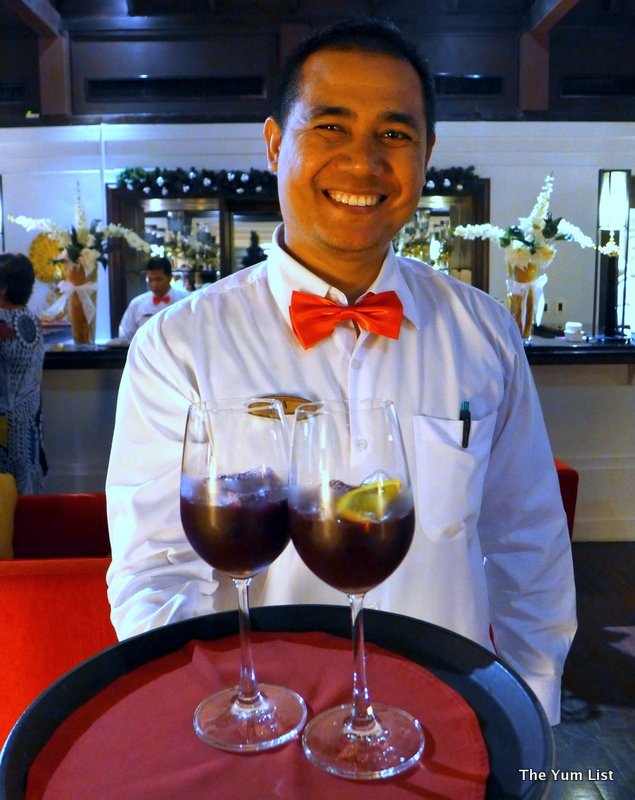 The menu, suitably named A Christmas Carol, begins with Let is Snow: snow crab, cucumber Carpaccio, smoked salmon and fennel cream. Elegantly plated atop a circular shaving of cucumber, the shredded crabmeat is extremely fresh and dressed ever so lightly allowing the taste of the ocean to shine through. A rosy pink triangle of Tasmanian salmon is adorned with a sprig of dill and dash of caviar and the dots of fennel cream around the plate are well worth wiping up.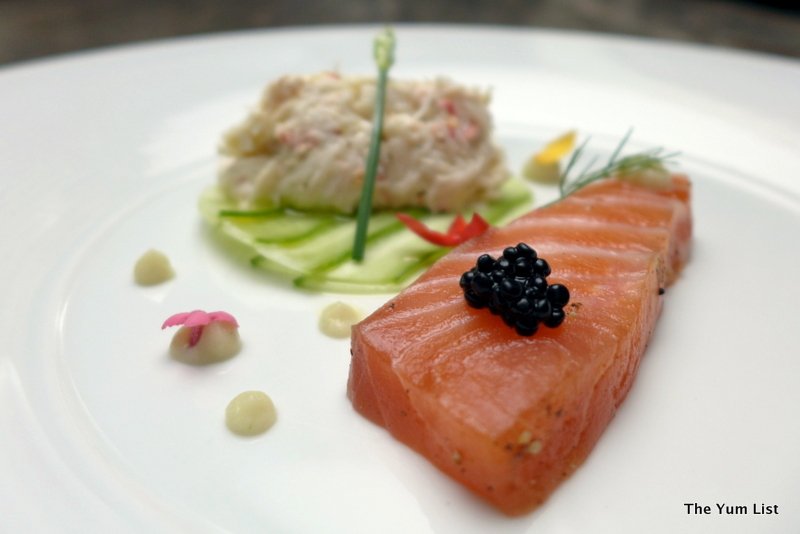 The First Noel is a fantastic presentation of foie gras mousse in a hollowed out eggshell. Still installed in an egg carton, it's sided with a finger of brioche toast and spoon of fig compote. Hubby and I both have enormous smiles on our faces as we exchange stories of our parents making soft-boiled eggs for us as children. The mousse is velvety smooth and the fruity preserve complements it beautifully.
A palate cleanser, Winter Wonderland, resembles a fresh fall of snow collected in a glass receptacle. Dwarf Thai coconut has been smoked and made into a soft granita, and the smoking seems to intensify the tropical flavours making this something I know I'm going to dream about for weeks to come.
An intermission for the palate is mirrored with a break in entertainment as a local group of Christmas carolers serenade guests. All proceeds go to a local charity, and it's a timely recess adding some playful cheer to the evening. Even though this is an adults-only property, hubby is making up for the lack of youngsters with his enthusiasm for Rudolf the Red-Nosed Reindeer. Believe it or not, but even my "behave" look can't stifle his verve as he carries on banging his cutlery together as percussion accompaniment to the musicians.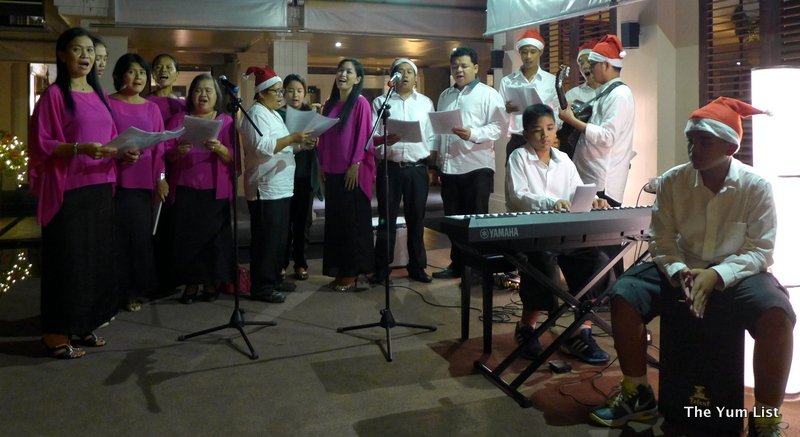 All I Want For Christmas, the main, unveils a trio of birds sided with a sweet pumpkin mash and soft thick zucchini slices drizzled with jus and edamame beans. A rich shredded duck confit, moist white capon breast, and turkey stuffed with duck, truffle and chestnut, fill our stomachs but offer a lightness to the dish, keeping us pleasantly full without feeling as though our only option for exit is to tuck in our legs and arms and roll out of there.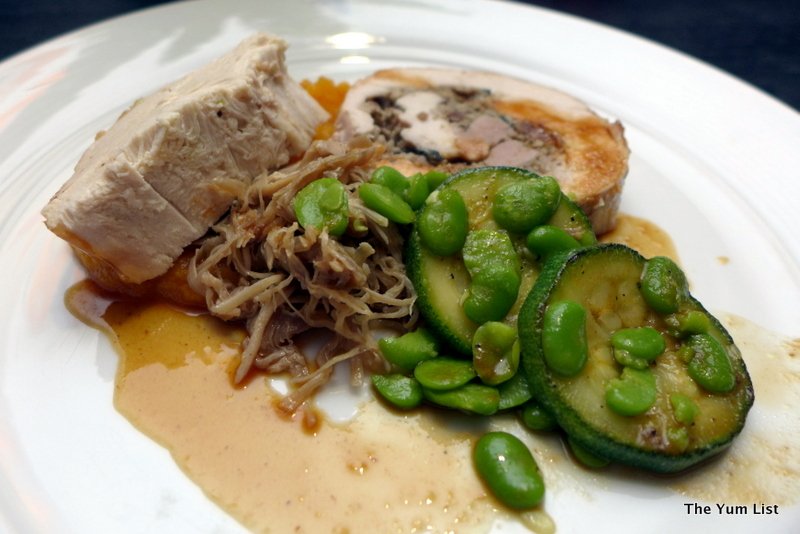 Jingle Bells, pear belle Hélène, sees a chocolate bell-shaped frame contain a base of vanilla cream, poached pear and rich chocolate sauce. A scoop of vanilla ice cream works handsomely well together and fashions an enjoyable ending to our Christmas Eve dinner.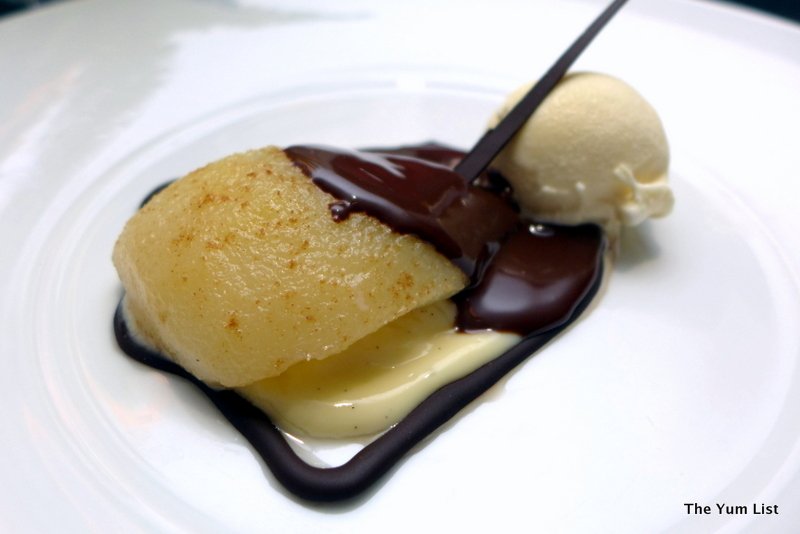 Reasons to visit: beautiful open-walled setting with cool breezes and stunning views over treetops and the sea; high quality ingredients presented tastefully with a twist.
The Plantation Club
The Pavilions
31/1 Moo 6
Cherngtalay
Thalang, Phuket
Thailand
+66 7631 7600
www.thepavilionsresorts.com