Trying to give their customers a home-away-from-home feel, the Banyan Tree Phuket has developed a new experience for weekend visitors and in-house guests: Comfort Food on the Terrace, Family Style Dinners.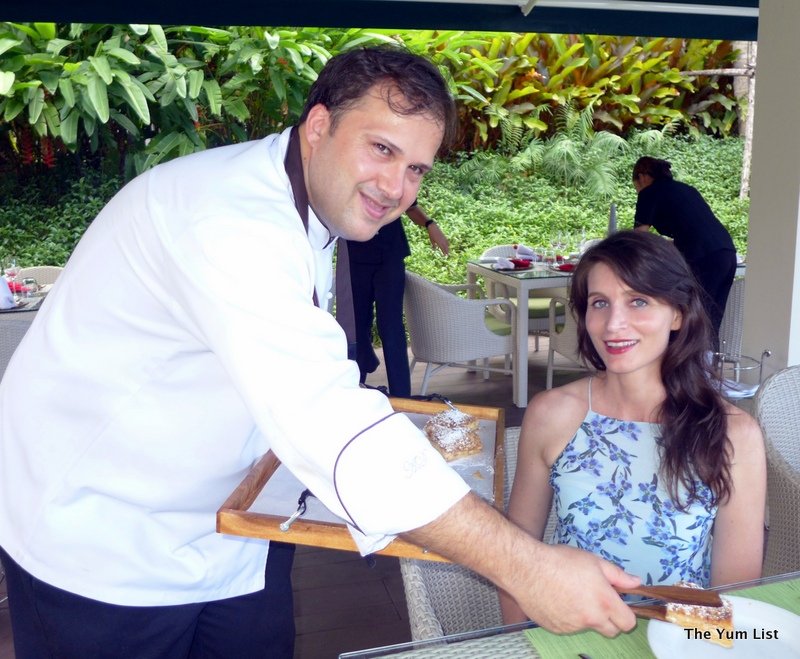 Showcasing the best-loved recipes from the homes of the international chefs on the Banyan Tree team, every dinner is a new encounter.  The menu is refreshed weekly, and the only criteria for making it to the carte du jour is that the food elicit emotions and fond memories from the chefs' own childhood.
Executive Chef, Alfonso de la Dehesa, hails from Spain and for our experience with Comfort Food on the Terrace he shares with us recipes borrowed from his own mum and grandma. Chef is sure to tell us from the start that this is a meal "sin extravaganzas, comida honesta" – without extravagance, honest home cooking.
We begin with a classic, Jamon de Pata Negra con Melon. Juicy balls and arcs of cantaloupe are wrapped with finely shaved strips of the ham from Salamanca, which has been sliced seconds before from a large leg in the open kitchen. The meat has been aged for 24 months and provides a beautiful savoury contrast to the sweet fruit. Giving it a luxuriant splash is a fine mist of supreme quality extra virgin olive oil from Château d'Estoublon.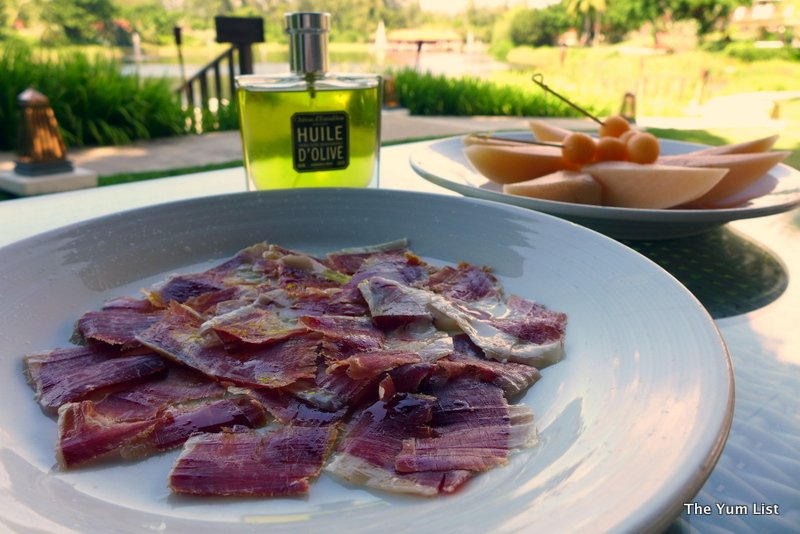 Another beloved Spanish plate, Gambas al Ajillo, makes use of tasty local prawns, which are sautéed quickly in garlic and white wine. Chili flakes, parsley and spring onions add further seasoning. Sometimes you'll also hear this dish called pil pil, and chef shares with us that it's onomatopoeia for the sound that's made as the oil fries in the pan when preparing these shrimp. Yum.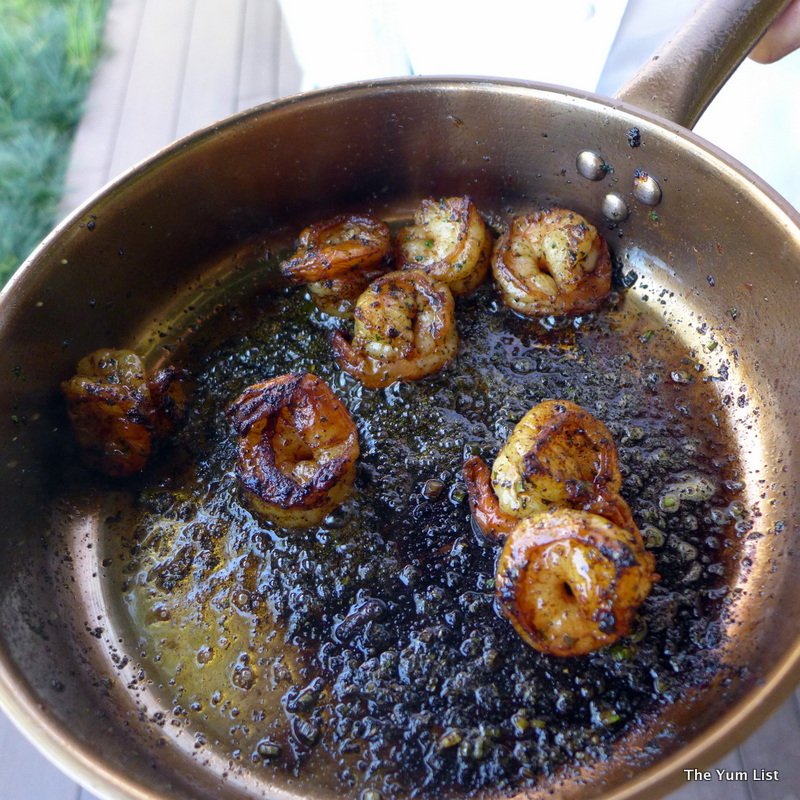 Sopa de Mariscos (seafood soup) is a recipe from chef's abuela. A rich thick seafood broth is boosted with oregano, carrot, onion and aromatic anise. Incredibly fresh mussels, squid, prawns and white snapper fill the soup with succulent bites of deliciousness. This one has us happily recalling our recent travels to the south of Spain, and chef's smile couldn't be bigger when he too recounts learning how to make this one with his grandma.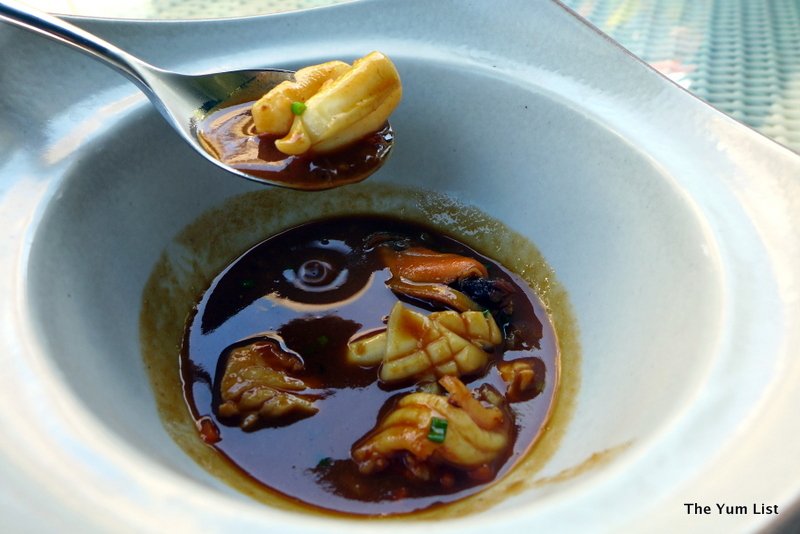 White meaty pieces of hake are drizzled with a green sauce in Merluza con Salsa Verde. Asparagus, clams and green peas lend weight to the white wine, garlic and parsley sauce, and the excess could easily be sopped up with a piece of crusty bread. The flavours of this dish are accentuated with a few flakes of Maldon, smoked sea salt.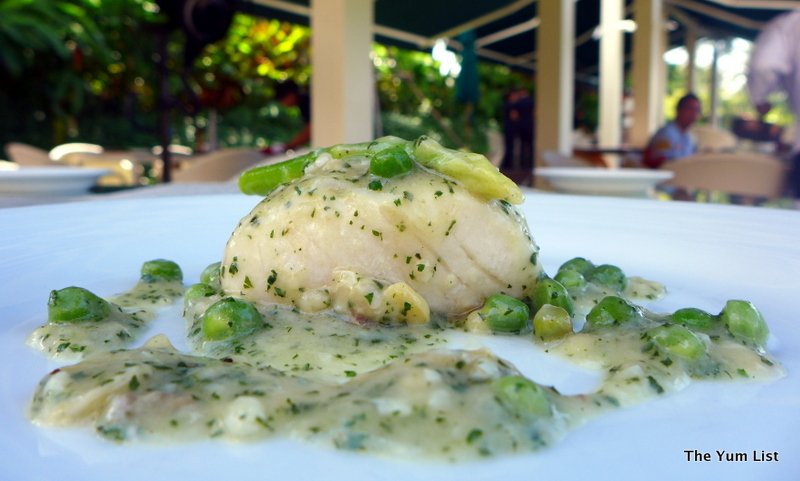 Another recipe from chef's abuela is found in the turkey main. This one has been stuffed with almonds, olives and foie gras before being baked until golden and crisp. A thick slice of the poultry is served atop mashed potato, and sided with a roasted cherry tomato and broccoli. If the four dishes leading up to this point didn't fill our stomachs, this plate has guaranteed that not a single hunger pang remains.
Dessert brings puff pastry layers filled with custard cream, topped with a nut crumble and dusted with icing sugar. It's warm, recently out of the oven, and a scoop of vanilla ice cream melts dreamily over its entirety. Pantxineta, a traditional pastry from San Sebastian, certainly puts a big smile on hubby's face, and I'm imagining it not only as a sweet ending, but a lovely in-between-meals snack with a strong cup of coffee.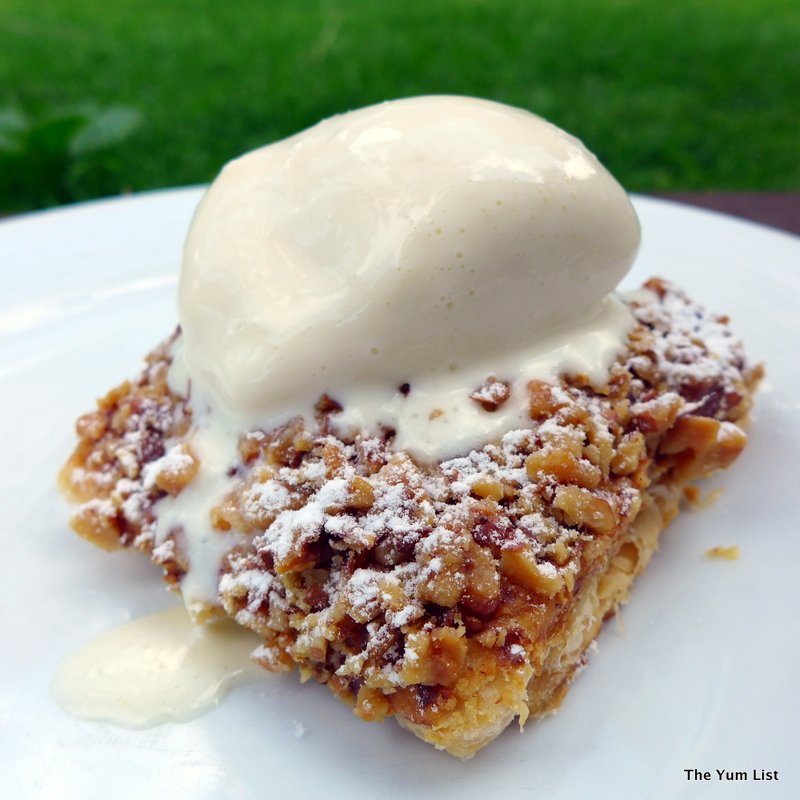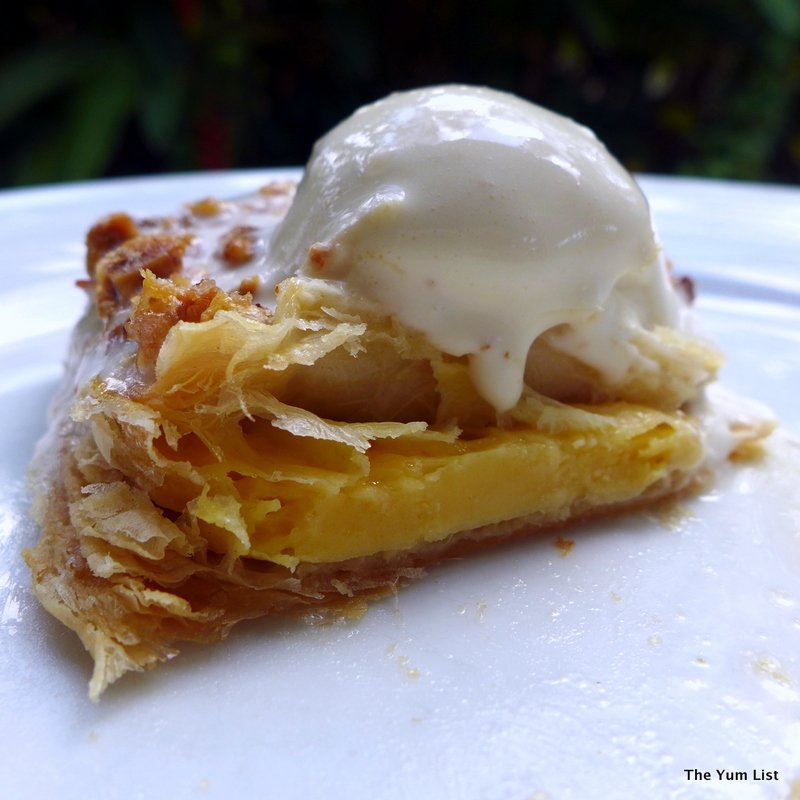 Petite Fours end all Comfort Food on the Terrace menus, but today our conclusion is a final celebration of the Spanish theme, with one of my favourite Spanish cheeses. An alluring round of Queso Manchego, a firm matured cheese, is sliced by the chef himself, and for wine drinkers, a sweet red, port or sherry would make an excellent pairing.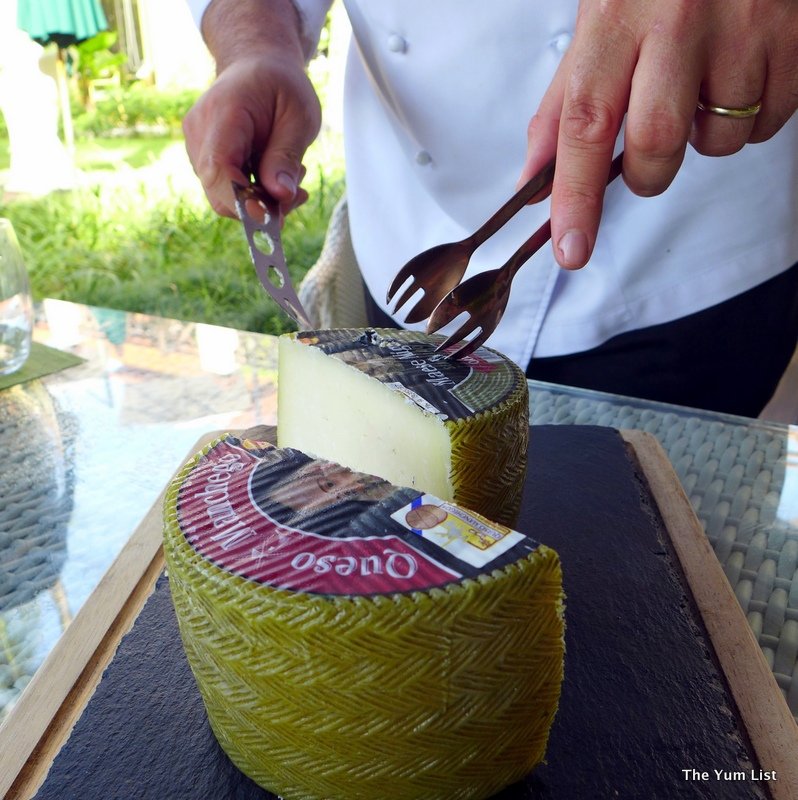 The four-course menu is available Friday, Saturday and Sunday from 7pm – 9:30pm and is priced at BHT 2800 per person. To maintain the quality of the food, and to allow the chef to serve some dishes directly to the table, places are limited, so do book ahead.
Reasons to visit: comfort food highlighting chef's own family's recipes; pretty setting; excellent wine selection.
Banyan Tree Phuket
33/27 Moo 4
Srisoonthorn Road
Cherngtalay
Amphur Talang
Phuket 83110
Thailand
+66 76 372 400
[email protected]
www.banyantree.com