Words: Kirsten Durward   Photos: Monica Tindall
Who could resist an invitation to drink wine in an exclusive private room with the attention of not one, but two sommeliers? Not these two wine loving ladies! As we've been given the secret directions (you have to read to the end to get them), it doesn't take Monica and I long to find the unmarked entrance in a TTDI side street. We don't have the entrance code but we do have a telephone number.  However, before my fingers have tapped it in, a hidden camera must have spotted us for the black iron gate slides open and we are whizzed back in time to a late 20's prohibition style ambience, replete with black leather, red velvet, low light and bluesy jazz. Sold already! I always had a bit of a thing for the 20's and 30's and I promise you Claudette Colbert and her cigarette holder would not look out of place here.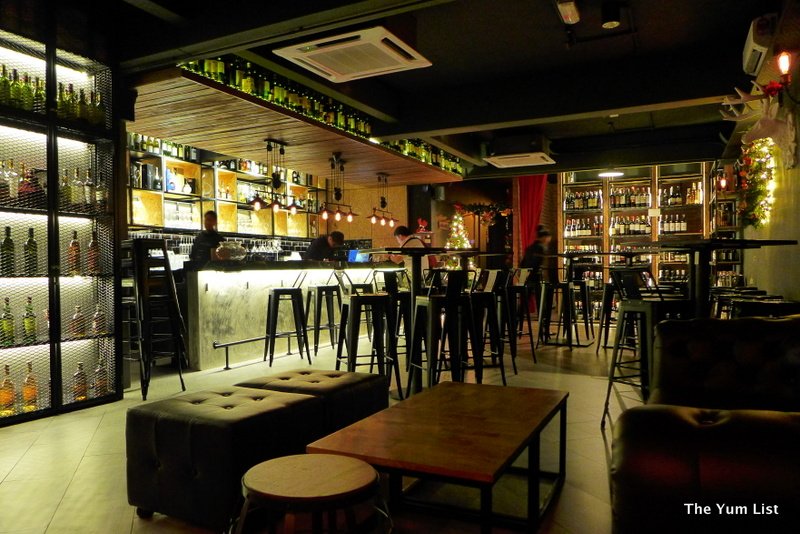 We are whisked into a comfortable seating area behind a curtain by the sophisticated Keith Chong, one of KL's new renaissance entrepreneurs. More and more I am impressed with young people who are working tirelessly with focused vision to create something special and different in the city. All the more for us to enjoy! Keith and his partners like to drink, especially wine, and being unable to find exactly what they wanted in town, they put together everything they liked and created their own place. Kudos.
And this is special for sure. Danny, one of the country's top sommeliers is soon wooing us with his novel wine cocktails. 'Demeter' is a wonderfully refreshing concoction, which manages to be both light and robust. Danny's innocuous blend of Sicilian blood orange liqueur, pink grapefruit, New Zealand sauvignon blanc and mint, quickly has us relaxing in this intimate space. Often long wine cooler drinks like this become watery quickly but in a clever twist the green tea ice cubes ensure that this particular beverage retains body and flavour to the very last sip.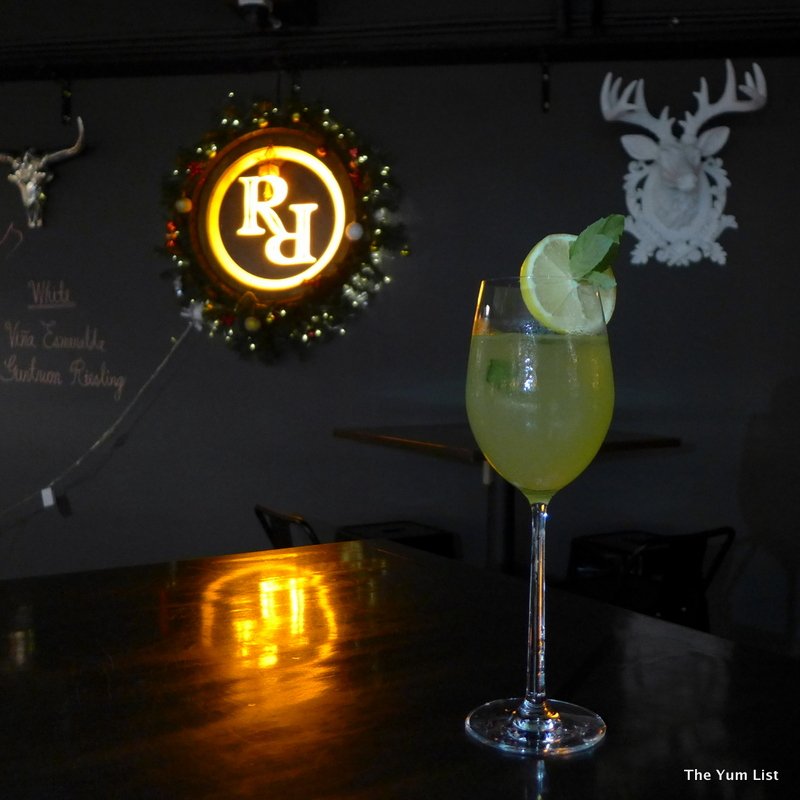 Gentle 'Demeter''s sexier sister 'Aphrodite' arrives in a bowl glass that sits perfectly weighted in our hands. More of a digestif style blend she features sweet Spanish sherry of the Ximinez variety, Parfait Amour liqueur and gin. Now gin is a tough spirit to blend, and I'm gratified not to get an overwhelming aroma or flavour from this smooth Benedictine style drink. The lemongrass is a touch of genius, adding nuance to the cocktail. We are agreed – wine cocktails are definitely something to be encouraged. Danny's co-sommelier and Private Room founder Justin Ho is currently in Japan carrying out 'research'. Oh I want that job!
The main event of this particular evening is to try a wine pairing, as the Private Room plans to begin serving a small range of bar snacks to accompany the wine sipping.
I'm impressed with the size of the Salmon Bruschetta and we both enjoy the soft combination of smoked salmon with Old Amsterdam cream cheese, enhanced cleverly by capers and fresh rosemary. Although the Stanley Estate sauvignon blanc is a firm favourite with it's crisp acidity, we feel the food would be better served with a more buttery chardonnay. No doubting the quality of both parties though.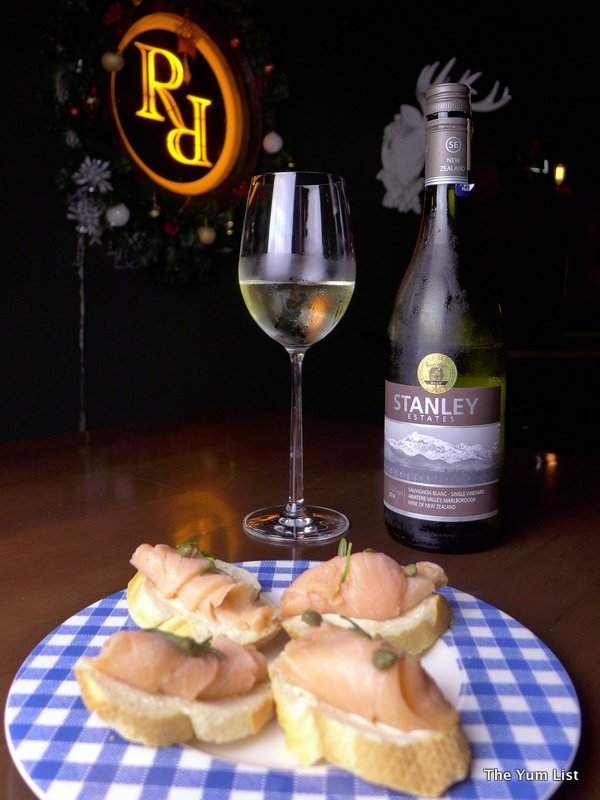 The next dish attracts our olfactory senses immediately and tasting doesn't disappoint. A plethora of crispy salad leaves are scattered with truffle oil and balsamic, coating the warm Iberico collar meat, but it is the roast garlic that gives this dish its true ambience. Paired with a dusty Tormentoso cabernet sauvignon oozing overtones of coconut and tobacco, we love the wine but also imagine something a little more on the robust Italian side to combine with this luscious dish.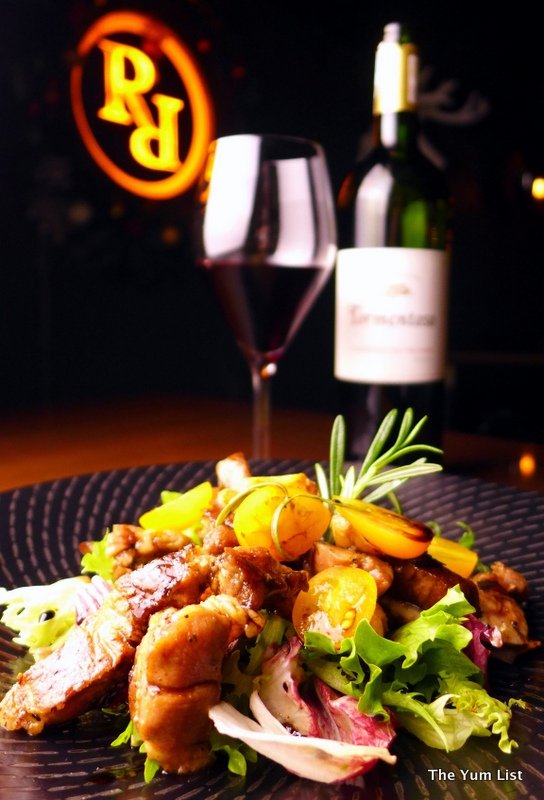 The boys continue with their strategy of unusual pairings, bringing out a delightfully pungent blue cheese served up with nuts and dried fruits. This is accompanied by the Pedro Ximénez 'Nectar' which drizzles caramel fig tones over our willing tongues. Again we are delighted with the quality of the offerings, but our palates yearn for a more traditional port or dessert wine to serve the cheese, and we'd love to try the Nectar with a rich dense chocolate mud cake.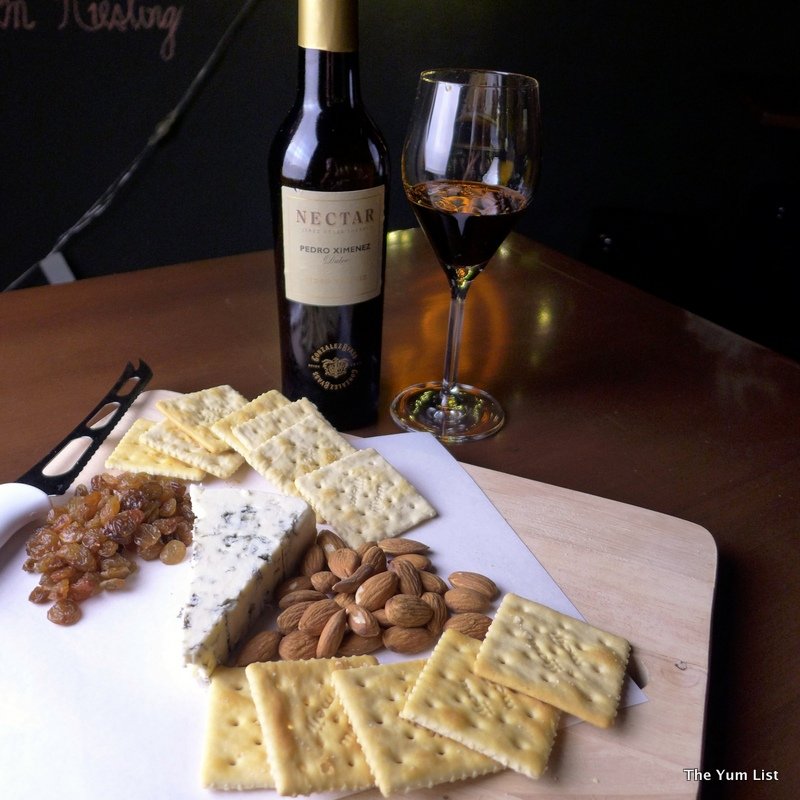 You would think that would be enough for an evening, but we are pressed to try a last concoction to wind down. Possibly my favourite drink of the evening, this is a winner for the festive season. Port blended with Spanish brandy, infused with the fresh spices of cinnamon, clove and star anise, is lifted with the zest of orange and lemon peel and just dash of ginger ale. Slips down a treat!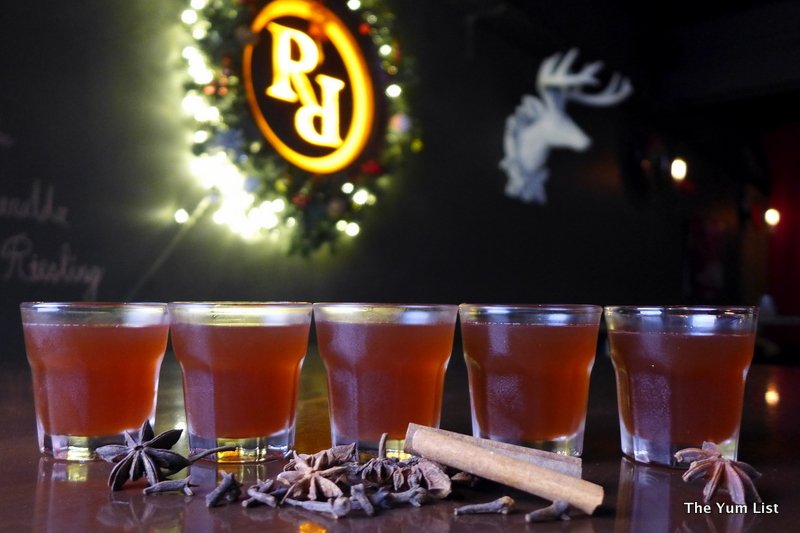 All in all, we are really entranced by the wonderful balance of old style ambience and modern taste in 'The Private Room.' Only a month into their brand, our young entrepreneurs admit to be still trying out what works, but we are so glad they are. Although other beverages are served, the mission of 'The Private Room' is to build a culture of enjoying wine, providing a genuine ambience and feel of a private drinking club, and to make it affordable.
With 200 wines on the list, soon to be expanded to 250, the advice of two top sommeliers, and remarkably reasonable pricing, this has to be on the list of best places to drink wine in KL. A bonus is, if you find one you really, really like, you can take it home in a brown paper bag, with a fantastic 20% discount! And if that weren't enough incentive to try a glass or two, with what must surely be one of the best wine happy hours in the city at RM18 nett per glass from 5-8pm, there seems no reason not to head to Private Room TTDI after work every day you can!
Private Room TTDI is open every day from 5pm until late. Look for the "Yellow Door" beside Bowery Petit Café next to Proton car dealer. Go up to the first floor, and enter your code (call ahead to make a reservation and they'll give you your own secret password).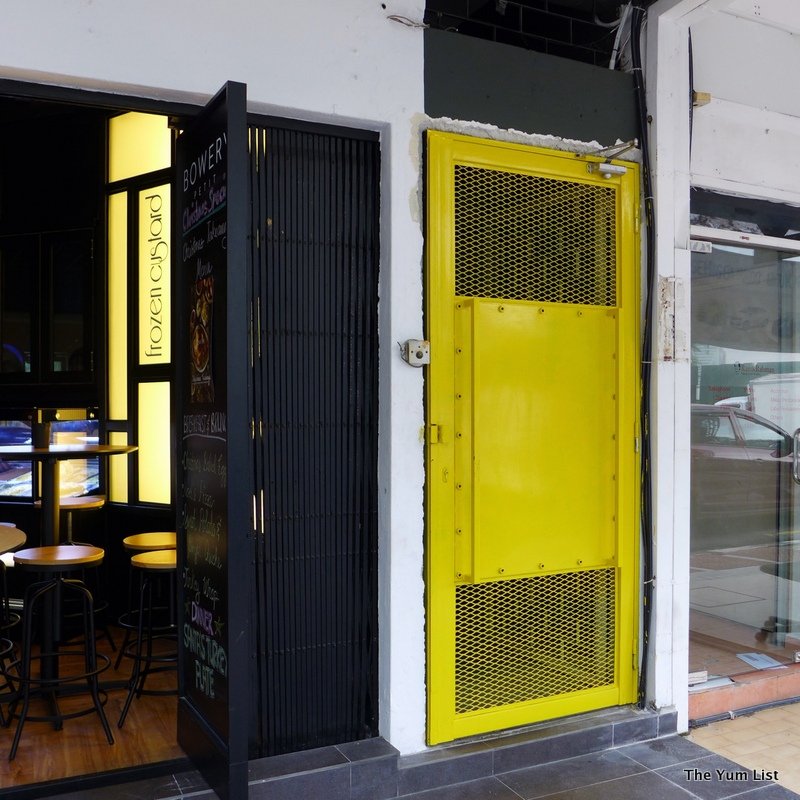 Reasons to visit: well priced wine by the bottle, top sommelier guidance, brilliant ambience, wine happy hours.
Private Room TTDI
No.48a-2, First Floor,
Persiaran Zaaba,
Taman Tun Dr Ismail,
Kuala Lumpur, Malaysia.
+6 03 7733 6631
[email protected]
www.facebook.com/prttdi