Monica Isabel Larrieu & Monica Tindall
Being new to Kuala Lumpur, I relied on my ride to wind our way to Medan Damansara and take me to my first Yum List review. All I knew about my new assignment was that it was at an Italian restaurant, and that we would be sampling off the Chef's December Specials menu. I was so new to the area, I did not even know that La Risata has a sister restaurant in Ampang which is one of the pioneers of Italian cuisine in the city, or that its owners are also proprietors of Bijan in Bukit Ceylon (one of the few restaurants in Malaysia to offer wine pairing with Malay cuisine). Regardless, as we pulled into a relatively unassuming, two-storied strip mall, I did not expect to find the hidden little gem that awaited me.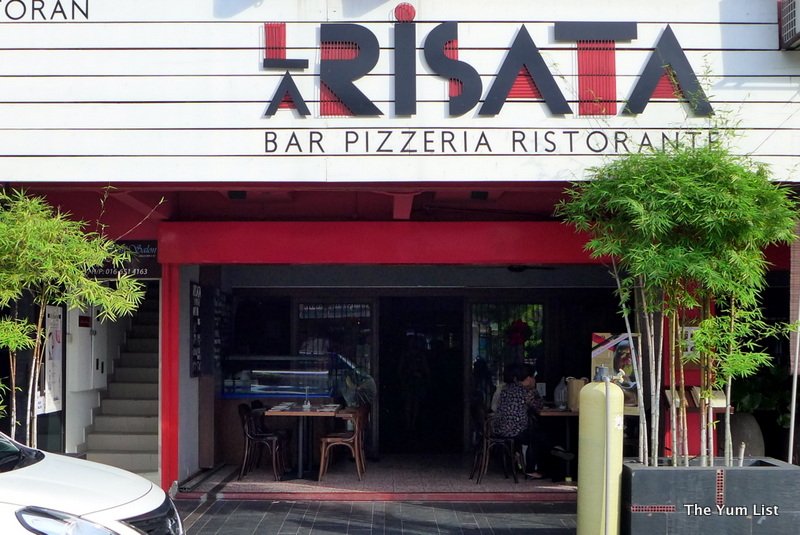 The dining room was dimly lit and surrounded by an eclectic mix of industrial and rustic elements that worked unexpectedly well together and felt very comfortable – brick, cement, black metal, wood, and glass. It was cozy, yet hip, in a non-pretentious way. For a fleeting moment, I wished I were there on a much-needed date with my husband.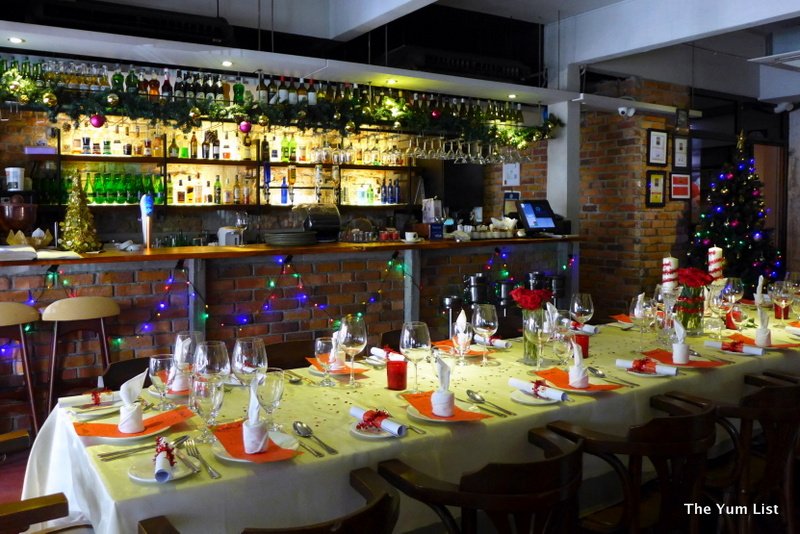 Aperitif
The sampling started with a Specialità Del Barista, the Bloody Joe (RM30). Offered to us in a generous glass, the refreshing pink cocktail consisted of vodka, gin, Cointreau and lime juice, with a big enough splash of cranberry syrup to make me think of a Christmas-y Seabreeze, appropriately adapted for the holidays with the added tartness of lime, an orange kick from the triple sec, and a confident boost of gin.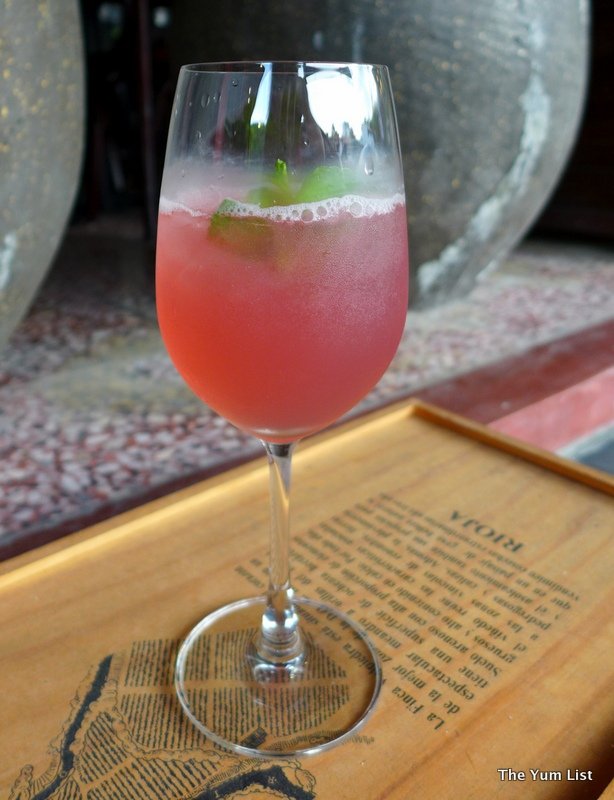 Appetizer
As an antipasto, a thin-crust white pizza, baked in La Risata's famed brick oven, was presented to us with evident pride. A knowing grin conveyed a "You will come back for more, mark my word" subliminal message, as the dish was placed before us. For the most part, pizza is a difficult dish with which to impress diners, as many times it can become rather formulaic and predictable. However, the Pizza Pera e Gorgonzola (RM30) broke down the walls of predictability and was a highlight of the evening for me. The perfectly baked crust was topped with Gorgonzola cheese that melted sparingly but evenly, complemented by the sweetness of Packham pear shavings, and sprinkled with whole leaf rocket and crumbled walnuts. The spectrum of combined tastes, which were very foreign to me, but astonishingly delicious, paired nicely with the house red wine, a Tuscan Remole Sangiovese, by Frescobaldi (RM130 per bottle), a subtly fruity and spicy red.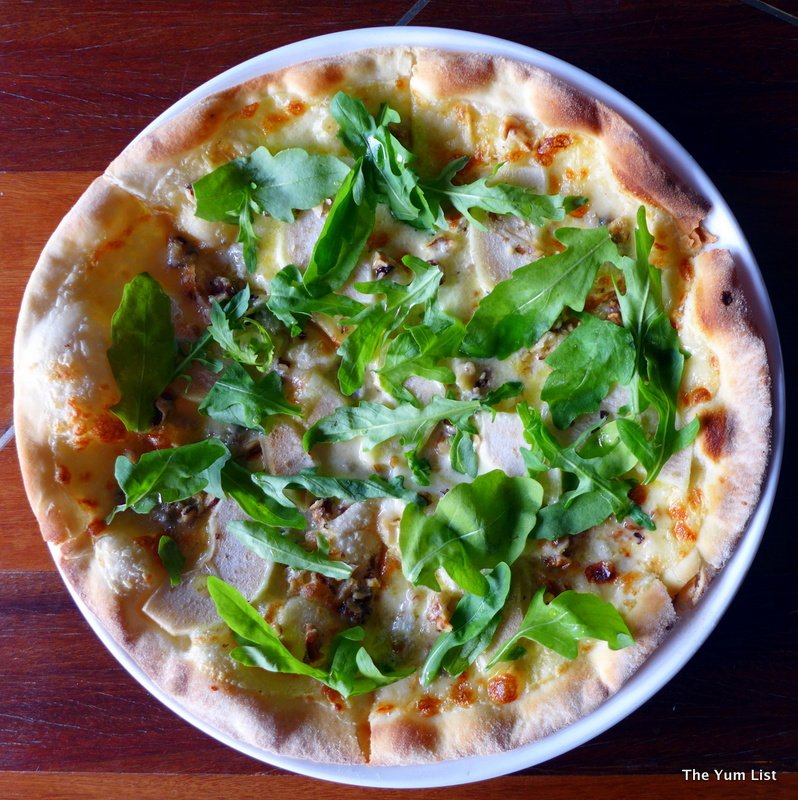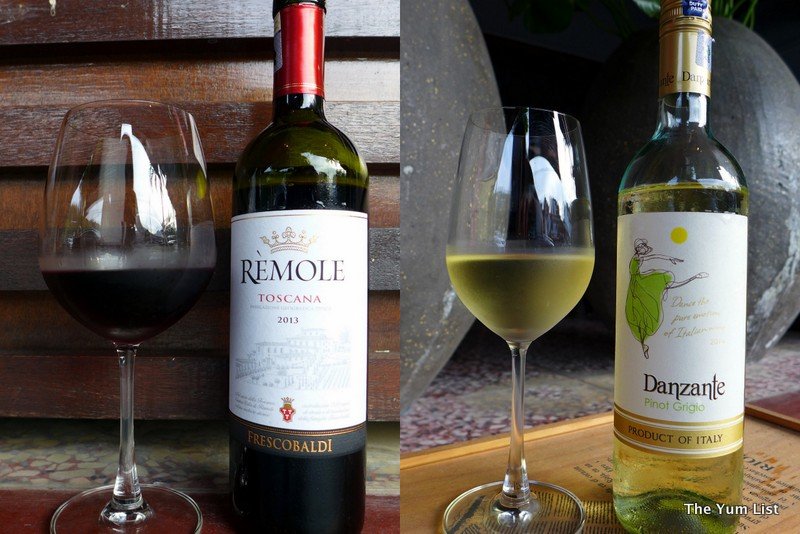 Primi Piatti
The first course was Tonno Pinna Blu alla Griglia con Gnocchi Nero di Seppia  (RM46), tender cuts of grilled tuna that were cooked to an optimal medium-well doneness. Accompanying the tuna was a heavenly bed of squid ink-infused gnocchi, cooked to perfection, bathed in a tarty, lemon butter herb sauce, and, lastly, topped with rocket sprigs. The unusual tuna and gnocchi coupling was paired with a fresh and crisp Venetian Pinot Grigio by Danzante.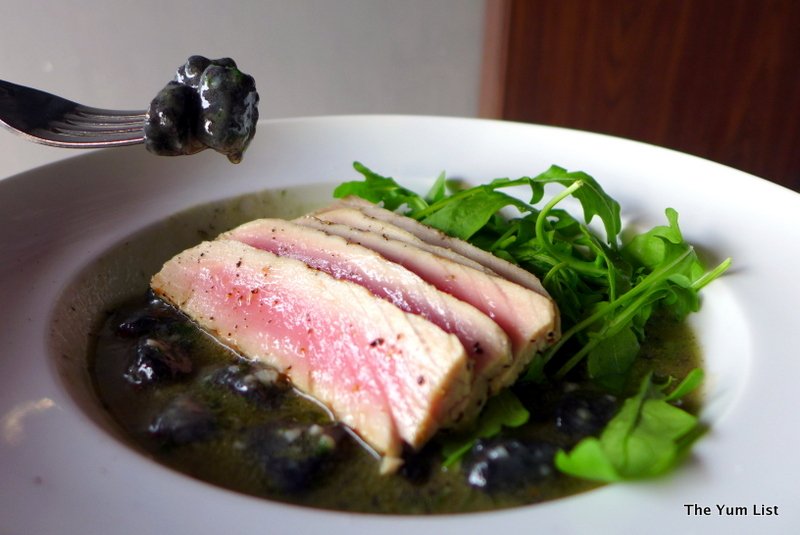 Secondi Piatti
For the main course, an enormous and succulent prime rib roast au-jus sat before us, emanating a very comforting and familiar aroma. The Costata di Manzo alla Griglia con Verdure Arrosto  (RM248, serves 2-3 people) transported me some thirty years back to my mother's kitchen in the U.S.; to a time when cooking a roast took an inordinate amount of time and patience; to a time that I seem to have forgotten about in my presently hurried and hectic life…. until I smelled the grounding essence wafting up from the wooden carving board before me. The meat was cooked to an ideal medium rare doneness, and its tenderness befitted the reputation of the cut. Accompanying the roast was an assortment of winter vegetables infused with the rosemary-mustard-paprika-rubbed jus: carrots, potatoes, and Brussels sprouts – all cooked to perfection and that dissolved in our mouths.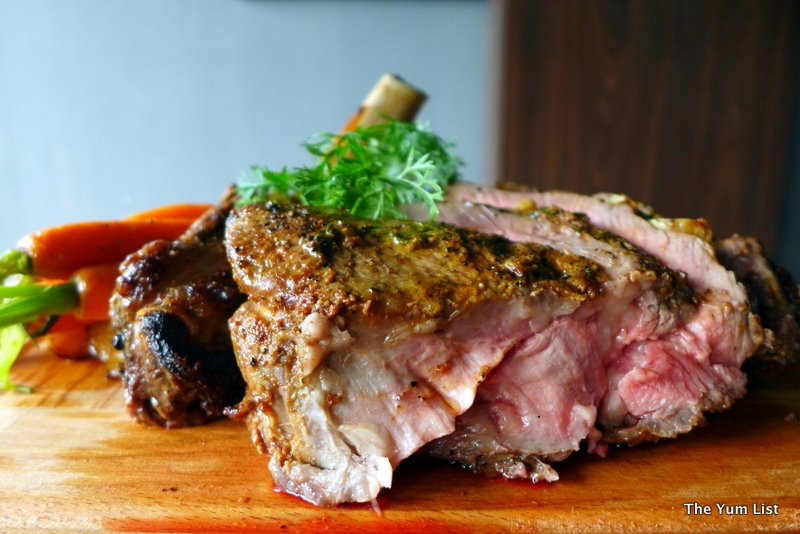 Dolce
Dessert time was a double "WOW" moment for both of us Monica's. We got to sample not one, but two exquisite desserts that were Chef's Specials that day, and that, unfortunately, are not recurring items on La Risata's menu (ahem!). The first was a flourless, gluten-free orange cake, whose impressive moistness was attributable to the finely chopped almonds. The almonds also lent a very subtle hint of marzipan, which combined with the orange, also reminded me of the holiday season ahead of us. The second dessert was a very distinctive fig pecan tarte that was equally delicious in its own right. The figs were folded seamlessly into the caramelized pecan filling, which added a slight tang to the commonly oversweet pecan pie. This put a definite twist to a popular 'oldie but goodie' that worked surprisingly well.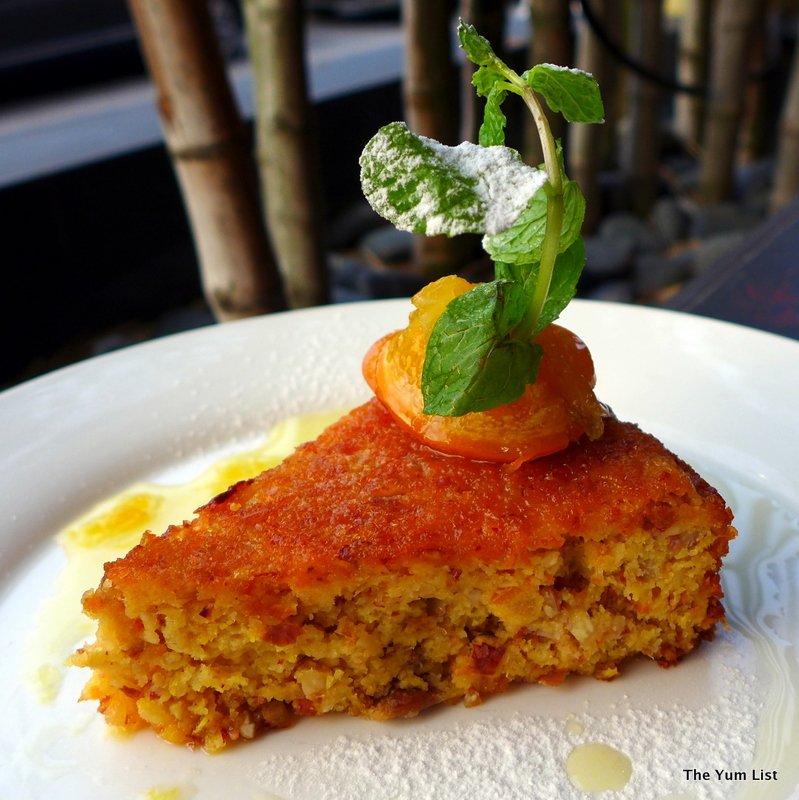 It was very clear to us that, although La Risata Damansara's chef has multiple talents, he clearly has a soft spot for crafting desserts to tantalize our sweet tooth. When he came to greet us after the sampling, and we grilled him about his craft, he smiled that sweet smile that only a loving father has towards a daughter who has him wrapped around her little finger – it was a look of love and awe. And, that night, we also loved and were in awe of his desserts. Clearly, this was another highlight of the evening for us.
Reasons to visit: The delectable brick oven-baked pizzas worthy of making a non-pizza lover like myself convert; the scrumptious desserts so carefully crafted by La Risata's chef; and the down-to-earth setting and presentation of the food.
La Risata
Bar Pizzeria Ristorante
128 Jalan Kasah
Medan Damansara
50490 Kuala Lumpur
+6 03 2095 9572
http://la-risata.com/