Monica Clear and Monica Tindall
Samad Al Iraqi restaurant sits on the ground level of Menara Prestige, just a stones throw from the Petronas Towers.
But it is worlds away from the familiar, and that's a wonderful thing.
Leaping out of an afternoon rainstorm, I shook the rain from my wet umbrella onto the ground outside the front door, and stepped inside.  Immediately, I was transposed to a different land of Arabic and Kurdish architecture, albeit polished and new.  The modest-sized room felt much larger with its high ceilings, low hanging chandeliers, dark wood and arched doorways.  Translucent tiles of cobalt blue and pumpkin orange spotted the walls, and strikingly large and colorful murals depicting civilian Iraqi life danced playfully on the walls.  To round out the pleasant atmosphere, melodic and upbeat music filled the room, loud enough to notice, but quiet enough to remain in the background.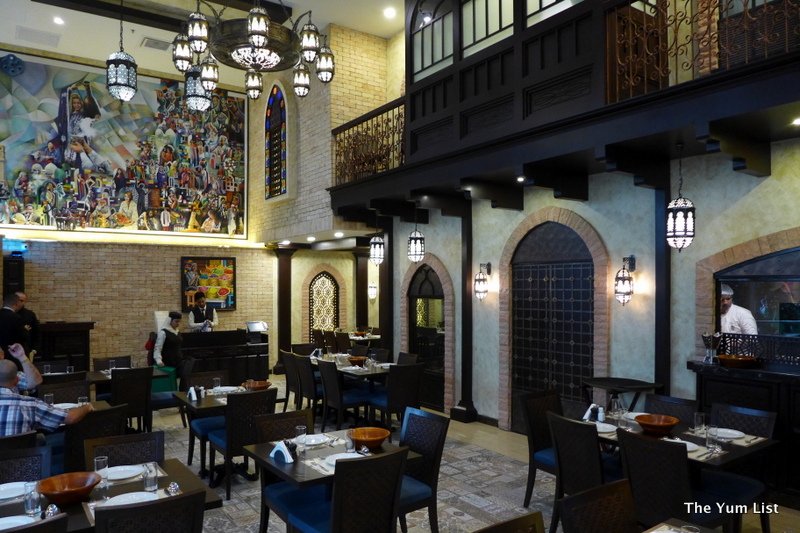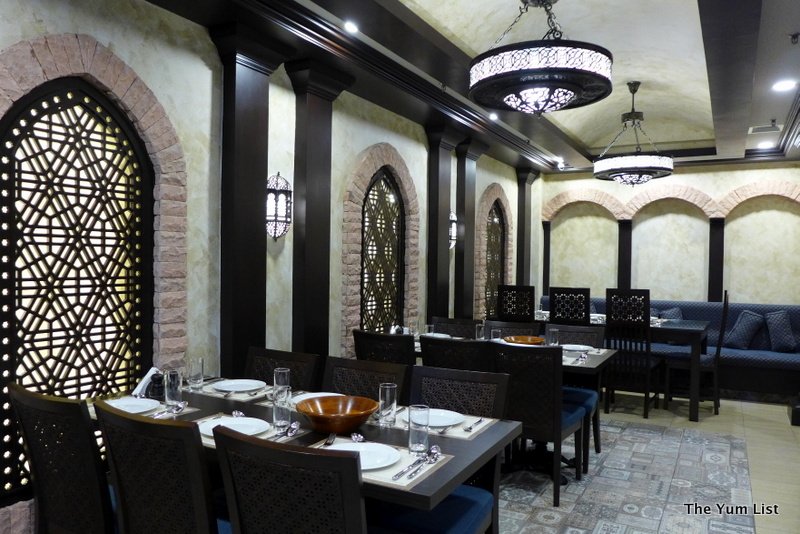 Our friendly and eager host invited us to sit and began our evening by placing a steaming hot glass of sweet and dark traditional Iraqi tea before us.  Little is more pleasing than the clink of the spoon against a tea glass as one stirs in sugar, raises it up for a loud sip, and sets it back down on the glass.  This tea was already sweet and intense in flavor, and a perfect antidote to a stormy afternoon.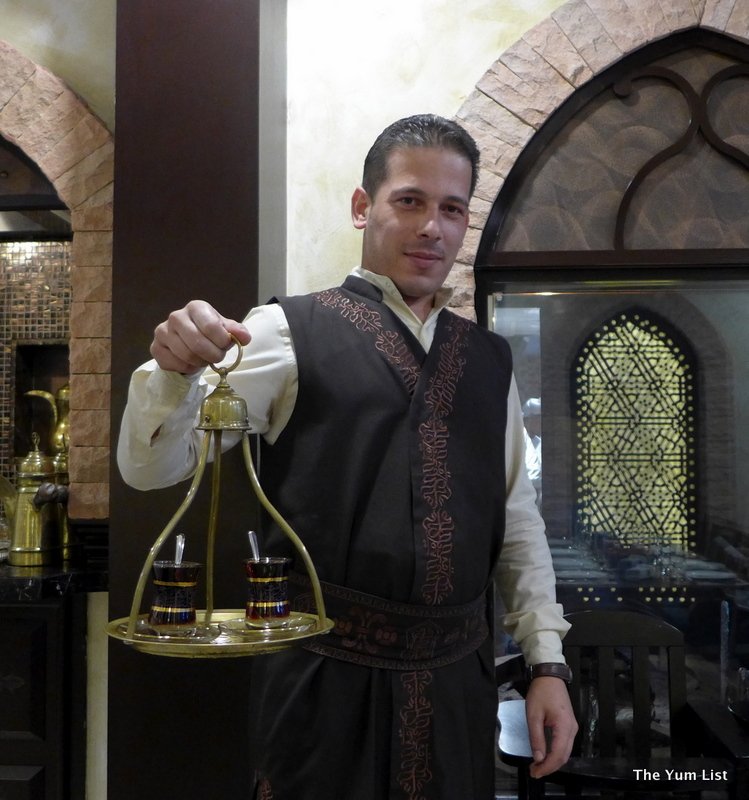 As we sipped the tea, the host brought our attention to an oval fire pit encased in glass, just off the kitchen, and we watched as the chef lit the fire to smoke the traditional Iraqi fish called Masgouf.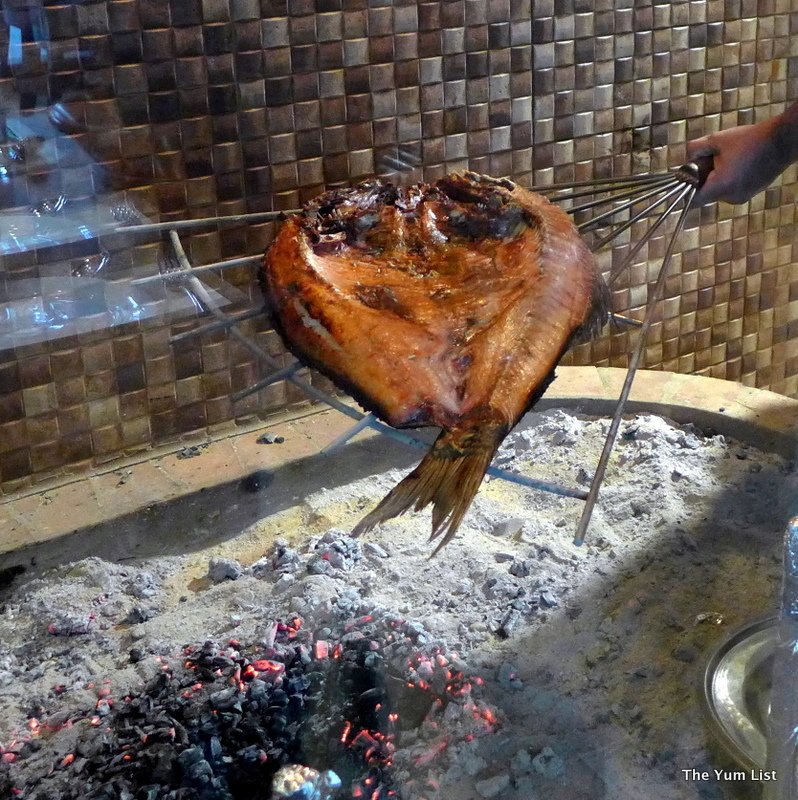 There is smoked fish, and then there is Masgouf, and when the chef brought out a butterflied filet of Iraqi fresh-water river fish the size of a dinner platter, and spiked it sideways onto the stakes, we knew we were in for a treat.
Your meal, as did ours, will begin with a complementary and savory lentil soup with lemon wedges, pickled vegetables that will make your taste buds curl, and a gorgeous fresh basket of plain and sesame pita bread, still steaming upon first tear.  Almost a meal unto themselves, these starters were delightful in color, flavor and freshness.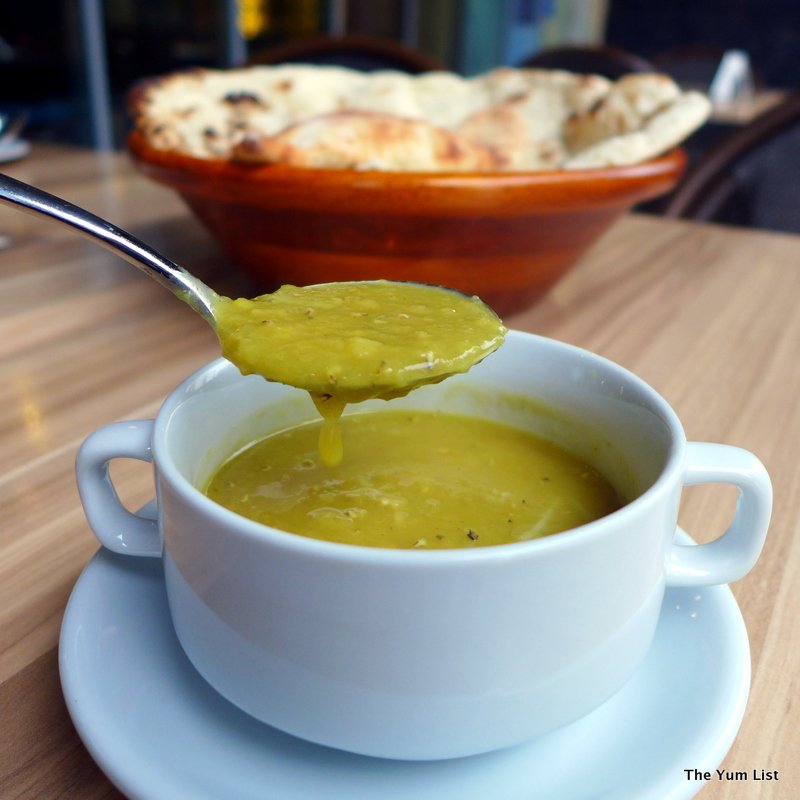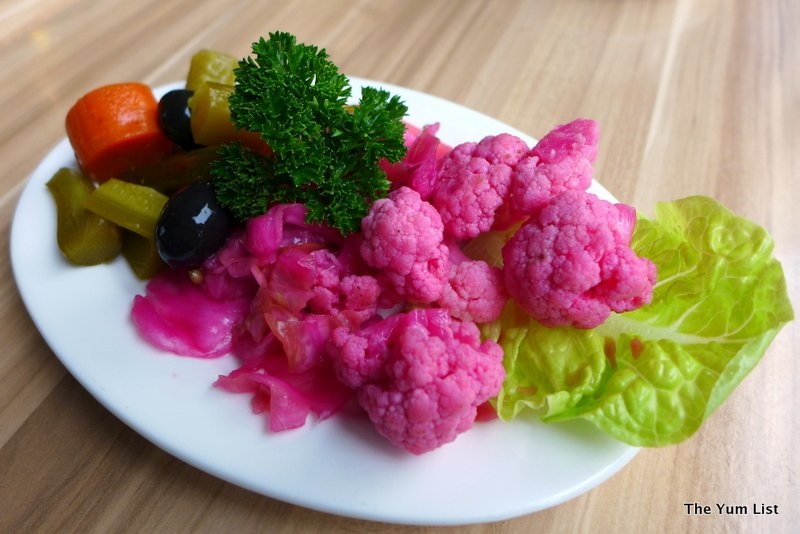 We continued with three lamb dishes cooked in various ways, with a variety of complements.  A very generous portion of grilled lamb thigh served on a bed of rice with currants and vegetable sauce, was succulent and tender (RM 52).  A large plate of grilled lamb ribs served with fresh, stuffed vine leaves, smoky roasted eggplants and potatoes was also delicious, especially with a squirt of fresh lime (RM 52).  Finally, the lamb kabab (minced lamb meat) with marinated and grilled vegetables was a vibrant mix of spices and flavor (RM 49).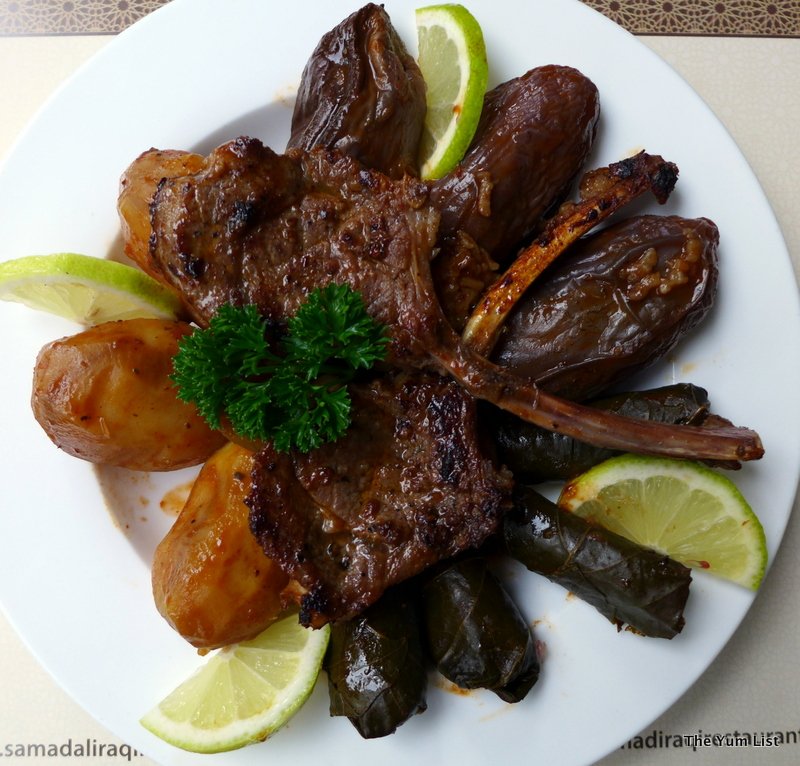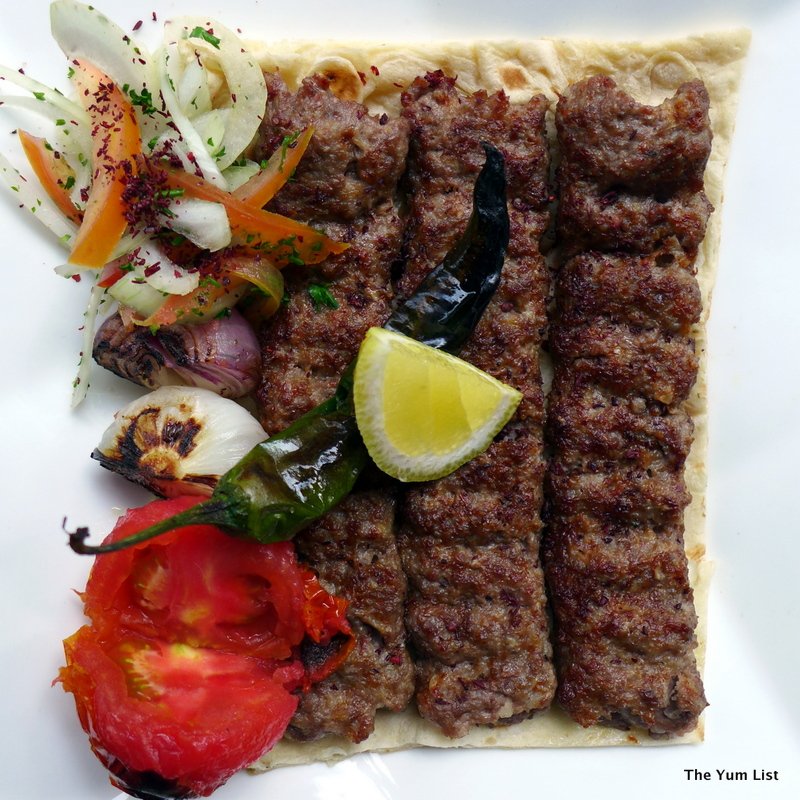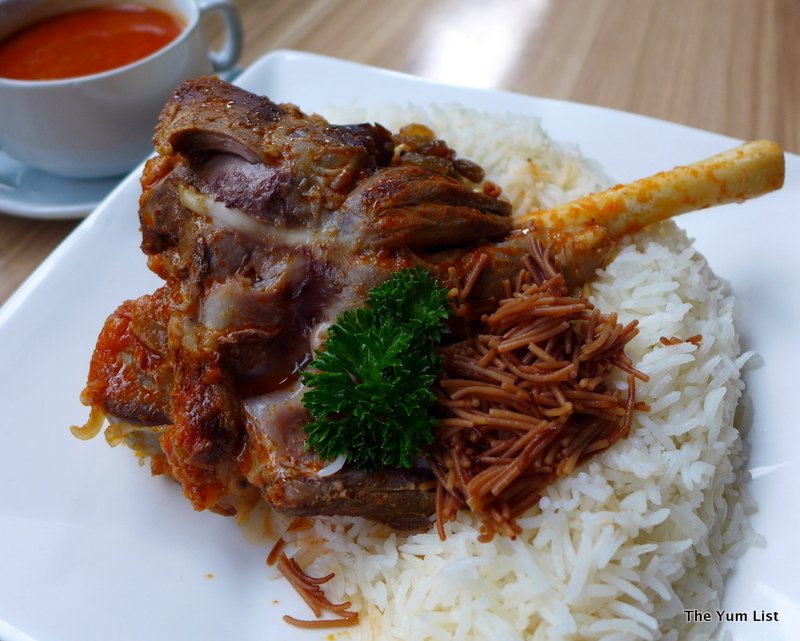 Three tomato sauce bowls with okra, potatoes, and eggplant were savory additions to complement the lamb, rice, and vegetables.  Reminiscent of tomato vegetable soup, I appreciated these poured over the white rice with the lamb thigh, and preferred the okra (RM 7 each).
Although we were nearing satiation, the Masgouf was finished and delivered to our table.  With its intensity of smoked flavor, crispy on the outside and flaky on the inside, this dish could very be the reason you visit Samad Al Iraqi.  At RM 45 per kilo, approximately RM 90-135 could feed a family of four or two couples, with a few delicious complements of vegetables and bread on the side.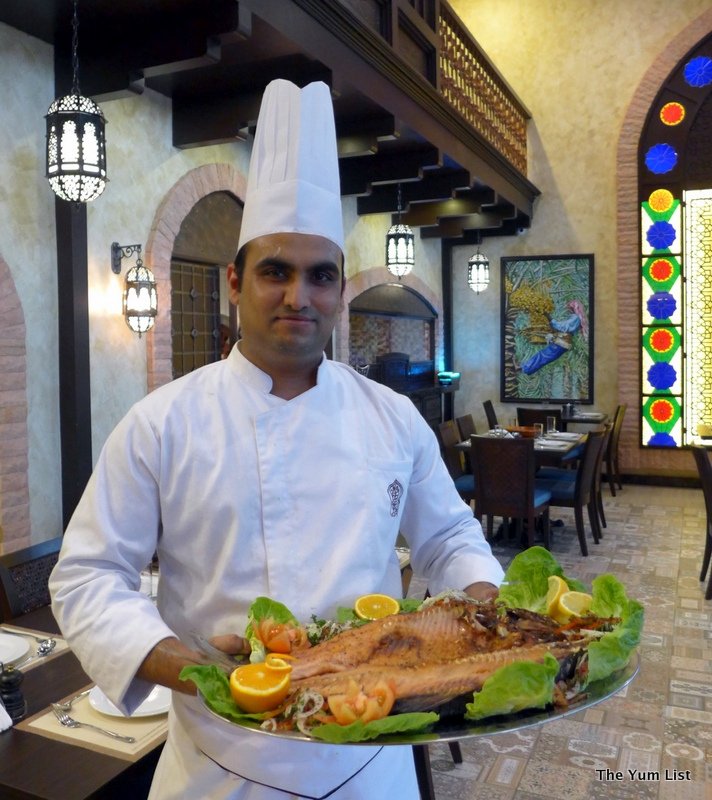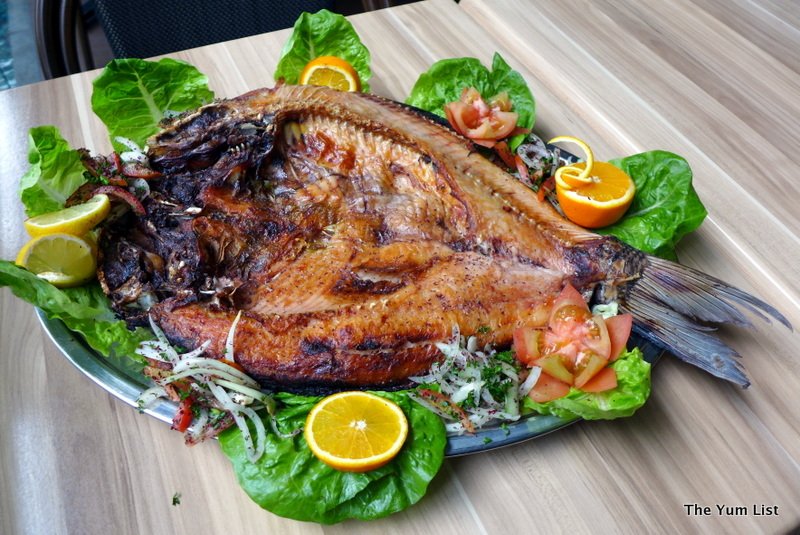 Rounding out an extravagant dinner of meat and fish, we sampled a delightfully fresh and creamy pomegranate juice with a touch of yogurt (RM 23) and a refreshingly unique dessert of Festekeya with Cream.  Three shaped balls of crushed dates and nuts, rolled in pistachios and topped with a dollop of fresh cream (RM 29), the dessert was very mild, using the natural sugar of dates for sweetness.  Our second glass of sweet Iraqi tea was a great complement to this dessert.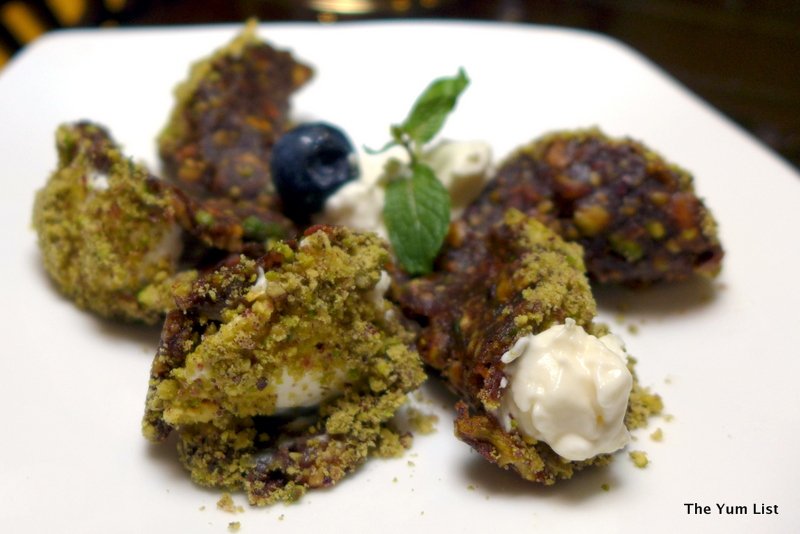 Open only three months in this location, Samad Al Iraqi Restaurant has well known establishments in Dubai and Baghdad.  With still some obvious kinks to work out (we were working with a menu from the Dubai restaurant, with many items not available here), the selection, portions, and quality of food and service were still top notch.
Reasons to visit:  charming atmosphere and décor; unique Masgouf smoked fish; extensive menu selections with a variety of lamb dishes; friendly service; convenient and walkable location from KLCC.
Samad al Iraqi Restaurant
Unit G-3, G Floor
Menara Prestige
No. 1, Jalan Pinang, 50450
Kuala Lumpur
http://samadaliraqirestaurant.com/
Hours:  9:00am – 12:00pm, daily
Indoor/Outdoor seating
Takeaway available