Dining by the River of Kings at Thiptara
Han Sen Hau and Monica Tindall
It was a Friday night in the city of angels, so naturally its streets would be filled with cherubs and seraphs in their Toyotas and Hondas moving in speeds of I'm-trying-so-hard-not-to-hit-the-behind-of-that-car-in-front-of-me. There was a mass exodus out of the city underground, overground, and aboveground, and I was nothing more but a bemused and bewildered traveler who had only moved a scarce three metres from the BTS ticket machine into a crosscurrent of frantic executives, unperturbed students, unruffled expatriates, and headstrong young mothers mowing the crowd with baby strollers. After thirty minutes with not much progress, I cast away the advice so many locals had given me, pocketed the BTS ticket I purchased, and gambled my luck by hailing a taxi.
I don't know how he did it, but my cab driver managed to take me out from the heart of Sukhumvit and into the embrace of The Peninsula Bangkok in just 45 minutes. The feat itself merits knighthood and I was just an arm-stretch away from engulfing the driver with kisses and thank-yous, but it was late and I didn't want to scar the poor man for life so I simply tipped him generously and promptly unloaded my luggage. After being filled with anxiety for the past couple of hours, it was a great relief to be greeted by The Peninsula Bangkok's entrance and the promise of pure comfort that lay behind its double doors. But alas, admiration for the hotel's grandeur would have to wait a little while longer as dinner calls, and tonight's setting would be at Thiptara.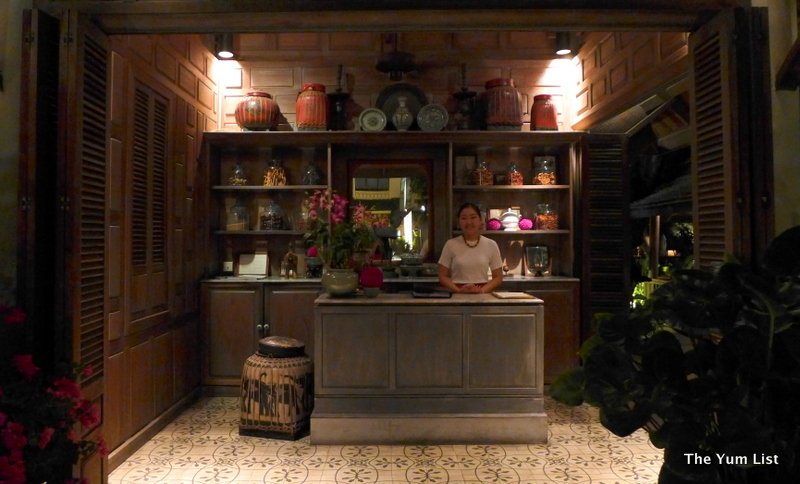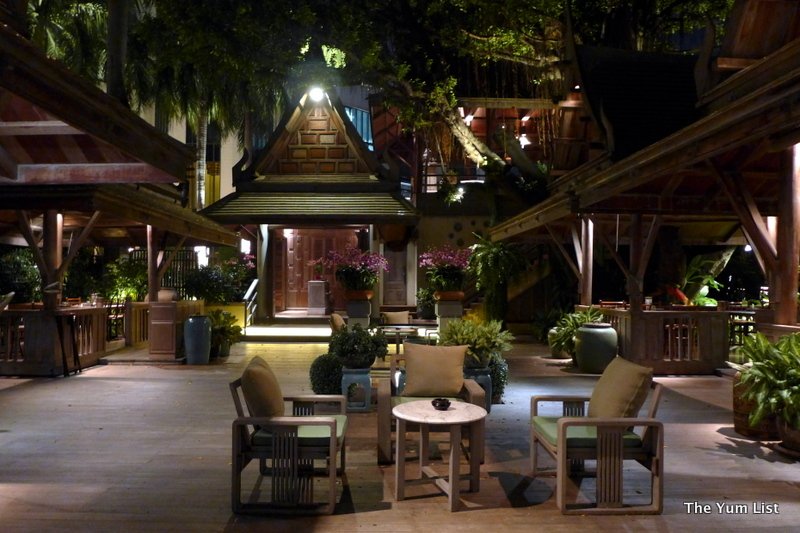 Sandwiched between The River Bar and the pool, the walk to Thiptara is like stepping into a traditional Thai home: the wooden furnishings that fill the area evoke a familiar coziness commonly found in tropical retreats, while the marbled tabletops remind us of a certain finesse expected from dining in a place that translates as "water from the heavens". Yes, expectations were high for eating at Thiptara, which is apparently one out of a handful of authentic Thai restaurants located by the Chao Phraya River; though really, both Monica and I were simply desperate for some local Thai fare to spice up our evening after our arduous experience with Bangkok traffic. Thus, we started off our night immediately with a couple of appetisers: the Yum Som-O Goong Phao (Grilled Tiger Prawns with Pomelo Fruit Salad) and the Som Tum (Papaya Salad with Dried Shrimps, Nuts, and Cherry Tomatoes).
Four spoonfuls of tiger prawns, deep fried garlic, peanuts, pomelo, and water chestnuts set the tone for the rest of our evening. The Yum Som-O Goong Phao was a divine experience, and the portions were just right for this—you have to take each spoonful in one bite. Serving four spoonfuls of these for two healthy reviewers with huge appetites was a real tease, and were we greedy enough we might've had ordered another four. The ingredients played beautifully with one another to produce a perfect balance of sweet, sour, and salty, and I could only imagine the chef meticulously placing each component into the spoon carefully to ensure each bite would be a gift from heaven.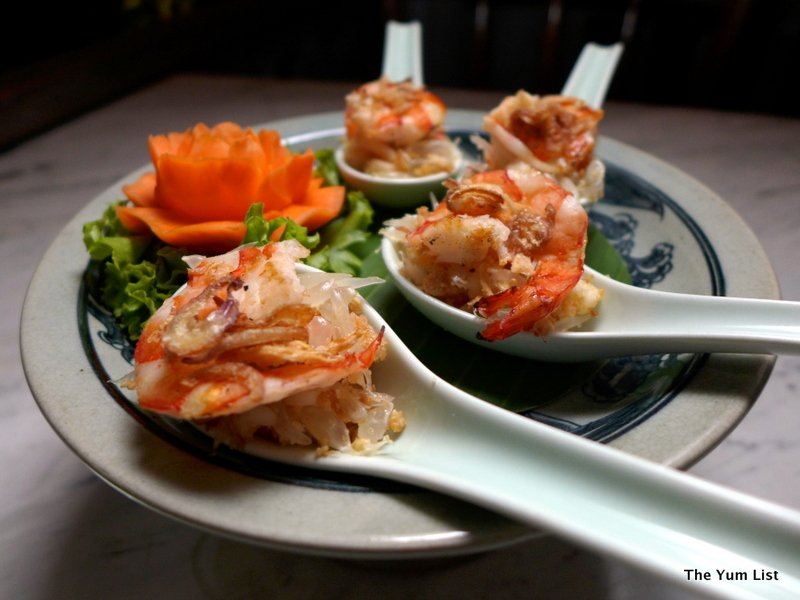 While the Yum Som-O Goong Phao was a specimen of culinary precision, the accompanying Som Tum was an exemplar of the classic Thai papaya salad. Its ingredients are fresh and fragrant, and for me this extends to the raw long beans, which can be challenge to retain its crisp flavour. The dish has just the right amount of heat to induce some upper lip sweating, but would do no harm to your taste buds. The presentation for the salad is also beautiful and enticing (the red chillies could easily be mistaken for some exotic flower from the way it's cut), though the ultimate deal breaker for me was the cashews thrown into the mix of thinly sliced carrots and papaya, ultimately grounding the salad's flavour and adding to its texture.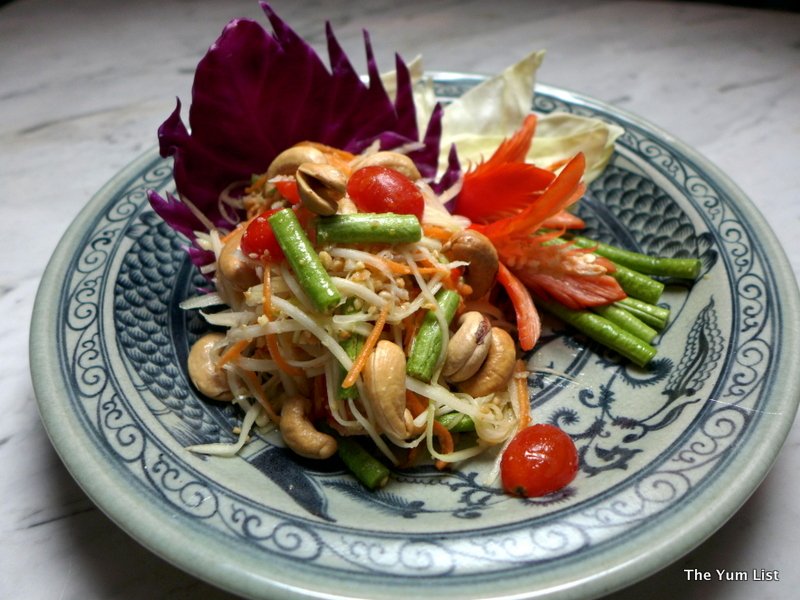 So there we were, thoroughly content with appetisers and edge-of-our-seat-excited for the upcoming main course, at a riverside restaurant where the waters from the river of kings lapped gently and persistently against the mooring, its comforting rhythm interrupted only by the occasional stray, glowing riverboat blasting "Gangnam Style", subsequently giving us the idea to try out some of the colourful cocktails offered at Thiptara. Our choices thus came down to the Romantic River and the Peninsula Sunrise.
Solely through its appearance, the Romantic River looks like a cloudier mojito but with Absolut Elyx vodka as its alcohol base and some pomelo bits swirling in the glass. It's so easy to forget that the alcohol content in this is pretty high (says the Asian guy) because it's so refreshing and it's a delight to return to between bites. The Peninsula Sunrise, on the other hand, arrives as its antithesis with its bold, sweet profile. With Havana Club rum, lychee liqueur, pineapple, and lime juice as its main components, this cocktail appeals to those with a sweet tooth like me though you're going to have to plan your sips throughout your meal.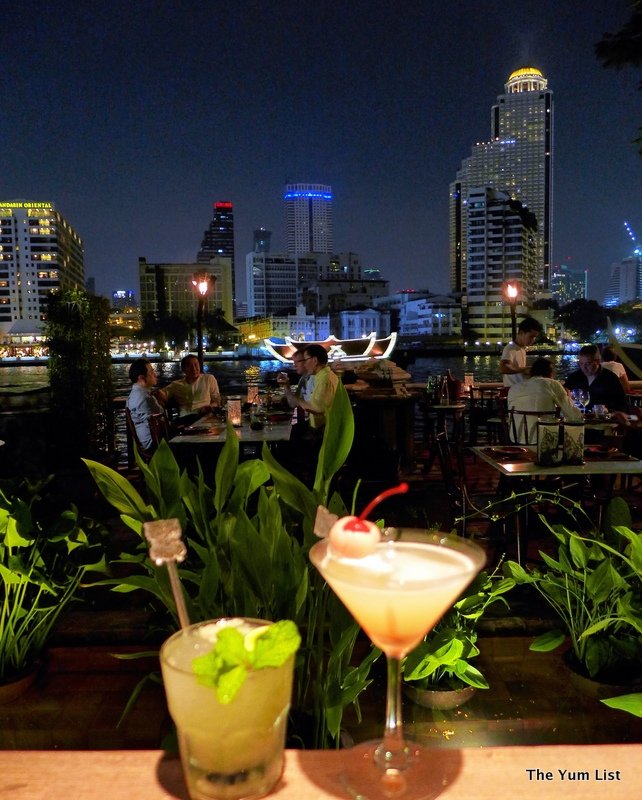 After that intoxicating intermission, we continued dinner with a hearty Tom Kha Gai, a citrus-flavoured coconut soup with chicken. They're really generous with the ingredients for this one as it is filled with pieces of chicken, a variety of mushrooms, and plenty of herbs from their Naturally Peninsula Garden. On that note, when ordering, look out for the "Thiptara" label displayed next to the food items on their menu; dishes with these labels are part of the hotel's "Naturally Peninsula" philosophy that's designed for the health-conscious using ethically sourced ingredients. The earlier Som Tum was an example of this. But back to the soup: mouthwateringly delicious though a little on the spicy side with all that red chilli swimming in it; it can actually be a meal on its own if it's served with rice. Well, for me at least because its flavour is reminiscent of massaman curry, only far more delicate.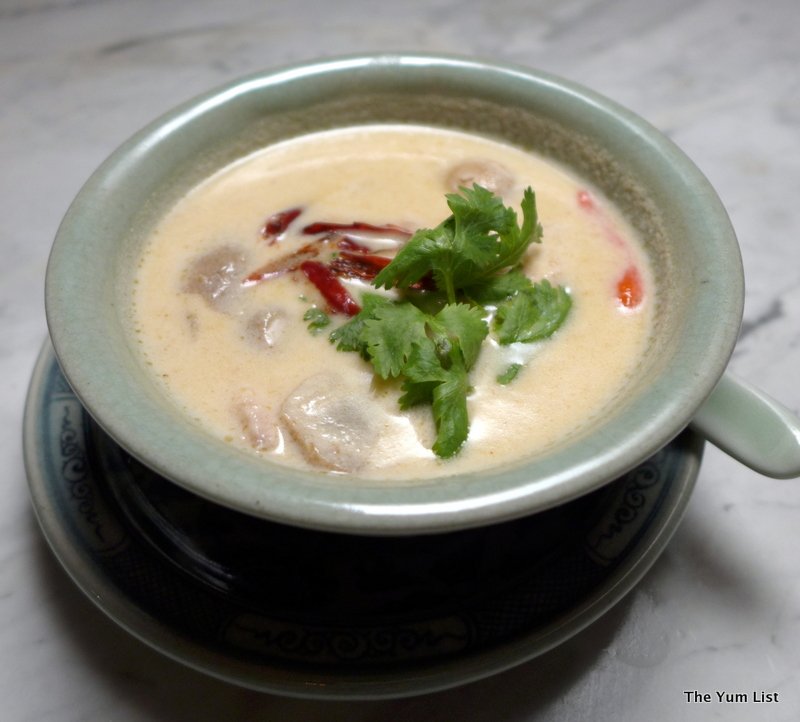 Having had soup and salad (and cocktails of course) to warm our tummies, we readily welcomed three mains on our table, beginning with (in ascending order of excitement) the Phad Phak Ruam Mitr, a vegetarian staple when dining at any Asian restaurant. Consisting of stir-fried kale, baby corns, broccoli and white lettuce, this is a standard dish done well that pairs nicely with most anything off the menu.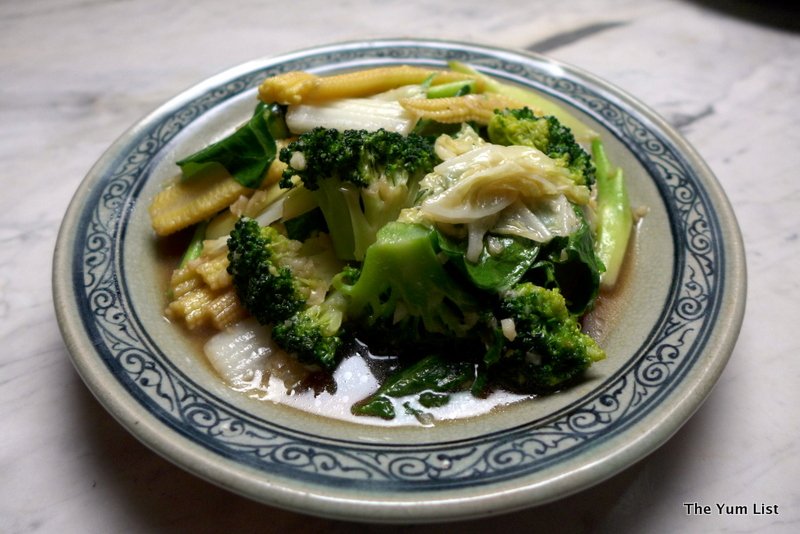 The Pla-Ka-Pong Neung Ma-Nao (Steamed Sea Bass in Lemon Sauce) came heavily recommended by our waiter and it certainly didn't disappoint. Despite its modest appearance, a mouthful of this goes a long way as the fish was really meaty. Plenty of ginger to go along with this one, and you have to eat it with some rice to balance out a little of its saltiness. At this point, I should mention that most of the mains offered here should be enjoyed with a plateful of fragrant jasmine rice, unless you prefer having healthier alternatives like brown rice that's available here too, as many of the dishes are really flavourful, especially this final gem off the menu…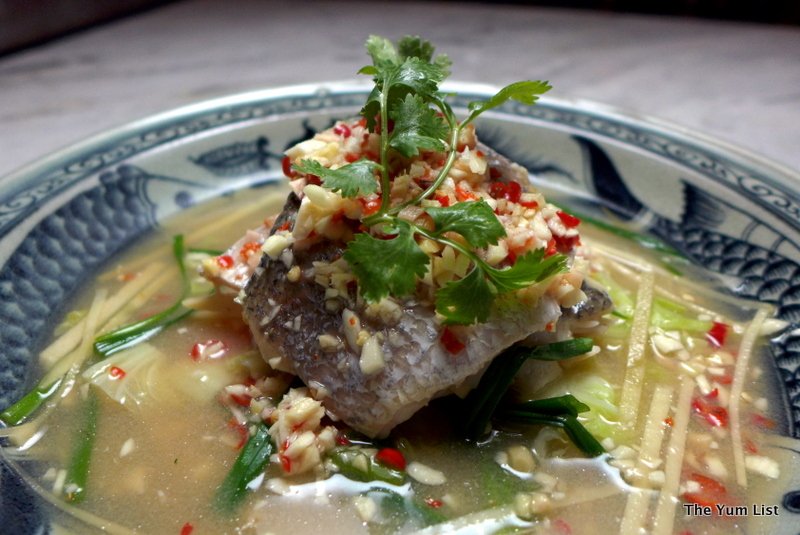 The Chu Chee Goong. Aaahh the Chu Chee Goong. Thank heavens the star of the night is something easily pronounceable because if I ever return to Thiptara, these would be the first words to slip out of my mouth the instant the waiter comes over to my table: Chu-Chee-Goong. Grilled tiger prawns with red chilli paste, coriander, and basil coconut curry. Frankly, I don't understand why the chef's hat isn't displayed next to its name on the menu because the "dry" curry was to die for. It wasn't enough that they had to make the thick, juicy prawns so delectable but the curry…! Ohh… I could just have it with rice. In fact, the curry also goes well with the stir-fried vegetables and the sea bass. Similar to the Tom Kha Gai, this one has a little heat to it so don't be too greedy with the curry, even though the temptation will be hard to resist…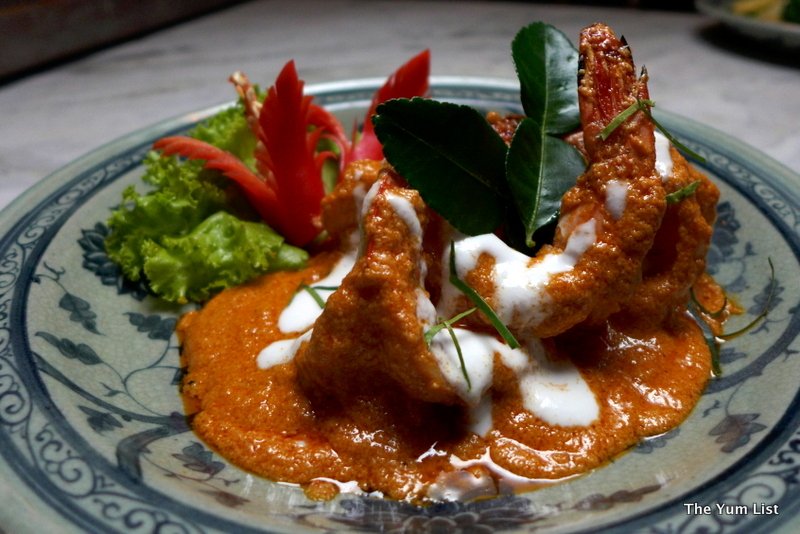 As we continued to mow down dinner, we had two glasses of Monsoon Valley wine (with grapes harvested from Hua Hin Hills Vineyard) to accompany our feast: a white and a white shiraz (rosé). The white, a Colombard, is light, fruity, and easy on the nose with a velvety finish. The rosé, on the other hand, has a sweeter bouquet and a little bit of spiciness jumping off the tongue. Both of them are good choices to go with your local Thai fare, especially since they're made from locally harvested grapes.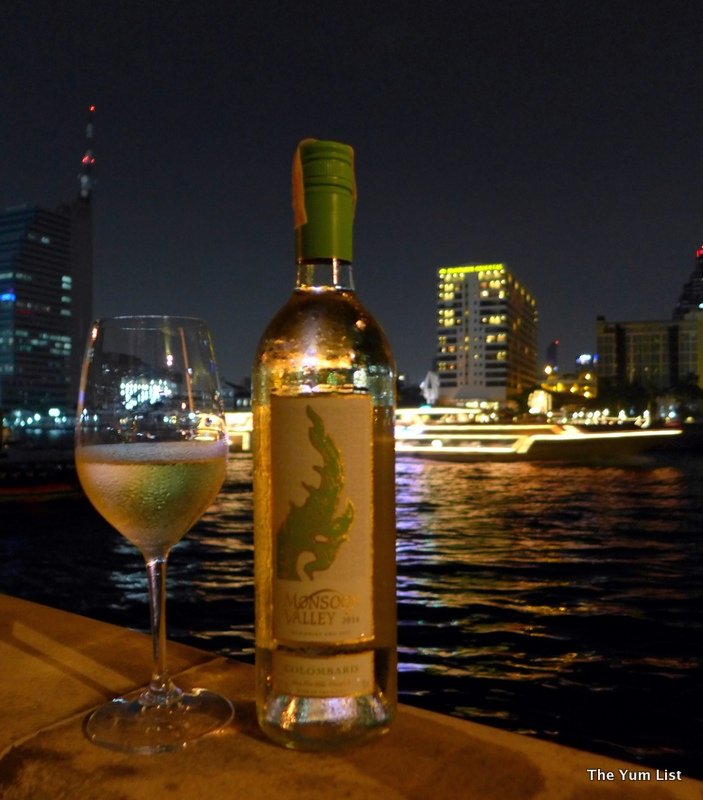 Though no matter how exquisite the wine may be, they couldn't compare to the mere sight of the desserts that arrived at our table: the Tub-Tim Siam (ruby water chestnuts in coconut milk and syrup) and the Khao-Niew Ma-Nuang, more commonly known as Thai mango and sticky rice. Now they were both gone in seconds, because you don't just bring our favourite desserts to the table and expect us to linger. The Tub-Tim Siam wasn't as sweet as the ones I'm used to getting in Malaysia, which goes to show how much more coconut milk Malaysian-Thai restaurants use in theirs. I'm glad the one at Thiptara comes with slices of jackfruit, as it is always a welcomed addition. And the Khao-Niew Ma-Muang? What more can I say about it? It's a classic Thai treat that never goes out of fashion, especially when the mangoes are sweet. When Monica offers you a bite out of this, you take that bite because that's the only chance you'll ever get before the plate completely disappears.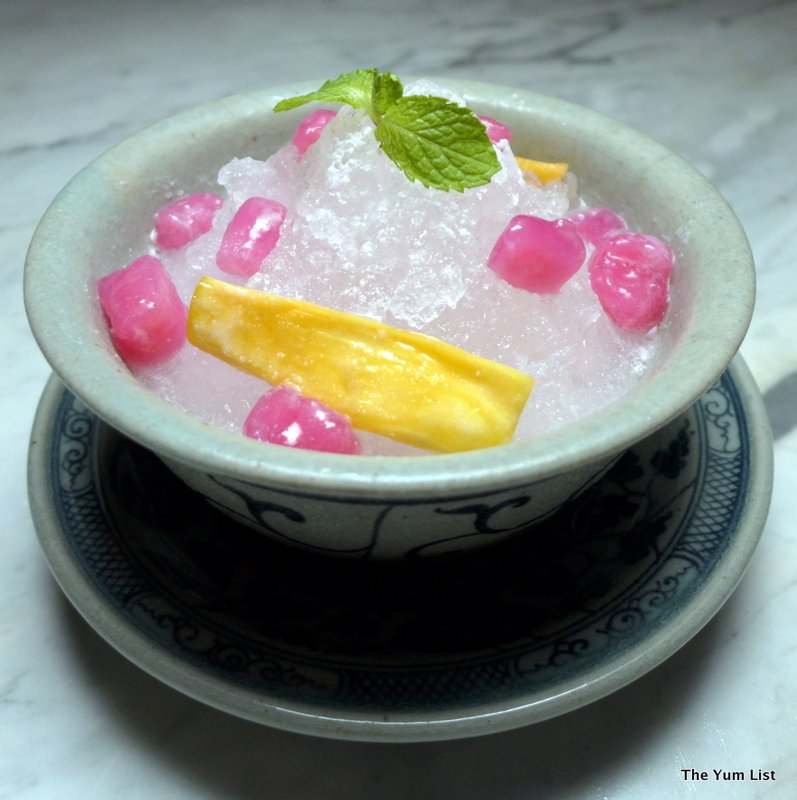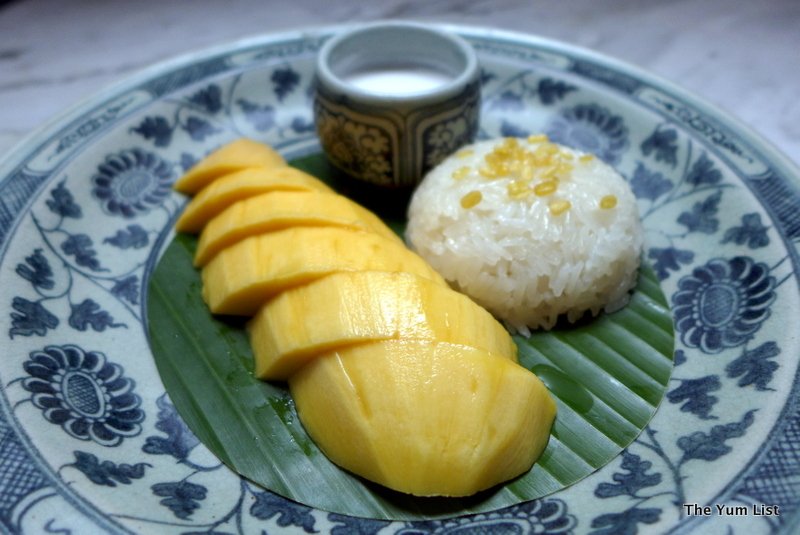 Our beaming smiles and engorged bellies thus marked the end of dinner, and we couldn't imagine it concluding any sweeter than it already had. There were fewer and fewer riverboats ferrying tourists from pier to pier, marking the end of another busy Friday night in Bangkok, and it was nice just to sit there, feeling a gentle breeze, hearing it caressing the surrounding banyan trees… though really, both of us just didn't want to stand up to assess the extra five kilogrammes in our bellies. But leave we must as the restaurant was closing and it was way past our bedtime, so we said our thank-yous and goodbyes, taking one reluctant step after another as we exit the place, turning around just to glance one last time at the place where we've been showered with water from the heavens, by the river of kings.
Reasons to visit: Chu Chee Goong; Yum Som-O Goong Phao; the beautiful, romantic atmosphere by the Chao Phraya River with a gorgeous view of Bangkok's skyline (though remember to spritz some mosquito repellant); authentic Thai cuisine; that exceptional Thai hospitality and friendliness from staff; also, the restaurant hosts the Thiptara Craft Market every last Saturday of the month from 9:00am – 3:00pm for small scale producers and artisans to sell their products.
Thiptara
The Peninsula Bangkok
333 Charoennakorn Road, Klongsan
Bangkok, 10600, Thailand
+662 626 1849
http://bangkok.peninsula.com/en/fine-dining/thiptara-thai-restaurant
Reservations; e-mail: [email protected]
Operating hours: 6:00pm to 10:30pm
Open-air dining concept