Christmas is coming and you'd be hard pressed to find a more elegant or traditional setting to celebrate than the The Majestic Kuala Lumpur.
This meticulously restored heritage building transports guests back to a golden age when chivalry was the norm not the exception, and where not only the table was dressed for dinner, but so too were the ladies and gentleman about to attend it. White clothed tables, fresh floral arrangements, graceful service and the soft melodic tunes of the legendary Solianos craft the atmosphere, and as the year ends, a splash of festive cheer too is injected with tasteful decorations.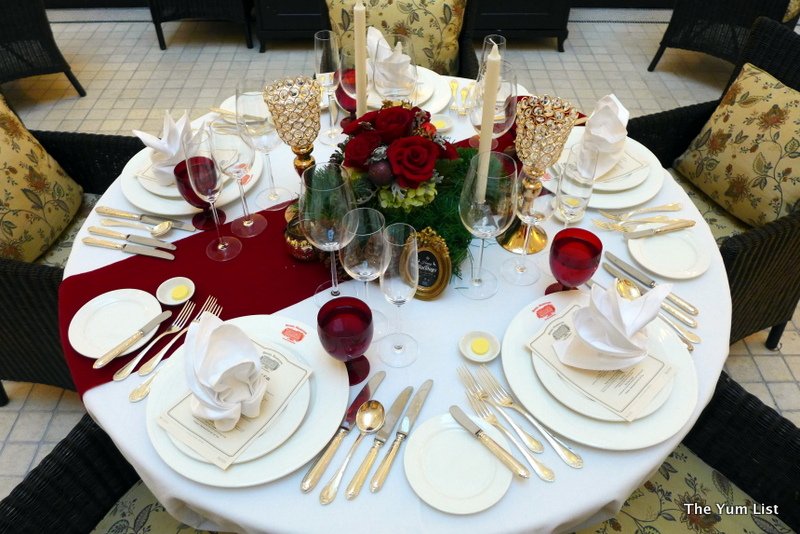 We're seated at the Colonial Café, at the invitation of our host Jenny (Director of Business Development), Chef Zaidi and Johnny The Barman, ready to sample the festive offerings they've specially composed as a preview to the Christmas Eve Dinner.
Prelude
Toasts are made and spirits encouraged to be merry with a flute of Torralta Prosecco Superiore di Conegliano-Valdobbiadene. This bubbly is dry with a mild hint of fruit and great mouth-feel, a jolly start.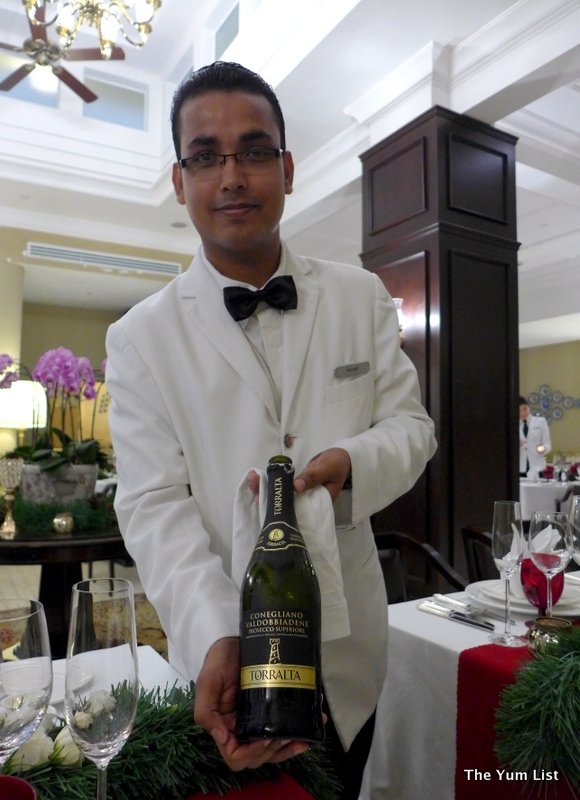 Amuse Bouche
Crisp cubes of bread have been hollowed out forming both a support and a contrast to the rich pâté in the Chicken Liver Crostini. While at first bite I'm not overly taken with this beginning, upon sipping the first wine pairing I swiftly change my opinion. A sauvignon blanc from Bordeaux spreads the creaminess of the pate around the mouth, its crispness balancing the intensity of the liver. It's one of those cases where wine shows its potential to the make food so much better. Dourthe N°1 Bordeaux Blanc supplies a smashing partner. This wonderfully aromatic wine, with a lively character and refreshing finish, cuts cleanly through the creamy pâté, and pairs well with the seafood selection to come in the following starter.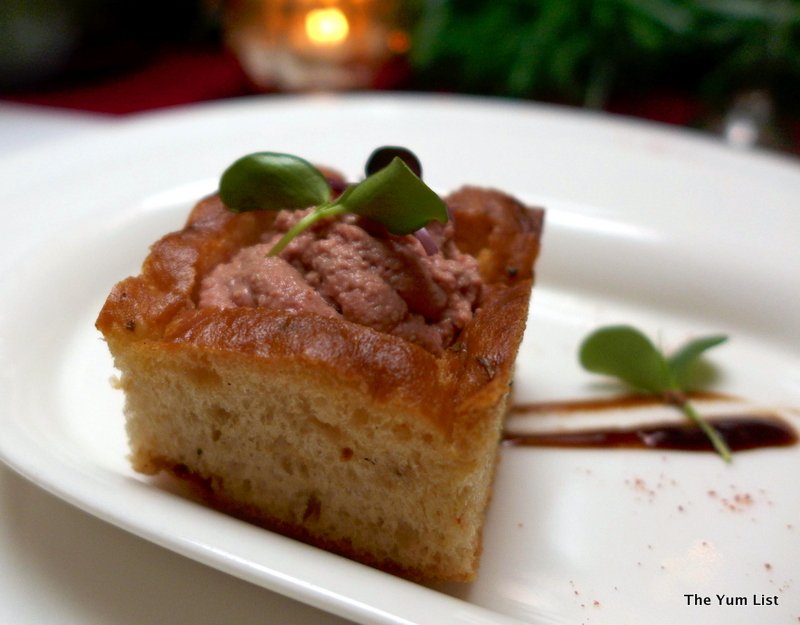 Starter
Wood Smoke Infused Blue Mussel, Scallop and Salmon are sided with avocado puree, micro cress and droplets of creamy honey mustard dressing. Slim strips of cucumber rid the palate of the seafood, before the next bite fills it again with echoes of the sea.
Soup
Cock a Leekie, a typical Scottish chicken and leek soup, is a tummy warming broth. Thickened with vegetables the broth is specked with fresh herbs and proves a delicate balance of flavours. The Bordeaux Blanc continues to exhibit its versatility with this pairing.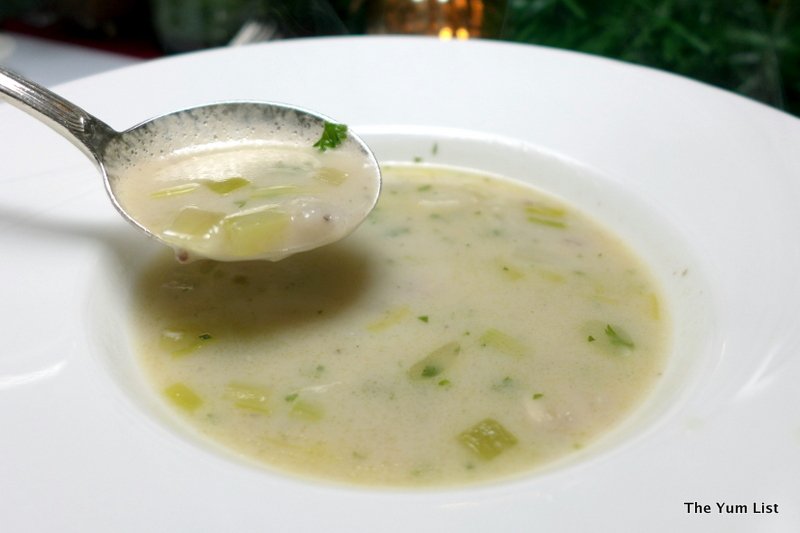 Palate Cleanser
A smooth Orange Sorbet is presented in a martini glass and adorned with a dehydrated orange slice. Its agreeable texture and mild sweetness would serve just as well as a dessert. Please sir, may I have some more?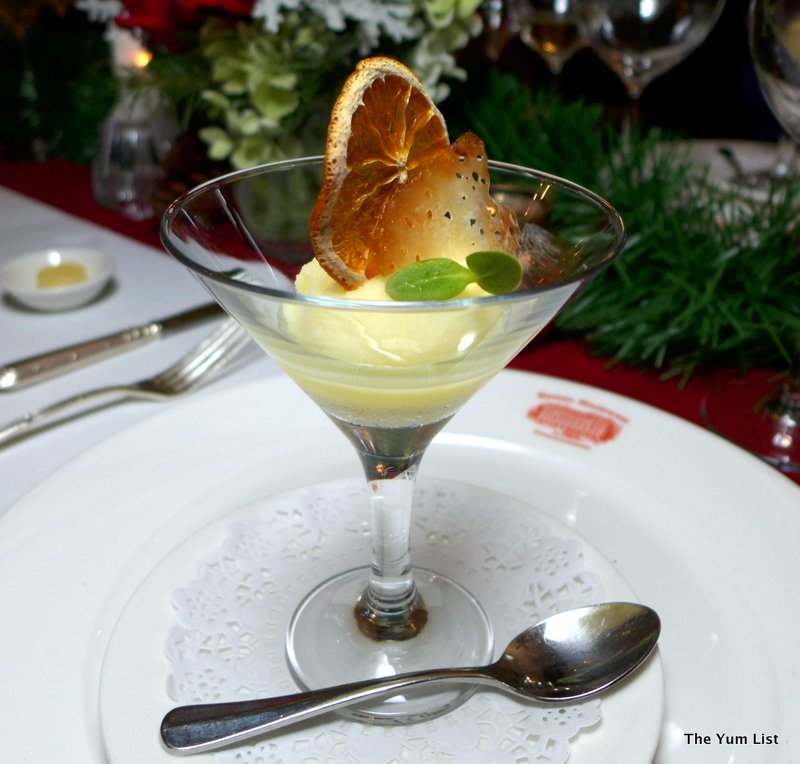 Mains
Trio's King presents a substantial wedge of turkey breast, and sausage in a blanket wrapped with a light puff pastry stuffed with herbs. Creamy mash, minted mushy peas, chat potatoes with sour cream and chives, and baby carrots make up a delicious veggie side, and a drizzling of red wine gravy tops it all off.  A merlot cabernet sauvignon blend, Dourthe N°1 Bordeaux Rouge, crowns the main with its berry and spice aromas, structure in the mouth and tannins. A lingering finish makes us want to wait before the next bite so as to fully appreciate the length of the wine.
Pudding
The Christmas Pudding is one of the most moist I've tasted. A small mound of deliciousness is sided with vanilla sauce and white chocolate ice cream. It's rich, reaching every corner of the mouth with its intense fruit flavours, and by evening's end, there's not a single crumb left on either of our plates.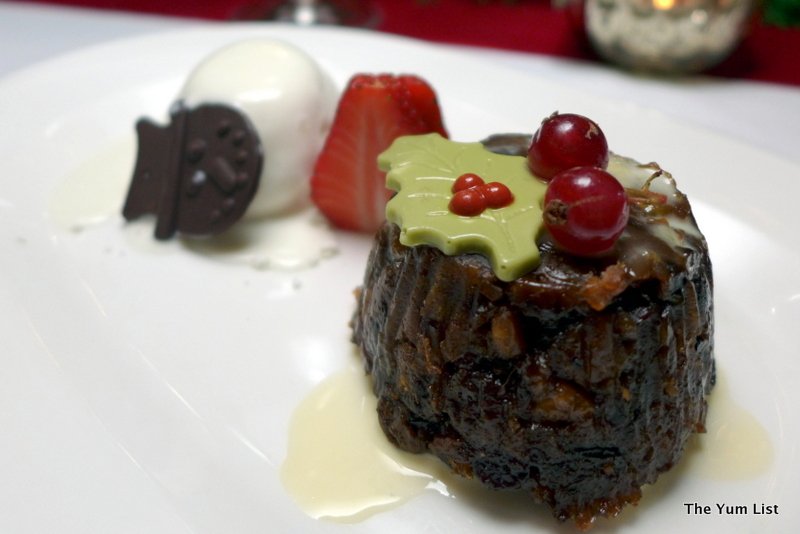 Petit Fours
A small platter of homemade Christmas Cookies and Chocolates complete the meal with either freshly brewed coffee or tea.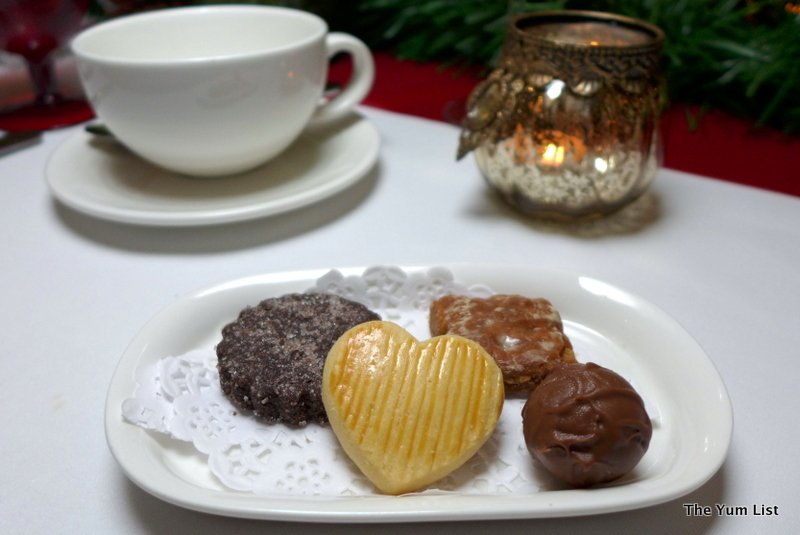 Colonial Café's five-course dinner is priced at RM280 nett per person or RM380 nett with wine pairing for Christmas Eve Dinner, and RM220 and RM320 respectively for Christmas Day without and with alcohol. New Year's Eve Dinner will set you back RM350 nett or RM480 nett with wine pairing.
While our dining experience was at Colonial Café, The Majestic Kuala Lumpur also offers a buffet experience at Contango for Christmas Eve Dinner and Christmas Day lunch priced at RM180 nett per person. New Year's Eve Countdown Dinner and New Year's Day Lunch and Dinner Specials are going for RM200 nett per person. A free flow of beer and wine can be included for an additional RM70.
For an exclusive experience, the team at The Smoke House is offering a specially crafted four-course menu in the private dining room, accompanied by two bottles of the 2010 Modavi-Rothschild Oakville from California, for RM10000 nett for 10 people. Reservations are essential.
To make a truly special event of it, you could book in for a night at the hotel with the property's Festive Cheer Stay package, and enjoy dinner and the meal for two at RM859++.
Reasons to visit: an elegant colonial setting ideal for classy festive celebrations; a variety of offerings from large group experiences, to set menus and private dining; Christmas Pudding.
The Majestic Kuala Lumpur
5 Jalan Sultan Hishamuddin
50000 Kuala Lumpur
Malaysia
www.majestickl.com
+6 03 2785 8000
[email protected]
[email protected]