Louise Miller and Monica Tindall
As we approached this new eatery, housed between rivals on the outside street that circles the inner heart of Publika, we immediately got a snapshot impression of what this place is all about: our host and restaurant founder, Raj, who was chatting and laughing with customers on the terrace, looked up to greet us with a warm and welcoming smile and we suspected instantly that hospitality and service were going to play an equally important role as the tasty food in The Eighth Avenue.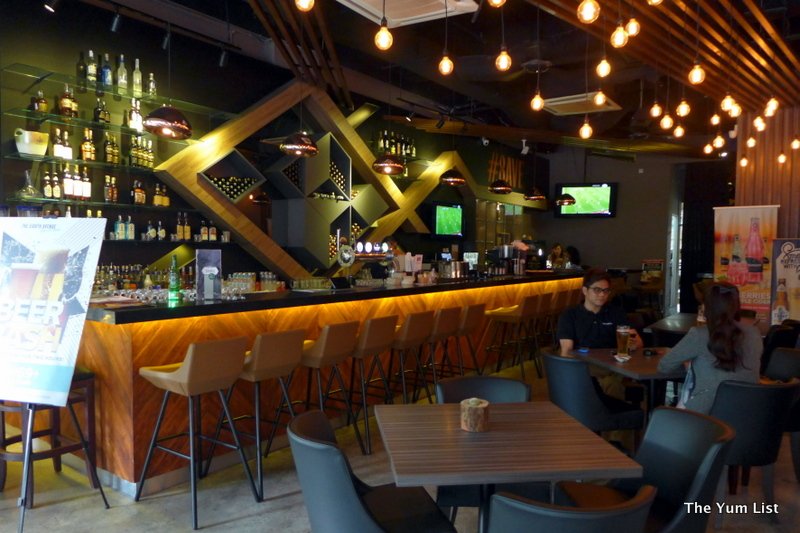 Given the fact that we were visiting late afternoon on a weekday, we were surprised that the place had so many tables occupied. Even more surprising was the fact that after only five weeks of opening, the restaurant had a palpable buzz about it emanating from a gathering of customers, most of whom were making return visits. However, after spending time with Raj and hearing all about his vision and philosophy on customer service, it all made perfect sense. This man is all about making people happy – his customers AND his staff and it starts with the menu…
The Eighth Avenue's wine list is impressive and we were looking forward to sampling the house pours, both extremely reasonably priced at RM15.90 and RM17.90 a glass and RM79.90 and RM89.90 for a bottle. However, Raj insisted that we try his favourites. Known to the staff as the boss's wines, the Saint Clair Family Estate Sauvignon Blanc 2014 has elegant flavours of passionfruit with a rich salty minerality, and the H&V Barossa Valley Cabernet Sauvignon revealed blackberry, blackcurrant and a hint of green leaf leading to a medium bodied palate with a firm, long finish.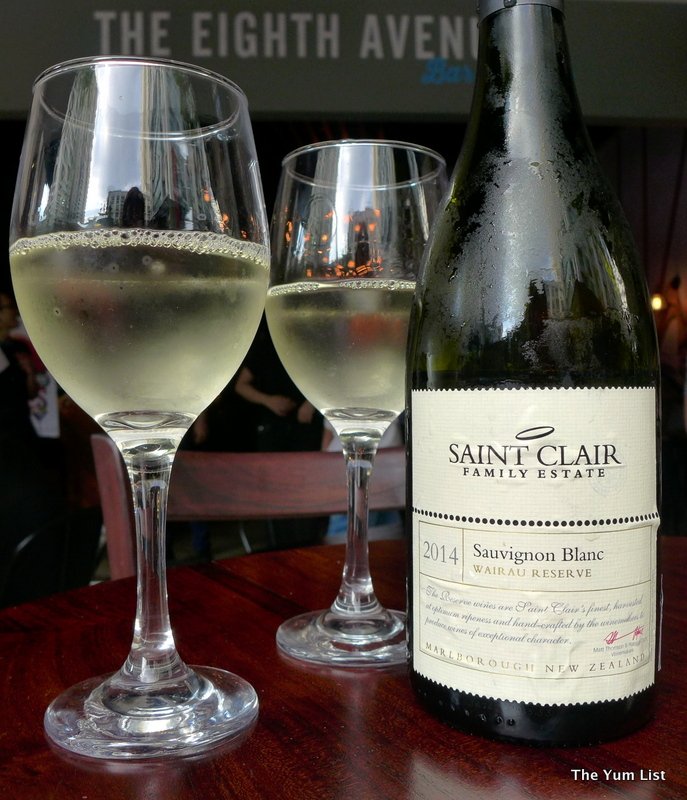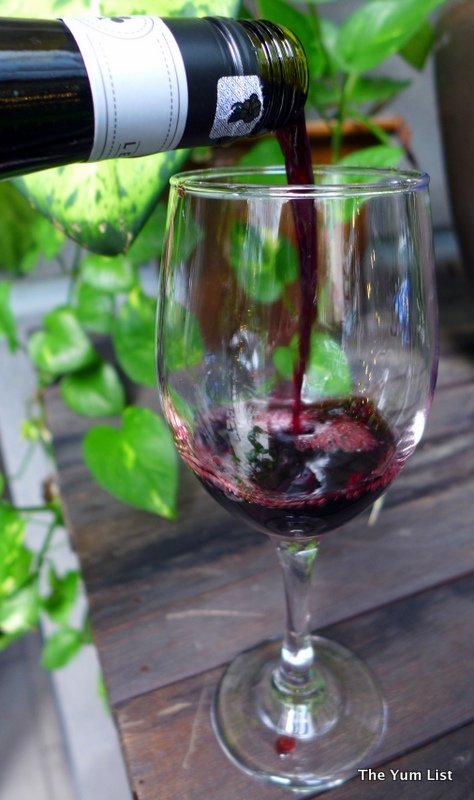 The Eighth Avenue's food menu is extensive, eclectic and is largely inspired by Bombay born Raj's many years in Australia and his travels all over the world. We started with a dish that is representative of this, Cauliflower Manchurian (RM11.90), which featured deep fried cauliflower florets in a top secret spiced batter and a delicious, tangy Indo-Chinese influenced sauce made with a base of sweet caramelised soy sauce. When we commented on how refreshing it was to see such a tasty and imaginative vegetarian dish on the menu, Raj's face lit up as he told us that having been vegetarian himself for 22 years meant that he 'had it covered' and knew how to make vegetarians happy.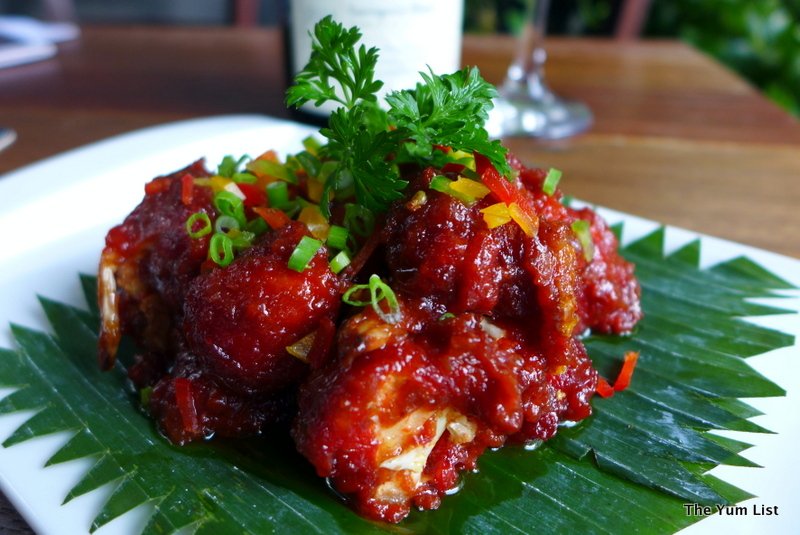 He knows how to make carnivores happy too as was demonstrated by the next dish, Sticky Piggy (RM19.90). The stewed and then grilled pork ribs were smothered in a yummy wine based sticky sauce that had resulted from no fewer than eight hours of reduction. The glistening meat was topped with a generous mound of fresh coriander and delicate matchsticks of crunchy apple and radish.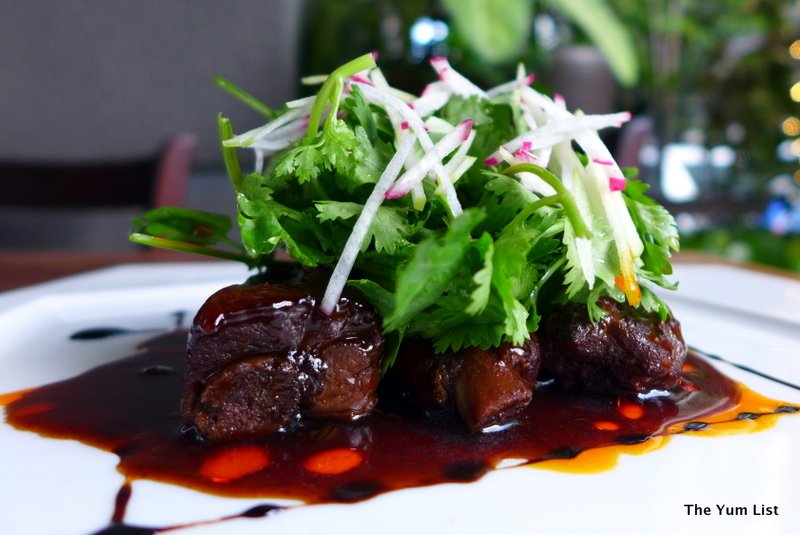 Continuing with the piggy theme, next up was the Caramelised Pork (RM22.90). This dish was a unanimous hit! The flavours were intense with a perfect balance of sweet and salty notes, the meat itself was tender like pulled pork, but interspersed with little nuggets of crispy caramelised morsels. To be honest, I'm relying heavily on my memory of this dish as my notes are somewhat scant here: the only thing I'd managed to write down was 'AMAZING'  which I guess, kind of says it all!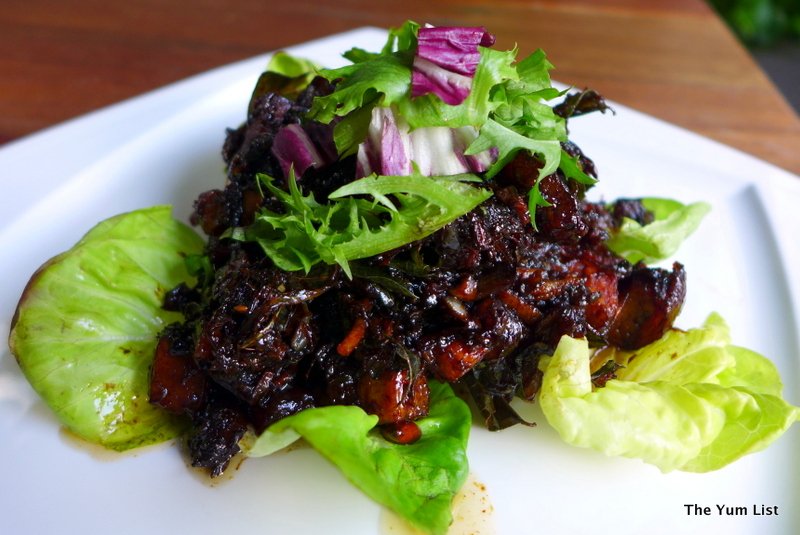 Not as excited as we are by mounds of meat? The New Orleans Catfish (RM30.90) might be more up your street (or avenue, hehe!). The Norwegian fish was grilled to perfection and slathered in a homemade peri peri sauce which produced just the right amount of heat on the palate – enough to provide a gentle, delayed burn without masking the delicate flavour of the fish. Asparagus and crispy risotto balls accompanied the catfish making this a filling and satisfying main.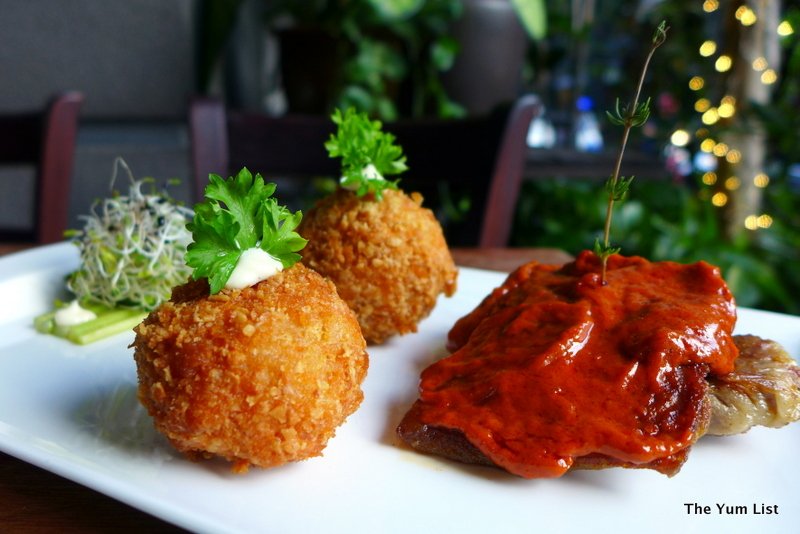 After this brief, fishy interlude, it was time to return to a further two meat dishes. The Cheeky Beef (RM35.90) was, as its name suggests, composed of tender, braised beef cheeks served with spiced potatoes and a medley of veggies. The Barbecued Lamb (RM49.90) was as flavoursome as its predecessor and accompanied by a generous heap of garlic laden broccoli florets and oodles of homemade sweet and smoky barbecue sauce.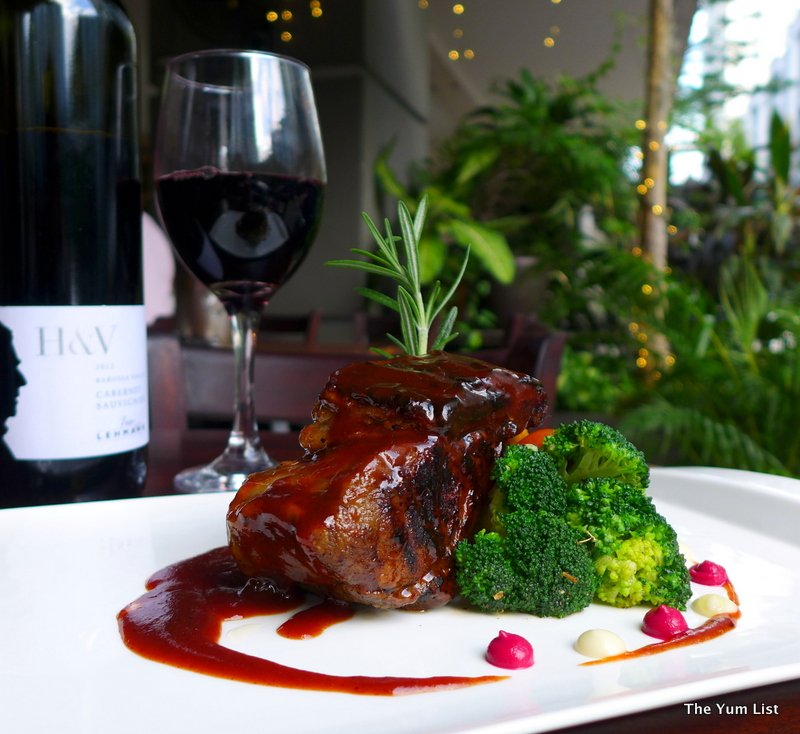 With just a little room left for desserts, we tackled the Kapiti Ice-cream. The presentation of the scoops seemed to epitomise The Eighth Avenue's fun vibe as the super creamy and delicious New Zealand ice-cream was garnished with fresh and dried berries and candy nuggets. Choose two or three scoops (RM15.90 or RM 19.90) from Vanilla Bean, Black Doris Plum & Creme Fraiche (our favourite) and Triple Chocolate.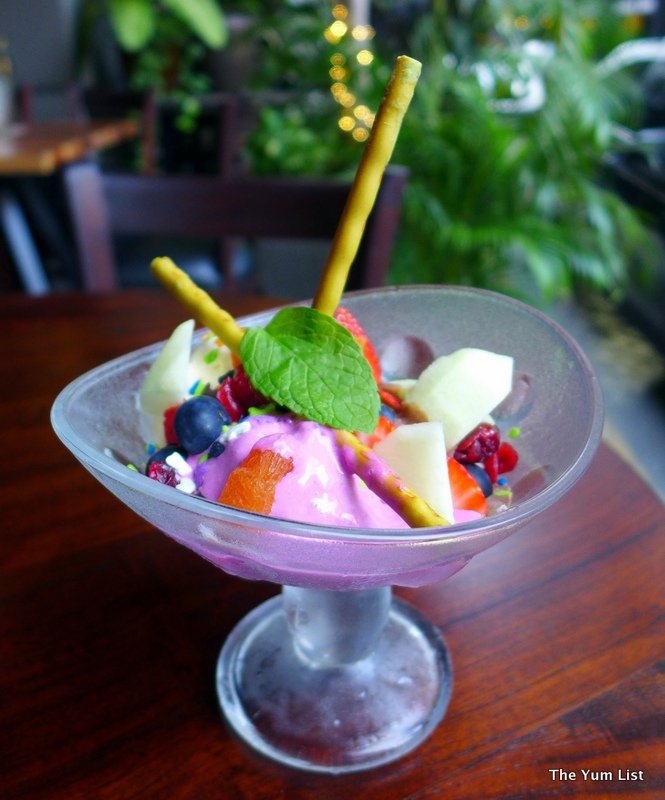 A range of cakes are also available. We went for the rich Triple Chocolate Cake (RM14.90). The dark stacked layers of dense chocolate sponge sandwiching a glossy ganache filling were undoubtedly more suited for emptier stomachs than ours! A tasty treat after a lighter  meal for sure!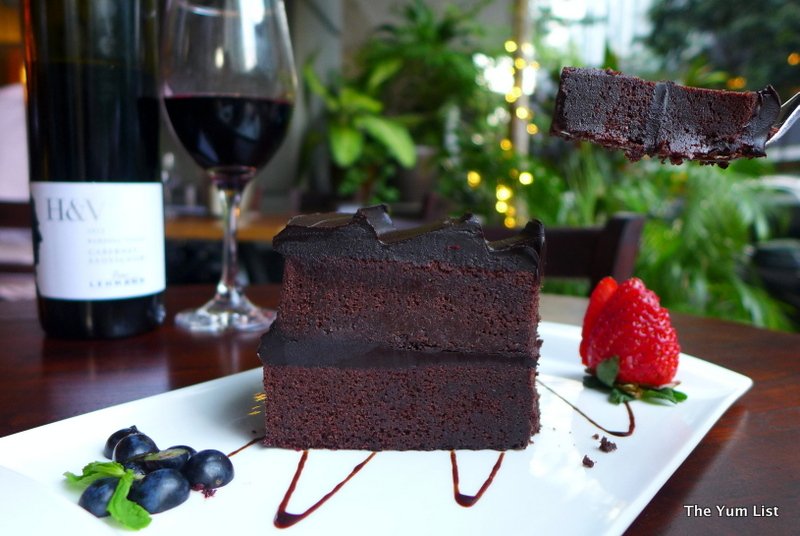 We enjoyed our visit to The Eighth Avenue immensely, not just for the food but for Raj's wonderful hospitality. It was so refreshing to be in the company of someone who takes customer service and satisfaction so seriously. Warm and open by nature, he shared with us the lesson that his father had taught him – if you invest in people, you will always win and with this, he highlighted that his aim was to build relationships and to keep his customers content. He assured us that dissatisfied customers would not be charged – an impressive claim but also one that is unlikely to be tested given the quality of the food.
Reasons to visit: In case we hadn't made it clear enough – great hospitality and customer service. In addition to the warm welcome and being treated like a VIP, our personal highlights from an array of delicious dishes were the Cauliflower Manchurian and Caramelised Pork and wine lovers will not be disappointed by the choice of wines on offer either.
The Eighth Avenue
D2-G3-03, Solaris Dutamas
Kuala Lumpur, 50580
Malaysia
+6 012 407 7045
[email protected]
http://theeighthavenue.my