360° Bar is not only frequented by in-house guests of the luxury adults-only villa property, The Pavilions, but is also popular amongst residents in the area. Elevated above the crowd on a hill in Laguna it has a distinct advantage over other bars in the vicinity offering a mildly cooler temperature, ravishing sunsets and a competitively priced food and beverage menu.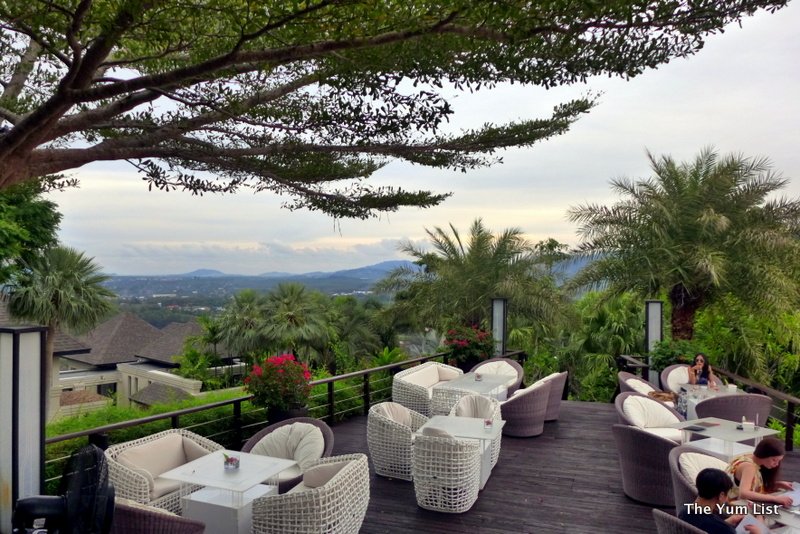 Cocktails, or Love Potions as they're so named here, represent a fine play between local flavours and quality branded spirits. The use of tropical fruits, herbs and spices, and a thoughtful balance of character produce a collection of tipples that easily rival those in any bar in Bangkok.
Rambutan Basil Mojito (250) combines the juice of the local rambutan fruit with gin, lemongrass, Thai basil, and galangal. A creative roll of just-peeled fruit garnishes the top, and the freshness in adornment is reflected in the flavours in the glass – a great start! Phuket Mule (250) makes use of not only local herbs but also the island's very own rum from the Chalong Bay distillery. Muddled with ginger and topped up with ginger ale, it too is a tasty entrance.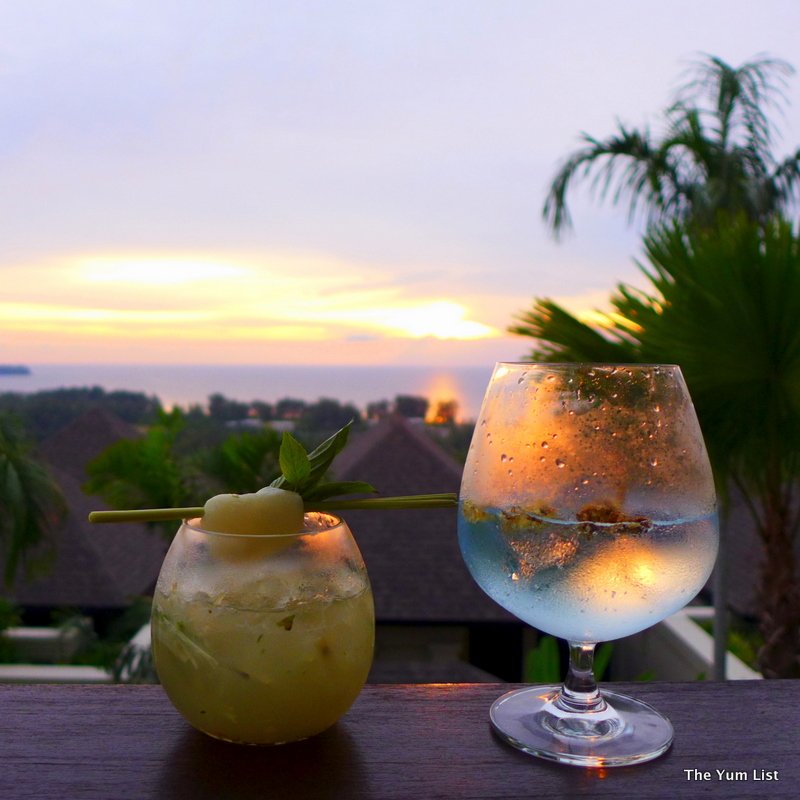 Continuing with the Thai theme, Mango Madness (250) mixes vodka with ripe mango, Thai basil, lime juice and sugar into a pretty and fruity concoction well suited to an island holiday. Another fruity blend sees fresh pineapple chunks mingled with crushed kaffir lime leaves, white rum and Cointreau in the Pineapple & Kaffir Lime Crush (250). You've probably already guessed it, but these sweeter, fruitier compositions are clear hits with hubby.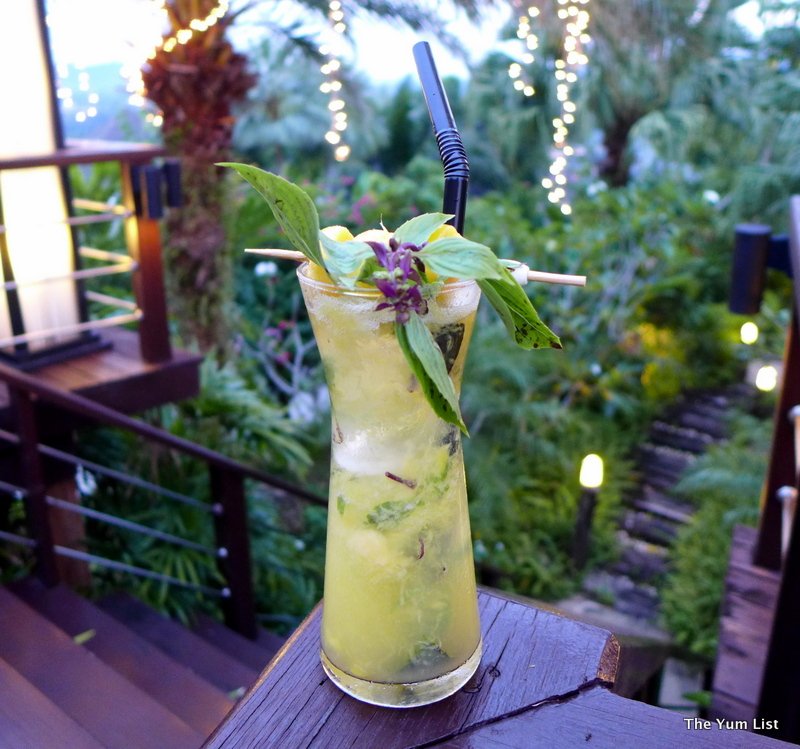 Taking note of the current trend around the world, 360° Bar has its own dedicated gin corner. Currently a handful of versions of the traditional Gin and Tonic are offered and we try the No. 1 Pom (400). London No. 1 gin is poised with lemon bitters, tonic and elderflower liqueur, and sports a chrysanthemum garnish. Served in a voluminous glass it feels just as imperial in the hand as it does in our mouths. Our last beverage, the Hex Appeal (250) demonstrates just how well balanced these mixes are. A striking trimming of a whole red chili seems to warn of a powerful punch. Equilibrium however is found with kaffir lime leaves, sugar syrup, vodka and lemon juice softening the spicy kick to a mild blow. This turns out to be my favourite, and even hubby (usually aversive to spice and acidity) agrees he'd be happy with more than just a few sips.
A consummate pairing with cocktails and these stunning views is the tapas menu, which draws from both the east and the west.
Popcorn Prawns (220) come in a pair of skewers coated with a green tea mayonnaise and popcorn crumbs. Creamy, textured and firm to the bite, these crustaceans are decadently more-ish – another order please! As hubby rants about the virtues of the first dish, a waitress puts her fingers to her lips and makes a kissing sound confirming his opinion.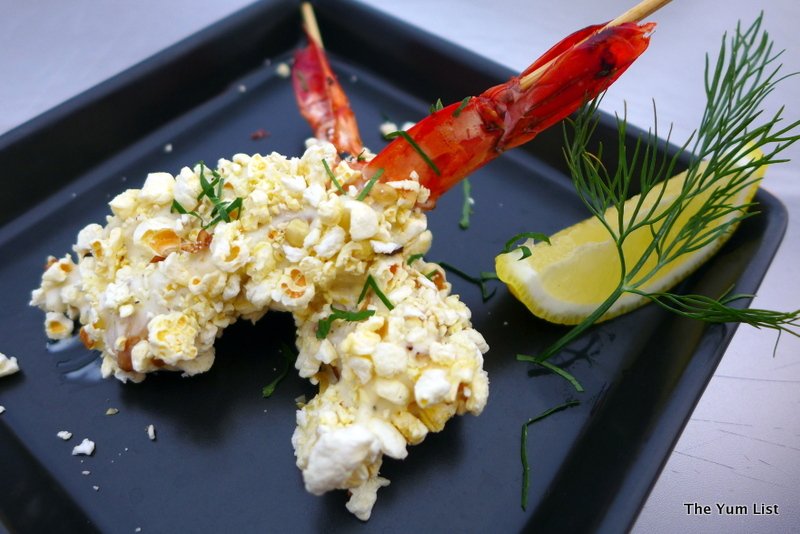 Sun-dried Wagyu Beef (360) is inspired by a northern Thai dish. It has been lushed up with the use of wagyu and dried just enough to gift a mild chew, but not so much so to make it leathery (as is the tradition). For veggie-loving me, the strong taste of beef is too much on its own. The spicy Issan sauce however lightens the force, and I find myself dipping a whole handful of the strips. Hubby on the other hand declines the accompaniment and eats these bites as if they were a bowl of popcorn.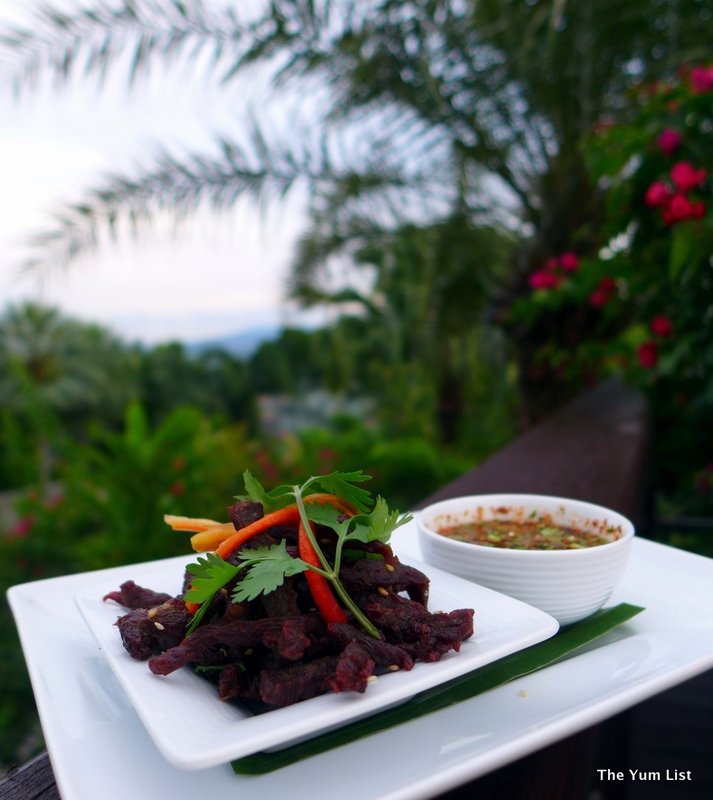 Tuna Tataki (350) plates multiple rectangles of fish crusted with black sesame. Quickly pan-seared, a few millimetres around the edges are done, while the remainder brandishes a rosy pink middle. Coriander, green chilli and mint leaves complement the freshness of this dish.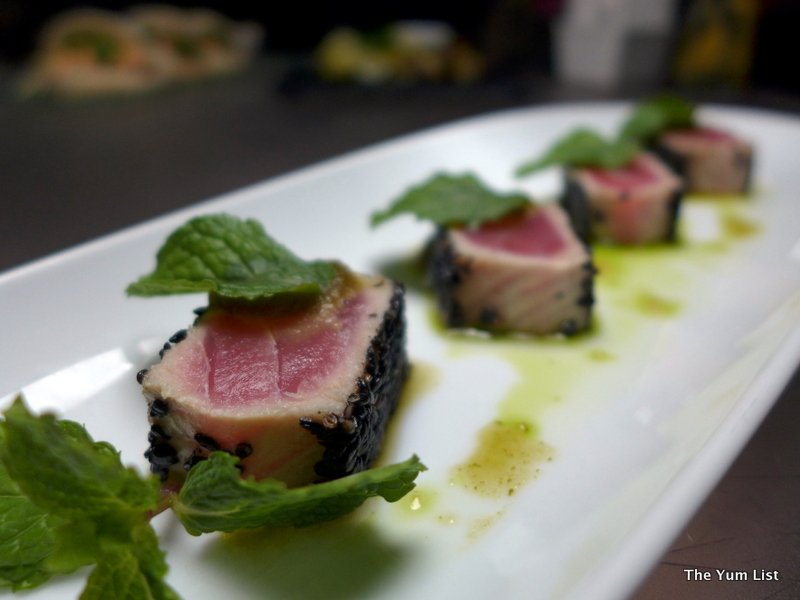 The simply named Calamari (160) is taken up a notch with a squeeze of lime and a few drops of the Thai herb sauce. The char of the grill is branded on the white flesh and carries over in full bounty to the mouth.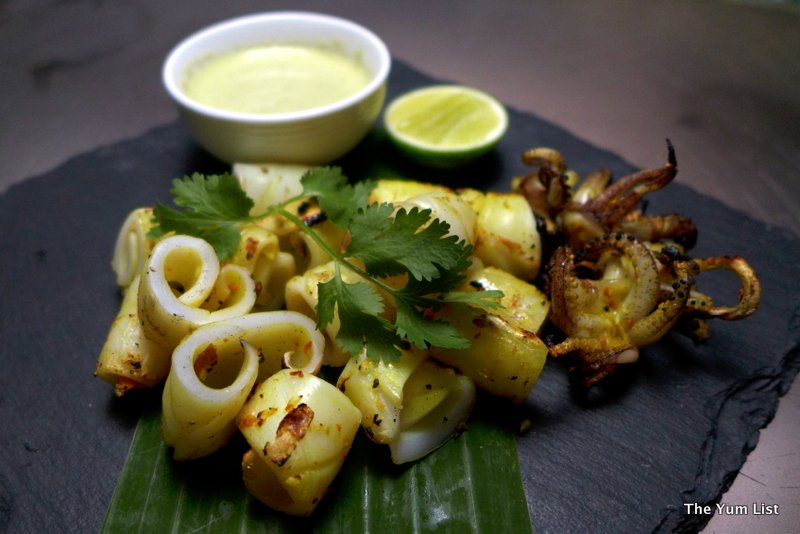 Bakpao (200) are soft white steamed buns holding thin slices of house-made lemongrass chicken sausage, finely shredded green mango slaw, a good dose of coriander, a shaving of pickled ginger and a slim slice of pineapple. There's a small gob of mayonnaise that lubricates it all and makes the wonderful mix of elements slide down all too easily.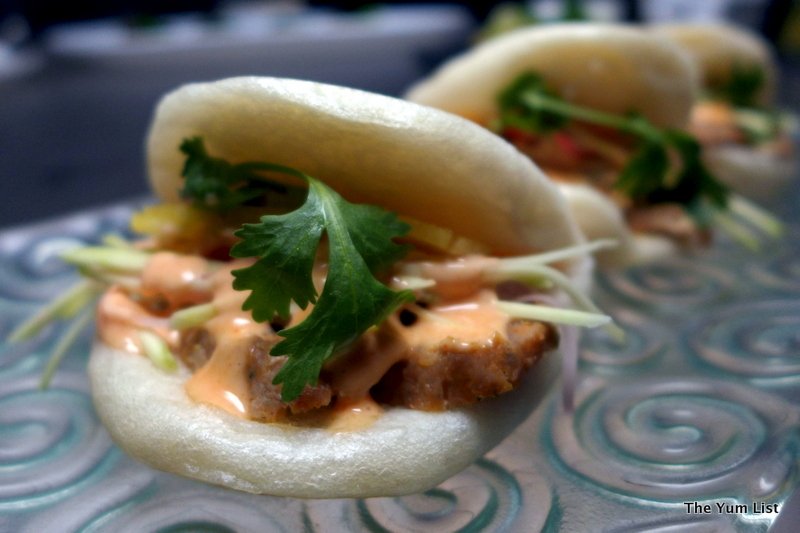 Lobster Dog (480) – a very lavish version of the foot long hotdog – although in miniature, features succulent pieces of crustacean on an oblong brioche bun. The succulent lobster doesn't need much more trimmings than the meat itself, so a light mayonnaise is all that's supplied assisting the flesh to slip down effortlessly. Don't miss eating the zucchini skewer garnish. Soaked in a sweet marinade with a lovely hint of mustard, these soft slices of veggie are delicious.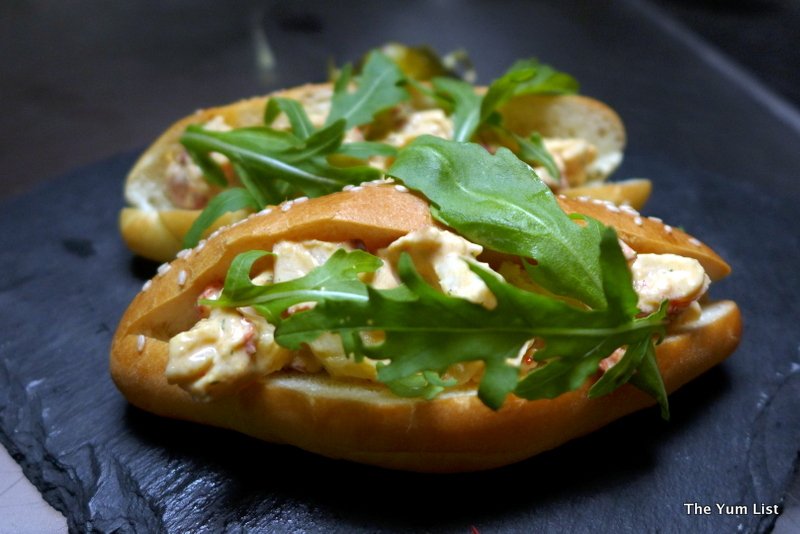 Sliders (220) are a classic that apparently can't be removed from the menu. Soft buns hold house-made wagyu beef patties, tomato, lettuce, melted comté cheese and white onion. Hubby bites into the mini burgers and his loud oohs and aahs are confirmation of their timeless appeal.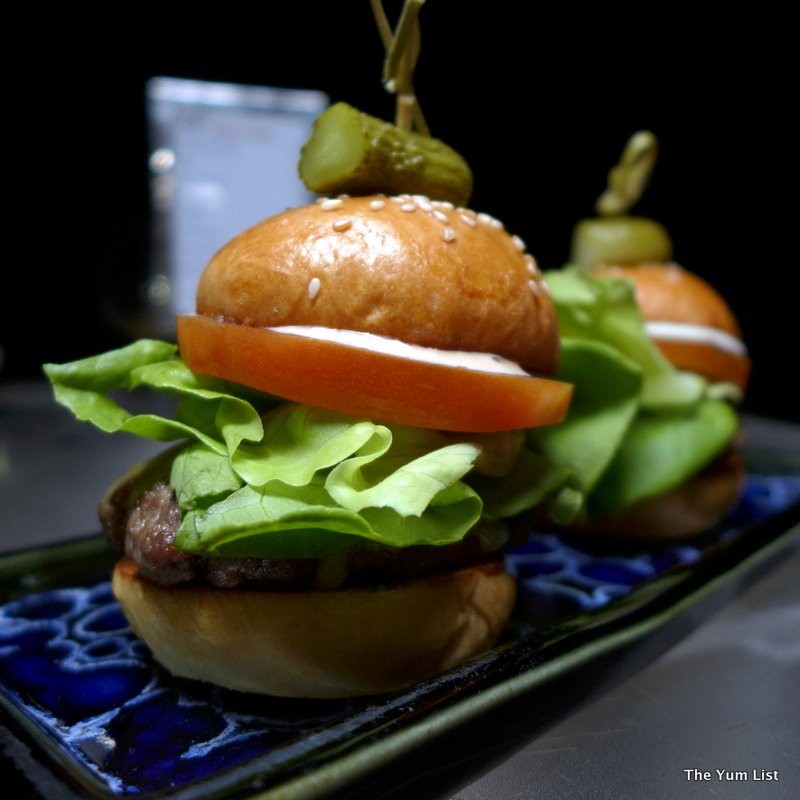 Sticky Rice Ice Cream Sandwich (250) is a wonderful twist on the classic, which I adore partly because it tastes so good and partly because I can have it and technically still say that I've only had two Mango Sticky Rice dishes today, not three. Fresh mango slices sandwich a chilled cream of sticky rice with coconut milk, and a paper-thin sesame tuile tops it off.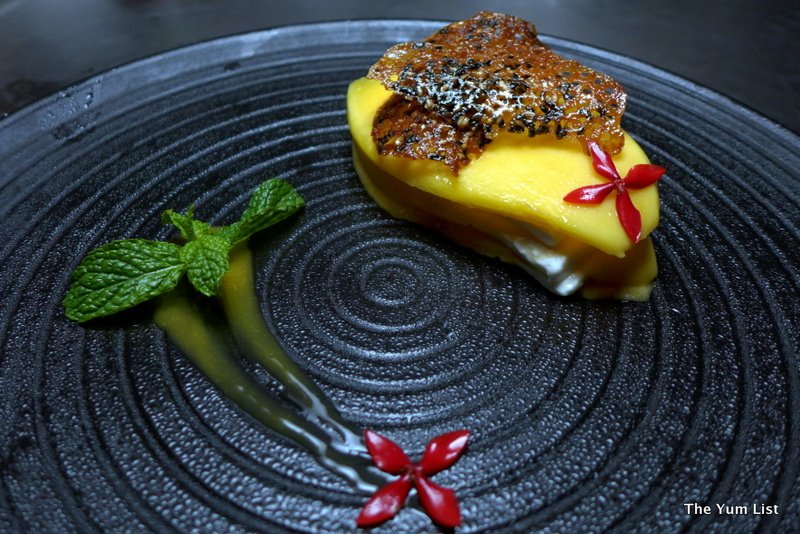 A quote from Mark Twain printed on the menu, "Sometimes too much to drink is barely enough," (and we add 'eat' to our own interpretation) resonates with us as we leave 360° Bar and Grill. The flavours have been expertly curated and if our stomachs (and livers) weren't limited in their capacity we'd happily continue tasting until we'd sampled the whole menu.
Reasons to visit: cool hilltop temperatures, postcard perfect location for sunset gazing, Popcorn Prawns, Bakpao, Sliders, Sticky Rice Ice Cream Sandwich, refreshing well-balanced cocktails with good use of local ingredients.
360° Bar
The Pavilions Phuket
31/1 Moo 6
Cherngtalay
Thalang
Phuket, Thailand
+66 7631 7600
www.thepavilionsresorts.com
Open from 5:30pm for drinks and tapas.