Words: Kirsten Durward    Photos: Monica Tindall
I've been going to the Nail Parlour for years and I never knew that it was founded by a young, clever visionary Malaysian. Lim May Shen returned from studies in Sydney aged 23 and wasn't impressed with the cleanliness of hand and foot care in KL. With the support of her mother she opened her first concept nail salon in 1 Utama ten years ago. Now with 11 nail spas all over KL, this family run business is proof that if you have a great product and you work at it, success surely follows. As well as pampering treatments and quality products, May Shen's main concern is hygiene. All tools used are both sterilized and steamed, ensuring the highest levels of customer care.  Luxe is May Shen's new brand, catering to clients who just wanted a little extra privacy and indulgence. At Luxe every treatment is a signature treatment using very different and very luxurious products. Already a fan of the small outlet near Kinokunia in KLCC, I am delighted to be invited along for some sensational spa treatments at the new Waxalon Luxe by Nail Parlour in Mid Valley Megamall.
As ever, in order to showcase the maximum number of treatments, Monica and I both opt for something different. She is being pampered to the extreme with the Bellissima Dulce Sublime Pedicure and the Courtesan Della Passione Manicure, both winners of multiple awards for moisturising and decadent spa treatments. My thick skinned heels have been spotted by May Shen's eagle eye and for me she suggests L'inimitable Soin Creme Chaude Pedicure. As this particular treatment is a winner of many awards including most luxurious pedicure and most indulgent pedicure, who am I to argue? My hands and arms will be treated by something usually reserved for a facial – with the Jessica anti-aging collagen manicure. Bring it on!
Relaxing like princesses, under golden blankets, behind a golden curtain we are offered hot drinks, Monica opts for Christmas Tea, while I enjoy the Moonlight blend. Warm herbed pads are placed around our shoulders as we sink away from the stresses of the day.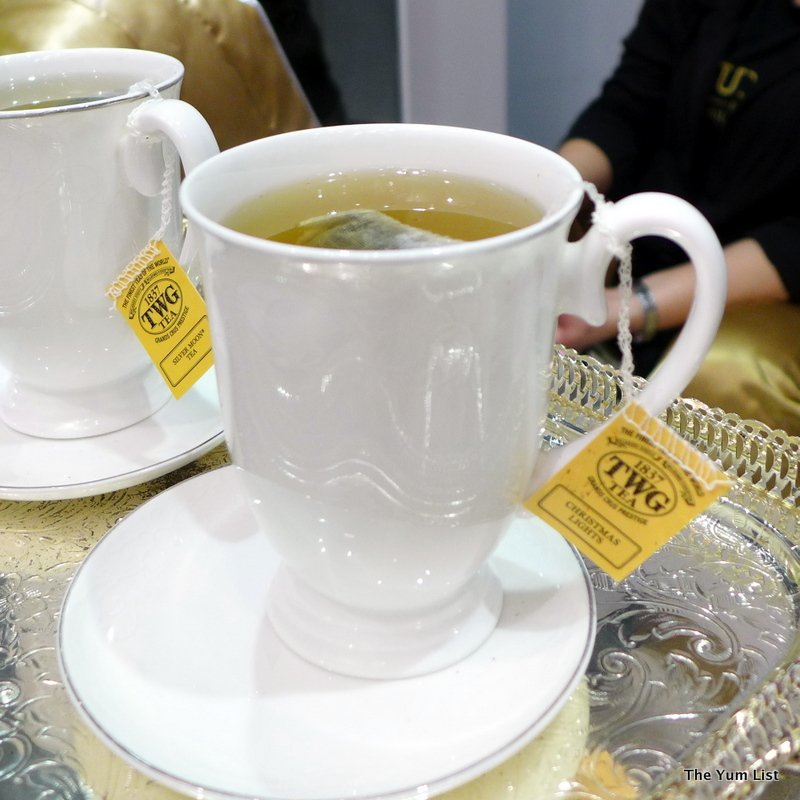 Monica is surely being pampered like a royalty, after choosing her 'Land of Milk and Honey'  (RM155/175) from the Bellissima collection, a detoxifying, artisan crafted scoop of Bath Ice Cream. It takes three days to make this unique blend of jojoba seed, coconut, sweet almond, macadamia seed, sesame seed and kukui nut oils with Epsom sea salts and purifying minerals. As she soaks, legs are treated with an organic jojoba oil and vitamin E sugar scrub followed by a long thorough massage involving luxurious shea and cocoa butter as well as vitamins A, C and E. The scent of raw honey fills the atmosphere as her mask is prepared, then all wrapped up in novel thermal booties she wafts away to the Land of Milk and Honey, ready to enjoy her hand and arm treatment.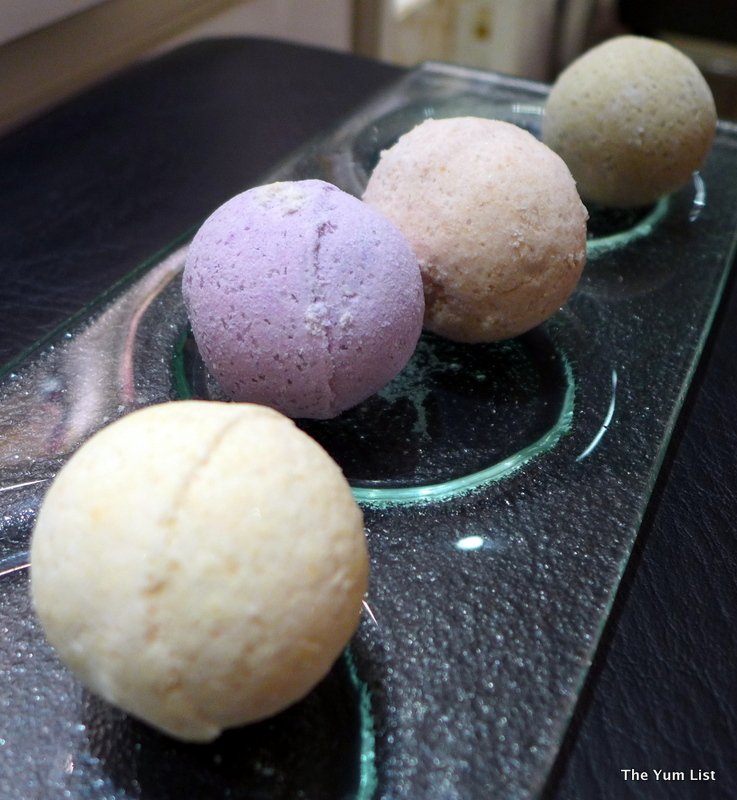 As she has chosen the Giullieta from the Courtesan range (RM 90/110), her 'Bagno Profumato' or scented water is filled with fresh green apple slices, a nice detail to add to the natural essences of olive oil, honey and calendula extracts – all supposed to be reminiscent of Federico Fellini and Giulietta Masina's honeymoon in Corsica (aaah Romance!). In this pampering extravaganza, skin is then lightly buffed with grape seed oil and crushed olive granules body scrub, the wonderfully entitled 'Esfoliante da Corpo, (sounds so much better in Italian) before being wrapped in a rich cocoa and shea butter mask and encased in heated gloves to promote deep hydration. After a good time marinating, she receives an intense massage with Crema da Corpo enhanced with sweet almond oil, shea butter and honey.  Wow!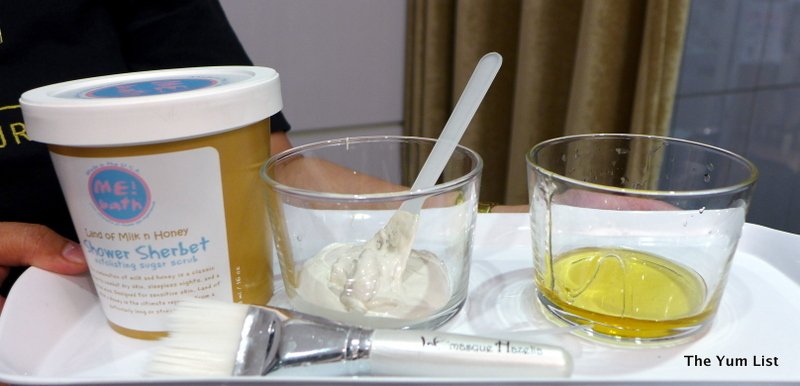 My Inimitable Soin Creme Chaude Pedicure (RM100/120) begins with a deep soak in honey and cream, and a lot of skin buffing before being treated to a glorious white tea and ginger scrub. Refreshing scents waft up as I luxuriate in the decadence of the experience. A long massage ensures before being encased in a white tea and ginger masque, wrapped up like Monica in toasty thermal booties, while we chat and compare nail colour choices. Going to the spa on one's own is great to catch up with a bit of light reading, but it is also wonderful to go with a good friend and catch up on news and chit chat.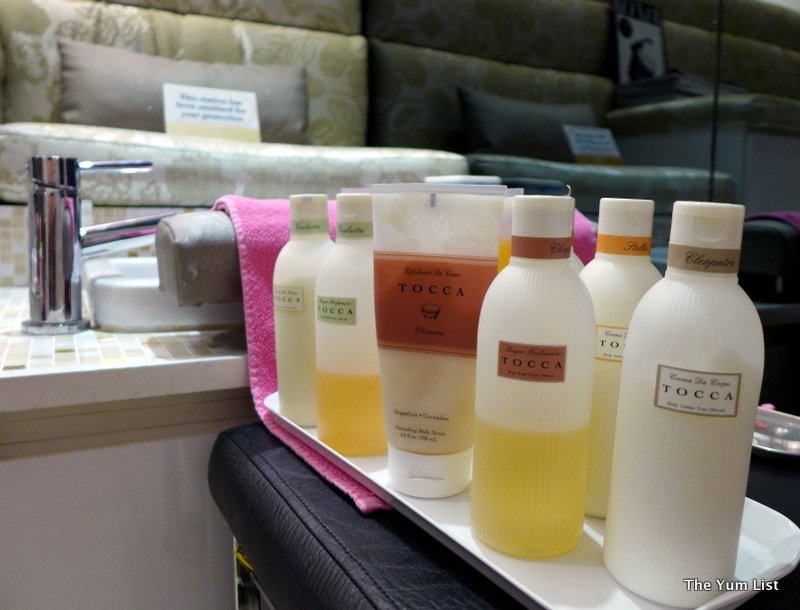 I'm excited about my Intensive Anti-ageing Manicure (RM115), marketed as a facial for the hands. After a light soak and cuticle removal, I am treated to an exfoliation scrub enriched with algae extract, marine collagen and elastin before being massaged with yet more collagen, I am practically begging the therapist to do my face too. Perhaps May Shen may yet be persuaded to branch out into facials…  My hands and arms are then drenched with Jessica Quench Revitalizing Masque together with a Silk Marine Collagen Gel before being wrapped and encased in thermal mittens. Nothing to do now but relax while my tootsies are washed and then painted a vibrant pink for the festive season. This is heralded as a breakthrough treatment that energizes, tightens and improves the firmness and elasticity of skin. It is all delightful and I think I need it every week!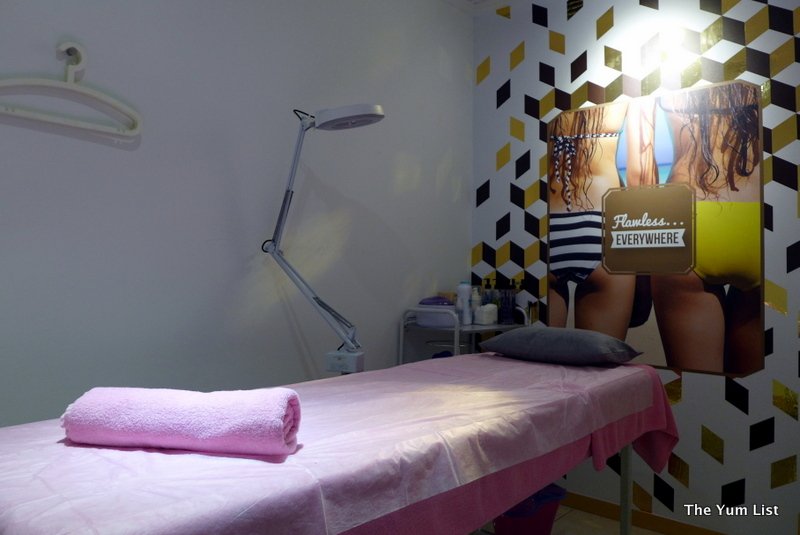 Surely the best nail spa experience in KL, Waxalon Luxe by Nail Parlour is more than a salon, it is a pampering palace. Every treatment sings with attention to detail and luxury ingredients. The therapists are supremely trained to ensure that you understand and enjoy every aspect of your experience. Whether for regular maintenance or a one off treat, I can only recommend that everyone gives themselves the indulgence of a Luxe spa manicure or pedicure. Our skin is soft and glowing, our nails trim, tidy and colourful. It is truly worth it.
Reasons to visit: indulgent spa manicures and pedicures, highly trained therapists, groundbreaking treatments.
Waxalon Luxe
S069, Second Floor, South Court
Mid Valley Mega Mall
Kuala Lumpur, Malaysia
+603 2287 4908
www.thenailparlour.com
www.facebook.com/nailparlour
www.midvalley.com.my/tenant/WAXALONLUXE
Opening hours: 10:00 – 22:00 hours