Words: Patricia Podorsek   Photos: Monica Tindall
With a name like "RGB and the Bean Hive," this café located in a quiet neighborhood near KLCC conjures up images of The Hundred Acre Wood and a silly bear who gets his head stuck in a jar of honey. And, like the fairy tale forest of AA Milne, this is exactly the kind of place anyone with half a brain would LIKE to get stuck on a weekend morning: Comfortable seating, plenty of natural light, and excellent vegetarian options make this the perfect destination for a leisurely breakfast with friends. Carnivores, don't fret: there's plenty for meat-lovers on the menu as well.
RGB is an acronym for Roast Grind Brew, which indicates the clear priority these folks place on coffee. Good coffee. We sampled a macchiato and a flat white (both RM10), and loved the fresh flavor of the newly roasted beans. For beginners, the menu even boasts a spectrum for the more/less milky varieties. Aficionados can add ice, chocolate, ice cream, or substitute Pacific soy milk in their java. All palates welcome.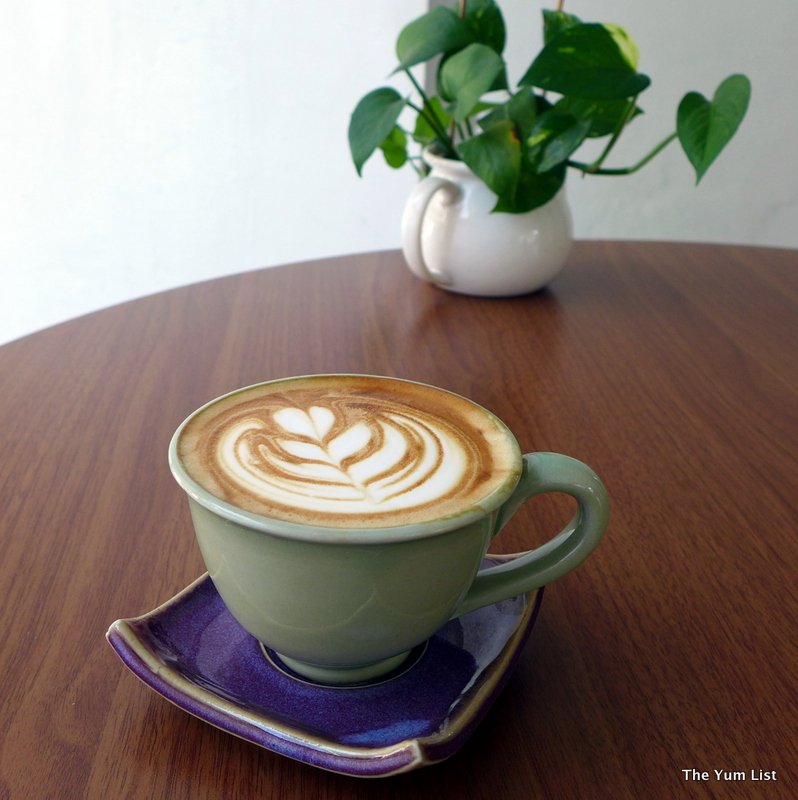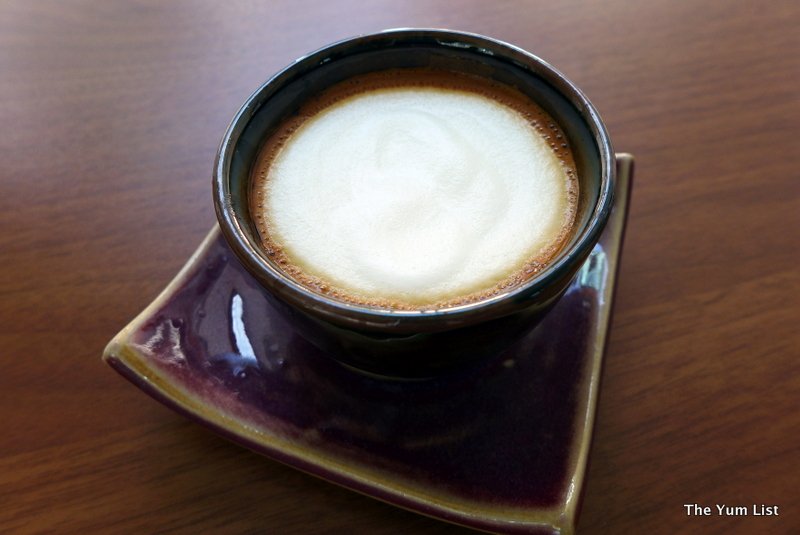 Coffee is not the only beverage option. RGB will slow-press any combination of juice for RM12. Our hosts suggested a lime-ginger-apple blend. The ginger gave a spicy edge to the citrus and whispers of mint clung to the edges.
Vegetarians will delight in the many meat-free options at RGB. For instance, the Charred Eggy with Strawberry (RM14) wraps thick slices of white bread in a thin layer of omelet and tops with a strawberry bow. Ribbons of agave nectar sweeten this breakfast gift.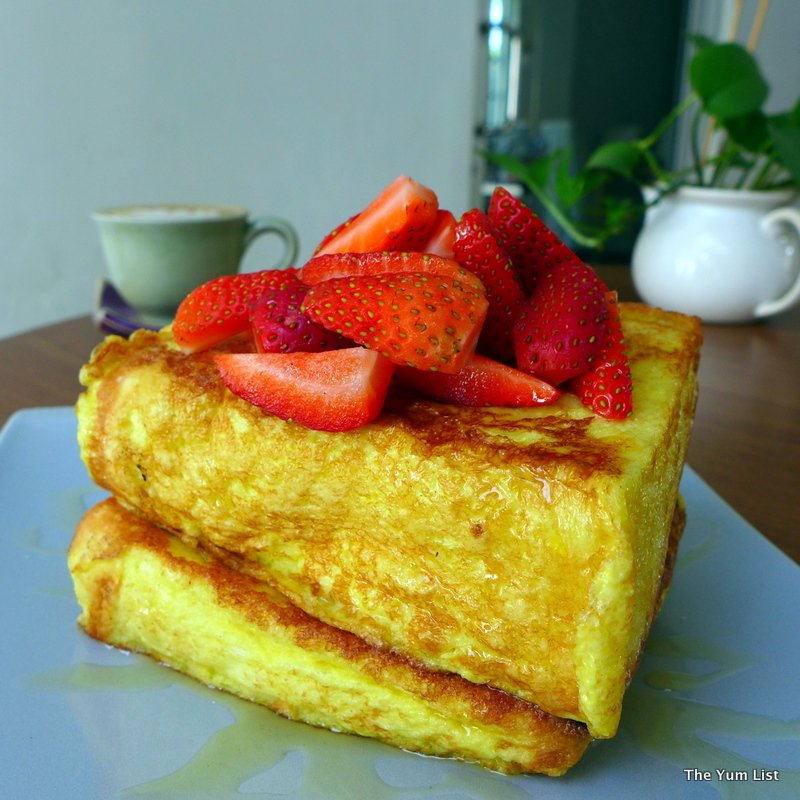 The white cloud that tops the Yoghurt Parfait (RM18) reflects the dreamy nature of this option. RGB begins with a homemade granola core and seals it with an extra fluffy yogurt and whipped cream blend. Fresh fruit salad adorns the top – strawberries, oranges, apple, and watermelon. We loved the combination of textures – crunchy and nutty meets light and airy; the drizzle of agave nectar adds the smooth.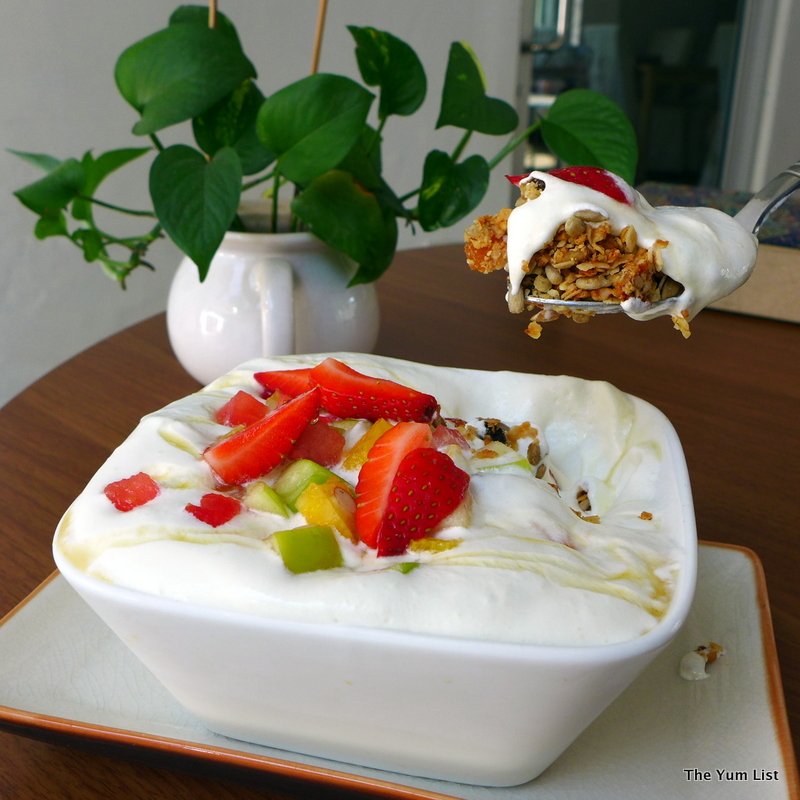 Vegans will find plenty on the menu at RGB, beginning with the Vegan Big Breakfast (RM20). Scrambled seasoned tofu adds spice and garlic to mushrooms and capsicum. With sides of sweet potato hash, toast and salad, you can see why it's called "Big."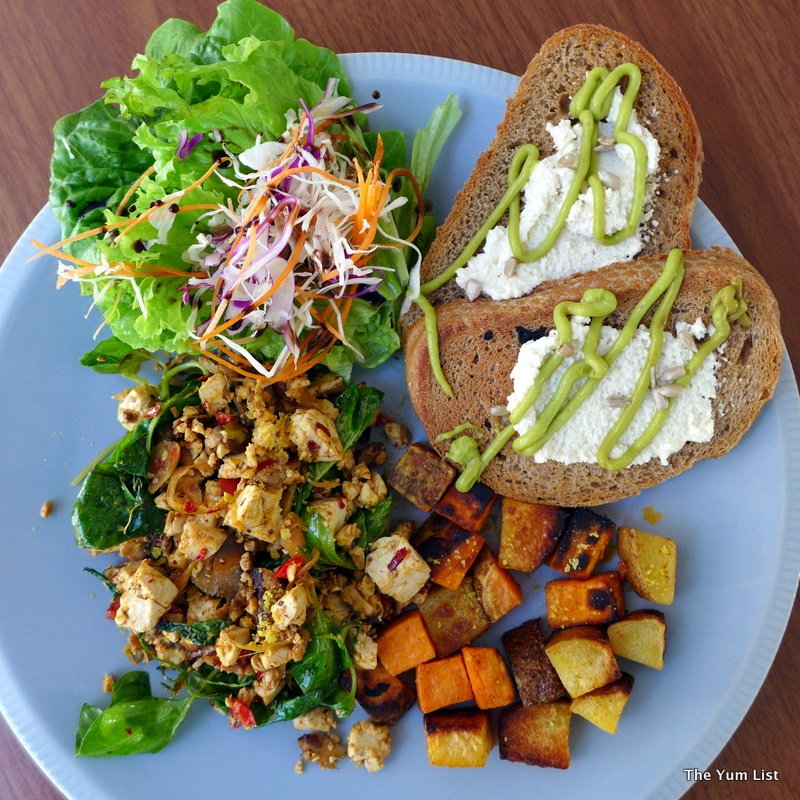 The No-Eggs Benedict (RM18) is an interesting variation on the old classic. Rye bread provides the base, lettuce and grilled tomato the accessory, and a patty of minced "tofu and more" the centerpiece for this dish. The herbs and red pepper give flavor to the cake but the icing on this dish is definitely the fabulous cashew cream. Smooth and rich, it adds a similarly luxurious touch as hollandaise.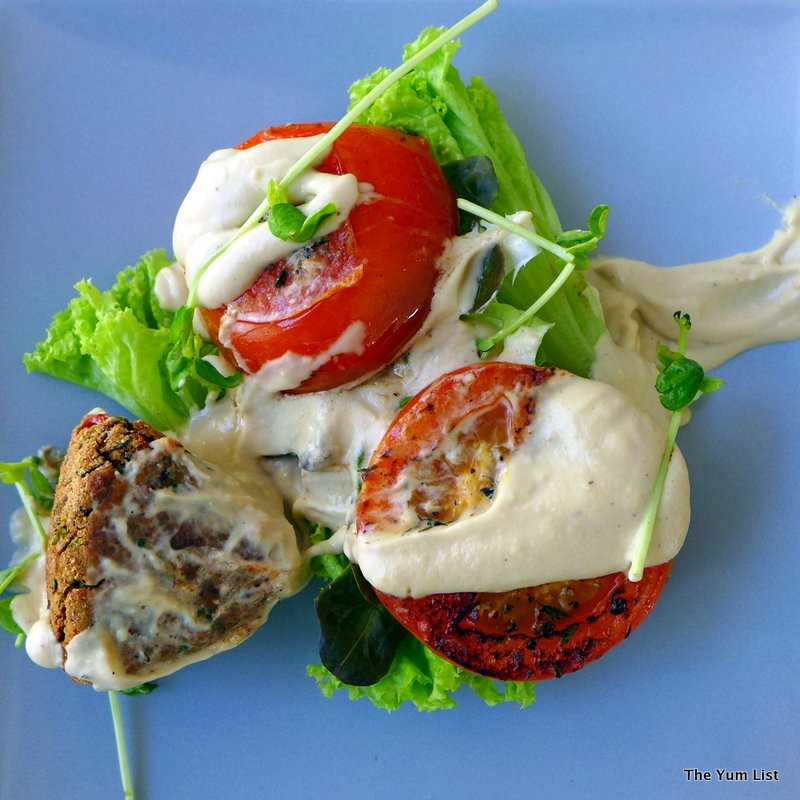 The same creamy cashew sauce adorns the Potato Rosti (RM18), a plate of crispy fried shredded potatoes topped with tempeh bacon and wilted spinach. RGB marinates their tempeh in a super-secret-kept-under-lock-and-key-under penalty-of-death recipe of spices and herbs that gives depth to the flavor of the tempeh. Coupled with that amazing creamy cashew sauce, this dish won our hearts over the others. In fact, I could probably be coerced into wearing a Winnie-the-Pooh costume and locking my head into a jar of it. For a week.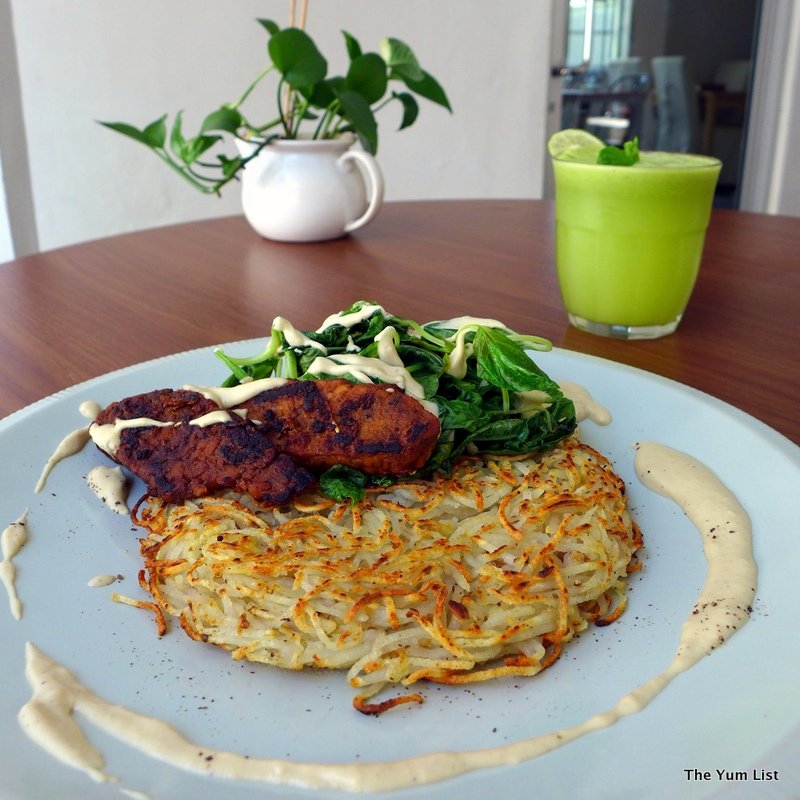 Breakfast at RGB is served until 2pm daily. After that, meals like sandwiches and pastas are offered in both meat and meat-free options. The kitchen also offers weekly specials including a couscous/tagine and burger of the week. None of their foods contain MSG, and they never use a microwave.
Reasons to visit: Delicious veg and vegan options for breakfast at NETT prices, which means good value and a good meal; Charred Eggy; Potato Rosti; Yoghurt Parfait.
RGB Coffee and the Bean Hive
35 Jalan Damai
Kampung Datuk Keramat
55000 Kuala Lumpur Malaysia
+6 03 2181 1329
www.facebook.com/RatherGoodBeans/