Huong Tran and Monica Tindall
As the colourful tidbits of the yee sang salad go flying in the air, tossed by long chopsticks, pulled up higher and higher, with boisterous laughter and shouts of prosperity, long life, health, more salary, more travels, a promotion and all that jazz, I think to myself that it doesn't matter if half the yee sang lands messily on the table, it's the act of togetherness that is precious.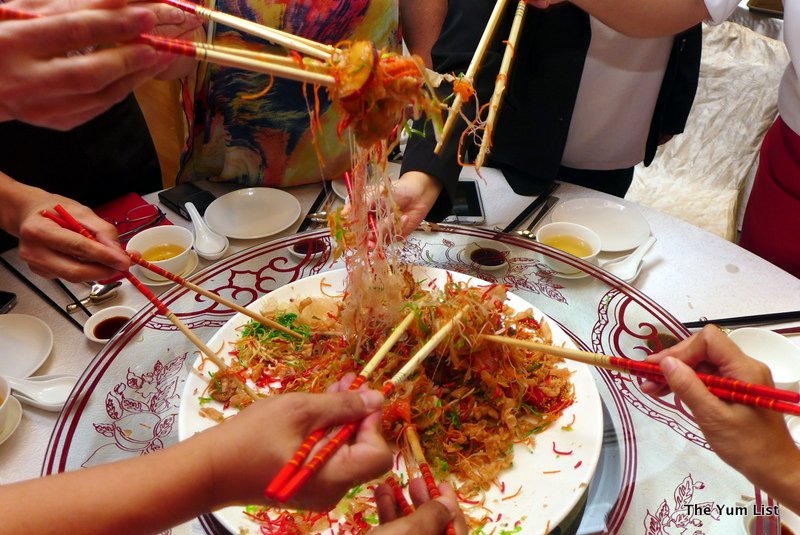 Growing up I never quite understood the fuss with Chinese New Year. In western culture it's one day of party and fireworks, resolutions to be a better you, and the day comes and goes. To usher in the lunar New Year, it was a big hoo-ha in my Asian household: weeks of laborious preparation – what to wear (typically bright red), what snacks to serve and gift, what dates to rendezvous with the extended family and of utmost importance was the restaurants to enjoy the family banquets.
In the lead up to CNY, the culinary KL Chinese food scene is exploding with all the top hotels and fine restaurants vying for their share. Yes it's become a little commercial, and can be a tad expensive, but any noisy laughter filled gathering is a memory worth creating.
To welcome the Golden Monkey 2016 year, Sheraton's Celestial Court is stepping it up a few notches with four different 9-course set menu imperial banquet offerings. There is an Abundance set (RM1,988 nett for 10 persons), a Fortune set (RM2,088), an Auspicious set (RM2,288) and the Luxurious set (RM2,688).
The restaurant has won many awards for its fine dining Chinese since its inception in 1998. The décor is traditional in fashion, but that hasn't stopped Executive Chinese Chef Vincent Loo from master minding a menu to marvel both young and old.
Yee Sang is distinctively Chinese Malaysian or Singaporean and its origin debatable. What isn't though is the freshness of the grated vegetables, fruits and the crunchy texture and its popularity. It used to be served only in the days of CNY but due to popular demand, you can start ordering it one month beforehand.
Celestial Court has three types of Yee Sang depending on the chosen set menu: Jellyfish Flower, King Monkey Head Mushrooms, and Banana in Plum Sauce is my first. I like the inclusion of bananas as they're soft and add a natural sweetness. For the record it is my first time trying the king monkey head mushrooms – they look exotic and hairy but the texture is similar to a chewy tofu. There is also the popular yee sang with salmon and Thai mango sauce – and this is the one I usually order because it's the safe option. Salmon seems to be a no-brainer to pair.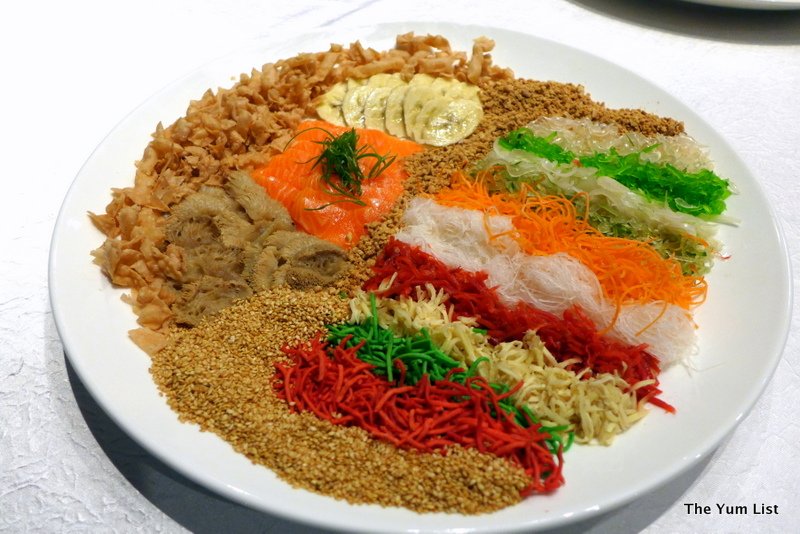 The Yee Sang of Sliced Abalone and Snow Pear in traditional sauce arrives and again like all the previous platters, the delicate arrangement of the ingredients looks visually stunning – it is colorful and fun, finely grated and arranged carefully. I ask for only half the sauce to be poured, so we can appreciate the crispness of the salad.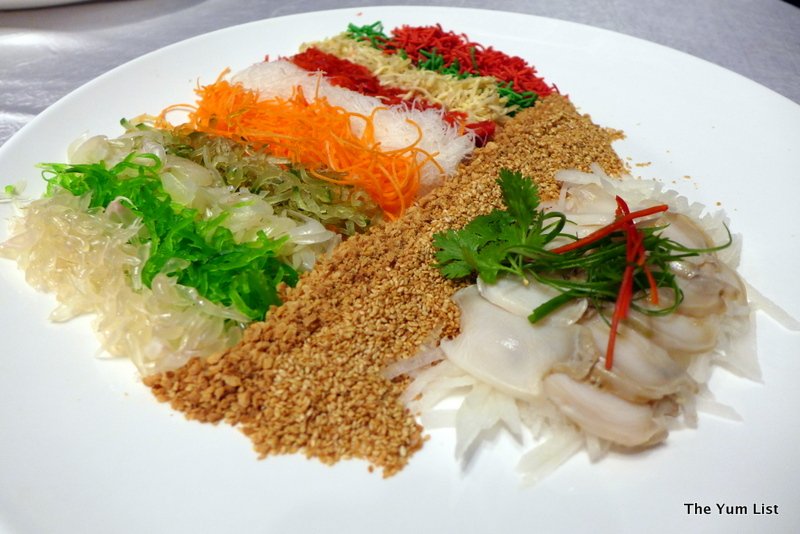 The imposing and impressive Lobster Yee Sang arrives – with a massive claw hanging on the side of the plate – it's juicy tender meat scooped out for ease of eating. I don't usually take too many food pictures, but this tantalizing plate is one to make your friends envy.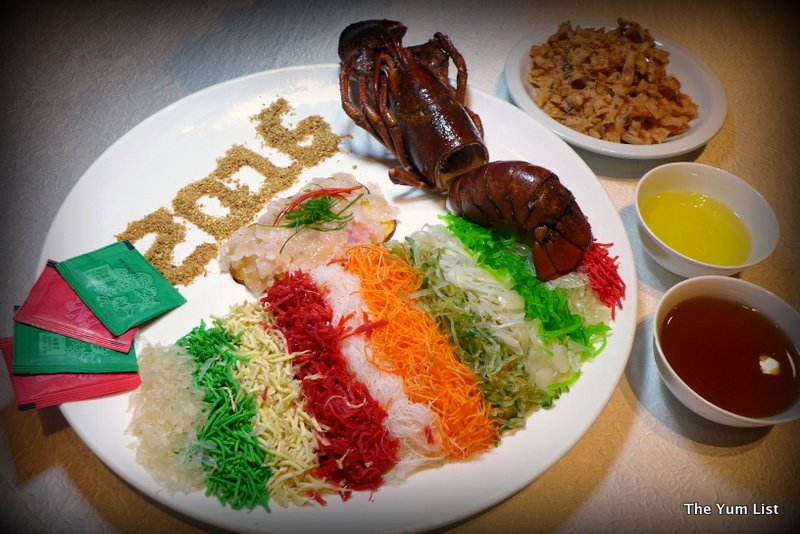 A warm Thick Broth with Seafood, Shredded Abalone, Dried Scallops and Sea Cucumber launches the proceedings. Slow boiled for hours, the broth is very flavorsome, absorbing all the essential essence. It is all soft and slurp-able.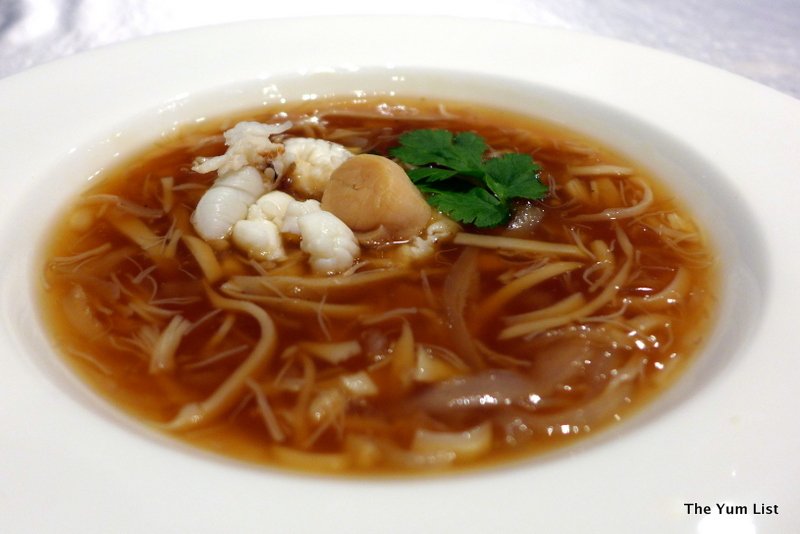 In contrast the Braised Superior Bird Nest Soup with an abundance of spinach and assorted seafood is smoother and more cooling. I am informed I should eat it all as the birds nest has collagen properties and is good for ladies to rejuvenate the skin. The texture of birds nest might be too funky for the average, but dare to try, and it melts in your mouth cliché style.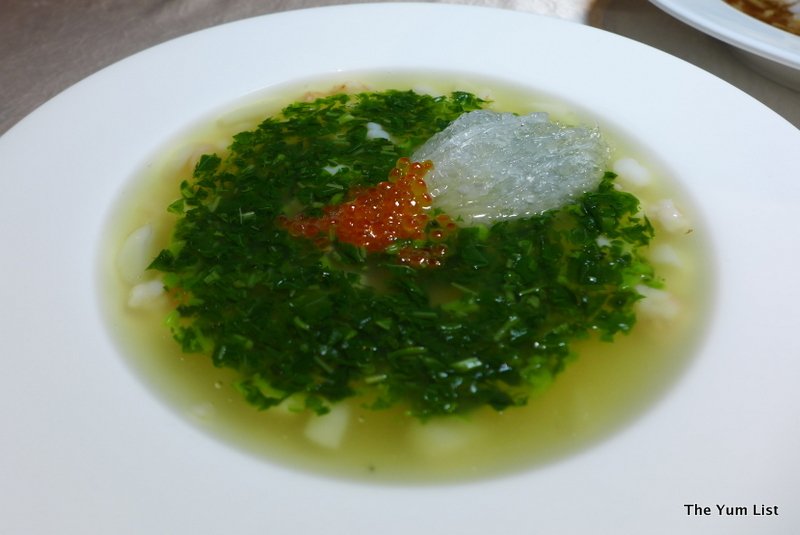 Next on the emperor's list of imperial foods, is the Braised 20 Head Abalone and Sea Cucumber with Goose Webs in Thick Gravy. Monica, Caning and I ask each other, "Have you had that before?" The goose web (aka goose feet) is very confronting, and if you are a dare devil it's quite delicious – recommended for those who like chicken feet and cartilage textures. It really steals the show from its soft slow cooked abalone counterpart. Success and ticked – I did say in 2016 I want to be more adventurous in my food explorations.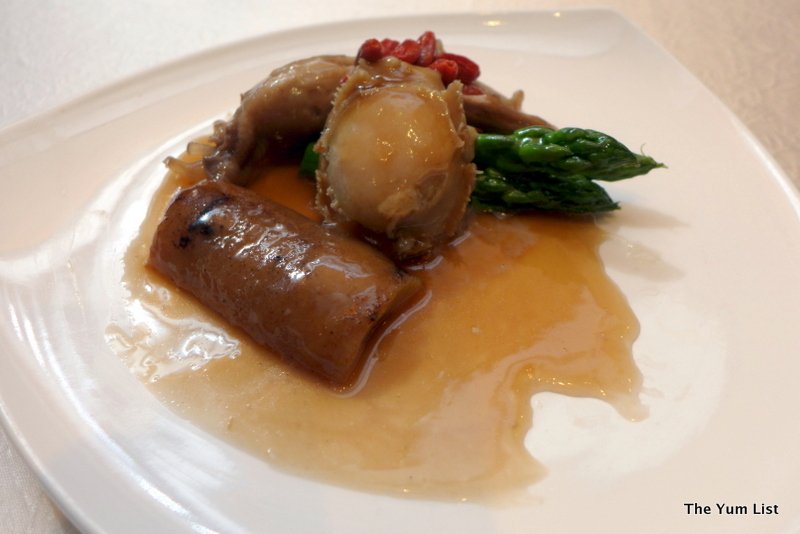 Sautéed fresh Scallops with sliced Cuttlefish with Flower Fungus and Green Vegetables are beautifully presented. The unique Beijing sauce is so finger licking yummy and brings a new level of sophistication to the dish. I can compliment the perfection of the scallops – as I know the skill to get it pan seared perfectly, but I'll shout out to that awesome sauce – combination of sweet and spicy with a grand type of cooking oil. There's unanimous agreement that it's the group's favourite.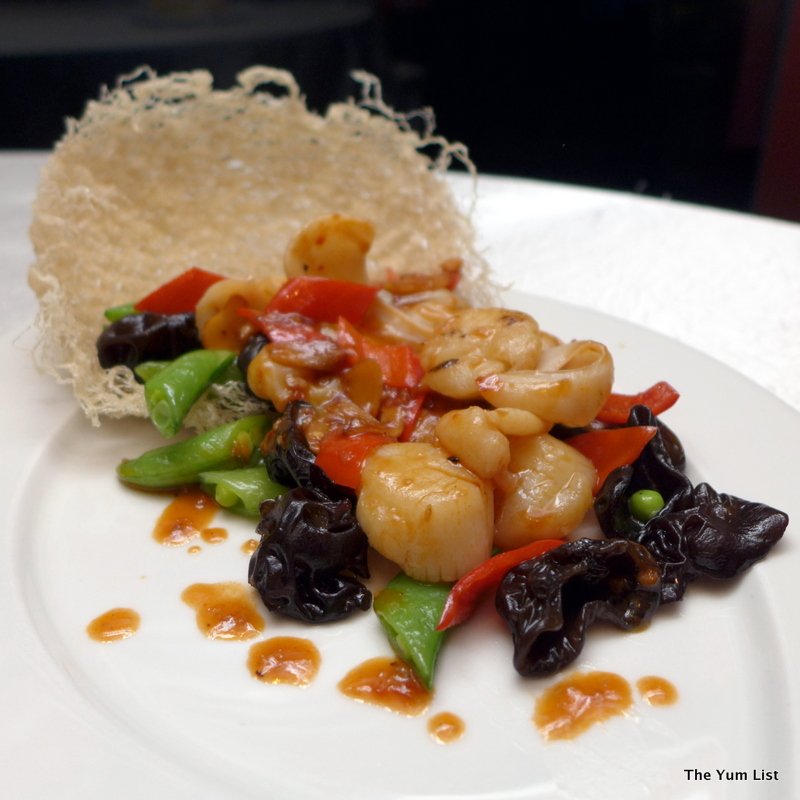 Game Plan: In between this marathon long feasting, I stop to sip Chinese Tea – to ready myself for the next dish just like a pallet cleanser, but not too much tea to spoil the appetite.
Tiger King Prawns say hello in a duo combination of deep fried with spicy chilli salt, and sautéed Sichuan style with lots of garlic, spring onions and snow pea garnish. It's neither bland nor boring. Just be sure to change plates after filling it with the prawn shells and quickly to dispose of the evidence (four prawns!).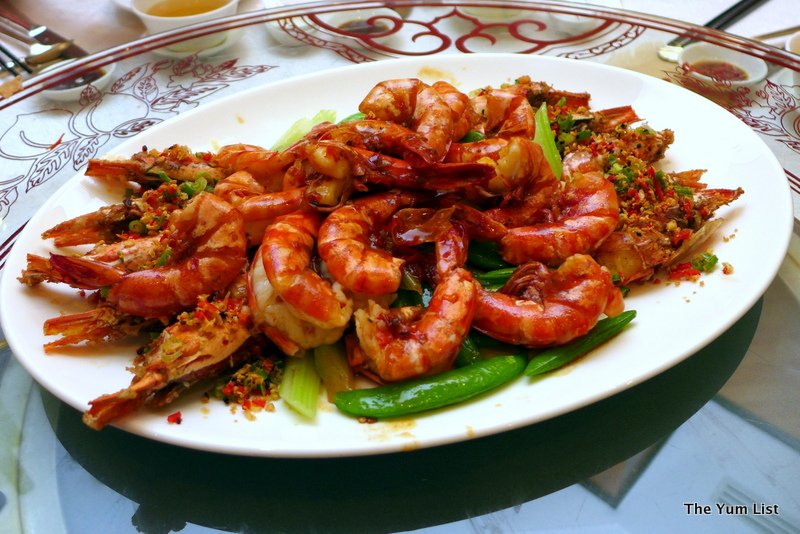 It wouldn't be an auspicious meal if the longevity E-Fu Noodles with Dried Oyster and Abalone Sauce didn't make an appearance. The taste is mild, and after the two and a half hour long feasting of its predecessors, the noodles add the final filler to an already happy stomach. Cheers to a long life and beyond.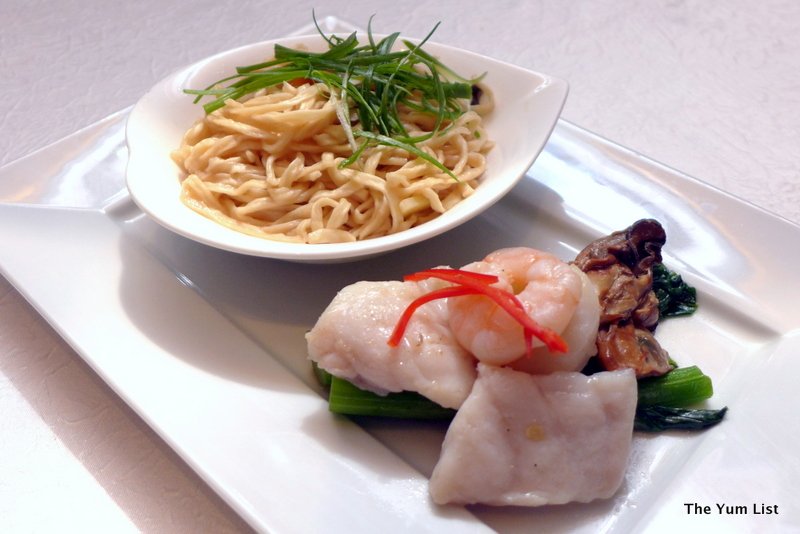 Dessert is back to the Cantonese cooking style of Celestial Court – Double Boiled Bird's Nest with Red Dates, Sweet Pear, White Ginseng and Snow Fungus in a sugary broth. It's a wham of collagen and I get the message, I need better skin to usher the year of the Golden Monkey!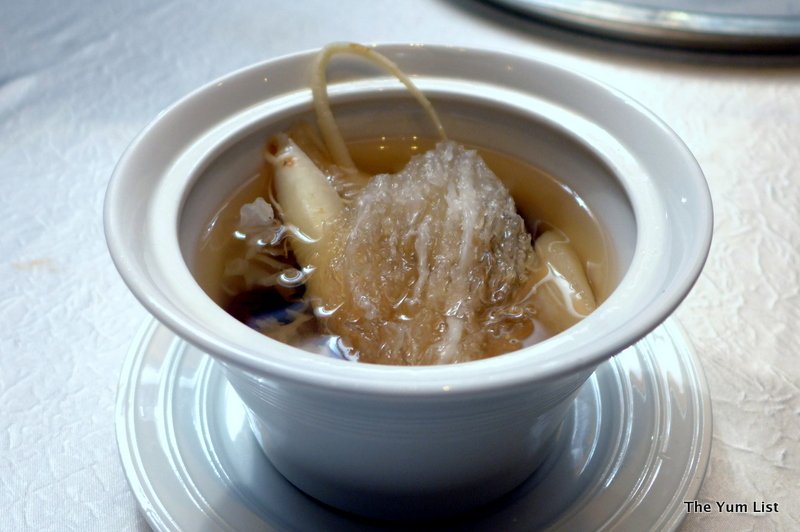 Reasons to visit: luxury yee sang options, grand Chinese banquets fit for any company or family gathering over CNY, exotic high level sophistication in ingredients
Celestial Court
Sheraton Imperial Kuala Lumpur
Jalan Sultan Ismail
50250 Kuala Lumpur
Malaysia
+6 03 2717 9900
Open daily for lunch 12 – 2:30
Dinner Daily from 6:30- 10:30 pm
Call to book a table