If you've read any of our recent articles, you'll know that [email protected] is what we consider one of the hottest openings for 2015. Located on the ground floor of Fraser's Place and hemmed with greenery, its high ceilings and window walls offer a fresh cheery haven in the city centre. [email protected]'s positive vibe coupled with a good drinks list and creative menu fashioned by the incredibly capable and innovative Chef Raymond Tham, meant we couldn't refuse an invitation to a pre-tasting of their upcoming Valentine's and Chinese New Year set menu.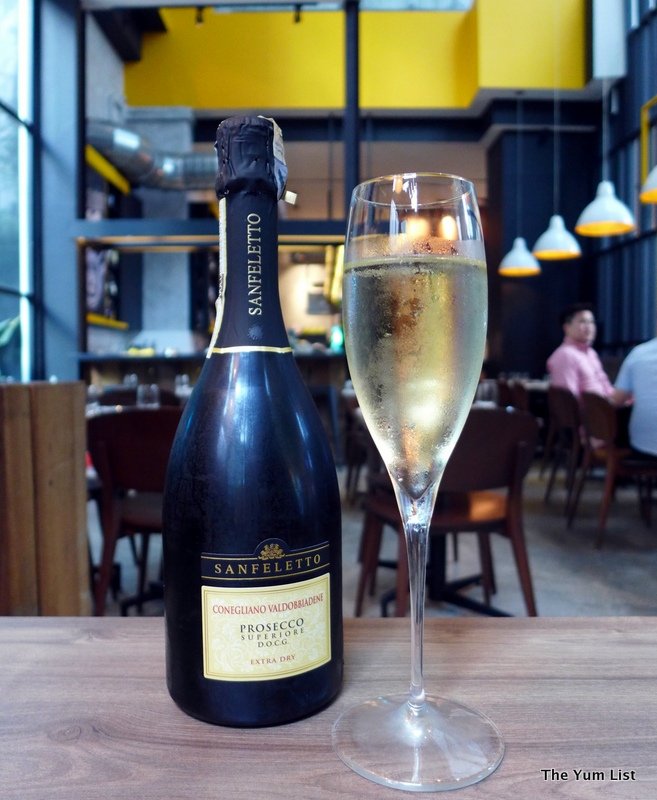 A glass of bubbly begins the experience with festive cheer with Prosecco Extra Dry, Sanfeletto Valdobbiadene, NV. Its lovely floral bouquet and elegant fruity acidity does well with the first starter.
Hokkaido scallop and apple tartare are seasoned with a sweet and tangy plum and kaffir lime dressing, and wrapped in a shaving of cucumber. Deep-fried strips of won ton skin, crushed peanuts and taro hair fluff the crown, while perfect circles of pickled jicama and beetroot act as trimming around the outer circle. Presentation is given a little drama with -196°C pomelo pulp added as the plate is delivered to the table. It's recommended to mix everything together just like traditional yee sang – minus the tossing. Delicious.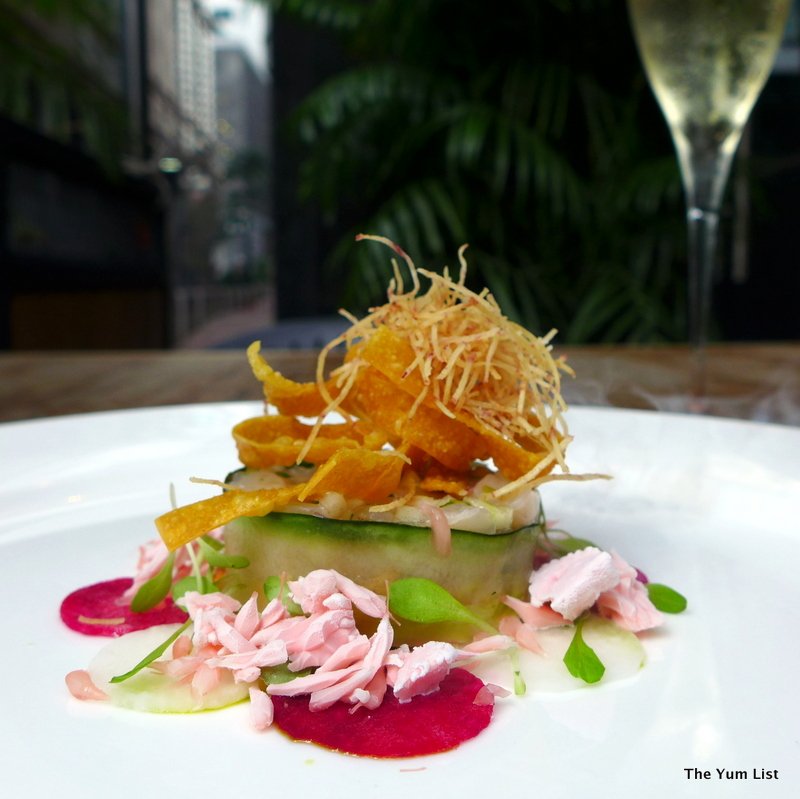 Foie gras and chicken liver pâté is tendered in compact squares with an elegant Madras curry running throughout. Cardamom is brought to the forefront with a rich prune compote, and curry leaf tempura and caramelized macadamias bring out the 'wow.' Cubes of brioche toast are excellent mates for the pâté. A genius pairing is found with the luscious Late Harvest Viognier, Geographe, Australia 2013. This sticky wine is rich with dried fruit and walnuts in the palate and plays a soft sweet accompaniment to the Indian spices.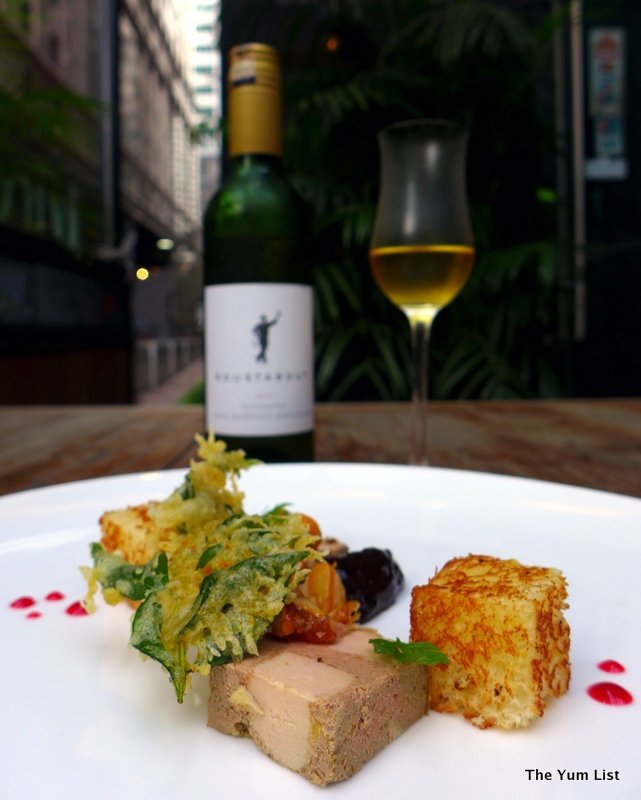 A lush pond of lobster bisque is aerated with cream lifting it to the consistency of a velvety cappuccino in the final lead up to the main. But… this is no ordinary lobster bisque, it has been cooked with the key ingredients of a perky assam laksa, gifting it a marvelous bite and addictive tang from the torch ginger flower. Weighty ink-black ravioli is filled with pineapple and Parmesan, adding heartiness to the dish but smoothing over the kick. A tangle of shredded veggies adds both colour and texture. This is absolutely scrumptious and if my date could promise to make this at home I think I just might propose.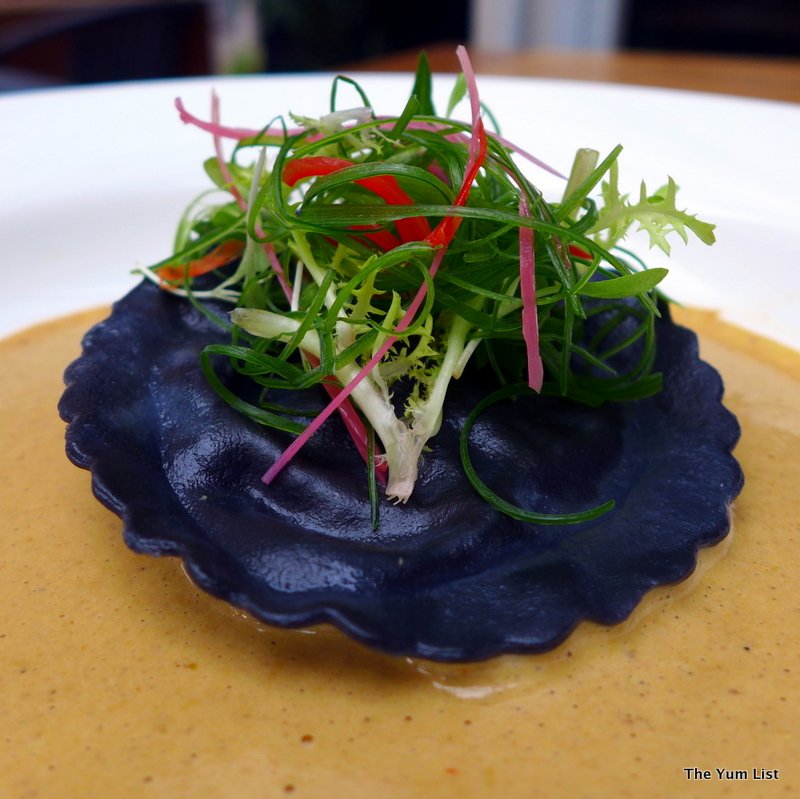 Poultry and red meat are the choices for the mains.
Chicken breast is steeped in a 'Dangu Gui' (a type of Chinese ginseng supposedly very good for females) broth and accompanied by dried scallop in XO sauce. The secret to the moistness is sous vide cooking for 45 minutes. Pickled fennel, goji berries and Dang Gui cream espuma contribute a distinctive Chinese elegance, and crispy shimeji tempura only heightens the experience further. What looks like a simple dauphinois on the side has an intriguing flavour making us slice back in for another bite, and yet another, trying to uncover the secret ingredient – arrowroot. Lusty passionfruit seduces our noses into the 2013 Sauvignon Blanc from Daisy Hill, Marlborough, the dish's wine pairing. It's crisp in the mouth with a graceful hint of savoury in the finish lifting this wine above the usual sav blancs currently found on menus around the city.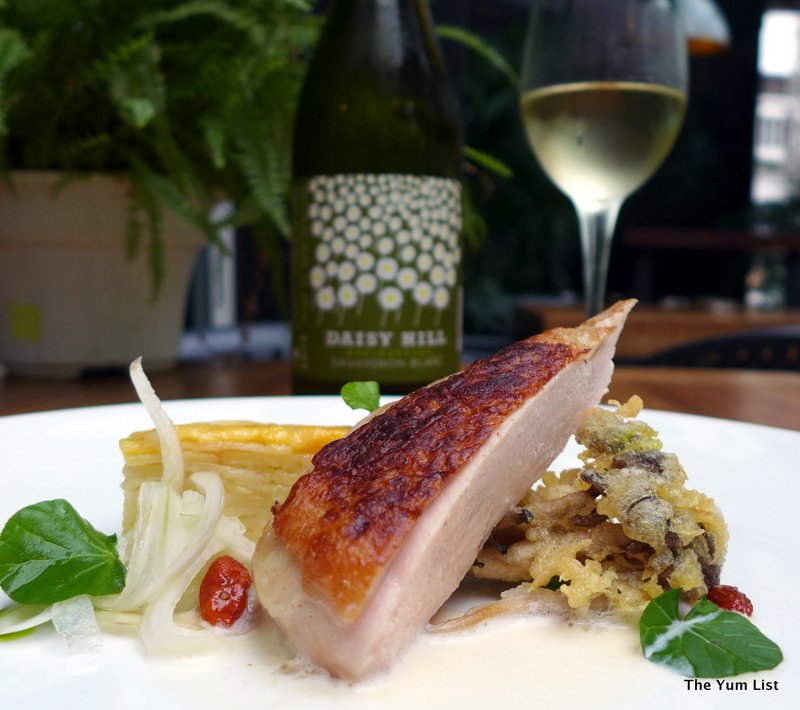 300 minutes grain fed beef short ribs have been braised in Arabica coffee beans, and are sticky, sweet and luscious. The meat flakes apart with the mere nudge of our forks and mashed celeriac and glazed vegetables play a supportive role to the protagonist. The 2013 Silverleaf Merlot from Margaret River, [email protected]'s house wine, is easy drinking with its fruity oaky flavours (which is what we had on tasting day – photo). Something a little bolder however, a 2014 Cabernet Sauvignon, from Portee Station, South Australia will be served during the actual promotion days.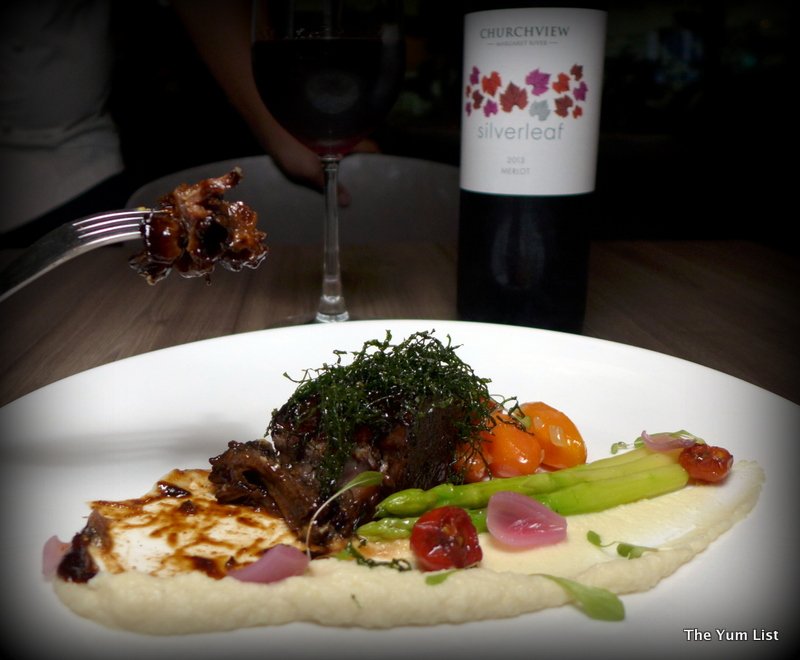 Dessert, of course, is made to be shared, and we're expecting grand things with chef Raymond's Texture of Love, a version of his signature sweet, Texture of Chocolate (Chef Raymond has quite the resume of specialty chocolate work). Brought to the table in a haze of dry ice, a red and white polka dot sphere is broken with the pouring of hot chocolate sauce. Calamansi and assam boi "pop-corn", cocoa soil and raspberry coulis lighten the intensity of the chocolate encouraging us to continue spooning in until it's all gone. The rich 20-year-aged Fine Tawny, Dow's, Douro Port, NV and is a vibrant ending with dried fruit flavours, a delectable smokiness mid palate and a long lingering conclusion.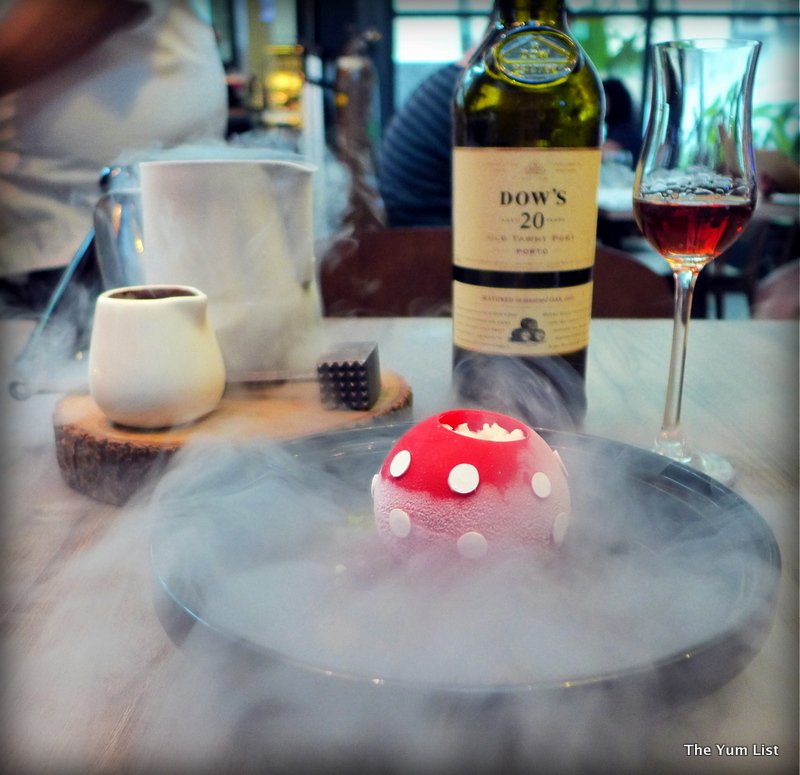 The Chinese New Year and Valentine's set menu is valued at RM238 + per person and RM450+ for two. Wine pairing is included for an additional RM128+.
Reasons to visit: clean fresh atmosphere; creative cuisine from one of the most inventive chefs in the city.
[email protected]
Fraser Place
Jalan Perak
Kuala Lumpur, Malaysia
+60 3-2181 2426
www.facebook.com/skilletat163
Operating Hours: 11:30am -11:00pm