Words:  Monica Clear  Photos:  Monica Tindall
The inviting awning outside THYME Kiara, British HomeStyle Kitchen, invites us to Eat, Drink, Chill, and this new two-story restaurant provides just the right package for that.  There is pleasant outdoor seating on the front patio, a small bar and tables on the ground level, and a lounge area upstairs with open balconies.  The walls are accented with a lively peacock blue, giving the place an air of vitality and openness.
Often times one walks into a restaurant concept that is the brainchild of a clever marketing guru or flashy industry expert.  Those are fun to hear about – crisp in marketing, tight with details, and impressive in implementation.
Other times one walks into an establishment grown organically out of the chef's personal tastes and experiences, and these supply my favorite stories, and often, meals.  To hear a professional chef discuss the inspiration of their craft is to learn about not only the food itself, but the person behind the cooking – their childhood meal memories, cuisine travel experiences, and values around what makes for great food.
Somehow this personal touch makes everything taste more… home style.
At THYME Kiara, this is the draw.  The owner/chef is a self-described, "food gatherer" who created the menu from her heart, combining a family background from Kashmir, a British upbringing, and years of expatriate living in places such as Dubai, Sweden, Germany, and Indonesia. "I grew up on Shepard's Pie," she reports, and in the same breath describes watching her mother and grandmother make Chicken Karahi and other Kashmirian favorites.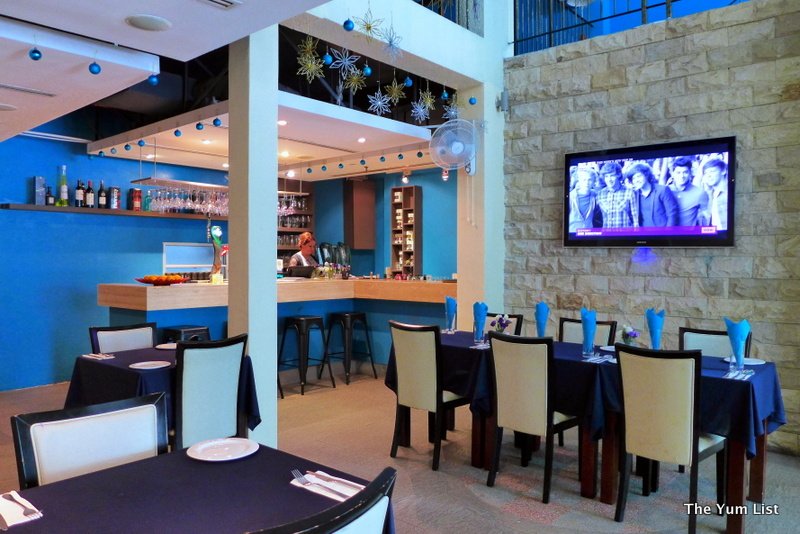 As such, the restaurant offers an extensive a la carte menu with everything from soups and salads to steak & grill favorites, as well as a varied beverage menu of alcohol and non-alcohol choices. (The restaurant is halal.) But the heart and soul of THYME Kiara lies in the traditional English and British Asian Favorites like fish, chips & peas, and Thyme's aromatic biryani, from which we can recommend a few delicious choices, voted most likely to bring you back again and again.
We started off sampling the house red and white wines – the Portee Station Shiraz from South Australia and the Chilean Narrow Valley Sauvignon Blanc, both good pairing wines, which nicely hold their own (RM20/glass; RM120/bottle).  To my delight, the red was served in a glass with a larger bowl and taller stem to enhance the flavor – dare I say a rarity in this region's restaurants?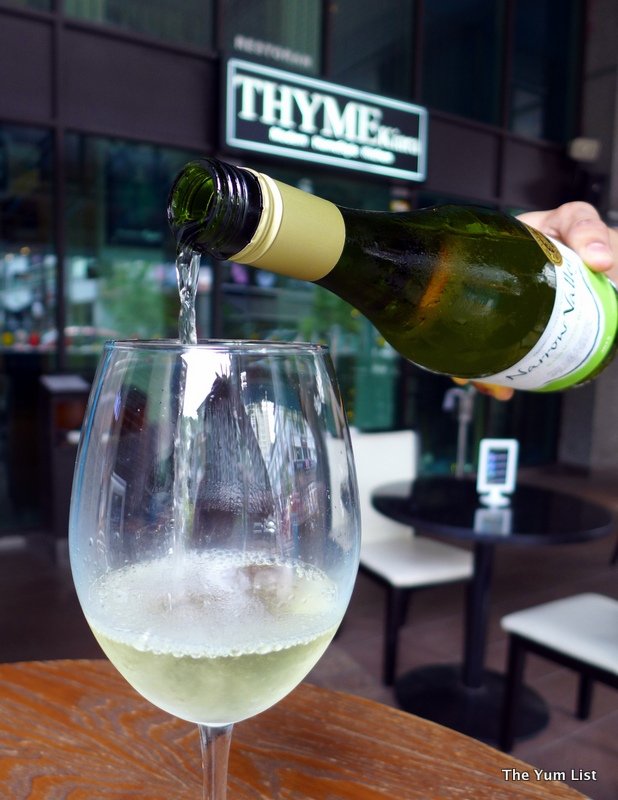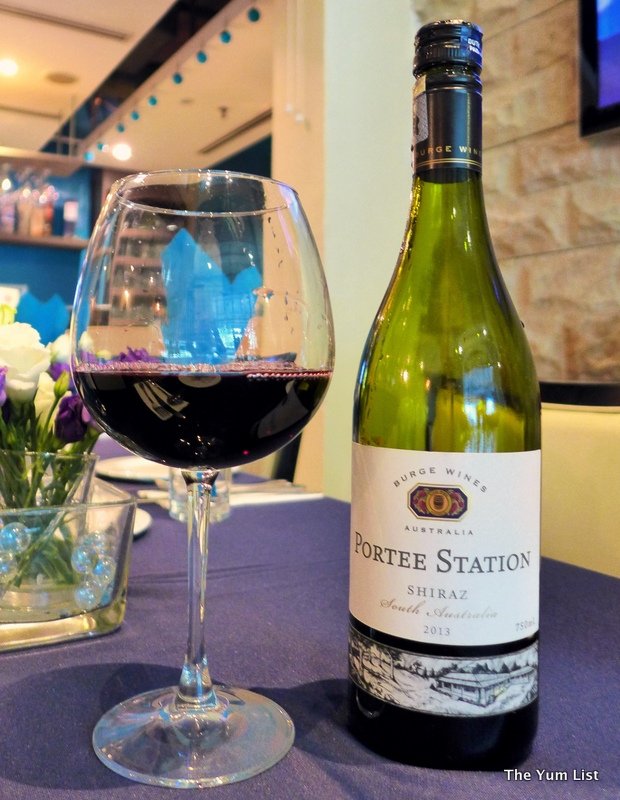 For appetizers we tasted the creamy Mushroom Soup with homemade herbal croutons (RM13.90), a customer favorite, along with Garlic and Herb Bread (RM10.90), served pizza-style with a homemade spicy salsa with fresh tomatoes and a healthy dose of garlic and green chilies on the side.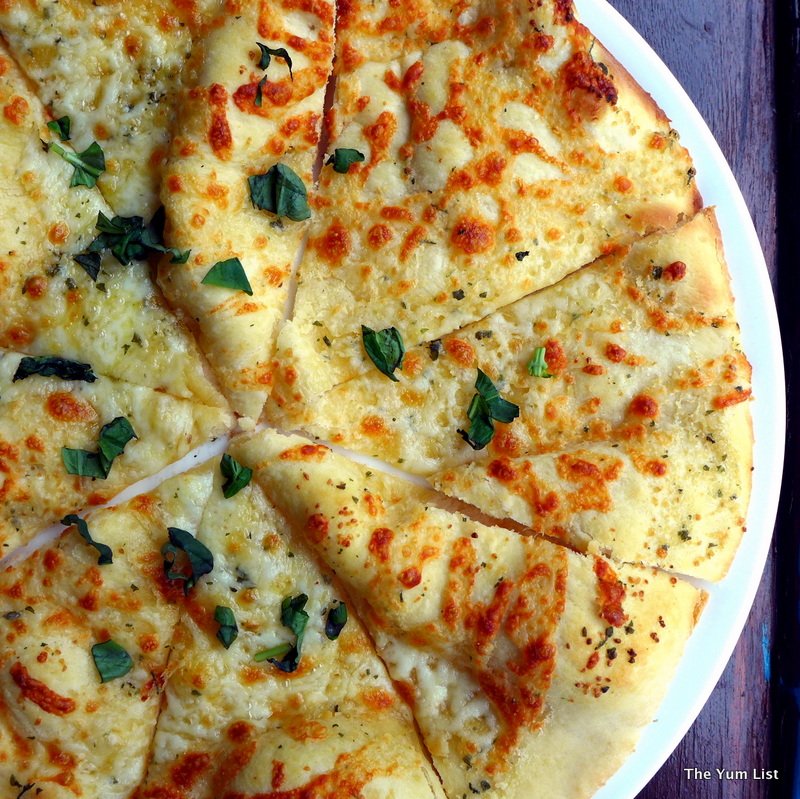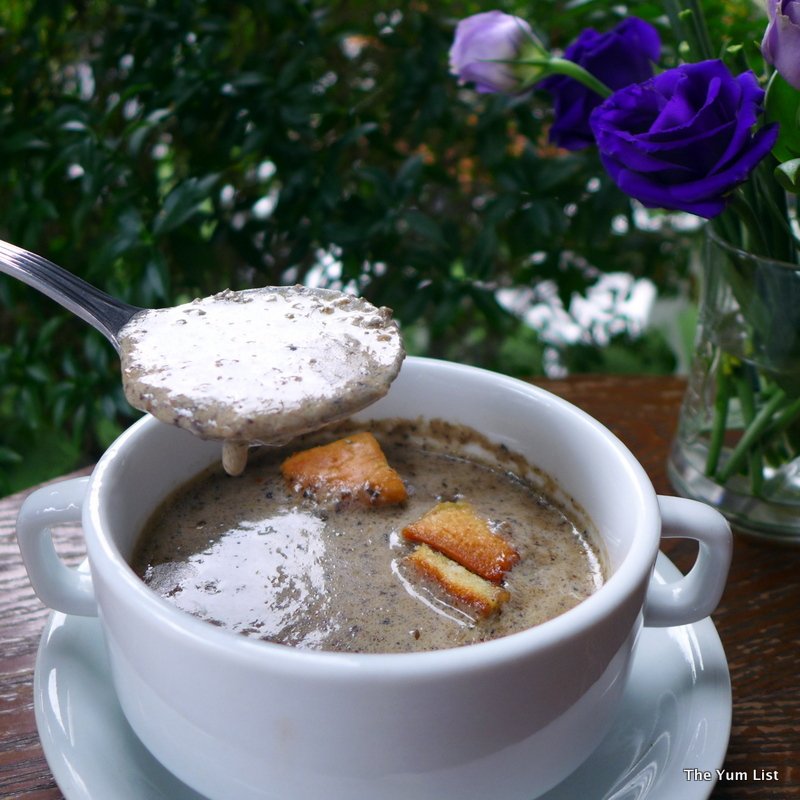 To cool down our fiery mouths, we enjoyed the unique offering of a Waldorf Salad (RM19.90), chock full of apples, walnuts, celery, green grapes, feta cheese and more, with a light vinaigrette dressing; a great option for a light lunch with soup.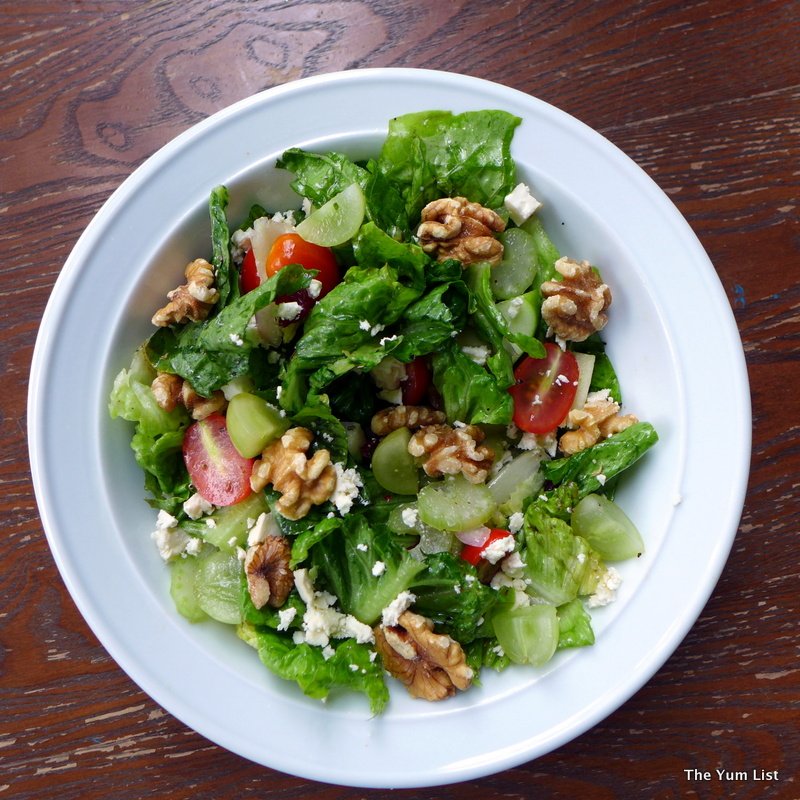 The Bruschetta (RM12.90) came recommended, and was a fiery and fresh version of the traditional favorite, with a twist of chilies, on a generously large slice of crispy bread.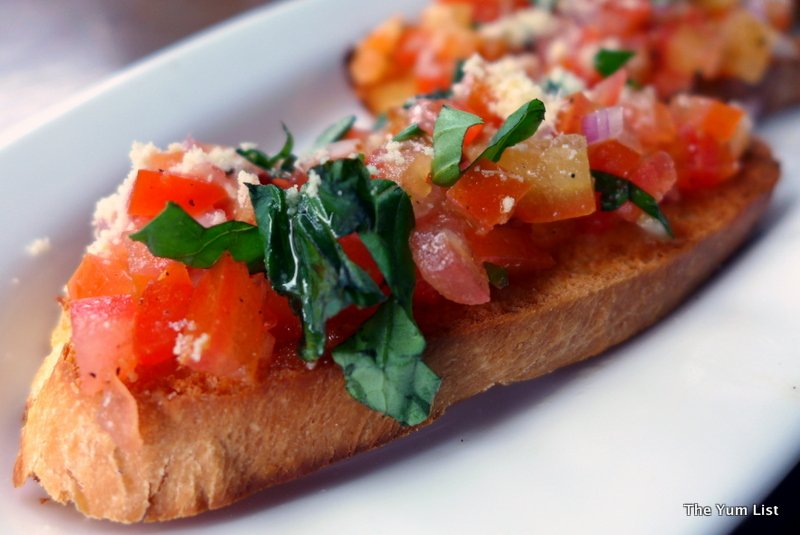 We continued to indulge with the Garlic Mushroom appetizer (RM12.90) – a must for lovers of everything garlic and mushroom (read ME!); robust and peppery in flavor, with large tomato chunks, citrus slice, and chiffonaded herbs.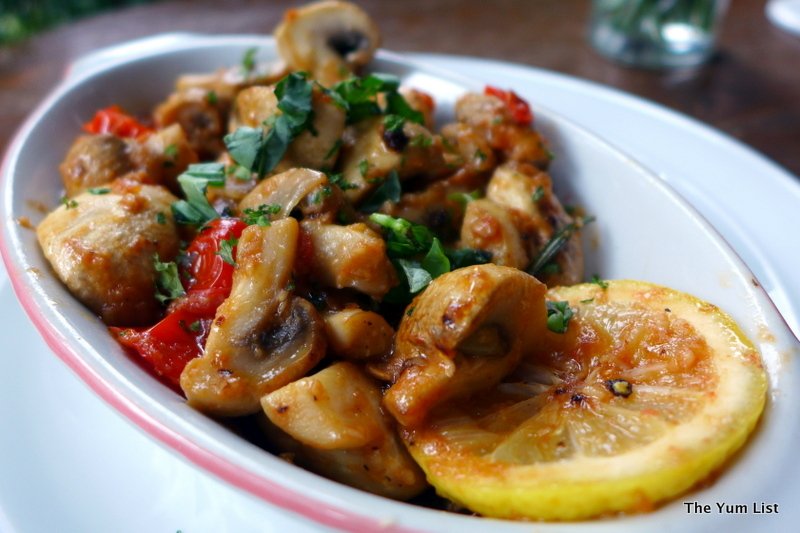 A Shepherd's Pie (RM29.90) from the Traditional English Favorites was a must on our list from a restaurant that boasts British HomeStyle Cuisine. And boast it ought. Served with flavorful lamb, the fresh potatoes were mashed, not mushy, and served with a flair of carrots, corn, and "a good splash" of Worchester sauce.  Remember to save some red wine to sip with this hearty old favorite for many.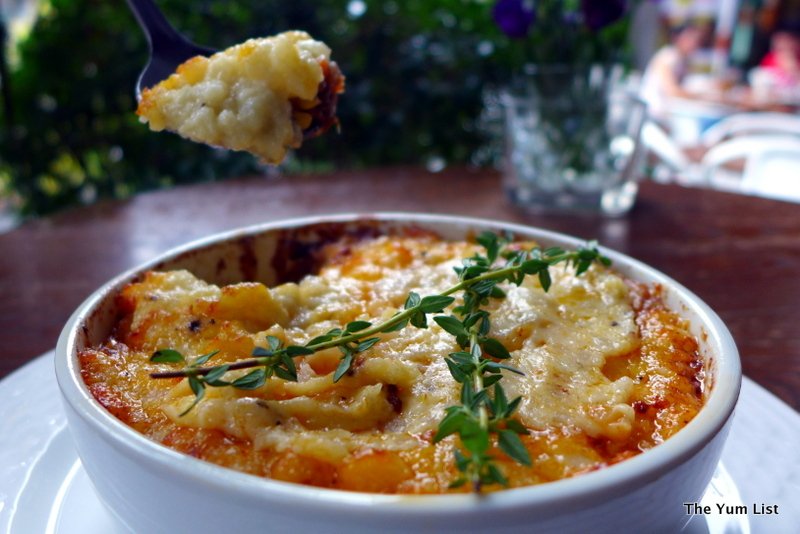 Traveling from England to Italy, we tasted From the Sea Pizza (RM 27.90) topped with smoked salmons and prawns, and baked with cream cheese (not red sauce) – a creative pizza for non-tomato lovers, with delicious homemade crust.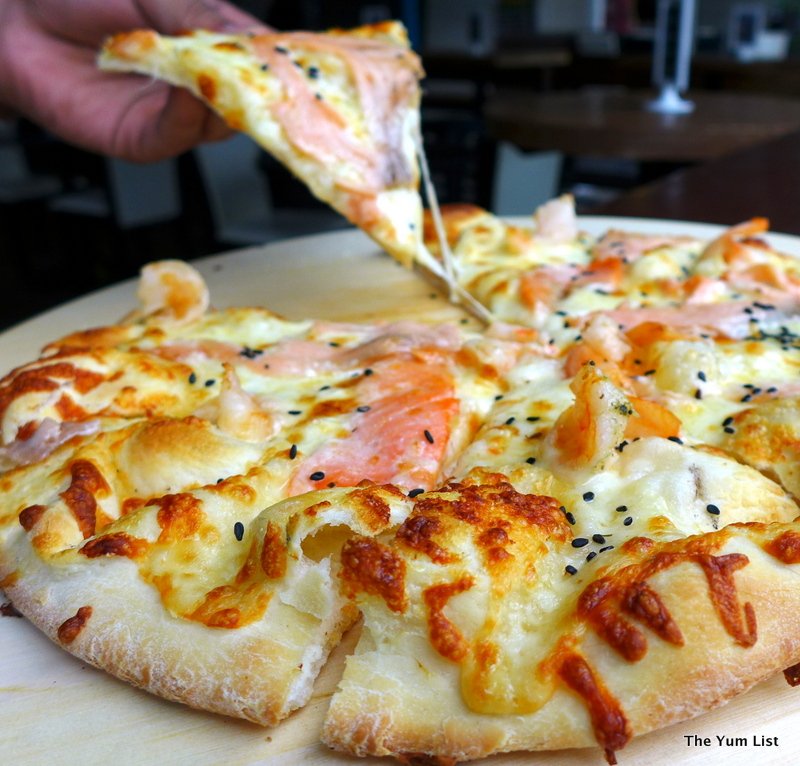 For the pasta, we went with a sampling of the Duck Pasta (RM 25.90), sprinkled with generous cuts of duck with very little fat, a citrus orange fusion, sautéed mushrooms, a light olive oil glaze, and (more than) a few chilies sprinkled in.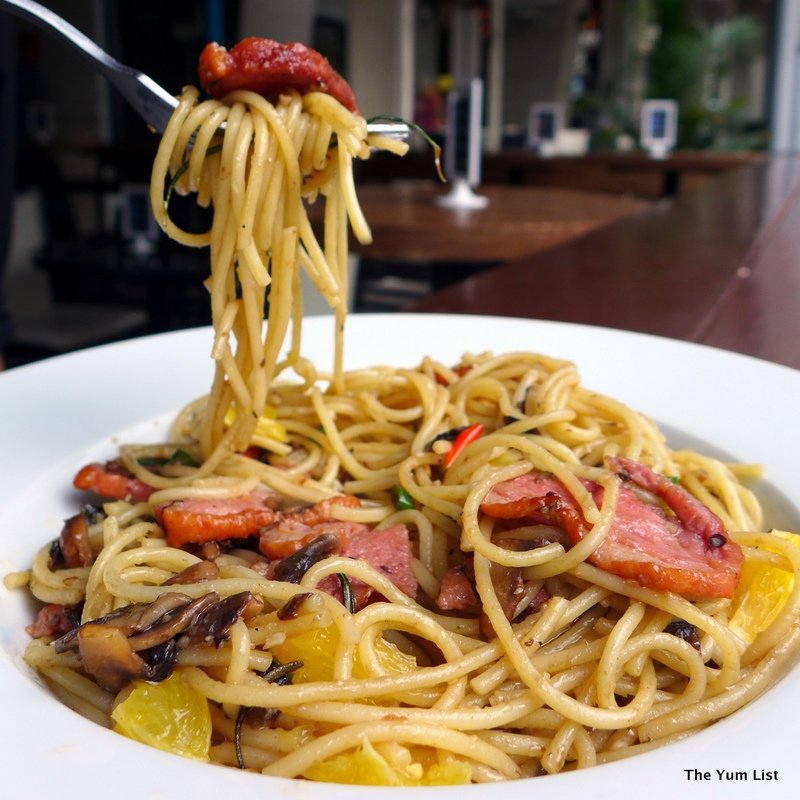 The Chef's Special Chicken (RM 34.90) was another must, and the favorite dish of the friendly and fastidious wait staff (we asked!).  A signature dish can say a lot about a restaurant, and although this was a traditional combination of chicken breasts in tomato-cream sauce, served with a side of roasted potatoes and steamed vegetables, the sauce was so surprisingly savory, that it turned traditional on its head.  Secret recipe, indeed!  You will be pleased with this choice, with just enough room for dessert.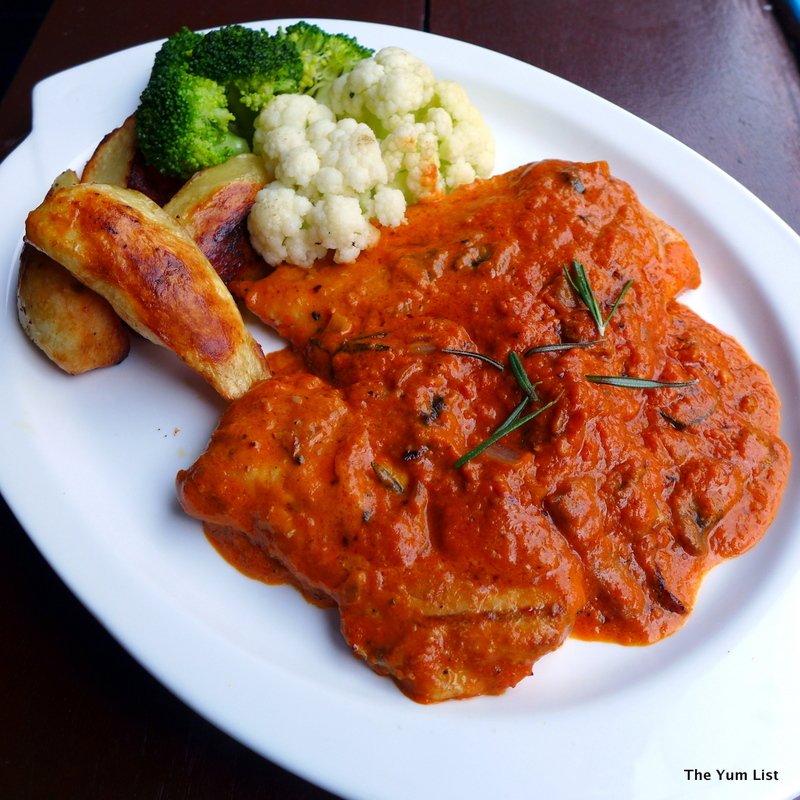 Because we still needed a dish with a true Kashmirian influence, we chose the Chicken Tikka Masala with Chapati (RM 29.90) to try.  Cooked with tomatoes, almonds, and a blend of THYME spices and herbs, this was clearly a perfected recipe handed down from generations of family chefs.  Very light in oil, but with the right amount of sauce for dipping a piece of homemade Chapati, this dish was a favorite and a reason to visit.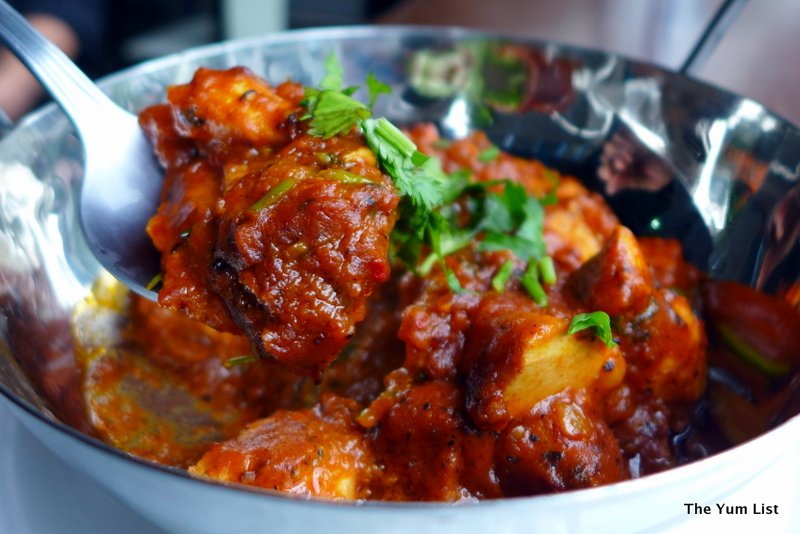 We still had room for dessert (just), and tried the Apple Crumble (RM 15.90) served with warm ice cream and a cinnamon stick.  Another English classic, and a cure for the homesick blues, cuisine-style.  Decadent in butter and sweetness, save some room for this one.  It will be the goodbye hug and kiss at the end of a delicious home-cooked meal at Mum's place.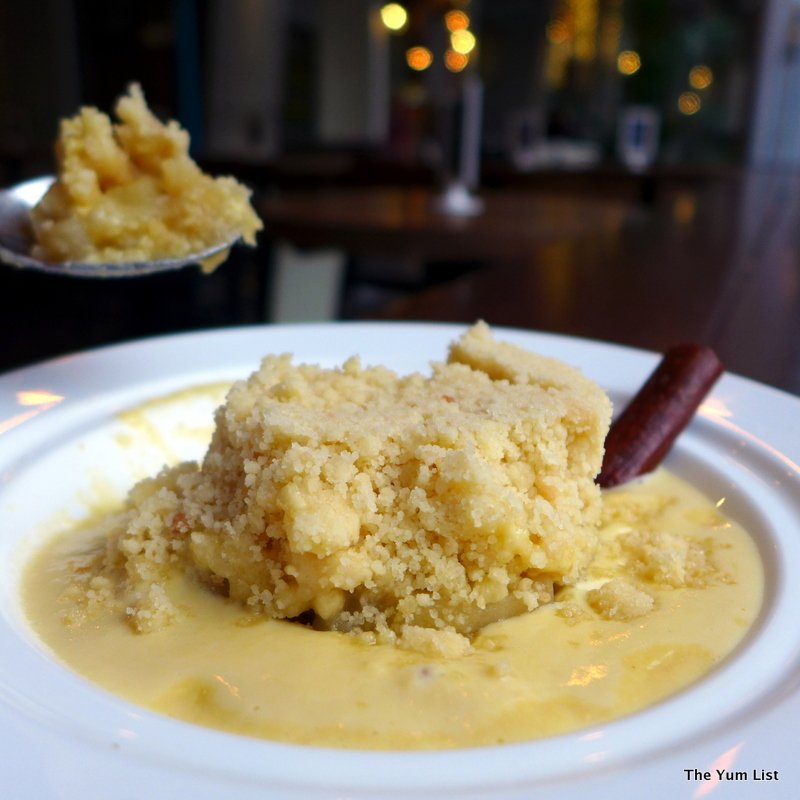 Reasons to visit:  Extensive menu with wide range of selections; traditional British favorites – don't miss the Shepherd's Pie and Chef's Special Chicken; authentic Kashmirian cuisine; occasional special event parties open to the public; friendly and accommodating staff and service.
THYME Kiara
British Homestyle Kitchen
JG14 Soho KL Solaris Mont Kiara
Kuala Lumpur
+6 03 6206 3023
+6 0111 447 2225
THYMEKiara.com
[email protected]