We heard you often have to book weeks in advance to get a seat at Locavore in Ubud, Bali. Lucky The Yum List had an 'in' and we were ready to use it (or I should say him). This restaurant is on just about every 'best of' list there is in Bali, and the few people we've spoken to who've eaten here all go starry eyed producing a little spool of spittle at the corner of their mouths as they babble about how amazing the experience is. Please note, they never say, 'meal.' 'Experience', 'encounter', 'event', 'adventure', 'escapade' are far more appropriate because dining at Locavore is so much more than just filling your belly or satisfying your taste buds.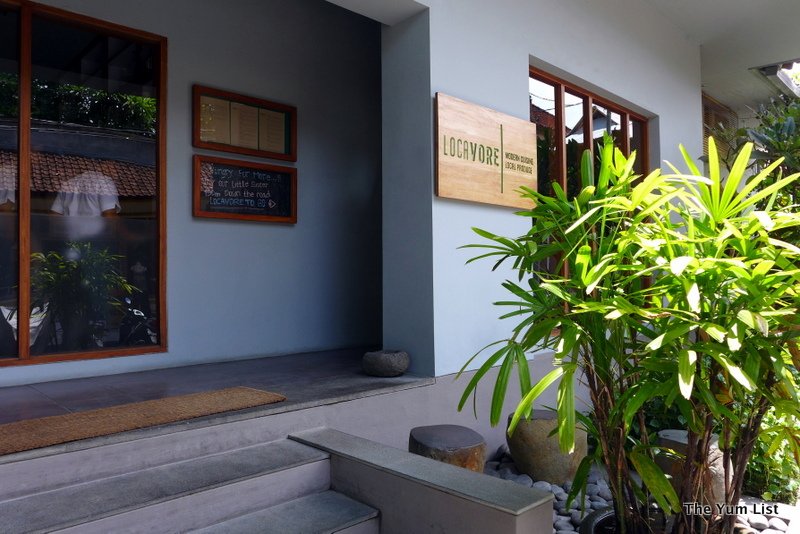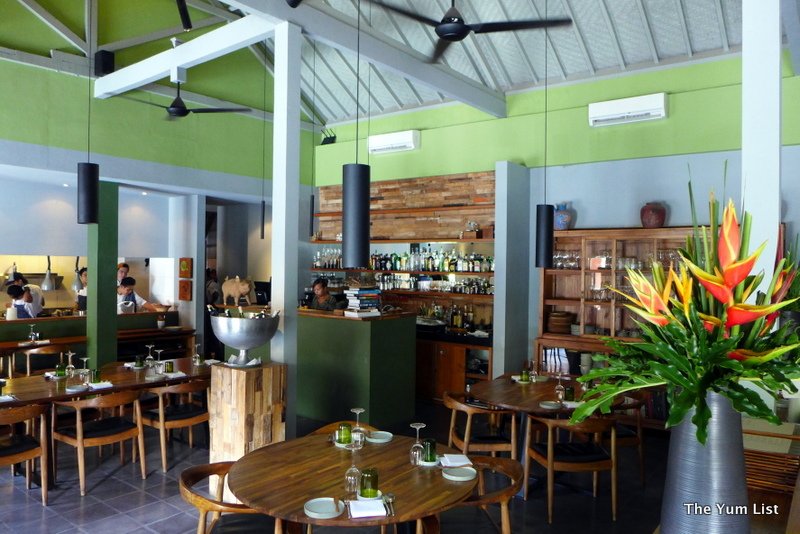 The setting is intimate (I estimate maximum 40 pax) and unpretentious. Cement tiles provide the flooring. Golden wood tables and polished wooden chairs furnish the seating. Cylindrical tube lamps drop down on long cords from the vaulted ceiling, and the open kitchen gifts live entertainment in watching Chef Eelke and Chef Ray tell (or show) their story.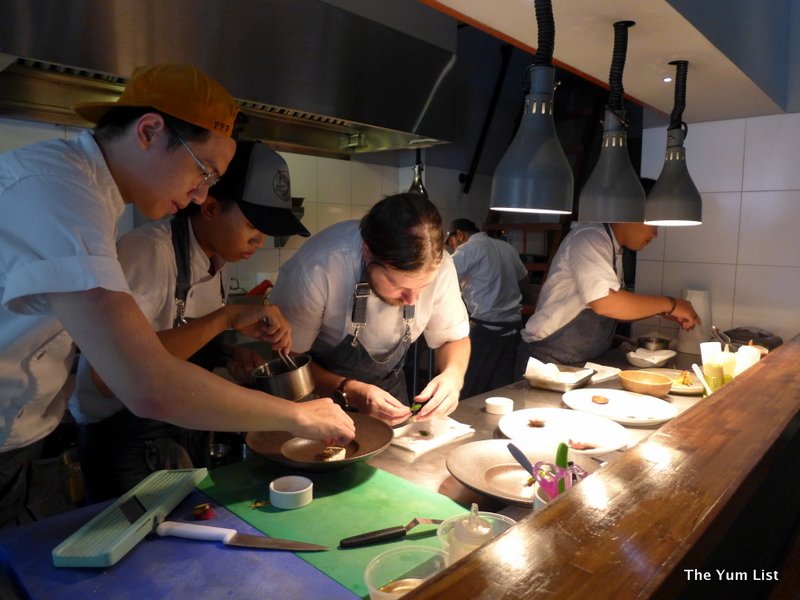 And their story is a noble one. Sourcing 95% of their ingredients locally, the focus is on chemical-free seasonal produce and ethically fed animals. The ingredient-driven menu (which changes weekly) celebrates the local farmers, fishermen and artisans who are an essential part of what Locavore has become.
Not known to be dry for too long we begin with some cocktails, and it would seem the bartender deserves just as much credit as the chefs for creativity. Attempting to make just about everything from scratch, apart from imported liquors, we find home made bitters, syrups and infusions, making a good handful of concoctions that are just as enticing as the food itself.
Into the wild (125k) makes a grand entrance with a bowl of herbs set alight with a blowtorch as it's delivered – smoldering herb aromatherapy it's called. The deep purple liquid is a muddling of wild berries, mulberries, strawberries and thyme, shaken with Tanqueray No. 10 and Cointreau, and topped up with Balinese Moscato.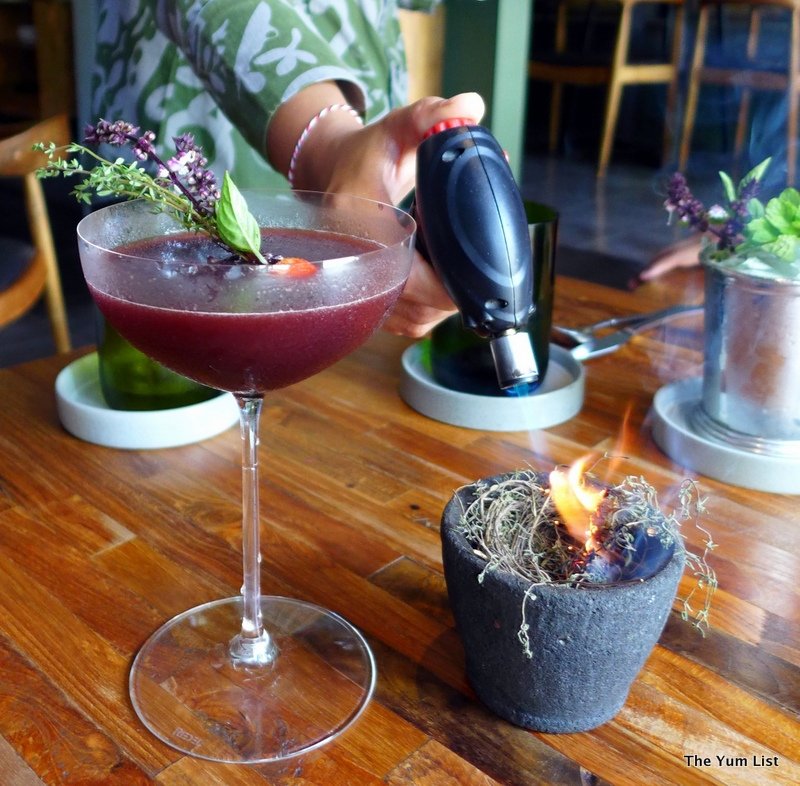 Almost There (125k) is presented in a pewter whisky tumbler, but, with its bushy bunch of herbs (mint, basil and basil blossom) sprouting from the top it resembles more of a garden pot than beverage cup. Fresh pineapple is muddled with raw honey, kemangi leaves and thyme. Shaken with Bulleit bourbon, Tanqueray gin, Sailor Jerry Spice rum and burned cassia bark it's poured over ice. Both cocktails make adept entrants, providing a balance of sweet and herbal, fresh and enticing.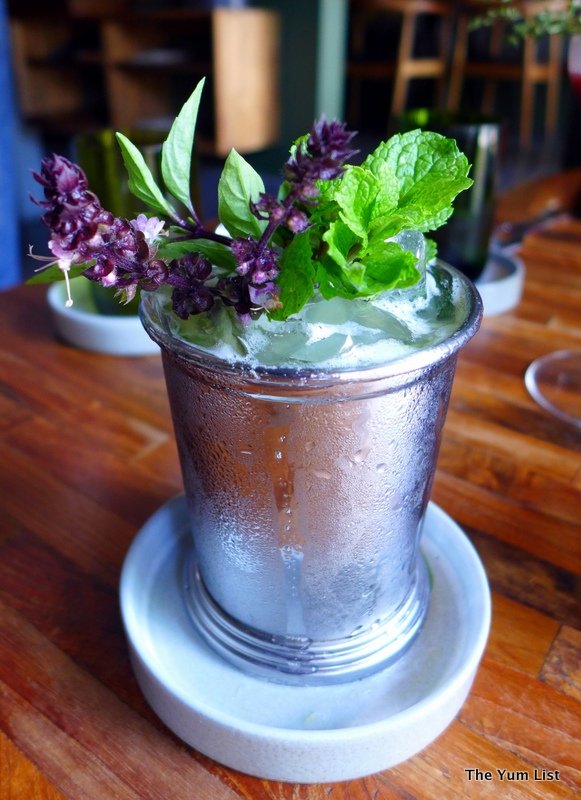 It's recommended you allow two to three hours for a culinary journey at Locavore. Locavore and Herbivore menus are available as a set of five (L-550k, H-495k) or seven (L-650k, H-595k) courses, with or without beverage pairing. We try five courses of both menus with drink matches and find them excellent value (Locavore 1050k, Herbivore 990k).
Before we begin the five course menus we've chosen, we're presented with an assembly of small bites. Spinach tempura, enormous leaves, are served in a hunk of wood. Seaweed puffs are filled with tamarind emulsion atop a bowl of dehydrated seaweed, and petite rounds of marinated kolhrabi with shallot vinaigrette and chervil leaves look pretty on their plate. Pickled and grilled shitake mushroom is hot and delicious crowning a painted coconut shell of black volcanic rocks, and a grand platter is spilling over with oyster shells and seaweed – none of which are to be eaten. The only recommended eat on this monster plate is the oyster mushroom tempura with a little dipping of the oyster emulsion mayonnaise. Five servings in and we haven't yet reached the amuse bouche!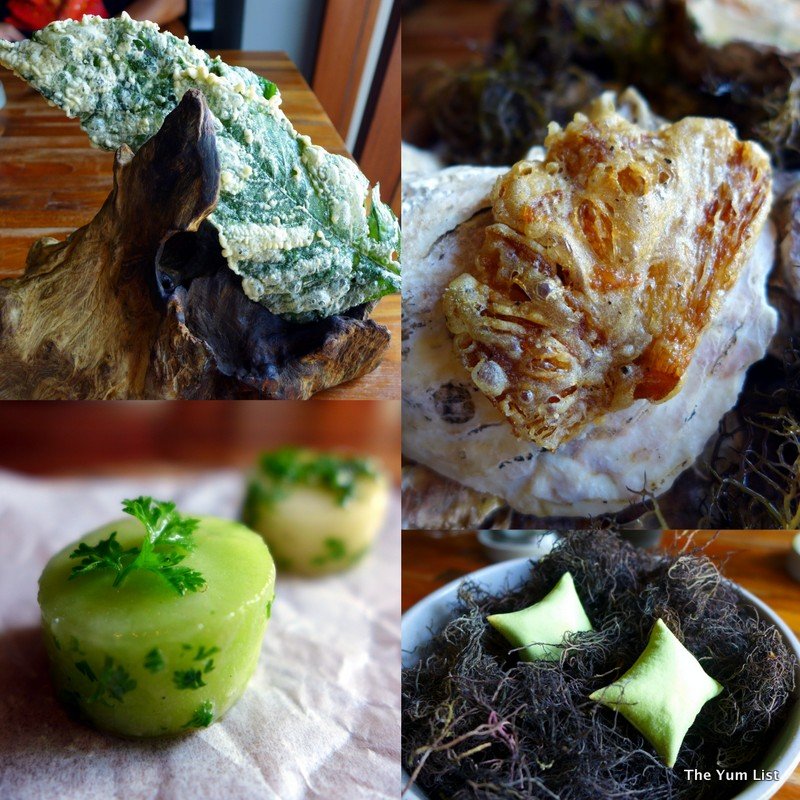 Bloody Mary Sorbet, bearing the look of a palate cleanser (and possibly necessarily so after that introduction!), comprises cherry tomatoes, celery leaf and sea salt in an incredibly flavourful tomato consume. Fantastic.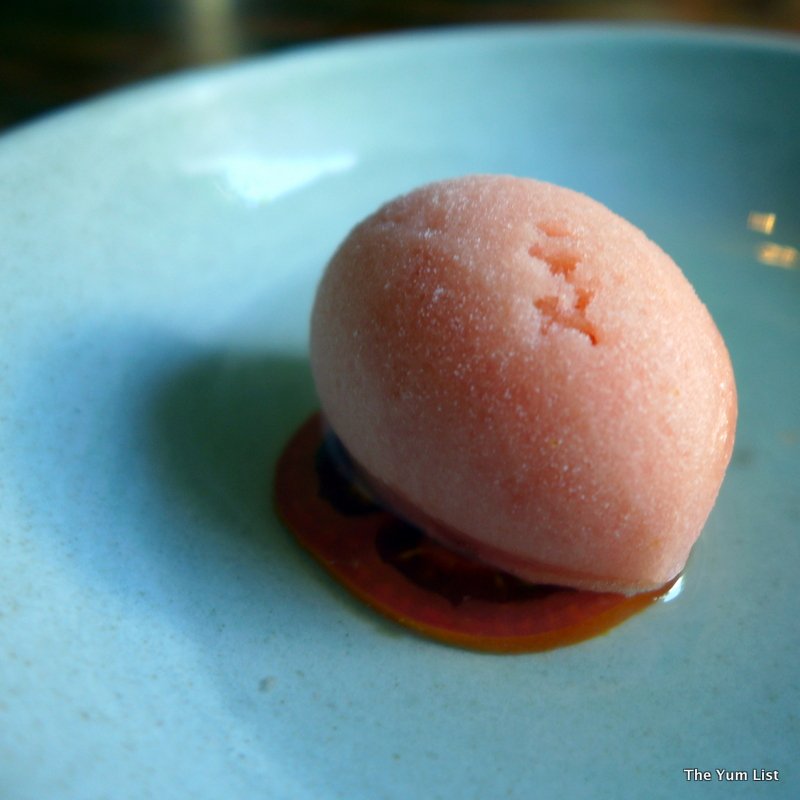 Ok, we're ready to begin. But. Nope. Homemade sourdough, spongy on the inside, with an ear-ticklingly crunchy crust, is delicious on its own, but oooh even better with a slathering of passionfruit gel or lemon basil pesto over the top.
Both the wait staff and the chefs take turns delivering and explaining each dish – and as you may have deduced, this can't be an easy feat – we've had seven unique food recipes and two cocktails that are far from simple concoctions and we're only just warming up. Impressive.
Following I do my best to keep up and record impressions from both the Locavore and Herbivore menu as we go.
First Course
Herbivore: Watermelon
Pineapple, mint leaves, Absolute Kurant, and sake are muddled together and served chilled in the first beverage mate. The texture of the bold red garnish has me fooled into believing it's marinated red pepper. It's not until I read the menu however that I discover it's dehydrated watermelon! Watermelon steak tartar is just as deceptive as the cocktail garnish with its substantial texture. Wasabi leaf mayonnaise with pickled shallots furnish a mild tang, and shavings of watermelon radish are arrayed to mirror a flower.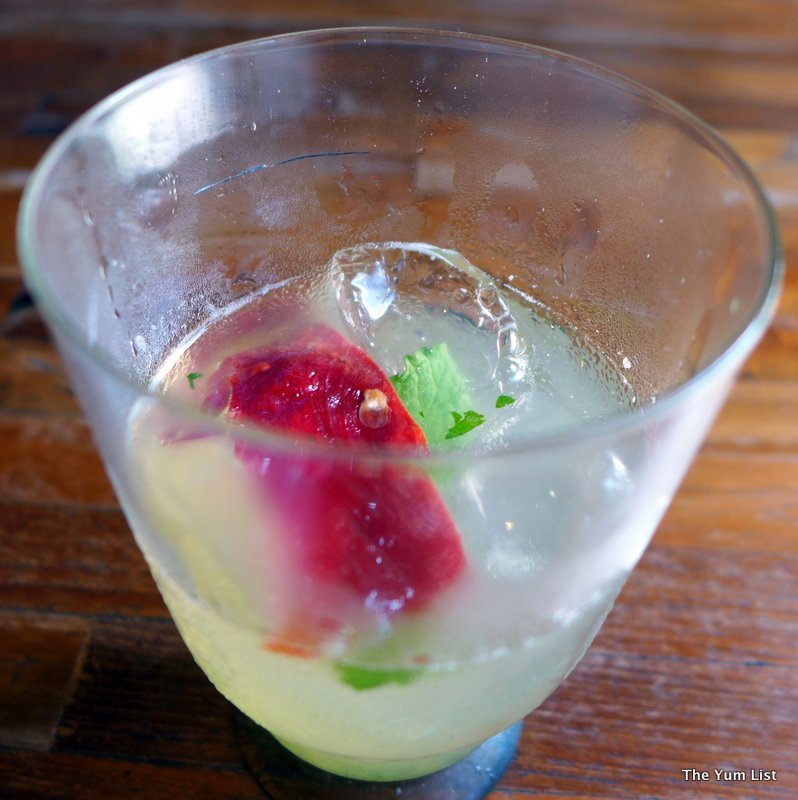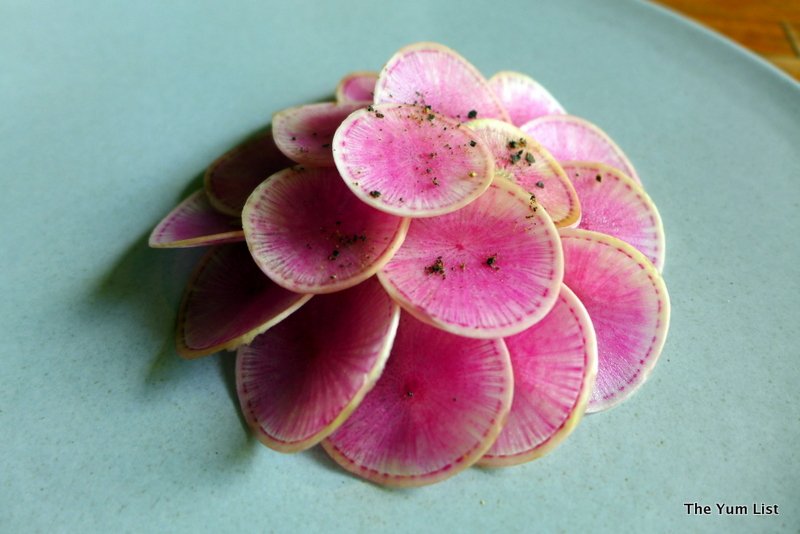 Locavore:  Duck
Pineapple, rosemary, basil blossom syrup, Bulleit Bourbon, Cointreau and Cockburn's Port is served straight up providing a sweet partner to the duck. Haling from the central Bali, the poultry is cooked in a variety of ways and partnered with grated barbecued beets, local berries and flowers, and red veined sorrel leaves. A dusting of wood sorrel leaf powder, circles the artwork.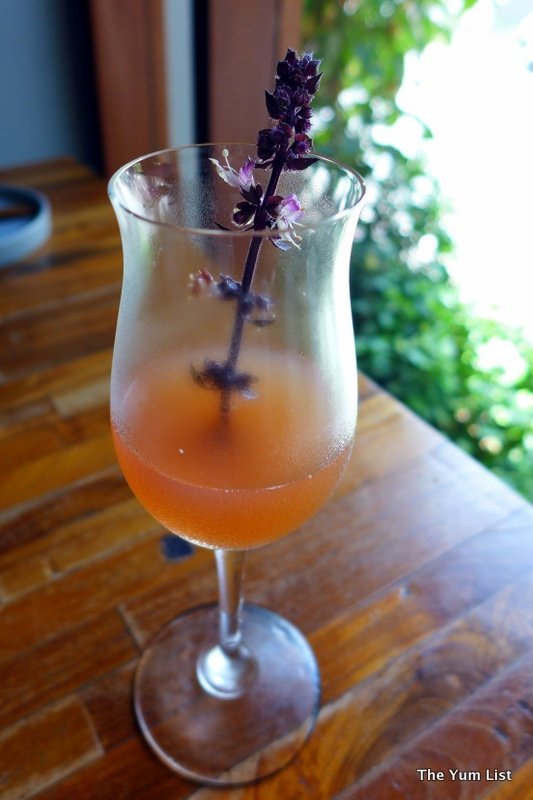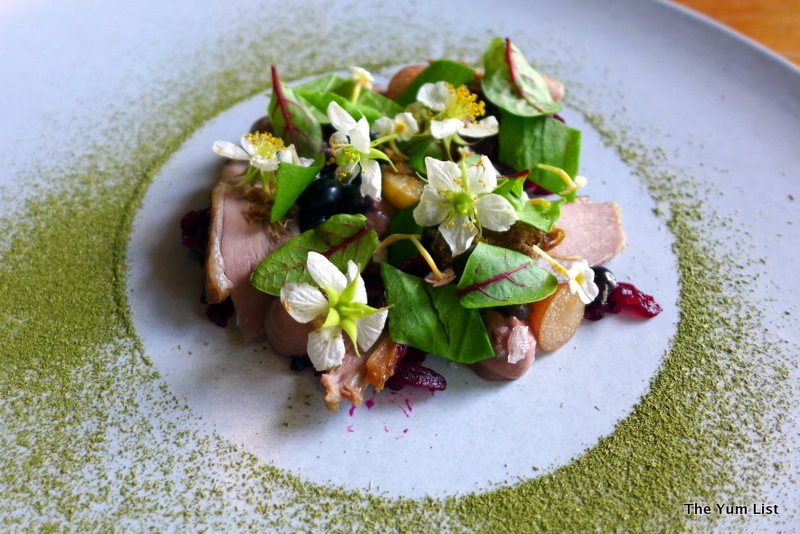 Second Course
Herbivore:  Bamboo
A light 2013 Roero Arneis, Cascina del Pozzo, from Castellinaldo d'Alba, Italy provides the match for pungent bamboo. Slightly bitter bamboo shoots are cooked in their own juice and garlic butter and assembled tableside. The shoots are removed from their sous vide bag, then a wonderfully frothy, creamy, tangy beurre blanc is scooped over the top.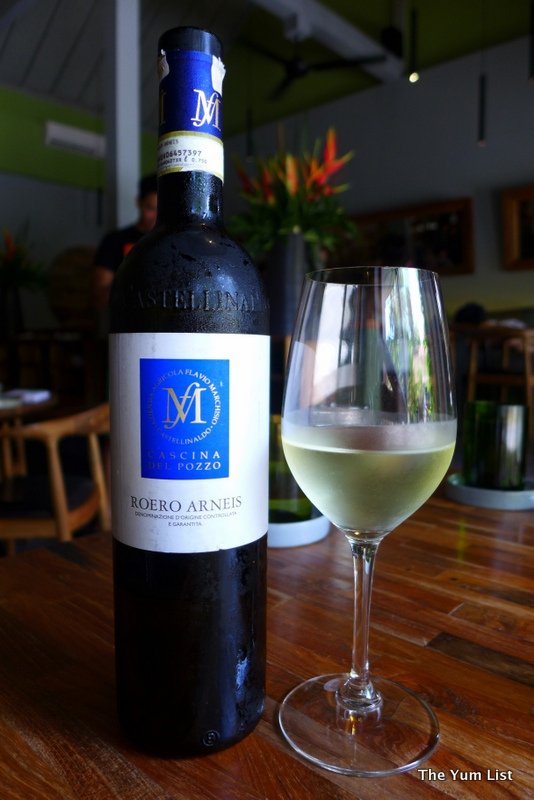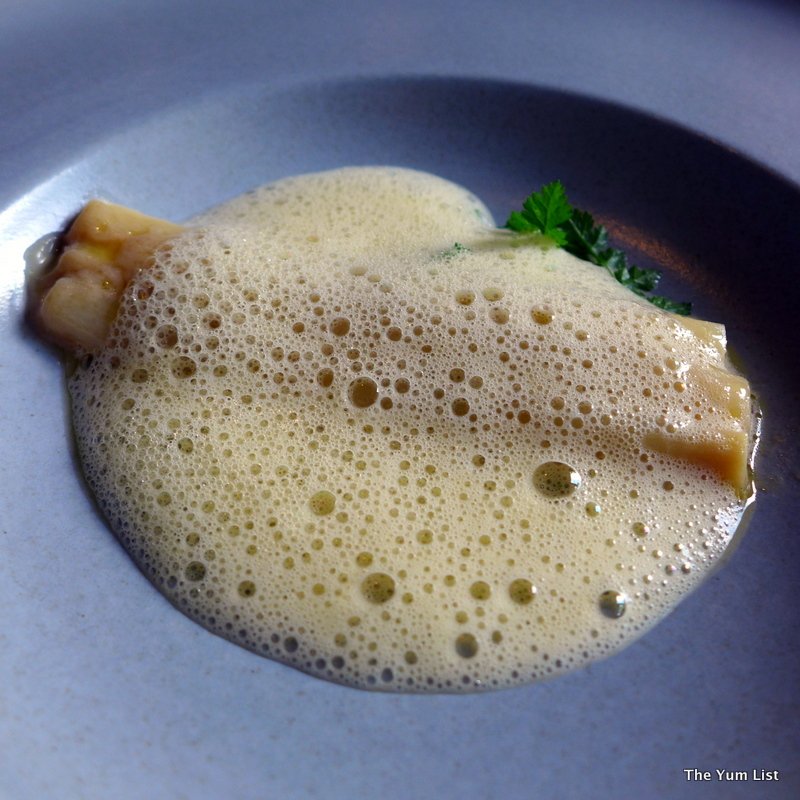 Locavore: Into the Sawah
A wooden chalice holds muddled cemcem leaves, young coconut, lemo Bali, lemongrass, tamarind syrup and Myer's rum, and by the sounds of what's to follow, we might be in want of something with rum's strength to coax some bravery. Inspired by the idea of taking a scoop out of a rice paddy, high-grade rice from Jatih Luwih, Central Bali, makes it into rice porridge along with some other interesting items you might find in the field such as snails, catfish abon, fern tips and wild flowers! Lastly, burgling a duck's nest in the said paddock, an egg is poached perfectly at 64 degrees and waits to spill its orange cream over the entirety. Delicious!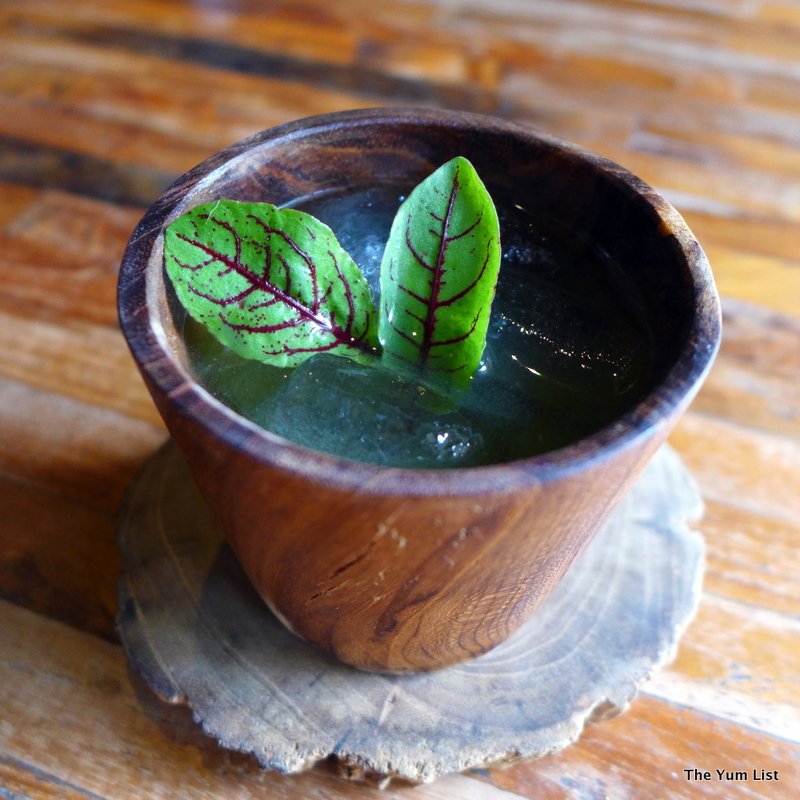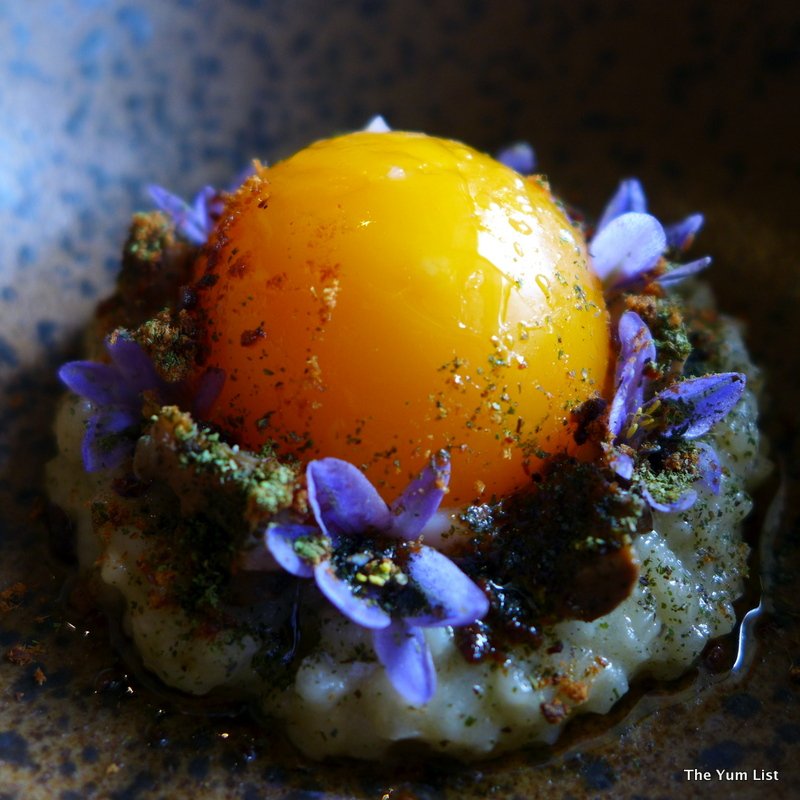 Third Course
Herbivore: Carrots
A variety of baby carrots are cooked in goats' whey, cumin and raw honey. Pickled purple carrots add a splash of colour and a crème made from sunflower seeds, dehydrated carrot leaves and home made ricotta is flavourful dipping. With a pretty turmeric flower garnish on the main, there's no need for adornment on the accompanying beverage – Albens Apple Cider from Jembrana, Negara, Bali.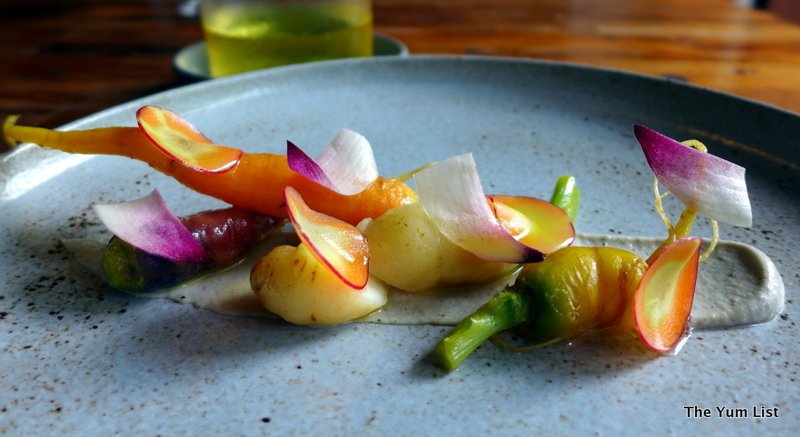 Locavore: Barramundi
A 2011, Columbia Crest Chardonnay from Grand Estates USA is an aromatic pairing for the fish. Barramundi is caught in Les, North Bali and cooked a la meuniere with a buerre blanc made from roasted barramundi bones and smoked butter. Roasted labu siam, pickled wood ear mushrooms and raw labu siam bathe in a pond of mushroom crème.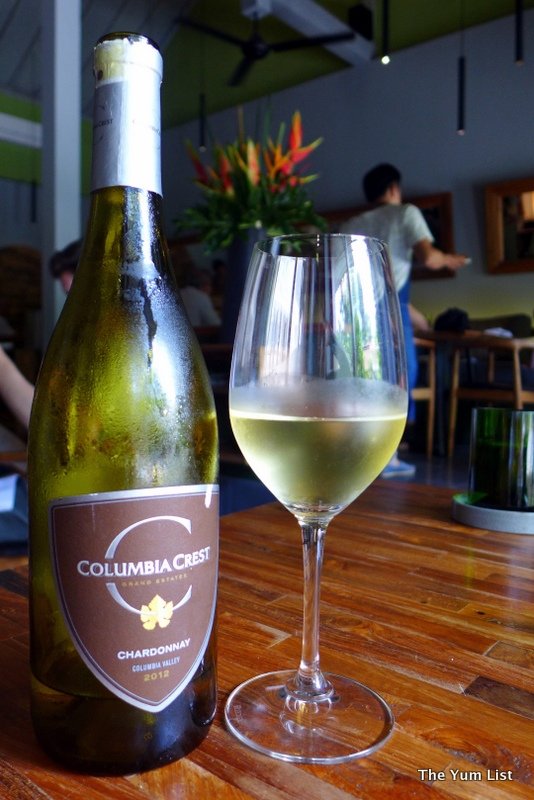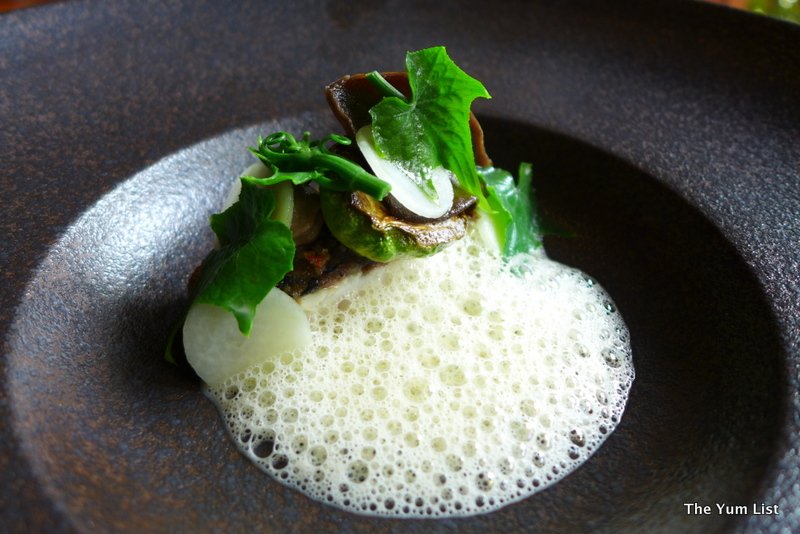 Fourth Course
Herbivore: Eggplant
Cherry tomatoes feature in the vegetarian beverage match bringing our thoughts back to the Bloody Mary amuse bouche. Kemangi leaves, Jagermeister, Pimm's No. 1, Ketel One Vodka, salt, pepper, Bintang beer and Angostura bitters make an ambitious competitor. Roasted eggplant cylinders are topped with herbed brioche and aged goat cheese crumble. Steamed eggplant compote, cherry tomato ketchup, semi-dried cherry tomatoes (green and red), eggplant blossom, dill flowers, tomato oil and purple basil leaves make a delightful spring garden on the plate.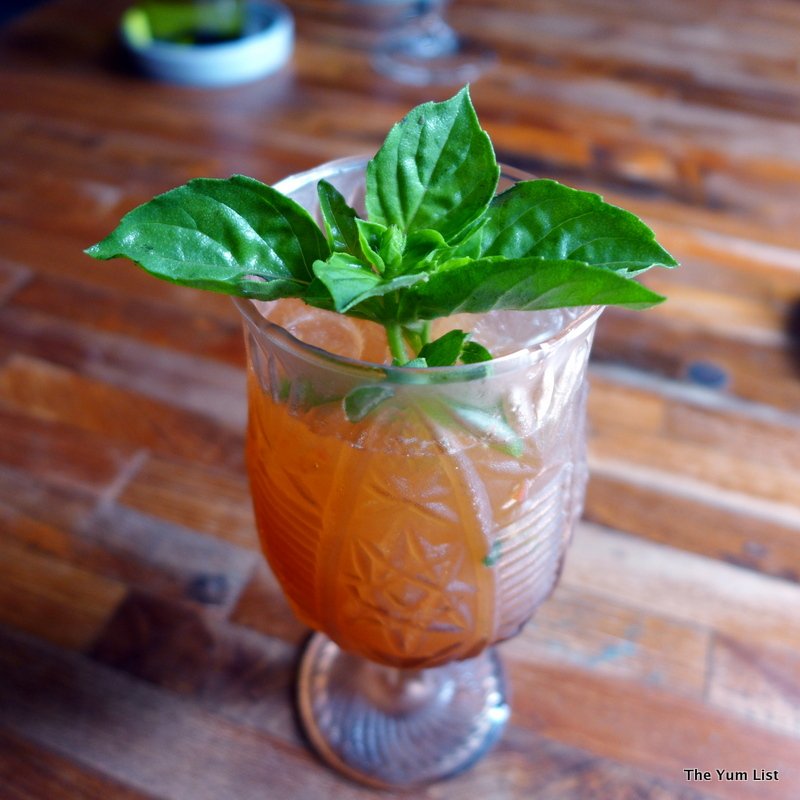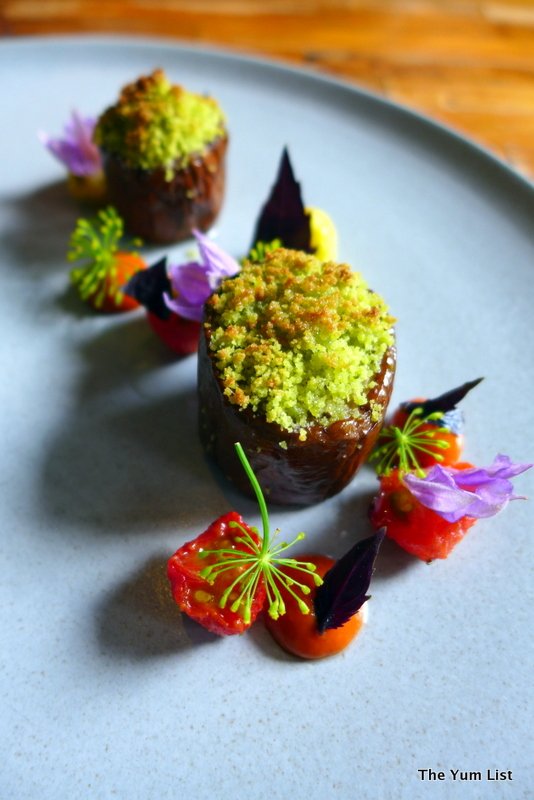 Locavore: Lamb
A lovely 2012 Grenache Syrah blend, Xavier, Vins D'Experts, from Cotes du Rhones, France is an adept mate for this red meat course. Free-range lamb from Wonosobo (central Java) is butchered in house. In this dish the lamb is served two ways and seasoned with neutral lamb jus, lovage salt, caramelized bangkuang puree, pickled lettuce sauce, shaved bangkuang, and dehydrated sea grapes. I expect many of you might raise your eyebrows at the portion – do remember however that this is our eleventh plate and sixth beverage!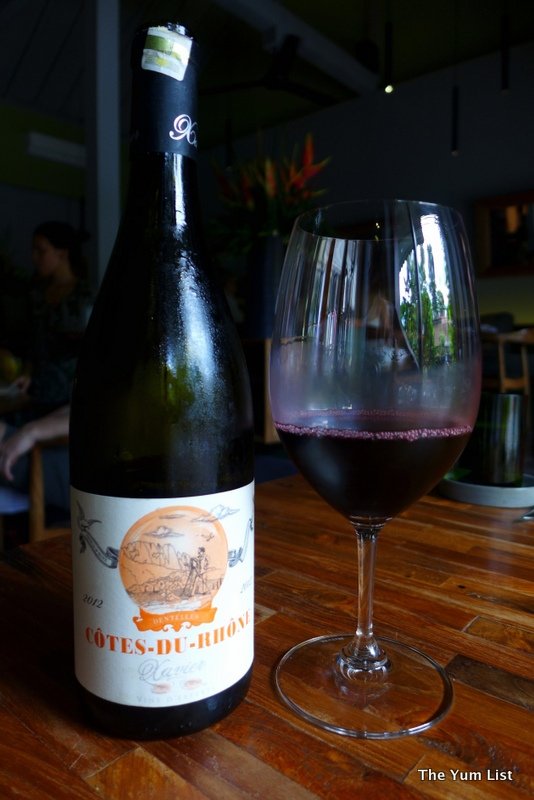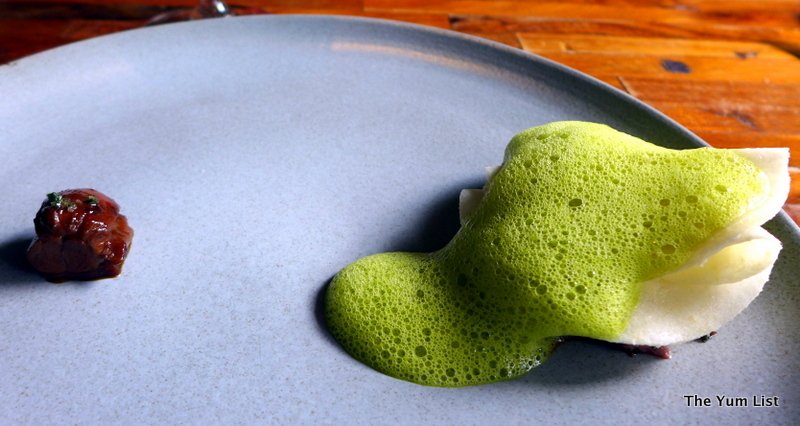 Dessert 
Not one, but four desserts follow! A pre-dessert, supplanted by the actual dessert, an extra dessert and a (set of) post dessert – technically however we try five as we get one from the Herbivore and one from the Locavore menu. The grand finale is ushered in with a gently effervescent 2014 Moscato D'Asti, Bersano, Monteolivo from Italy.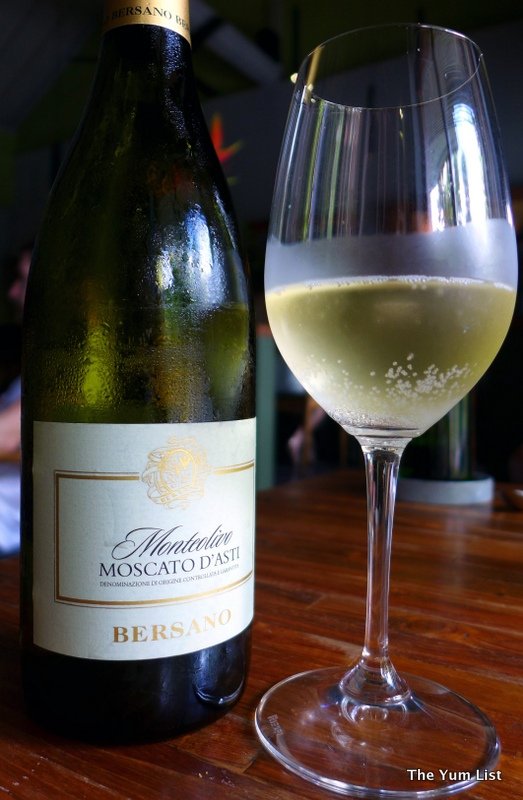 The prelude is bubur sumsum porridge made with rice flowers, honey, passionfruit reduction, seeds, coconut foam, grated and roasted coconut. It's a saliva-inducing lead. The vegetarian line-up concludes with pineapple braised with spices, grilled a la minute, glazed with the reduction of the braising liquid and chaperoned with sorrel and yoghurt sorbet, and wood sorrel leaves. The meaty set culminates with mango panna cotta, pickled and compressed cucumber, white chocolate sorbet, burned harum manis mango, cucumber flower, cucamelon, sweet and sour cucumber gel, mint leaves and sweet aloe vera. It's a lot to contemplate.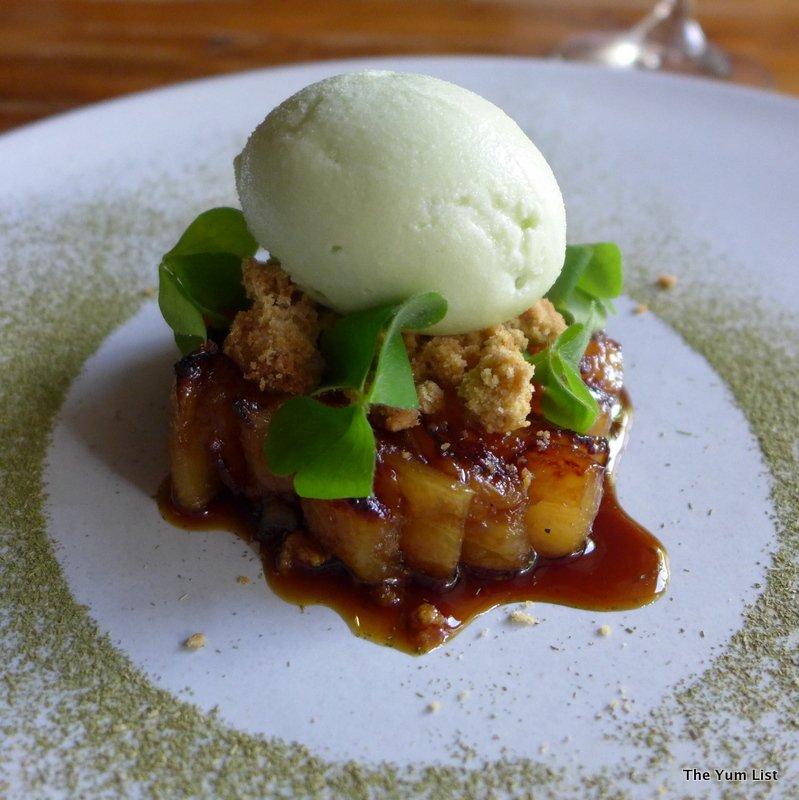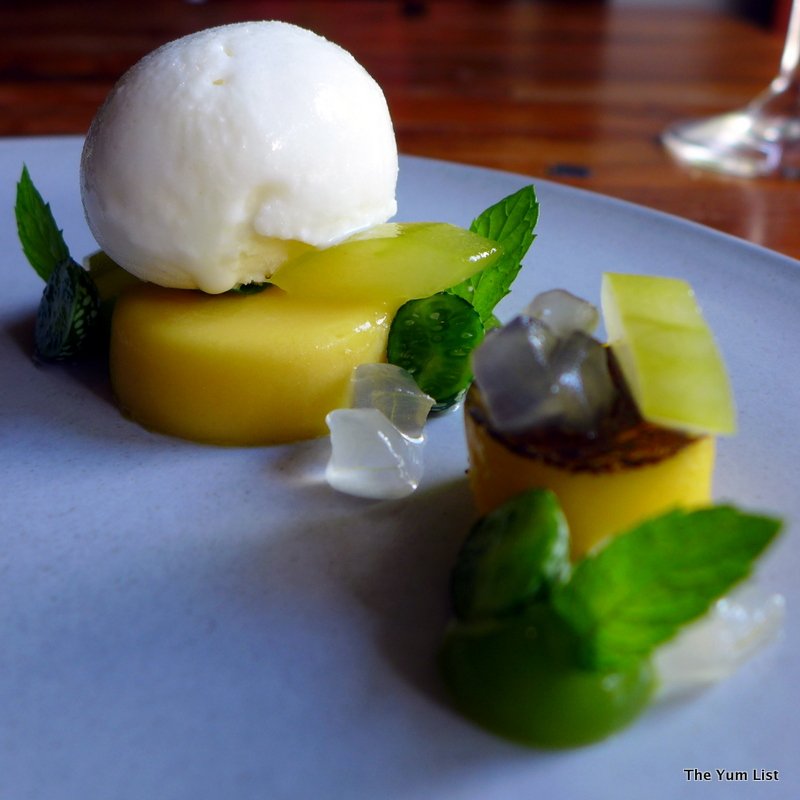 Memory Lane is the 'extra' – chef's mother's apple pie recipe echoes with her son's interpretation. White chocolate and cinnamon Genoise crowns sultana and rum ice cream. Texture is furnished with crumble made from apple pie dough, and Malang apple and vanilla foam. Ultimately an elegant sprinkling of wild cinnamon flowers brows the surface.
And then… we're presented with 'post' dessert. It's akin to the spa treatment that you wish never ends – and it doesn't! Here's yet another little massage for the taste buds. Madeleines with vanilla cream, marinated snake skin fruit with yoghurt and honey vanilla, and dragon fruit Oreos. Each bite is delicate, balanced, scrumptious.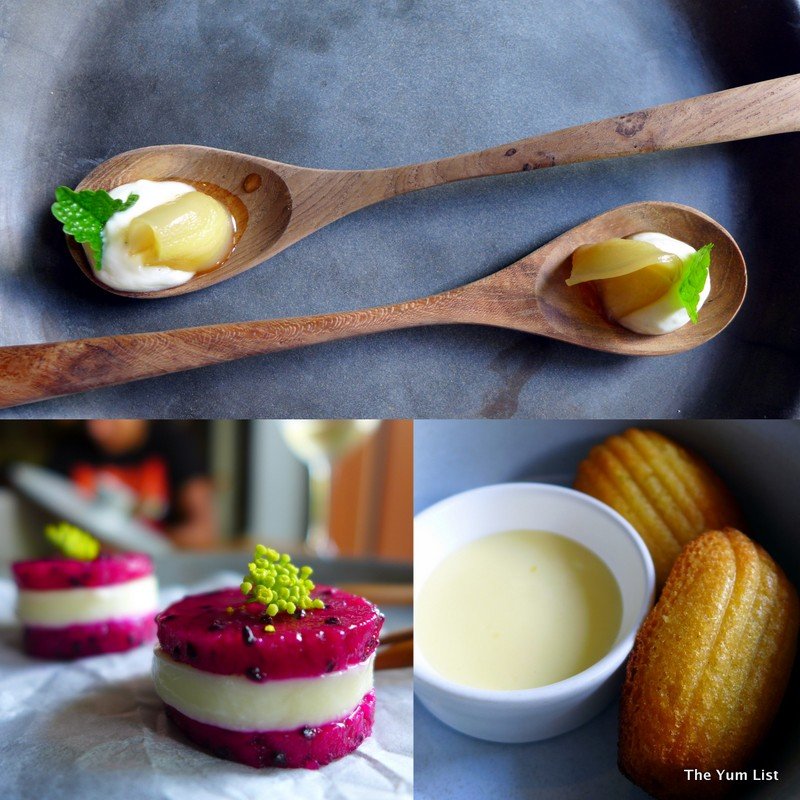 It's been like winning a ticket to Willy Wonker's chocolate factory, but for gourmands: a fantastical dream that we don't won't to awake from. A rambutan shot brushes the valedictory strike of the wand, stirring us from the trance and prompting us to return to reality.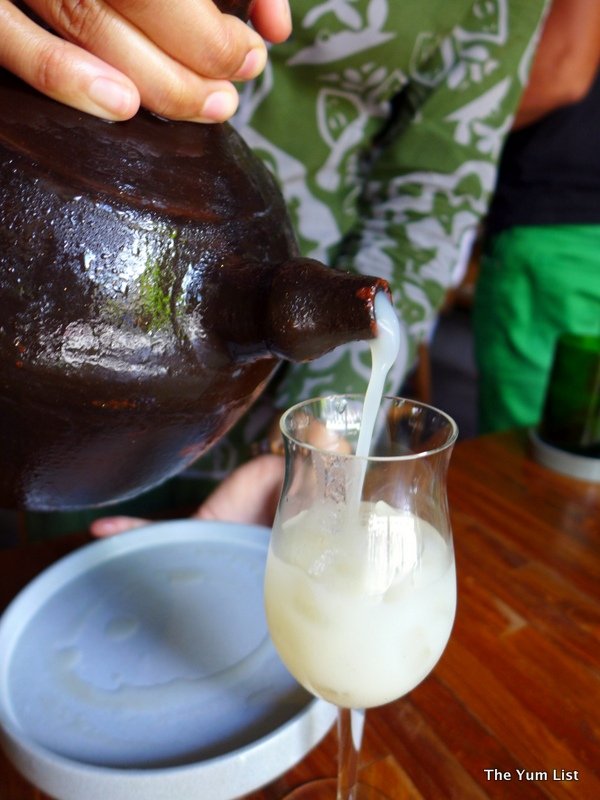 If you eat at only one restaurant in Ubud, make it Locavore.
Reasons to visit: a complete mind-blowing battery of constant surprise and culinary creativity from start to finish; support of the local community and a sustainable and ethical way of living;
Locavore
Jalan Dewi Sita
Ubud 80571
Bali, Indonesia
+62 (0)361 977 733
[email protected]
www.restaurantlocavore.com
* Bookings should be made online via the website and need at least 2 -3 weeks notice. Although if you really want to guarantee a seat I suggest much further in advance – last night Locavore won Best Restaurant in Indonesia, and scored in Asia's 50 Best Restaurants by San Pelligrino – that is only going to increase the waiting list. So book now!
Open Monday to Saturday
12:00 – 14:30
18:00 – 23:00