Words: Kirsten Durward    Photos: Monica Tindall
Before a game drive in Yala we enjoy lunch at Chena Huts by Uga Escapes.  315 km from Colombo International Airport, Chena Huts offer a spectacular location, which takes advantage of all the natural beauty and wildlife viewing opportunities offered in Yala. Stepping out on the wide deck overlooking the sand dunes, I can't help but feel the quiet spirit of the place to be both restful and invigorating. Basses restaurant takes its name from the surrounding reefs and lighthouses, one of which is pointed out to us on the horizon. This is certainly a wild and natural spot with sea on one side and thorn bush on the other. We have a short tour of the property, which is quite spectacular though very understated and eco friendly, being barely visible as the style blends so well with the natural environment.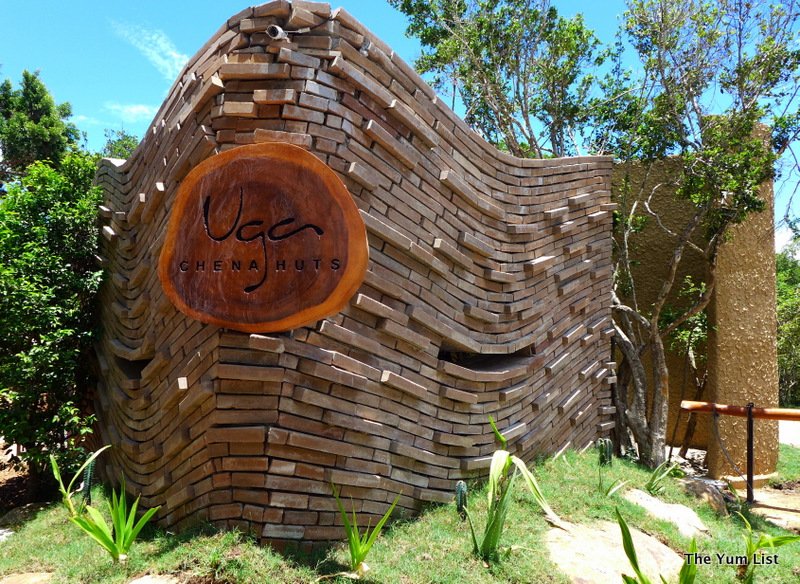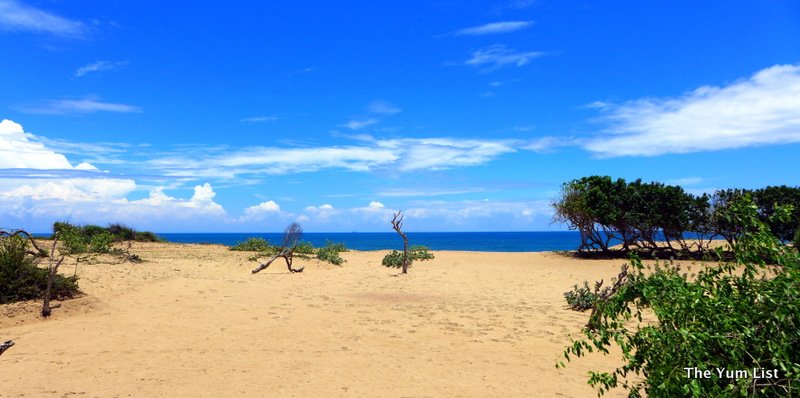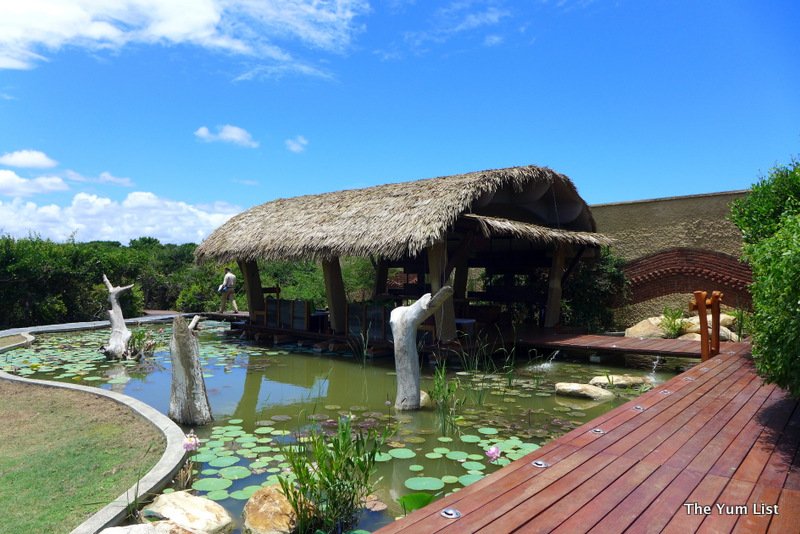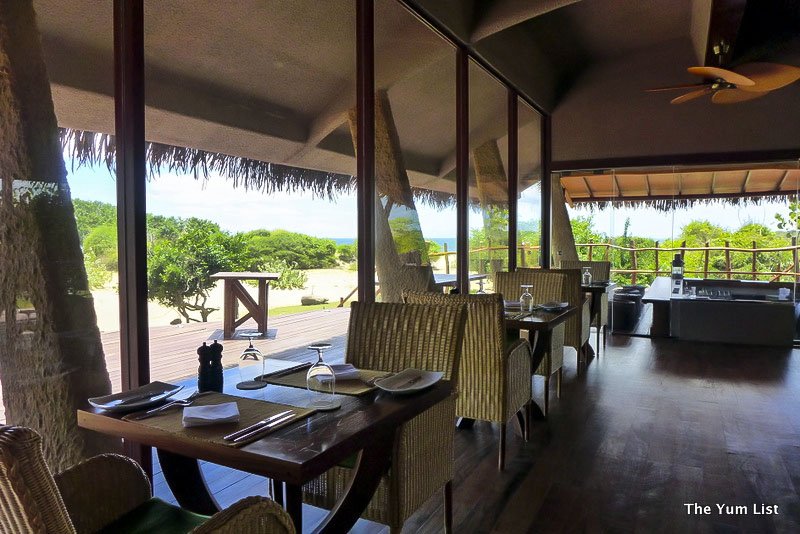 Nestled in the dunes above the whitest of white beaches, flanked on one side by a saline lake and fringed on the other by sultry jungle, resident guests are treated to a range of personal animal viewing that is second to none. Turtles lay their eggs on the beach by moonlight, by day, elephants frolic in the surf. Birders will be happy with sightings of Ibis, painted storks, flamingoes and more.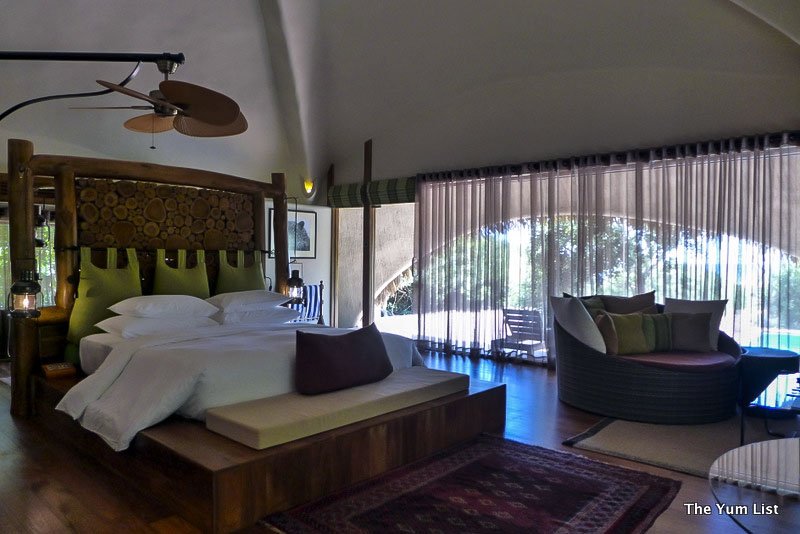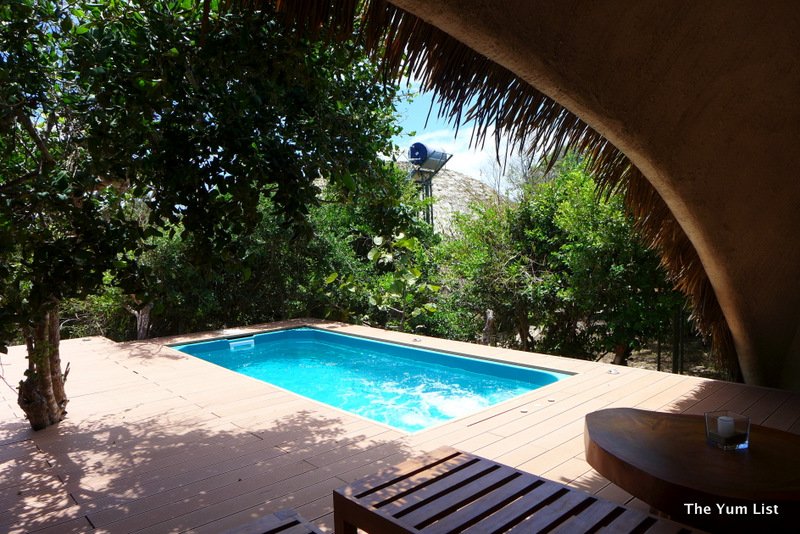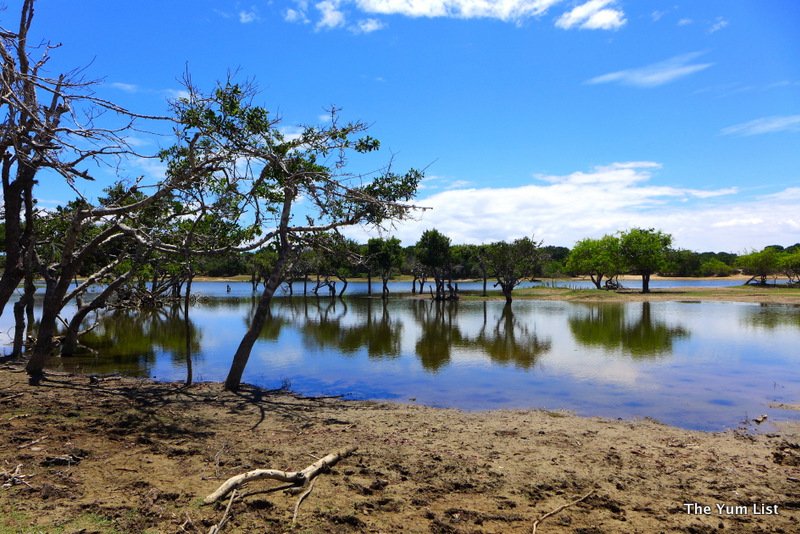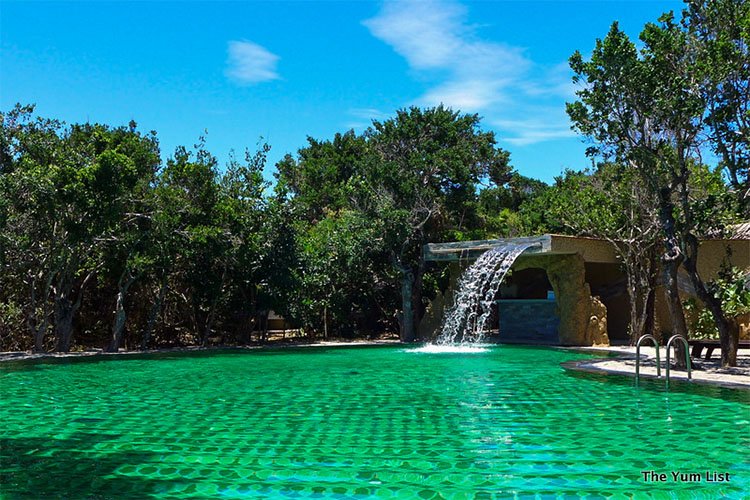 Lunch is a set menu, which changes daily. Executive Chef Holgar Joost takes pride in local and organic sourcing, with only the beef and lamb coming from overseas. Uga Escapes has its own organic farm so their properties are always well supplied with delicious healthy vegetables. Chef explains that menus are only designed after the daily catch has been viewed, so the seafood is all extremely fresh, but also, when it's gone it's gone. Guests can always choose an option of Sri Lankan Curry but much as I love it, we are seeing a lot of it so choose to vary the post descriptions.
We are off to a fine start with a range of house-baked breads, fresh butter and a chickpea dip. I particularly like the cumin encrusted rolls. It's the best European style bread we've found in Sri Lanka so far.
We sigh over the elegant serving of smoked salmon wrapped cream cheese rondavels, which are elegantly presented with a scattering of capers, grapes, slivers of tomato and teeny cubes of pineapple salsa. It's a classic offering with a tropical twist in the presentation.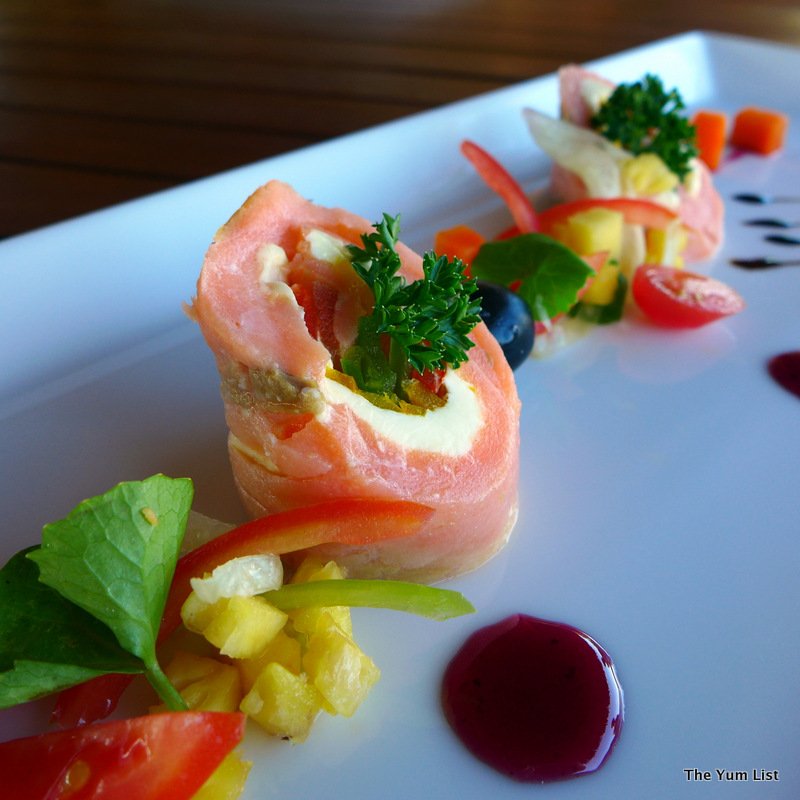 Our second starter, thinly sliced vegetables grilled and lightly caramelized with balsamic are prettily plated with a finish of fresh herbs. We're happy with the texture, taste and variety of the dish.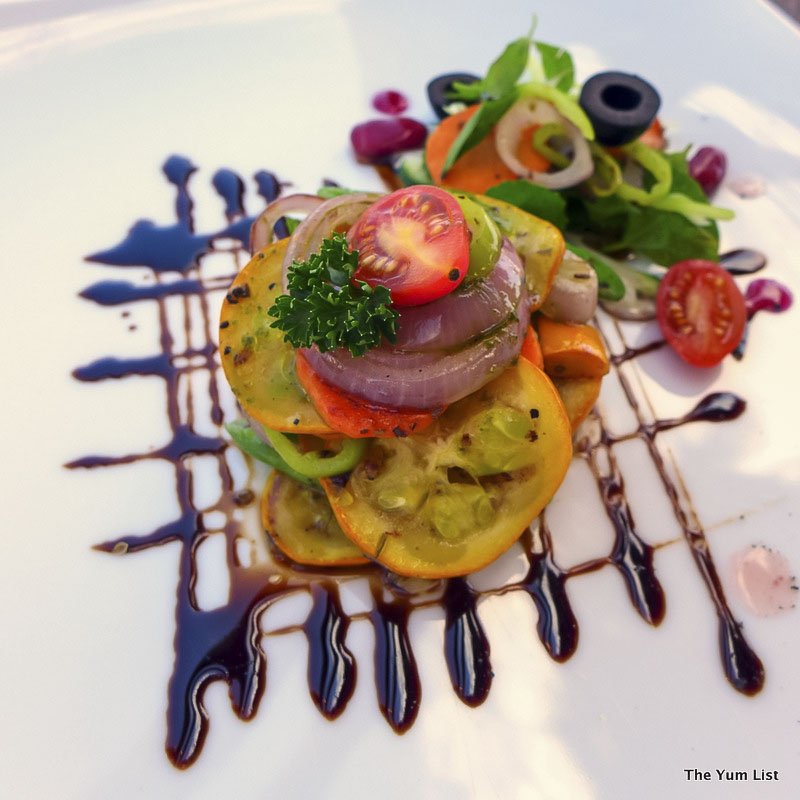 I almost don't need a main course after the delightful starters and generous serving of rich beef broth which comes next as part of the set lunch. It's stuffed with tiny chopped vegetables and delicate cubes of beef, and feels full of earthy goodness.
'This is delicious!' says Mon of the stuffed bacon wrapped chicken roulade with baby vegetables. And indeed it is, juicy and nicely seasoned.Wrapping things in bacon is always a good idea! Crunchy vegetables and a smattering of potato in a mustardy sauce enhance the dish with a welcome scattering of fresh herbs.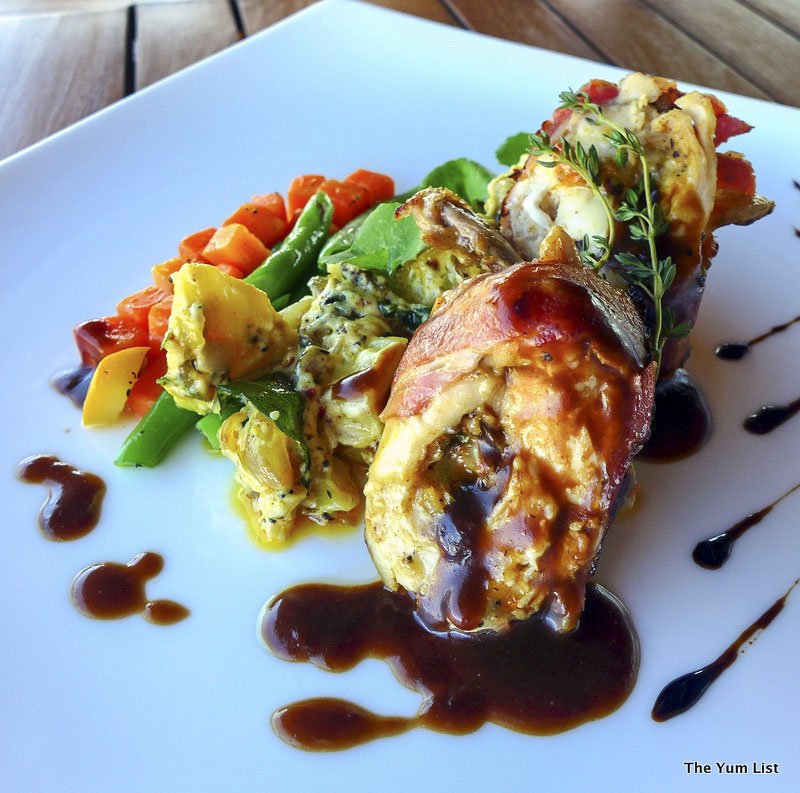 Fresh from Sri Lankan waters, the locally caught lobster was swimming in the ocean only hours ago. This rather large crustacean is served up with a topping of creamy cheesy Thermidor sauce, flavoured with bay leaves. All the hard work has been done with the meat taken out and stuffed back in. We guess this is at least 600g of lobster meat and we are fully satisfied with the moreish pesto pasta on the side and a light fresh salad atop.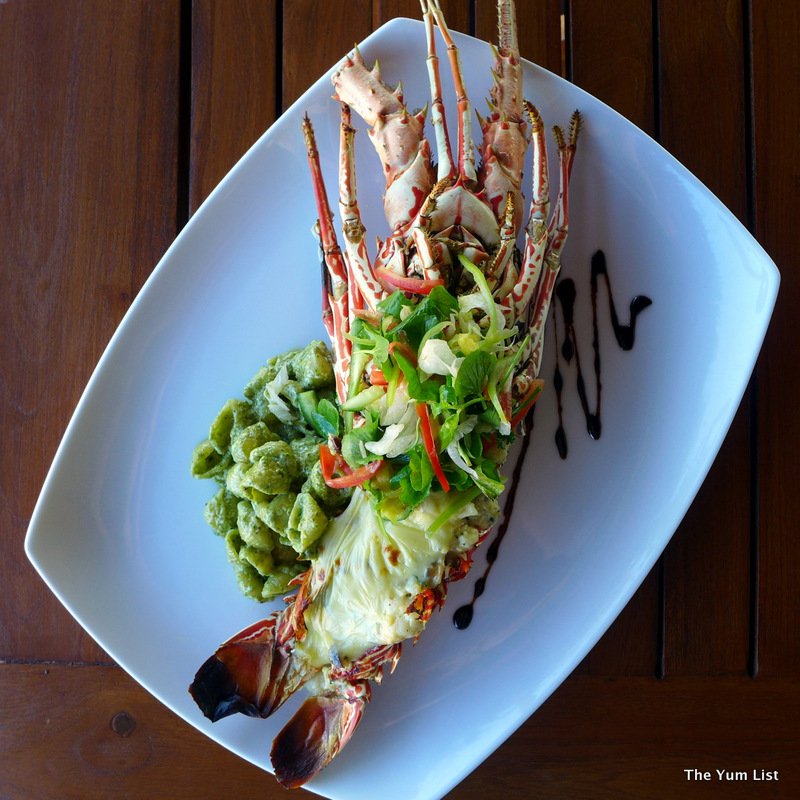 Dessert is a baked cheesecake with strawberries and ice cream or a platter of Sri Lanka's delicious fresh fruits. All in all it is a very filling lunch.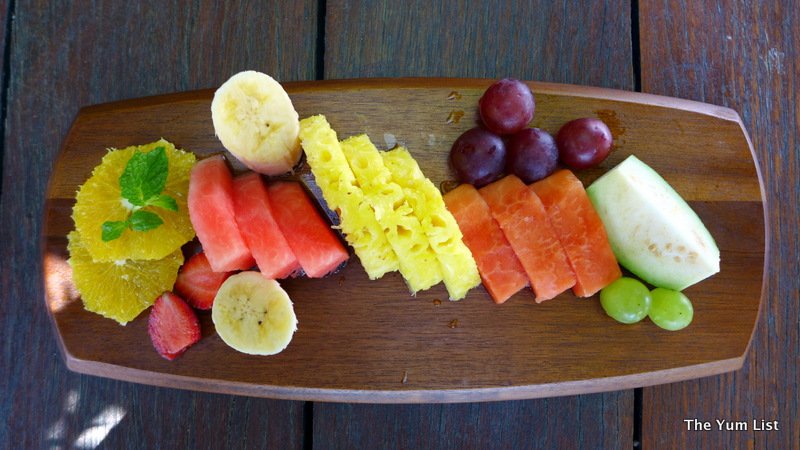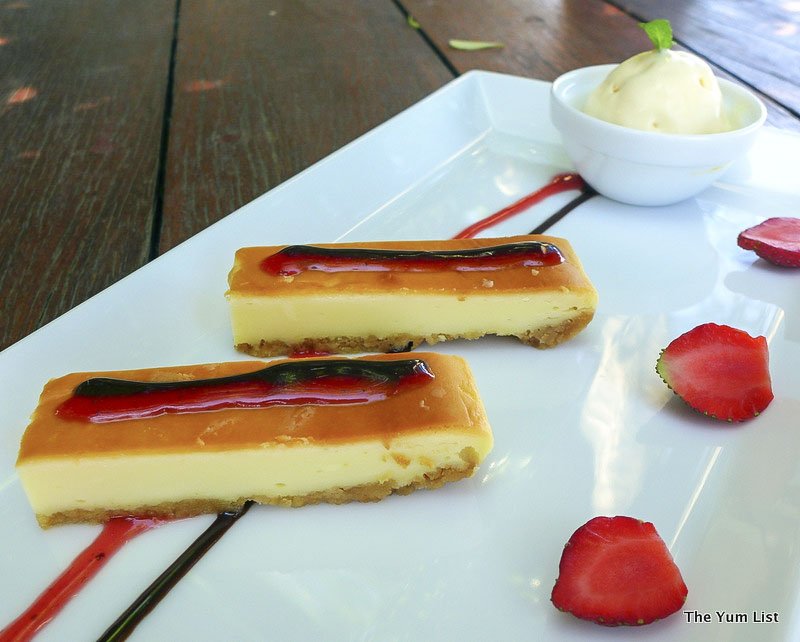 Reasons to visit: stunning location on edge of national park; safari-style sea views; delicious fresh food prettily plated; friendly smiling service.
Chena Huts by Uga Escapes
Palatupana
Yala, Sri Lanka
+94 47 2267100
[email protected]
www.ugaescapes.com/chenahuts