An Unsolicited Guide to Opening a Cafe in Kuala Lumpur
Patricia Podorsek, inspired by conversation with Jason & Shaun at the Yellow Brick Road
Photos: Monica Tindall
PART ONE: Establish terms of success.
1. Dream big. Select a name that represents an epic journey of courage and friendship against challenges like pitching trees and flying monkeys.
2. Work as a team. Find four partners who play to one another's strengths and send them out on to the floor and kitchen to work shoulder-to-shoulder with cooking staff and waiters.
3. Establish partnerships with local businesses. Buy into the local economy by getting your salted caramel ice cream from Fat Baby in Subang, and your carrot cake from One Ate Zero.
4. Hold yourself to high standards and build capacity. Hire baristas that win regional championships and allow them to give lessons to your coffee creators.
5. Take risks and avoid cliches. Allow for rampant creativity by concocting menu items like American-style pancakes covered in seaweed and bonito flakes.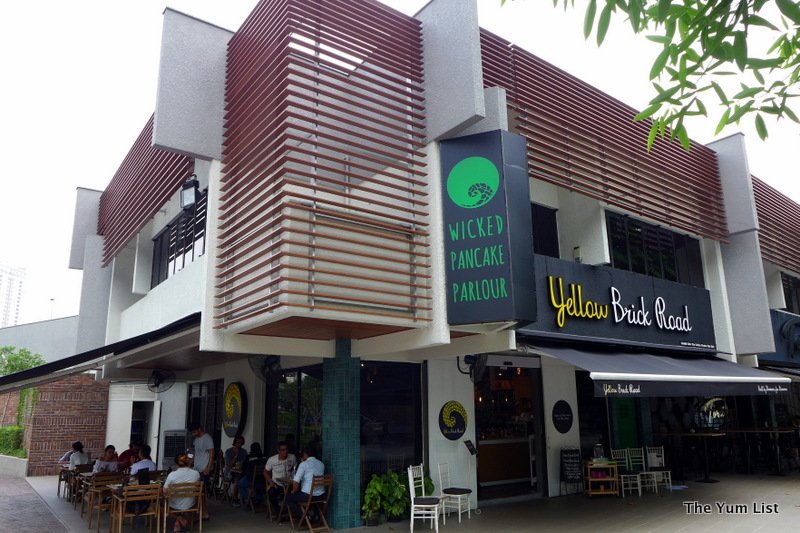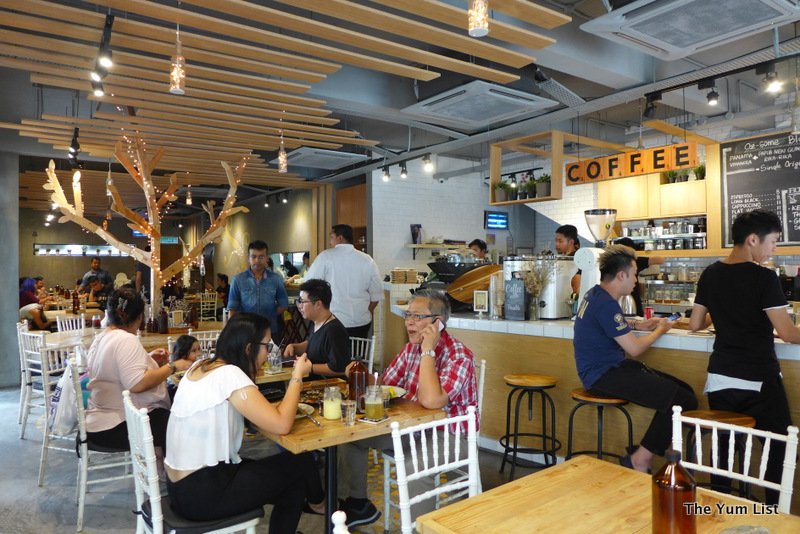 PART TWO: Set the stage.
1. Find a corner lot in a newly refurbished commercial strip like Plaza Batai. Bid hard for the rights to have an independent outlet in a trendy neighborhood like Damansara Heights.
2. Decorate the inner space with richly textured wood tables, walls, and ceiling panels. Allow black, white, and gray accents to create an earthy but warm backdrop to the rich smells of the coffee.
3. Build a children's play area into the corner of the upper floor so that the whole family can enjoy their time.
4. Open daily from 9:00 am to 10:00 pm. Give your kitchen a chance to set the dinner menu by closing the kitchen from 4:00-6:00 pm daily, but still serve cakes and coffee for those wanting a bite in between hours.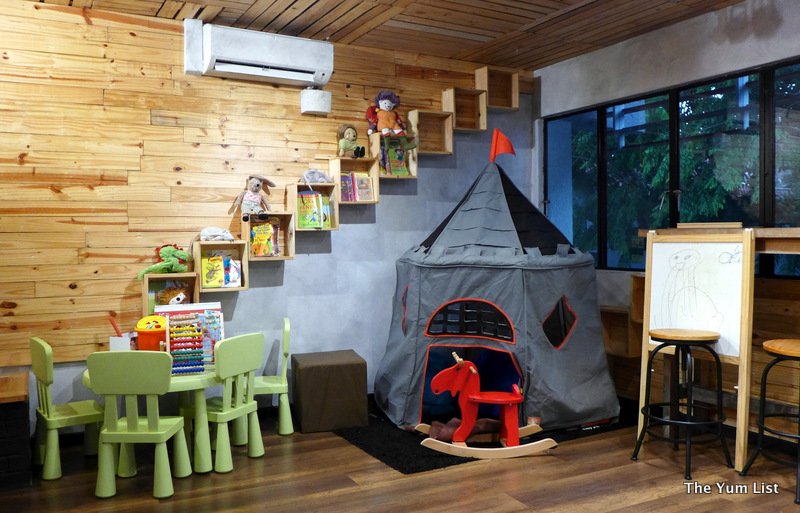 PART THREE: Reliably churn out interesting and delicious menu items.
A. Coffee
a. Use your built-in barista talent to create every variety of upscale java, including a Skinny Latte in handmade pottery from a local provider in Subang. Paint those cups with a yellow rim to coordinate with your brand and make sure they come in variant shapes highlighting their bespoke design.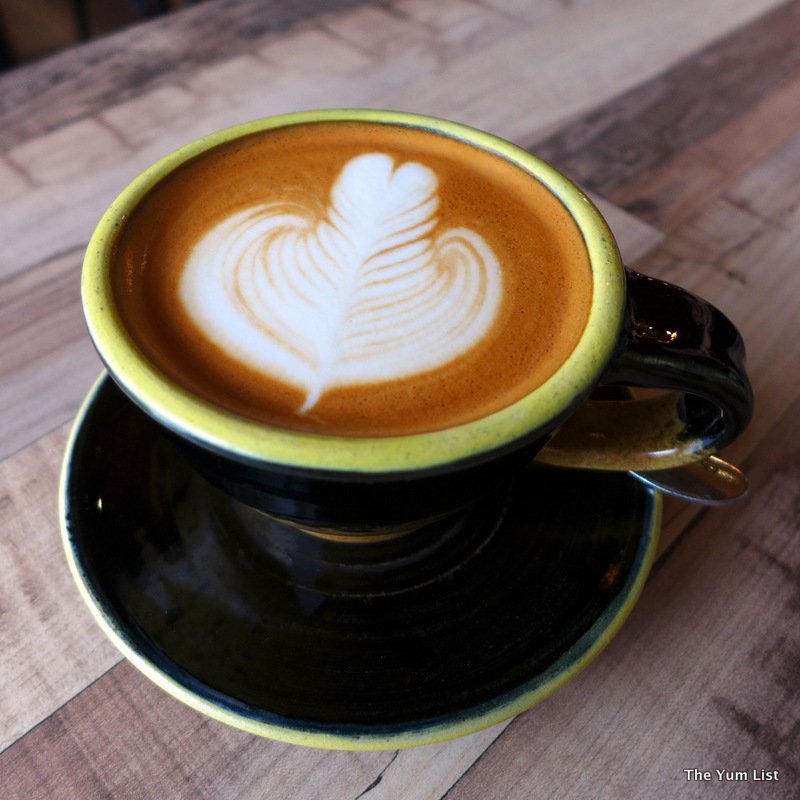 B. Pancakes
a. Draw from local tastes to create wicked pancakes like PETER PANDAN (RM22), American-style flapjacks flavored with fresh pandan, covered with slivers of caramelized jackfruit, and topped with gula melaka syrup. Oh, and be sure to crown the cakes with rich salted caramel ice cream that gets oozy as it melts over bread.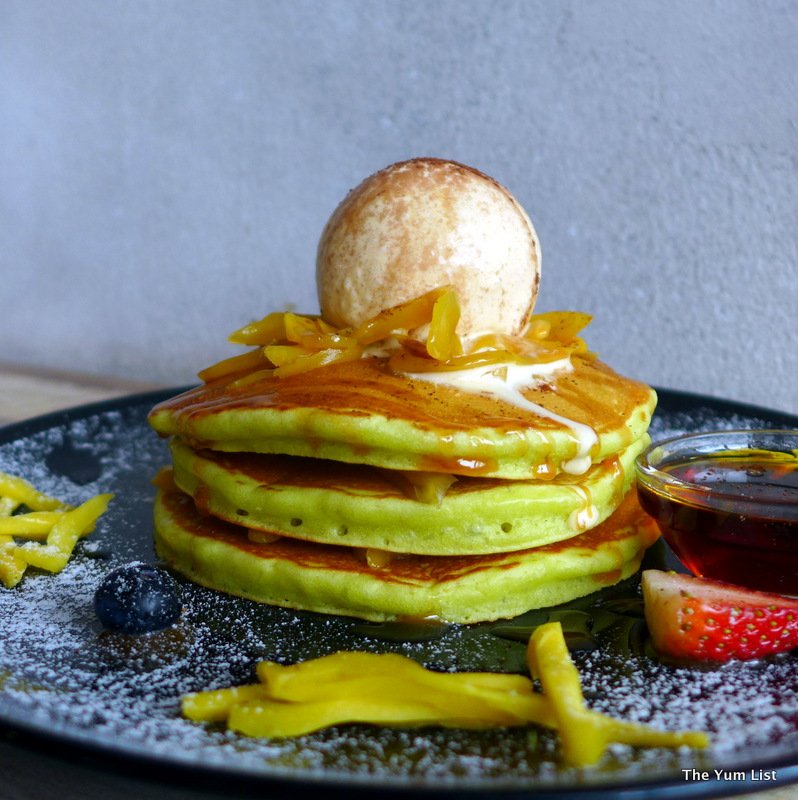 b. Cater to your international clientele by designing unusual pancake dishes like LUCKY TAKOYAKI (RM24). Use the pancakes as a foundation pillar for bonito flakes and seaweed ribbons, cemented by Japanese mayo and takoyaki sauce. Garnish with fresh prawns and salmon roe. Prepare for the rave reviews from visiting bloggers.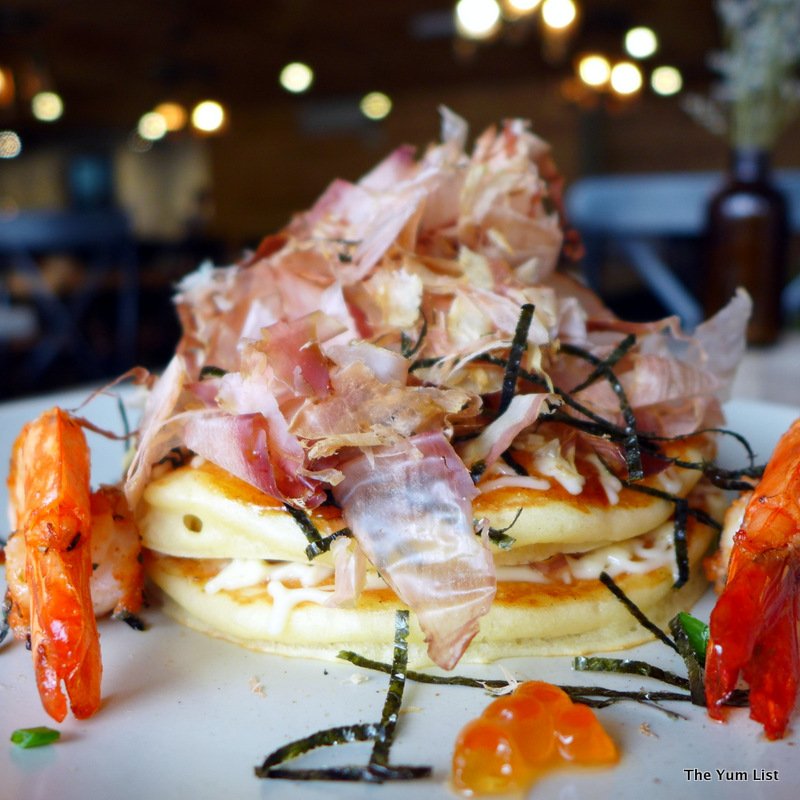 C. Other breakfast items
a. Do not limit your breakfast repertoire to creative pancakes only. Offer your patrons alternatives like I WANNA BE KAYA (RM 22), crispy French toast crusted with black sesame, hazelnuts, and almonds. Top the toast with poached pears and fresh strawberries. Source your bread from a local bakery and make your own kaya in-house. Paint the plate with coconut mascarpone sauce and add a pitcher of extra kaya on the side. Expect that guests may spoon out every last bit of kaya from the pitcher and may even be tempted to lick the plate clean.
b. Offer more protein-based breakfast options for the fitness-conscious patrons you hope to attract, like the BIG BREAKFAST BASH (RM30). Use a skillet to showcase chorizo sausage and turkey ham, eggs over rye bread, mixed sauteed mushrooms, sweet potatoes and a goulash of bean varieties. Take care to not serve pork products. Serve in generous portions to satisfy all appetites.
D. Lunch and Dinner
a. Provide breakfast items all day, especially on weekends, but offer more substantial dishes on your menu as well. Create Kelantan-inspired meals like BALIK KAMPUNG (RM 22), leggy chicken covered with a gingery percik sauce that's not too spicy for the Western crowd. Top turmeric rice with a poached egg as a side dish and garnish with green mango salad on the side.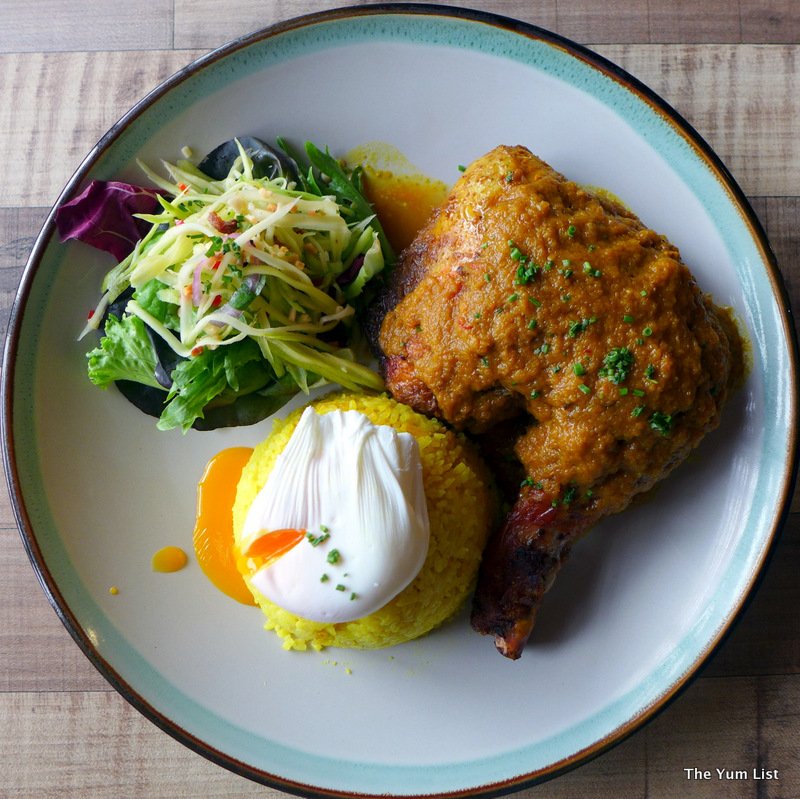 E. Specialty drinks
a. Serve a selection of teas for non-coffee drinkers and also furnish chocolate lovers with a velvety drink like DARK HOT CHOCOLATE (RM12). Add only a touch of milk to make the drink as rich as possible. Serve with a homemade chocolate truffle on the side that is buttery in texture and sinful in taste.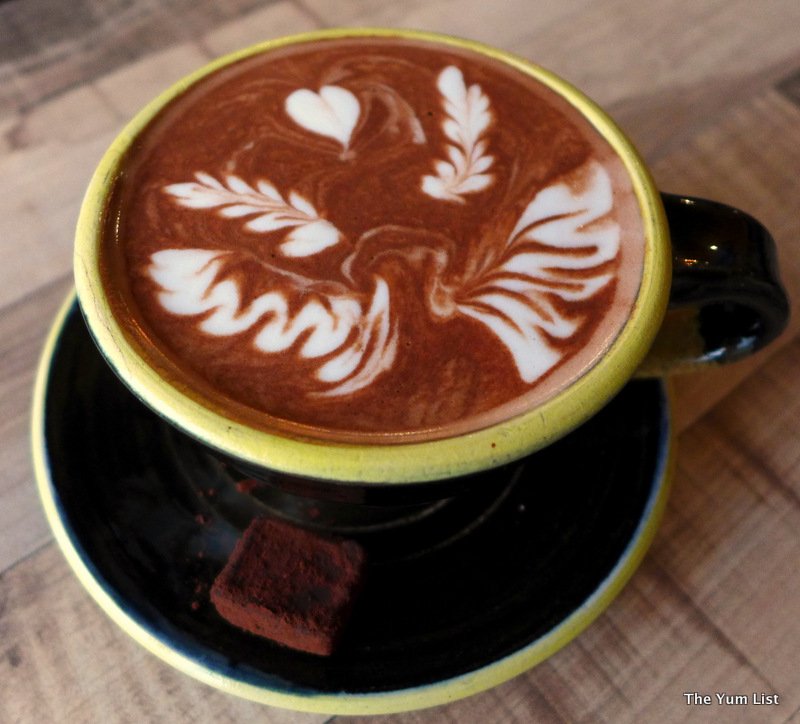 b.  Appeal to dessert drinkers by providing a selection of ice cream floats. Include a POPCORN FLOAT (RM15), salted caramel ice cream dropped into locally made root beer. Make sure the root beer is zesty but not too syrupy. Top the mug with popcorn and butterscotch sauce for mouth-watering results.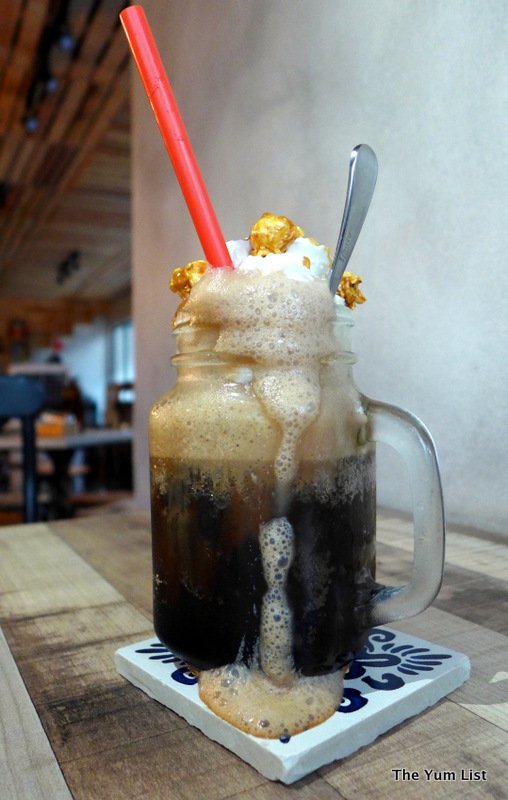 F. Desserts
a. Match your coffee collage with a case full of delectable cakes made by a local bakery. Offer flavors such as Chocolate Chip Cookie Dough Cake and Popcorn Muesli Cheesecake to appeal to all sorts of adventurous palates.
PART FOUR: Wait for influx of devoted fans. Keep a sunny attitude and positive ambiance as you become wildly successful.
1. No further instructions required.
Reasons to visit: Truly wicked pancakes including the original Lucky Takoyaki, other smashing breakfast items like I Wanna Be Kaya, and a dreamy approach to what a cafe in KL should be.
Yellow Brick Road & Wicked Pancake Parlour
Lot 7, Plaza Batai
Jalan Batai
Bukit Damansara 50490
Malaysia
+6 03 2035 5922
www.facebook.com/yellowbrickroadcafe