Words: Monica Larrieu   Photos: Monica Tindall
Nestled in the first block of the main Changkat Bukit Bintang restaurant and bar strip, Pinchos is a spot that should not to be missed. Known in the restaurant industry for having introduced Kuala Lumpur to authentic Spanish tapas, Pinchos has become a landmark for locals, expats (including Spaniards!) and tourists alike, and has had staying power of over seven years. Established and run by a Catalonian and his wife, Roberto and Shirley, Pinchos is regarded as one of, if not the top, Spanish tapas joints in the city. Its reputation and mainstay are based on its use of premium, high-grade ingredients, such as the imported Iberico and Serrano hams and cheeses, quality bar menu and lively atmosphere.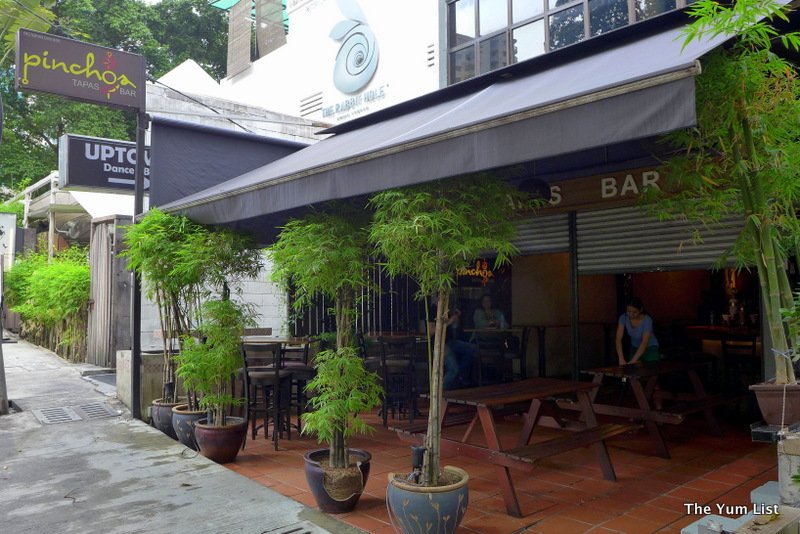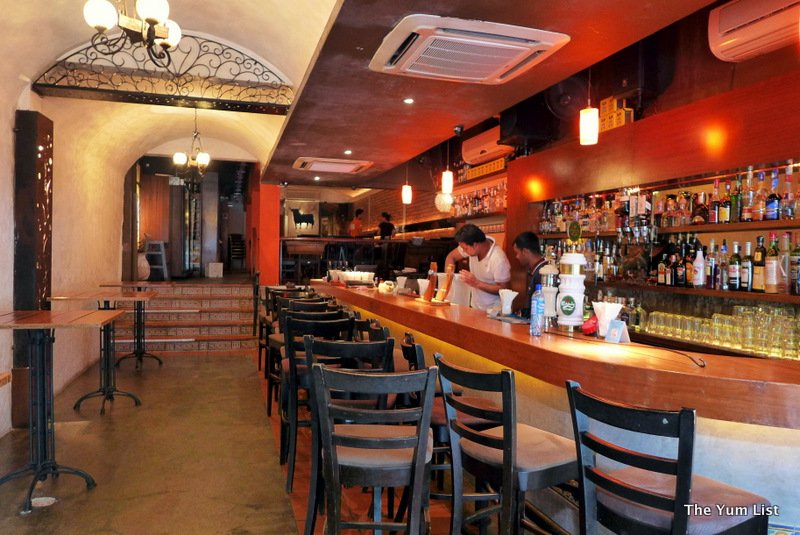 Tapas
Just by sitting on my stool at the high tables, typical of tapas bars throughout Spain, I start to anticipate the savory and sinful tapas that will cross my path. I know I will once again taste the buttery hams that melt in my mouth and that the essences of garlic, olive oil and paprika will dance on my tongue. Ham, cheese, aioli, chorizo – I can almost hear my arteries clogging. But then I realize that the purpose of tapas is to nibble and savor these rich foods in small portions, so one can enjoy them in comfortable moderation. So, after convincing myself that everything will be healthy (wink, wink), Monica T., Caning and I set forth on our marathon sampling of Pinchos' tasty tapas.
To start, the gold standard of Spanish cured hams, Jamon Iberico Bellota (RM 55), the most coveted of dry-cured Iberian hams, hailing from free-range, acorn-fed pigs is sliced straight off the bone and onto our plates. This buttery perfection is accompanied by an impeccable baguette that is made in-house and served fresh out of the oven.
An array of smoked and cured sardines and anchovies follows: Spanish Smoked Sardines (RM 27) are topped with tomato 'caviar' seeds; and Boquerones and Spanish Anchovies (RM 26) combine anchovies lightly pickled in vinegar and olive oil, paired with smoked anchovies, served iron flat and side-by-side. One of my favorite tapas of the evening is the Croquetas de Pescado (RM 18), fluffy whitefish béchamel croquettes dipped in an aioli (garlic mayonnaise). These delightful little orbs of tastiness are sinful, and I indulge in each morsel. Also making their way to our table are the traditional Gambas al Ajillo (RM 29), prawns sautéed in olive oil, garlic, and chili, and served piping hot in a clay dish. The Calamares a la Romana (RM 29) are lightly battered and fried served with a tartar sauce. The squid is cooked properly and remains tender, not at all rubbery. Grilled Spanish Octopus (RM 66), a fundamental dish in any serious Spanish tapas bar, comes as a whole octopus leg, cooked a la Gallega to a tender perfection, and topped with olive oil and paprika (pimenton). Yum!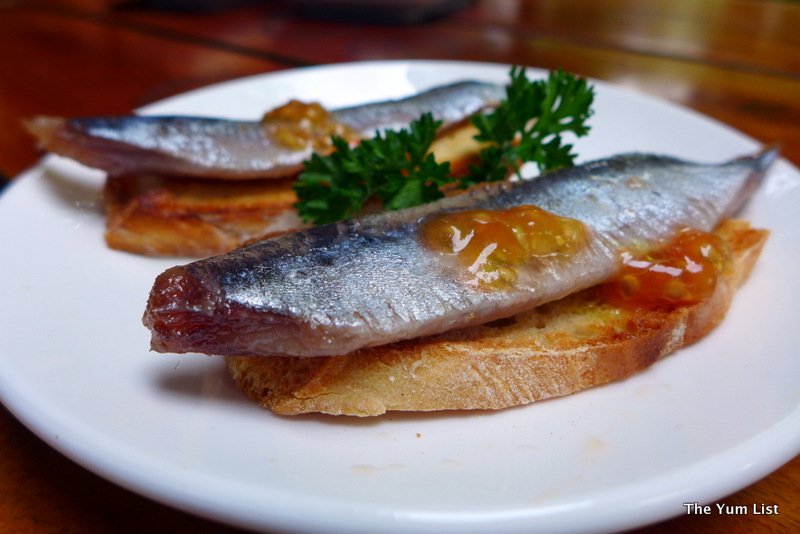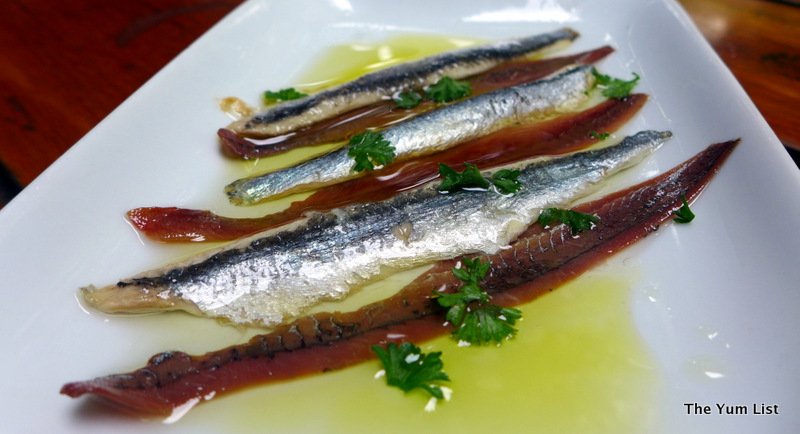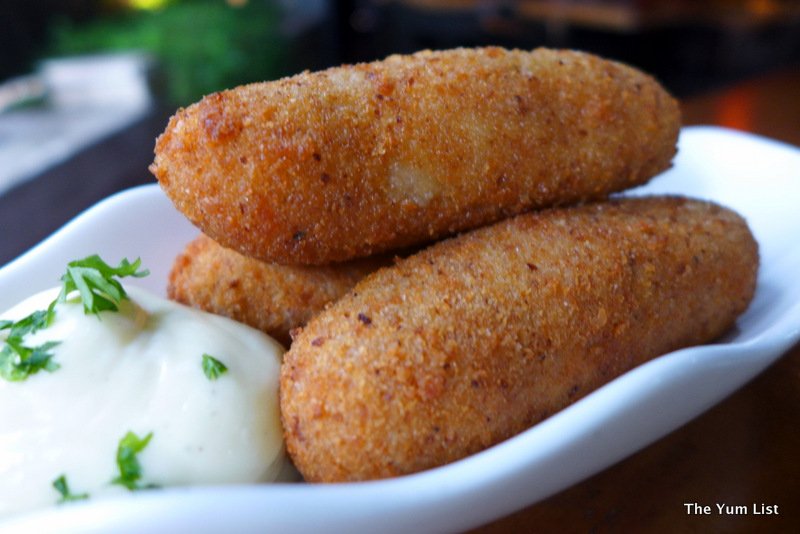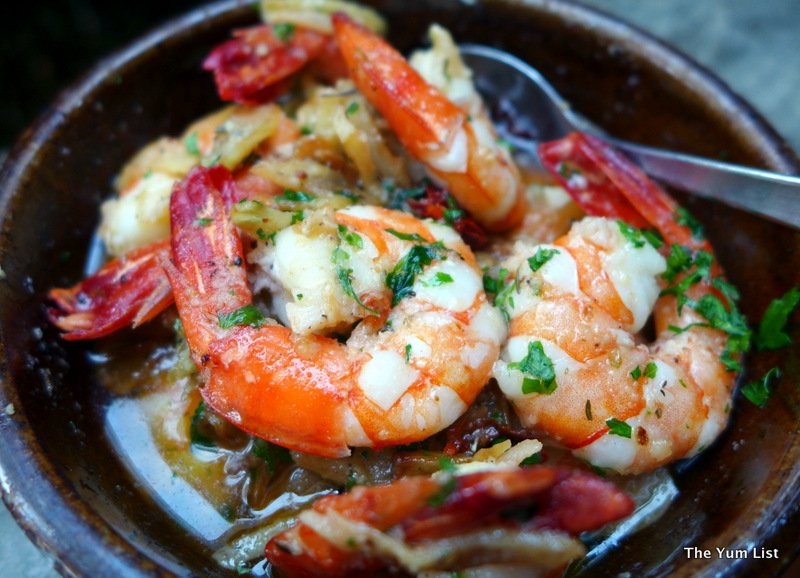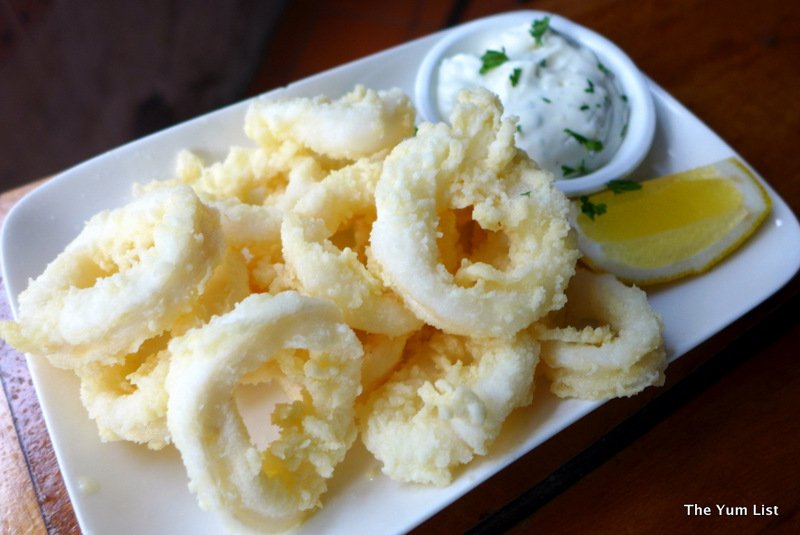 Ideal for sharing is the Jamon y Queso Platter (RM 83), the largest of the tapas and a generous plate of a delectable variety of hams and cheeses. Buttery Serrano ham, cured chorizo ham with the subtleties of paprika, peppery fuet, combined with four distinct cheeses: Mahón, Manchego, a smoked goat cheese, and a rosemary crusted cheese, make for a pretty picture and taste bud satisfaction.
Continuing with the decadence, a savory Pate de Pato (RM 31), a duck foie mousse, is liberally slathered on toasted bread. The "Bikini" Sandwich (RM 22), a panini sandwich of Serrano ham and Manchego cheese and coated with truffle oil, is a lovely tapa as well. On a side note, it is called a bikini sandwich because of the cut triangle shapes that make it look like the pieces of a string bikini (not because you may not fit into a bikini if you eat too many of them as I initially hinted). To top our sampling of tapas, and some small attempt at a 'healthful' order, Goat Cheese Salad (RM 39) with lettuce, endives and a substantial goat cheese rondele at the center, is topped with pinenuts sautéed in olive oil – sweet, savoury, gooey, delicious.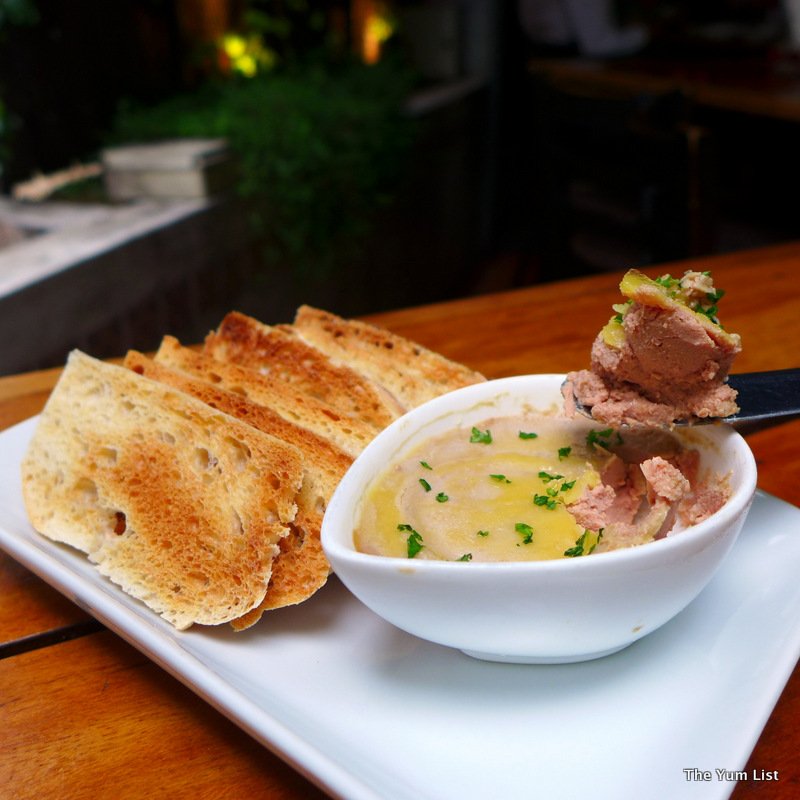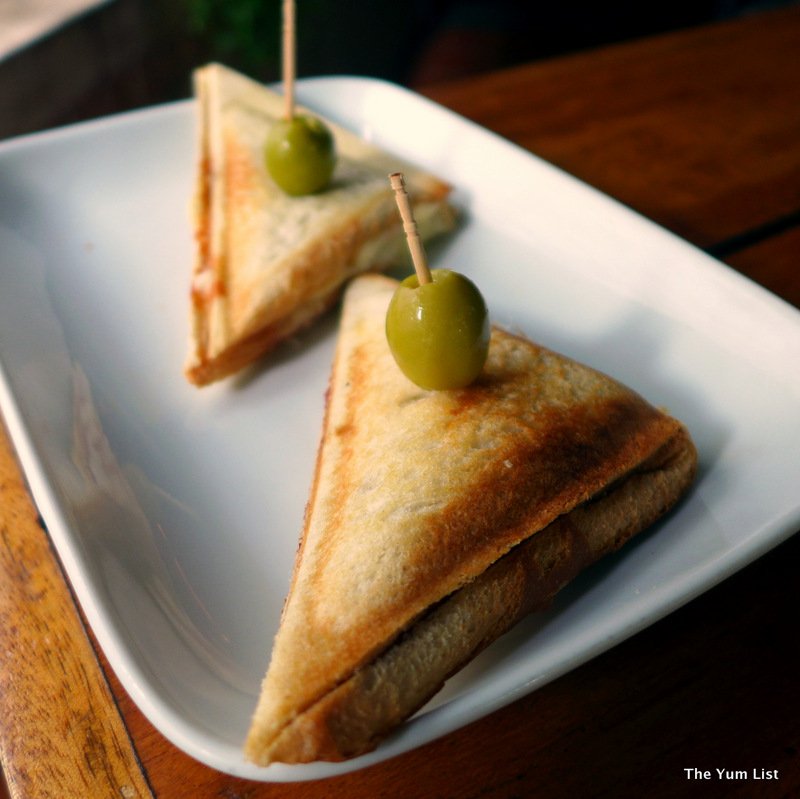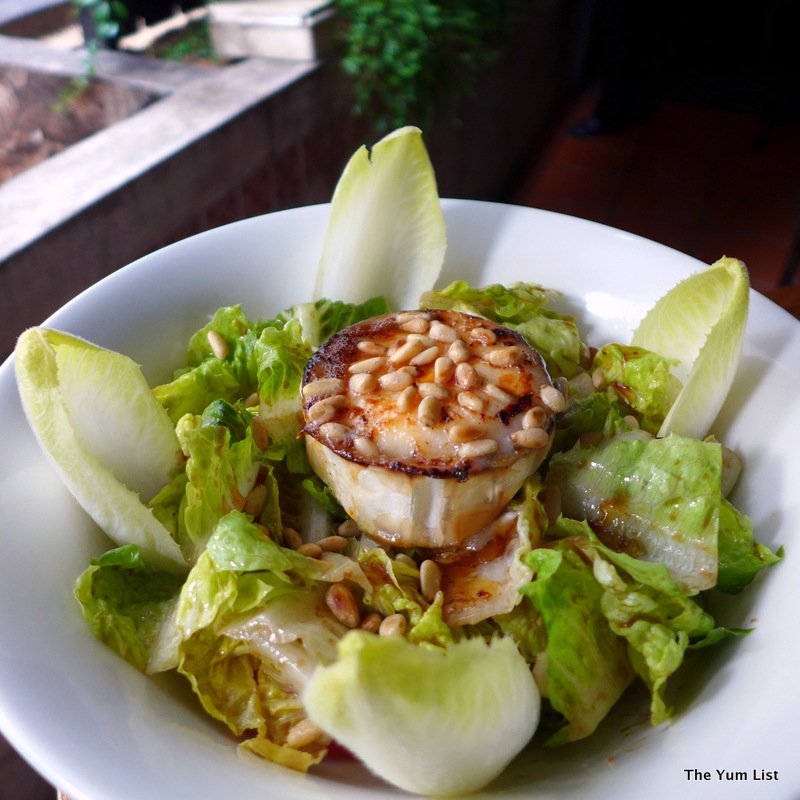 Dessert
One of the most sublime chocolate desserts I have ever sampled is Pinchos' own Chocolate Mousse (RM 22). Served simply and unassumingly in four glistening dollops of ganache-like chocolate mousse, each mounts an olive oil braised toast. To contrast, a hint of course sea salt is sprinkled atop the chocolate mounds. Roberto claims they don't 'do' desserts, but the single item they have chosen to carry works extraordinarily well.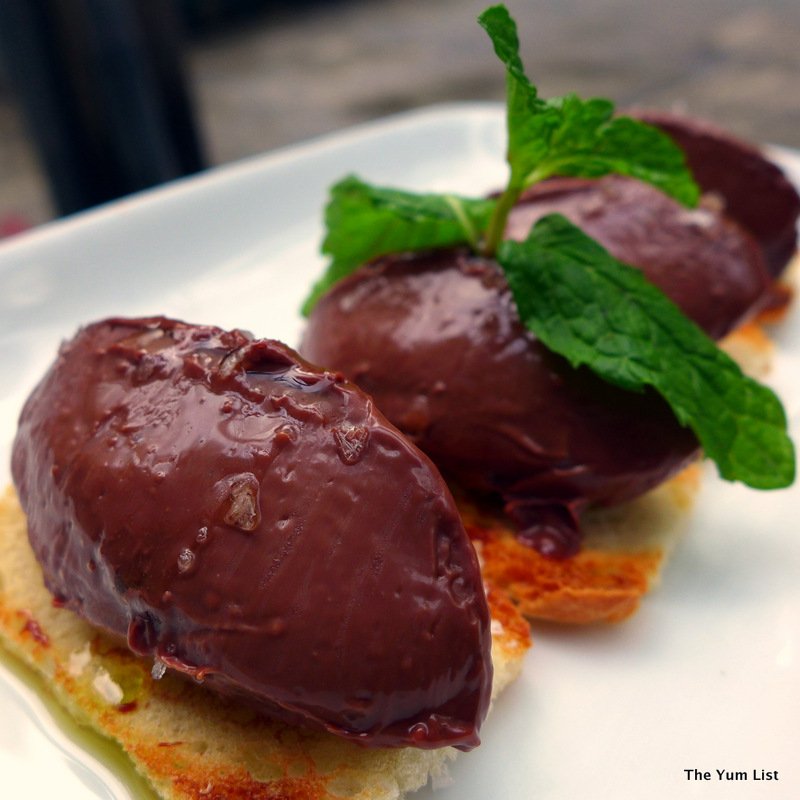 Cocktails
Pinchos is graced with the presence and influence of its very own mixologist, Rony. With Pinchos long term, he's developed a range of house specialties, including a few artisanal Gin and Tonics. Sangria (RM 24 per glass/RM 109 per jug), had to be tried, and the typical Spanish concoction consisting of red wine, orange juice, a splash of rum and cinnamon essences is a welcome departure from the typical overly sweetened sangrias I usually encounter. The Siderit G&T (RM 43) mixes a Spanish artisanal dry gin whose distillation includes a maceration of twelve botanicals including the obvious juniper, as well as sideritis hyssopifolia, or rock tea. This gin and tonic comes with Fentimans Botanical tonic water, and is infused with a cinnamon stick, rock tea and juniper berries. The London No. 1 Original Blue G&T (RM 45) has an unexpected turquoise-blue tinge from an infusion of gardenia flowers and bergamot oil. The simple serving with Fever-Tree Indian tonic water and a slice of lemon, renders a very smooth cocktail. Pinchos Cava Cocktail (RM 39) proves a refreshing mix of Cava, Ponche Caballero (an orangey Spanish brandy liqueur), and Campari. Caning's favourite is the Moscow Mule (RM 30), a quenching concoction of Stolichnaya vodka, ginger beer, and lime served in a chilled copper mug.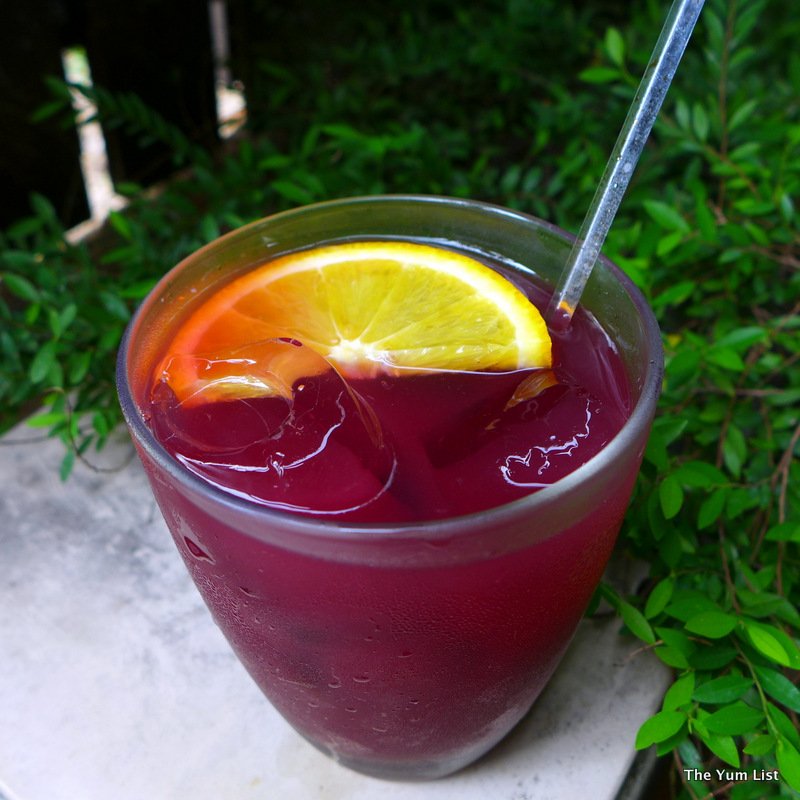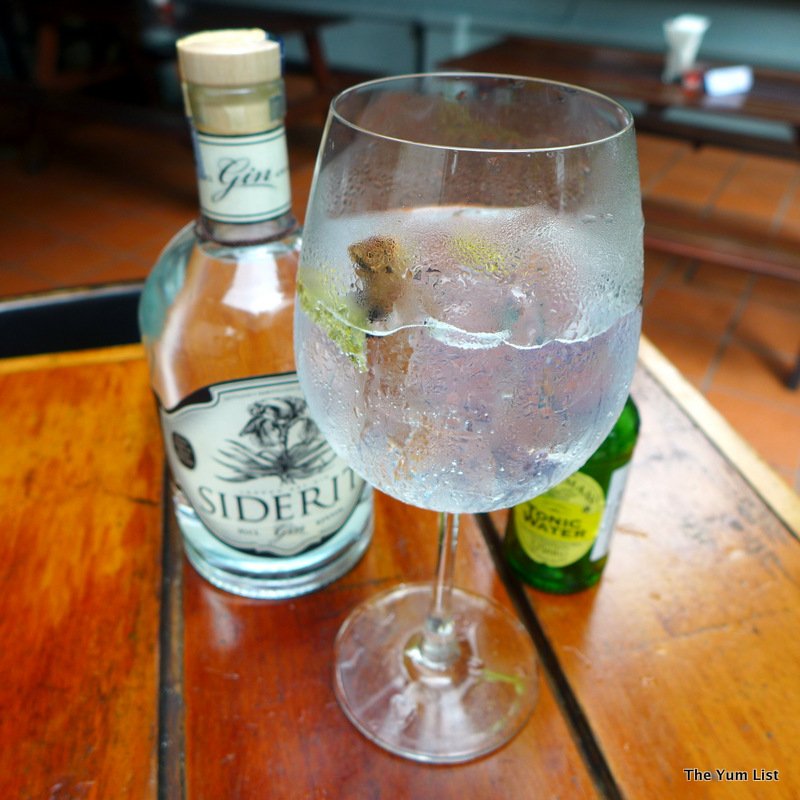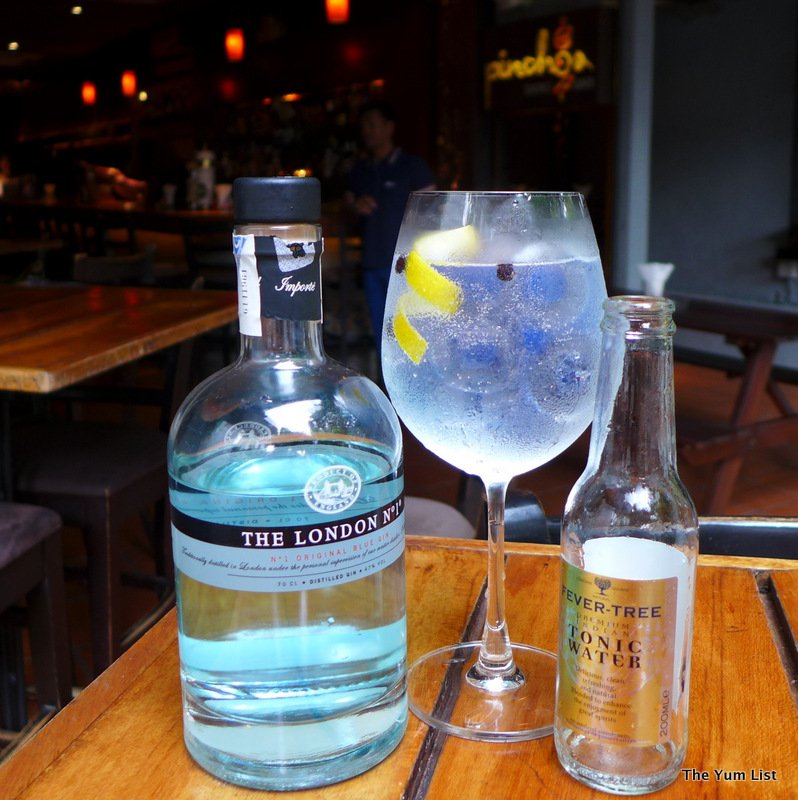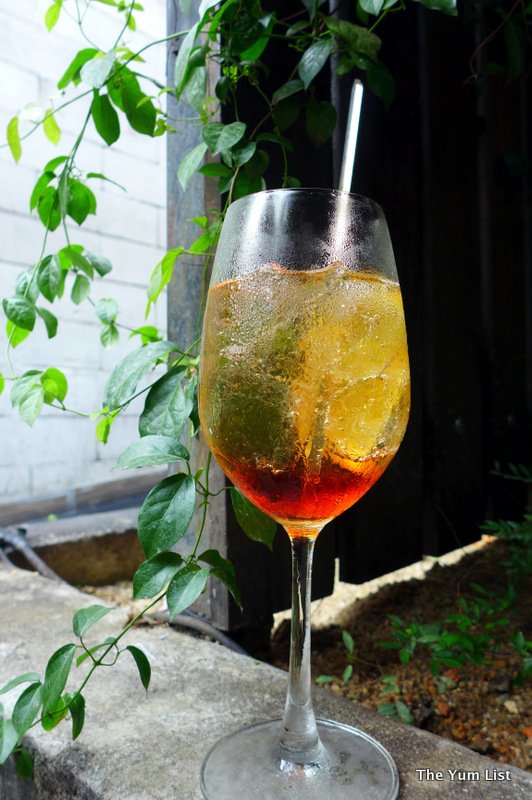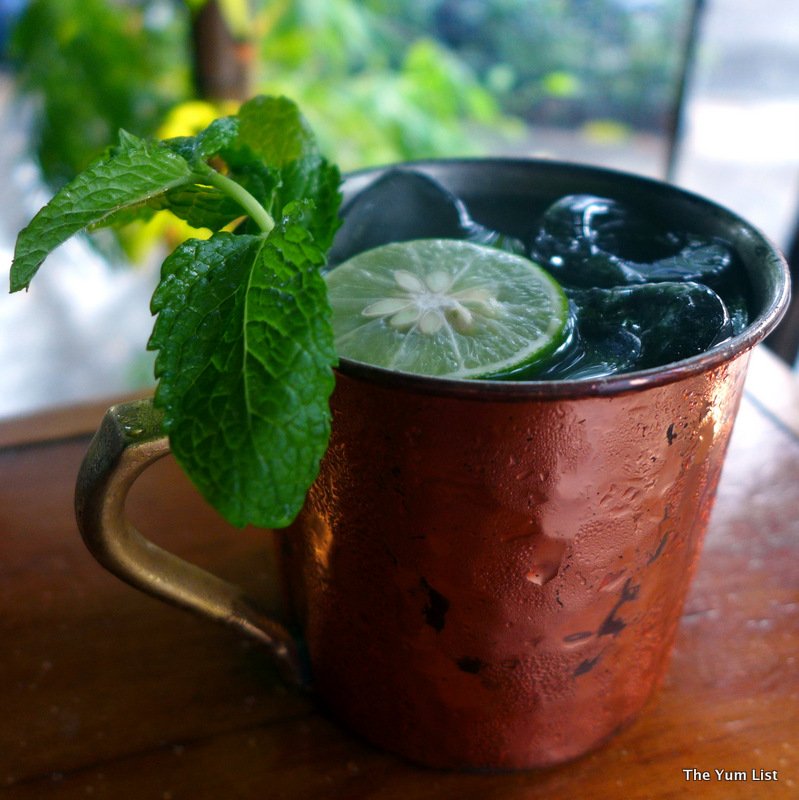 Wine
To accompany the sampling of tapas, we sip on a 2013 Finca Resalso by Bodegas Emilio Moro (RM 33 per glass/RM 155 per bottle), which is a rich and silky, berried Spanish Tinto Fino that paired beautifully with the hams and cheeses, and even with the chocolate dessert.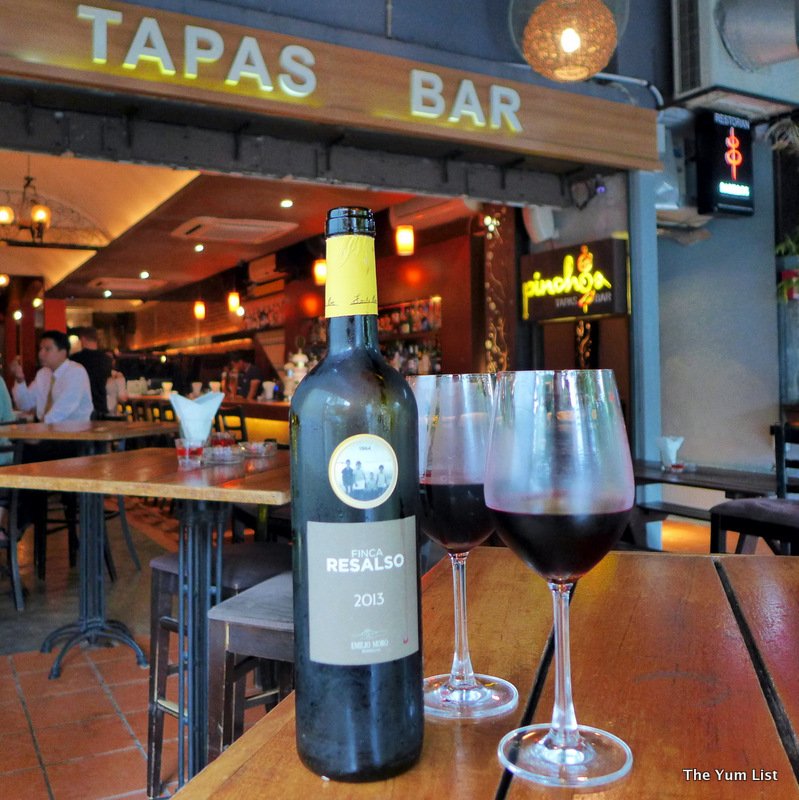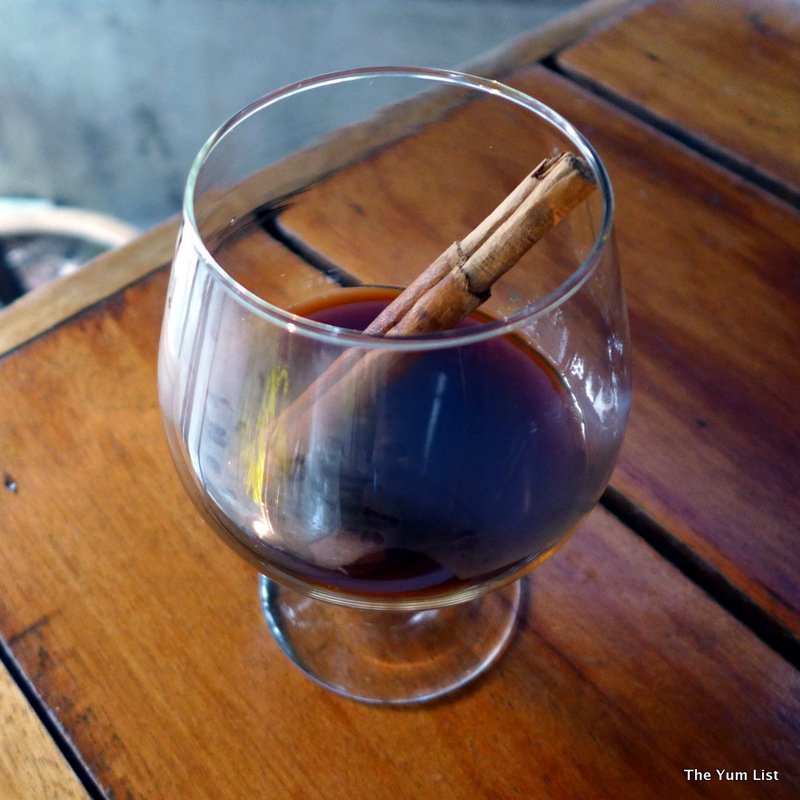 Reasons to visit:  High quality Spanish tapas, like the Jamon y Queso platter, the Croquetas, the Grilled Spanish Octopus, and the little piece of heaven in the form of Chocolate Mousse; a wide selection of drinks prepared by Pincho's own mixologist; and an evening out at a casual, hip and happening venue.
Pinchos
18 Changkat Bukit Bintang
50200 Kuala Lumpur, Malaysia
Open Tue-Sun: 5:00 pm – 3:00 am
+6 03 2145 8482
www.facebook.com/PinchosTapasBar/