Words: Kirsten Durward   Photos: Monica Tindall
Theva Cuisine's clean lines and monotone modern décor stands in stark contrast to its verdant surrounds. Perched high above the town of Kandy, the view is resonant with misty light as clouds sweep through the periwinkle skies, and we catch the shape of a distant rainstorm weighing in above the shadowy hills.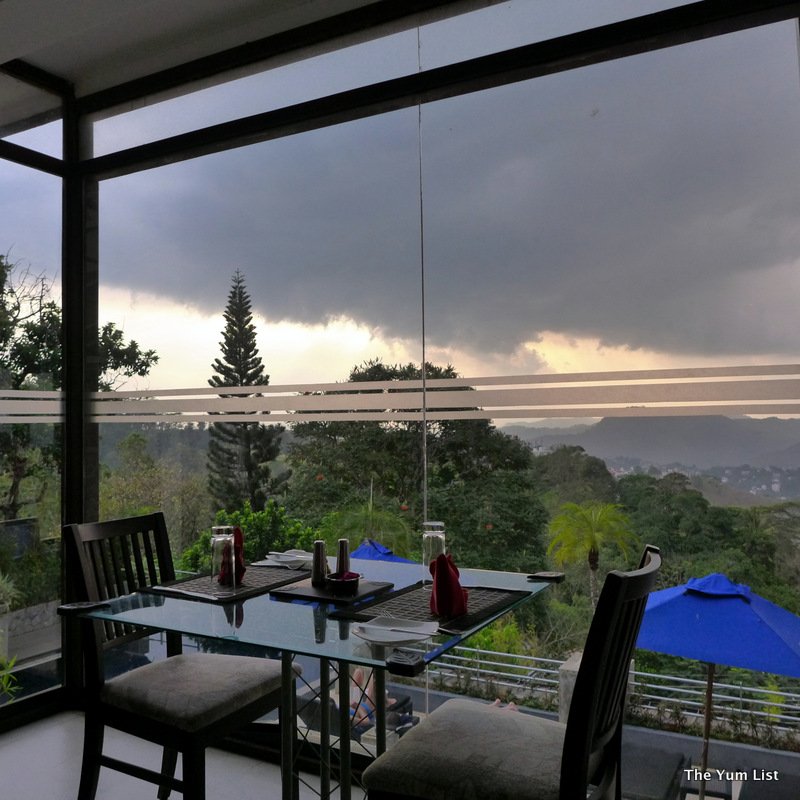 We start our evening with a couple of signature cocktails. Athura (Rs 800) is a frothy concoction of arrack, passion fruit juice, coconut milk and cardamom. We find it to be very sweet and creamy. Serenity (Rs 850) is a blend of arrack with Sri Lankan red rum, topped up with passion fruit juice and soda.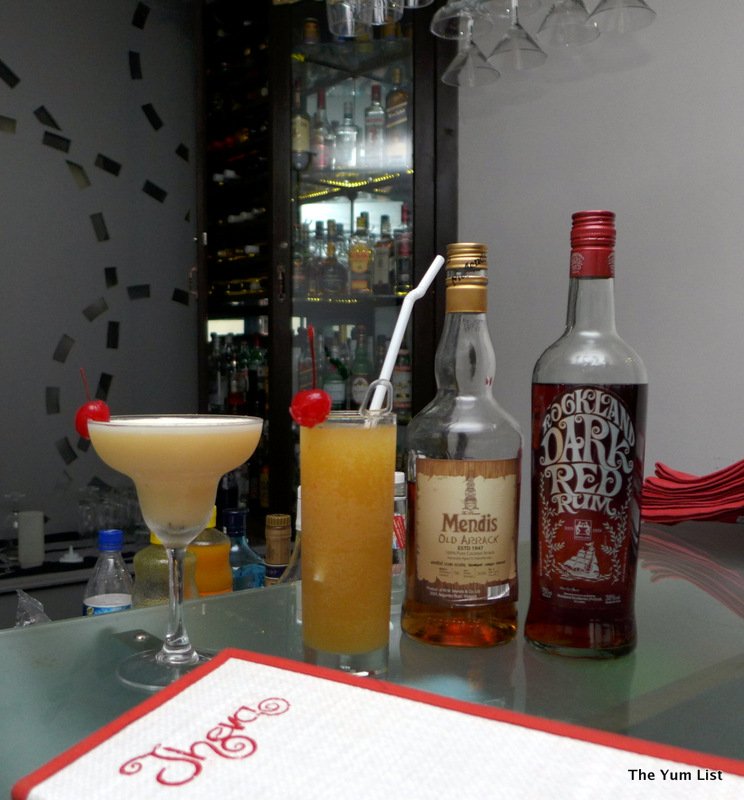 The delicately presented starters are attractive to the eye, and both feature a fresh salad alive with micro-greens.  Purple skinned Grilled Eggplant (Rs 900) sits atop tomato rounds and is garnished with a sliver of feta. I like the mustardy dressing, which gives a welcome boost of taste to the dish.
Roast Beet Salad (RS 800) is prettily constructed, with slender circles of sweet beetroot resting on the herbed salad. The plate is further adorned with orange slithers that add a hint of contrasting zest.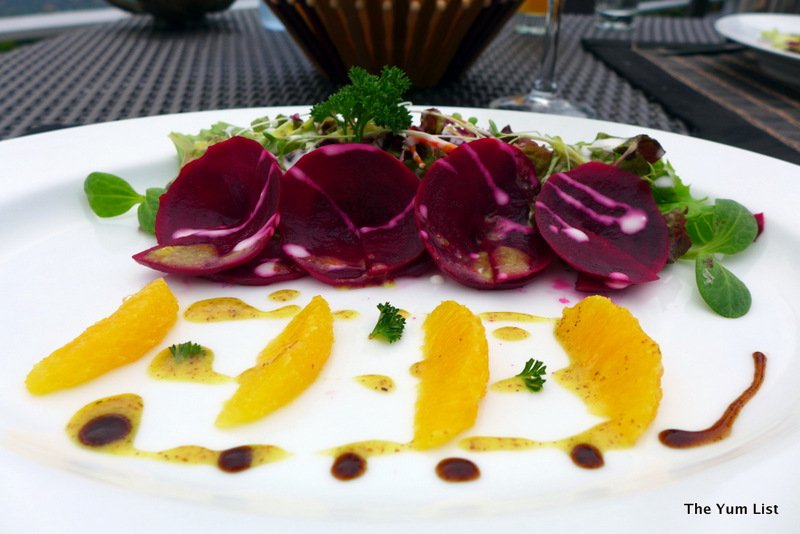 An interesting sounding traditional dish from the lunch menu caught my eye earlier. As it arrives it's clear the main portions are somewhat heftier than the starters. Again we are charmed by the pretty presentation; roasted cashew nuts tumble out a banana leaf cone. Fish Ambulthiyal (Rs 1200) is seer fish marinated in ginger served in a dry curry sauce, with papadum and grated coconut on the side. Seer fish is new to us and it proves to be a dense meaty fish with a strong taste. The cashew nuts deliciously are imbued with fried curry leaves and a little caramelised onion.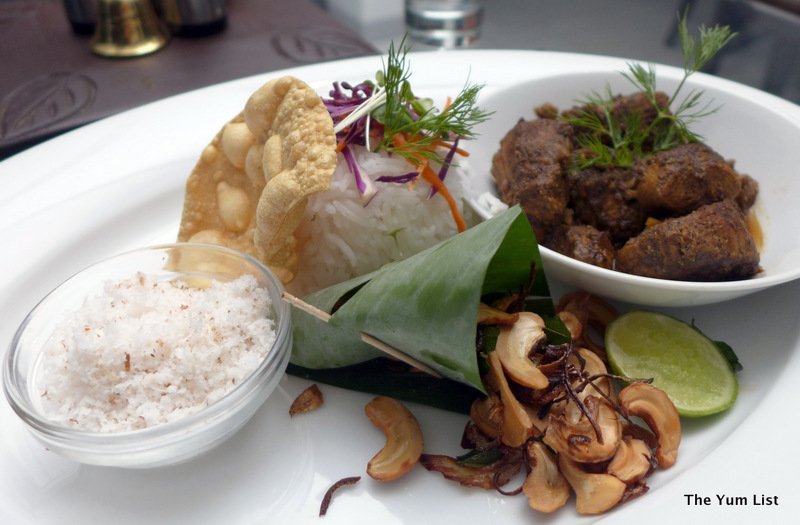 For the meat eater, our server suggests that Ingurupiyal Infused Kandyan Beef Fillet (Rs 2600) is a popular dish. Ingurupiyal is a particular type of dried ginger, which adds a subtle taste to the beef.  I love the sweet caramelized onions that scoop up well with the creamy garlicky mash. This is certainly a filling dish.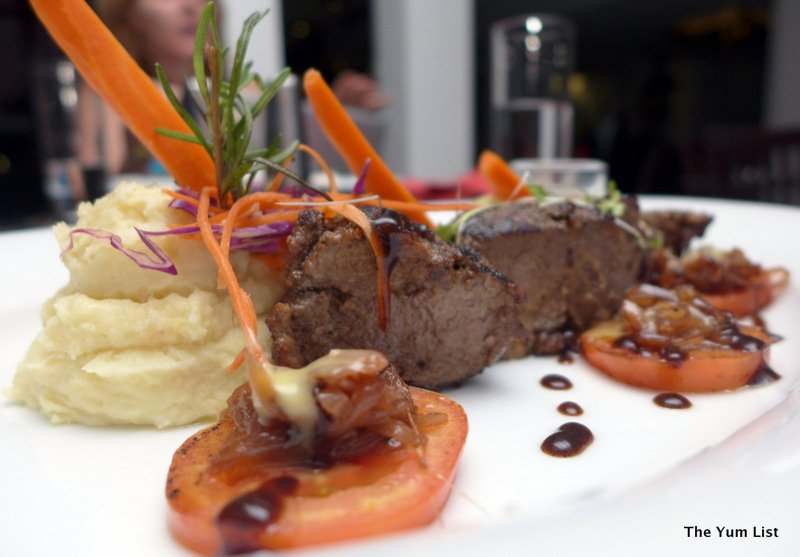 Theva Wattalapan Pot (Rs 900) is a typical Sri Lankan dessert, an egg custard mixed with jiggery and coconut. This thick, set egg curd has flavours of cardamom and is attractively adorned with cashews and enhanced by a delicate fruit salad.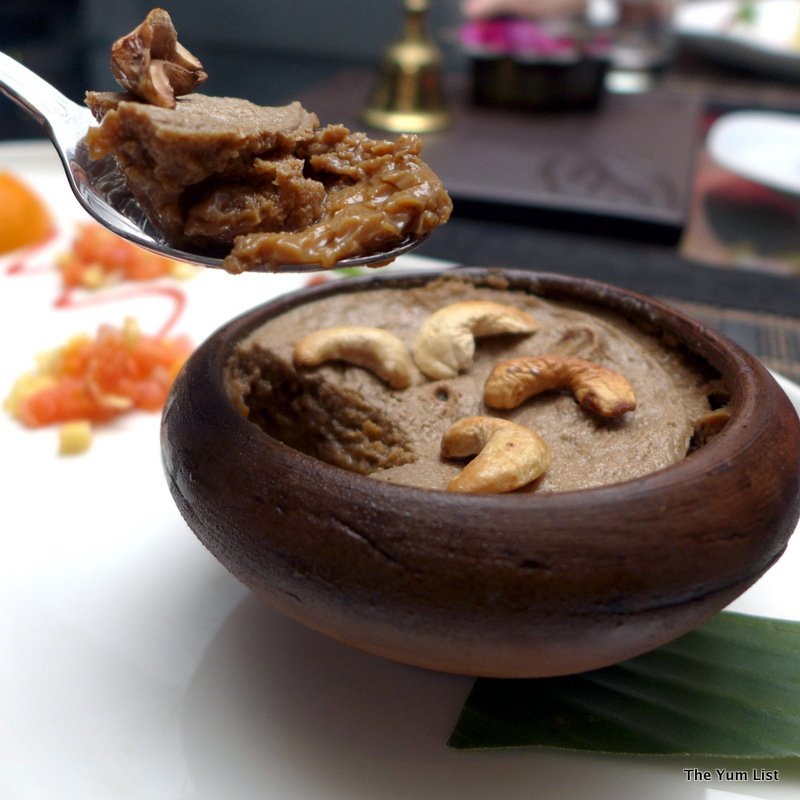 A more European style offering arrives in the shape of Passionfruit Cheesecake with Blueberry Coulis (Rs 900). Moussy in texture with a little crunch from the fresh passion fruit, this is surely a serving for those who have a sweet tooth.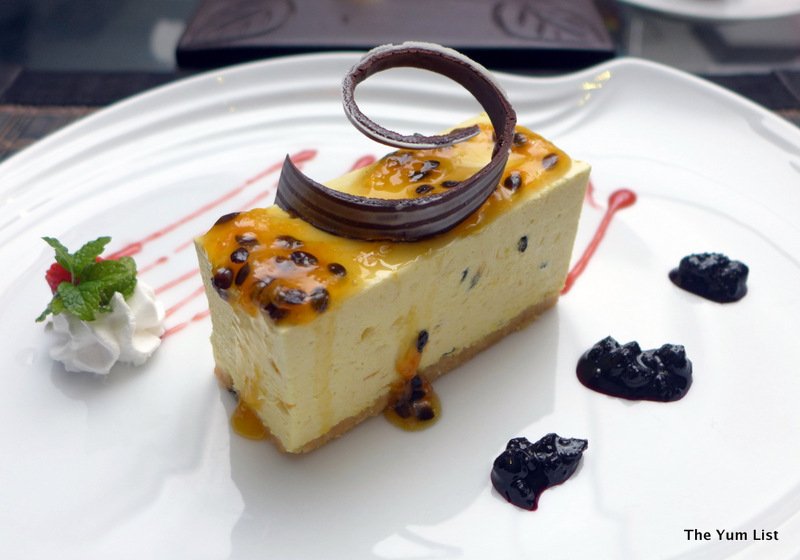 Reasons to visit: panoramic views of Kandy and the hills beyond; pretty food presentation.
Theva Cuisine
Theva Residency
11/B5/10-1, 6th Lane
Off Upper Tank Road,
Off Circular Road 2
Hantana, Kandy, Sri Lanka
+94 (81) 7388296-99
+94 (81) 7388280
[email protected]
www.theva.lk/ – dining