Words: Kirsten Durward   Photos: The Yum List
Sri Lanka is a land full of nature and Ruhuna National Park is a microcosm of the wildlife that can be seen in this fascinating land. Familiarly known as Yala, this is the oldest and second largest of Sri Lanka's nature reserves, from thorn forest, through grasslands, wetlands and sandy beaches. The rich diversity of animal life is unparalleled in Sri Lanka as the park boasts 44 different resident mammal species and one of the highest leopard population densities in the world.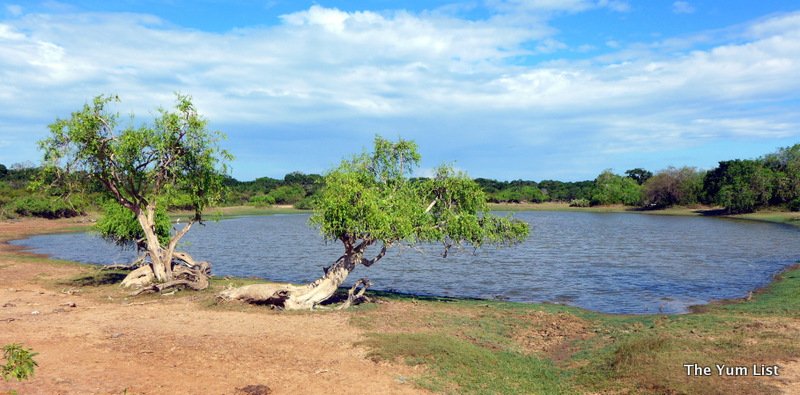 Being treated to a safari today by Chena Huts by Uga Escapes and the African part of me rises up in memory at the mention of the word. Safari in Swaheli, literally means journey but in the ever changing world of word meanings, it has come in time to represent a day or more of animal viewing in the wilderness. Hearing the word in Sri Lanka causes pause to reflect on the increasing cosmopolitan nature of life in the international sector. I've been on many African safaris but this is my first experience of one in Sri Lanka.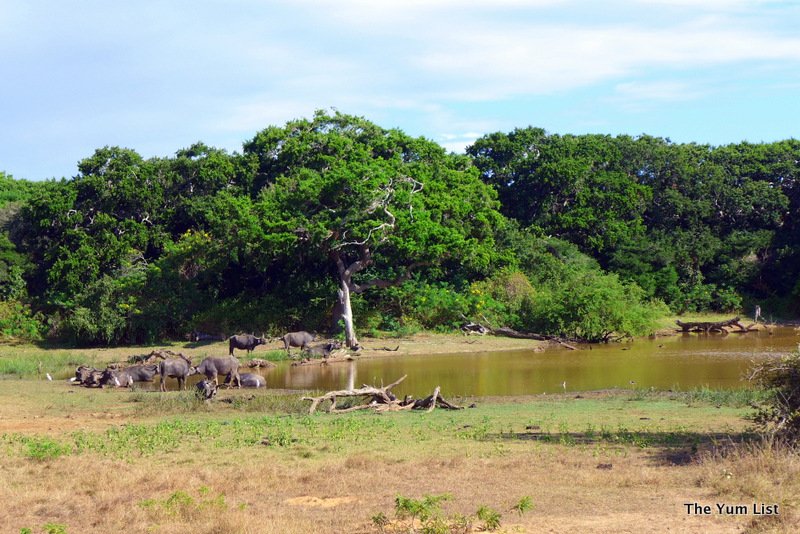 We're escorted on our game drive by Chena Hut's head ranger, the affable and knowledgeable Steuart Reolofsz. Of course everyone wants to see a leopard, but as I casually remark, it's just wonderful to be in nature, anything we see from animal life is a bonus. Our comfortable safari vehicle, we learn, belongs to the driver Ajit. It is a wonderful high platform from which to view the park, and when the dust allows we love having the front cover collapsed to enjoy the cooling evening breeze.
Steuart has been coming to this game park regularly since he was a small child and I would venture that few people know it better. We enjoy viewing of a solitary male elephant before finding a small herd frolicking in the mud towards the end of the drive. Two tiny calves, one only week's old cavort with each other joyfully. Elephants are my favourite animals, and, although my heart belongs to Africa, I do enjoy to see these Asian cousins at play.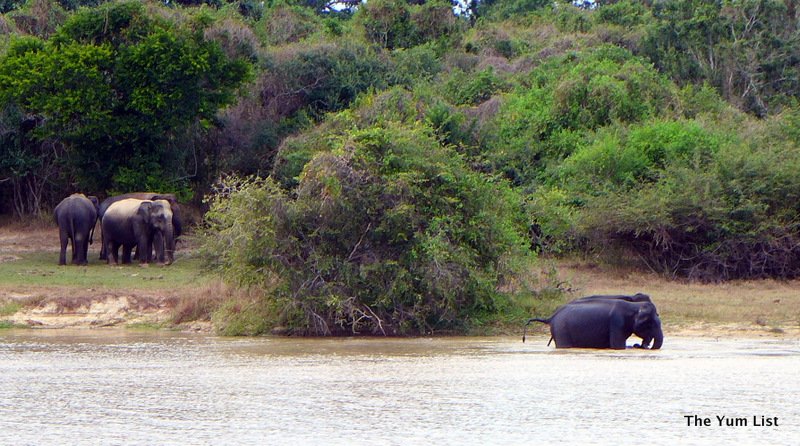 Bird life abounds in Sri Lanka and Steuart seems to know every one personally. We are honoured by sightings of Fish Eagle, Crested Serpent Eagle, a range of Bee-eaters, Jungle Fowl, Grey Hornbill, Lapwing, Barred Button Quail, and plenty of Cattle Egrets on the resident buffalo. The Serpent Eagle is impressive in silhouette and the flight of the Hornbills very graceful.
A few crocodiles, appearing small by African standards, but still we are glad to keep these snap jawed reptiles in the distance. One is lying with his mouth open, not catching flies, but regulating his temperature as our expert guide explains. He also tells a blood-curdling story about a near miss with a crocodile while taking a bath in the river,'But I just chased it off down the river and then had my bath.' I shall be keeping out of Sri Lankan rivers, just in case.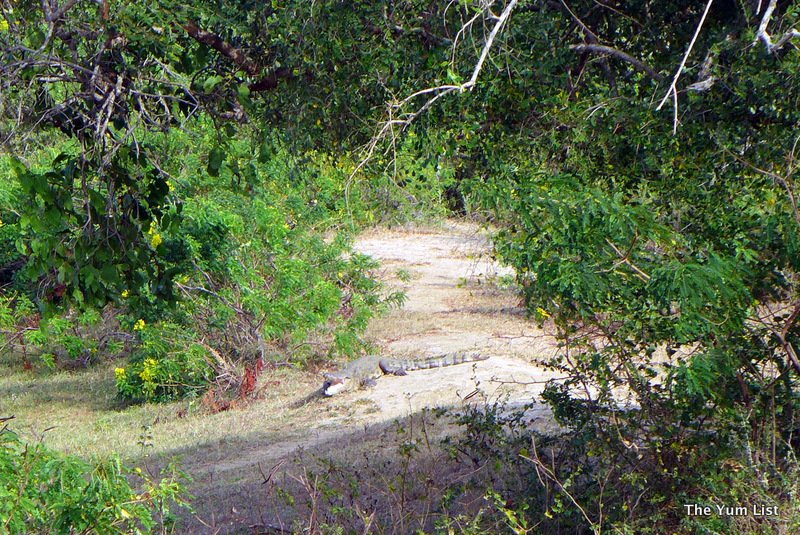 We didn't manage to spot leopard or bear on our short drive, though we did find some tracks. The lesser mammals of Yala though were out to play and wonderful to see in their natural environment: mongoose, spotted deer and plenty of wild buffalo. Again, smaller than their African counterparts, the wild buffalo nevertheless sport impressive curled horns, and we learn that the domestic ones, farmed for milk production, have their horns reduced by genetic selection.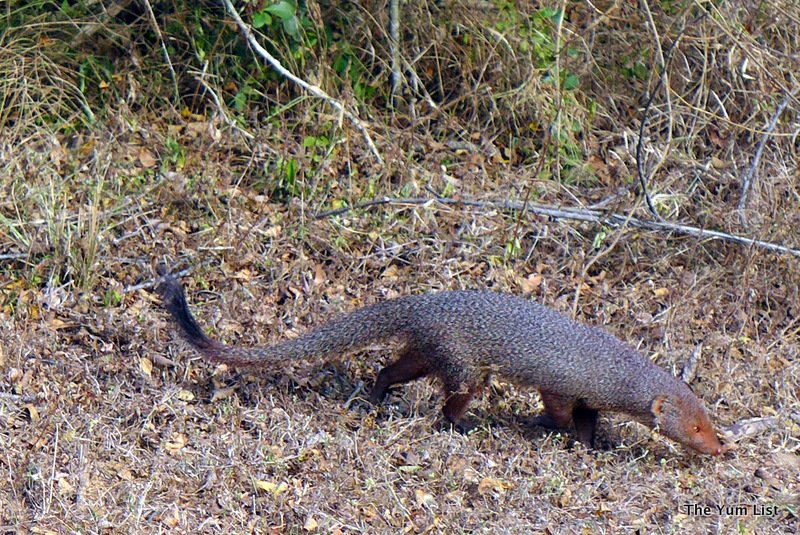 Animal life aside, Yala is a beautiful natural reserve. I am always grateful for national parks because they guarantee the preservation of nature, now and for the future. Here is land that cannot be destroyed by greed and commercialism, here is opportunity for the animals to be protected and live out their lives as nature intended. Also Yala has amazing rock formations, even one in the shape of the 'Phantom's Head'. My favourite view point was easily over the lotus and lily ponds to 'Elephant Rock' in the distance. We are happy to hear that there are plans to limit the number of vehicles in the park in the future so it cannot become overrun.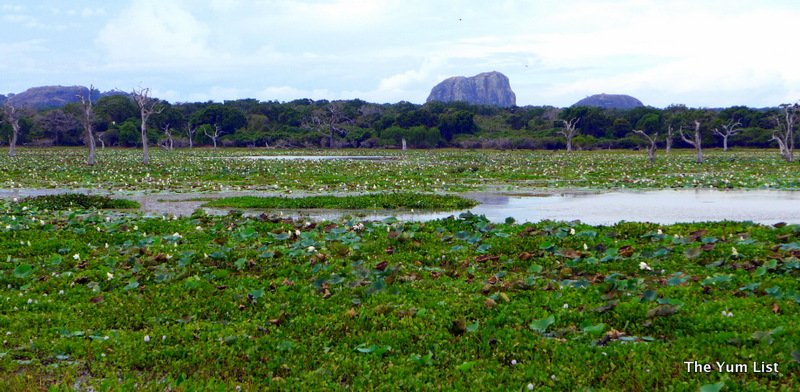 Dusty and thirsty, we return to Chena Huts in the fading light. Named for the local village huts of the area, Chena is well off the beaten track, having a private road leading from the Tissamaharama-Yala highway. The parent company, Uga Escapes, is committed to ecological awareness, and indeed the whole property is designed to blend into the thorny bush, using natural materials and traditional building methods. Uga is also well known for organically produced and locally sourced ingredients, so we are looking forward to our evening meal at this tranquil and exclusive spot.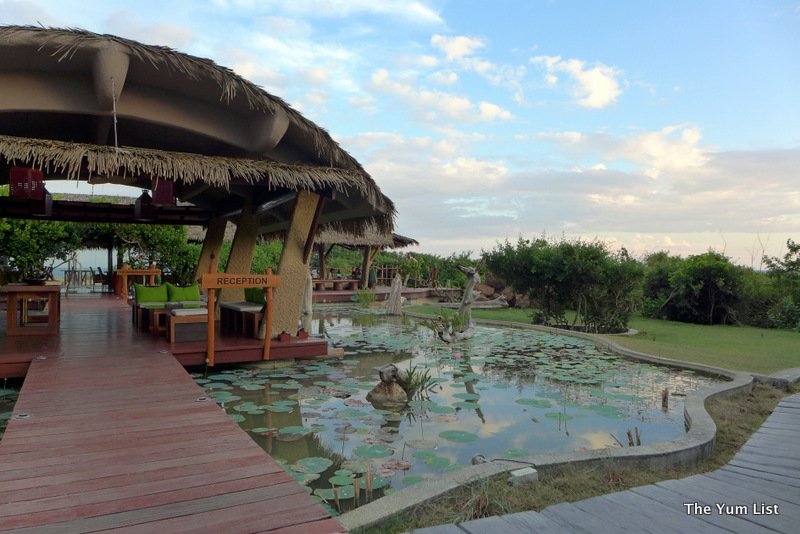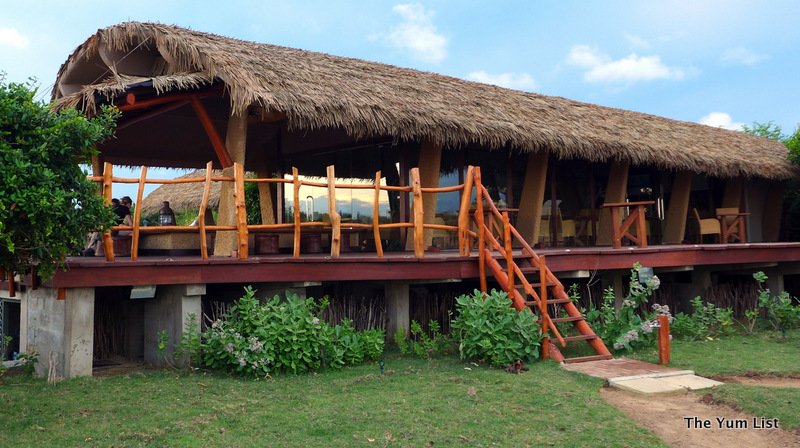 Arriving back as the sun is just beginning to dip, we head to the beach for a pre-dinner drink. We begin with the signature Chena Huts cocktail Wild Sunset, a blend of vodka, orange juice, grenadine, ginger, sugar and soda. This concoction is a great colour for sunset photography. However, the next selection of Arrack Paradise with its passion fruit and lime flavours, suits our sour primed palates more. This is surely a wonderful place for romance as the light turns golden and catches on the ocean behind. We could not ask for a more breathtaking location on which to start our evening. I feel immeasurably peaceful here with everlasting space both on land and in the enormous skies.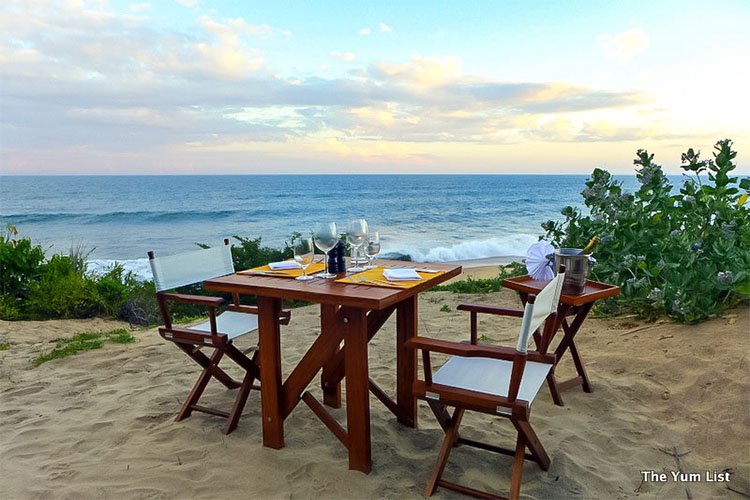 After the dash to capture sunset in the fading light, our host, the delightful Ricaaz, insists that we relax for a short while in the spa. Never being ones to turn down a bit of pampering, Monica and I readily agree and are whisked off in one of the guest buggies to the secluded location beside the pool.  A welcome relief after the day's travels, we rinse off, have all the tension stroked out of our legs and feet, emerging with renewed vitality and appetite for dinner.
How delightful to enjoy a fresh salad on the edge of the sea. But not a sniff of a lettuce leaf in either of these healthy concoctions. Much of this produce comes from the Uga Escapes organic farm, and you can really taste the flavour. One is thinly sliced vegetables enhanced with olives and the gentle crunch of nuts. The other features plentiful dark leafy greens, a scattering of goats' cheese, and good use of the flavourful local herb centella.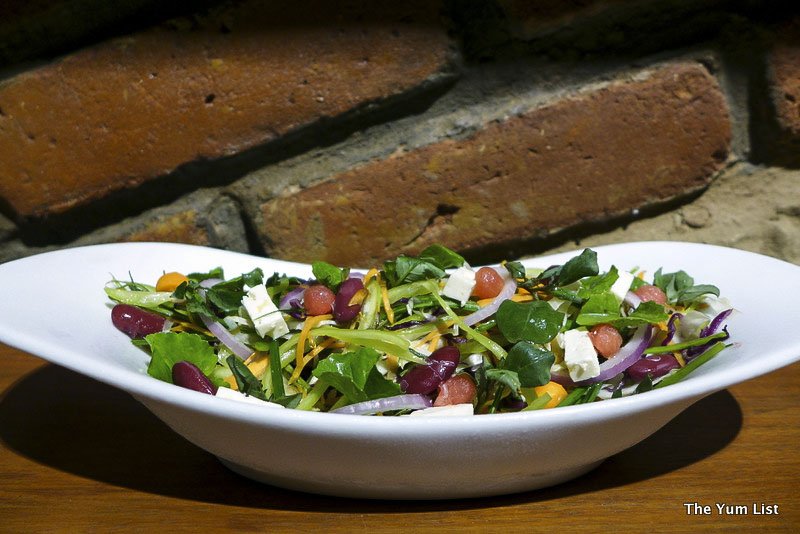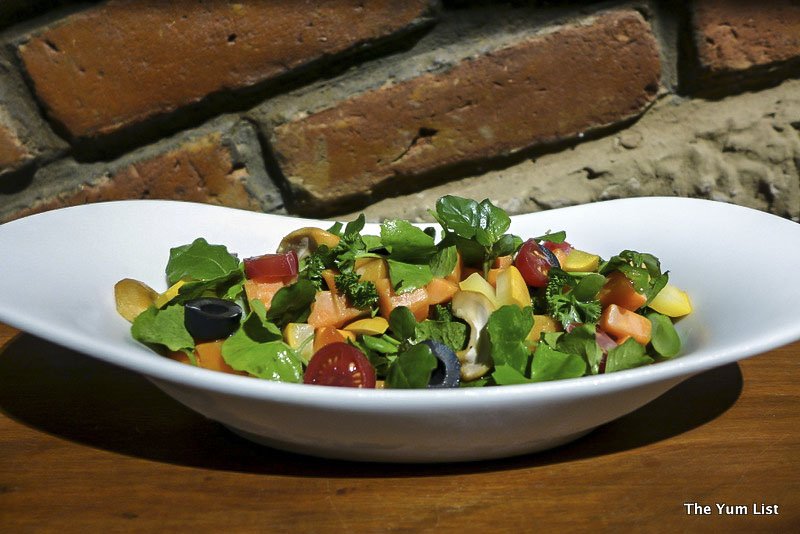 Away from city light pollution, we have front row seats to a sparkling night sky. I've spotted my favourite constellation, Orion. But the stars of the dinner menu are surely the groaning barbecue platters that are set in front of them. We are sampling a seafood, and a grilled meat platter, but Basses diners may order a mix as they please.
Seafood has to surely be the choice of preference at this oceanside setting. Chef Holgar Joost explains that the daily catch of nighttime fishermen is viewed on the beach at 6 am and only after that the menu is confirmed. The giant prawn, tuna steak and lobster tail that we are feasting on, are all the freshest of the fresh, grilled to perfection, with the help of a little basting. My favourite though are the coils of soft squid. Calamari is so often overdone but this one is delectably tender.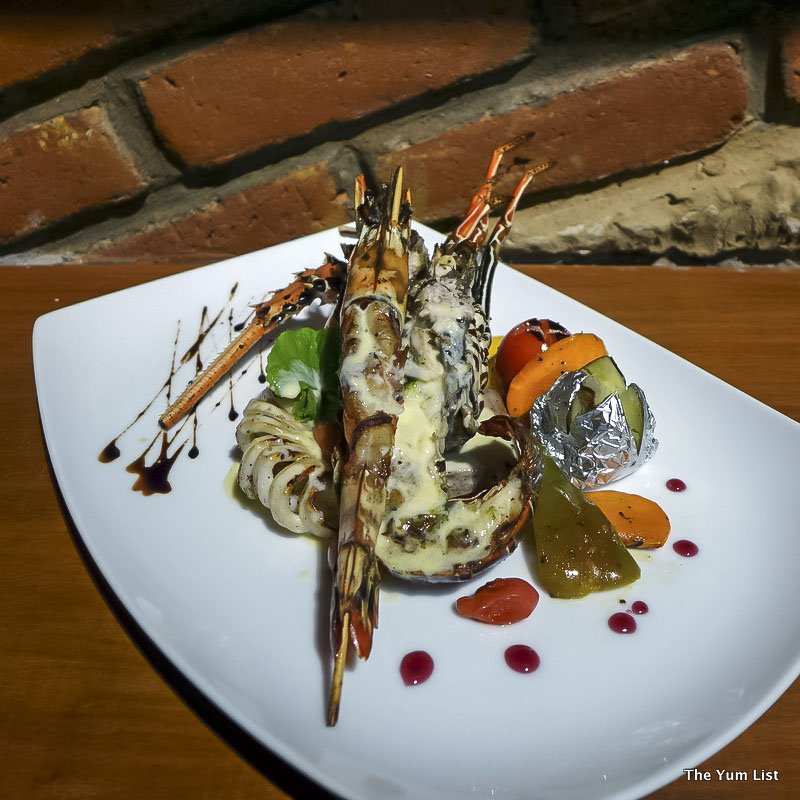 The meaty platter is likewise beautifully cooked with herbed aromas. Soft Australian lamb chop, tender beef, and grilled chicken all fall away beautifully at the touch of the knife. Barbecue can often be dry but our mouths testify that this selection is juicy, soft and bursting with flavour. Accompanied by plentiful crunch vegetables from the Uga organic farm and a soft fluffy baked potato, appetites are certainly satisfied.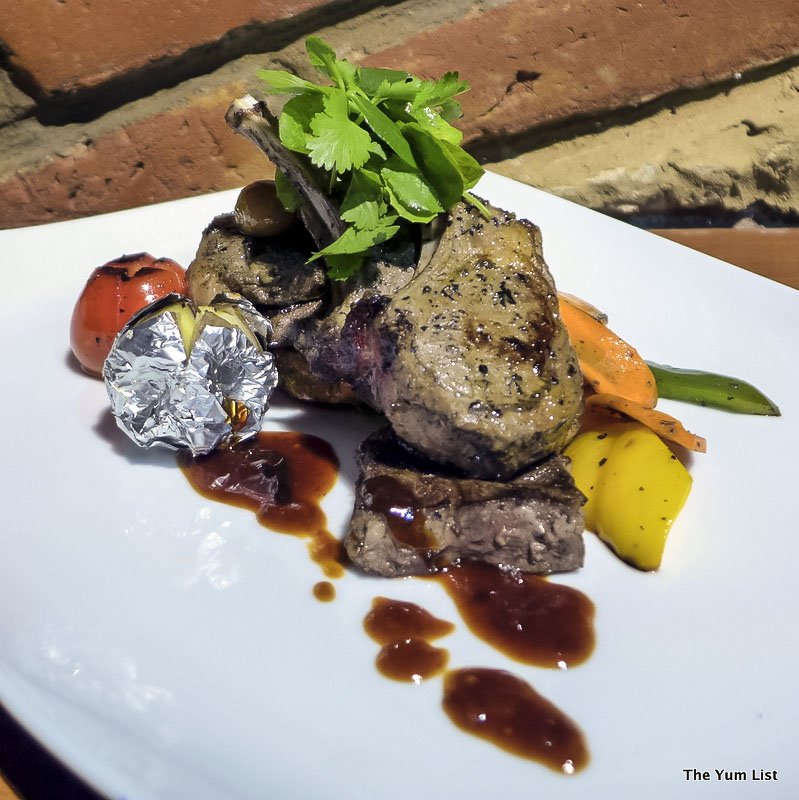 Our meal ends with a plentiful serving of flambéed tropical fruits and vanilla ice cream.  The night is done, and so are we. What an amazing day, intertwined with nature and ending below the stars. Chena Huts by Uga Escapes is surely a special experience, and one I would hope to return to.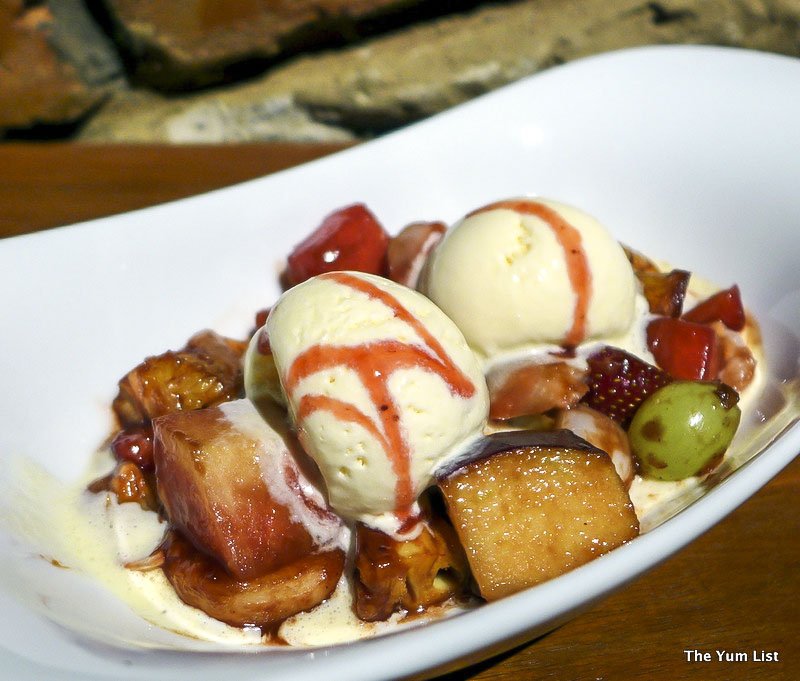 Reasons to visit: sublime location; game viewing; impeccable service; organic and fresh produce and; plentiful platings of delicious fresh food.
Chena Huts by Uga Escapes
Palatupana
Yala Sri Lanka
+94 47 2267100
[email protected]
www.ugaescapes.com/chenahuts/