Words: Monica Larrieu   Photos: Monica Tindall
Situated in Old Bangsar's Lorong Kurau, Barat is an alluring option for vegetarian elegant dining in Kuala Lumpur, which, for some time, was a significant gap in the industry. Inspired by Mediterranean tapas and mezze, vegetarians and non-vegetarians alike will relish the diverse and innovative flavors served up at this relatively new joint.
Upon stepping into Barat, one can feel they are in an urbanely renovated Georgetown row house or a Brooklyn brownstone, as it is rather narrow but has a partial second floor removed to create a vast ceiling. The entire back wall was replaced with enormous windows, letting in daylight and letting us peer into the outside greenery in the back. The honey stained floor, exposed brick, white walls, and green contrasts lend a light and airy feel. Barat offers a cozy ambiance, with grounding aesthetic elements, minimalist touches and an imposing black and white mural with random pops of color. Owners Meeta and Prabodh Sheth, also proprietors of next door's more casual Ganga, conceptualized and implemented their vision of revamping vegetarian fare in a sleeker setting.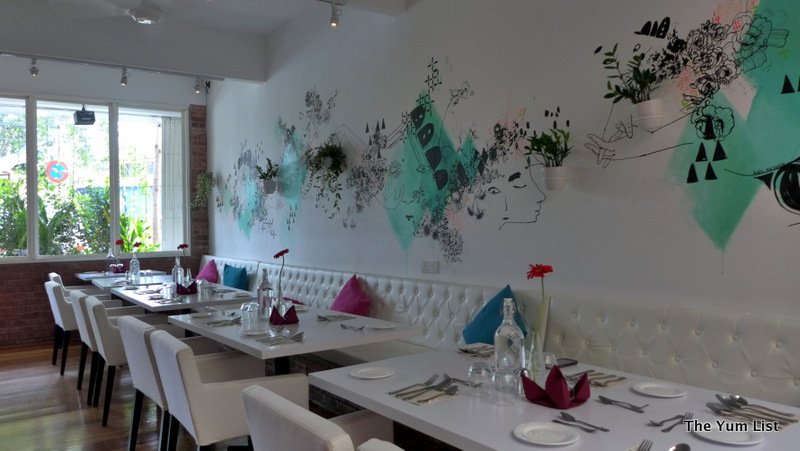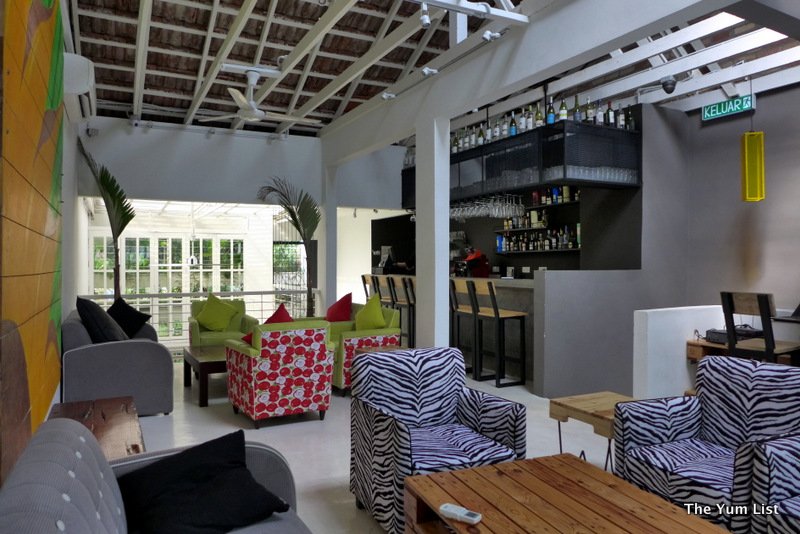 Barat's Mediterranean Degustation Menu (RM 125), consisting of eleven intense courses (in reality 15 distinct dishes), was a great opportunity to their varied offerings. And we were not disappointed. As a non-vegetarian, I enjoyed the spectrum of flavors, the very creative combinations, and the unique departures from the ordinary.
Before starting the degustation decathlon plus, we scarfed down a refreshing Pranic Juice made of mint, pepper, cumin seeds, lemon, lime, as well as spices (RM7.90). This is a healing and detoxifying blend, mixed next door at Ganga, and that prepared me for the onslaught of flavors.   
Soup
First to come out of the kitchen was the Roasted Pumpkin Soup, infused with ginger, and the Cauliflower Soup with Blue Cheese and Truffle Oil. The first was a bisque-like cream with an explicit spicy kick in its aftertaste. The latter was a hint more delicate in terms of spiciness, however slightly pungent from the blue cheese.  A chilled Watermelon Gazpacho with Japanese Cucumber and Flowers was served as a palate cleanser in between one of the sets, neutralizing the intense flavors and readying the taste buds for the next course.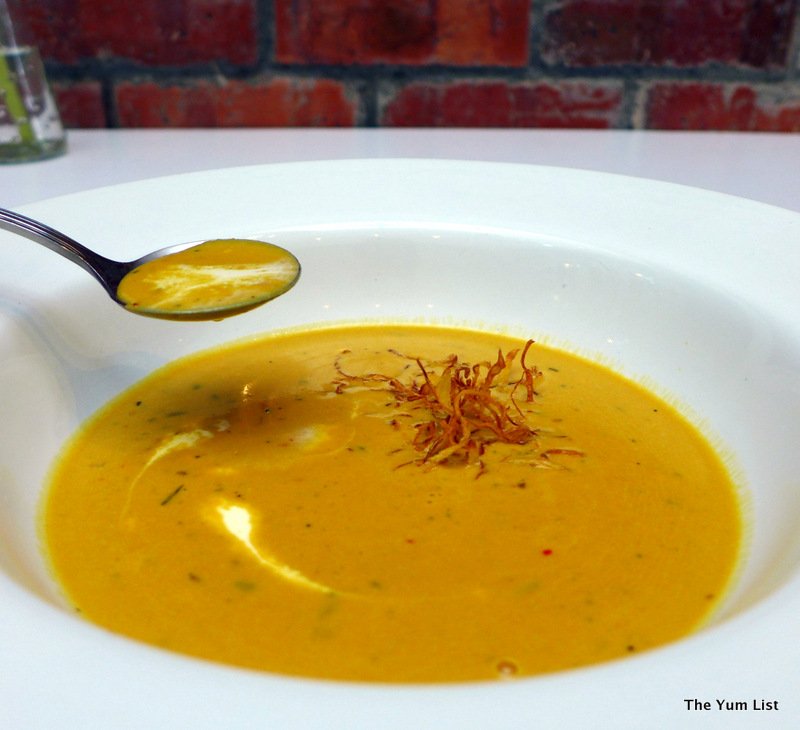 Salad
To follow, a Baby Arugula, Rocket, and Mandarin Orange Salad was served, accompanied by chards, desiccated blueberries, dragon fruit squares, and topped with a roasted sesame dressing. Originally conceived to be prepared with mandarin oranges, which were not available, this was replaced by tempura fried blood orange slices. Following suit, a Red Endive Salad was presented to us, filled with rosewater-soaked berries.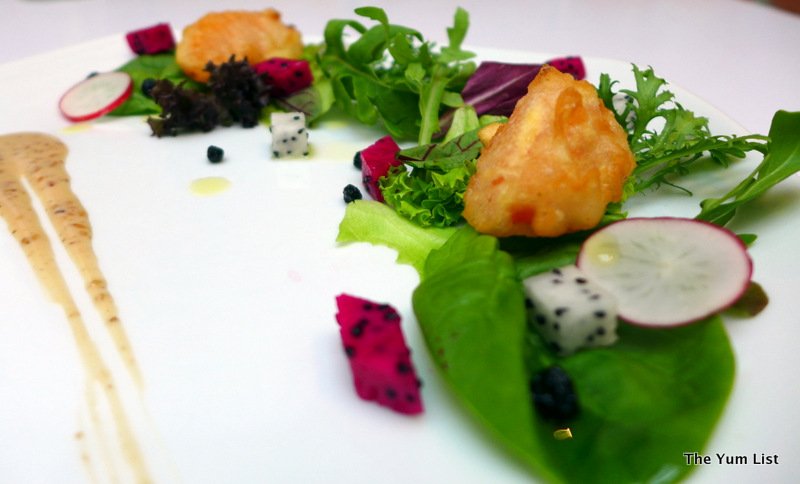 Tapas
The Grilled Sweet Peppers stuffed with cream cheese were delicate pops of heaven, topped with herbs, olive oil and thin slivers of toasted garlic. A succulent Roasted Romano was also served, replete with prunes and herbed oil. Next up were Golden Fried Cheese croquettes made from a blend of goat, white cheddar and cream cheeses, capped with a pineapple and apricot spiced jam. A trio of different pestos, the Pesto Fiesto, was presented to us, showcasing a Basil Pesto served with aubergine tempura and pine nuts; a Sundried Tomato Almond Pesto served with ricotta cheese and Japanese cucumber; and, last but not least, a Capsicum Pesto that blends red bell peppers and walnuts, dolloped on a crispy wafer.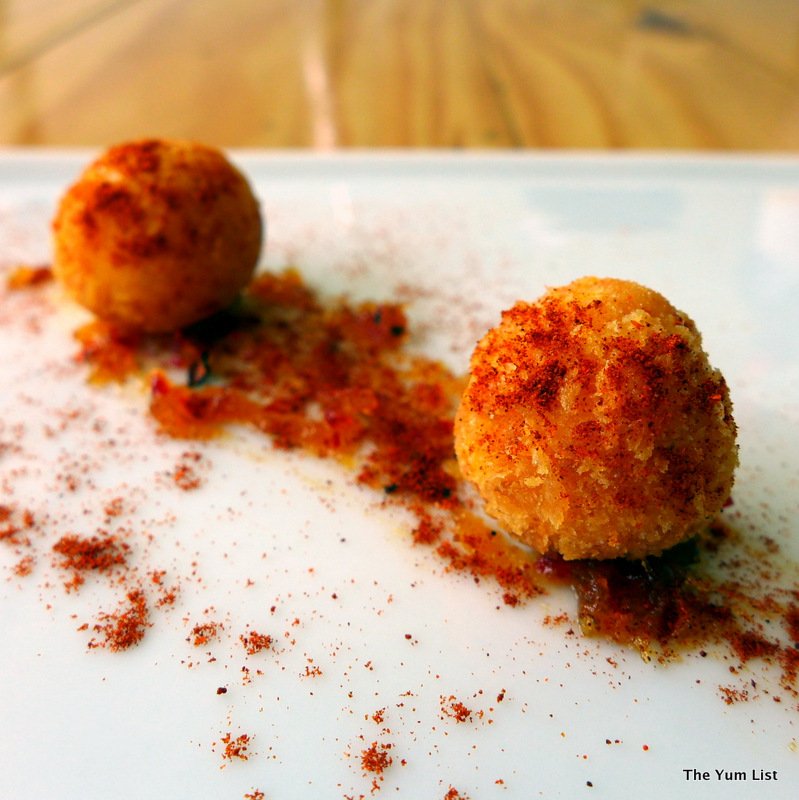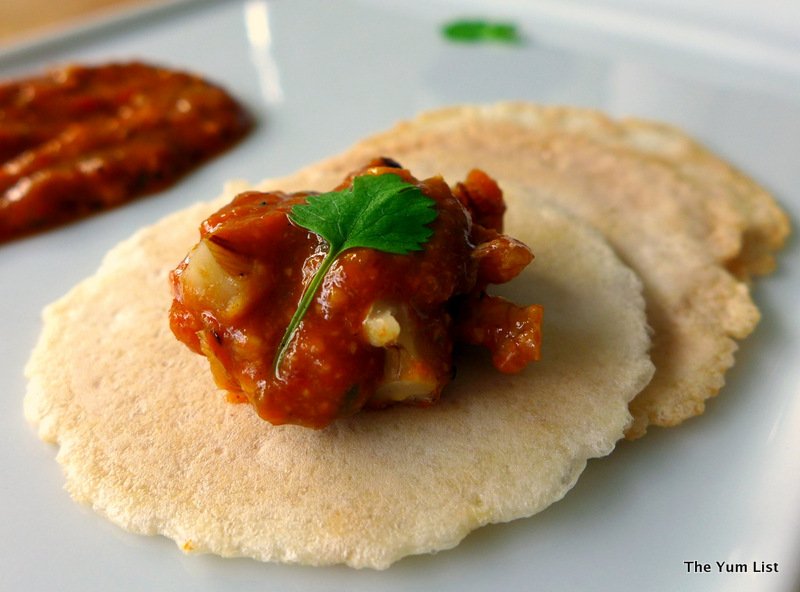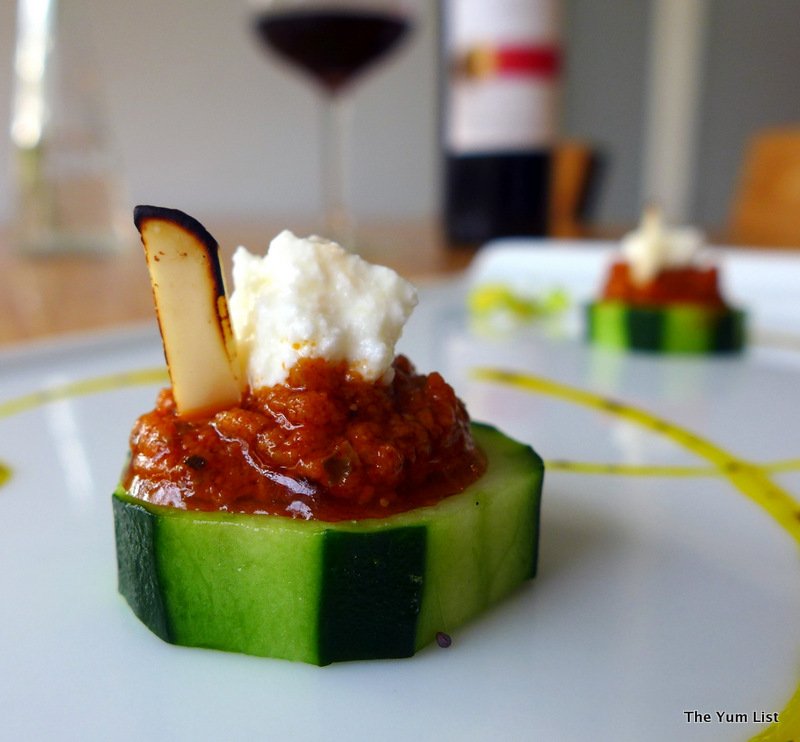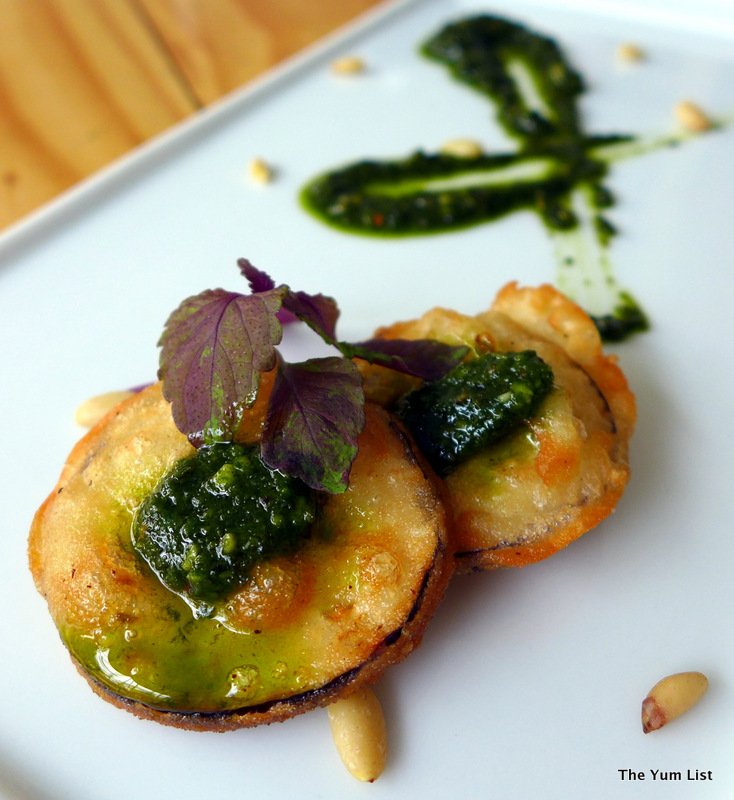 The Patatas Bravas, roughly translated to mean angry potatoes in Spanish, were a take on the traditional tapa. And these potatoes were certainly angry, judging by the kick. These pan-fried potato squares, were accompanied by roasted onions, fire-toasted rosemary sprigs, pureed tomato, and lots of chili powder.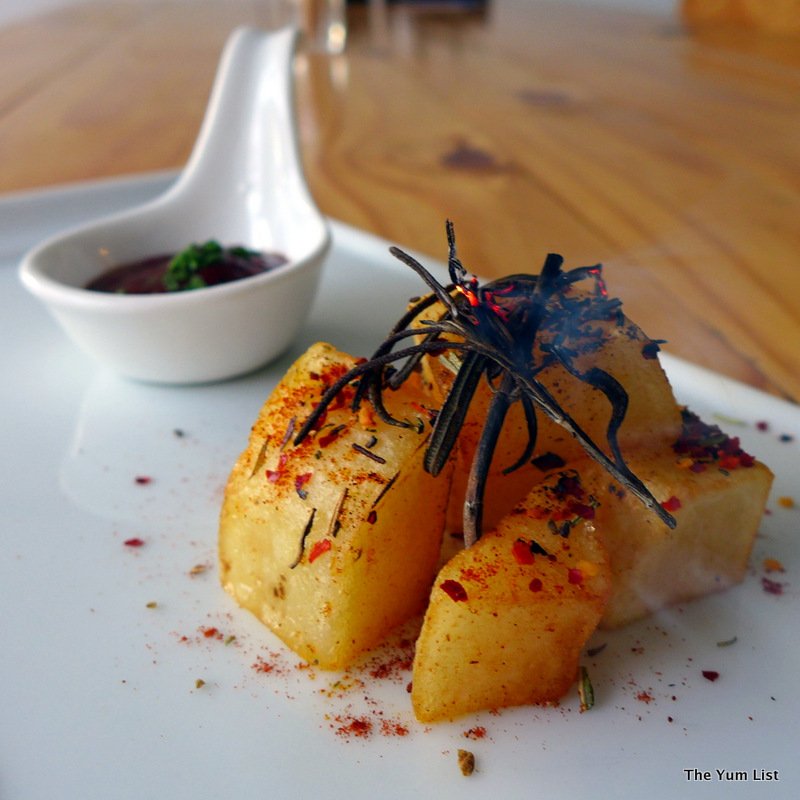 Mains
The main dishes served as part of the Degustation Menu were surprisingly generous and tasty. The Mushroom Zucchini Aglio Olio accompanied by grilled lemon was light and came served with fresh capellini pasta and topped with chili flakes. Whereas the Pistachio Carbonara, which had an eggless, velvety cream sauce – with a definite punch – was mixed into fresh fettuccini pasta made in-house, and topped with sundried tomatoes. The Curried Couscous was small yet significant enough to taste the mélange of flavors packed into such a small parcel. The couscous was cooked with cashews and fennel seeds, topped with sunflower seeds, served with grilled asparagus and baby carrots, and then drizzled with pomegranate dressing.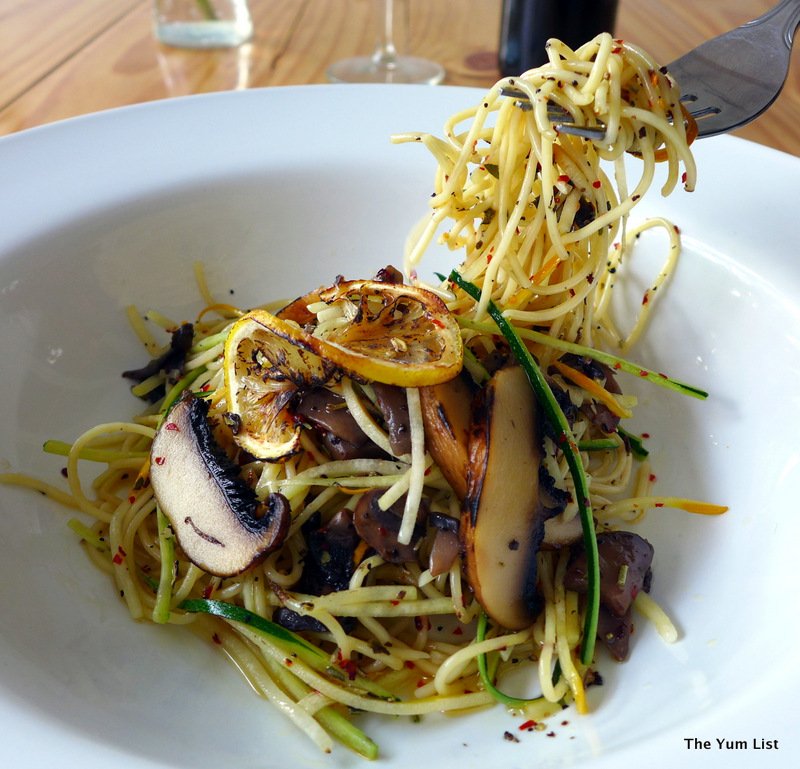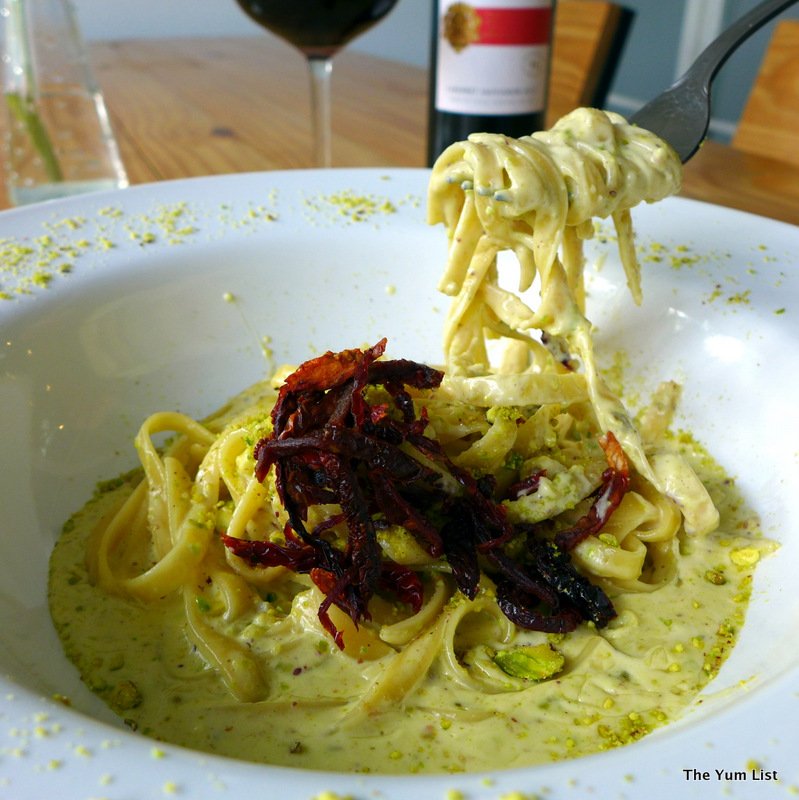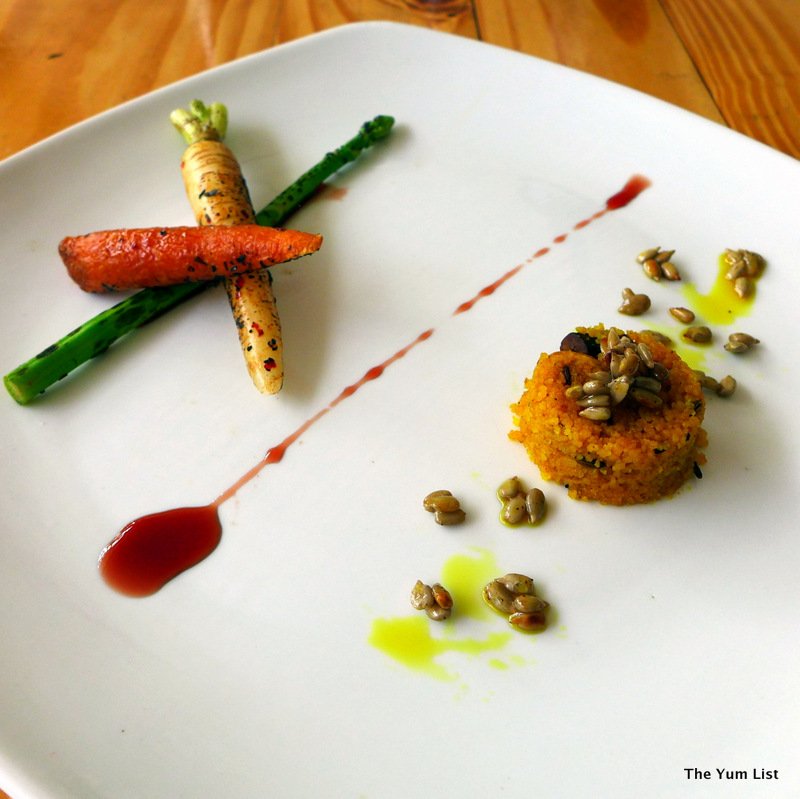 Desserts
The desserts were demure in size but certainly enough to distract the taste buds after such a line-up. Any bigger and there would not have been any room to accommodate those final bites. This finale included a trio sampling of homemade ice cream and sorbets, which included teaser dollops of salted caramel ice cream, sour sop sorbet, and triple chocolate ice cream. This was followed by a trio sampling of decadent cakes that included bite-sized morsels of Oreo cheesecake, red velvet cake, and mango cheesecake.
*Dessert photos below are of full-sized portions, not of the mini sampling trio that comes with the meal.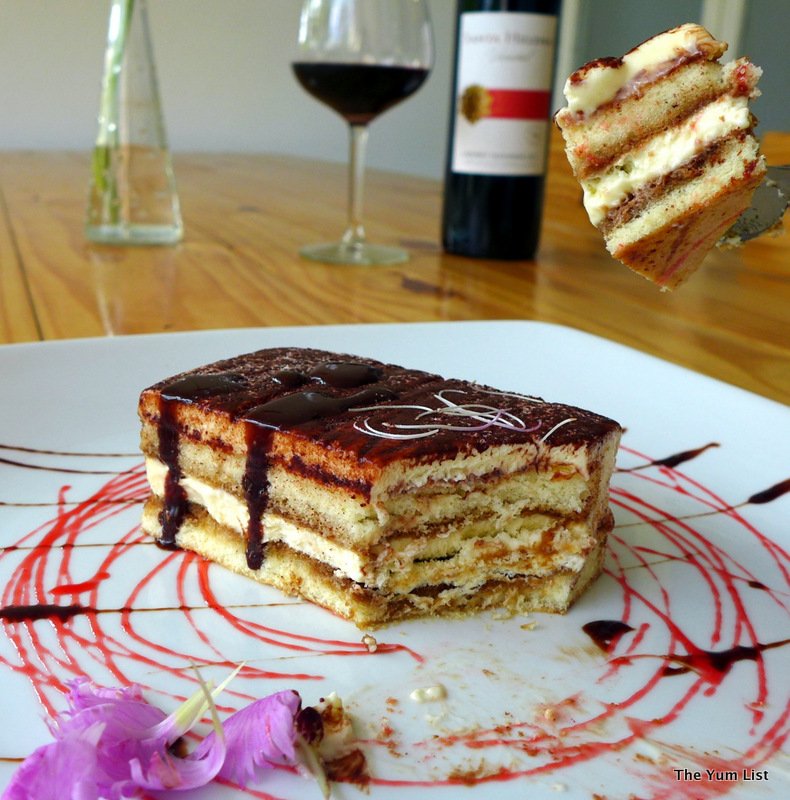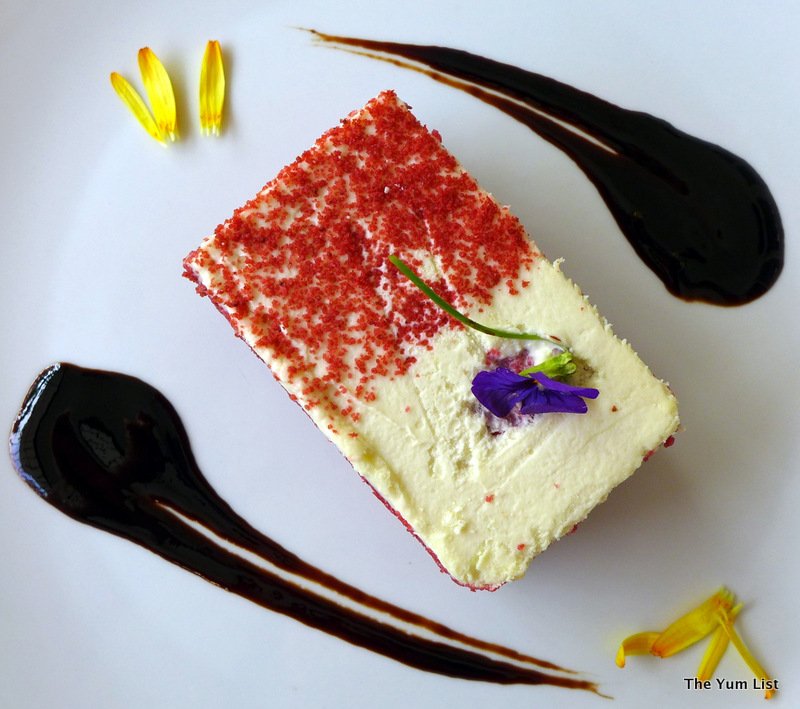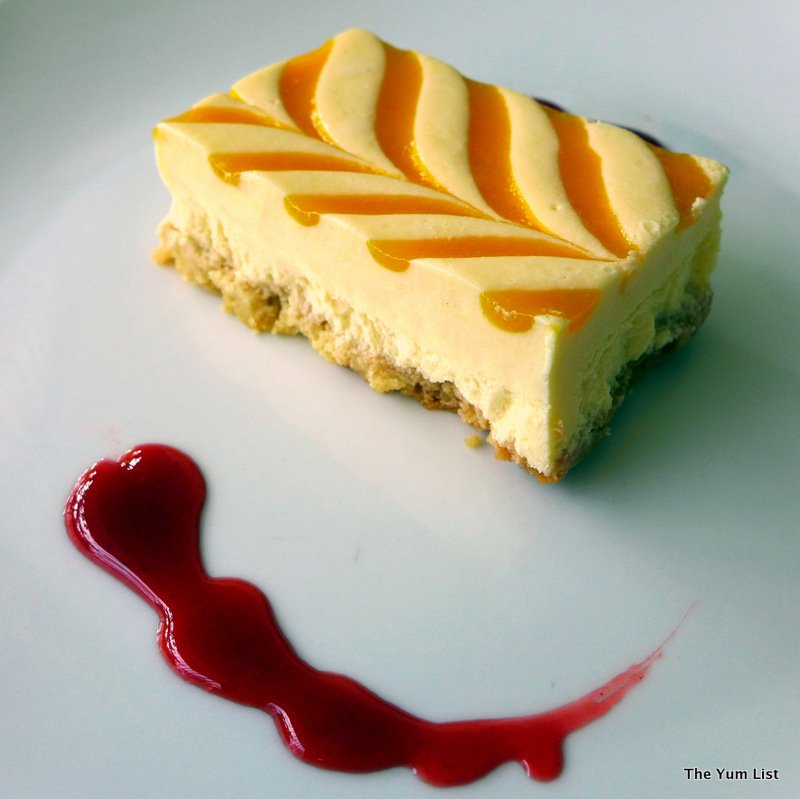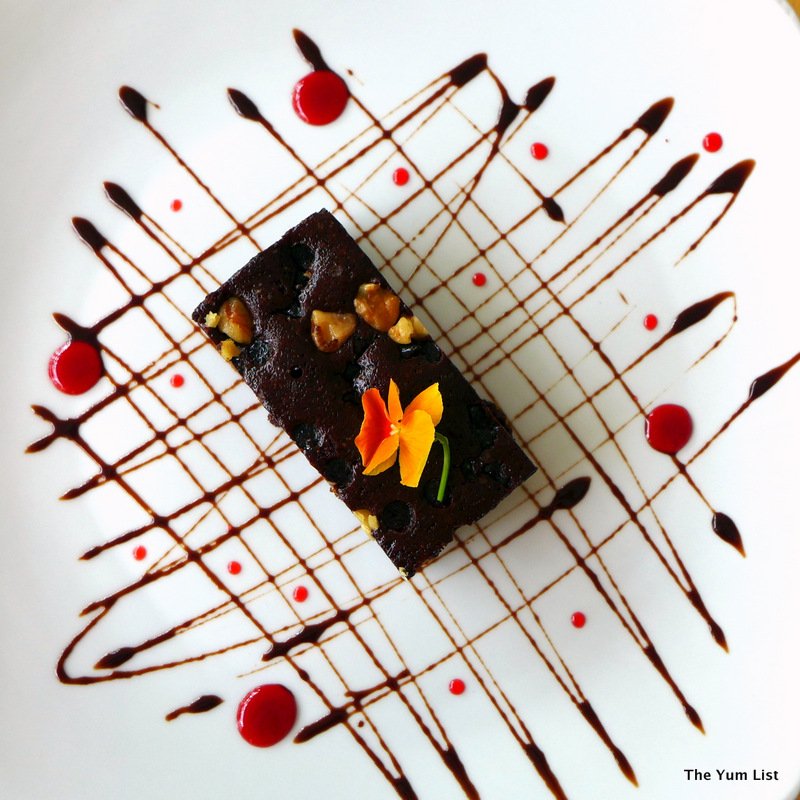 Wine
We were offered decently priced wines to accompany the Degustation Menu: Canapé Classic Chardonnay 2015 and Santa Helena Varietal Cabernet Sauvignon 2013 (Both RM 25 per glass; RM 100 per bottle). Both quite respectable wines, the chardonnay had a green-apple-crispiness to it, and the cabernet was slightly spicy with berry notes.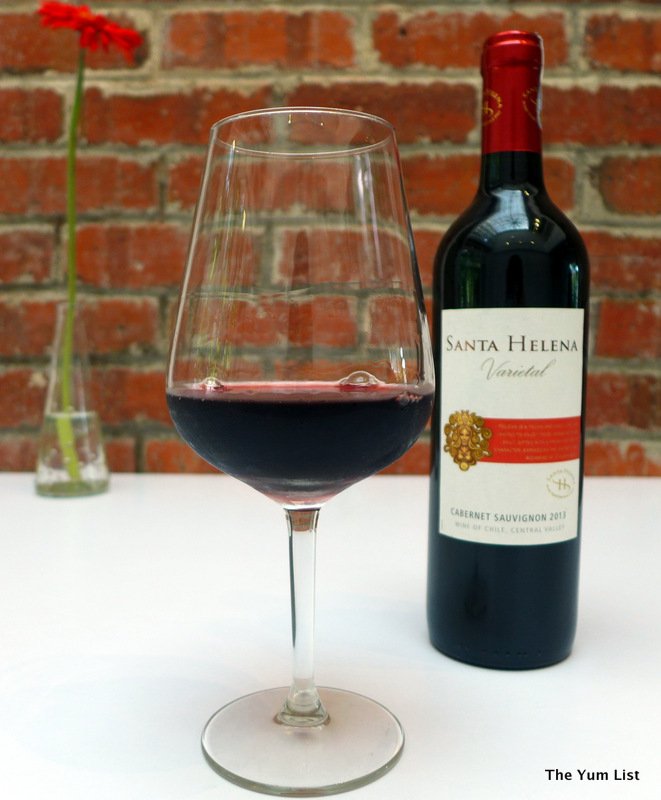 Reasons to visit:  The pasta dishes; the truly gorgeous yet cozy setting; authentic and upscale vegetarian dining; the dynamic menu and crafty chef; to try something entirely new or something familiar in a very different light.
Barat Vegetarian Restaurant
19, Lorong Kurau, Bangsar
Kuala Lumpur, Malaysia
+ 03-2284 2119 or 010-2882654.
Open for lunch and dinner.
Closed on Sundays.