Soft tunes elegantly struck on piano keys draw me into La VIE, French Restaurant, VIE Hotel Bangkok MGallery by Sofitel's creative French cuisine restaurant. Elegantly dressed wait staff see me to my table, and I can't help but feel swept up in the romance of the setting. Transparent silk curtains divide the restaurant into smaller, more intimate spaces. Unique lamps made of silkworm cocoons warmly illuminate tastefully dressed tables, and candles create movement in their gentle flicker.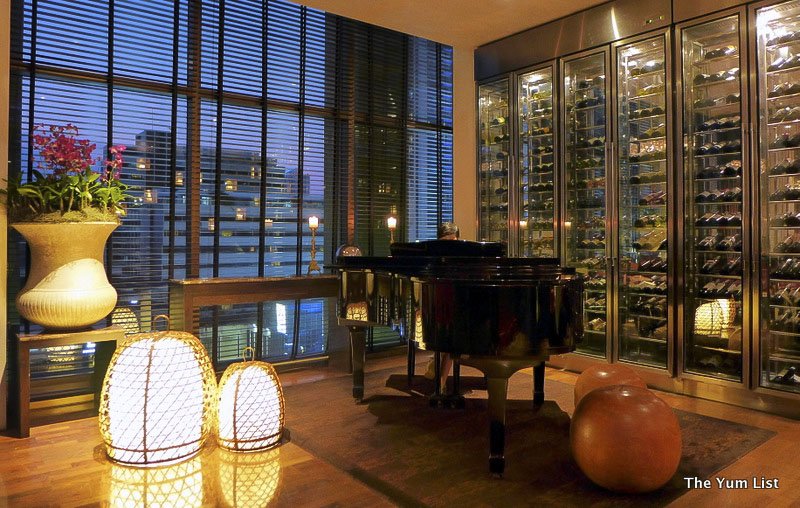 This modern French restaurant in Bangkok is a classy component of the city's happening food scene, and I'm delighted to visit just before the menu changes. I get the best of both worlds – sampling some of chef's staples, and also receiving a sneak peek of upcoming new additions.
A handful of wines are available by the glass, and some more sold by the half bottle. A range of budgets is catered to in the extensive wine list, with terroir from around the world represented. The Champagne section is worth a special mention with close to 20 labels in the line-up. As I've chosen mostly seafood from the menu, the Joh. Jos. Prum Graacher Himmelreich Riesling Spatlese 2007 from Germany (490 glass) seems a suitable choice. Wonderfully aromatic with a gentle fruitiness, it proves a friendly and versatile playmate throughout the meal.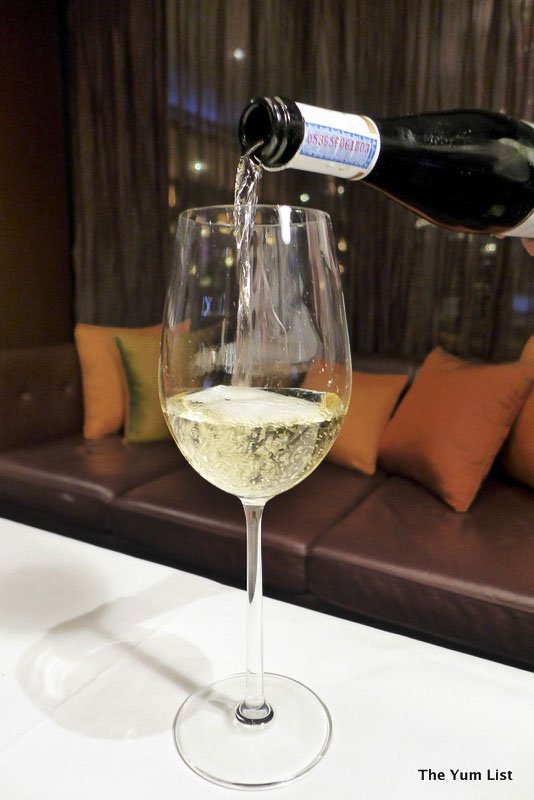 Starters
Hokkaido Scallop Carpaccio with Cold Cappellini Salad (Baht 550) is a pretty base of paper-thin scallop slices, a tangle of angel hair pasta and a toss of mixed leaves on top. A citrus dressing is both sweet and tart enhancing the freshness of the dish.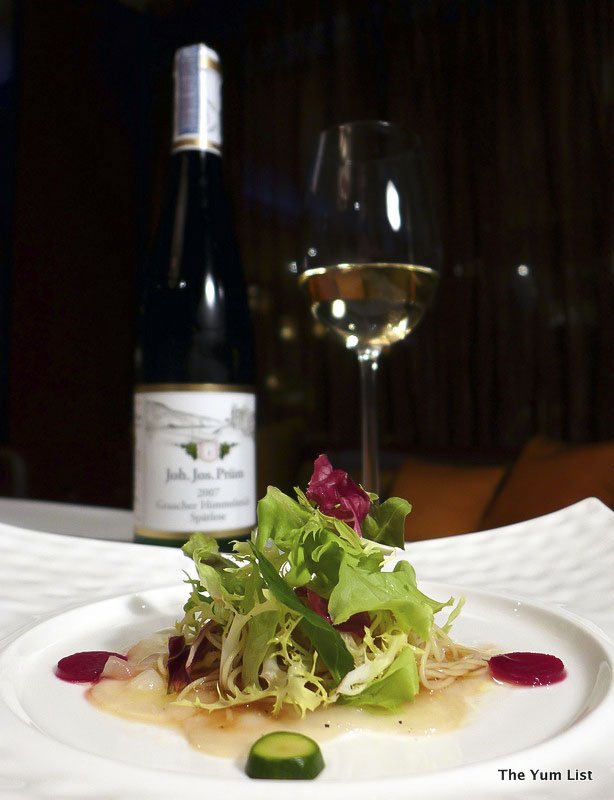 Duo of Asparagus is a new menu item plating both white and green versions of the spring vegetable. A graceful sherry and truffle vinaigrette dresses the plump juicy sprigs, and a wonderfully creamy spoon of truffle mascarpone sprinkled with shavings of summer truffle, lemon zest and herbs provides the finishing touch.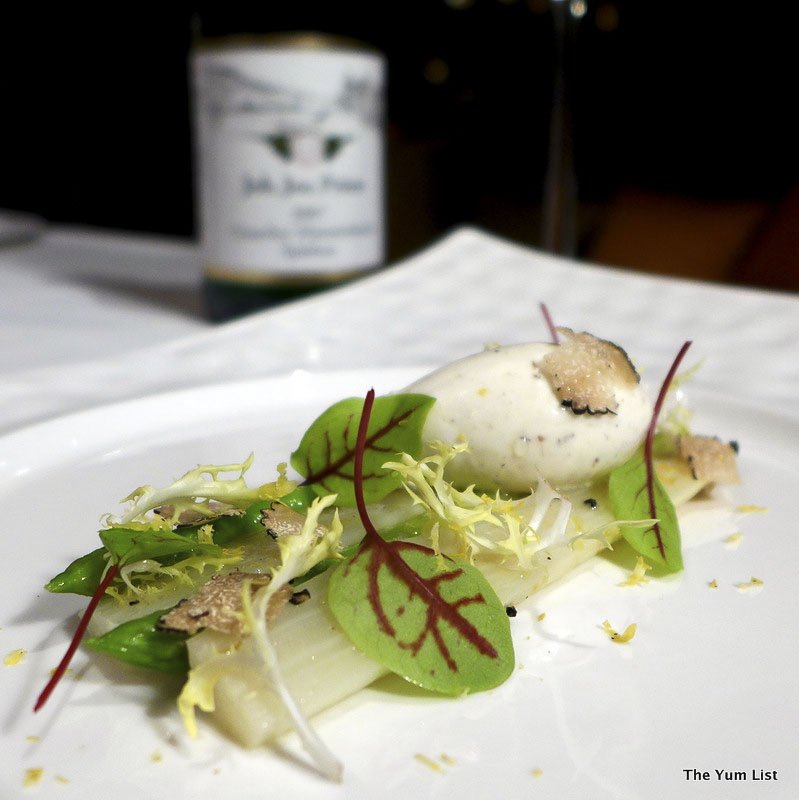 Pan Seared Hokkaido Scallops, another soon-to-be-introduced recipe, sees these caramelized molluscs served on a bed of velvety cauliflower pure. Spring peas and pea shoots gift a splash of vibrancy, and foam of fish velouté flavoured with truffle oil, adds a layer of complexity to the overall texture profile.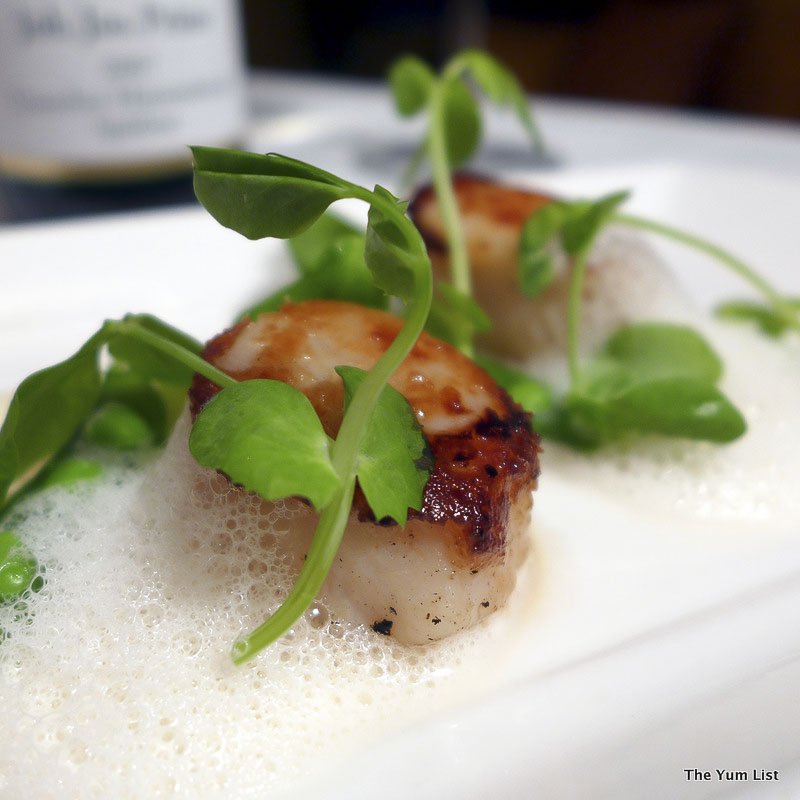 Soup
The current signature soup is the Wild Mushroom Cappuccino with Black Truffle (Baht 180). Fine shreddings of winter truffles precariously balance atop the espuma surface and decadently sink to the bottom upon first contact with my spoon. It's an easy in-between- starter and main that helps keep the flow of the meal balanced in providing varying levels of intensity of flavour.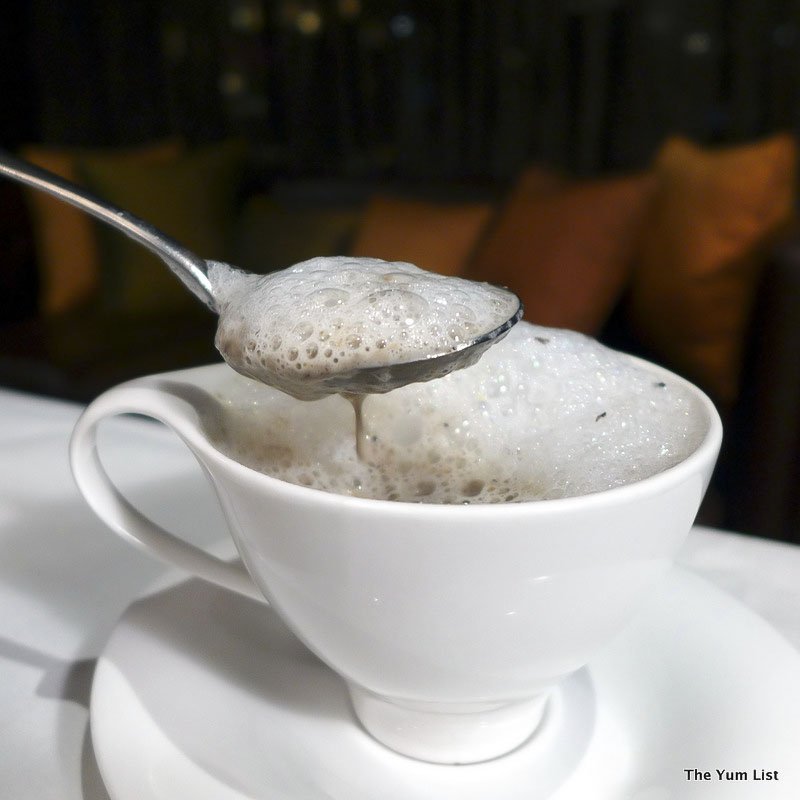 Pasta
A peppery composition is found in the Tiger Prawn Flambé (Baht 500). Spaghetti is cooked until al dente with pancetta ensuring the flavour is infused throughout. Thyme, garlic and extra virgin olive oil all contribute their own elements to the plate, and a crispy rasher of pancetta lies across the top.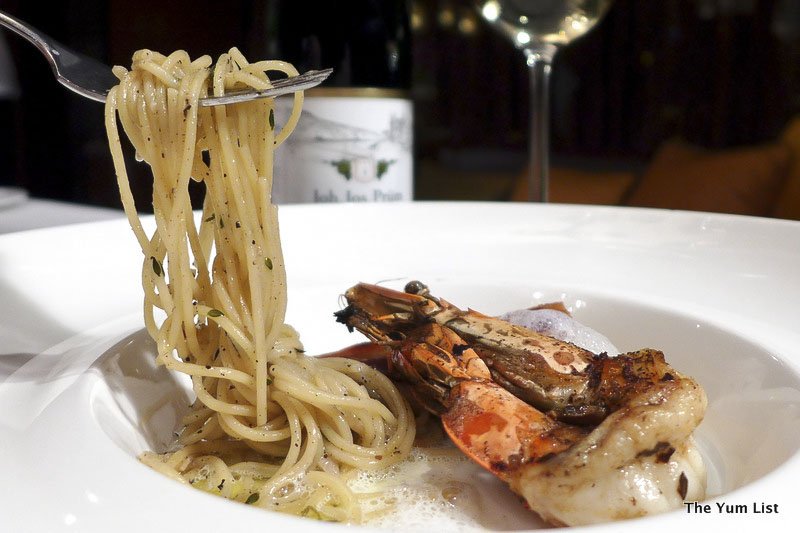 Mains
Snow Fish (Baht 800), another signature, arrives a plump moist wedge of deliciousness. The fish sits in a shallow pond of fish velouté emulsion, is brightened with sautéed baby spinach, and completed with a mushroom ragout. Golden on the outside and milky-white within, I can see why this staple has lasted multiple changes of the menu.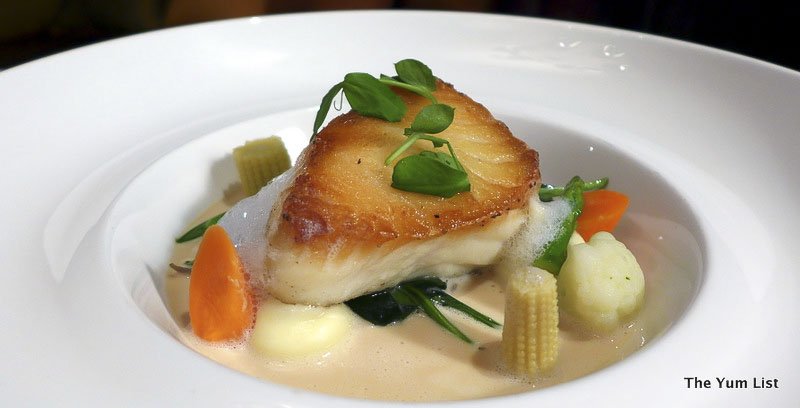 Wagyu Tenderloin Number 4 (Baht 1700) is refreshingly meaty. I know that sounds odd, but quite frankly I'm disillusioned with highly fatty cuts of meat. I don't eat a lot of meat these days, but when I order it, I want meat, not fat – something to bite into, not something that could be spread on bread because of its oversupply of lipid content. This beautiful cut is partnered with cauliflower puree, green asparagus and Bordeaux Shallot Jus – perfect.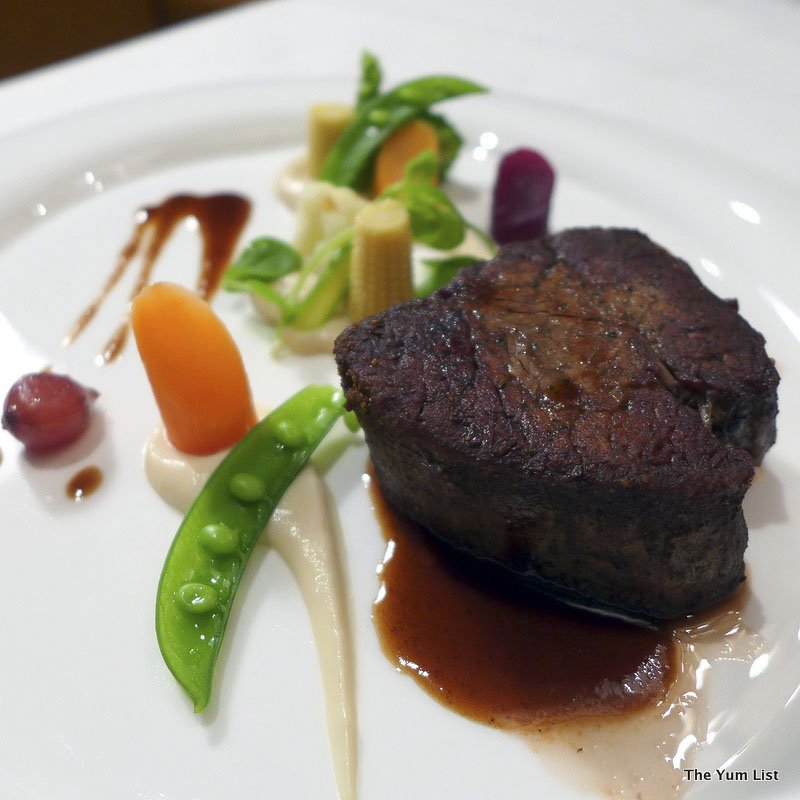 Dessert
Fortunately I'm with a few dining companions who are happy to order a different dessert AND allow me to photograph and taste each one (pictured below).  My favourite however is one of the latest inclusions on the menu, the Lemon Tart with an Olive Basil Ice Cream. The sharp curd is coated with a lacy-thin bruleed veneer contrasting the creamy citrusy base with its sweetness and crispness. The herbed gelato is just delicate enough to supply interest but not overly done to be too unfamiliar. Scrumptious.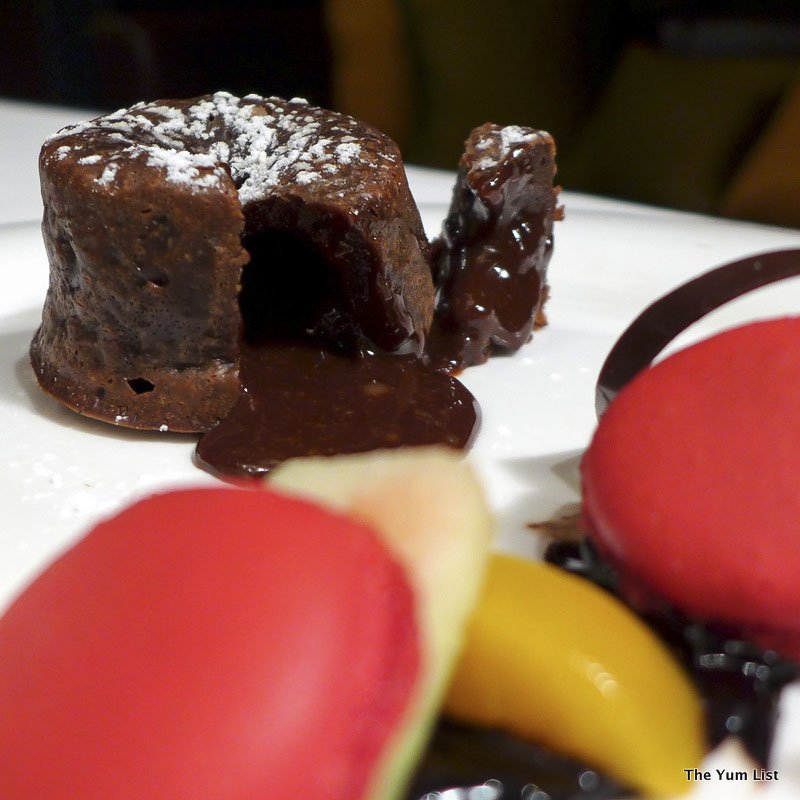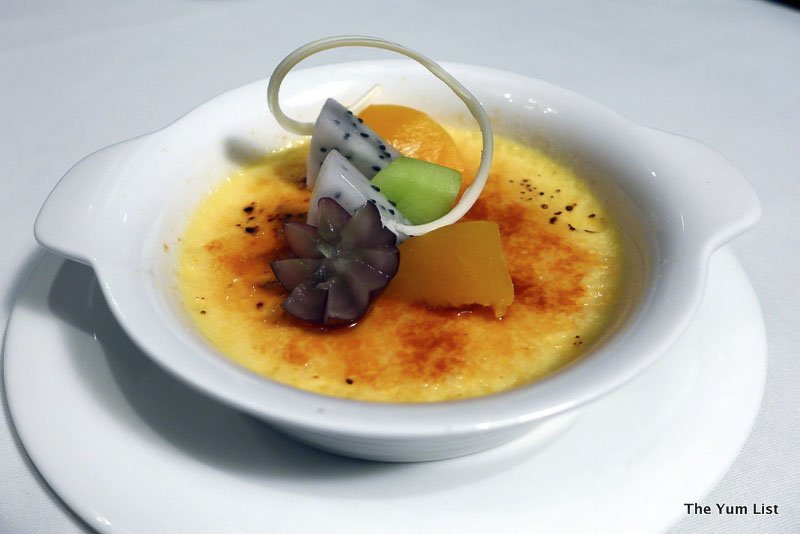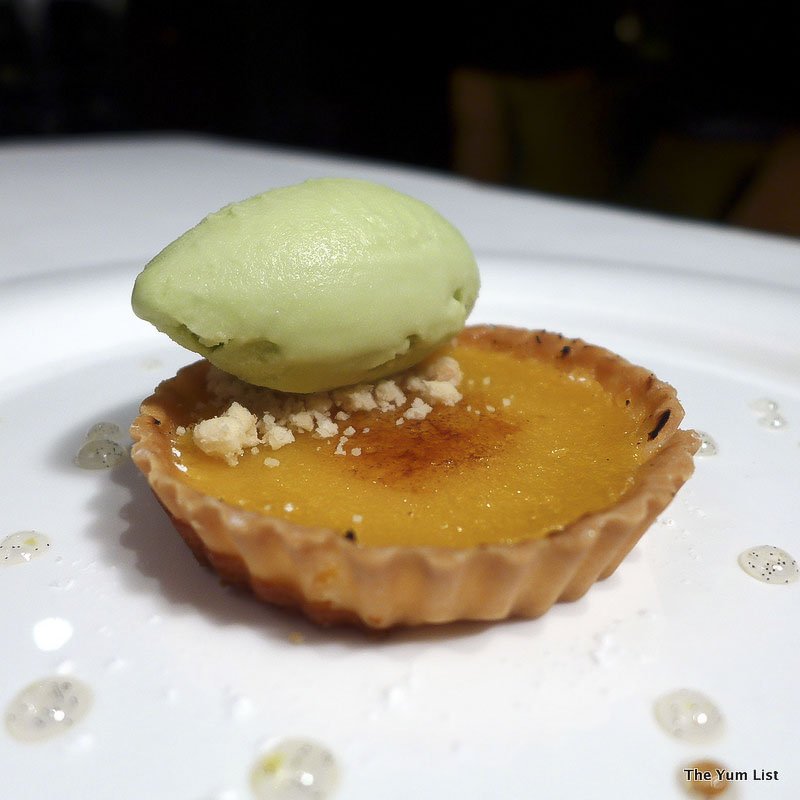 If you're looking for a stylish fine dining experience in Bangkok to wow a loved one, clench a business deal, or simply indulge in an evening of contemporary French cuisine and wine, La VIE is an excellent choice.
Reasons to visit: stylish setting; good wine list; gracious service; Hokkaido Scallop Carpaccio; Snow Fish; Lemon Tart.
*** Foodies should stay tuned to La VIE's website, as every two months the restaurant invites Michelin starred chefs to share their skill with their own kitchen crew and guests blessed enough to make a reservation in time.
La VIE Creative French Cuisine, Bangkok
VIE Hotel Bangkok MGallery by Sofitel
117/39-40 Phaya Thai Road Ratchathewi
10400 Bangkok, Thailand
+66 (0)2 3093 939
[email protected]
viehotelbangkok.com
Lunch (Mon-Sat): 12:00 – 15:00 hrs
Dinner (Everyday): 18:30 – 22:30 hrs
Brunch (only Sunday): 12:00 – 15:00 hrs