Words: Ross Jones    Photos: Monica Tindall
The Yum List visited The Eighth Avenue on a Sunday afternoon  This is not that odd, but Sunday afternoons are the perfect time to visit a restaurant like The Eighth Avenue. Not really lunch, but not really dinner, but also not really brunch–sometime around 4pm. You know that time right? They have outdoor dining that is just across the street from the play area at Publika, the breezeway provides shade from the blistering Malaysian sun and slows the ice melting in your wine bucket. The decor is trendy, yet not overdone and a nice clean environment.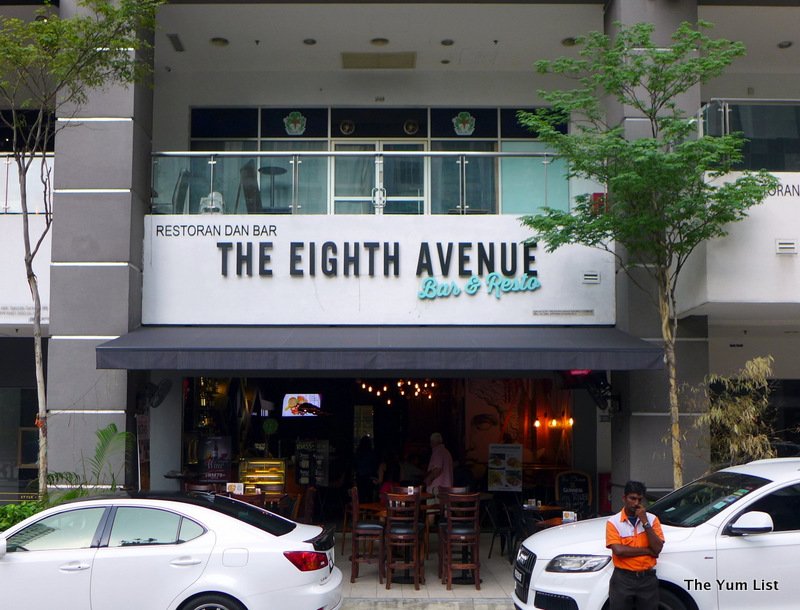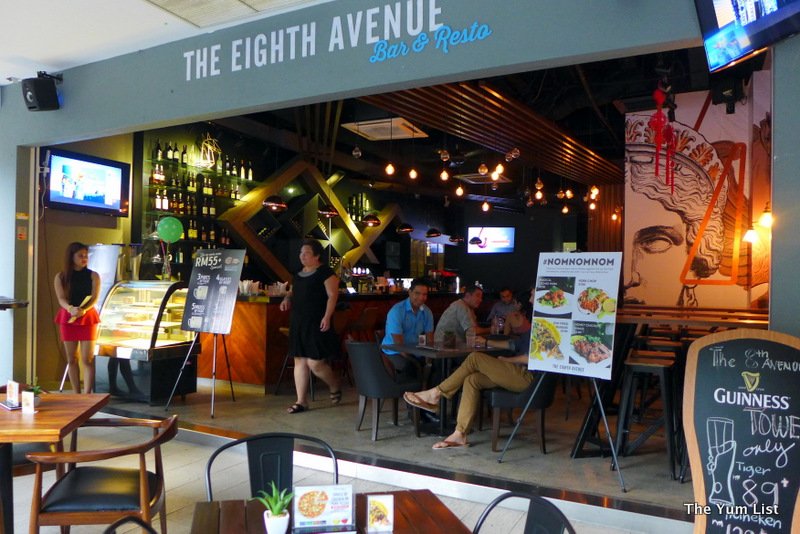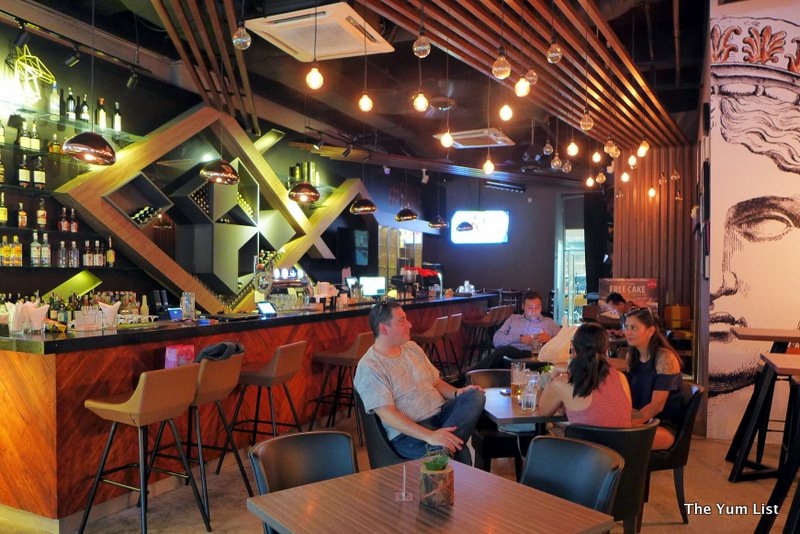 The strengths of The Eighth Avenue's menu lie in its variety. They are a non-halal establishment, but not so non-halal that pork products dominate their menu. They offer insightful pub fare that doesn't try too hard to archetype newer super-foodie pub menus. Their prices are reasonable (RM15-RM55) and they offer several vegetarian options (something a bit rare for non-halal restaurants). The menu itself would remind one of a trip to a cafe in a Western locale-lots of variety (pizzas, salad, seafood, small bites etc.), combines local flavors (Rendang Pork Ribs!), and has a strong bar selection to quench your thirst.
On our particular Sunday, we sampled some of their newest options. Our tasting began with a different sort of pork dish: lychee, stuffed with pork and fried to a tasty goodness.This was a very unique start and was a truly excellent combination. We also sampled a stuffed squid (RM19.90) filled with minced prawns (already a popular item), and bacon wrapped sausages. We each had a favourite: Mon's was the lychee pork, Caning's the bacon wrapped sausages, and mine the squid. All three were tasty starters and paired well with the Australian Semillon Sauvignon Blanc we were sipping on. If one were looking to graze on their Sunday afternoon, these three would make an excellent meal.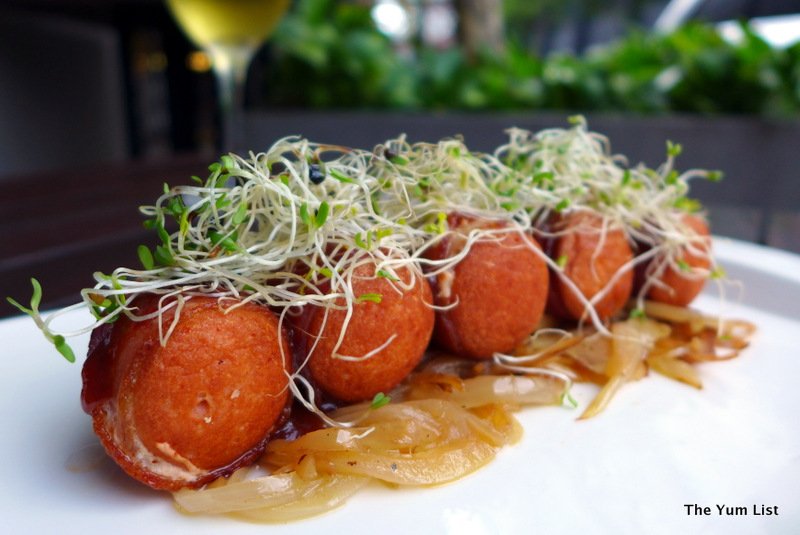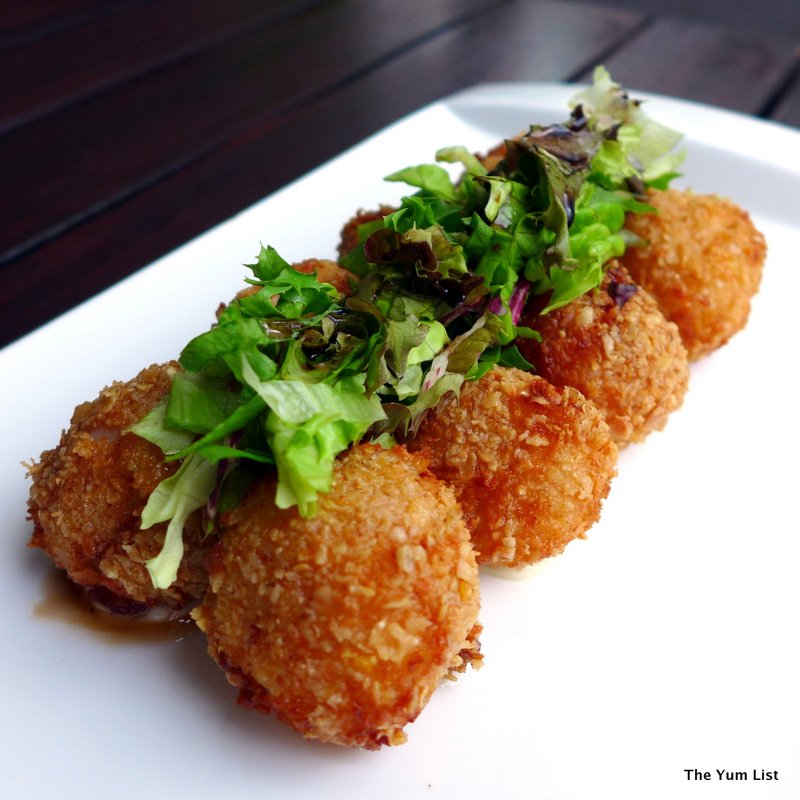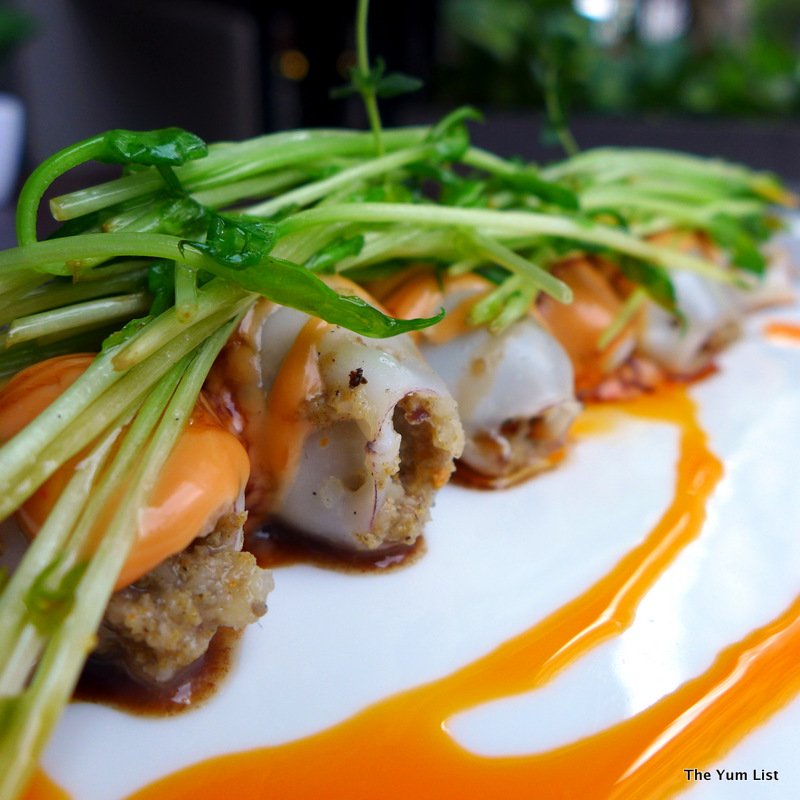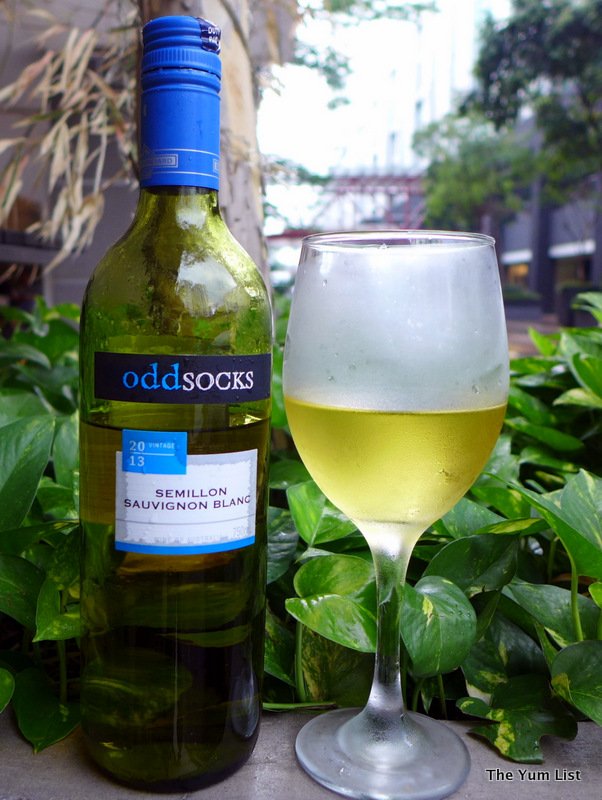 We sampled across the menu with pork, chicken and fish all in the line up. We started with knife and fork with the sticky Pork Ribs but soon let go digging in with hands and sucking tender meat from the bones and licking sweet syrupy sauce from our fingers. Another tasty option is a lovely Roasted Chicken (RM29.90) that was well done and served with a green salad. The Sea Bass (RM33.90) came in a local whole fish style, and turned out to be the favourite for all three of us. The fish was paired with a green Burmese spicy sauce that paid homage to the national origins of the chef.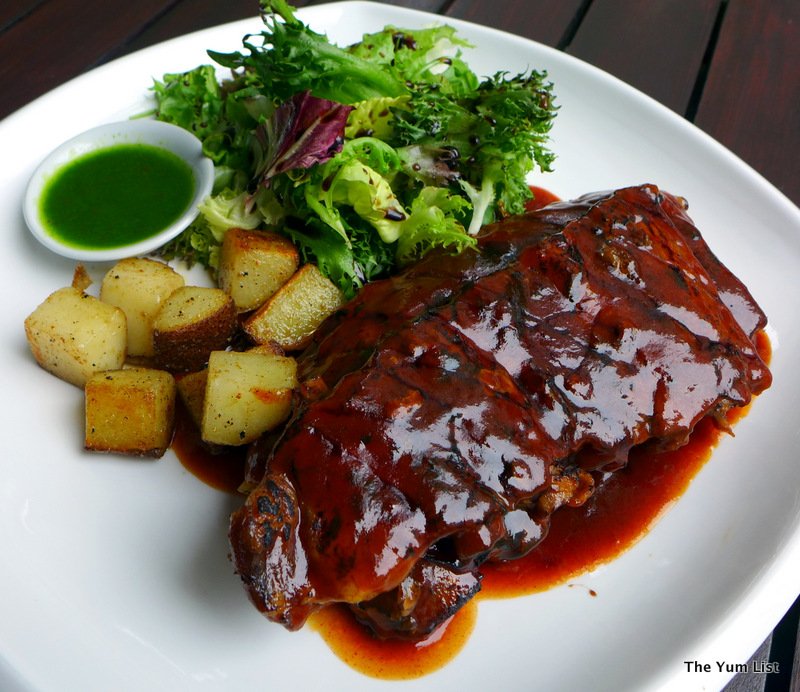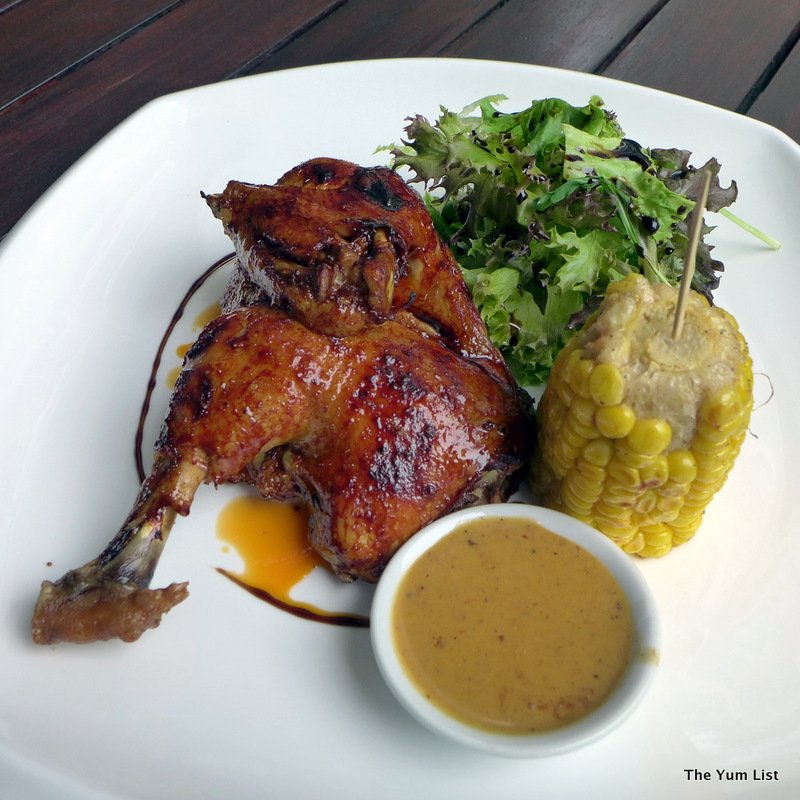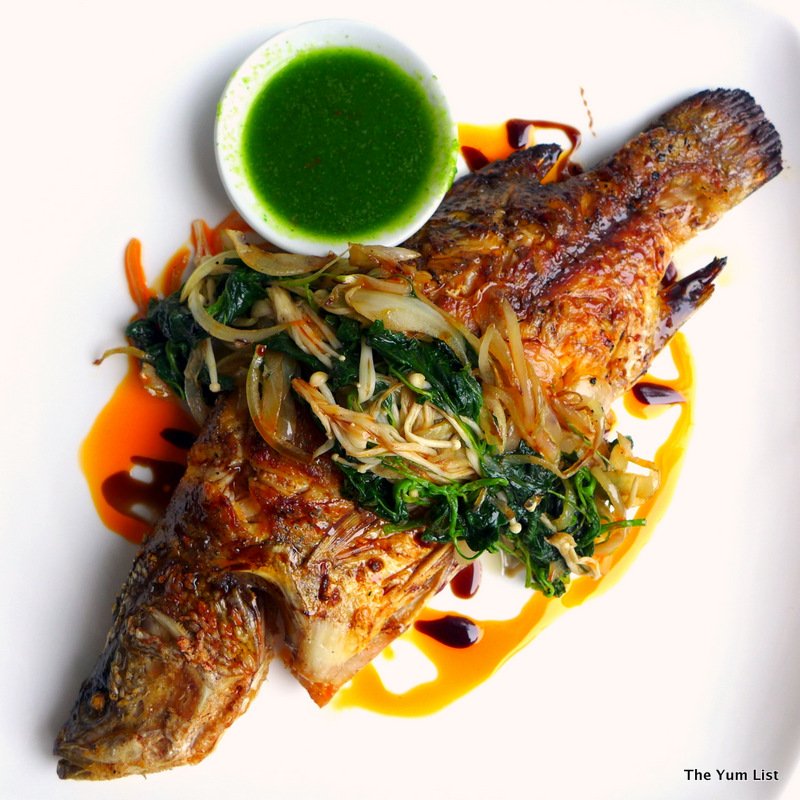 The dessert offerings at The Eighth Avenue consist of a variety of cakes and pies. We sampled a cheesecake and chocolate cake that were a sweet ending to our Sunday afternoon food tour.
Overall, The Eighth Avenue provides an all around great menu with lots of variety and well prepared food. Their food is thoughtful, not kitchsy, and has something for everyone.
Reasons to visit: Lychee Pork, menu variety, non-halal (but with many non-pork options too), reasonable prices, great atmosphere, excellent value wine and drinks offers – visit their Facebook page to see the weekly offers.
The Eighth Avenue
D2-G3-03, Solaris Dutamas
Kuala Lumpur, 50580
Malaysia
+6 012 407 7045
[email protected]
http://theeighthavenue.my