Words: Kristin Cosgrove     Photos: Monica Tindall
Too often, especially when it comes to fine dining, vegetarians are forced to pick at the breadbasket and order a side of veggies. Forget having a balanced meal, you're lucky to find "pasta with red sauce." But newfound hope is here for fine dining herbivores, because Marini's on 57 offers a delicious nine-course, all veg set menu, called "Land"! (RM480++).  Inventive, beautiful, and a fully balanced meal, the Land set elevates vegetarian dining to a level expected by the sky-high establishment.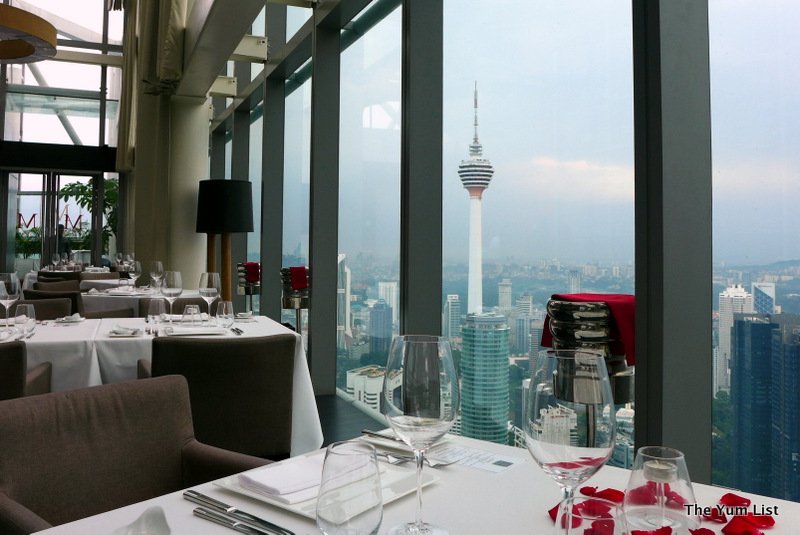 Marini's on 57 (for those new to the city) lies on the 57th floor of a third tower attached to the Petronas Twin Towers complex. Marini's is divided into three distinct sections, a bar, lounge and Italian restaurant. Floor to ceiling windows – and even a ceiling made of glass – guarantees one of the best views found in the city as well as a stunning close up of the Twin Towers.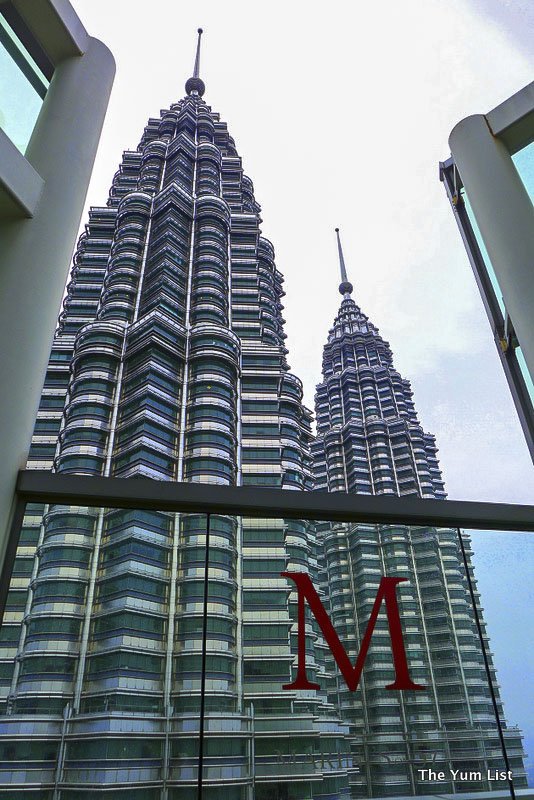 The haze has been thick lately, but the view is no less incredible.  Arriving a few minutes early, I sit at the bar, admiring the panorama while sipping a drink. The Love Bird cocktail stole my heart with its balance of fruity, sweet flavors and the perfect amount of alcohol.
Marini's mixologist, Junior, is known for his bespoke concoctions – some of the best cocktails we've had in KL.  Later in the evening, Junior would whip up a few of his signatures, including a twist on the Malaysian-born Jungle Bird, made unique at Marini's by the use of coffee infused Campari and dashes of coffee grounds and dried lime on top, renamed to The Parrot.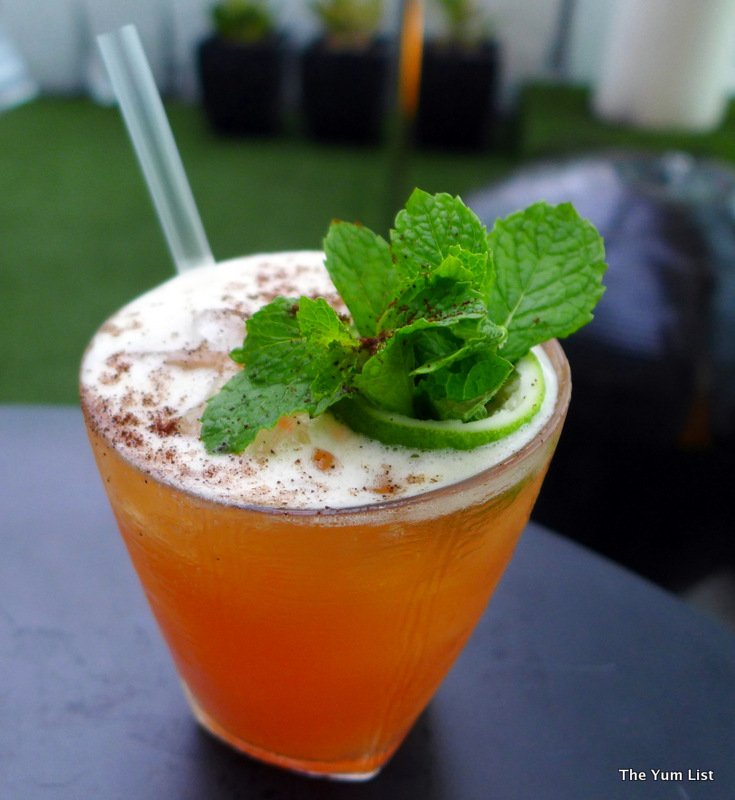 The Mellow Sundown indeed tastes like a sunset in the mouth, sweet and smooth, with barrel-aged Absolut vodka and passion fruit puree with pineapple and lime juice.  Pandan leaf and anise gives it a distinct Malaysian vibe.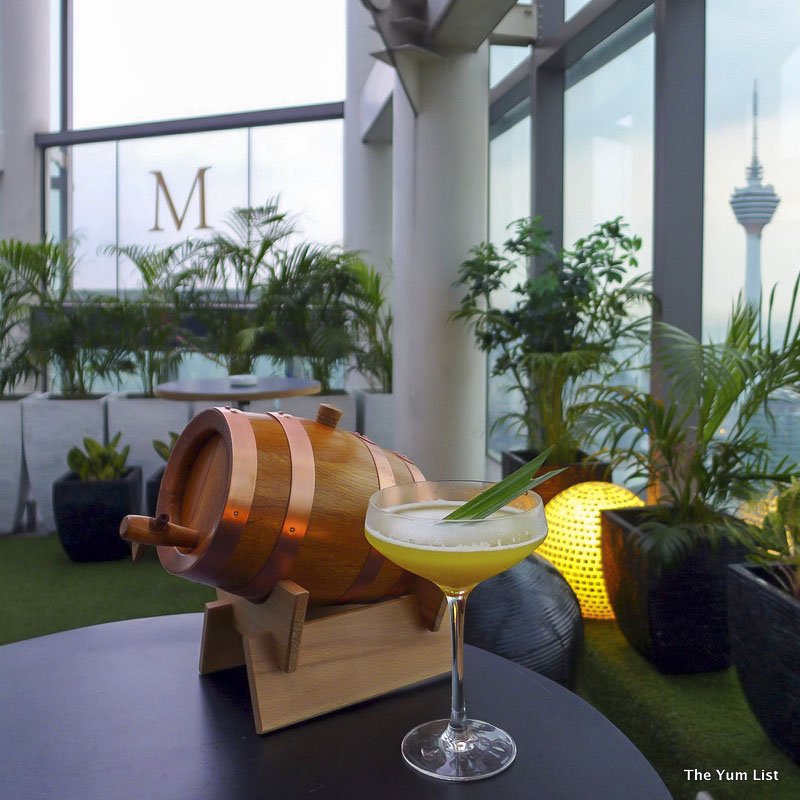 My favorite cocktail (maybe ever) is the Sailor Shrub. With its deep brown color, I expect a more bitter and strong flavor, so when I sip I'm surprised and then floored. "The best drink ever!" I exclaim to Monica. After trying it herself, she is hard-pressed to argue. This heavenly cocktail's tart and sweet pineapple shrub gives it a vinegary kick, mixing perfectly with the Sailor Jerry's rum. The gold and silver shavings give the drink a regal garnish.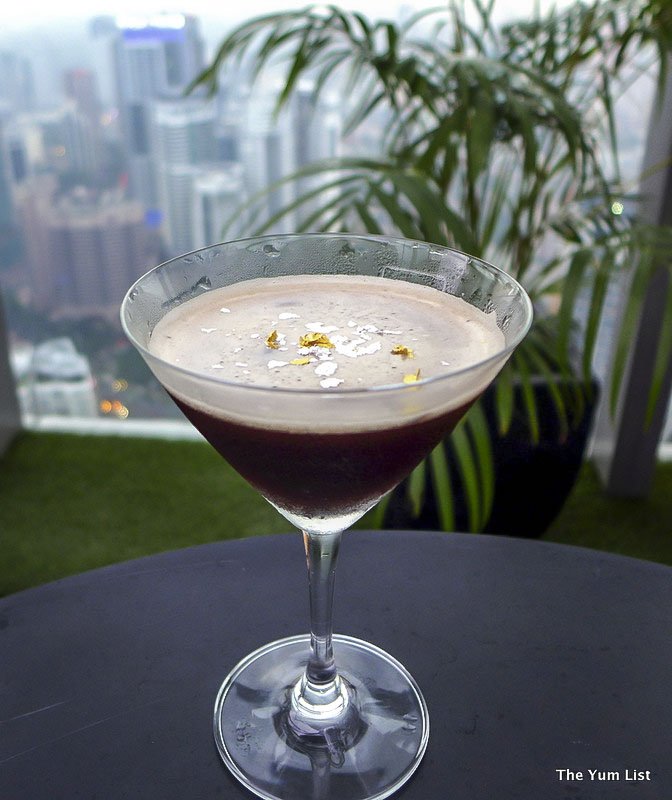 Our epicurean adventure begins when I meet Monica in the dining room. Everything is sparkling clean, white table clothes impossibly crisp, not a dot on the wine glasses or silverware. Monica is snapping photos of the incredible view, only slightly diminished by the haze.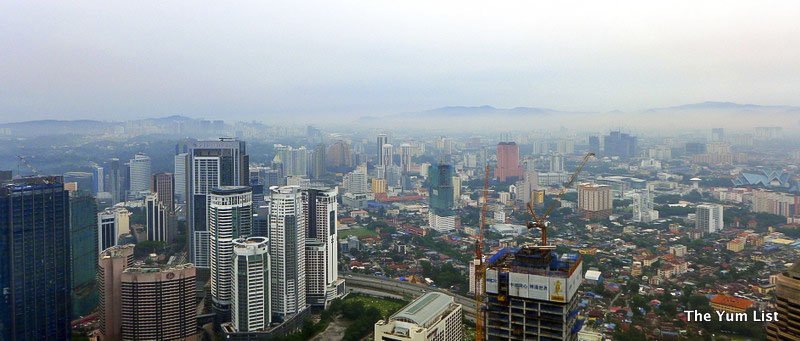 Our waiter lets us choose between sparkling and still water and upon request, suggests a wine for us to try. We go with the New Zealand Brancott Estate Sauvignon Blanc 2014, a medium bodied wine, fruity with a long finish, which proves a nice pairing with most of our courses.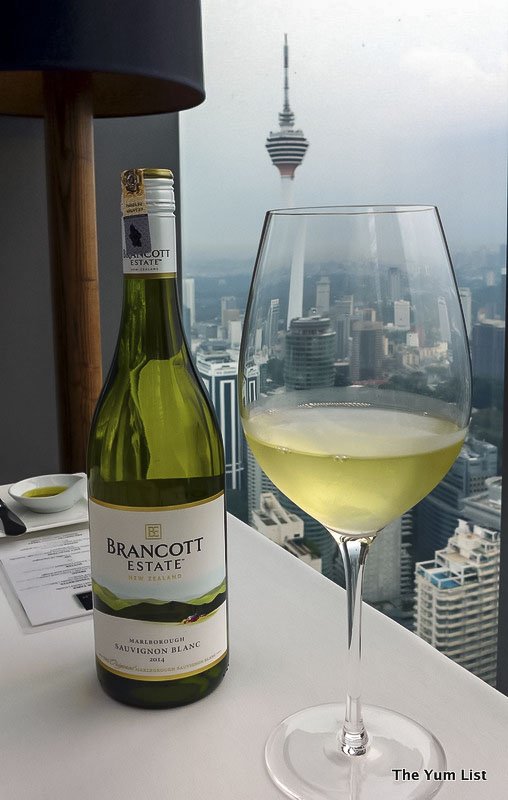 An elegant silver bread bowl is served and we delight in the fact that it comes with its own menu of dips, as well as a choice of two kinds of butters and salts. I especially enjoy the light and creamy truffle oil and asparagus dip.
The Land set stats with an amuse bouche, an artful dish of delicately crisp black risotto chips with creamy burrata mousse, dotted with hollandaise and sprinkles of valerian leaves.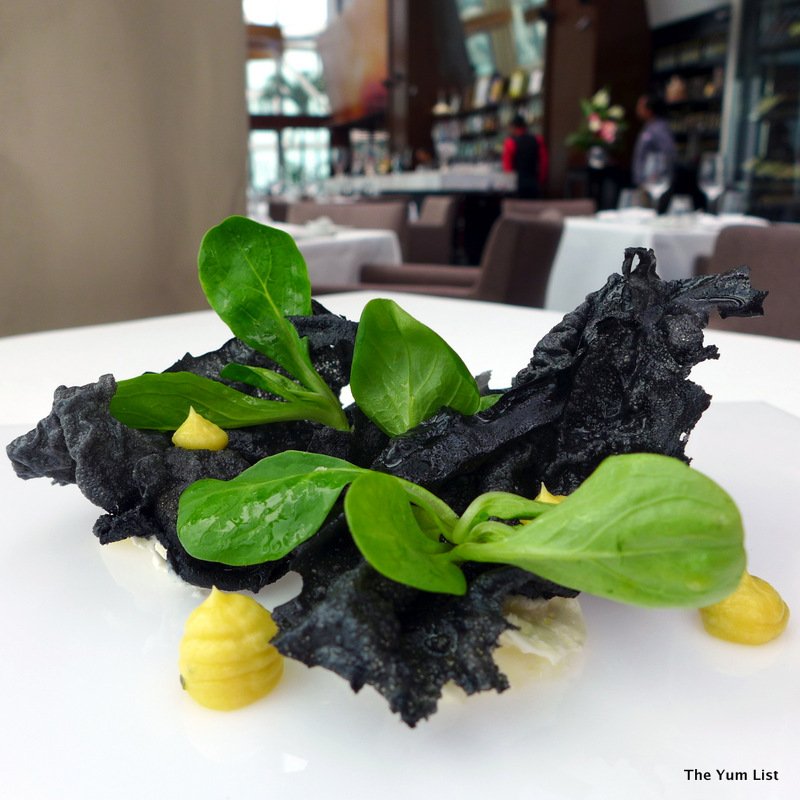 Fading light casts a misty glow on the Ampang hills as our next dish is presented, a Zuppa di Spinaci, a spinach soup with fried zucchini flower (a favorite in Italy) and goat cheese. Presumably to avoid causing sogginess to the breaded flower, the soup is presented in a pitcher on the side, added by the waiter at the table. Cutting into the flower feels like cutting into shrimp, the texture firm but slightly springy and in the mouth has a nice tender crunch followed by the creaminess of the cheese.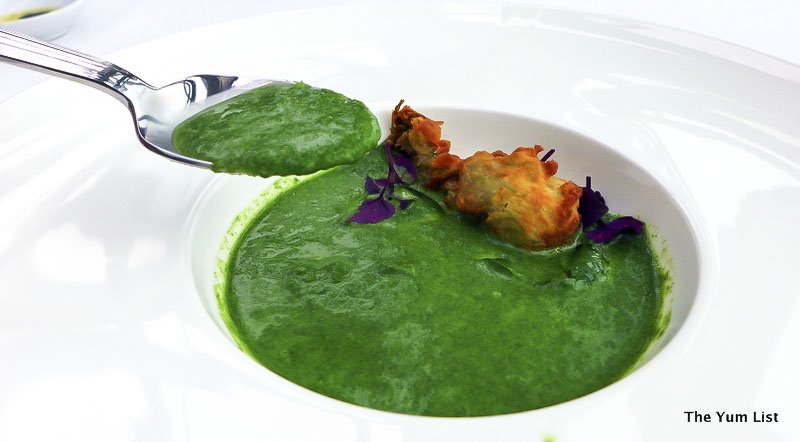 An elegantly plated Melange di Verdure follows, one of the most balanced vegetarian dishes anyone could ask for. A brioche is the anchor for a pretty spring vegetable medley, with spinach sauce and pecorino cheese. The addition of fava beans ensures protein, iron and fiber to this well-thought-out dish. The saltiness of the pecorino is a nice combination with the crisp veggies and brioche.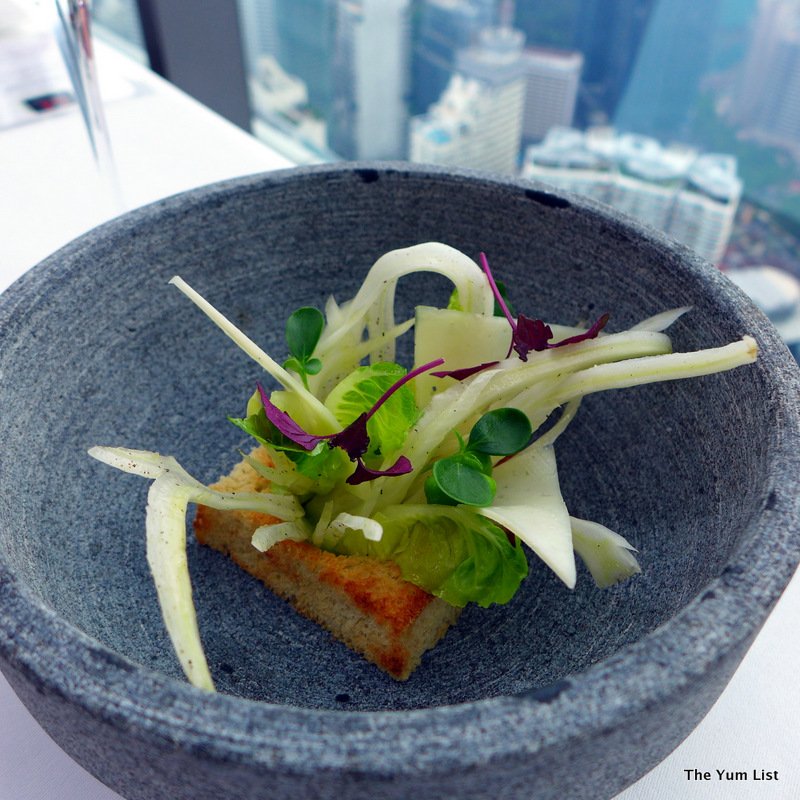 On the Land set menu two main dishes are featured, a stroke of luck as choosing only one of these excellent dishes would be a shame. The Minestrone Pancake is a bean-based patty, which cuts almost like a flaky tuna, but with no fish involved. The fried kale adds a pleasant bite and crunch to the dish, a good balance to the fava beans and vegetable patty.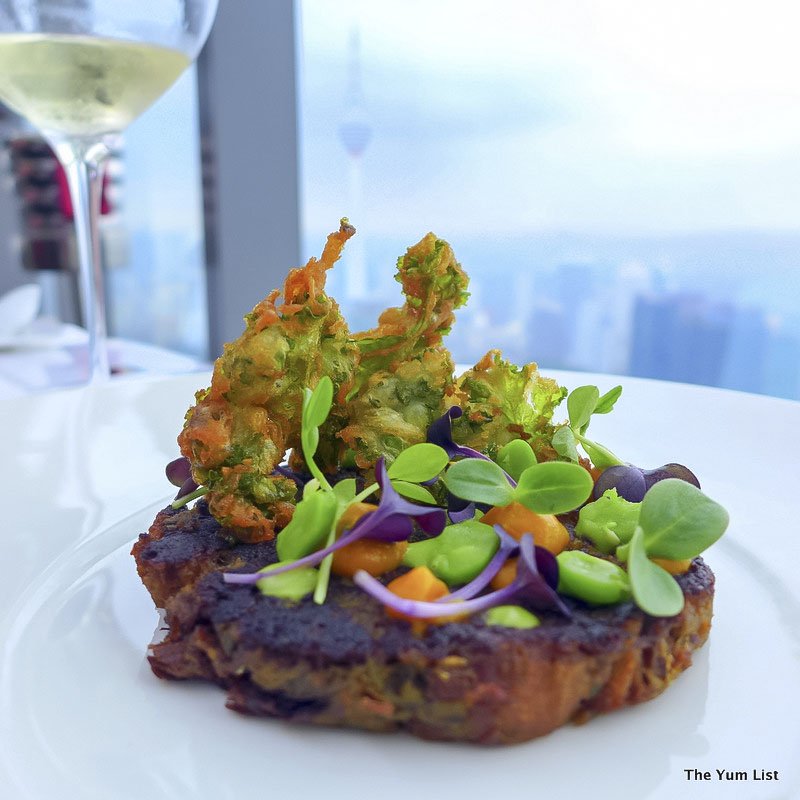 Risotto al Spugnole rounds out the main dishes as the most traditional Italian dish on this menu. The risotto is cooked to al dente perfection with a healthy portion of morels dotting the top. Creamy, with a woodsy and buttery in flavor, this ranks as one of my favorite dishes of the evening.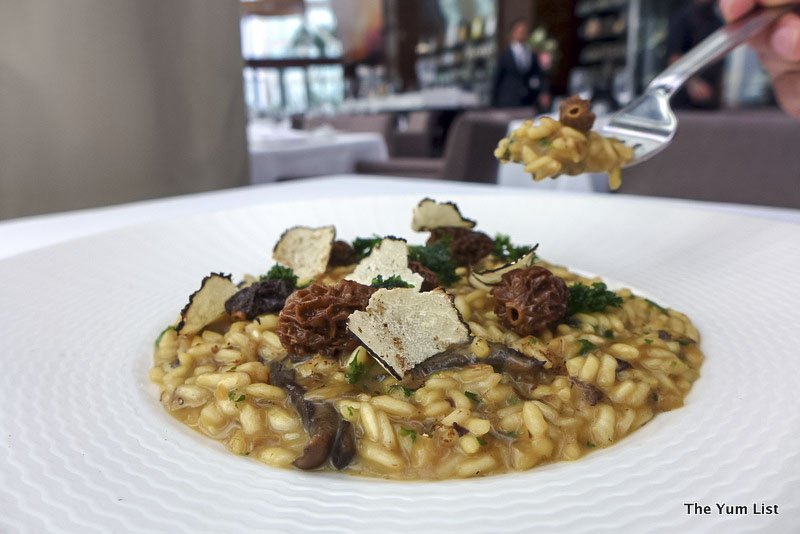 While at Marini's we also sample two meaty main dishes featured on the Spring Set Menu (RM680++), a tasting menu which changes every few months based on – you guessed it – the season.  These plates can also be ordered a la carte.
The Agnello Primaverile is a trio of roast lamb, braised lamb and lamb sous vide served with peas and mint compote. Asparagus, beetroot and pumpkin puree are beautiful additions to this complexly flavored dish.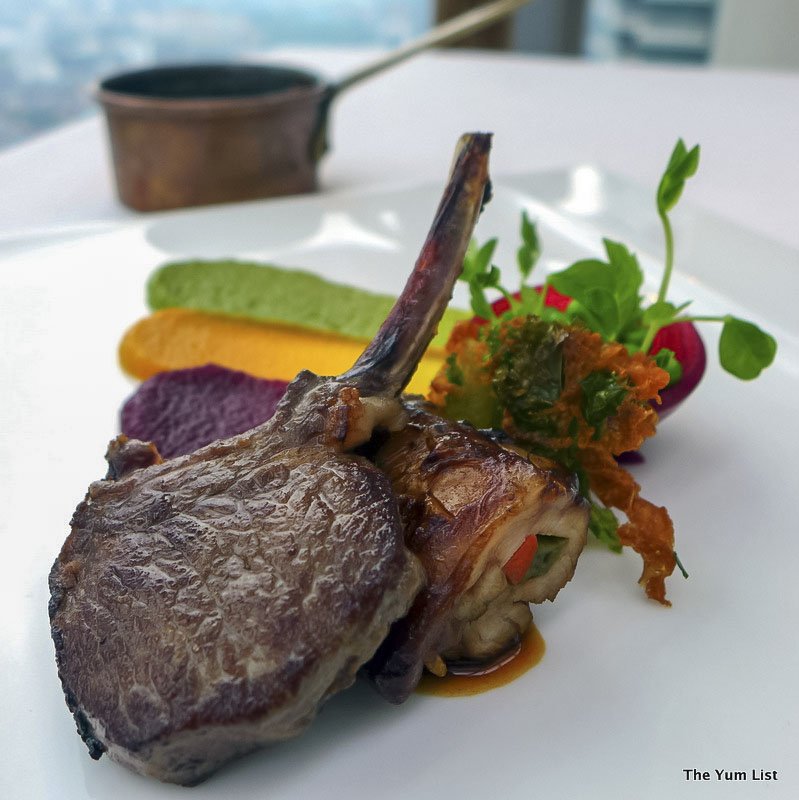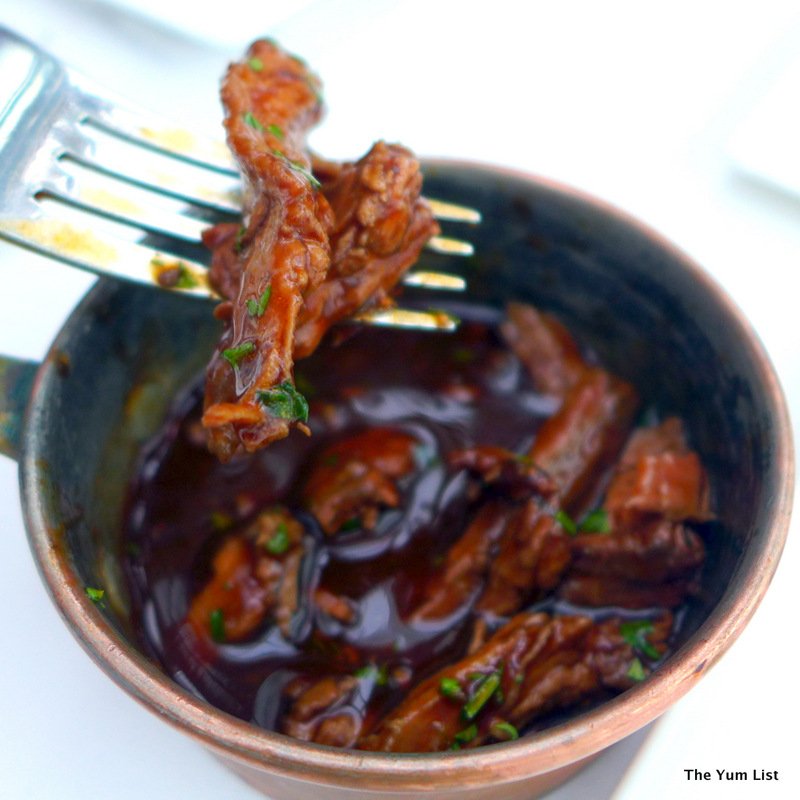 Piccione Con Fave is another choice on the Spring set menu, comprised of roast pigeon paired with foie gras, served with fava bean purée & leek tart. The geometric design of the tart is so pretty I hate to disturb it, but the fragile crunch of the leek plays well on the tongue with the dark gaminess of the bird and the soft smokiness of the liver.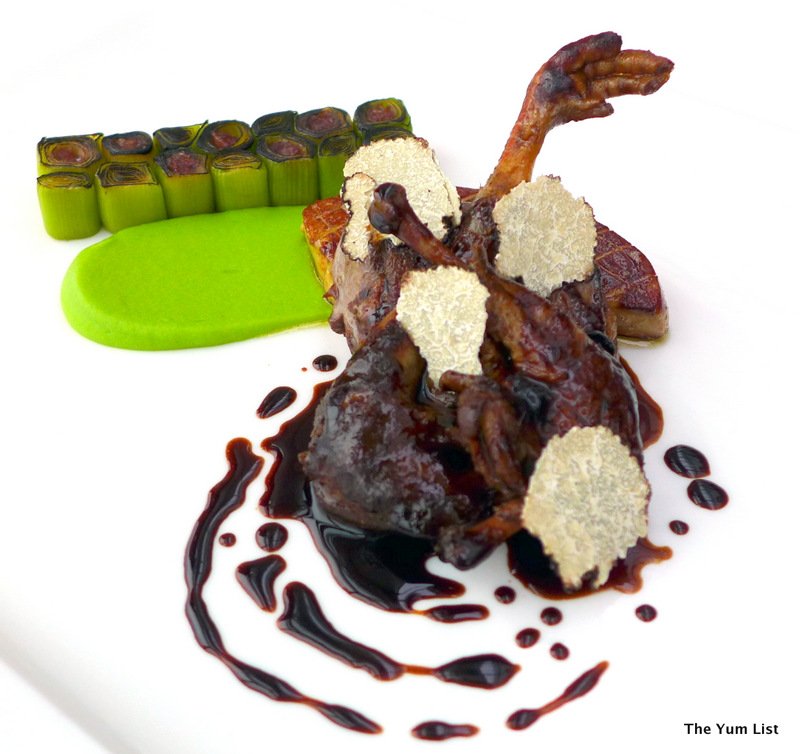 The Land set menu includes an after-dinner cheese course, with an absolutely tantalizing combination of Valtellina Cheese drizzled with honey and sprinkles of lavender seeds with raspberries. The perfumed flavor of the lavender is heavenly with the softly pungent cheese and honey.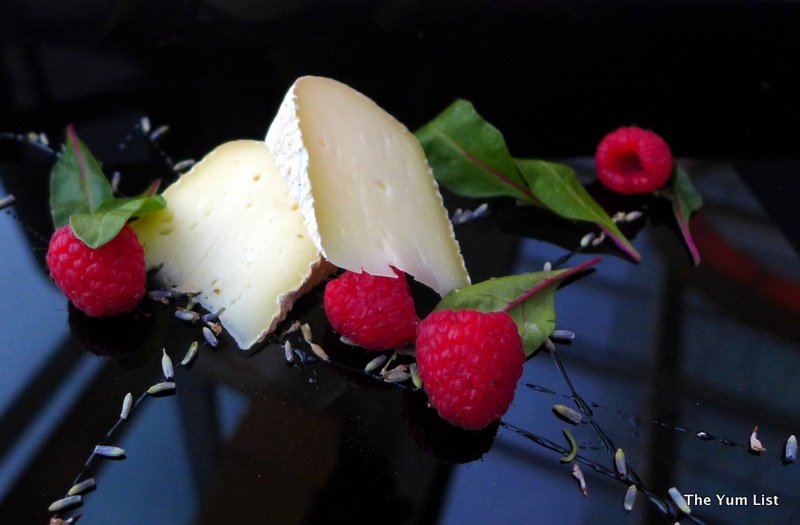 By the time dessert comes, night has fallen and the city has transformed into a technicolor wonderland, so it seems fitting that dessert (or in this case, several desserts) is as exciting as the neon outside. Being a sweet tooth, I love that the set menus at Marini's feature a "Pre dessert" and our Camomilla fits the bill perfectly. A three-tiered treat, this sophisticated dessert's base is an olive oil biscuit with a mid section of white chocolate covered chamomile cream and finally topped with lemon thyme sorbet. Amazingly, this dessert is dairy-free.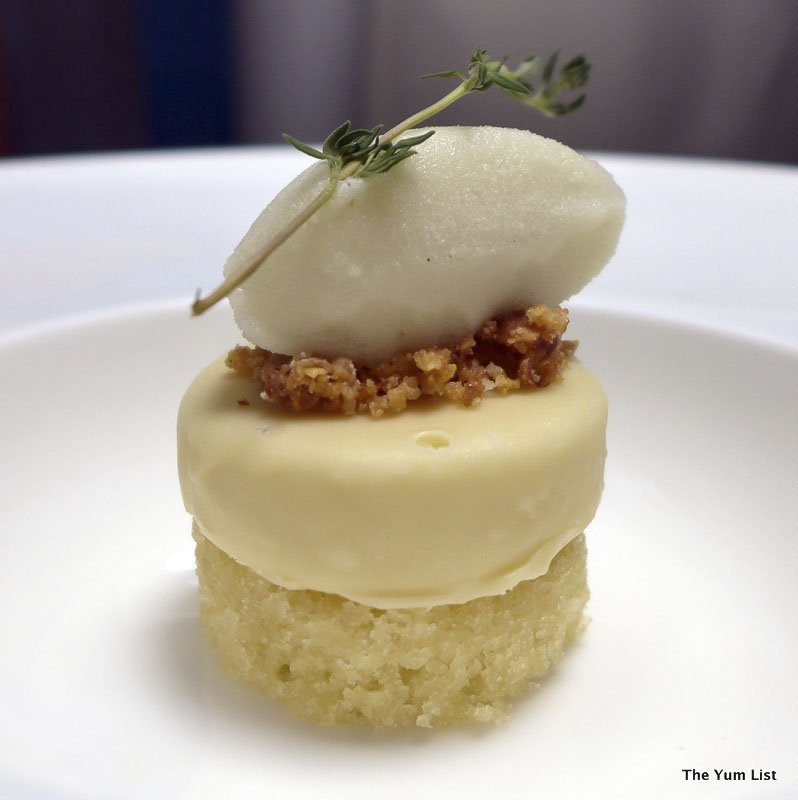 Also dairy-free is the Strawberry Infused with Rhubarb served with Sbrisolona quinoa and corn tart, finished with a soy-based vanilla Chantilly cream. A foamy mountain sides the pretty tower and is dramatically reduced to a puddle of sweet pink with the pouring of a sweet and tart berry sauce.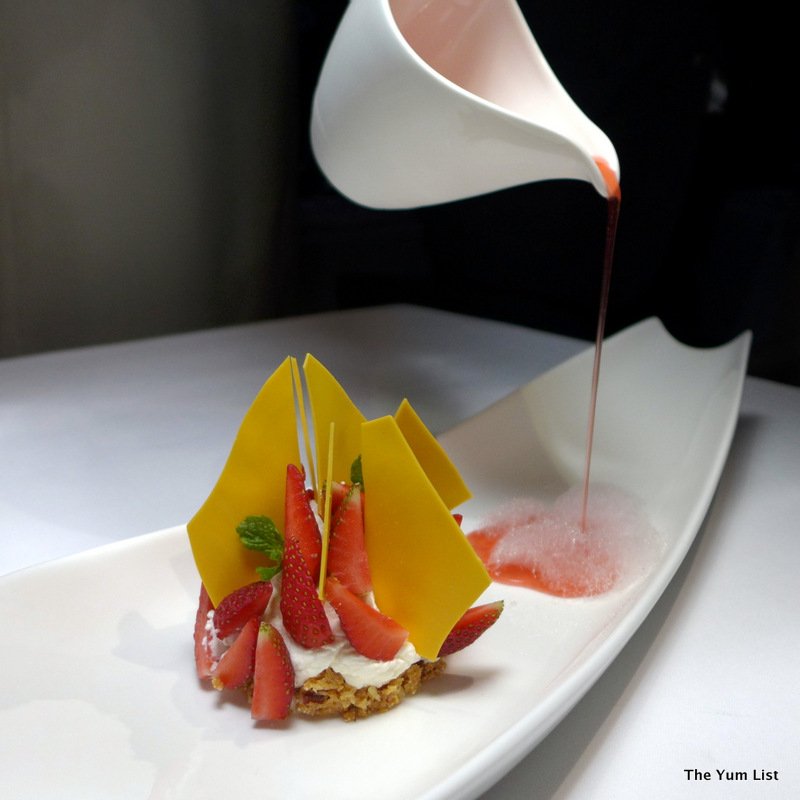 Finally, a platter of handmade chocolates arrive, complete with decorative chocolate letters spelling SPRING, and fondant flowers. The chocolates include olive oil, beetroot, dark chocolate and raspberry flavors, each delicious.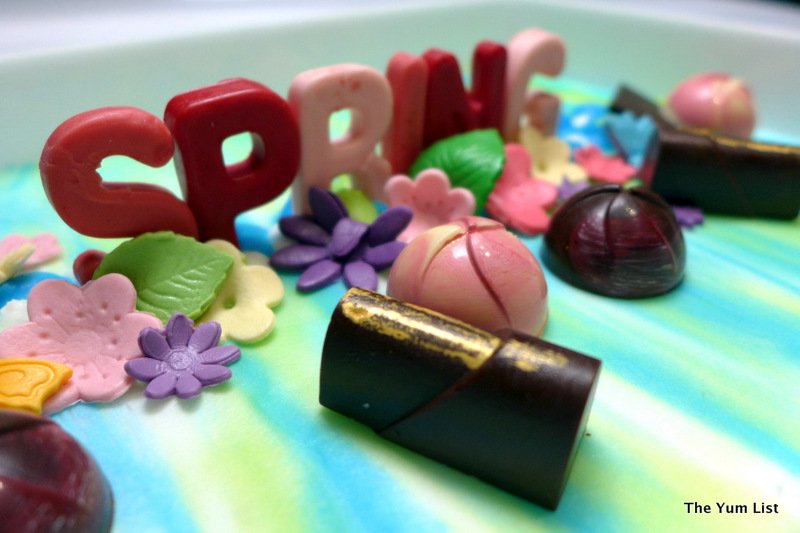 Clearly, Marini's on 57 isn't only about the view. Throughout the evening we are impressed the attentive waiters, who brought the food at a nice pace and unobtrusively checked in on us. Having thoroughly enjoyed all the dishes on the vegetarian Land set, we are satisfied knowing that when it comes to fine dining at Marini's, vegetarians won't be relegated to a bowl of pasta for lack of choice when it comes to a special night out.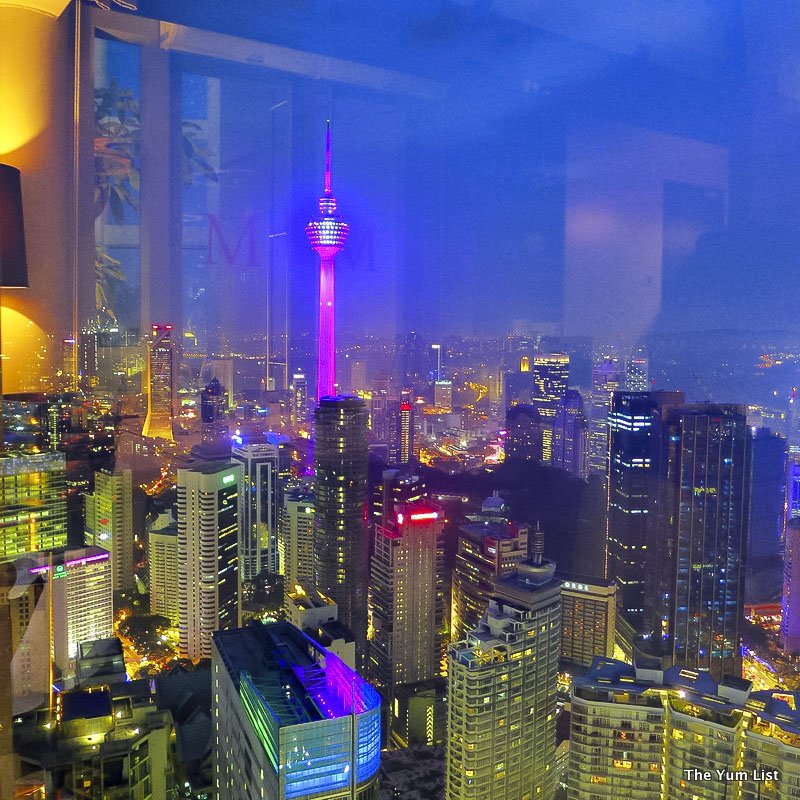 Reasons to visit: Exceptional view, unique and well-balanced vegetarian menu made with fresh ingredients, bespoke cocktails, wonderful service, exceptional view (yes, so nice I'm mentioning it twice). Marini's on 57 should be on everyone's bucket list for a special evening out in KL.
Marini's on 57
Level 57 Menara 3 Petronas
Persiaran KLCC
Kuala Lumpur City Centre
50088 Kuala Lumpur
Malaysia
T +603 2386 6030
F +6 03 2161 2998
www.marinis57.com