Words: Kirsten Durward     Photos: Monica Tindall
Vintry group is always a favourite for us, we love the energy and passion of owner Yin-How Wong, we love the simplicity of the food, and we love the range of wines on offer. We always know we are going to have a wonderful experience with Yin-How, and, on hearing that Vintry Ampang had been remodeled as 'Flint' with an emphasis on rustic style food with bold flavours, I was first in the queue with my hand up to accompany Monica to taste the new menu.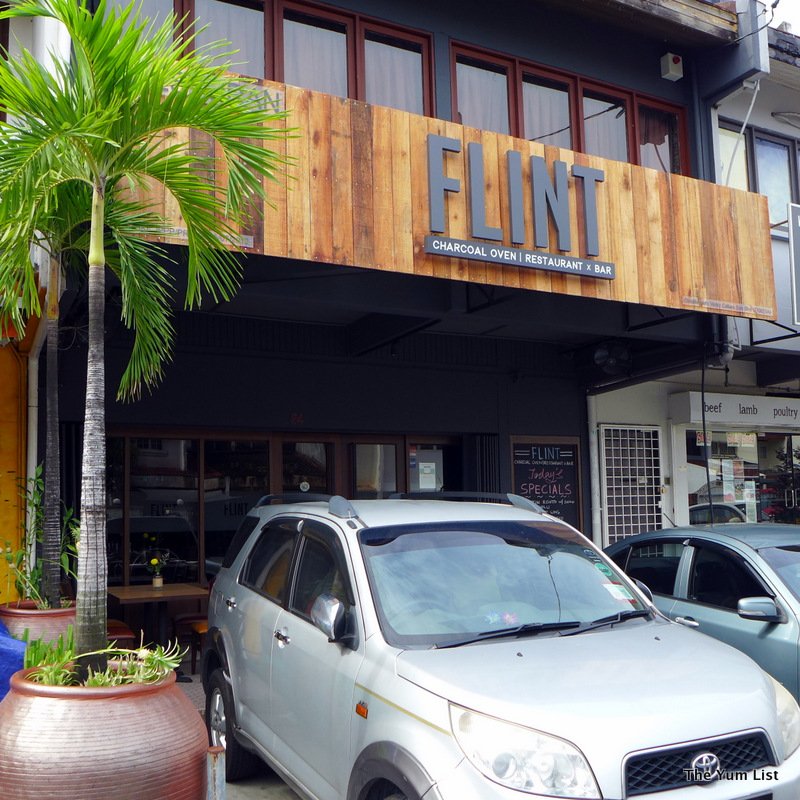 We love the revamp, which embodies the ambience of a rustic but elegant French or Italian countryside dining experience. Upstairs is relaxed with a 'fire side' expression, the room also bookable for quiet events. For the young family who still likes to get out and enjoy a nice meal with a bottle of wine, the restaurant provides not only a great value children's menu, but a small mobile play area to entertain youngsters. We love this thoughtful touch and can see this being extremely popular with many of our colleagues and friends.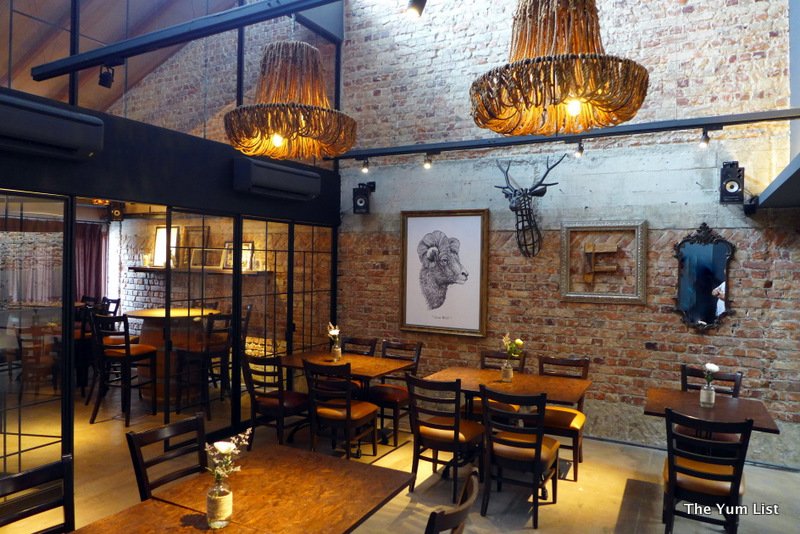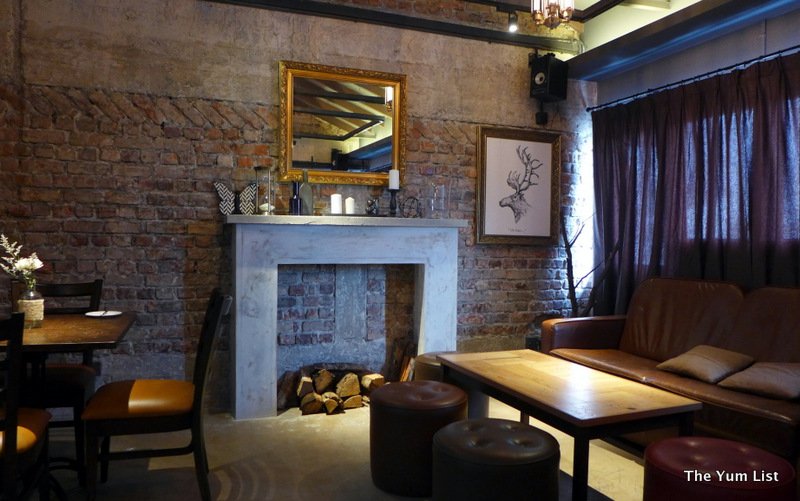 Downstairs the kitchen has been opened, and the raised ceiling allows for more light to come in, all of which creates a much more free flow and modern aspect to the dining experience. We've experienced the sensational tastes of breads, meats and fish from a Bertha oven before at sister restaurant Stoked in Damansara, but at Flint we are introduced to another innovation for KL, the 'Drumbecue,' a special charcoal barbecue fashioned from an oil drum, guaranteed to seal in all the flavour. Certainly the smells emanating from the kitchen are making our tummies rumble, particularly as I've been saving up all day for the experience and we set to table without further delay.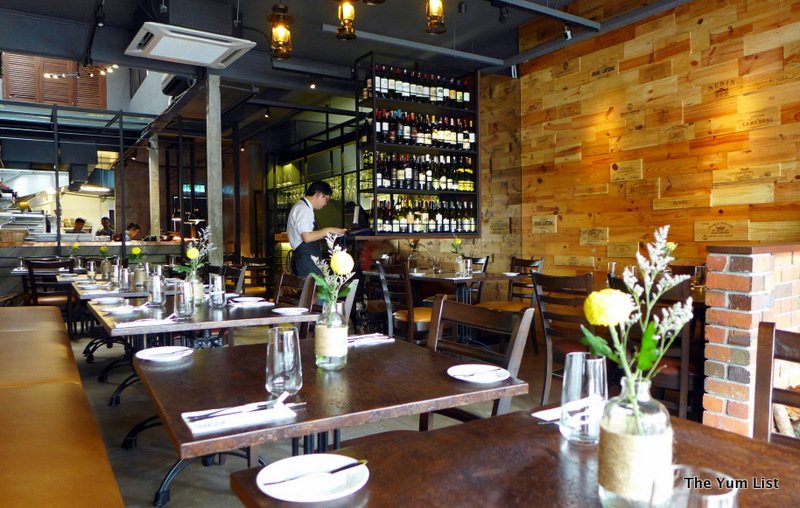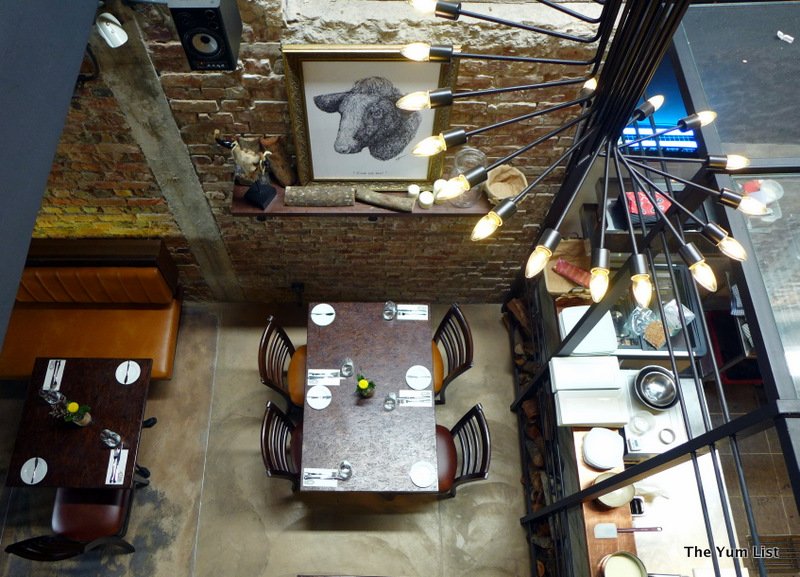 A Tartine of Roast Beef (RM 36) sounds simple but this one is a veritable feast of flavours. It's hard to manage with a knife and fork but our smiling host insists that we pick it up with our fingers and we do so, munching willingly. First our taste buds are assaulted with fresh clean citrus flavours, peppery dark rocket, then the depth of beef, followed by a sneaky smoked beef pepperoni before the deep chilli jam and fulsome sourdough bread. We detect notes of lime and mustard in the mayonnaise. As usual, the serving is what we've come to expect with this group, a generous portion for a starter.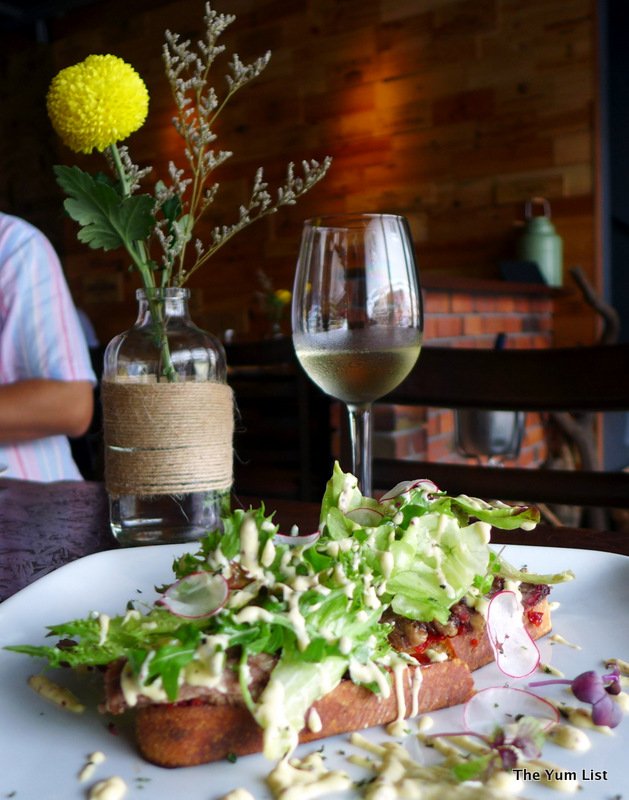 Cioppino Seafood Stew (RM 40) arrives with a little rocket salad. As with most of the produce at Flint, the chunky fish, loosely coiled squid and tiny school prawns have been locally sourced. The broth resonates with flavours from the fish and is great dipping for the house made bread with texture somewhere between ciabatta and sourdough. Scrummy.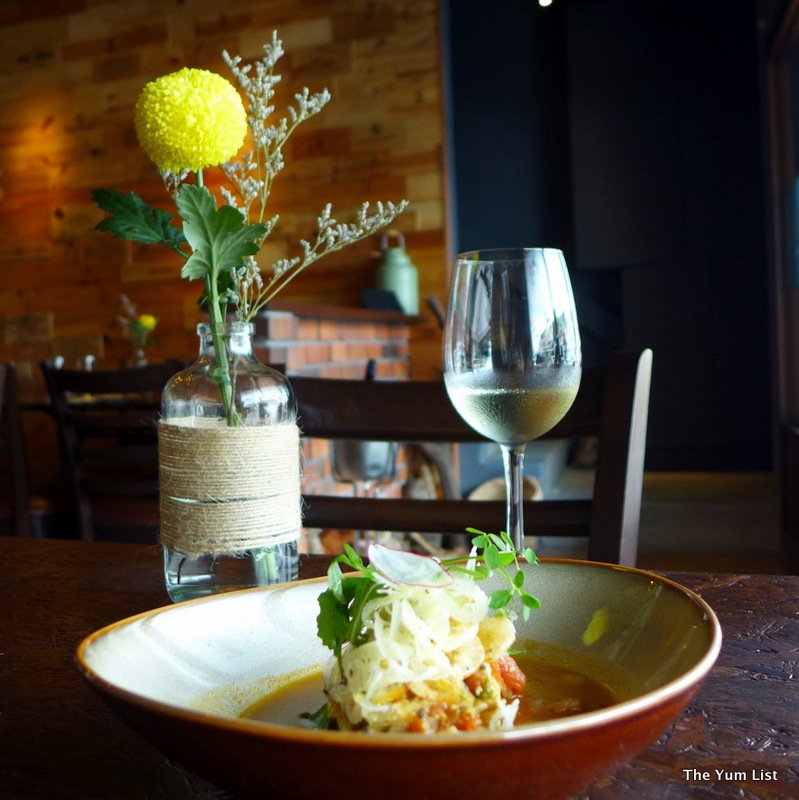 One of the delights of visiting a Vintry group establishment is knowing you are going to have a great glass of wine for a very reasonable price. With extensive research, and personal sourcing from boutique vineyards around the world, proprietor Yin-How is dedicated to providing unique taste experiences for KL diners at very little mark up on the retail prices. My quick glance at the wine list reveals 12 wines under RM 100 spiraling upward for the more connoisseur tippler. Today he suggests starting with a white (we love the insinuation behind the use of 'start' – that there is more to come…) Selbach Oster Bernkasteler Kurfutslay Spatlese 2014 (RM90) – the name is a virtually unpronounceable tongue twister for us, but the wine itself is a revolutionary mouthful of deliciousness. Slightly off dry, it is full bodied yet light in the mouth. There is a delicious balance of flavours, amongst them, lime, apple, slate and buttery vanilla. It is a beautiful choice for fish, stews and barbecued meats.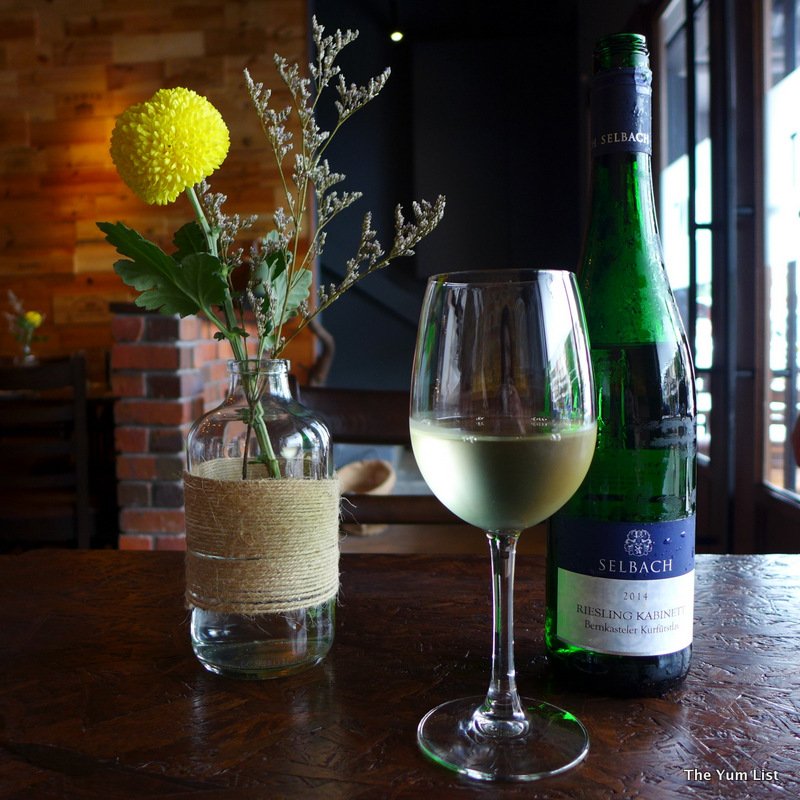 Catch of the Day (Market Price) changes from day today and is usually braised in the belly of the Drumbecue. Today we have a fresh trevally, a little seen fish in Malaysia, with plentiful firm dense buttery flesh, it is best eaten grilled or barbecued, and today's version has been cooked to perfection with some local seasoning of assam java, ginger and a little sour tamarind in the accompanying sauces. Simple eating with a squeeze of lemon and an accompanying glass of white: who could ask for more?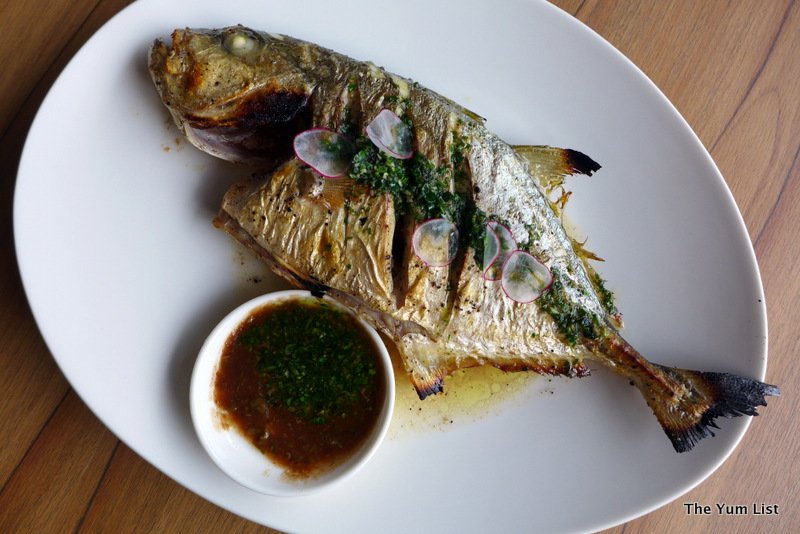 Fragrant odours waft up from a steaming plate of hand made Tagliatelle with Spiced Beef Ragout (RM 40), and my fork is all too eager to dive in. Among one of my horrors is large chunks of meat in a stew. These however are slender strands that thread through the springy al dente pasta. The slow cooked beef, with tomato, onion and fresh herbs is beautifully seasoned and way too easy to eat.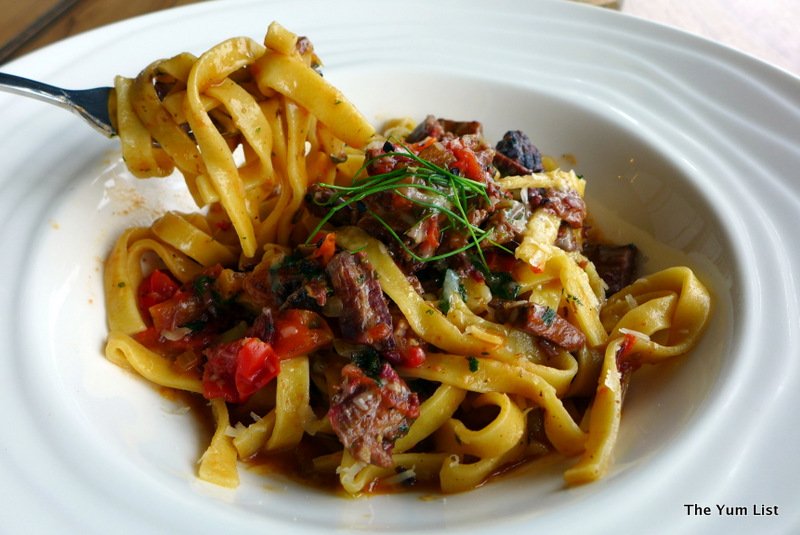 The slow roasting approach continues with a delightful Moroccan inspired spiced Chicken Stew with Olives (RM 42). Once again the resonant aromas whet my appetite tauntingly while Monica dithers with photography. But finally it is time to cut into the flavourful dense meat of the local sourced free-range chicken with a good tickle of Moroccan spices in the thick vegetable laden stew. Peppers, carrots, onions, but particularly big fat olives add a depth of flavor. And don't be afraid to dip that crispy slice of sourdough in the sauce or use it to wipe your plate. Food here is meant to be enjoyed, not fiddled with.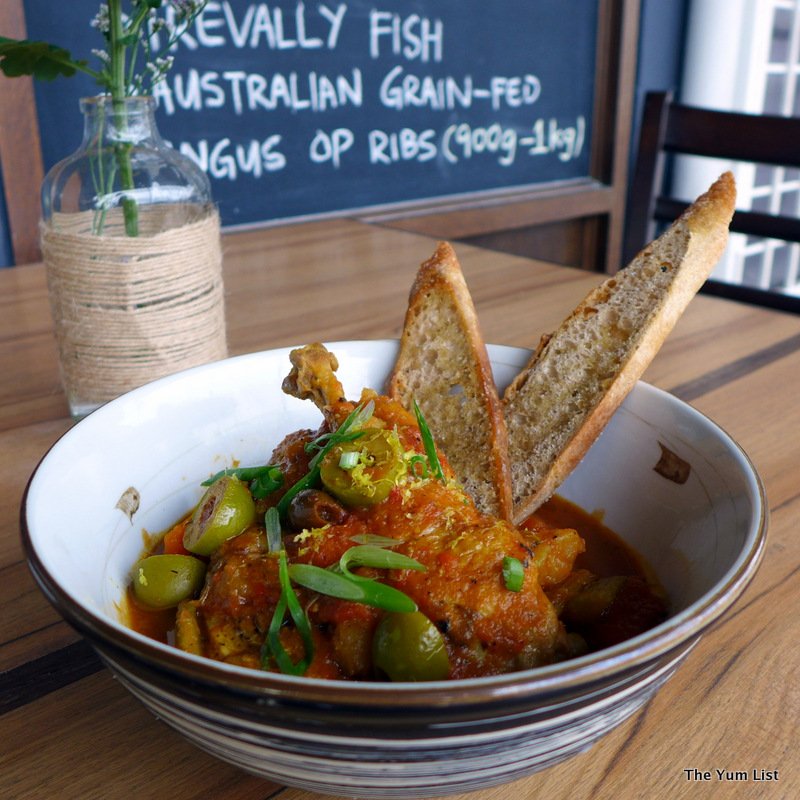 Vegetarian food is a growing interest around KL and you might not expect to find a dish to your veggie friend's pleasure in a restaurant specializing in grilled meats and fishes, but the Pumpkin Risotto (RM 30) we tasted would make anyone happy. The risotto is thick and soft, with none of the soupiness sometimes observed in restaurants around town. We love the contrasting textures with full snow peas and some fresh grated carrot atop the dish. Currently on the specials menu, we are persuading Yin-How that it is deserving of a spot on the regular menu for sure. Not that we needed them but two of the accompanying side dishes would also meet with a vegetarian stamp of approval. Two types of sweet potato wedges and a delectable serving of spiced charred cauliflower are tasted with smiles and nods of approval from all at our table.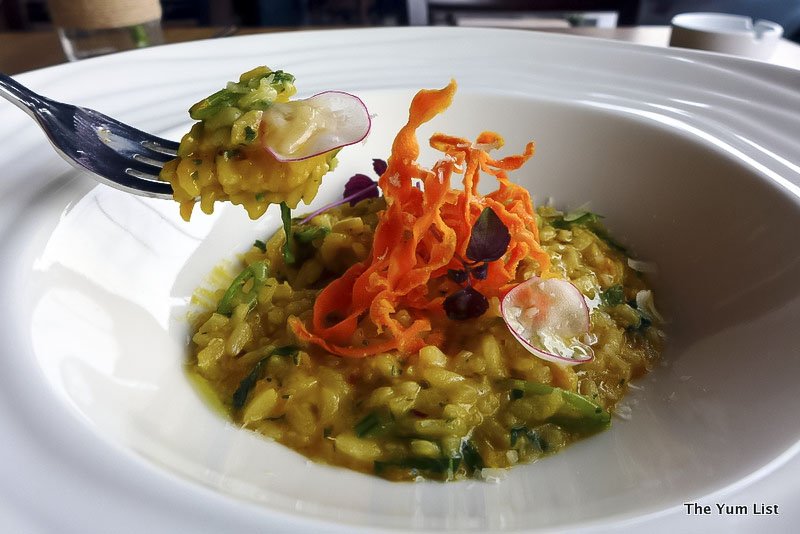 Caning is a typical Latino who loves his grilled meat, and so the next two dishes receive his lip smacking seal of approval.  Monica and I are glad, for although we love the flavours, we have filled up on all the delicious veggie, fish and chicken that has gone before and we need to leave space for the promised dessert treats. But of course we are happy to taste everything and the accompanying Gerard Berne Esprit de Pavie 2010 (RM 179) certainly helps the dishes to slip down with increasing ease. A treat and also a hint of things to come on our planned Bordeaux visit, this is the second wine of St Emilion First Growth Chateau Pavie. I tremble to mention that a bottle of the 'grand vin' would sell at around Euro 5000 with its 100/100 score, but this Merlot blend still showcases the quality of the appellation and winemaker with lush ripe plummy fruit notes.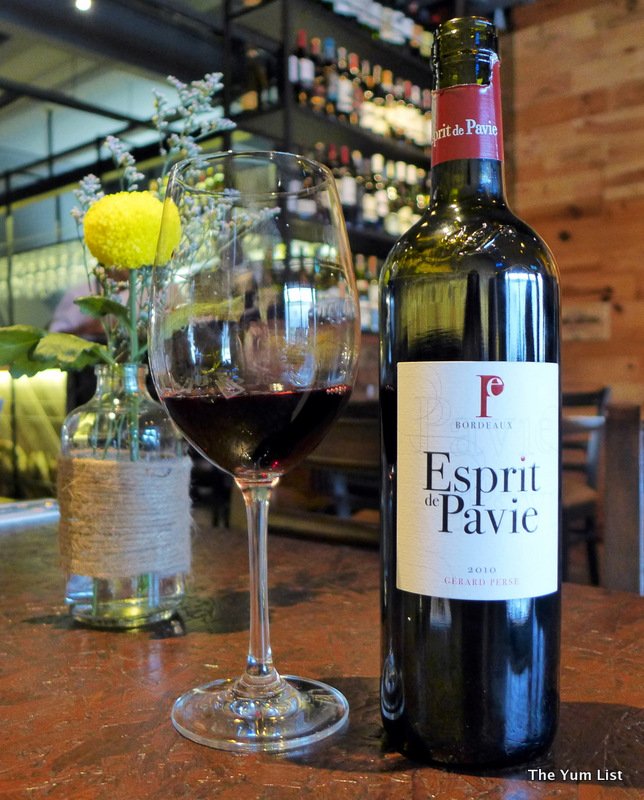 Australian Grass Fed Beef Rib-Eye 250g (also available 350g) (RM 83/RM 111). The beef, cooked to my favourite medium rare, is insanely soft and we all love the crunch of sea salt on the charring and the dripping of herbed butter for flavor. The thick and chunky chilled Lamb Loin (RM 63) impresses no less with strands of wild asparagus as garnish. The medium grilled meat carves off easily revealing soft pink flesh, which is even more delectable when scooped with the accompanying herbed lemony sour cream. These dishes really are remarkable quality for the price.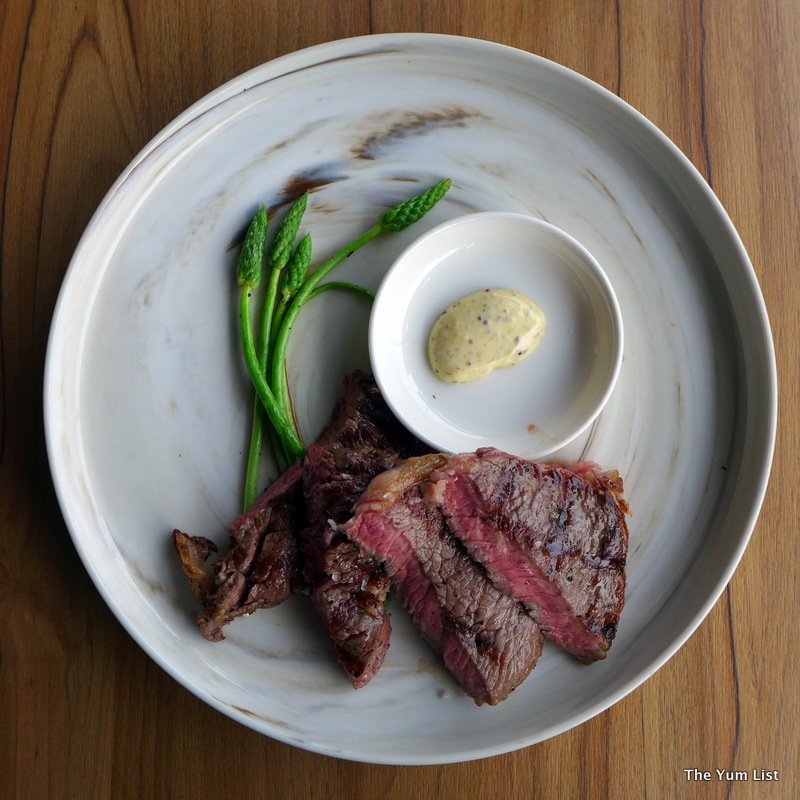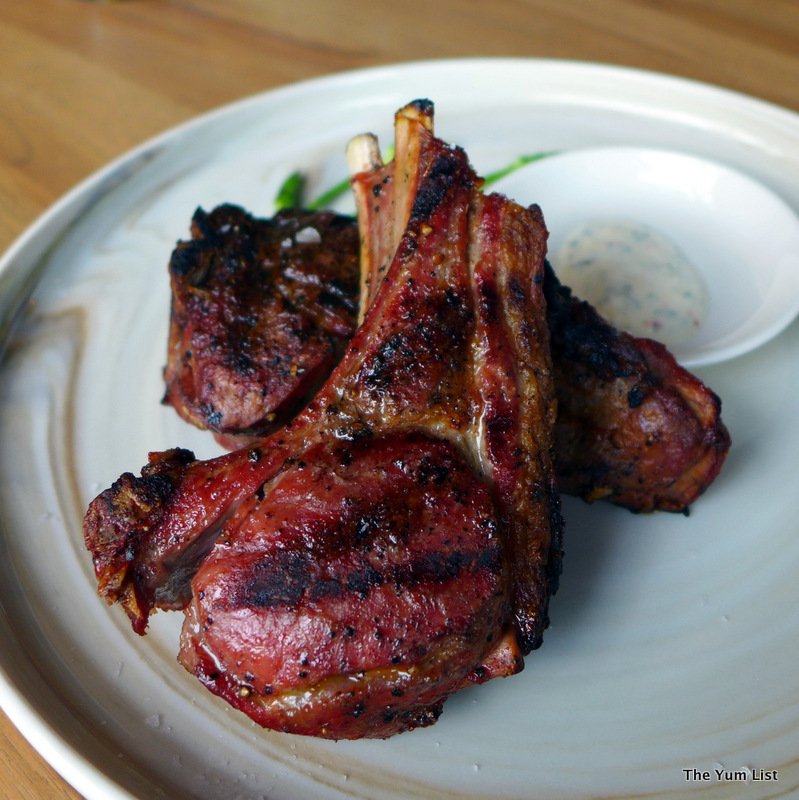 A playful gimmick adds pleasure to our tasting of the grilled meat; where sister restaurant Stoked makes a signature out of salt service, here at Flint there is an original focus on pepper service. Choose from Cambodian red kampot, Nepalese  timur berry, Madagascan wild voatsiperifery or Black Panya from our local Cameron Highlands. Each has a different flavor and type of spice and you're sure to find one that really tickles your taste buds.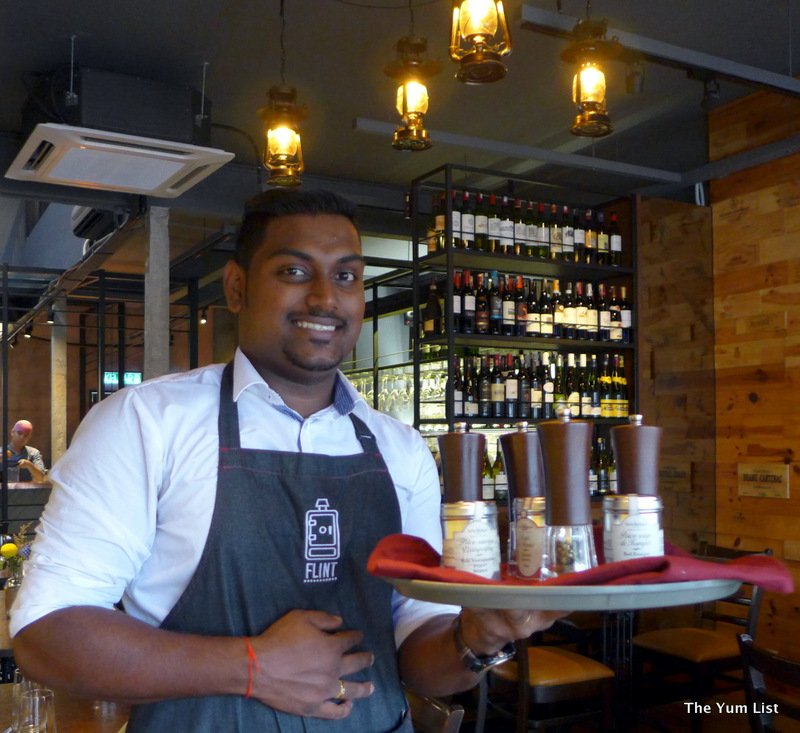 Even though we are stuffed to the gills we know that the desserts will be wonderful and we are reminded of our favourites at Stoked, so it doesn't take much arm twisting to persuade us to nibble on a couple of Flint's tantalizingly textured creations. Monica loves the stewed apple slices, complete with peel in the deconstructed Apple Crumble; I have to confess I like my crumble to be rich and sticky with plenty of crumble, but I swoon for the notes of the Calvados Crème Anglaise that accompanies this dish Rocky Road Orange Brownie is a devilishly decadent delight. Resplendent with marshmallows, hazelnut and a little grated coconut, what keeps me digging back for more is the amazing moussy texture and the resonant orange flavor. It's like nothing any of us have tasted before. And a sip of Calvados, the apple brandy from the Normandy region of France, does not go wrong as a welcome digestif after all this rich eating.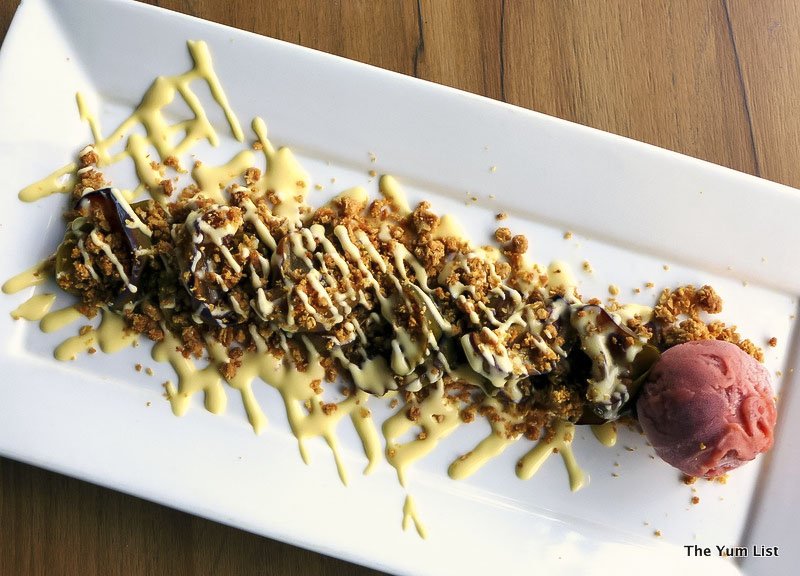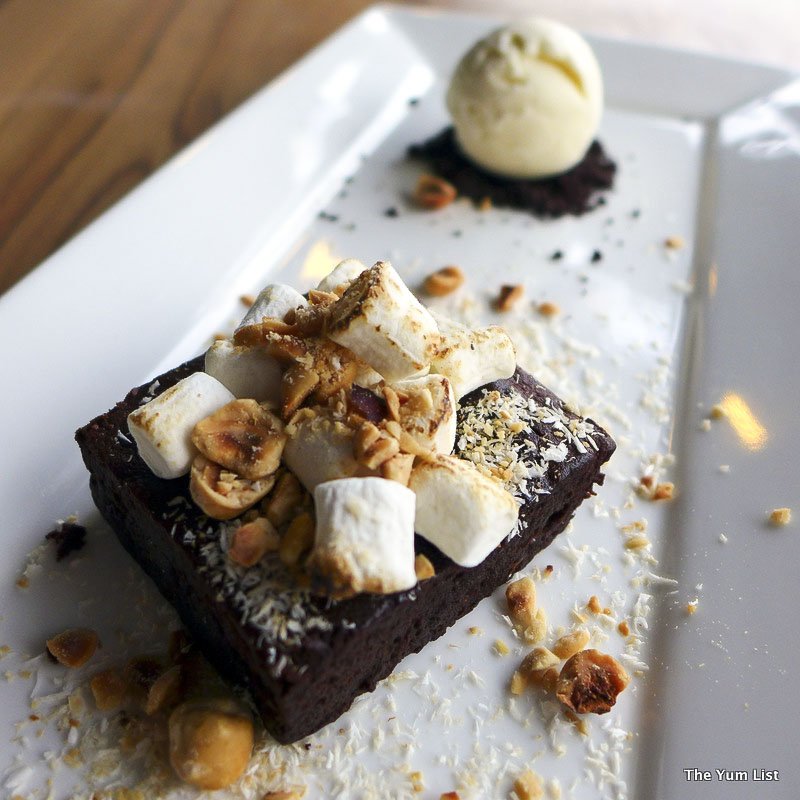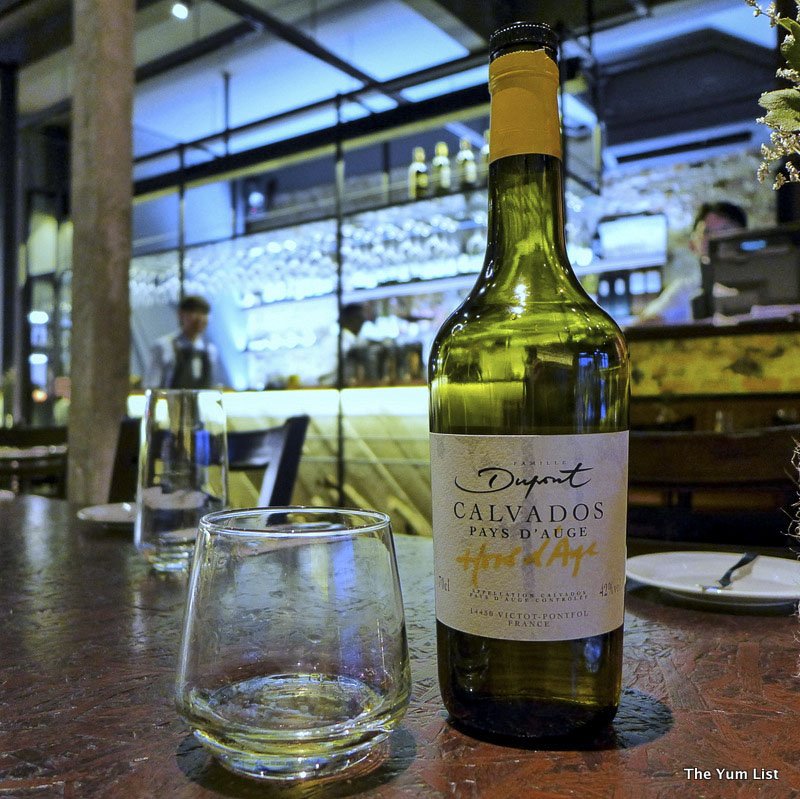 This will be my last Yum List experience in KL for a while, and what a great way to end. I love everything about Flint, and I think a lot of people I know in the Ampang area and beyond are going to enjoy some wonderful times here. Everything gets a double Yum from me.
Reasons to visit:  Wonderful relaxed elegant atmosphere.  Delicious and beautifully presented fresh food.  Well priced range of wines.
Flint Restaurant and Bar
24 Persiaran Ampang
Ampang 55000
Kuala Lumpur
Malaysia
+60 3 4252 8262
www.facebook.com/Flint-Restaurant-Bar
* Flint is a pork free establishment.
Opening Hours
Tuesday – Sunday
Drinks 3 pm – 5 pm
Food 5 pm – 10 pm