On the Quest for Fuss-Free Healthy Eating
Words: Craig J Selby    Photos: Monica Tindall
With a new location, come some pleasant surprises.
Organica Lifestyle is one of my favourite healthy eating (and relaxation) spaces – somewhere to go when you want to get back to nature with your diet, and when you want some fresh ideas for cooking healthy cuisine at home, as well as a great environment to relax and unwind (yoga classes optional). But it's also been a place to go for great quality food and drinks, incredibly friendly people, and a break from the urban jungle out there in KL.
Well just last month, Organica Lifestyle moved. They went from their secluded spot in a quiet, tree-lined street, to a more accessible spot, but equally as tranquil. With their new space, and the huge garden potential, we are certainly going to be seeing more things from Organica Lifestyle, and they are going to be seeing more of me.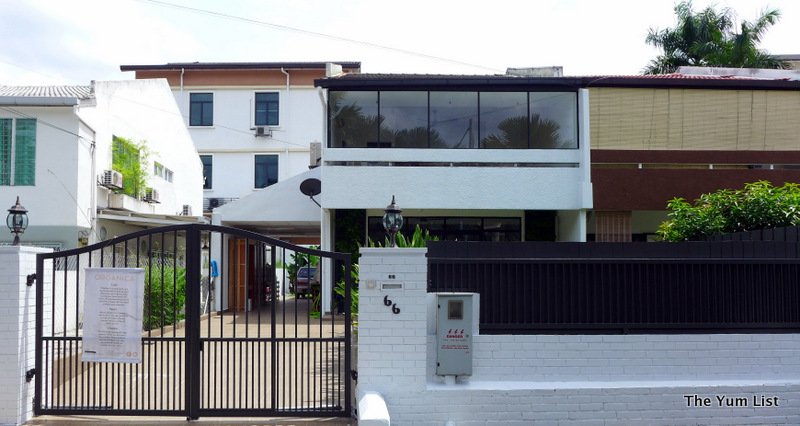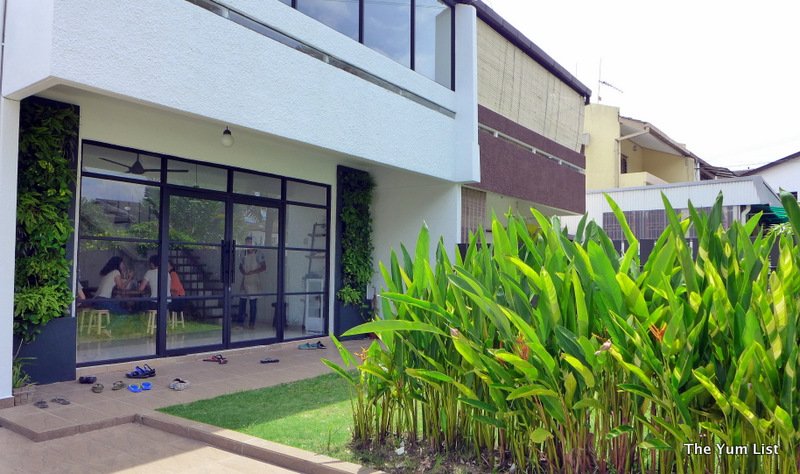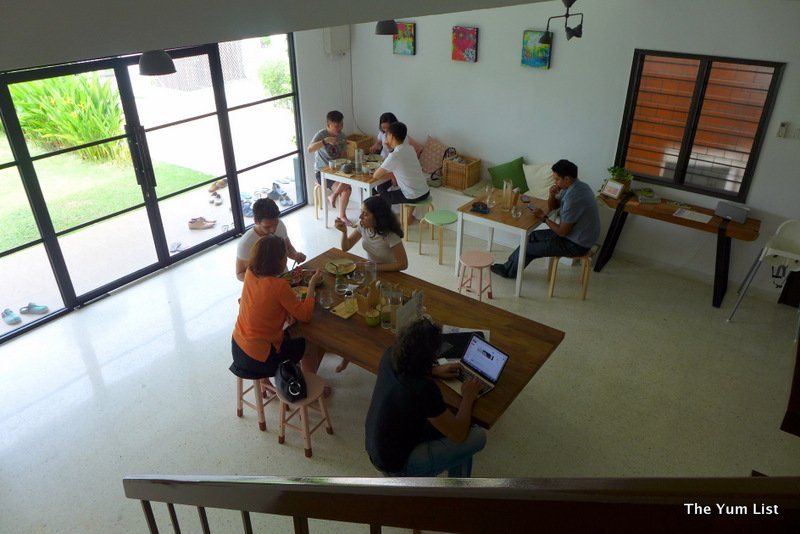 Still in the Bangsar catchment (now in the taman on the other side of Jalan Maroof), and with ample parking, Organica Lifestyle is embarking on its next menu change. We were fortunate enough to have sampled several options, and their new coffee; all part of a move towards simple and easy dishes – and a broader move towards meeting customer requests for more salads and sandwiches.
Having teamed up with Jeremy from Outcast Coffee – to bring great-tasting coffee to Organica Lifestyle. This collaboration brings in a coffee great from the edge of coffee society, ensuring customers are offered the best coffee in the price point. Outcast Coffee is a fast-growing, but very committed coffee brand, currently making waves in KL's coffee scene.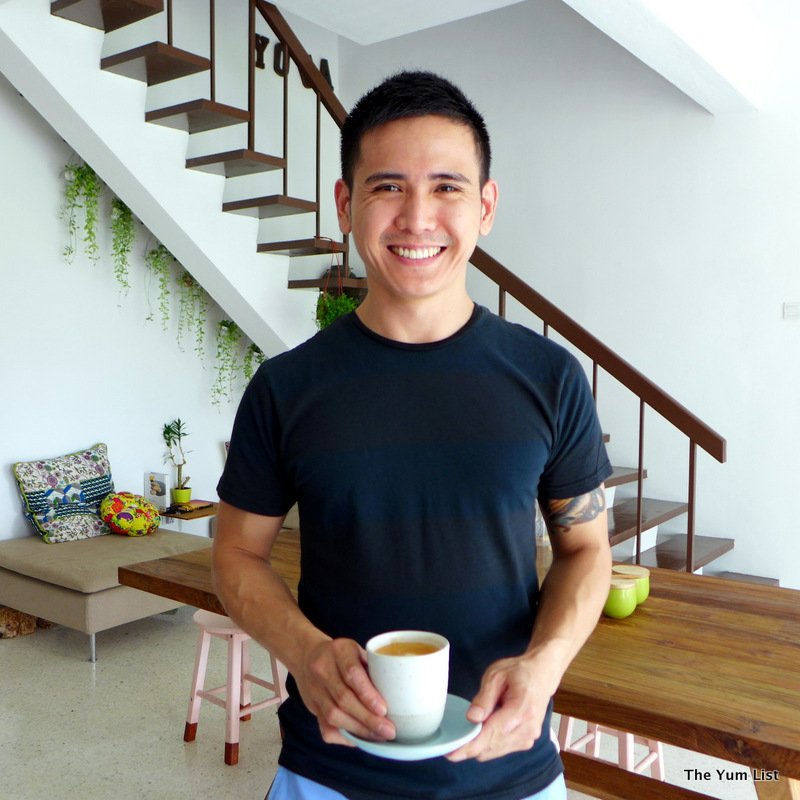 My companions sampled a couple of Outcast's excellent coffee's – rich in flavour, and certainly strong in quality. I'm not a coffee drinker myself, but I was captivated by the alluring aroma, and drawn in to the clear enjoyment that coffee brings others. Oh, look out for a couple of Jeremy's specialty coffee concoctions – Kaya Pandan Latte, and Coconut Milk Late. Definitely not your ordinary coffee experience; so embrace the new wave of coffee-thinking and enjoy. Mon also says that Jeremy is the only man in KL to make a soy latte that is not only drinkable, but delicious – something about the correct temperature of the soy milk she says.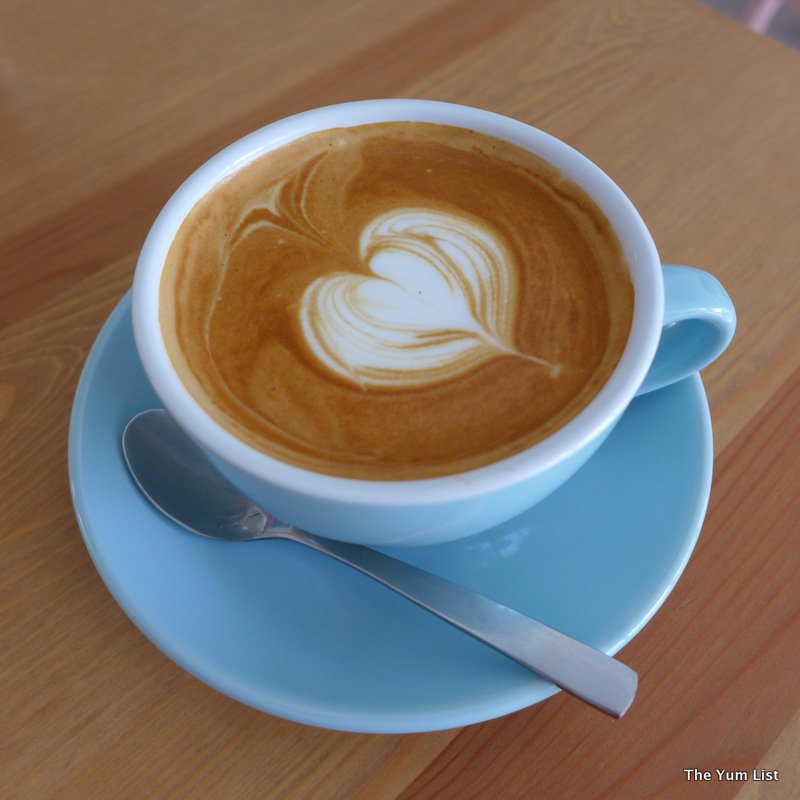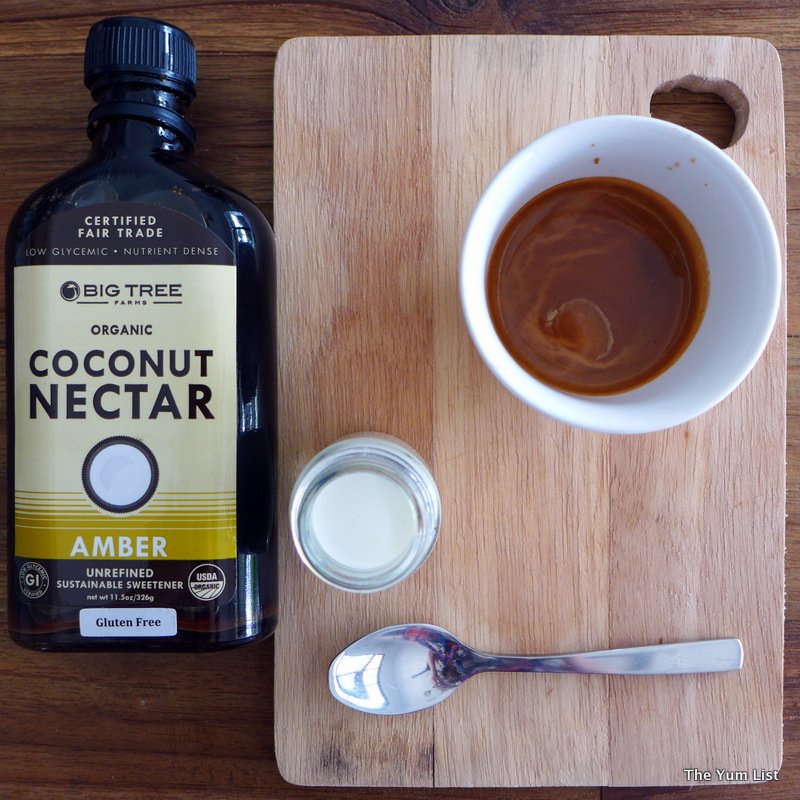 Organica Lifestyle's menu is always fluid – new ideas spark creative sessions in the kitchen – ultimately meaning guests get a range of dish choices which is certainly not plaid or ordinary.
We started off by sharing the Vegan Bowl – a mix of fresh and extremely colourful ingredients – chickpeas, avocado, quinoa, red cabbage, julienned carrot, and a rather bright "salsa style" sauce to tie it all together. Mix it up, and down it goes. The mergence of texture makes this dish – crunchy, soft, smooth – all blend in each mouthful to create a taste experience that could convert a carnivore to a herbivore! Certainly for the health conscious, or for those who seek a hearty, healthy and flavourful meal – I loved it.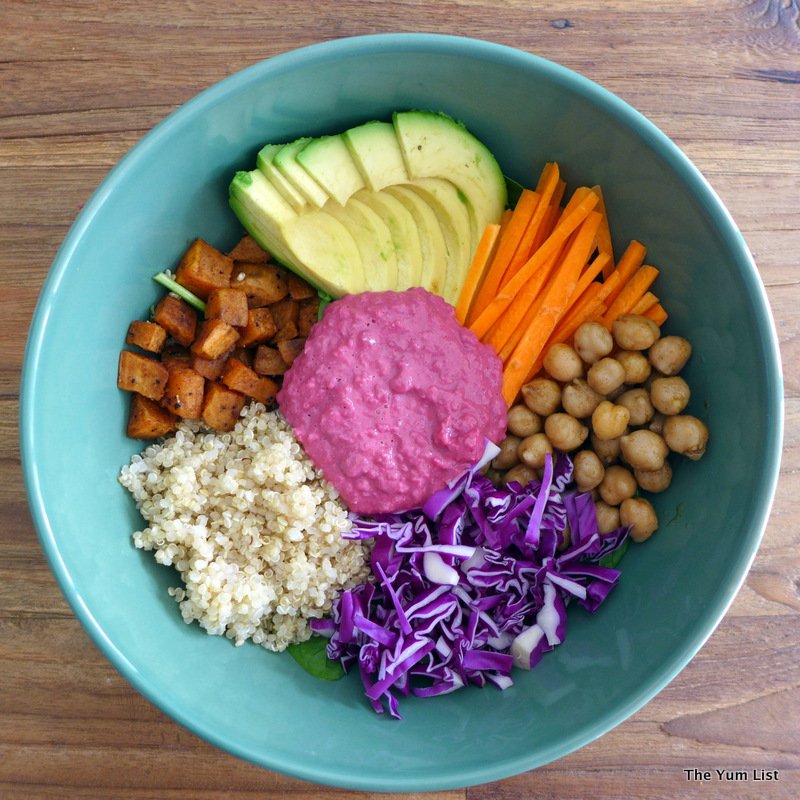 A real surprise was just how great the tofu salad tasted. Ok, I'm a bit cynical because I hardly ever eat tofu – unless it's drenched in tonnes of chilli. But Organica's kitchen did this one with style! Plentiful chunks of tender tofu, lightly cooked, on a bed of fresh green leaves, oodles of pomegranate seeds, and juicy chick peas. Imagine this all mixed up – this salad, also one of their new ones, offers a great light meal for the hungry, and an excellent lunch for those with a normal appetite. Being a dressing-less salad made it a win for me, as the natural ingredients combine to add moisture – without the need for traditionally heavy or overbearing dressing options.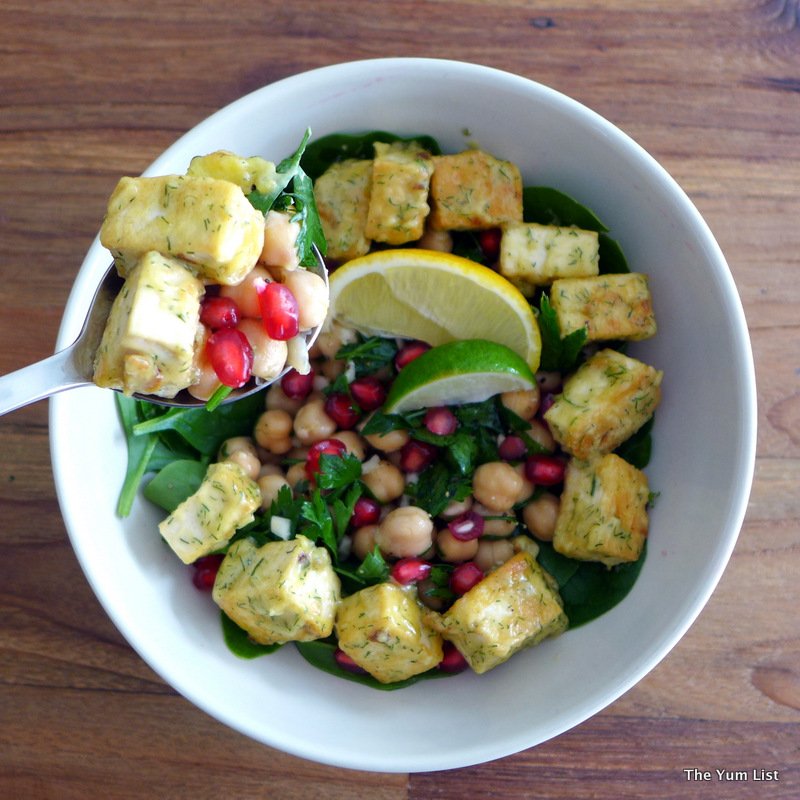 Also enjoyed was one of Organica Lifestyle's new sandwiches. Customer requests have highlighted the interest in having quick and easy sandwich options on the menu, and this lunch treat didn't disappoint. Encompassing smashed chickpeas, dill, turmeric, onions, and sea salt for a fine flavour blend, this sandwich reminded my of good old childhood curried egg sammies – but was a great deal more sophisticated in flavour and approach. Chock filled with ingredients, and taste, this is a meal on its own – and great to share if you're just looking for something light!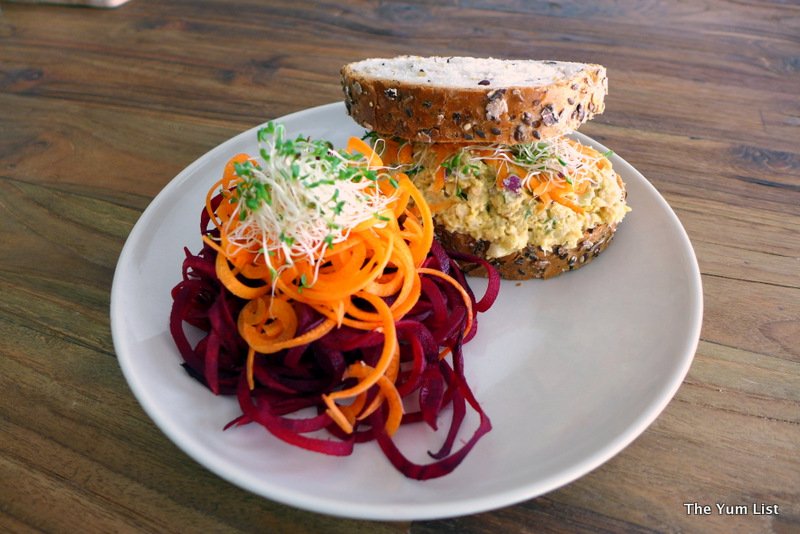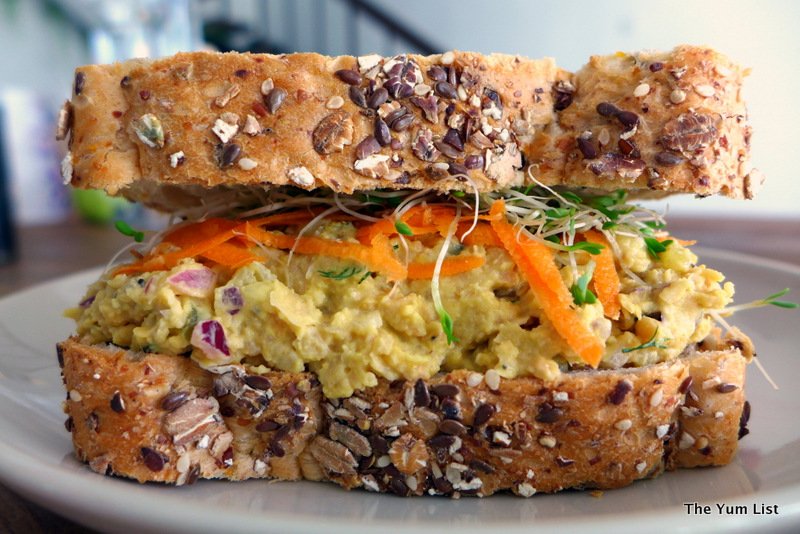 Organica Lifestyle is also known for its finger food too – Bliss Balls – and yes, they are bliss. Little mounds of delight – stuffed with cashew (did I mention how much I love cashew), dates, carrot, cardamom, ashwaganda and cinnamon; the need for chocolate goes out the window as these are just so much better.
With the new menu starting soon, now is the right time to check out their new venue, grab some awesome Outcast Coffee, a light bite or two from their menu, and watch the development of their garden.
Reasons to visit: relaxed friendly environment; food match from scratch to order; healthy, organic, vegan options; excellent coffee.
Organica Lifestyle
66 Lorong Maarof
Bangsar, 59000 Kuala Lumpur
Malaysia
+60127048565
[email protected]
www.organicalifestyle.com/