Words: Aisling Cullen   Photos: Monica Tindall
Malaysia's insatiable love of live music venues has been rapidly growing over the past few years, and it doesn't seem to be slowing down. Timbre, a live music bar and restaurant from Singapore, has opened its first outpost at The Row on Jalan Doraisamy. Timbre is synonymous with promoting homegrown talents and you can expect live music from Wednesday to Saturday every week.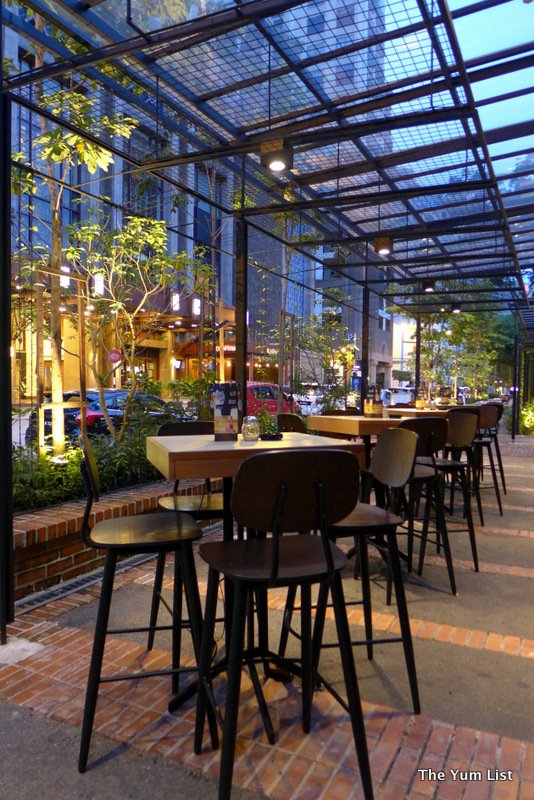 For a good night out, listening to music with friends, food and drinks are a winning combo.  Timbre offers a standard bar menu of cocktails, spirits, wines and beers. A couple of cocktails kick off our evening, and prove to be light, icy and refreshing. While, our personal palates prefer something stronger, we can see the appeal of the fruit chilled drinks we tried.
The Timbre Mojito (RM26), combines Bacardi rum wth lots of fresh mint, lime juice, club soda and sugar. The Mixed Berries Margerita (RM26) is a mix of Bacardi rum, Gran Marnier, lime juice, grapes and generous amount of berries. We can almost imagine this one as a beakfast smoothie. For non-drinkers, Timbre has a good mocktail list, of which we tried the Lychee and Strawberry Tea (RM12).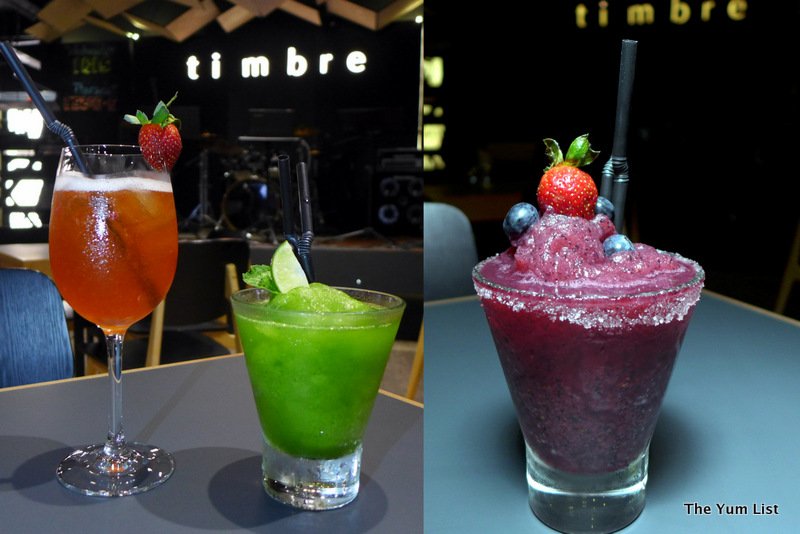 The food at Timbre packs a punch with bold local flavours infused into classic western pub food.
We like that Timbre has the option of half-and-half pizzas (RM42) where you can choose two different styles of toppings on one pizza. Caning enjoyed the roasted duck, sauteed shitake mushrooms, mozzerella and hoisin sauce. The other half was with crispy caramel anchovies sauteed onions, pineapple and mozzerella on a sambal base, topped with cucumber and drizzled aoili. The pizzas are of giantic proportions so bring a friend when ordering this item.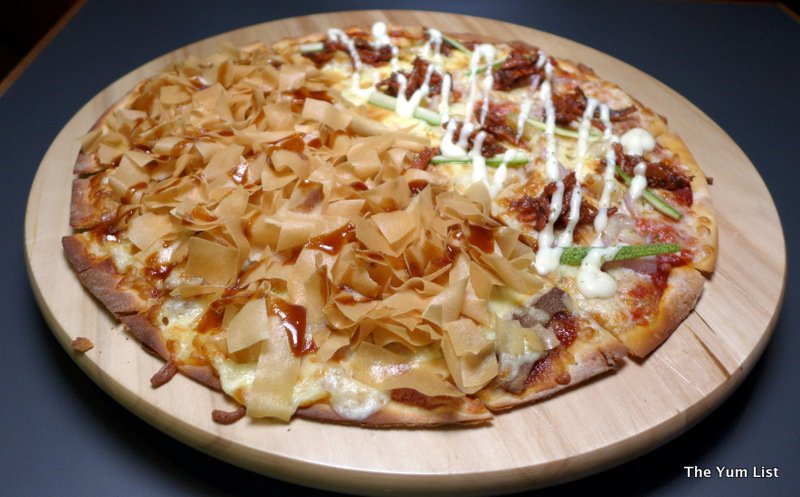 The Satay Beef Fries (RM14) are a tasty sharing snack. Crispy fries are topped with a rich flavourful stewed satay beef and garlic aoili.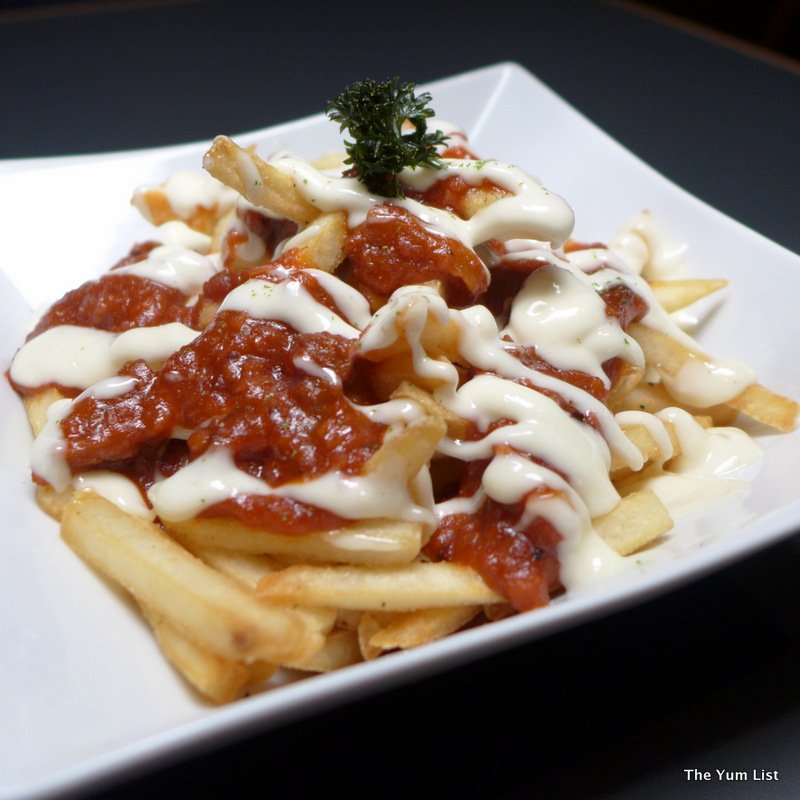 A very generous portion of Timbre Buffalo Wings (RM30) have a powerful smack of flavour.  Their secret sauce is named 'devil sauce' which contains crushed crunchy peanuts. It left our tongues tingling with spice.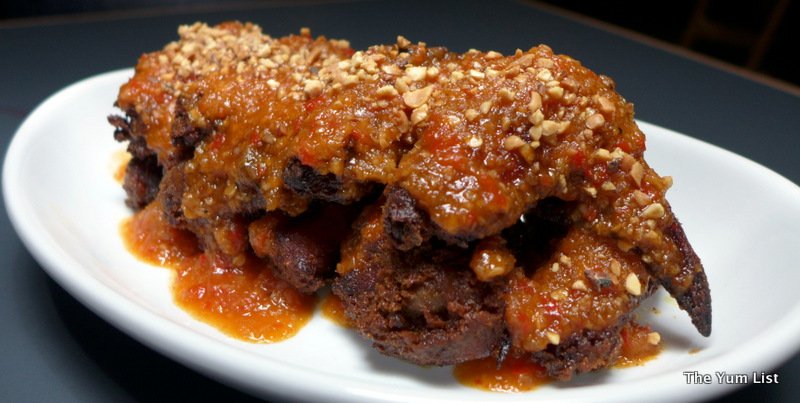 The Rack of Sambal Crusted Lamb Loin (RM34) was our top dish of the night. Tender pieces of meat came with sauteed sweet peas, caramelised onions, a coconut lemongrass emulsion and chickpeas. Really tasty.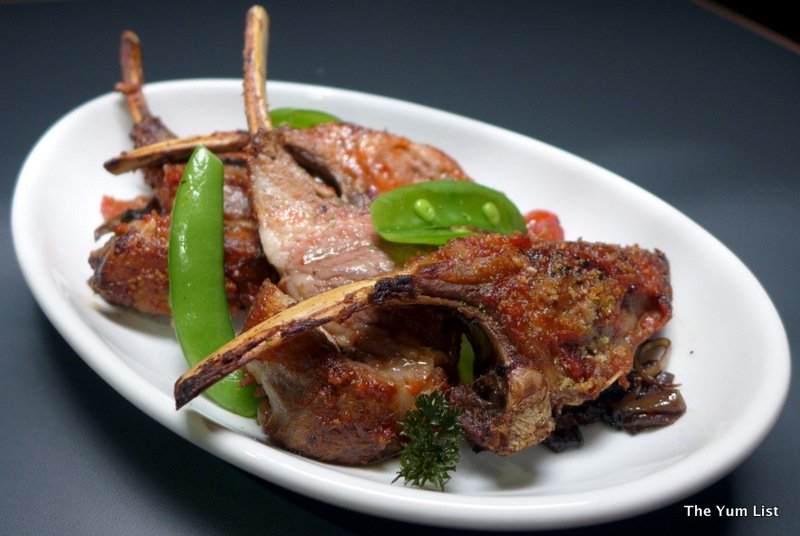 Reasons to visit: clean and well designed music venue, big portions of flavourful spicy pub food – western cooking with local spice, you can check out the local music talent.
Timbre
60, 62 & 64 Jalan Doraisamy,
The Row,
50300 Kuala Lumpur
Malaysia
www.facebook.com/timbrekl