Words: Hannah Staley    Photos: Monica Tindall
As the specialty coffee scene in KL continues to thrive let me introduce you to Q Cup Cafe, a hidden gem on the first floor of a corner shoplot in Jalan Imbi. The decor is simple, the vibe relaxed with homemade cookies and cakes on the counter, yet the place is percolating with possibilities including a soon to be added wine bar. Monica and I are lucky enough to sit down with Q Cup founder Yu Tack Yuen who offers us the chance to sample some of the world's most exclusive coffees from the highly esteemed Panama Coffee Auction without having to pull out a passport or participate in any bidding wars.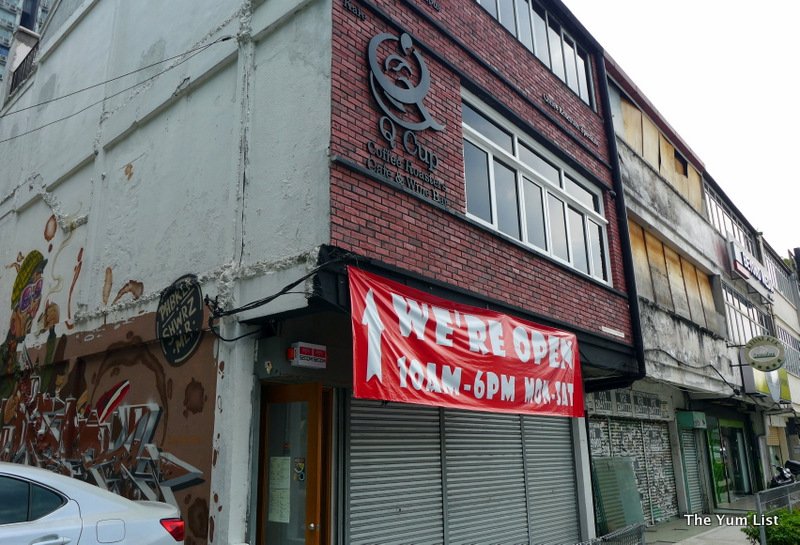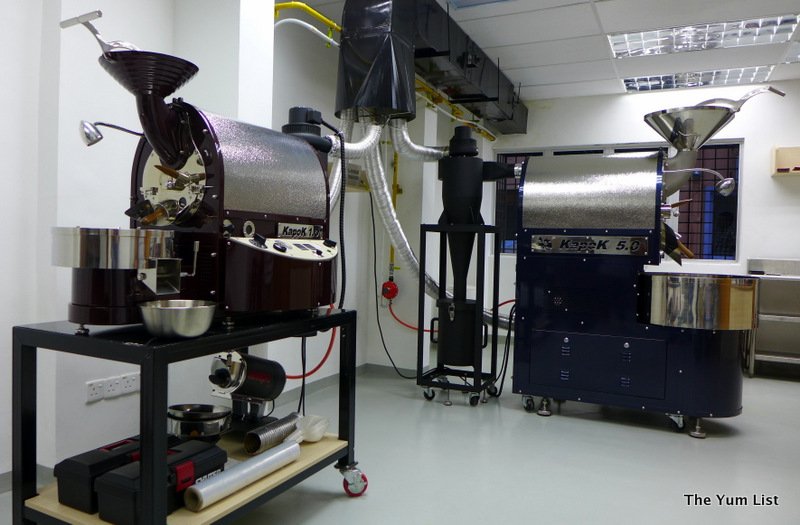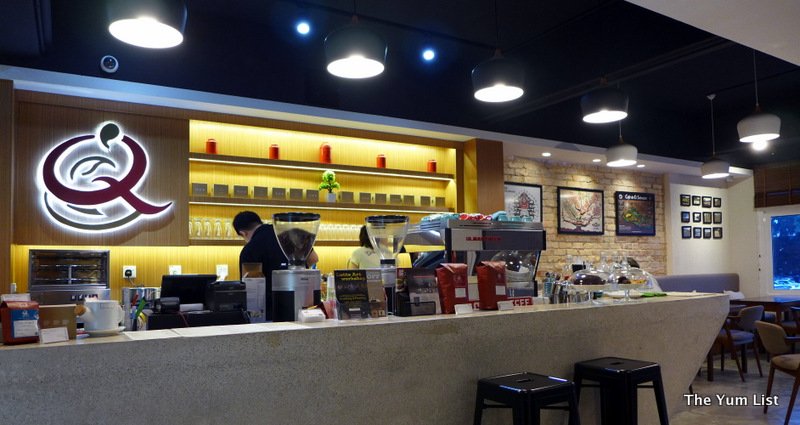 Perusing Q Cup's detailed coffee menu it's clear that coffee now has a similar profile to wine, with descriptions detailing origin, varietal and process. Thankfully the highly trained staff not only have the skill and dedication to make a great cup of coffee they are also trained to talk us through the different flavours and profiles. As we begin to sample some of the menu's offerings Mr. Yu explains that 'Q' stands for quality and his aim is for Q Cup Cafe to be a place where the customers can be 'introduced to specialty coffee without feeling intimidated'.
Our first specialty coffee is the Ethiopia Yirgacheffe Wango Oumer Abedu G1 (RM15). The Yirgacheffe is a mocha bean so it's no surprise this coffee has a very dark colour and a strong bitter aftertaste. A hand pour method for brewing the beans ensures we capture the complexity of flavours.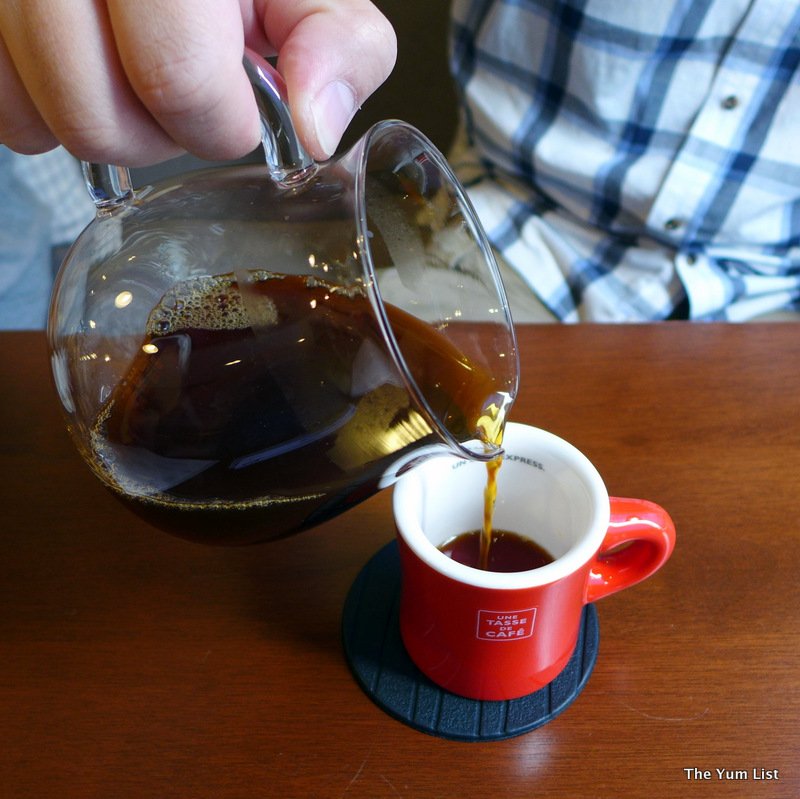 We started with something considered in the upper echelons of coffee consumption in KL, but we're soon to find out why Mr. Yu and Q Cup are the cream of the crop in the local coffee industry: Esmeralda Special Geisha (RM60 cup), one of the most treasured coffees in the world. This bean grows solely on one particular hillside in Esmeralda Estate in Panama. The coffee is in such high demand it's auctioned off every year, and was officially the most expensive coffee in the world for a number of years (apart from the "ridiculous gimmick of beans being processed out the bums of animals" as Mon so eloquently puts it). Being a leader in coffee roasting Mr. Yu clearly knows his stuff and not only is he kind enough to brew us a cup of this rare find, we're also able to see, touch and smell these highly sought after beans. It's certainly the most aromatic (not to mention expensive) coffee I've ever tried with intense aromas of honey, caramel, jasmine and a complexity of spices. The palate is floral with a sweet aftertaste.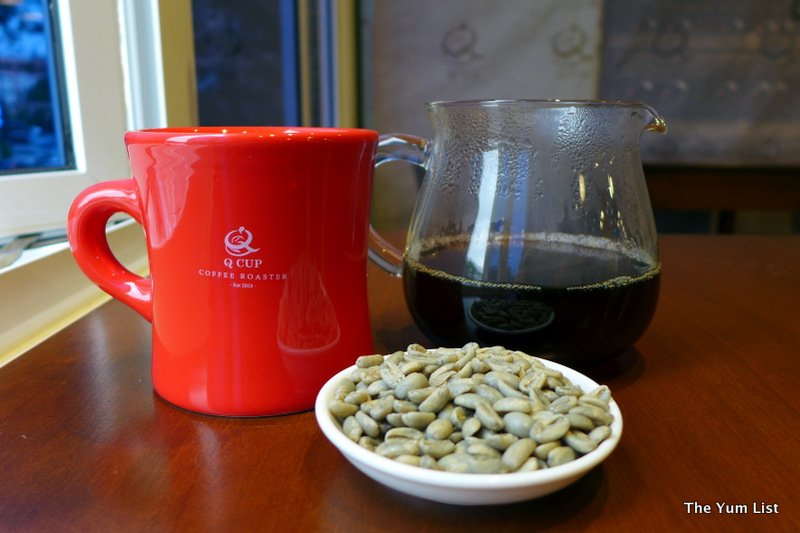 I feel grateful for the experience but also wonder how one can possibly follow the Geisha when Mr. Yu pulls out his trump card and asks if we'd like to try something 'even more special and exclusive'. "YES," Monica and I squeal as if we've just found one of Willie Wonka's Golden Tickets. Queue the Pantaleon-Mocca from Finca El Injerto in Guatemala. This rare hand-picked and hand-washed coffee with fruity, peach and jasmine flavours is currently the most expensive (again excluding the nonsense of beans coming out of animal's bums) coffee across the globe. Mr. Yu managed to get its hands on a bag of the 2013 Lot #E101 and the cafe still has 150 grams left, which might even be the last left in the entire world. I therefore savour every last drop of my sample and notice it has a delicate long lasting aftertaste. Being so exclusive this specialty coffee doesn't appear on the menu but Mr. Yu hints that customers may be able to sample it upon special request.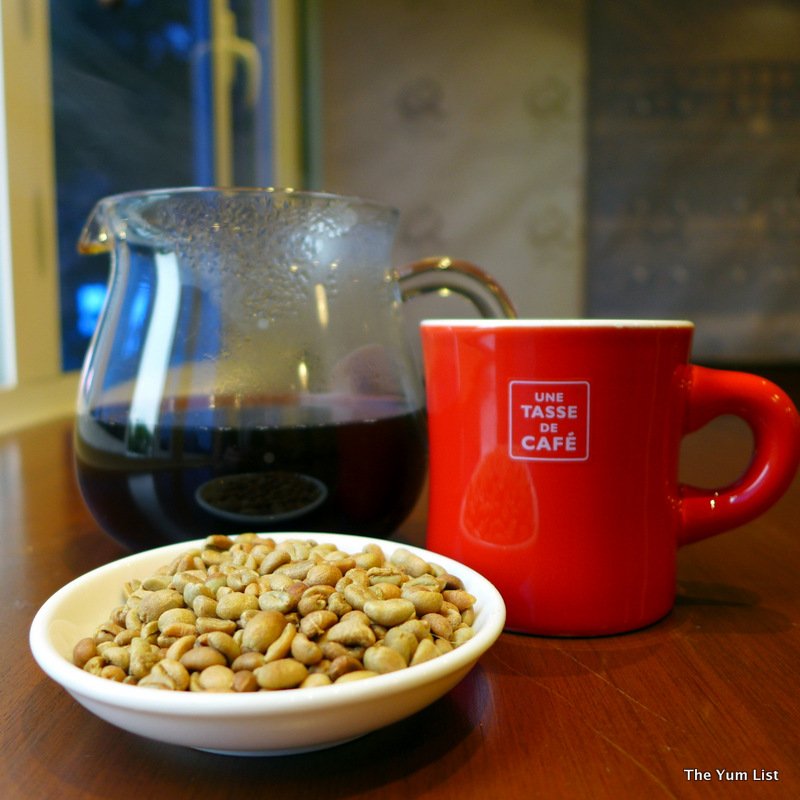 The usual suspects in the way of cappuccino, latte and americano appear on the menu with non-coffee drinkers also catered for with a French loose leaf tea, the Hediard Darjeeling (RM16). The tea is musky, aromatic and tangy with a sweet aftertaste. Cappuccino Freddo (RM14) is a particularly refreshing change to the sickly sweet blended drinks on offer at the larger coffee chains. And, guests would be well-informed to know that Q Cup Cafe also sells specialty brewing equipment from hand pours to the newly introduced cold pressed espresso – this could easily become a fast favourite.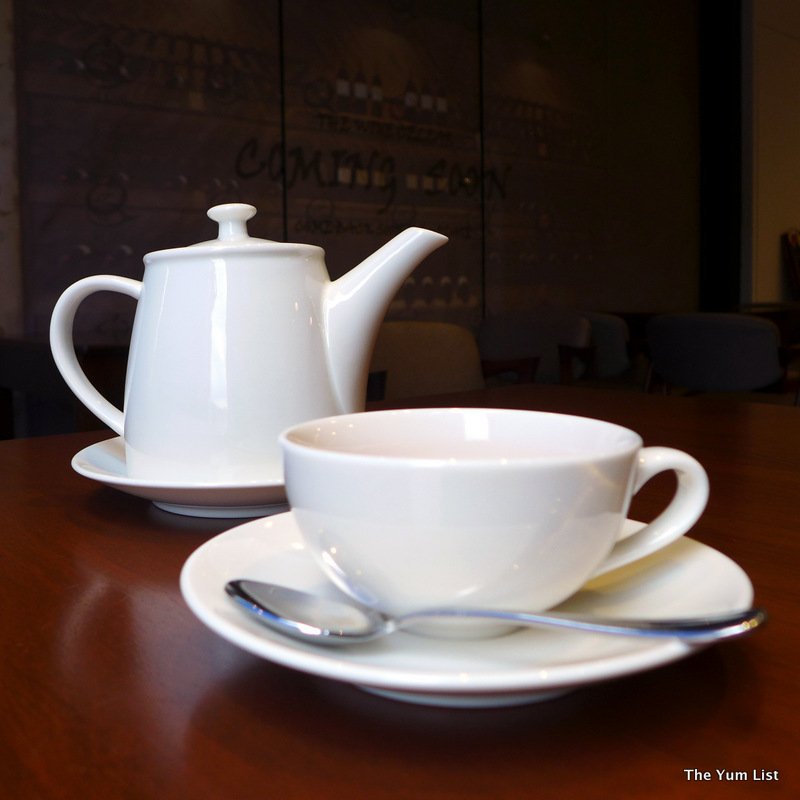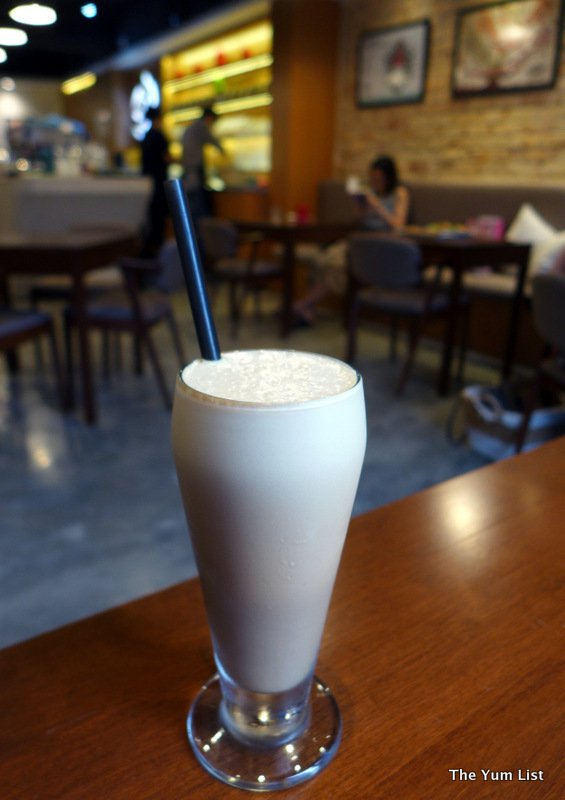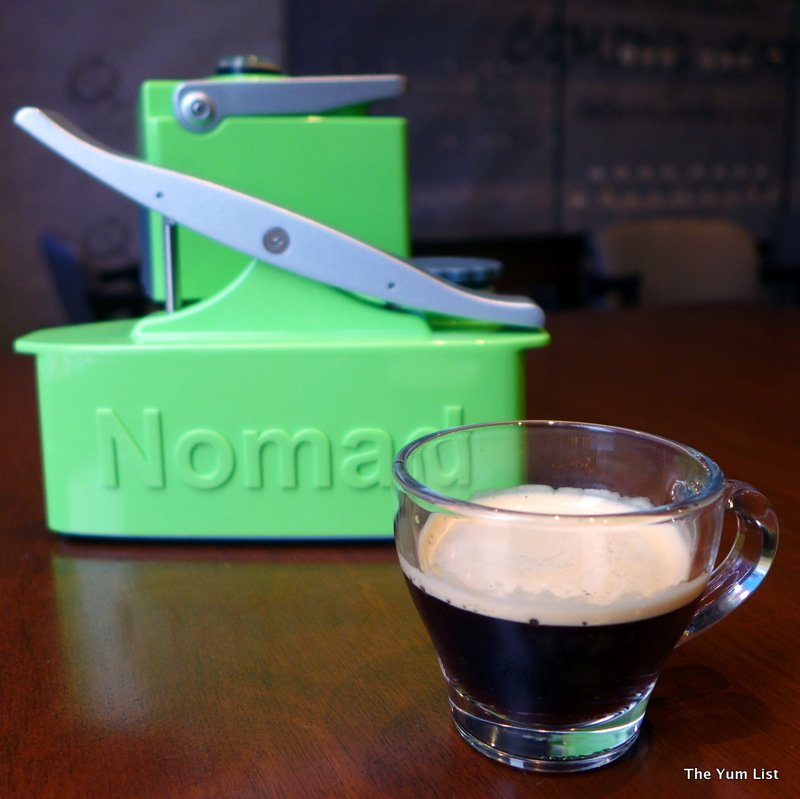 Before becoming a coffee connoisseur Mr. Yu trained as a chef and has incorporated his cooking expertise into the Q Cup Cafe experience. All the food on the menu is homemade and we begin with Gambas al Ajillo (RM28). Spanish style garlic prawns are mixed with herbs, dried chili, garlic and ginger and served with sliced homemade baguette. The dish has a nice spice to it and is thankfully not over garlicky. The homemade bread is a welcome addition allowing me to mop up the delicious juice.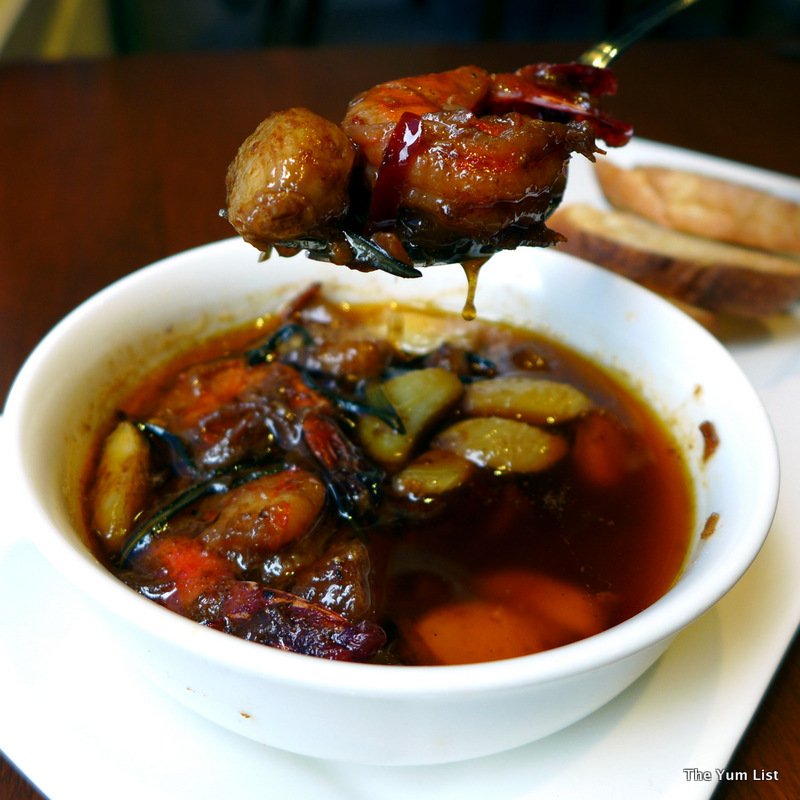 Salmon and Shrimp Pate (RM12) served with sliced warm homemade baguette is another recipe from the home. It proves a perfect tasty treat as a light snack or starter and a great accompaniment to the drinks on offer. (We can't wait to try it with a glass of chilled white wine – must return when the wine bar officially opens.)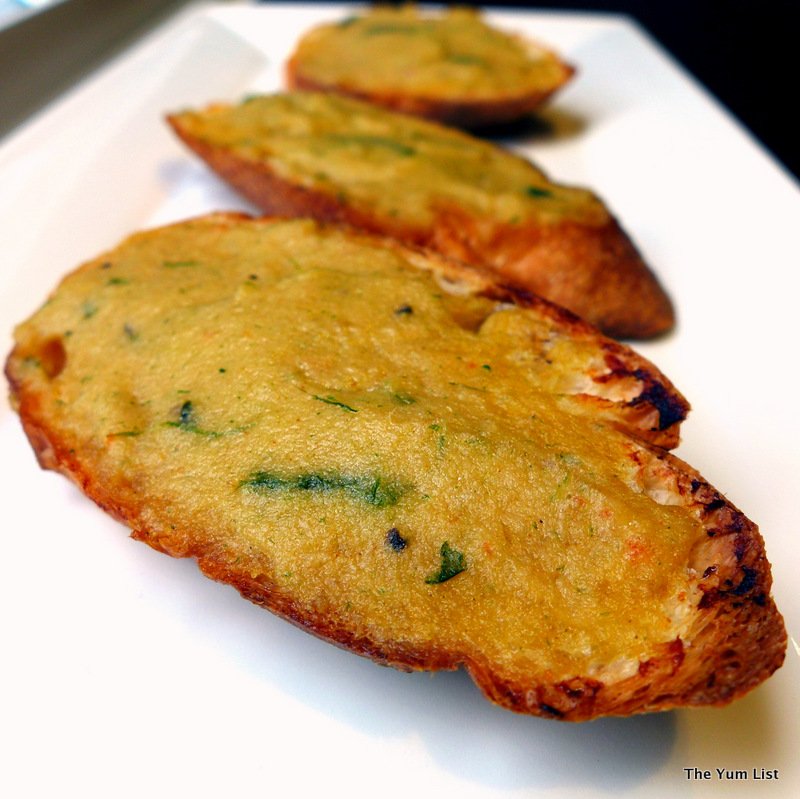 The house special Qmelete (RM20) is the cafe's take on the omelette mixed with mozzarella, parmesan, cream, almond, cherry tomatoes and turkey ham, and served with salad and sliced homemade baguette. The combination of flavours and cheeses make for one scrumptious dish. I think I found my 'Geisha' equivalent food dish.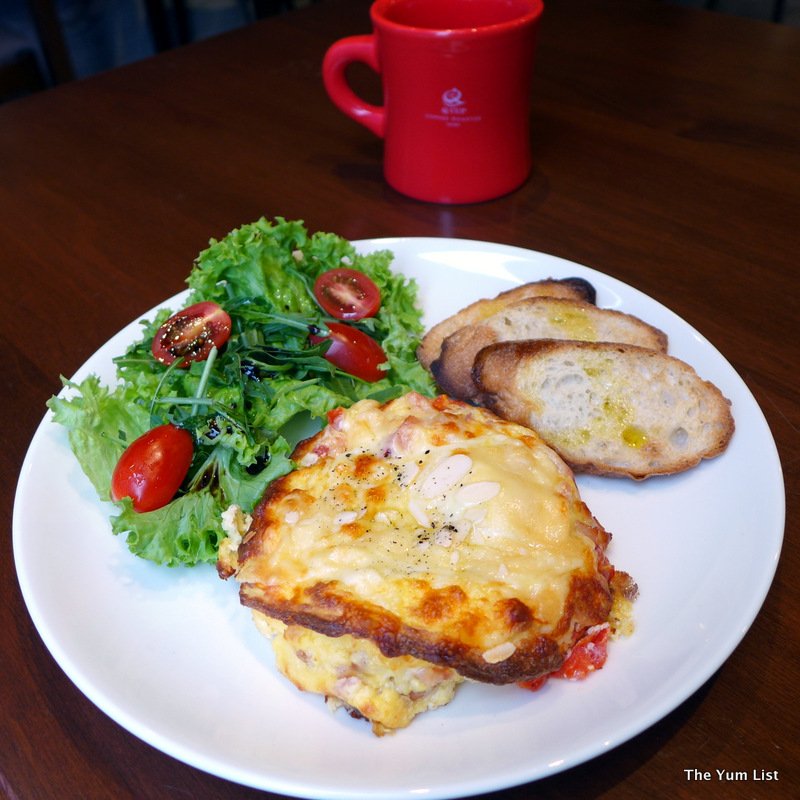 We are also fortunate to try some dishes not yet on the menu as they're being saved for the 'Grand Opening'. The Croque Madame sandwich has turkey ham on the inside, a generous helping of melted cheddar and gruyere cheeses, white sauce and a perfectly poached egg on top. The runny yolk from the egg acts as a glue binding the plethora of flavours together resulting in a taste the French may call 'magnifique'.
Q Cup Cafe's take on French Toast is a dish consisting of their homemade bread sweetened with a sprinkling of cinnamon and icing sugar served with homemade vanilla ice cream and honeycomb, providing a lovely sweet smell, and a generous helping of chopped pistachios and almonds that give a nice crunch. The combination of textures, colours and flavours make this a dish that satisfies all the senses.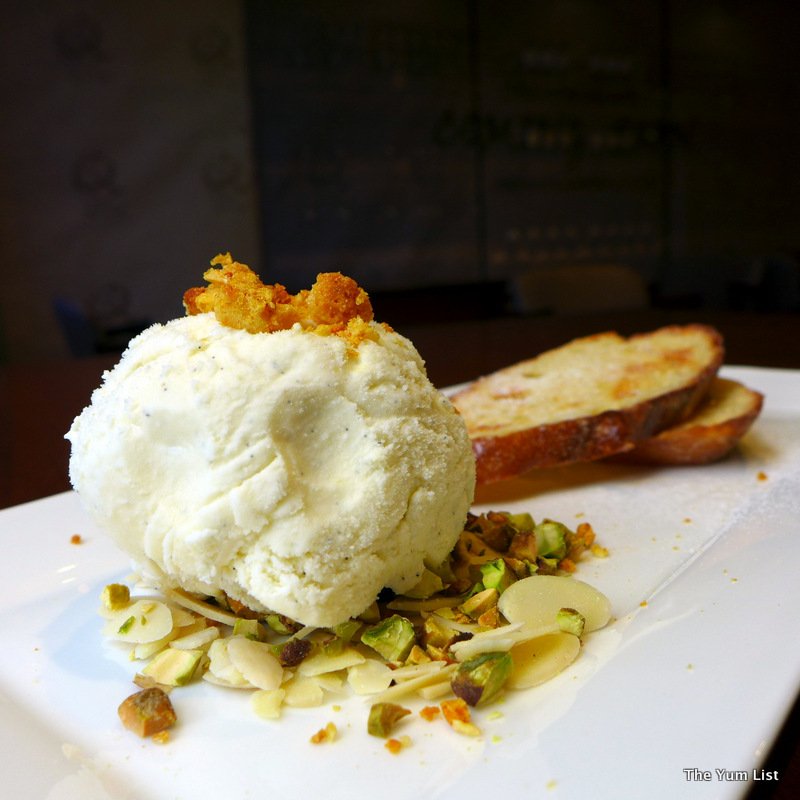 My waistband is starting to feel a little tighter when a mouthwatering natural green Pandan Chiffon Cake served with cream arrives at our table. I dig my fork into the light and fluffy sponge and scoop up a dollop of silky cream. The cake is lovely and moist and I take it upon myself to advise the staff it's a keeper for the menu.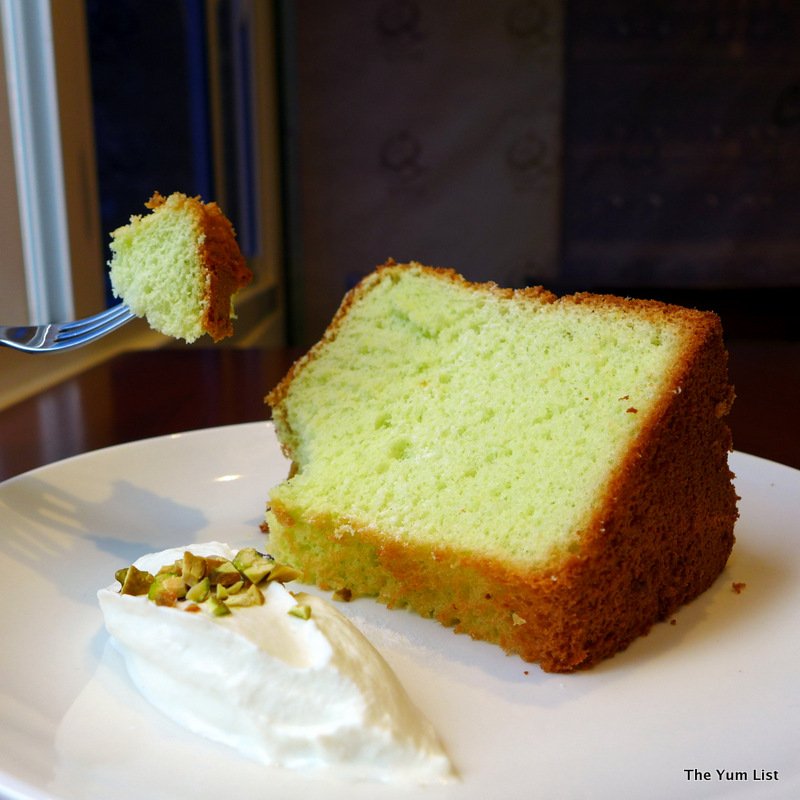 We finish our Q Cup experience with a New York Cheesecake (RM11), beautifully presented in a jar to keep in the moisture with an Oreo cookie base. This heavenly dessert looks as good as it tastes and is extremely rich, thick and moreish.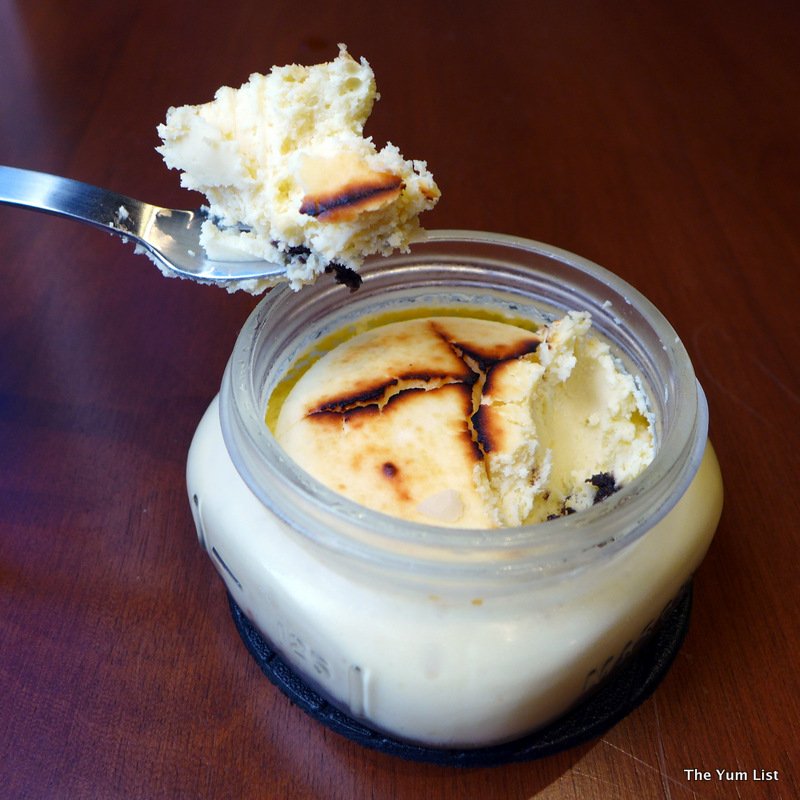 It's evident the Q Cup experience is all about finding better tasting coffee and being able to share it with as many passionate coffee lovers as possible. The food on offer is on par with the beverages and once the wine bar opens there might not be an empty seat in the house.
Reasons to visit: specialty coffee including some very rare beans; great tasting homemade dishes – must order the Qmelete – and fans of rich, thick and indulgent shouldn't miss the New York Cheesecake.
Q Cup Cafe
No. 72, Jalan Imbi
55100 Kuala Lumpur
Malaysia
Qcup.com.my