Words: Kirsten Durward    Photos: Monica Tindall
Chateau Cos D'Estournel is one of the oldest and most respected producers in Bordeaux. Known as one of the 'super seconds, the premium wine produced at Chateau Cos D'Estournel is a highly regarded second growth grand cru classic. However the chateau is unique not only in style of wine and for the innovative production methods, it's particularly interesting to visitors who, like us, love to travel due to the design influences and travels of the original founder Louis-Gaspard d'Estournel, famously nicknamed the 'Maharajah of Saint-Estephe.'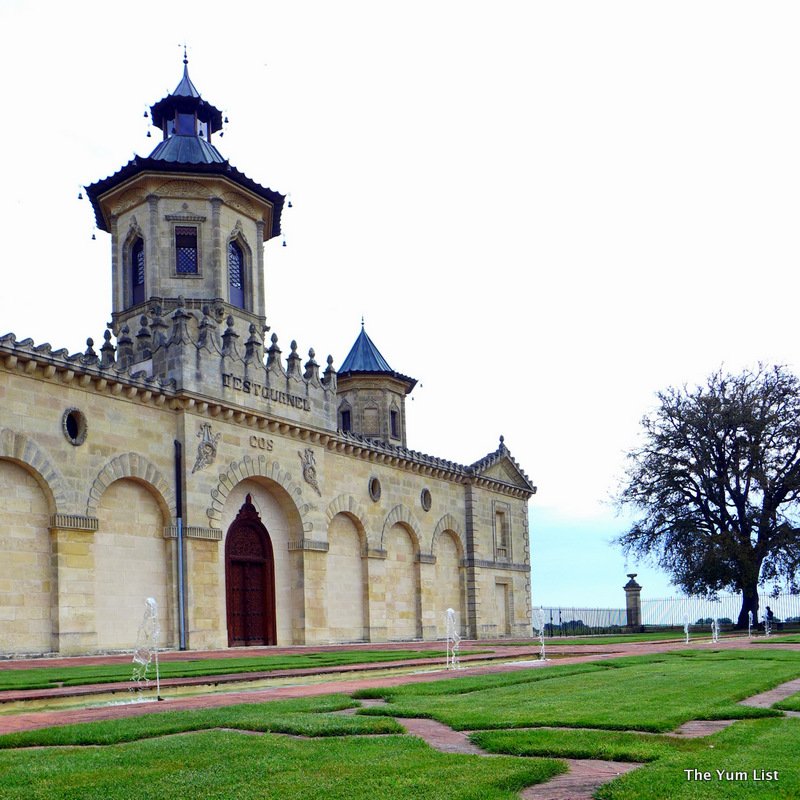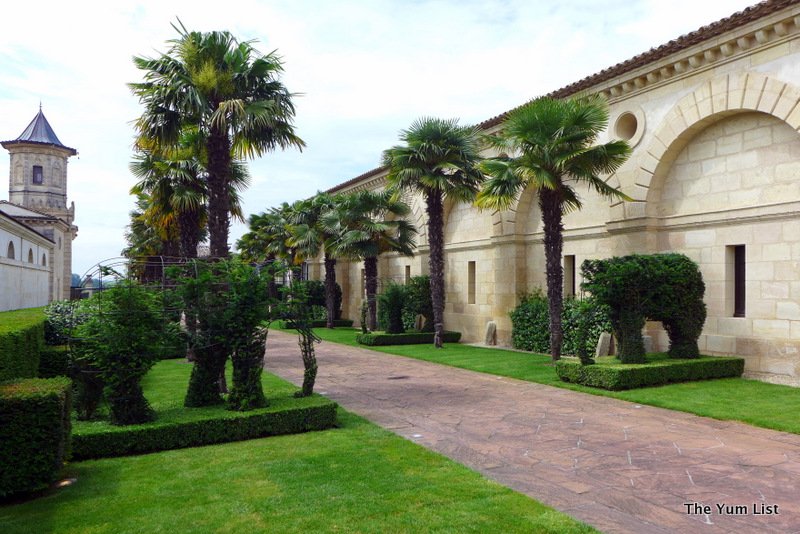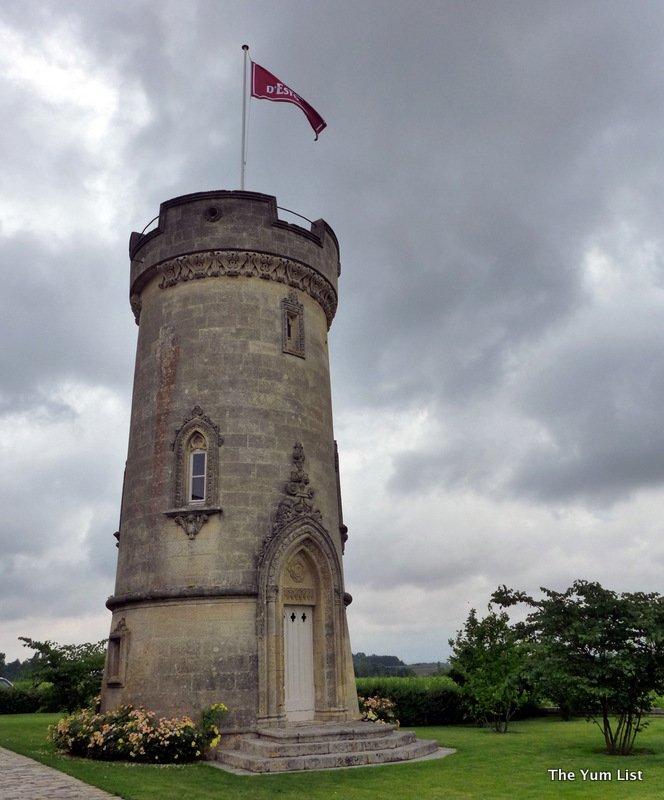 Such a visionary and so determined was this character, that once having decided to plant vines and make wine in this area, he spent 40 years buying up all the land from local villagers and only then was able to build the chateau. Being impatient with the machinations of the Bordeaux merchants of the time, he began to bottle in house and had to develop new markets in which to sell his wine. This led to him being one of the first to export wine to India and China. It was after his visits to the East that he added the pagoda styling to this dramatic chateau, all part of the legend that is Cos d'Estournel.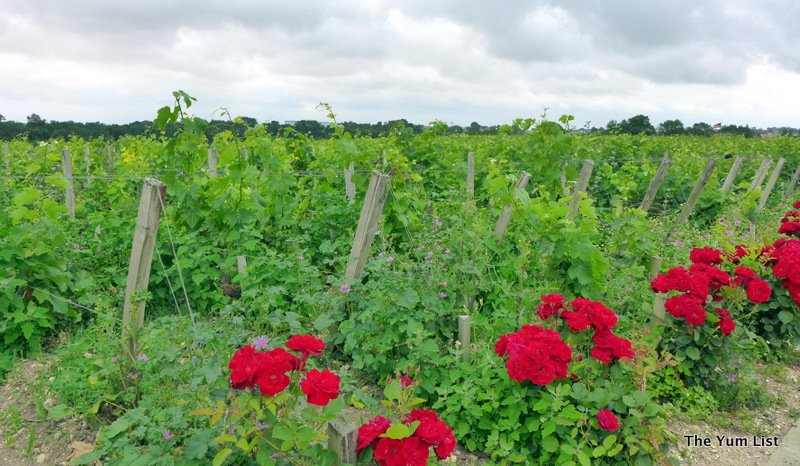 The current owner, somewhat reclusive French hotelier and businessman, is Michel Reybier, who has one of his private homes on the grounds of the Chateau. We are told that this 'Chartreuse' is a typical French country home, but in our humble opinion there is nothing typical about the expansive mansion we were privileged to view.  Available for private rental on a word of mouth basis, the property boasts two suites, six sumptuous en-suite bedrooms, indoor and outdoor pool, hammam, salon and dining room. A private chef is discreetly at your disposal as well as the full-time housekeeper. However our favourite aspect of the house is the underground cellar, which holds regional treasures of indeterminable value. We have no doubt that many dignitaries, celebrities and possibly even royalty, have enjoyed this relaxed and refined accommodation, taking full advantage of the pleasures of the cellars away from public notice.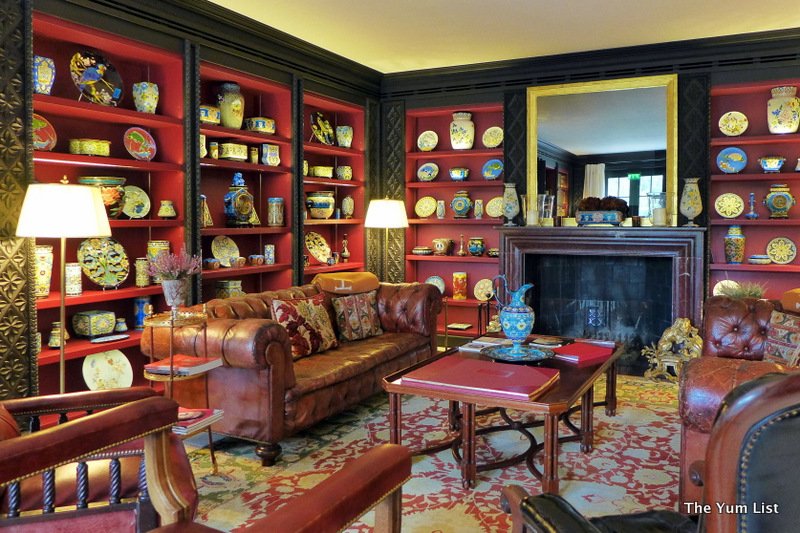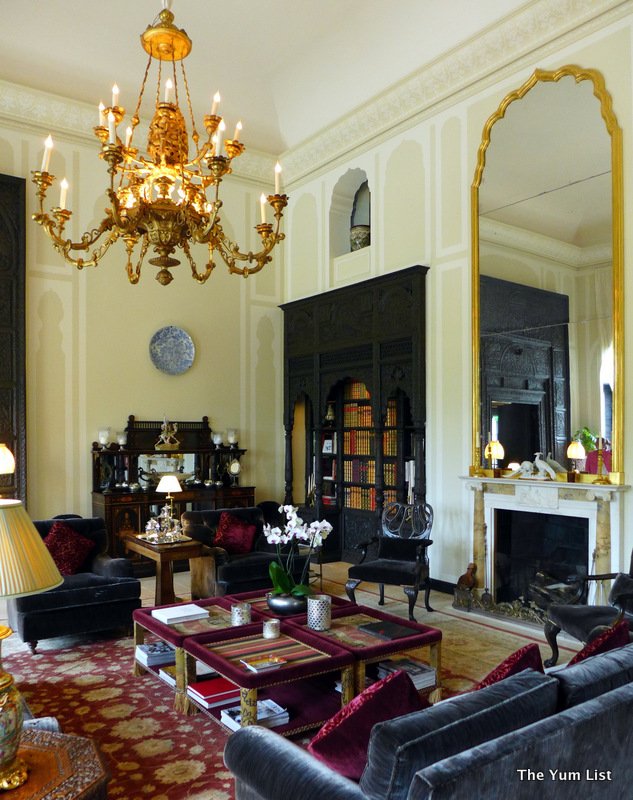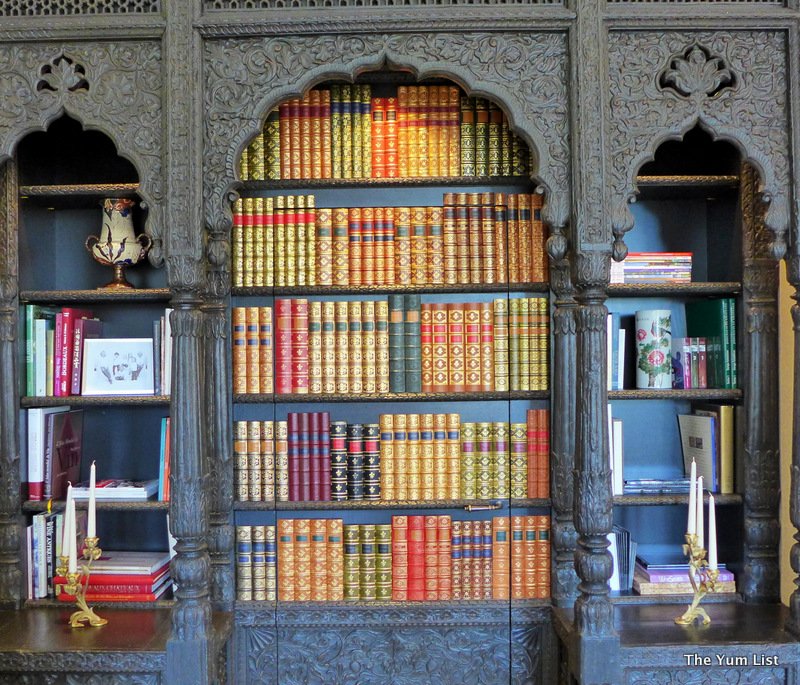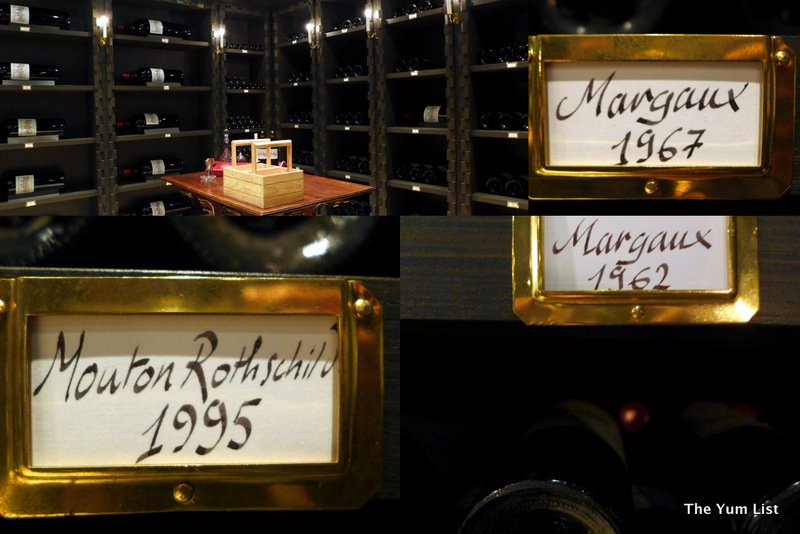 The main part of the chateau, open to visitors comprises the tasting, production and storage areas. We are told that the chateau is for the wine, and the owner and his guests must be content with a house. The tasting room is simply magnificent, by far the most resplendent we visit. Recent renovations have further served Asian influences in the design. Even the barrels of wine themselves are housed in no less a grand manner, and the viewing of the production is very dramatic indeed. If we thought the wine cellar in the private home was impressive, it was nothing indeed, in comparison to the hidden showcase that is presented as part of the Cos d'Estournel tasting tour. A surprising contrast to the vast production and barrel storage areas, this glimpse of grand cru wine eternity is something very special and a memory to be cherished.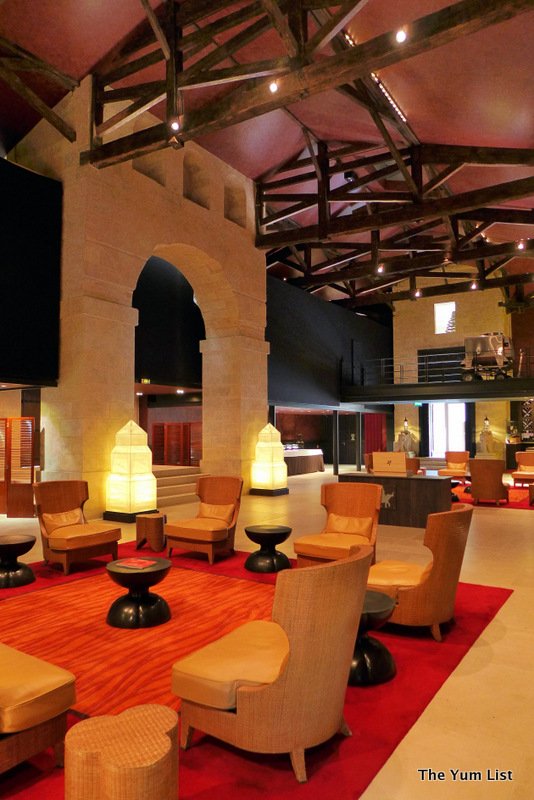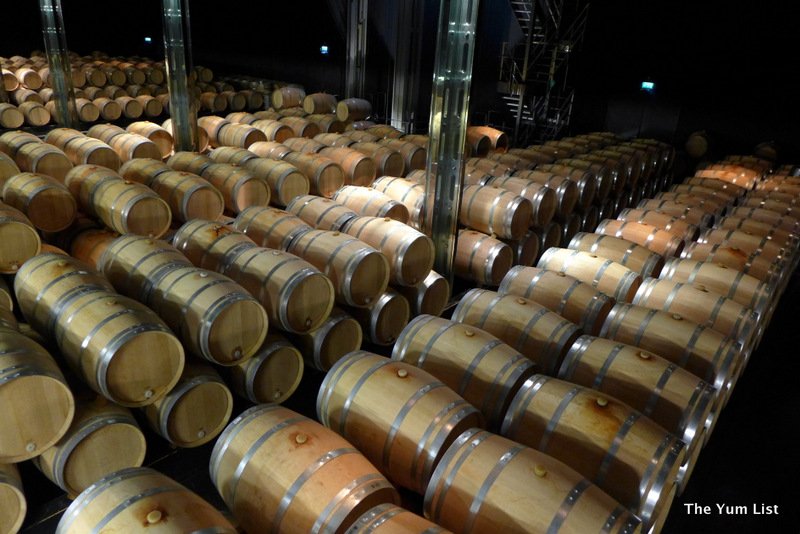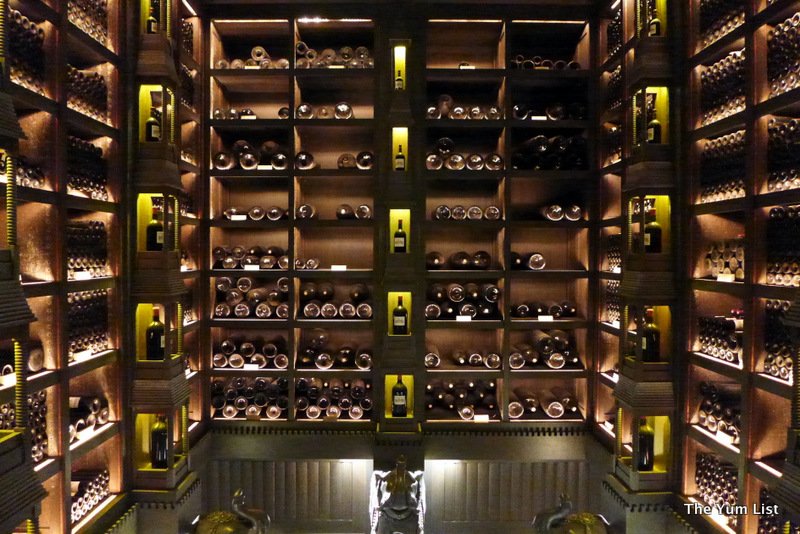 Wine tasting tours at Cos d'Estournel can be arranged for groups or individuals, strictly by appointment and do not include the visit to the private home that we were honoured to view, but two to three hours should be allowed for the experience which includes a vineyard visit. For the wine tasting afterwards, a range of vintages and styles of wine are offered to taste, including the Champagne Michel Reybier. For small groups on special occasions, depending on the availability of the chef it may also be possible to request a simple yet elegant French country style lunch, such as we experienced with the gracious Marketing and Communications Director, Geraldine Giroux, who was kind enough to give us an overview of the Cos d'Estournel wines.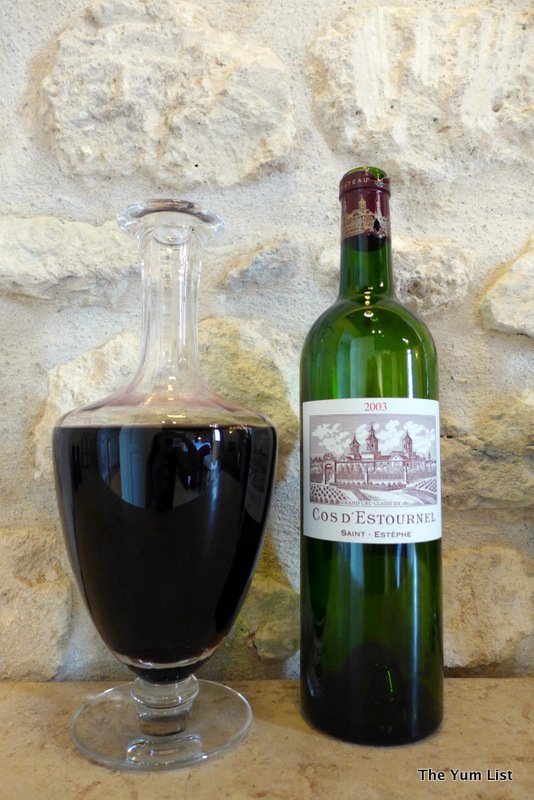 In addition to the two reds we taste at lunch, the Chateau also produces a high quality Sauvignon Blanc/Semillon blend, from Bordeaux's most northerly white wine grapes.  
As we are served with skewers of fat juicy bacon wrapped scallops from the famed Bassin de Arcachons, we smile at our glasses which are engraved with one of the signature emblems of Cos d'Estournel, namely an elephant. As elephants happen to be my favourite animal I am already very warmly disposed towards this wine.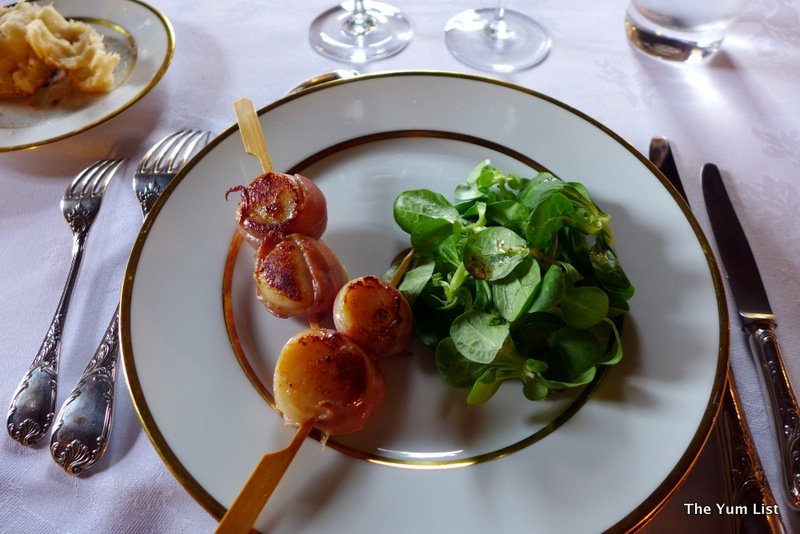 We enjoy two very different samplings with a loin of veal and oven roasted potatoes. Our first pouring is the 2011 Les Pagodes de Cos, the 2nd label of the Chateau, but still by any standards a very high class wine. 2011 is as yet a young vintage but none-the-less an enjoyable wine with plenty of colour and resonance. It's smooth and rich blackberry, blackcurrant and vanilla flavours, with still lively tannins. Les Pagodes has just a hint of the Chateau's signature tobacco style spice in the blend and is very long through the finish.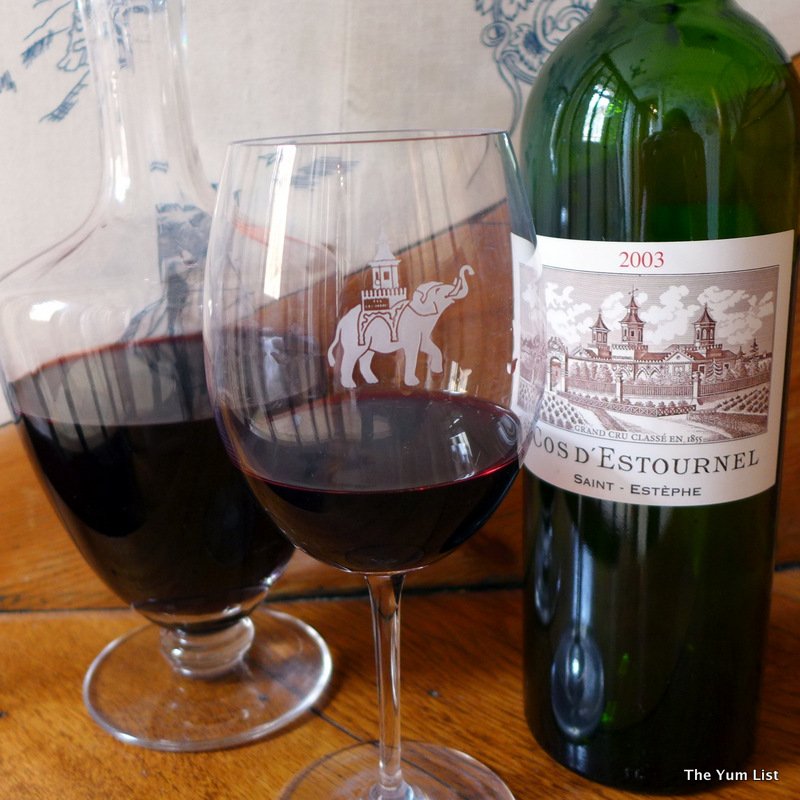 The 'Grand Vin' that we taste is the 2003 Cos d'Estournel, which is produced from the older vines of the property, some of which are 50 years old. We hear that 2003 was particularly hot, and the grapes grown in this year produced a particularly well-structured wine that is quite classical in style. St Estephe wines are known for being powerful but this one is quite velvety over the tongue, one can still feel the structure but it is softly caressing to drink. Plum, Blackberry and Blueberry are the resonant flavors exotic notes of clove and allspice with perhaps a little espresso. As it opens in the glass and interacts with the air, the wine becomes more elegant, and it is very smooth to finish leaving a delightful resonance in the mouth. We may yet be beginners in wine appreciation but we are able to understand that this is far superior product compared to our usual experience.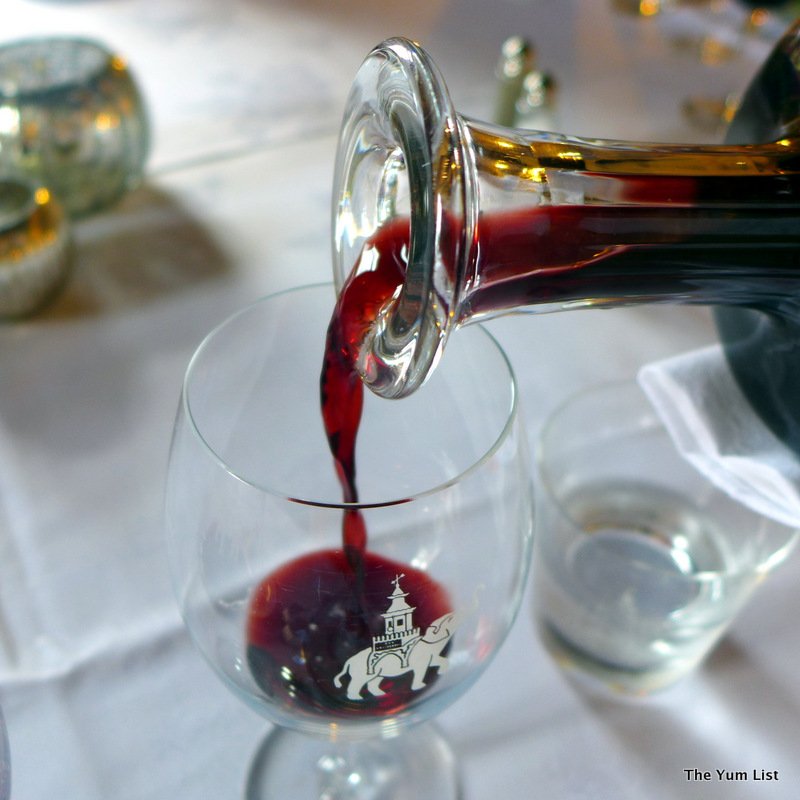 The meal ends freshly with a chilled Soupe des Fraises, and we sigh that it is time to finish. I would strongly encourage anyone visiting the Bordeaux region to organize a visit to this unique Chateau and experience all that is Cos for themselves. I would also encourage wine enthusiasts to seek out and try their wines, the premier wine is something exquisite, but the second wine would hold its own over and above many other producers first label.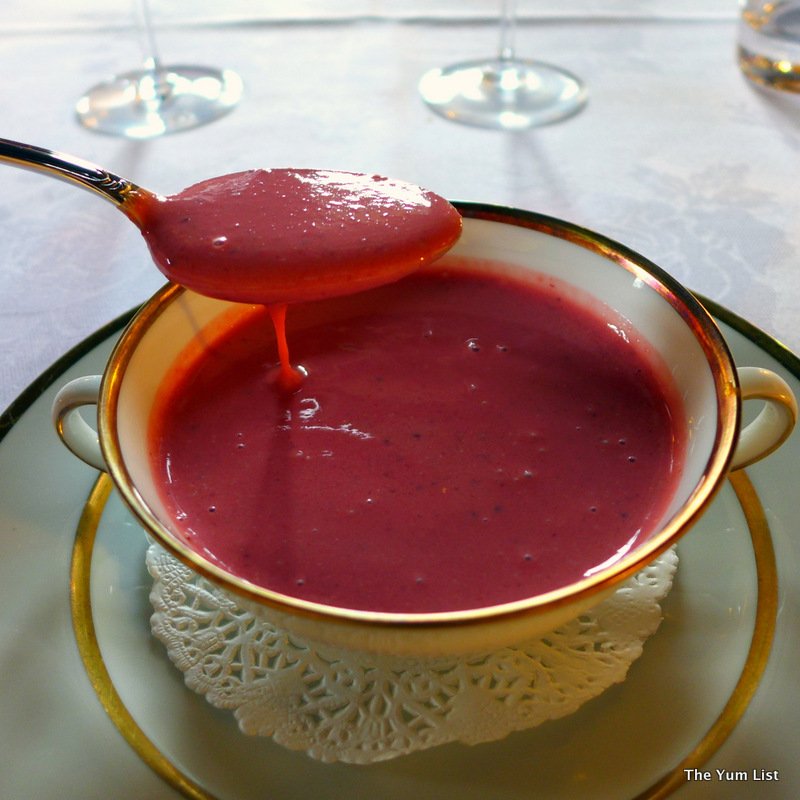 Reasons to visit: charming history and unique architecture for the region; quality wine tasting; interesting production and historical tour.
Chateau Cos D'Estournel
33180 Saint-Estephe
France
+33 5 5673 1550
[email protected]
http://estournel.com/?lang=en
www.michelreybier.com/en/