Words: Kirsten Durward    Photos: Monica Tindall
Le Chapon Fin's entrance is so discreet that if you did not know it was there you might walk right past it. On setting foot inside the establishment we are immediately drawn back to the elegance of former times, with charming music, and a light and elegant ambience. The legend as you enter reads simply: Le Chapon Fin, Depuis 1825.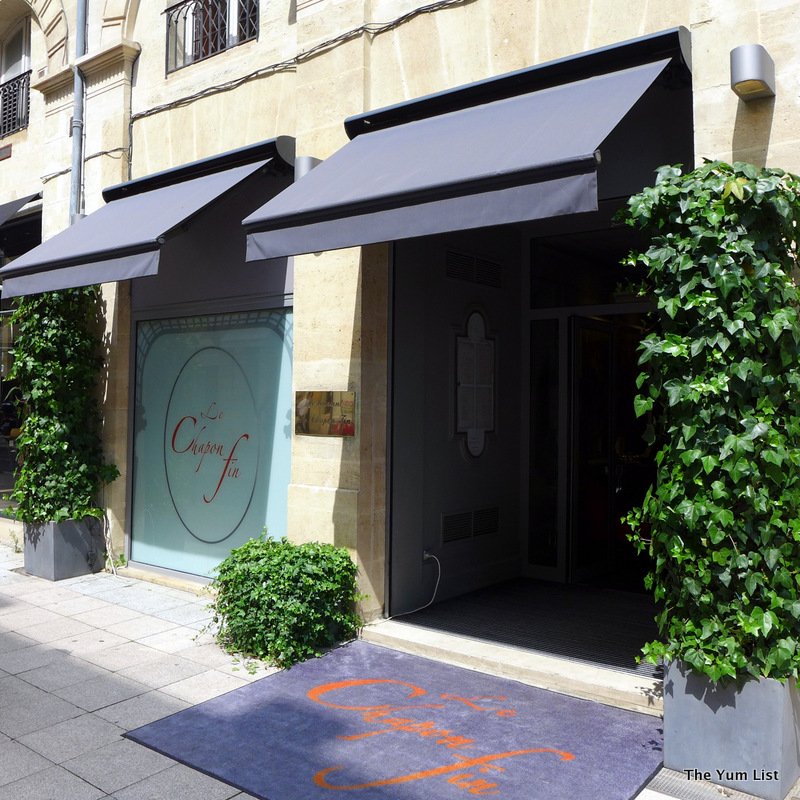 There is a justifiable pride in the restaurant's heritage as the oldest restaurant in Bordeaux, one that has retained a fresh charm throughout the centuries.  It is indeed almost timeless, with sensations of the 1920's, of the elegance of last century, yet with a modern airiness. It is completely special and unique, like nowhere I have experienced before. This space embodies both naturalness and theatricality and resonates with the energies of famous patrons of yore, including the impressionist painter Toulouse Lautrec, the actress Sarah Bernard and King Edward VII of England during his short reign. Trolleys of liquors and cheese stand to attention, an enormous silver bowl resplendent with champagne bottles flanks a baby grand piano, while candles in giant wine glasses and throngs of overblown blooms add a playful edge.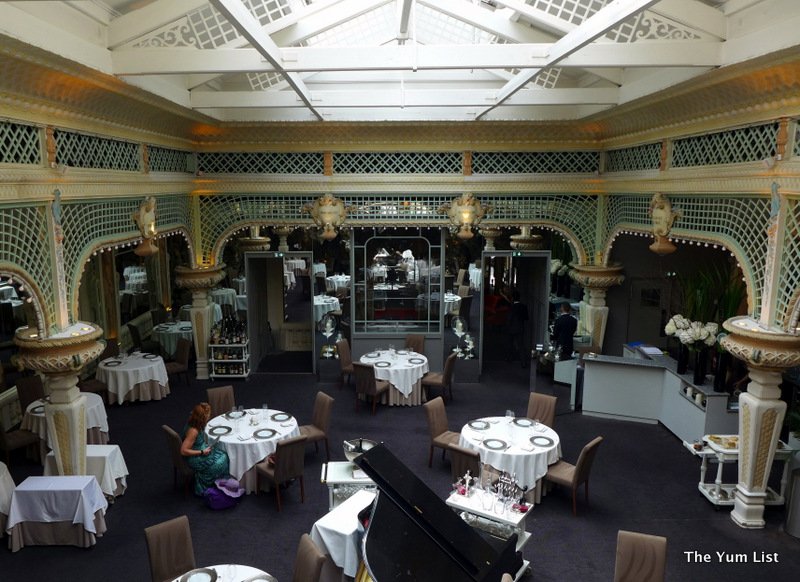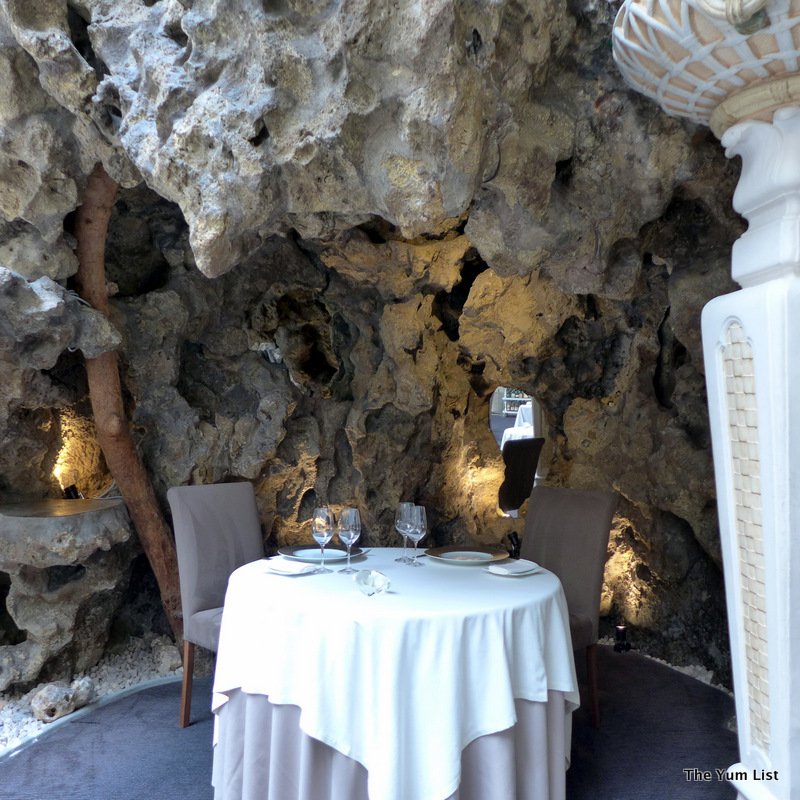 It's almost a tribute to the individualism, which we are rapidly discovering to be the signature style of Bordeaux. A truly unexpected surprise on entering this genteel establishment is to find stone walls, adorned with natural wood and growing vines which hold up the white lattices that surround the airy space. An architect inspired design from the restaurant's inauguration, this could appear kitsch, but avoids it and utterly charms us. Light streams through the rooftop windows giving an atrium feel to the space, which is enhanced by mirrors set into alcoves around the room.
We begin our lunchtime repast with aplomb, being offered a choice of Champagne from which I select Louis Roederer 2010 Rose (EUR 22), one of several Champagnes served by the glass to our absolute delight.  With over 1000 wines on the menu, Le Chapon Fin is able to offer an exceptional range of wines by the glass thanks to modern technology. We are delighted to be able to taste a few.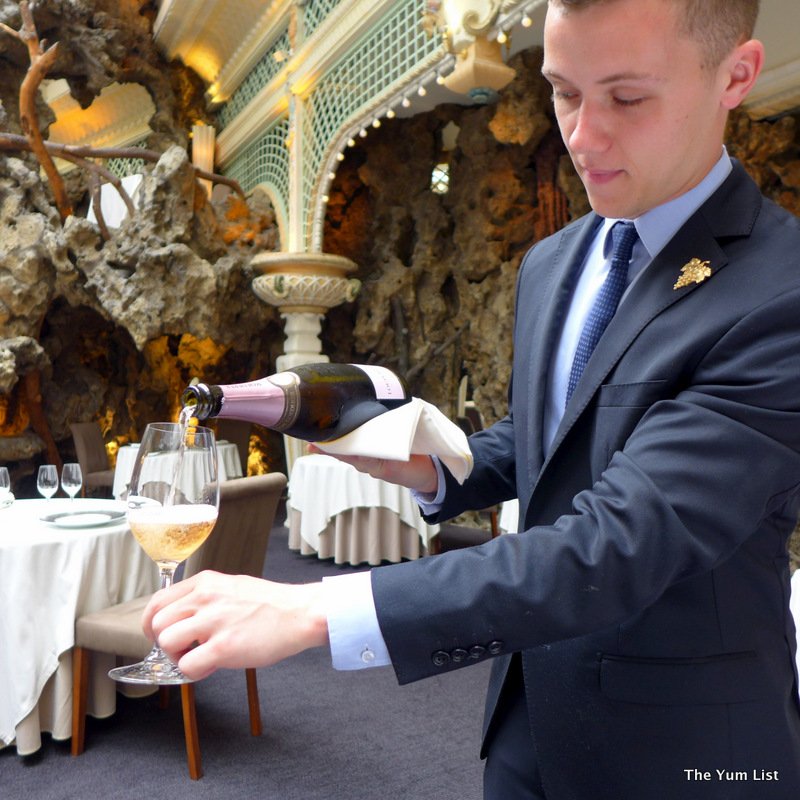 An impressive selection of fresh breads is handed around, from which Monica selects a rather sweet chestnut alongside the traditional style, while I go for a zingy black pepper and a delightful savoury walnut with a delectable crunch. We love the doughy texture that stretches out once you crack through the crisp and floury shell of the bread.   
A tiny amuse bouche of carrot foam with sherry vinegar is rapidly followed by a bite of fresh oyster with cucumber spaghetti, cucumber jelly and whisked cream tinged with Iranian black lemon. A lot of thought and style has gone into these morsels of deliciousness, which bodes well for the meal to come. Our delightful lunch companions, Julie, daughter of restaurant owner Sylvie and Cecile, who represents the group for marketing, generously order different dishes so that we are able to taste a wider range of the menu.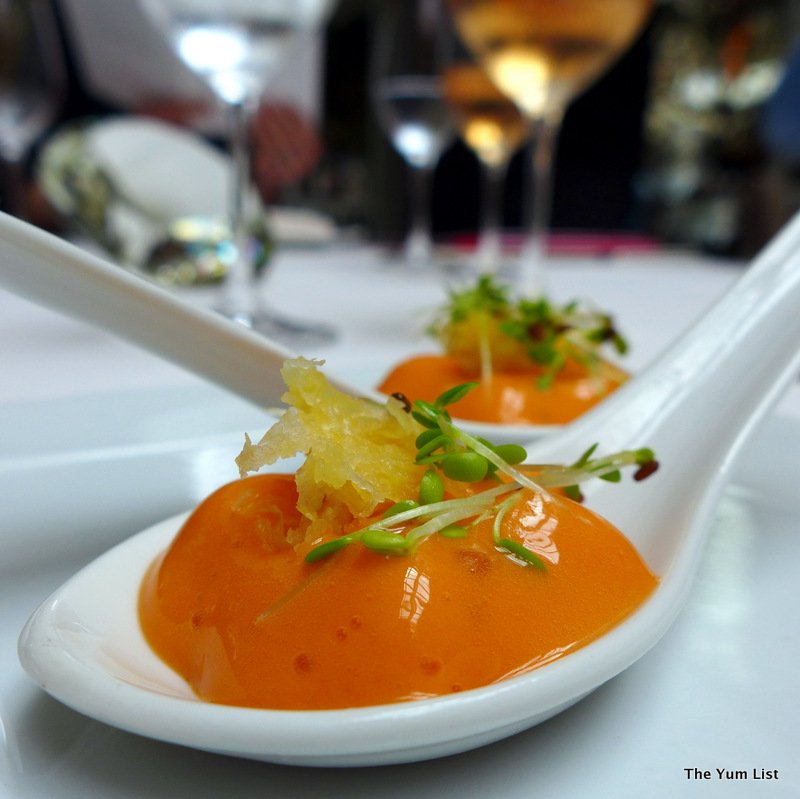 Monica starts with the Crayfish Soup (EUR 29). Tiny, fresh, river crayfish have been flambéed in an inch of Cognac, then worked into a deep broth scattered with chanterelle mushrooms. It is a dish that is resonant with flavor and one that is clearly a favourite amongst our companions. The soup pairs well with a glass of the regional Bordeaux Blanc Clarendelle 2014 (EUR 9) with its slightly sweeter blend of sauvignon blanc, Sémillon and Muscadelle.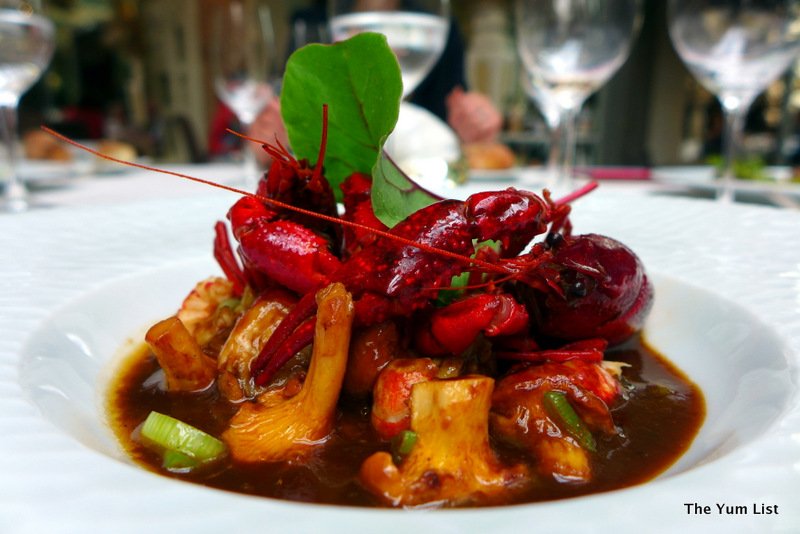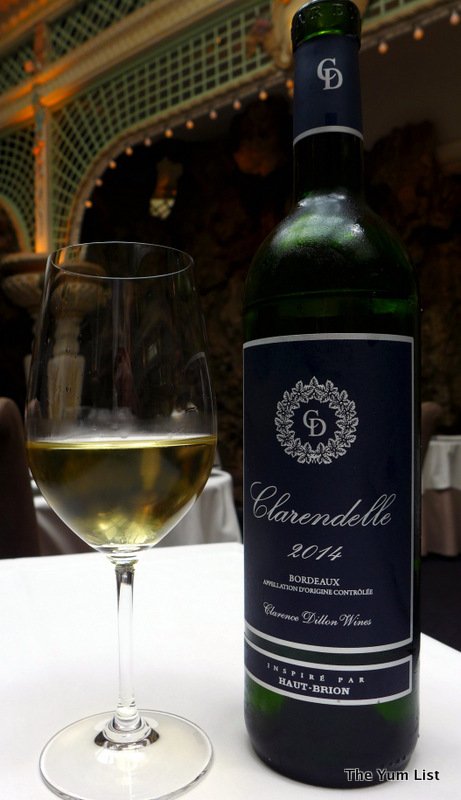 I begin with seasonal White Asparagus on Belota Ham, topped with a Sweet Marrow Gratin (EUR 33). It is an extremely pretty plating with the gratin adding a nice texture to the buttery asparagus. I'm delighted with my choice of wine, which is the Chateau Couhins Lurton 2010 (EUR 16). A clear sauvignon blanc from the Pessac region the wine resonates with pineapple, grapefruit and green apple notes. We enjoy the silky texture and full structure in the mouth.  Delightful.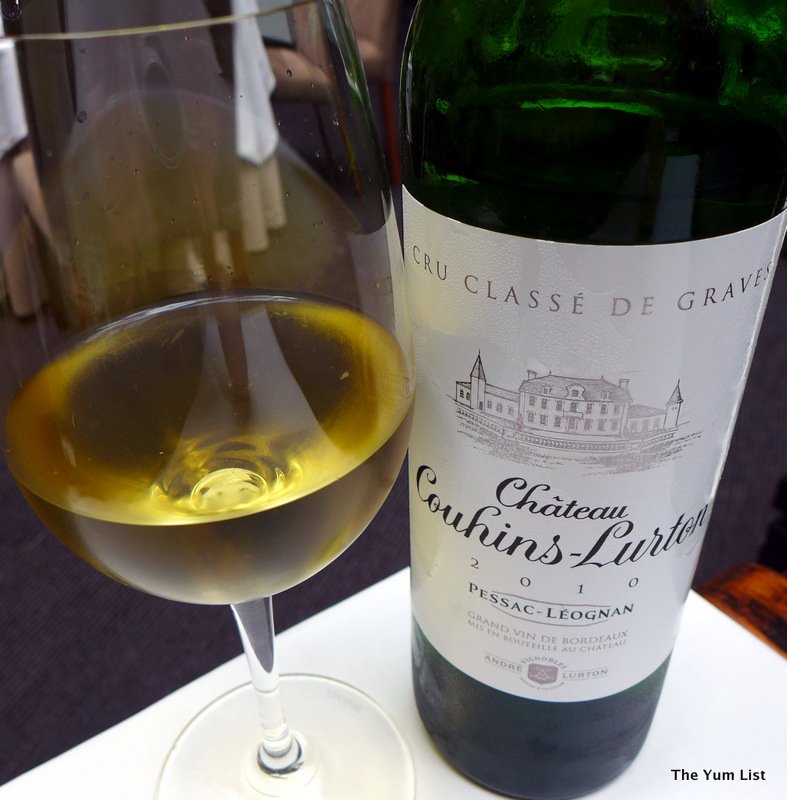 Julie insists we taste her Foie Gras Poele (EUR 33), which is lightly seared and scattered with tarragon marshmallow cherries and brandy roasted hazelnuts. The cherries give a note of sweetness and the hazelnuts a delightful change of texture. All in all this is a playful interpretation of foie gras in a very balanced dish. Paying homage to her family's production, the pairing is the Chateau Villa Bel-Air Graves 2014 (EUR  8) with enticing dark berries on the nose and a long gentle finish.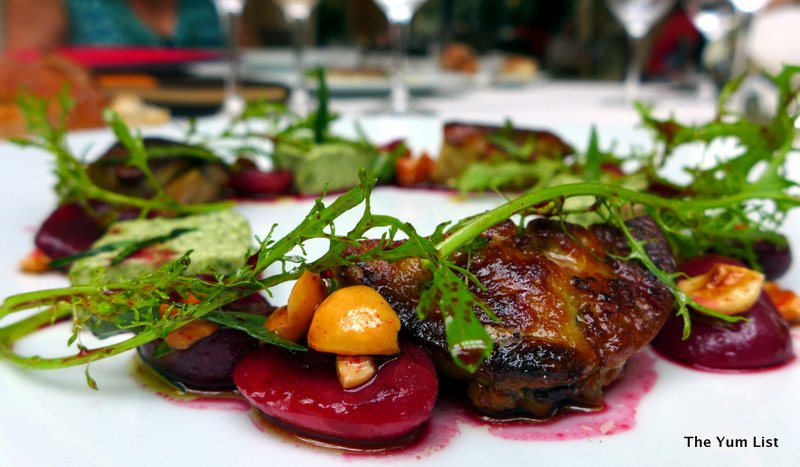 The Entrée section of the menu offers a range of seafood and meat dishes. I'm intrigued by Blue Lobster (EUR 55), hailing from the shores of Brittany. The firm flesh is enhanced by tiny cubes of sharp sour apple, and balanced by towers of fondant style agata potatoes. Monica dines on a delightful fresh piece of Turbot (EUR 43) dramatically presented with standing artichokes. The sauce is tinged with fresh Lucques olives giving a subtle salty sharpness without overwhelming, and then just a hint of lime zest freshens the dish. We are spoiled now with a glass of Duo De la Tour Blanche 2014 (EUR 30). This simple sounding wine is actually richly complex. With floral overtones and then nuances of fresh apple and pear, this wine sings over the tongue and lingers most pleasantly in the back of the throat.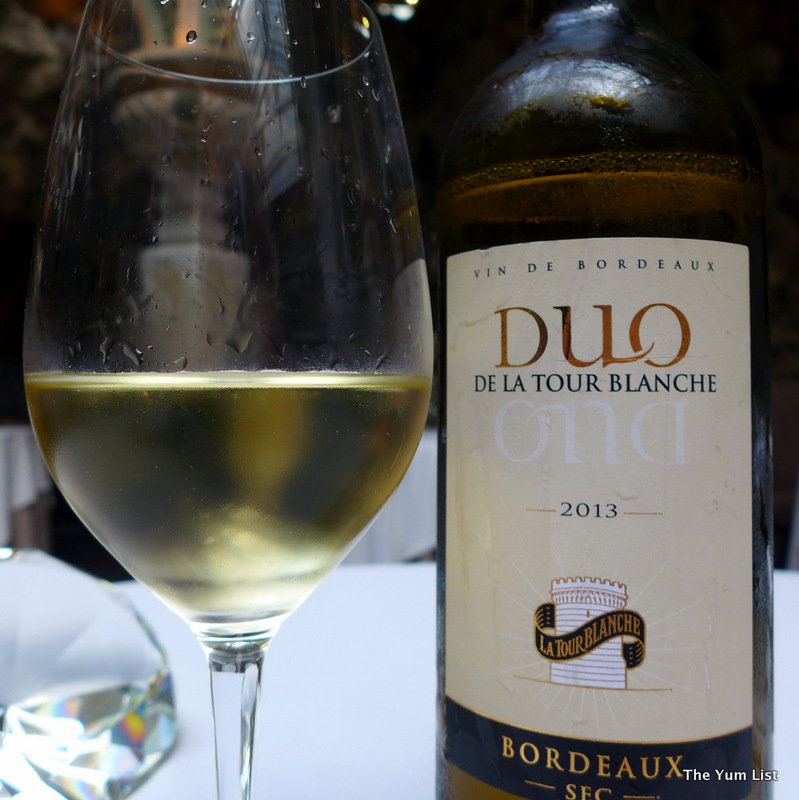 Cecile passes over a taste of her exquisitely presented Veal Mignon (EUR 37). The milky pale flesh, sourced from the Dordogne region, is very soft and benefits from the depth of flavor added by the black morel mushrooms scattering the dish.
Julie also presses on us a forkful of very pink Pigeon (EUR 37) playfully accompanied by tiny stuffed zucchini flowers and chanterelle mushrooms in a deeply resonant jus. Tasting the pigeon with a mouthful of Chateau Chauvin Grand Cru Saint Emilion 2009 (EUR 16), with its breakfast aromas of chocolate, coffee and jam, and well-balanced palate, the poultry becomes the dish I wish I had ordered and the one I would go back for.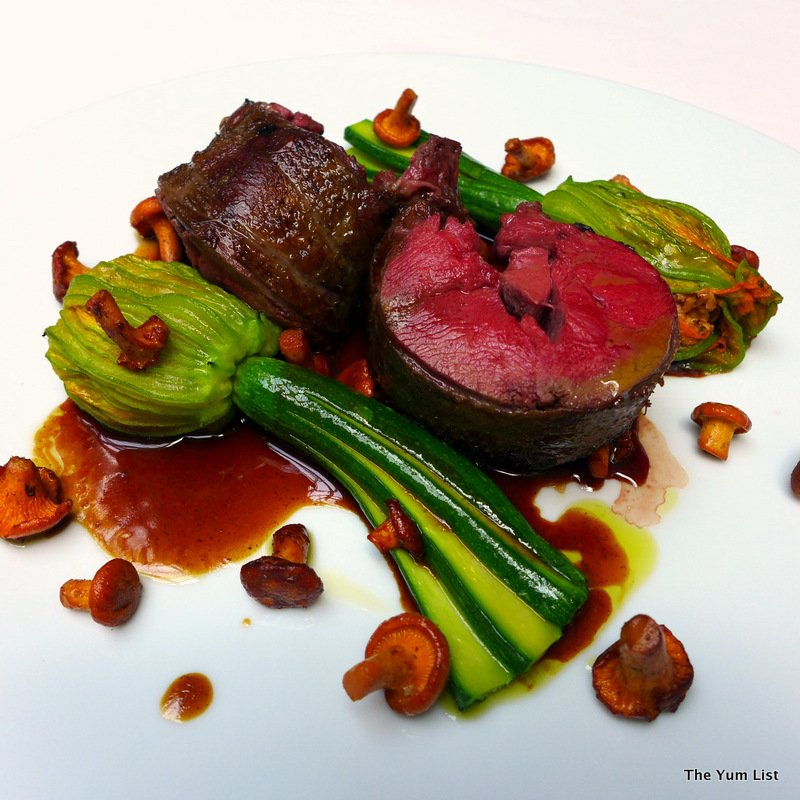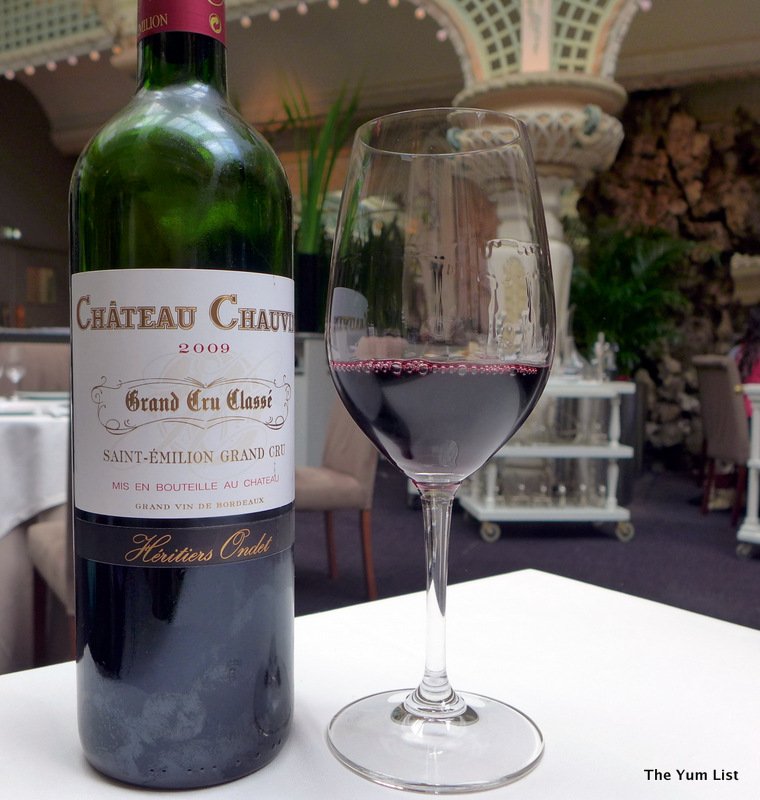 Dessert is, in a word, delightful, and I could have ordered any of the dishes without disappointment, although I am extremely happy with my choice of Honey Ice Cream and Crème Renverse with Rosemary Mousse (EUR 16). I love the crisp filo style pastry shell and the astringency of the rosemary against the sweetness of the honey. Monica's choice of Strawberries with Rhubarb and Almonds (EUR 16) is light and refreshing, with a slight tartness from the rhubarb and texture added by little crunches of crumble and the sweet crack of a hazelnut caramel. Cecile's chocolate and hazelnut mousse (EUR 16) appears to be in a glass but on tapping, the whole thing becomes edible, fabulously clever. We are all in awe of the black pepper foam and declare pepper and chocolate to be a great match. The unexpected presentation of the Pineapple Coconut Dragon Fruit concoction (EUR 16) is possibly my favourite. With crunchy baked coconut atop and chilled fruit blend below, this is a refreshing take for someone a little jaded with tropical fruit and it is the best match for our golden dessert wine.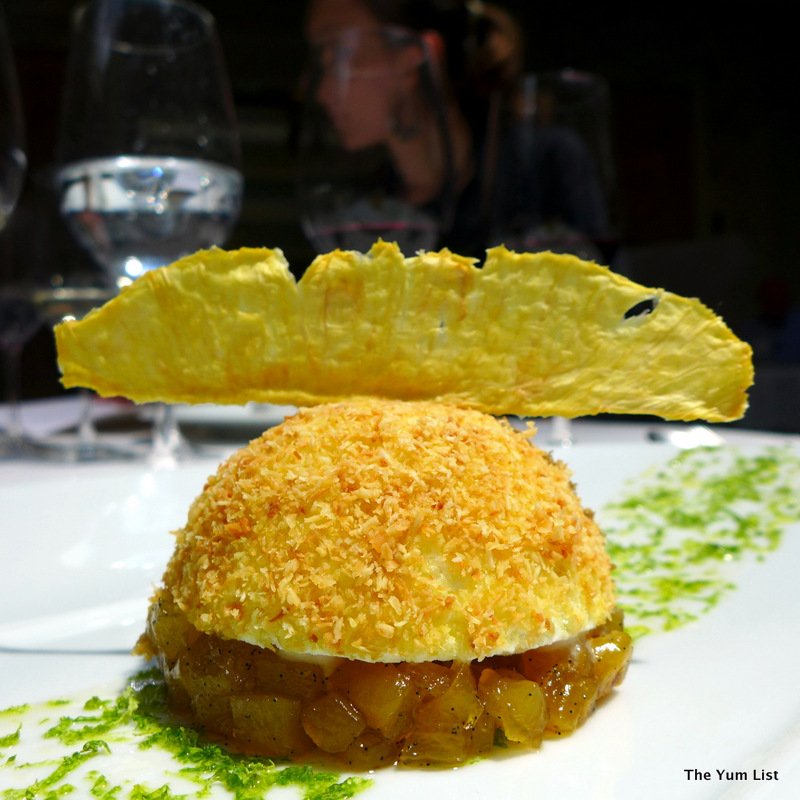 I'm increasingly a fan of dessert wines and always looking to expand my horizons in this respect. As such, I'm in raptures over this particular taste of Sauternes 2010 from Chateau Haut Bergeron (EUR 13). The deep yellow draws the eye, and the honeyed tones with ripe fruit flavours certainly please the tongue.
For anyone with an interest in fine quality food and wine, Le Chapon Fin is an absolute gem in the heart of Bordeaux. Standing head and shoulders above other restaurants in the vicinity for atmosphere, quality, presentation and flavor, this is an experience not to be missed, and possibly one even worth travelling for.
Reasons to visit: unique setting; soak up a piece of history in the oldest restaurant in Bordeaux; artistically presented, wonderfully balanced dishes – especially the pigeon, crayfish soup, and sole; impeccable service; superb quality and range of wines.
Le Chapon Fin
5 Rue Montesquieu
33000 Bordeaux
France
+33 5 5679 1010
[email protected]
www.chapon-fin.com/