One of the most popular meals to have in Cameron Highlands is steamboat. The contrast between brisk evening air and bubbling steaming pot provides a wonderful frame for a delicious meal shared with friends and family. The open-walled restaurant, Gonbei, at Cameron Highlands Resort makes use of a bounty of fresh local produce and its high hotel standards to serve what some consider the best steamboat experience on the hill station.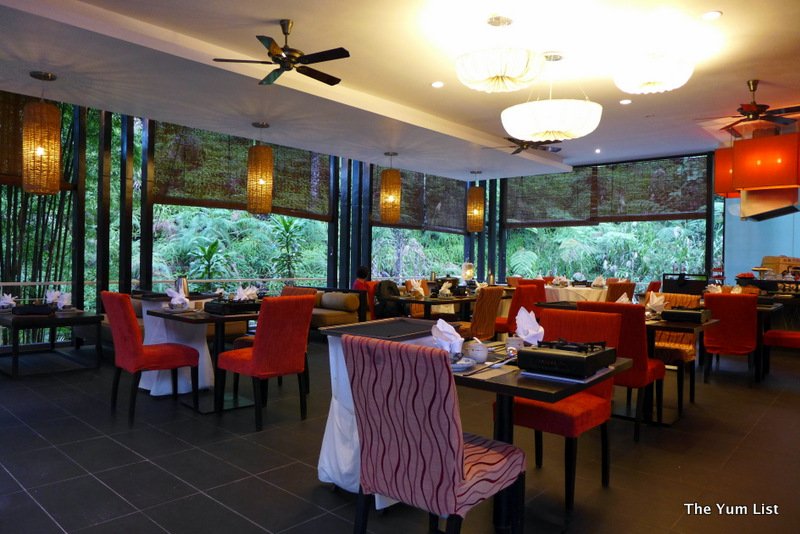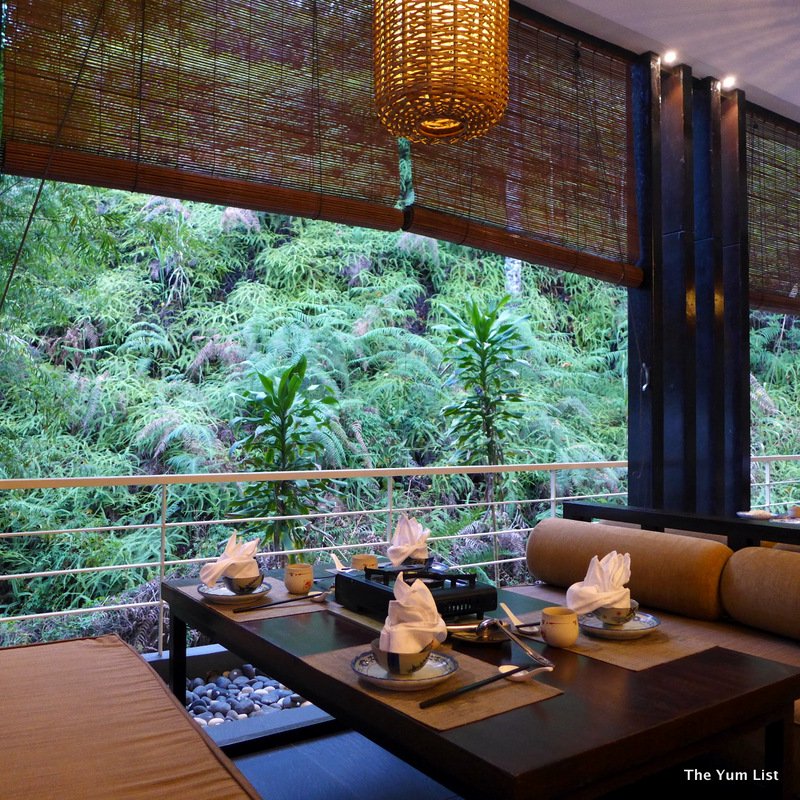 Guided by a helpful waiter we're taken through the experience step by step.
First decision to make is the broth, of which you can select two. We choose the Vegetarian and the Nabemono (Japanese seafood base), but it's difficult to say no to the Tom Kha Gai (chicken, coconut milk, lemongrass, chili) of which we'll have to try upon next visit. Both our choices are mild in flavour to begin, but by the end of the evening develop into mouth-watering full-bodied soups with the repeated boiling down of ingredients in the broth.
Next step is to decide between meat (RM75 per person), Seafood (RM100) or a Mixed (RM100) plate of proteins for the hotpot. As I'm embarking on a wellness getaway, seafood is our pick, and we find a bumper supply of tiger prawns, calamari, sea bass, snapper, fish balls, crab balls, cuttlefish balls, sea asparagus and scallops filling the dish.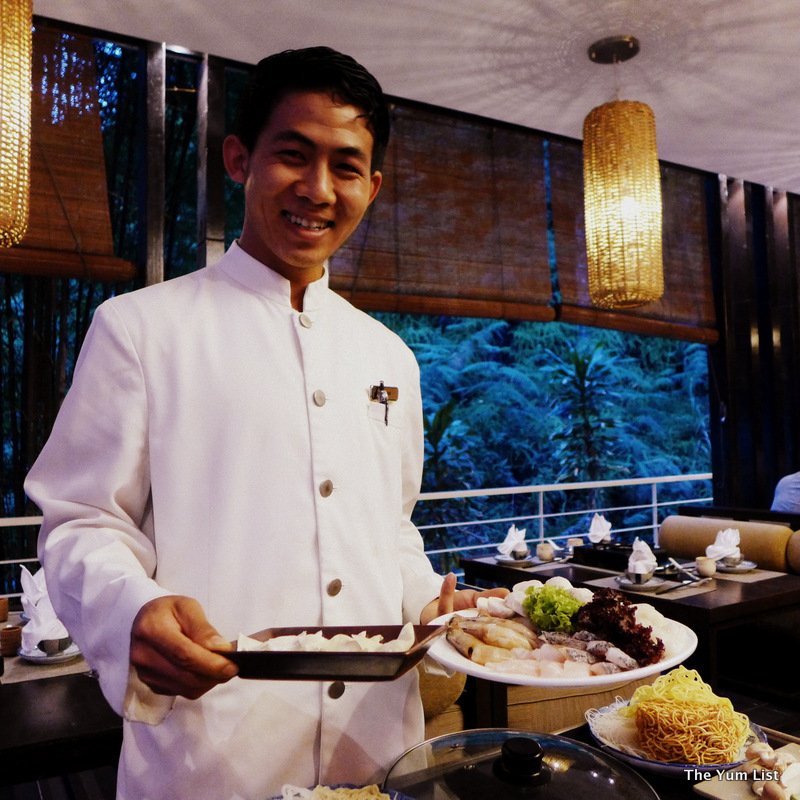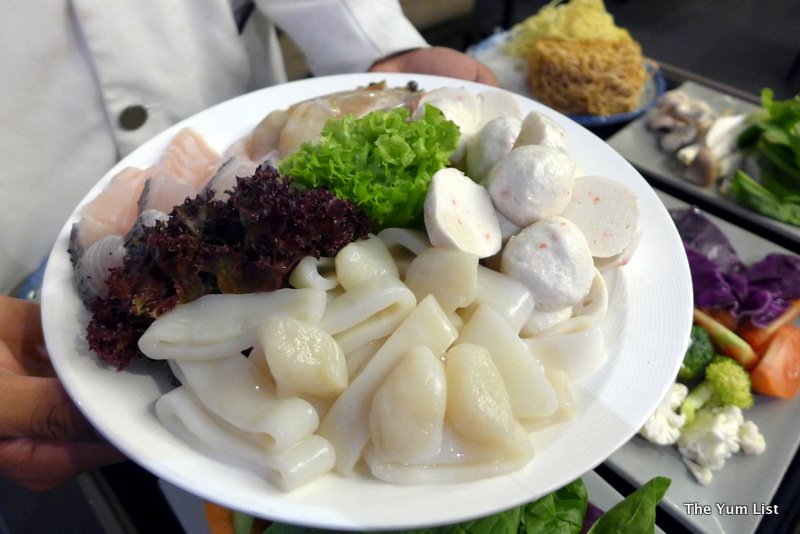 A fresh buffet of accompaniments is lastly for the choosing with a plentiful supply of highland vegetables bulking up the display. Bean curd and a medley of local mushrooms make good textured additions, and no less than six varieties of noodles are for the taking. A variety of condiments and garnishes (my favourite is the coriander ginger sauce) enable guests to season their bowls as desired.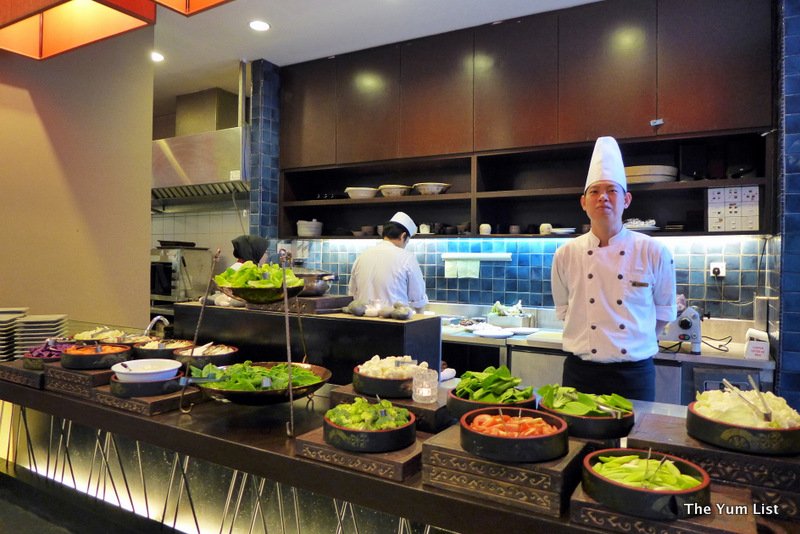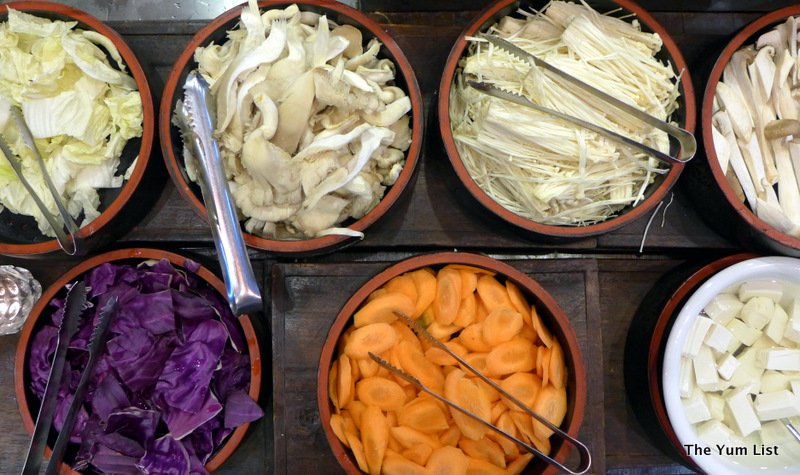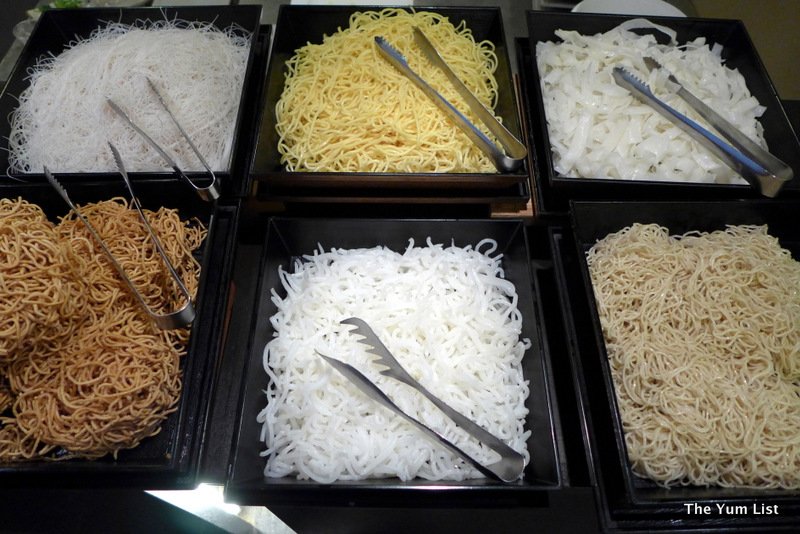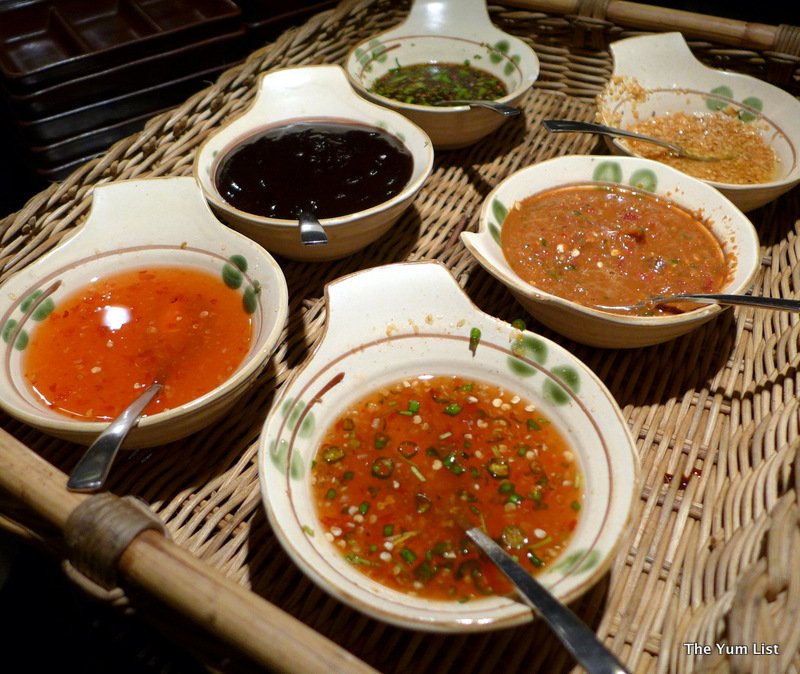 Lastly, it all goes into the pot. But, not without some instructions on the ideal order and cooking tips from our attentive waiter. Initially the harder vegetables such as carrot should be submerged. Proteins and lighter veggies go next, and lastly the noodles, which only take a few minutes to soften.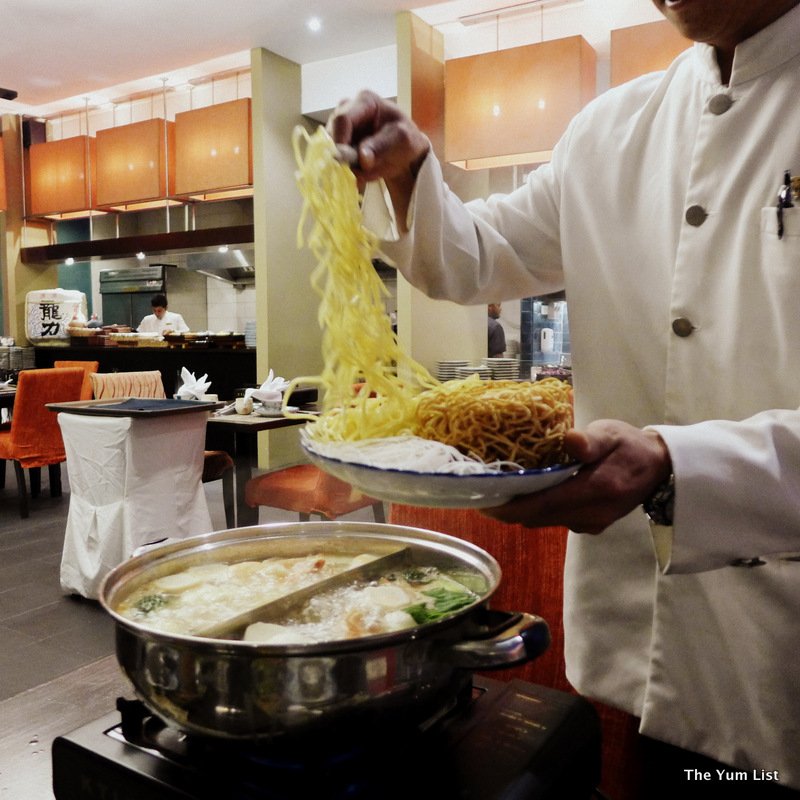 As the evening progresses, the soup absorbs the flavour of the ingredients and it naturally sweetens. It's a fun interactive experience and a great conversation piece. Although after a leisurely time of dipping, scooping and slurping, our tummies are beyond satiated, we find it hard to stop spooning up the broth as it's become so delicious over time. But, we must halt our continued ladling as a dessert table awaits.
Despite being a pleasant collection of sweet bites (cheesecake is particularly yummy), I can't help but pile my plate high with plump red ripe juicy Cameron Highland strawberries. Delivered daily, these beauties are so naturally sweet that no other dessert is needed.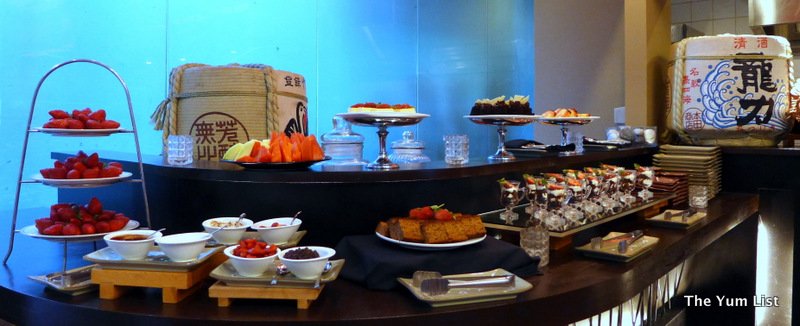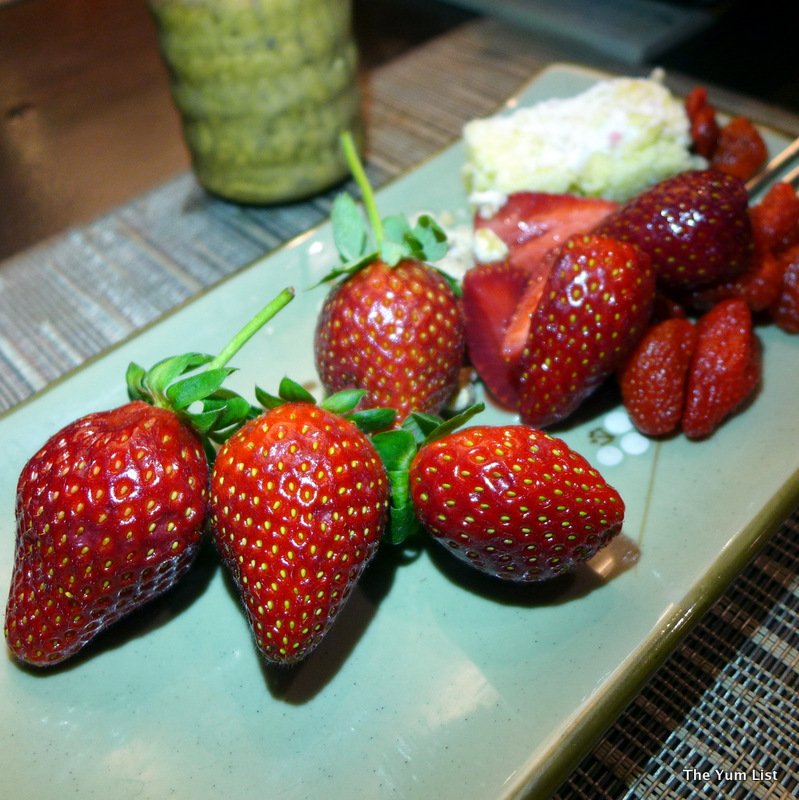 Steamboat is available for dinner daily from 7pm – 10pm. Reservations are recommended.
Reasons to visit: great setting with crisp evening air providing the perfect backdrop to the steaming hotpots; quality selection of fresh produce; fun interactive experience.
Gonbei – Steamboat Restaurant
Cameron Highlands Resort
39000 Tanah Rata
Cameron Highlands
Pahang, Malaysia
+60 5 491 1100
[email protected]
www.cameronhighlandsresort.com
Dinner: 7pm – 10pm