Soft piano music and the sounds of a cascading water feature unite to lay a leisurely background track to The Jim Thompson Tea Room at Cameron Highlands Resort. Open windows welcome in crisp hilltop air as well as frame lush pines between which are viewed the rolling fairways of the neighbouring golf course. The setting is distinctly colonial, embodying classical charm and the graciousness of a grand old plantation manor.
The casual environs, with low tables and cushioned rattan armchairs, are the Cameron Highland Resort's location for lunch and afternoon tea.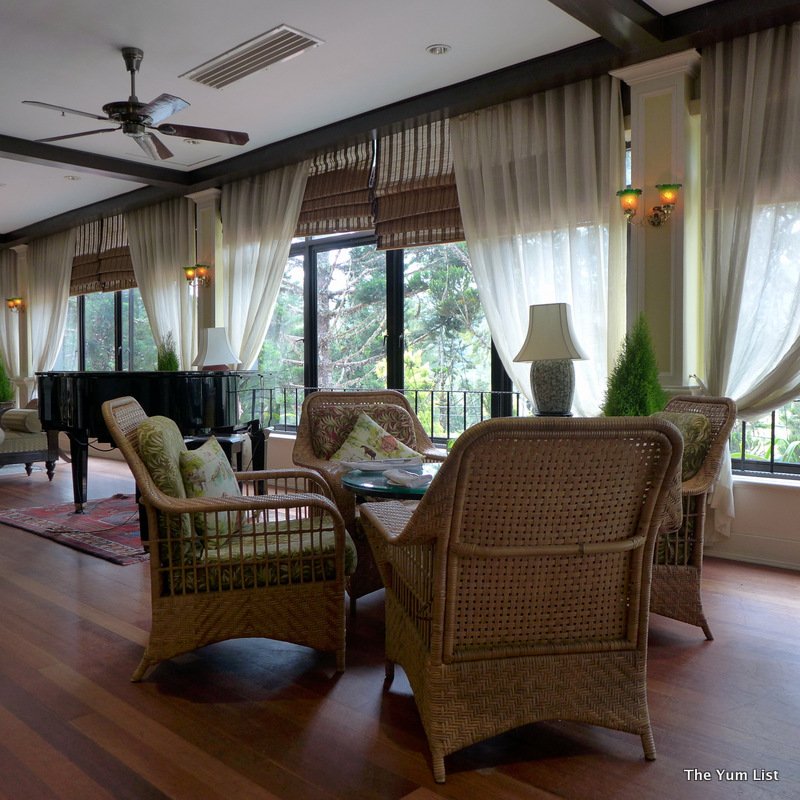 Lunch
Sticking with my wellness plan (much needed following a long Europe trip of overindulgence in cheese, cream, wine and Cognac), I'm pleased to see plenty of fresh light options on the menu. Making the most of local produce, many dishes feature daily picked vegetables from the surrounding farms.
Citron Ocean Trout (RM45) is my first course. Cured with sea salt, it's served atop toasted wholemeal bread with a highland petit salad tossed in between. A sprinkling of herbs add colour to the pink flesh, while a drizzling of honey mustard dressing and a scattering of crushed walnuts add a balance of sweet and bitter.
There are three vegetable soups available (tomato, onion, mushroom) and I have a hard time choosing. In the end I'm enticed by the waitress' description of the cheesy topping on the French Onion (RM30) so my choice is made. It proves a rich thick broth packed with sweet caramelized onions and simmered with local spices. It's a little sweeter than the tradition and there's a distinct spice in the mix that I can't quite put my finger on, cinnamon perhaps – making it a local twist on the classic.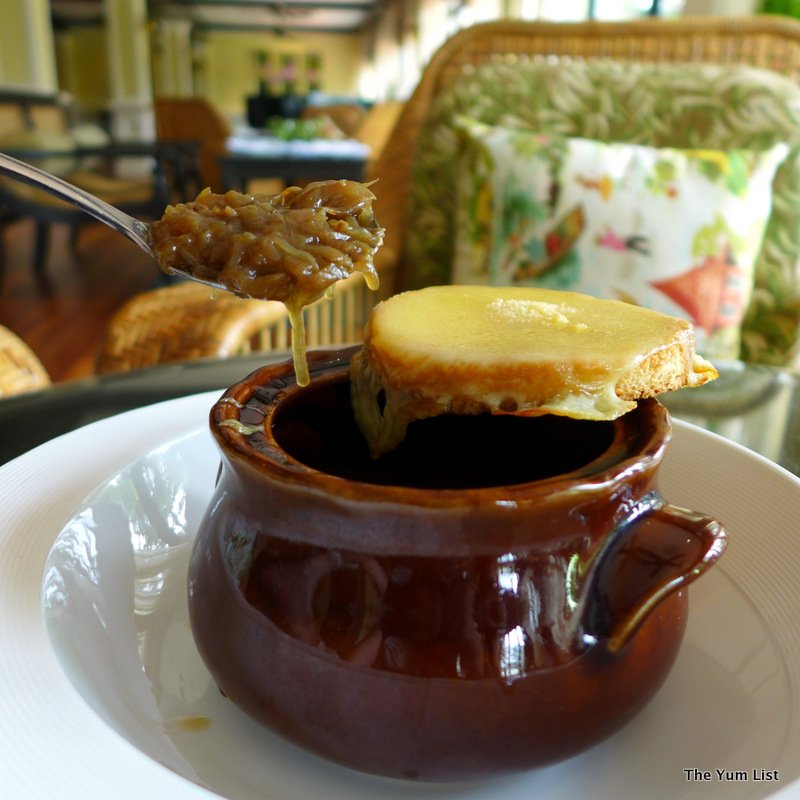 As mentioned, my goal is to have a bit of a detox after three weeks of European indulgence so the Fresh Highland Strawberries (RM35) seem the obvious pick. Bright plump specimens are sweet and delicious on their own, but the accompaniments of chocolate and vanilla sauces add a little naughtiness if desired.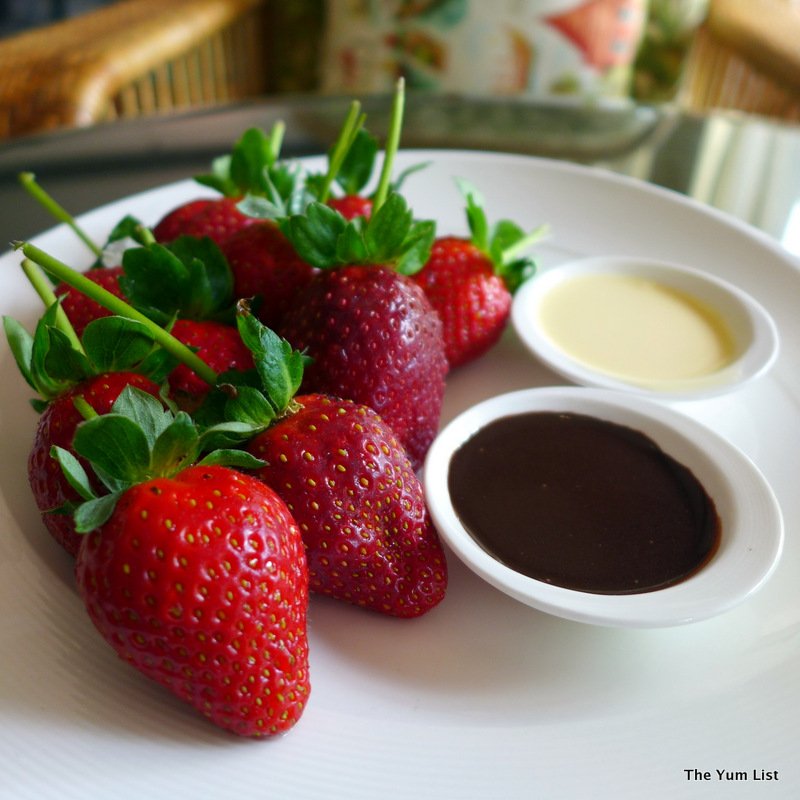 Afternoon Tea
Afternoon Tea is a popular option and I'm told the room is often filled on the weekends with non-hotel guests dropping in for a visit. The customary three-tiered presentation brings a freshly prepared mix of house-baked goodies, and a selection of local teas or coffee is included with the set.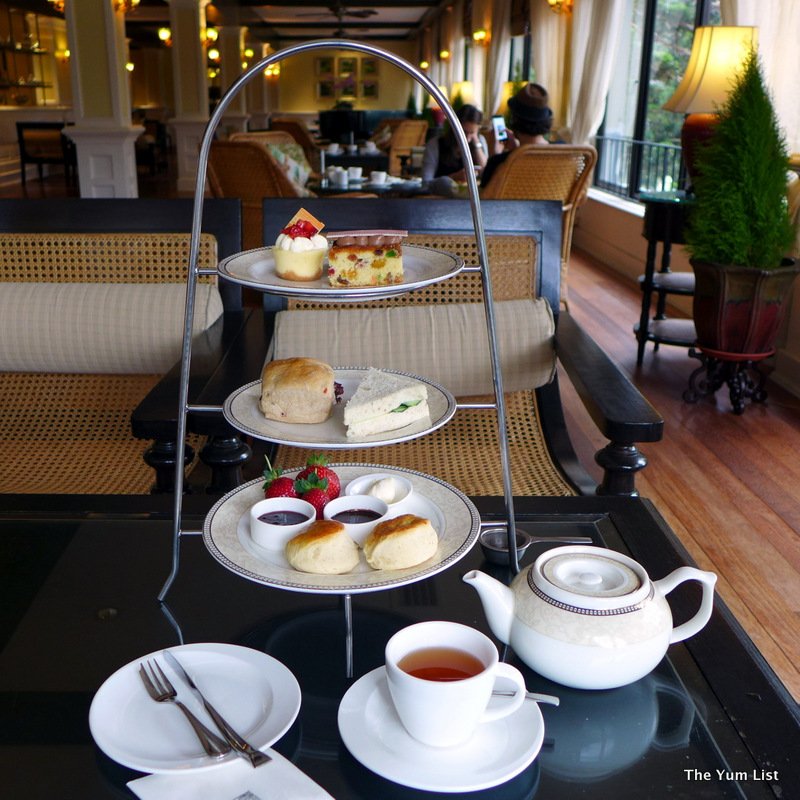 Topping the tower is a plate of mini desserts. These vary according to the chef's daily inspiration, but on my visit there's a rich dense walnut brownie; a light fruitcake and a creamy cheesecake. All are well made and suitably sized for their sweet contribution.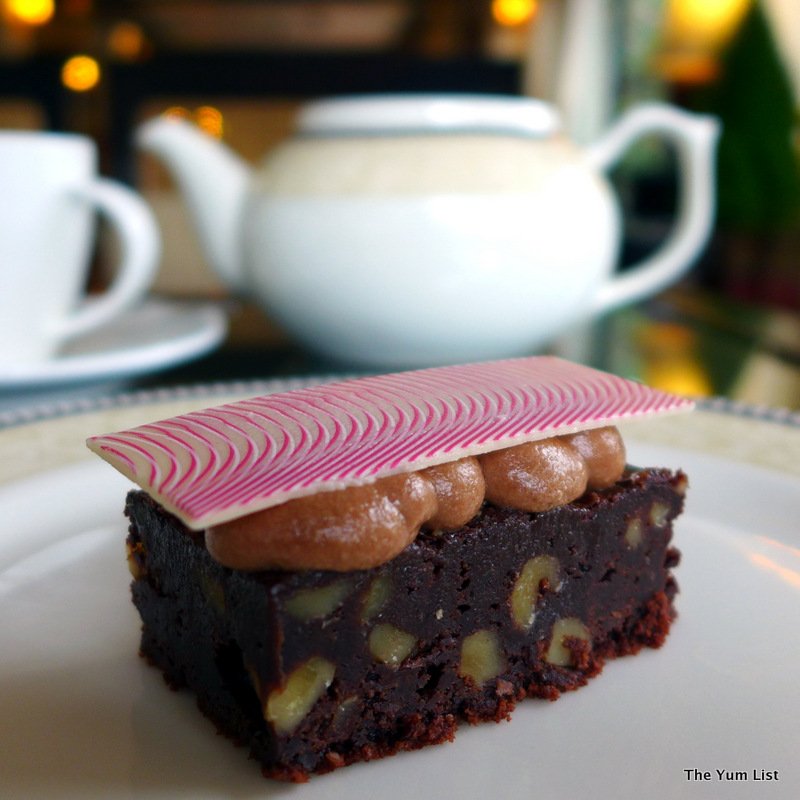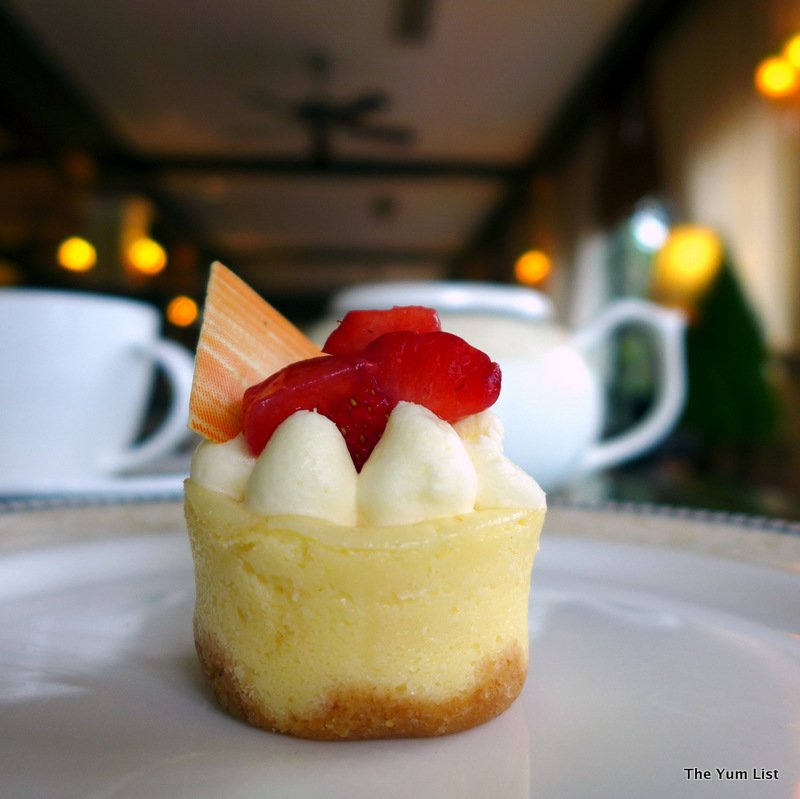 A selection of sandwiches, which might include smoked salmon, tuna, egg and cress, cream cheese, and cucumber, bulks up the middle. This round I'm seeing the tuna and cucumber varieties, and although I think the tuna could do with far less mayonnaise, I'm happy to see they're served on two different types of bread.
Scones with clotted cream and strawberry jam are a must and I'm delighted to say that mine are warm out of the oven. What outshines the scones though is the house made strawberry jam. It's clearly made with the fresh local produce and I'm now on a mission to convince a staff member to let me take some home.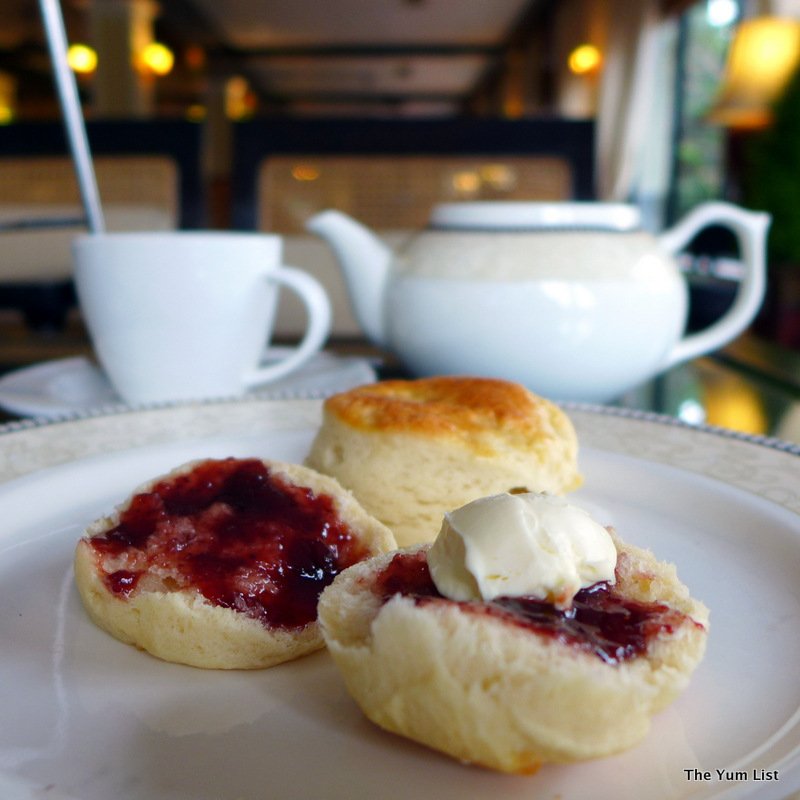 Plump ripe strawberries freshly picked this very morning with a chocolate dipping sauce complete the afternoon tea with a nod to the highland location.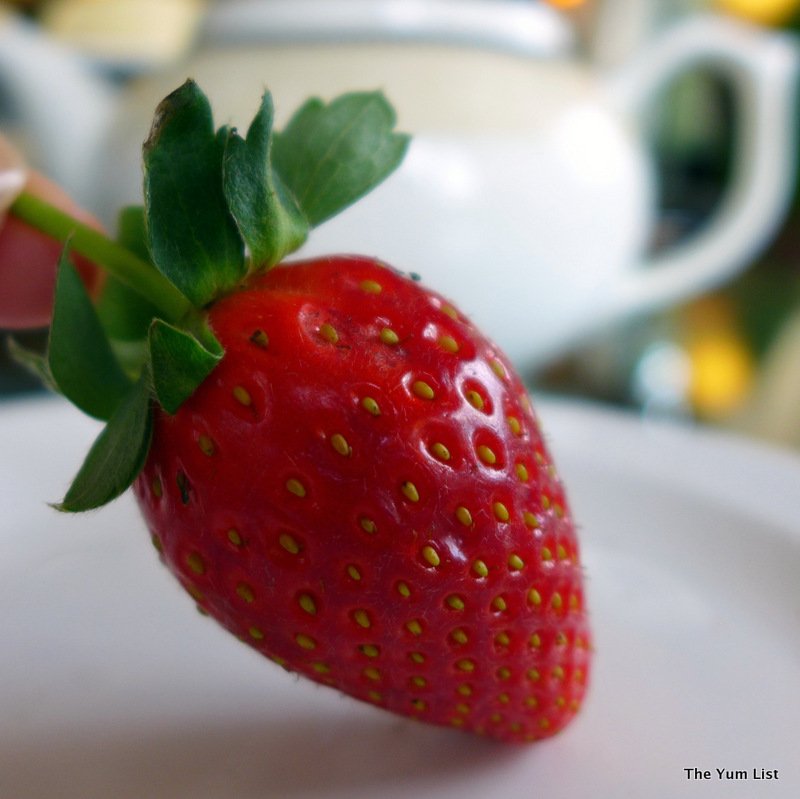 Tea or coffee is included, and the location demands that tea is chosen. A Cameron black blend is bolstered by a number of fruit and spice infused options. I pick the Passion Fruit and find it has sweet tropical aromas paired with the bold sprightly flavours of black tea.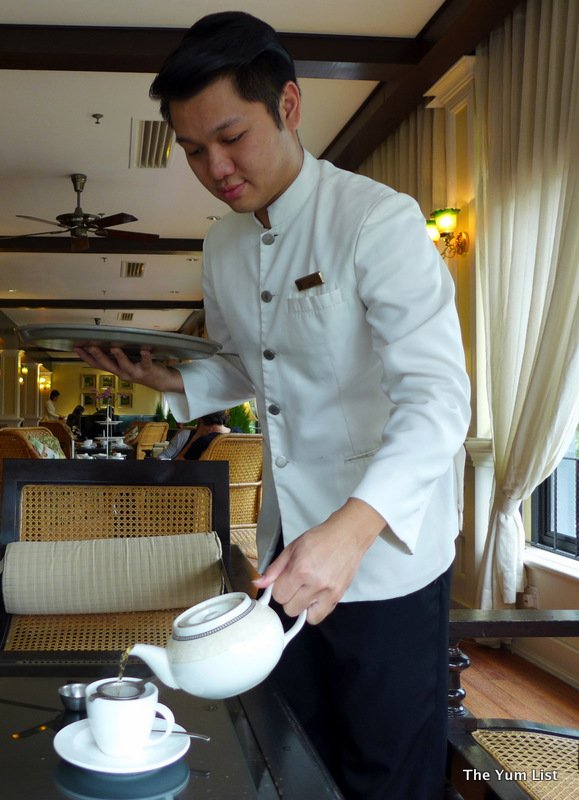 Afternoon Tea is served from 3pm to 6pm daily at a price of RM45 per person, or RM80 when dining at two.
Reasons to visit: old world charm; lovely green views; relaxed yet elegant setting; possibly the best afternoon tea in the Cameron Highlands.
Jim Thompson Tea Room
Cameron Highlands Resort
39000 Tanah Rata
Cameron Highlands
Pahang, Malaysia
+60 5 491 1100
[email protected]
www.cameronhighlandsresort.com
Lunch: 12 noon – 3pm.
English Afternoon Tea: 3pm – 6pm.