Altitude Restaurant on the 36th floor of the Shangri-La Hotel Sydney is a treasure trove of goodies. Upon entry the city's jewels from the harbour twinkle through the floor to ceiling windows. Then, gems, carefully crafted pieces of art, are presented on plates, washed down with liquid gold and ruby reds in the form of some of Australia's most respected wines. Finally the staff sparkles with enthusiasm as they professionally explain each dish as it's delivered and offer advice on beverage pairing.
Okay, so maybe that was a little cheesy. But, you get the point. A dining experience at Altitude Restaurant at the Shangri-La Hotel Sydney is pretty darn fab.
Headed by Chef Ricardo Dias Ferreira, you'd expect nothing less. Having trained in some of Spain and Portugal's finest restaurants, Chef Ricardo brings a love of high quality produce-driven menus to the kitchen. Reflecting this passion, Altitude's menu is a dynamic production, changing frequently with the best of seasonal Australian ingredients. Once again, just browsing the compilation makes me want to try it all, so I hand our choices over to the degustation menu, where courses and wine matches are chosen for us.
It's truffle season in Australia and so we're fortunate to find the NSW Inspired Tasting Menu Celebrating Hartley Truffles the highlight during our visit. It's priced at $175 per person, with an additional $65 for wine pairing. Bread (a choice of white, wholemeal and walnut) and water are quickly on our table, and the first dish from chef Ricardo soon follows.
Chef's Amuse Bouche presents a Sydney rock oyster, a local oyster, marinated on fresh gazpacho with trout roe.  It's fresh, mildly salty and serves its purpose of 'amusing our palates' and leaving us wanting more.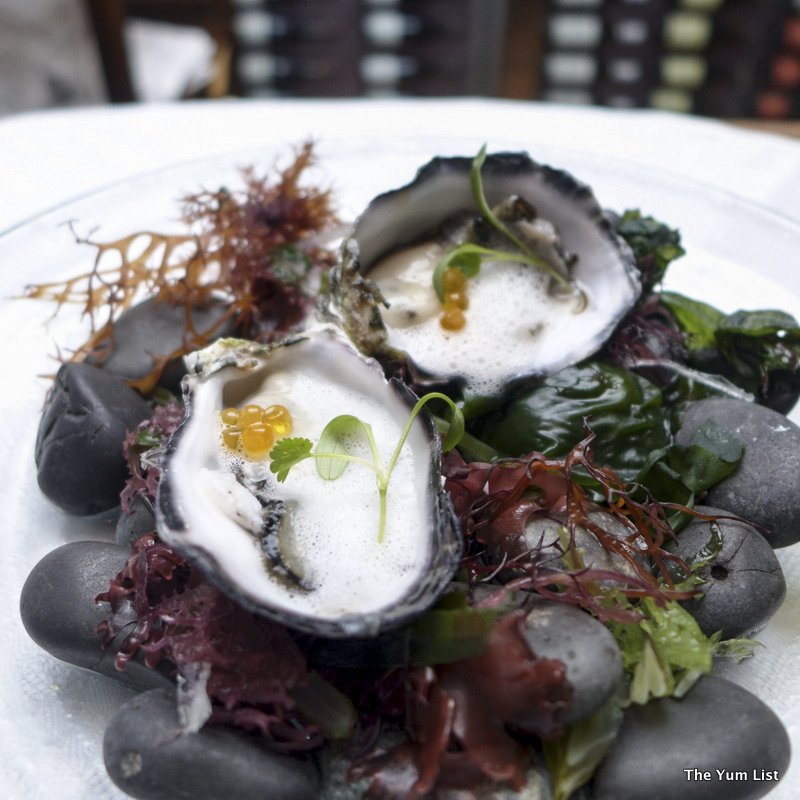 Southern Rock Lobster bathes in a shallow pond of tomato water and is surrounded by pieces of avocado, crosnes (Chinese artichoke – the long cream veggies that look like worms), local radish, and is drizzled with coriander parsley oil. Micro greens and edible flowers garnish the top. The pairing of a 2015 Thomas Wines 'Braemore Vineyard' Semillon from the Hunter Valley, New South Wales presents the classic Semillon style expected from this region. It's crisp and dry with a bit of a gin and tonic mouth feel partnering nicely with the green characteristics of the veggies and balancing out the sea salty lobster. Expert pairing. Delicious dish. Great start.
My dining partner, Kristy and I both have a thing for carbs and the next Creamy Arborio Rice with Hartley Truffles wins us both over at first bite. Intense cheese aromas make our mouths water before we even swallow the initial spoonful, and the al dente rice has a texture that we just want to keep chewing. Softened in a wine stock with butter, enlivened with Grana Padano cheese and mushrooms, and adorned with tiny sprigs of rosemary and thyme, and generous shavings of truffles, it's packed with flavour. The liquid mate, 2007 Jansz 'Late Disgorded' Vintage Cuvee from Pipers River, Tasmania is aged on lees giving it a complex palate and aromatics. Toasted brioche, roasted hazelnuts and an almost biscuit finish bring out the earthiness of the truffles: another masterful match.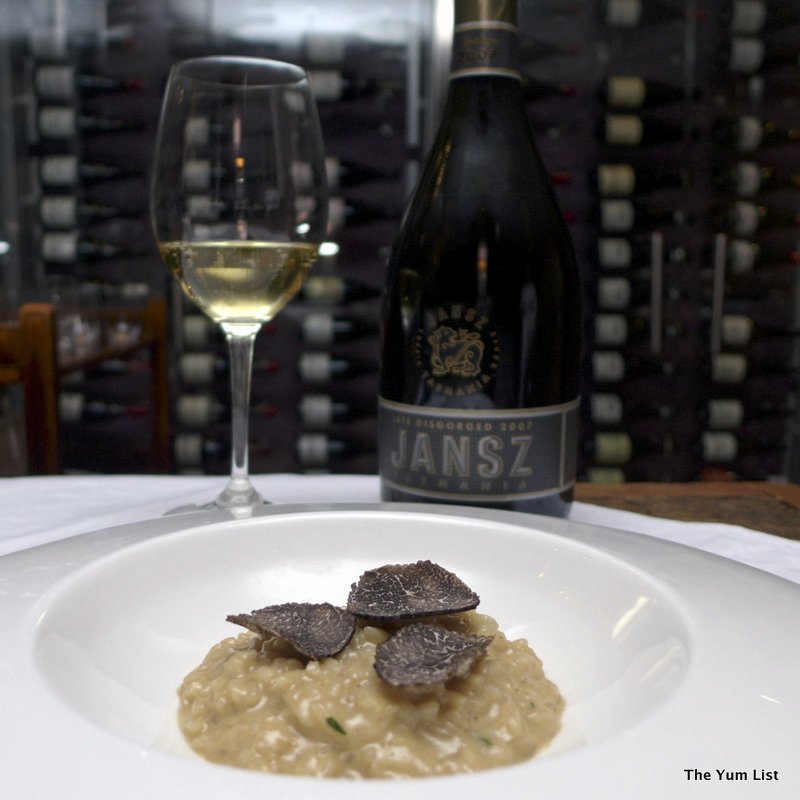 The pigs for the Melanda Park Pork Jowl are raised on a free-range farm about two hours north of Sydney. Their humane production is part of a sustainable project that is used in rotation with potato growing. A slow braising over 12 hours gives the melt-in-the-mouth tenderness, and a final bout in the oven crisps the edges. Pork consommé adds moistness. Hartley truffles gift earthiness. Squid noodles provide an unusual pairing, and thin shavings of bresaola lift the dish with their saltiness. The medium bodied 2015 Michael Hall Roussanne from Barossa Valley, South Australia collaborates well with aromas of honeysuckle, vanilla and stone fruit. The whisper of vanilla in the finish, due to oak aging, mirrors the smoothness of the collagen in the pork.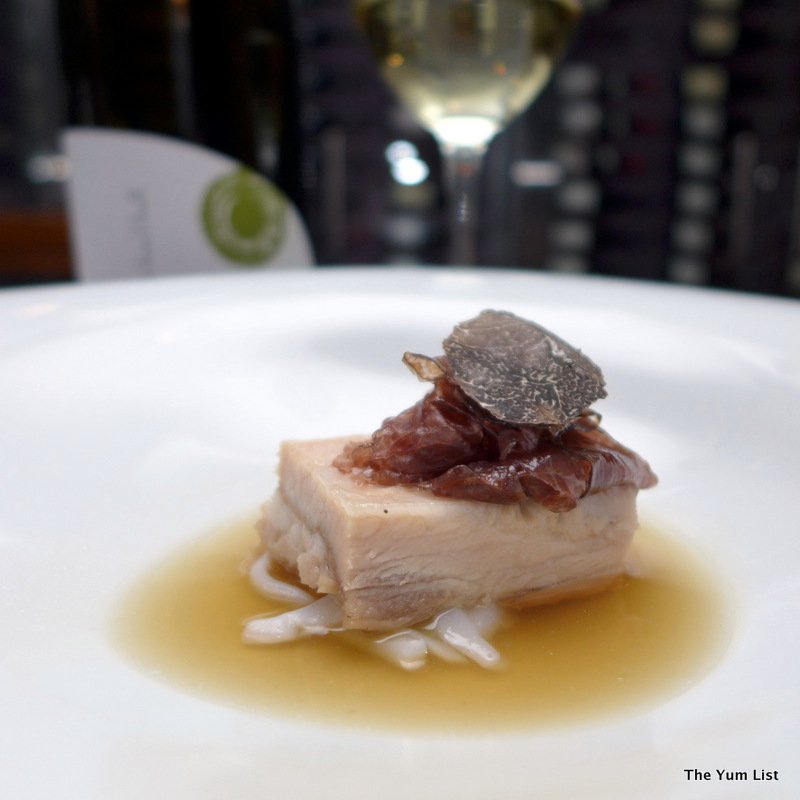 The breast and thigh of Hawkesbury Game Farm Quail are poached in duck fat for the next dish. Slices of black abalone, native berries, a beetroot foam and native pine mushroom puree support the protein. A delicious 2015 Farr Rising Gamay from Geelong, Victoria might be my favourite wine of the evening. Served in a balloon glass, notes of berries and the earth tickle the nose, which are mirrored in the palate. It has good structure and a lingering finish: I could drink more than a glass of this.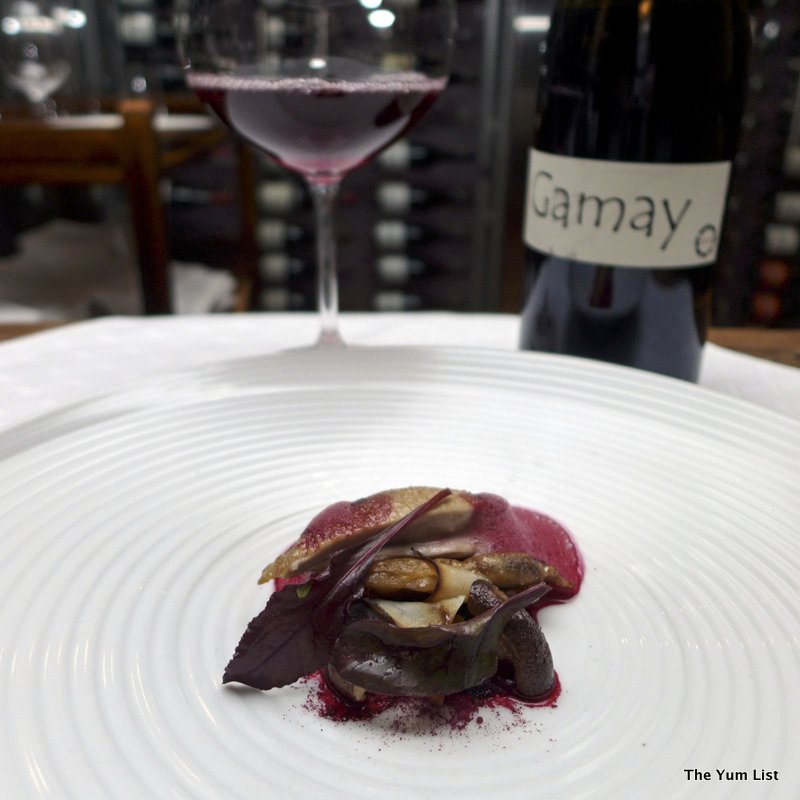 A refresher of Yuzu Sorbet does the job of cleansing our palates before the main arrives.
Great Southern Lamb is a beautiful dish. Roasted and pulled meat has been rolled and coated in a golden toast, and served with mashed celeriac and potatoes, peas and charcoal cooked seasonal Blue Mountain vegetables. It's rich and warm and very comforting in this chilly weather. A flawless match is found in the 2014 Fletcher Wines, The Minion "Nebbiolo, a blend from three different vineyards in Victoria. It's complex and layered and provides structure and tannins that side the lamb adeptly.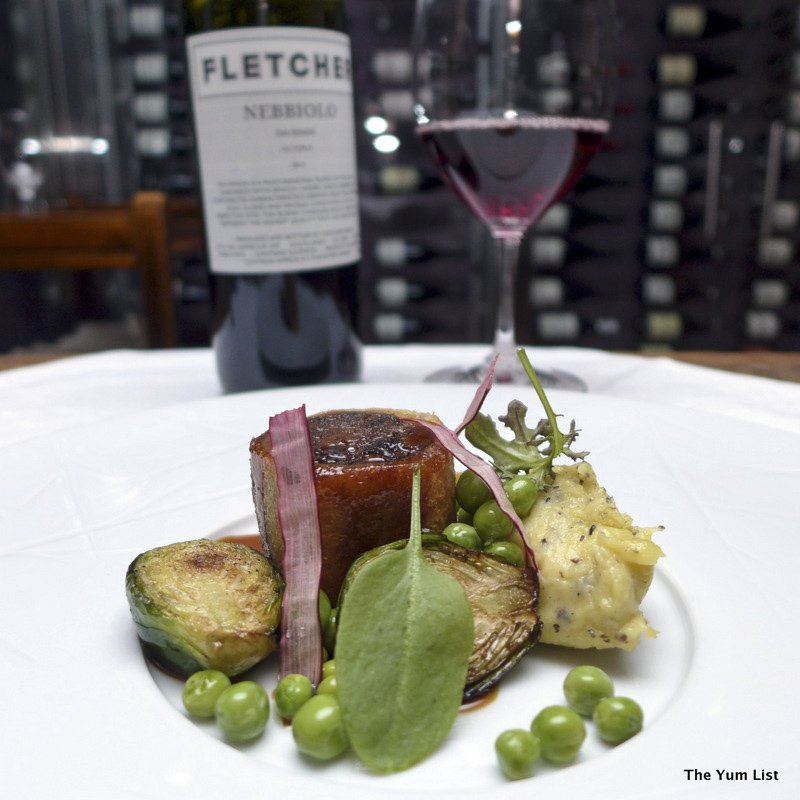 With the delivery of a pre-dessert we also have the chance to speak with chef Ricardo, and try out one of his latest experiments. We've learned earlier in the evening from the Altitude team (who all seem to be enamoured with the young chef) of Ricardo's creativity, spontaneity and passion for utilizing the best ingredients of the day. A few words into our conversation and the earlier buzz is soon confirmed. "I'm young, but I'm from the old school of society. A decade ago the profession of a chef didn't carry any glamour with it that it does today. When meeting girls you would never say you were studying to be a chef. They would run the other way."
He impresses upon us the importance of using 100% Aussie ingredients, and tells of some of the excellent suppliers he has the chance to work with. Relationships are clearly important and we hear anecdotes of fishermen calling him at 5:30am informing of a special catch, or creating dishes that are only served for a day or two because limited harvest. While produce is local, recipes are firmly based in his Portuguese heritage and as such we have the fortune to try a traditional dessert, the Pão de Ló. This Portuguese sponge cake is a simple recipe of sugar, flour and eggs that produces a sweet that is soft and fluffy inside, with a sticky toasted crust. The presentation is rustic and a complementary contrast to what we've seen in the degustation menu.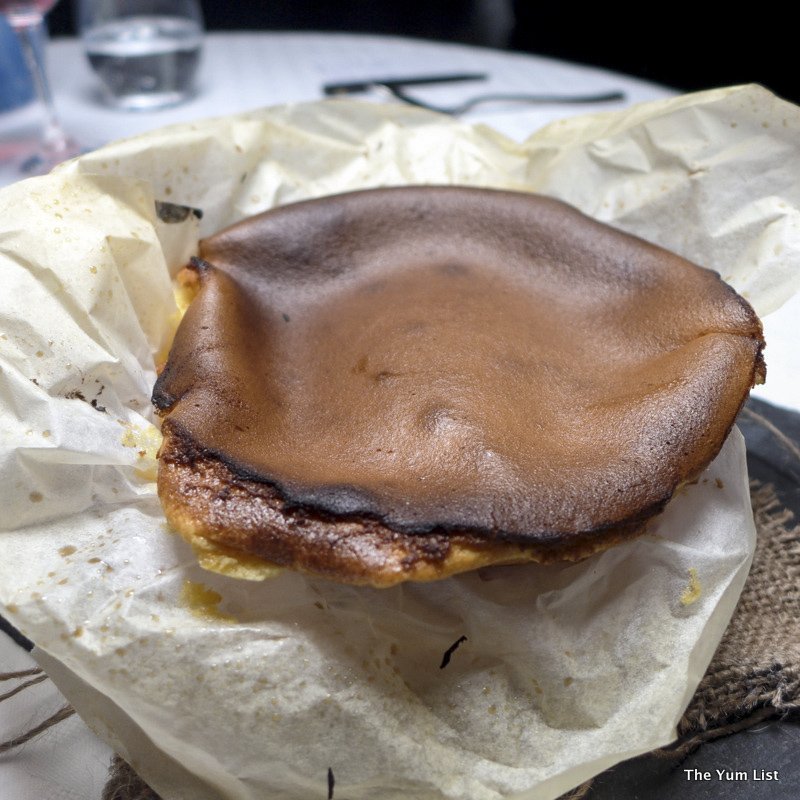 Our evening comes to an end with Honeycomb Semifreddo. It's appealing plating with dark chocolate mousse, black pepper honeycomb, crushed hazelnuts and milk shards forming a palette of neutral hues, and a wonderful combination of textures in the mouth. Flavours of toffee, caramel and a touch of oakiness in the NV Stanton and Killen Classic Muscat from Rutherglen, Victoria provide a decadent finish. Yum!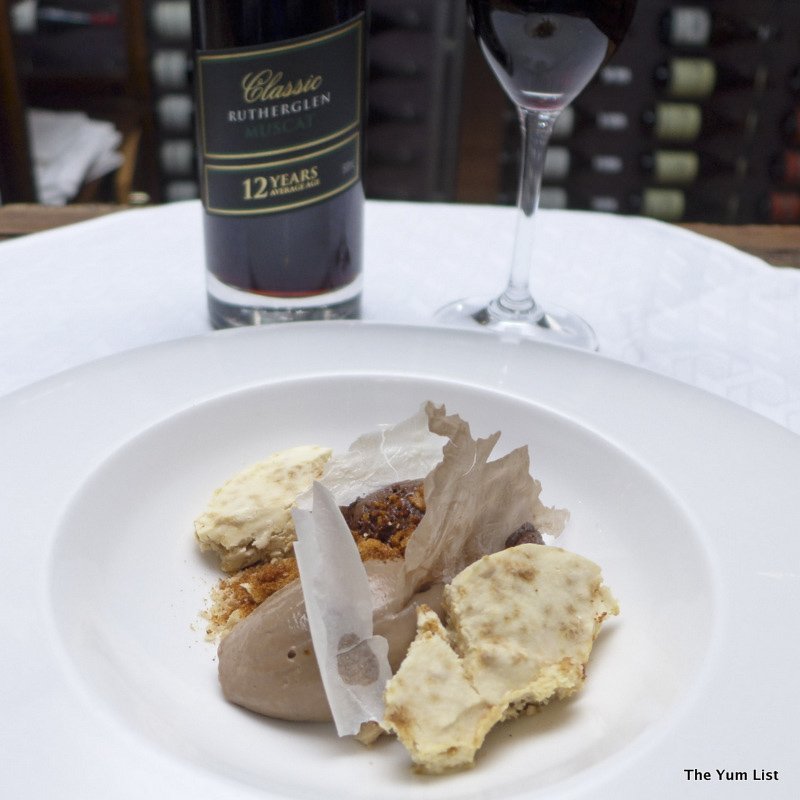 Reasons to visit: stunning views; superb service; delicious menu based on the best of fresh seasonal local produce; excellent wine menu.
Altitude Restaurant
Shangri-La Hotel Sydney
176 Cumberland Street
The Rocks, Sydney
NSW 2000, Australia
+61 (0)2 9250 6000
www.shangri-la.com/sydney/shangrila