Awarded 2 SMH Chef Hats for the past five years running, and in numerous "top Australian restaurant" lists, Aubergine restaurant registers high on every foodie's "to visit" radar.
A regularly changing menu based on the best produce of the day from local farmers means guests are assured the freshest of quality ingredients, and the newly renovated space oozes sophisticated elegance. Not only is the food award winning and the setting suitably matching, but the wine list is an achievement in its own right too. Over 500 labels, both classic and more boutique selections recommended by an in house sommelier, elevate the dining experience.
Dinner at Aubergine is our first experience in Canberra (I'm here with my dad and neither of us have been to the city in over 30 years), and what immediately impresses is the intimacy of the space. With its simple understated décor, high ceilings, and well-chosen lighting, it feels as though we're in a large dining room sitting with friends at a number of smaller tables. Metallic curtains hang from extraordinarily tall floor to ceiling windows enclosing the space and hugging us snugly almost as if we're in a chocolate box. Even though the menu and service is of fine dining quality, there are no tablecloths, just bare topped tables and placemats relaxing the mood. It's warm, friendly and very cosy.
Aperitif
A small Champagne house in France gives us a bubbly beginning with the Chartogne-Taillet, Sainte Anne Brut. It's crisp with apple notes and a perfect example of what Aubergine is all about – boutique wineries and small production houses showcasing the beauty of attention to detail and the passion in profession.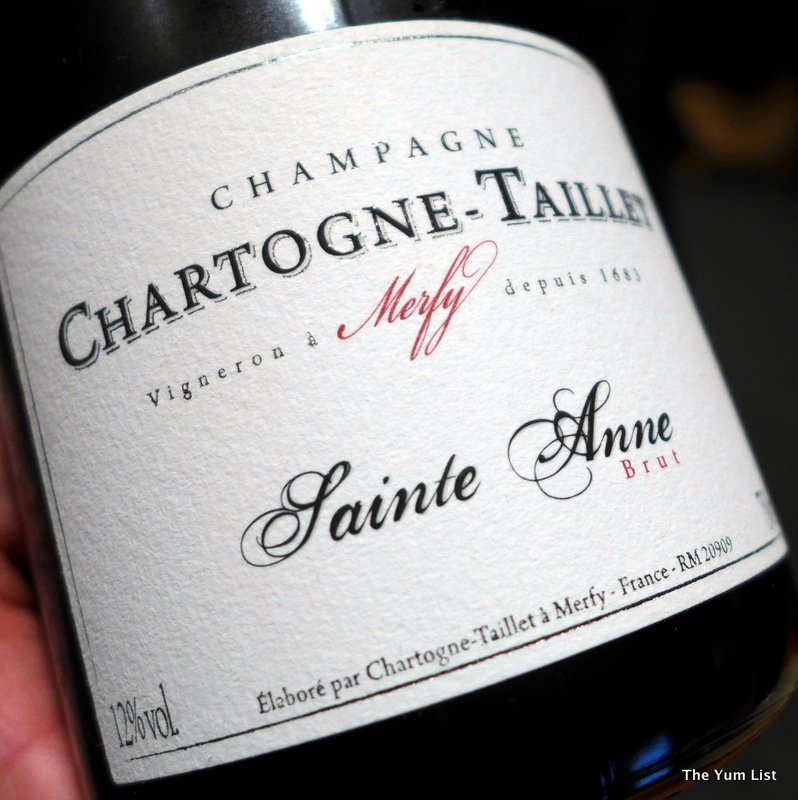 Canapés
A quartet of canapés looks beautiful and we admire the work that must have gone into creating each petite bite. A cheese biscuit with Parmesan fondue and black fennel dust is a punchy mouthful. The smoked potato crisp with raspberry salt is a wonderful mix of smoky and salty. Sour dough crisps, holding beef tartar and thin shavings of watermelon radishes, look pretty and have a mild spice to them. Lastly,chocolate cannoli, filled with rich black pudding and romesco sauce for the dipping, are warm intense tidbits, warming our tummies and exciting us for some hearty offerings in this wintry weather. The four canapés have teased every corner of our mouths with a different flavour and roused our interest (along with our palates) for the rest of the meal.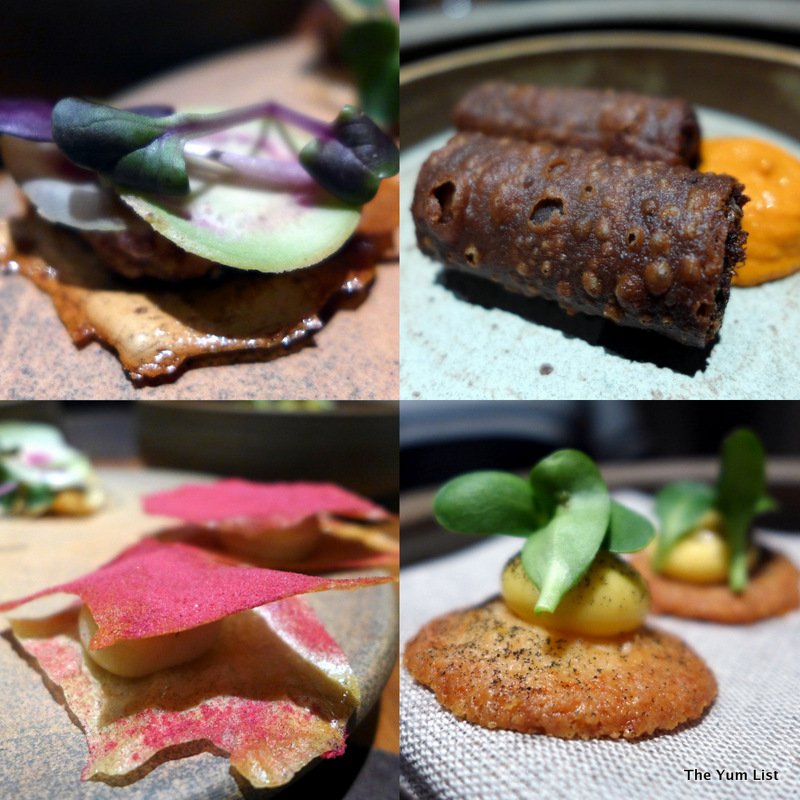 House cultured butter with a sprinkling of salt is delivered with house made sourdough. Try as we might not to eat it all in preparation for the four dishes ahead of us, it's just too good – soft and spongy within and a crunchy crust – that it's gone before the first wine pairing arrives.
Starters
2014 Fontanasanta, Manzoni Bianco from Foradori is advised to be tasted on its own before sampling again with the food. Winemaker, Elisabeth Foradori is one of the leading ladies in the production of biodynamic wines in Italy. Her style is typically elegant, with no chemicals or artificial tastes interfering with the delicate flavour profile. This blend of pinot bianco and Riesling presents minerality on both the nose and in the palate, finishing with a citrusy crispness.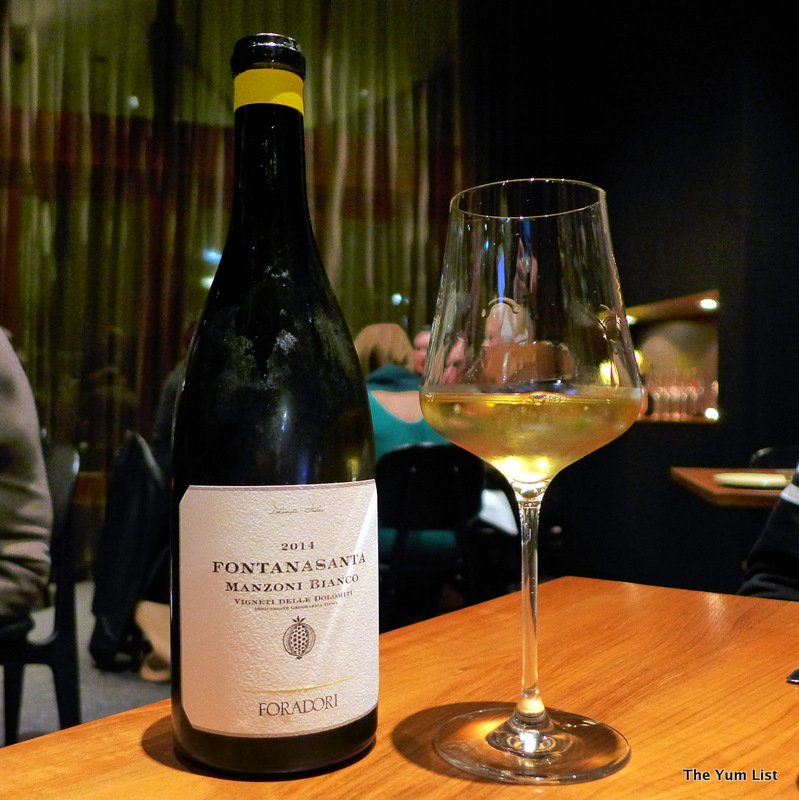 The starter in our four-course tasting menu, Fillet of Turbot, comes with poached prawns, a bed of chopped and pureed cauliflower, purple florets and a rich vadouvan sauce. Vadouvan is traditionally a blend used in curries. Aubergine's version is rich and creamy with fresh tarragon and curry leaves adorning the top, bringing out wonderful aromatics and a subtle spice. The seductive fragrance of the curry leaf tickles my nose before digging in, harmonizing with the moist and flaky fish. It's a superb launch and good indicator of the quality to follow.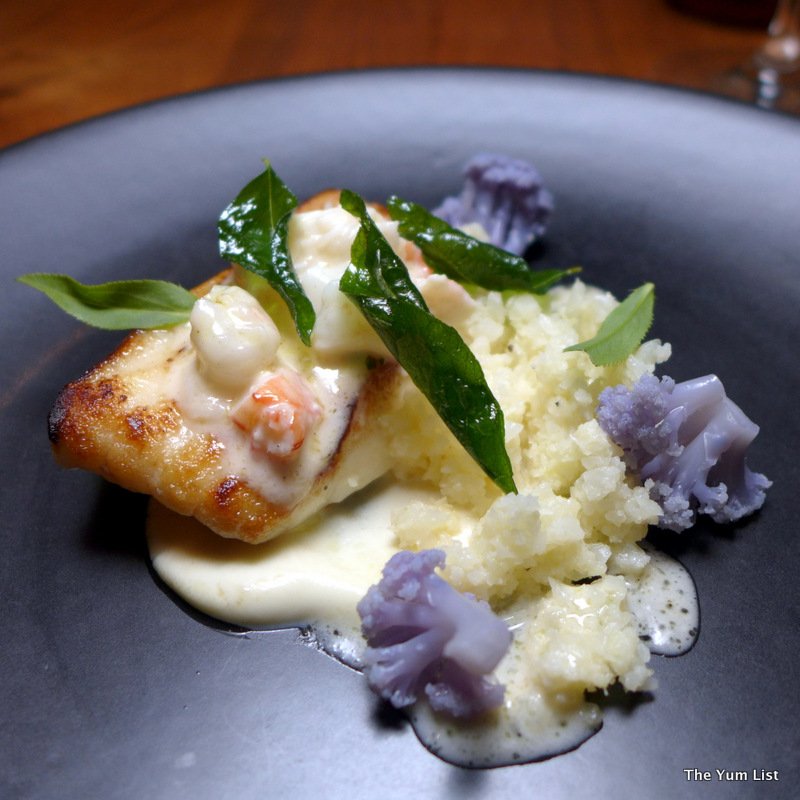 Back to the wine: the Italian blend slices through the creaminess of the recipe, and the curry brings out the fruitiness of the wine. On its own, I didn't detect this element, but when coupled with food the wine takes on a whole new dimension. Now, that is an expert pairing.
Second Course
Dad chooses the Quail grilled over charcoal. It's chaperoned with endives poached in blood orange, white beetroot wedges, beetroot dust and tiny pieces of the said fruit. The poultry is full flavoured and moist, and the citrus tang is a welcome partner lightening its richness. "Very nice, and moreish," reports dad. "I don't know how they create so many layers of flavours."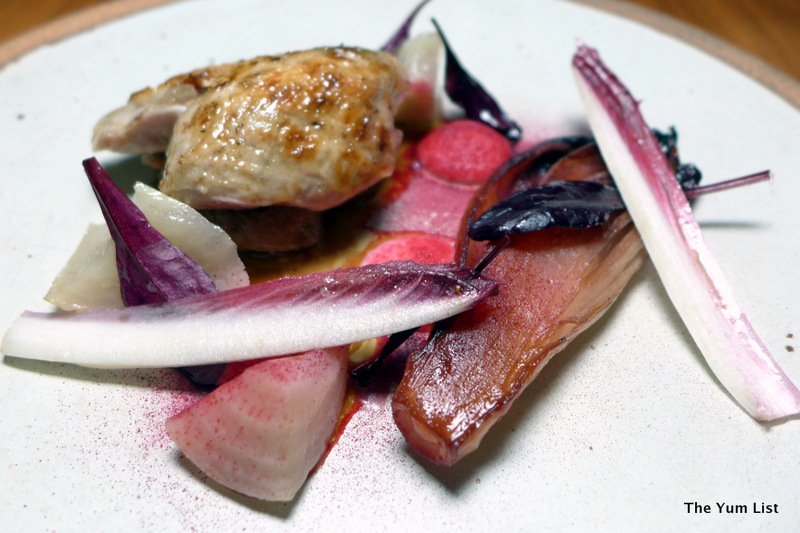 Celeriac foam covers my Gnocchi, which is attended with egg yolk confit, black truffle shavings, mushroom cream, mixed mushrooms and celtuce (stem lettuce). It proves a lovely disparity in textures: mixed mushrooms providing something to bite into, the celtuce a slight crunch, the soft cloud like fluff of the gnocchi, and the creamy foamy sauces (celeriac and mushroom) varying in density. This is a rich dish and while I'm wishing I had saved a piece of bread to mop up the remaining sauce (though I know I can't possible afford the tummy space), I'm grateful for the acidity in the wine pairing that cleanses my palate and carves through the sumptuous sauce.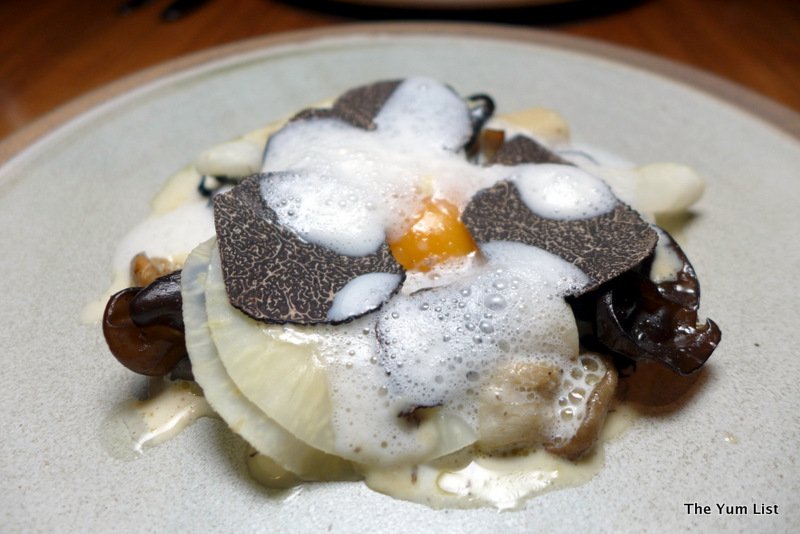 Dad's driving tonight so no wine pairing for him, but I'm free to sample, and my pasta pairing is the Francuska Vina Astina, Estelle et Cyrille, Bongiraud from Serbia. It's made by a French couple who bought the vineyard which is steeped in history and close to the Romanian border. This is a sharp style of Riesling with stone fruit flavours and a rich minerality. It plays with the black truffle in my dish, not overpowering it, but sportively contrasting its earthy characteristics.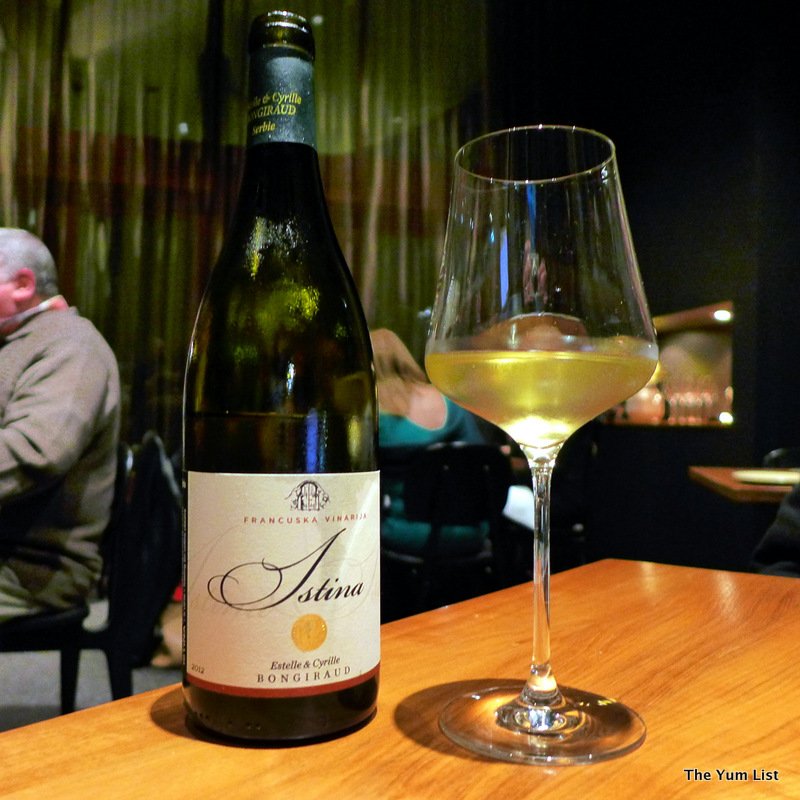 Mains
Dad's pick is King George Whiting that has been cooked with a green garlic milk. Roasted broccoli and salsify (a long thin root vegetable) add texture to the plate, while a celariac foam computes lightness, and garden fresh watercress provides garnish. It's another example of expertly cooked fish, and from our turbot and whiting experiences this evening, we'd happily recommend Aubergine as a top choice for fussy seafood fiends.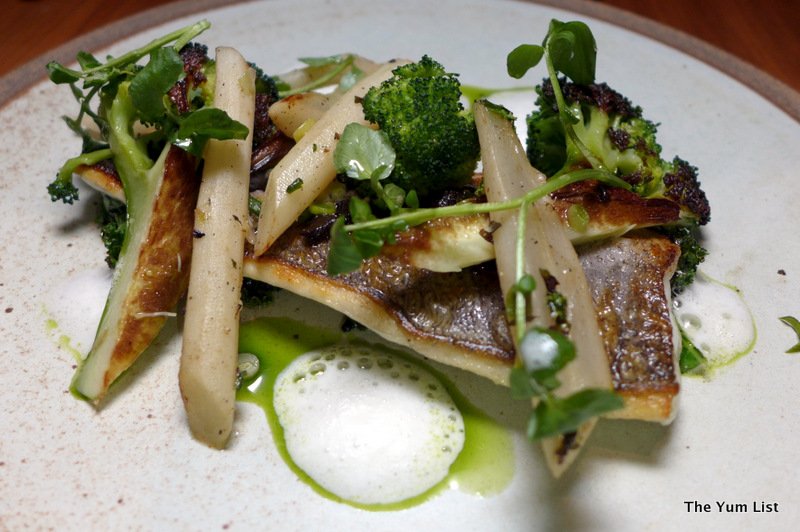 I test out another vegetarian option with roasted Jerusalem Artichoke. It features a crisp shell and mashy middle – similar textures to that of a roasted potato but with a soft sweetness.  Wild rice has been braised with soy and seaweed, and has a ginger butter melted through adding another dulcet layer. Some leafy greens add another element to the dish, balancing the plate and making this meat-free dish extremely satisfying.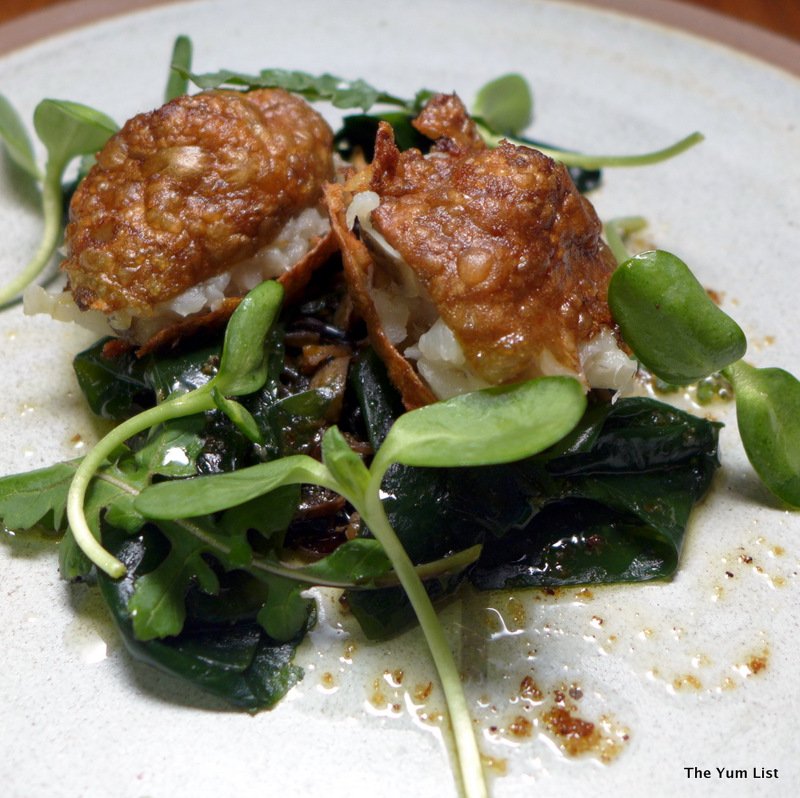 I'm excited to try a local sauvignon blanc by Eden Road, which I'm promised will change my perception of the overly served grape that has overtaken the southern hemisphere in recent popularity. It's called Bunched as it's fermented in the whole bunch, a technique often reserved for red wine production. Aromas of tropical fruit waft to my nostrils, and I try to reserve judgment as it smells of something typical of the Marlbourough region and what many wine enthusiasts are now tiring of. I soon regret my lack of belief however as in the mouth it's a stark contrast. It's dry. It has enough texture to stand alongside the artichokes, yet is rather elegant. This may be the wine that brings me around to ordering sauvignon blanc once again.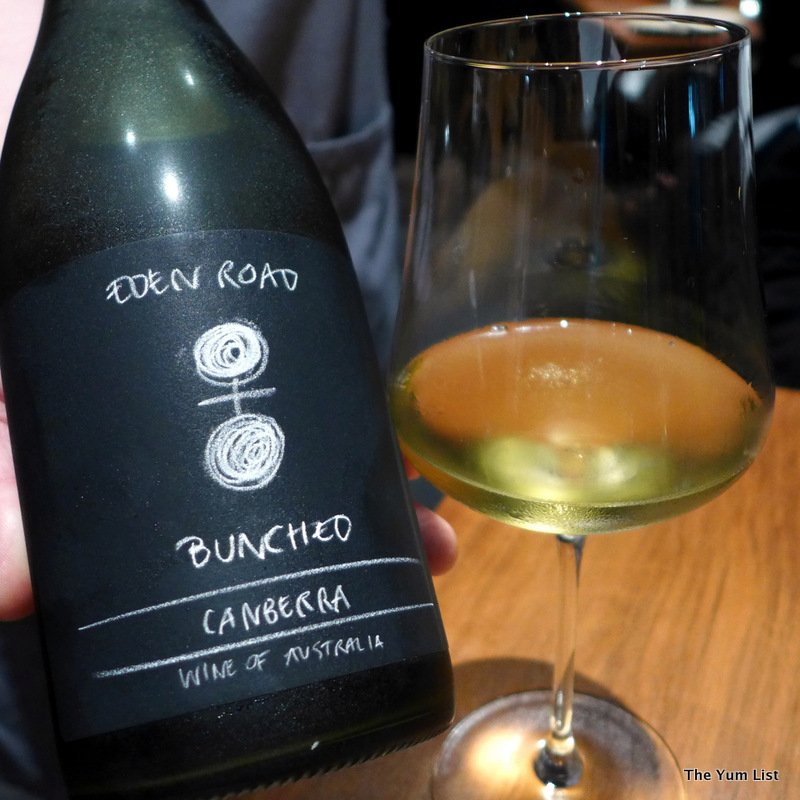 Dessert
Dad's dessert comes out in a liquid nitrogen fog. Burnt Butter Ice Cream, underneath liquid nitrogen produces crisp cold frozen verbena milk with almond praline and almond crumble. Be sure to dig to the bottom to benefit from all the flavours and textures in a spoonful. More nutty than sweet, dad and I both love this dish and especially appreciate the whole almonds that break up the dessert.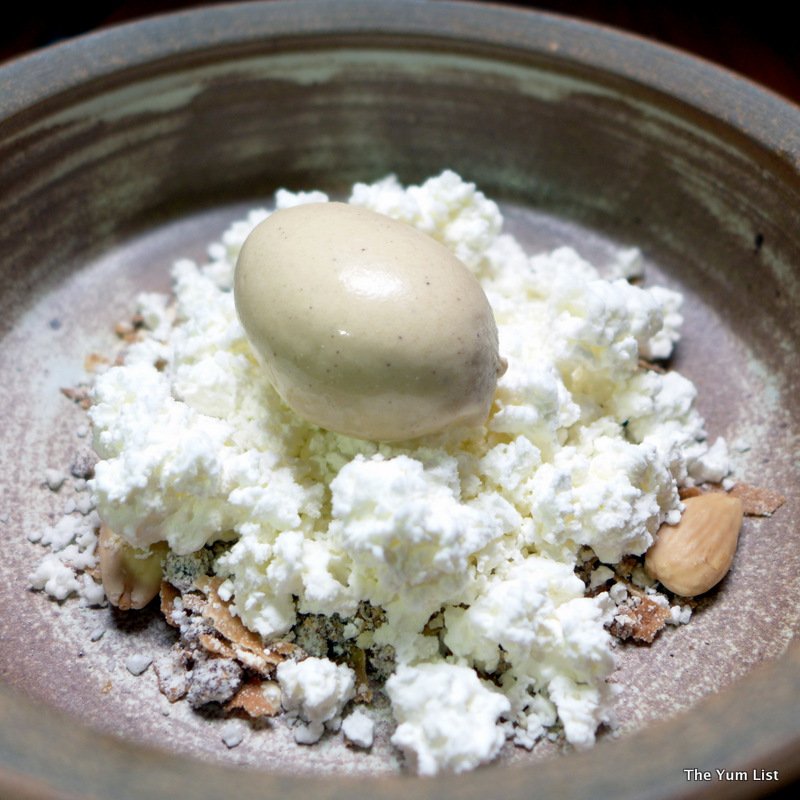 The 2013 Disnoko, Tokaji, Kesoi Szuret, Late Harvest comes from one of the oldest wine producing countries in the world, Hungary. Apparently King Louis XIV had a penchant for sweet wines and the Tokaji was his most treasured drop. The high acidity in the wine balances out the sugar, making it sweet but not heavy. There's honeysuckle, apricot, and a hint of caramel in the nose, with a candied orange peel finish. It's an elegant, silky wine harmonizing fittingly with my final plate.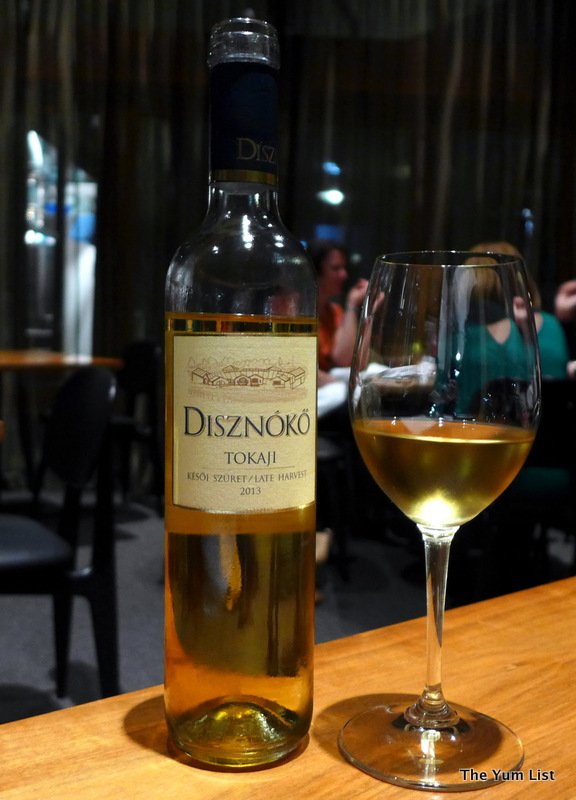 White Chocolate Mousse forms the base for a tower of sweet layers. A tart lemon sorbet is the first covering and a feathery cloud of yoghurt foam mousse domes the top. Fresh mandarin segments and bee pollen surround the dessert. We find both desserts are superb and we'd have trouble recommending one over the other, so go with a friend and order the lot.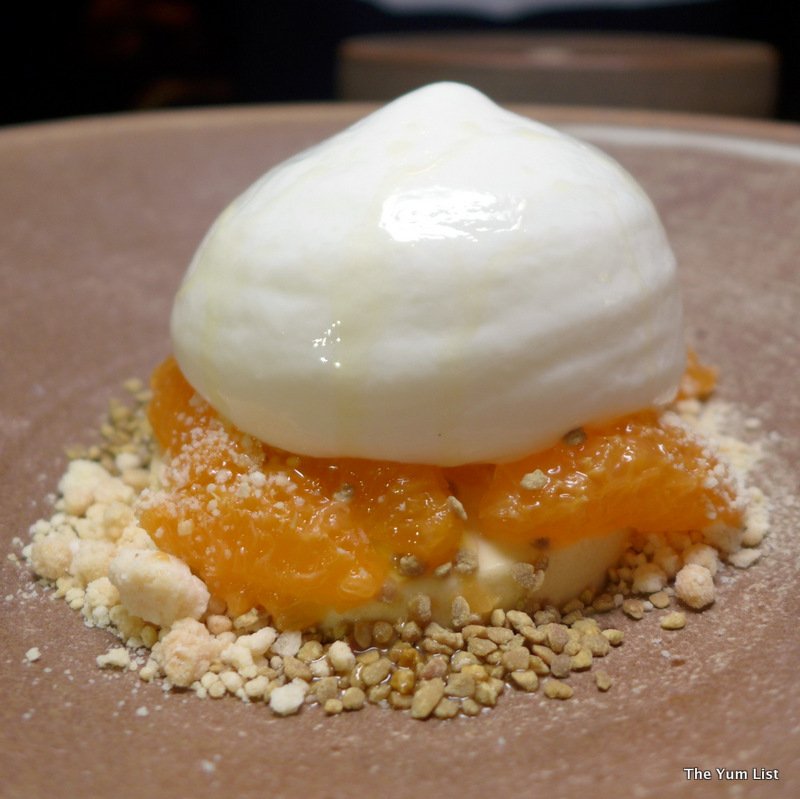 The four-course menu at Aubergine is priced at $90 per person. An additional $45 will get you an expertly chosen wine pairing.
Reasons to visit: cosy comfortable dining space; excellent wine pairings and knowledgeable service; the set menu – a chance to try a number of items.
Aubergine
18 Barker Street
Griffith ACT
Australia
+61 2 6260 8666
www.aubergine.com.au