"A perfect day starts with the perfect coffee and delicious food."
Although this is my first visit to Canberra in over 30 years, and my current base is a good day's worth of flying away, the reputation of The Cupping Room has already been on my radar.
I'm a self-confessed coffee addict and the owner of The Cupping Room, Sasa Sestic (2015 World Champion Barista), is a household name (in my house at least). His delicious ONA Coffee beans (courtesy of Auresso Coffee delivering to Malaysia) have been more than once in my French press and espresso machine, and so on this recent visit to Canberra, I jumped at the chance to expand my coffee knowledge in a cupping session at his popular café, The Cupping Room.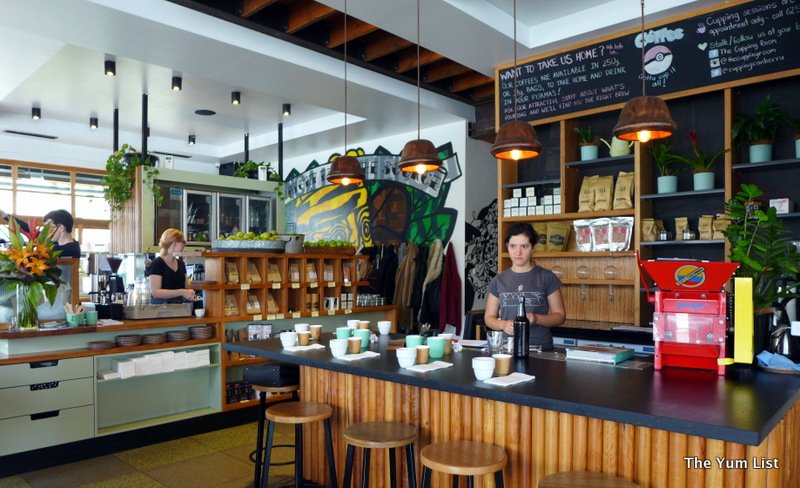 A cupping session introduces us to six different beans available at The Cupping Room. We're led through the process from the farm to the cup, with photos and personal anecdotes to assist. I have a basic understanding of coffee but there's a good deal of new learnings that I pull from this tutorial. Dad (who's traveling with me on this trip) says he'll never sip on a cup of coffee the same way again, "It's given me a whole new appreciation for what's in my cup."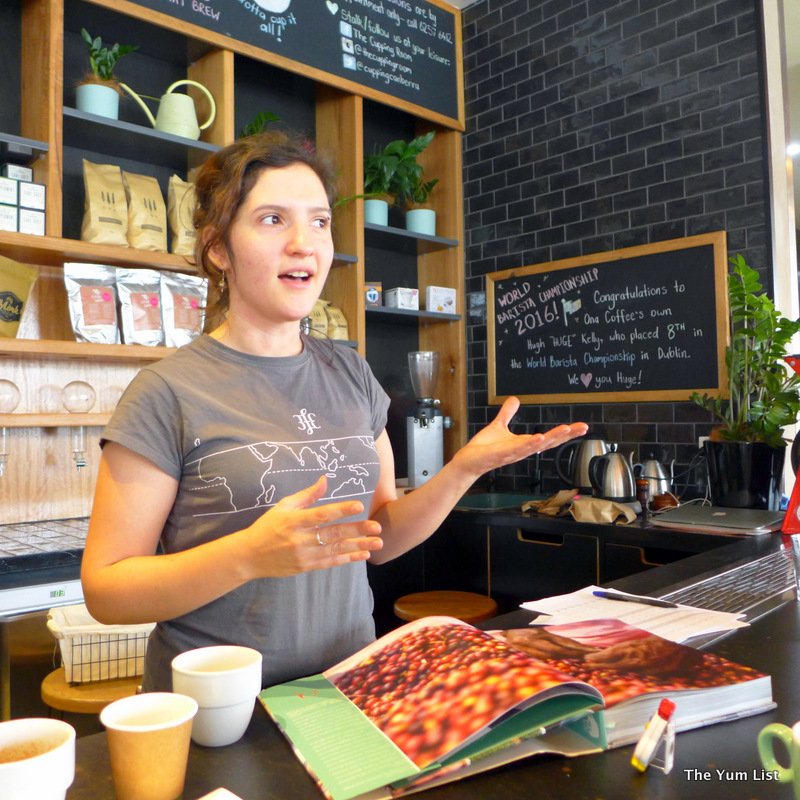 Our patient trainer takes us through the process of cupping and notes characteristics to look out for in our tastings. Having the opportunity to taste six completely different beans alongside one another exposes us to the great variety that can be found in beans. Staff are trained this way every week with blind cupping sessions and, besides their knowledge when presenting the menu later at our table, I also observe the precision with which every cup is made. It reminds me of wine tasting and I'm guessing that as consumers become more aware of the complexities at their disposal that food and coffee pairing will be the next trend. Just as with wine, you're invited to spit to avoid too much of a caffeine buzz. I graciously decline however, so am wired and ready to try some food.
We've expanded our palates with the cupping session of black coffee, so now are ready for something a little softer and order our coffee with milk. Dad has the house blend, Black Betty (one of my favourites from ONA), which has hints of chocolate and malt. I try out the guest blend, The Hitman, which presents notes of dark chocolate and hazelnuts when mixed with milk.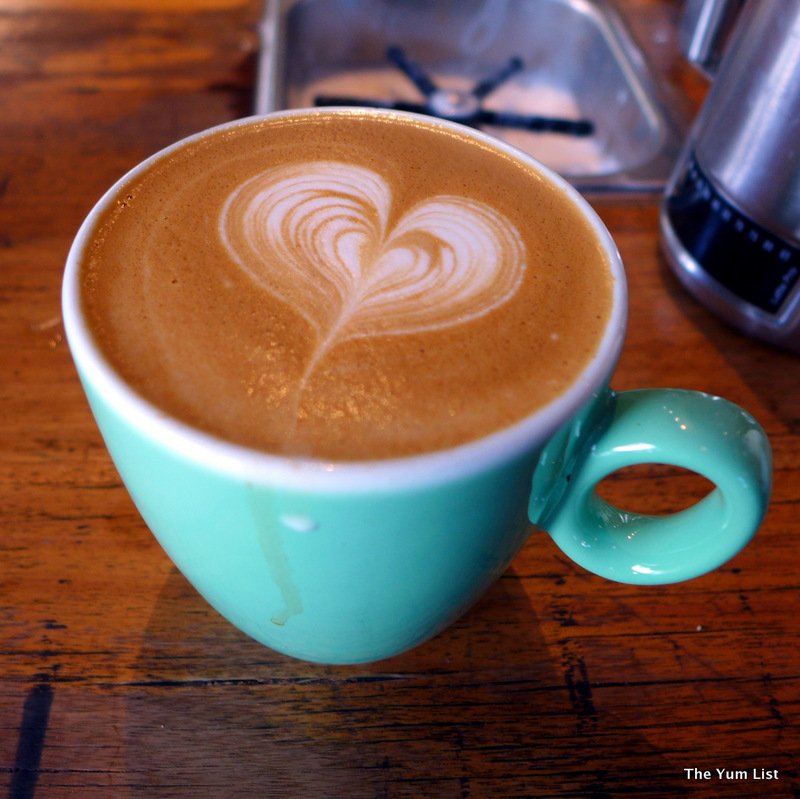 While coffee is of high importance, the food menu is by no means an afterthought. A mix of contemporary western dishes are interspersed with some Asian influences; all based on seasonal ingredients grown locally. We have another café and a restaurant review to squeeze into this day, so go lightly with our brekkie order. What we do try though has us eager to return to explore the rest of the offerings in greater depth.
Thick fluffy Hotcakes ($18) come in a mouth-watering double stack with chunky apple and rhubarb jam mounted on top. A creamy mound of orange mascarpone sits on the crown and a fantastic crumble of oats and dried fruits showers the whole lot cascading to the base of the plate and bathing in a pond of Canadian maple syrup. These are the most beautifully presented hotcakes that I've seen in years.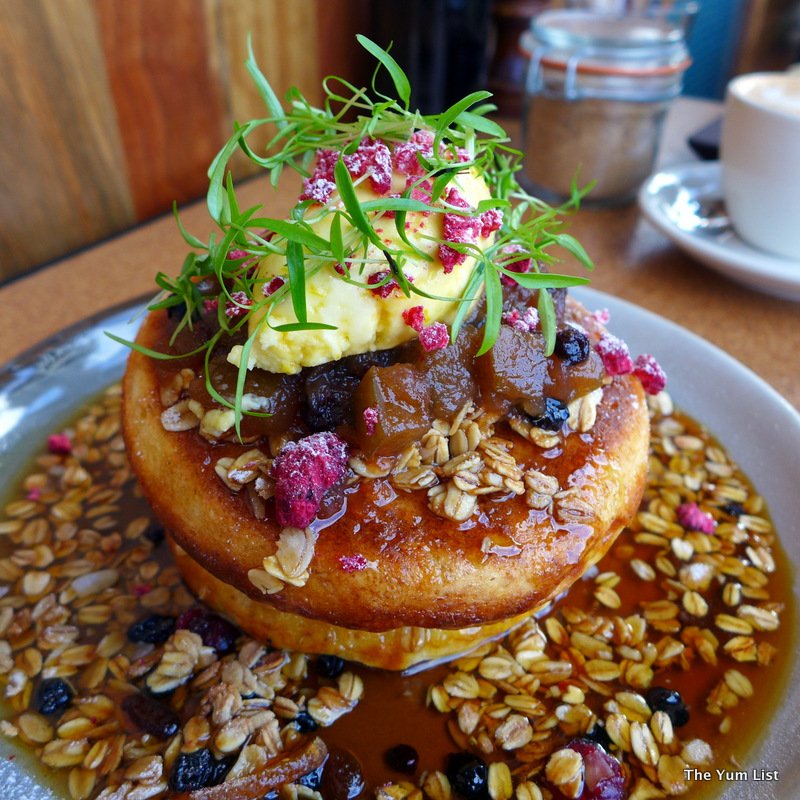 Dad chooses Fruit Toast ($12), but don't be fooled by its how simple it sounds. Presented on a black slate, two thick slices of Three Mills fruit loaf are spread with cottage cheese, banana slices and a drizzling of honey. The bread is dense, something to bite into, and the coverings a perfect balance of naturally sweet and creamy.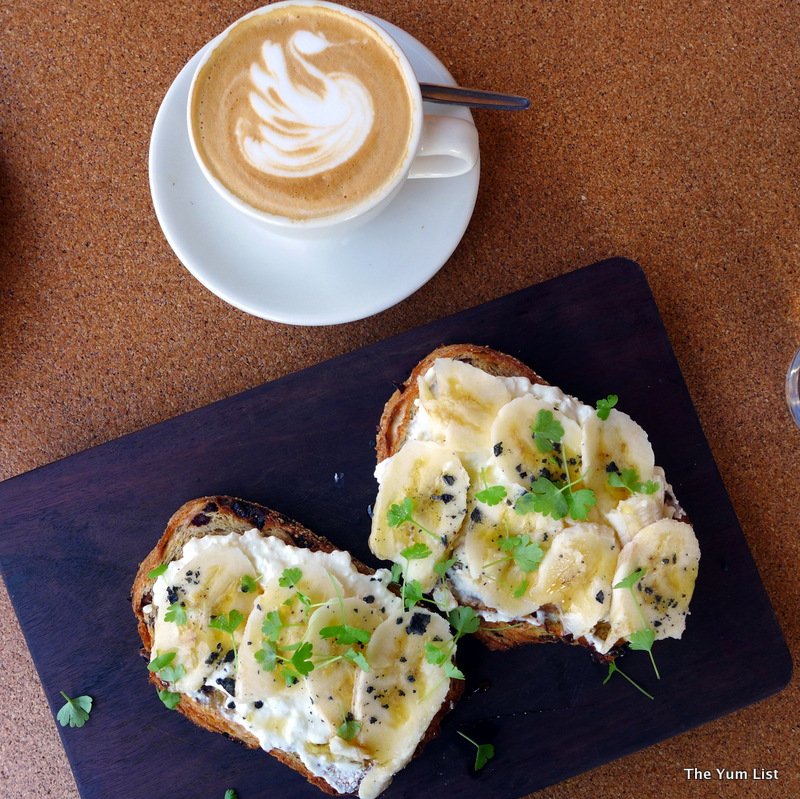 Something a little more lunchy, Pumpkin ($19), comes as a trio of herb-crusted wedges artistically arranged around the plate along with lentils, quinoa, cottage cheese, heirloom radish, orange, toasted pepitas, and lemon and tahini vinaigrette. It's fab: fresh, filling, and with a wonderful zing in the dressing.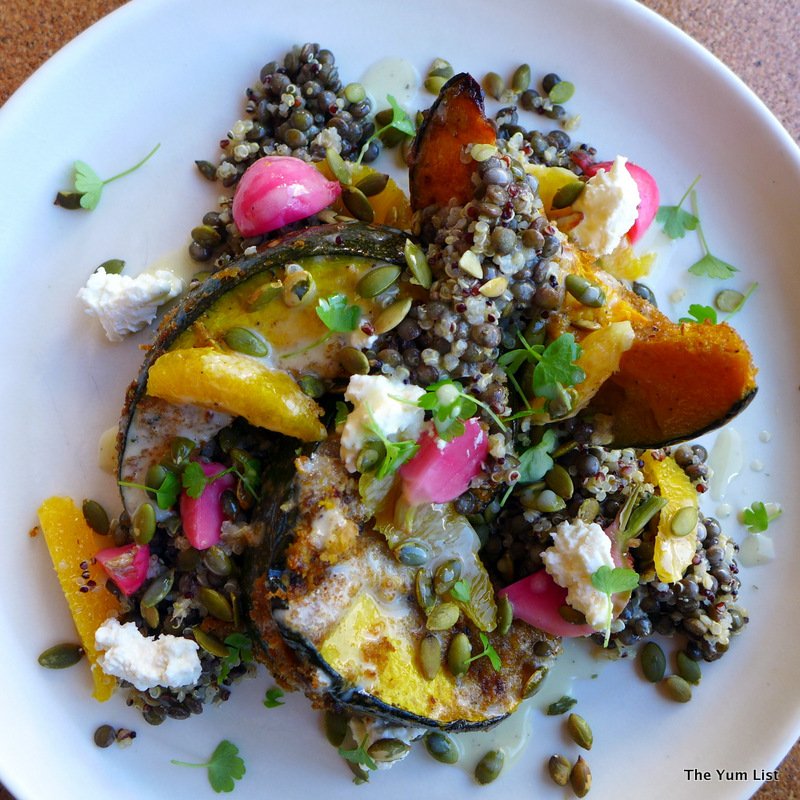 Reasons to visit: an incredible coffee experience with people who genuinely care about the source and quality of the product; expert baristas; delicious breakfast and lunch menu – don't miss the Hotcakes!
The Cupping Room
1/1-13 University Ave
Canberra ACT 2601
Australia
+61 (02) 6257 6412
www.thecuppingroom.com.au
Auresso Coffee delivers beans from ONA to homes across Malaysia!