So you know those ridiculously insane shakes that have been posted all over social media? The ones that make your hips grow and mouth drool just with the images? The glass jars that are filled so high that a cascade of saliva inducing ingredients spill over the top, dribbling down the sides begging to be licked, sucked and slurped? Right. Their popularity has spread like wildfire across the globe, with small independent cafes and hip well established restaurants attempting to mimic the phenomenon. Today however, we're at their birthplace, the original creators of the FreakShake, Patissez Canberra.
Tucked into a side street of the stylish boutique shopping and dining district of Manuka, Patissez fronts a grassy courtyard and hosts both indoor and patio seating. In the chillier winter months heaters warm the enclosed outdoor area, while still allowing an al fresco mood with transparent weather shields letting in natural light but protecting from the frigid breeze. Even though the initial mania, that caused lines down the street and hours of wait, has faded, the mood is abuzz! Diners seem excited to be here and as we're about to find out, it's much more than FreakShakes that are continuing the stir.
*Note: The brand has recently expanded with Patissez cafés now also found in Singapore and Malaysia (with plans for more across Asia), so I've noted below which dishes can also be found abroad.
Trying to be sensible and not jump directly to those world-renowned shakes, we start with some savoury dishes, the first plate, the Herby Mushroom and Smashed Avocado ($18). Crusty sourdough bread (made by a local partner baker) is generously topped with house marinated feta cheese, romesco sauce, fresh basil, thyme, a pile of delectably meaty mushrooms, a mound of creamy smashed avocado and a poached egg –a little runny in the middle, just how I like it for full seductive oozing potential. (available in KL)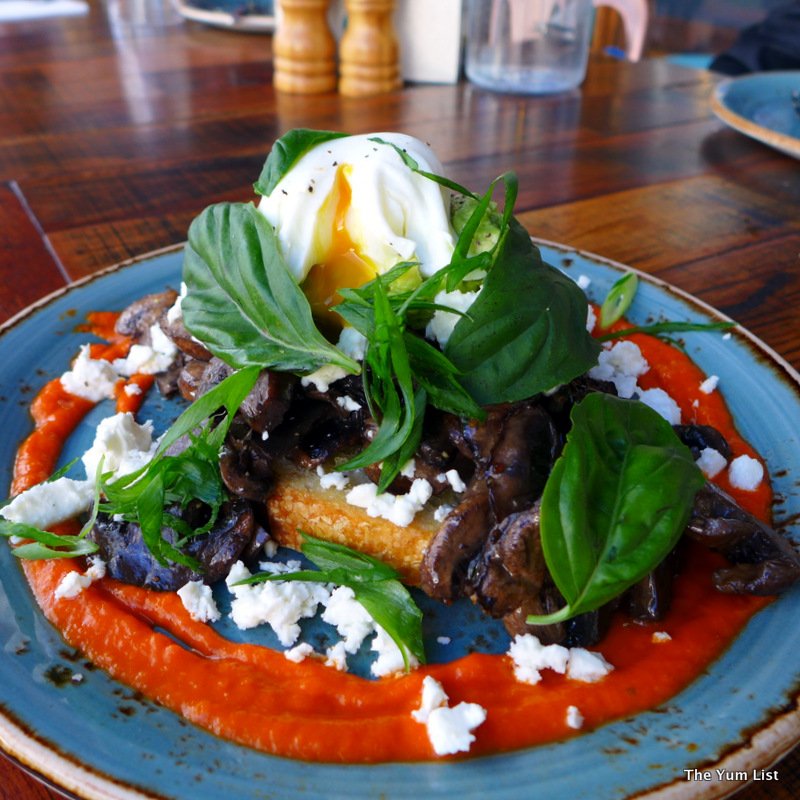 The Light Start Stack ($18) delivers NSW smoked trout, grilled asparagus, confit cherry tomatoes, pickled cucumber, whipped beetroot ricotta (oh yum!), watercress, herbs and a poached egg. The tumble of leafy greens is coated in an addictively tangy dressing and the fish is flaky and subtly flavoured. A squeeze of the half lemon from the side gifts a further zip. It's another breakfasty brunchy plate that is deliciously satisfying.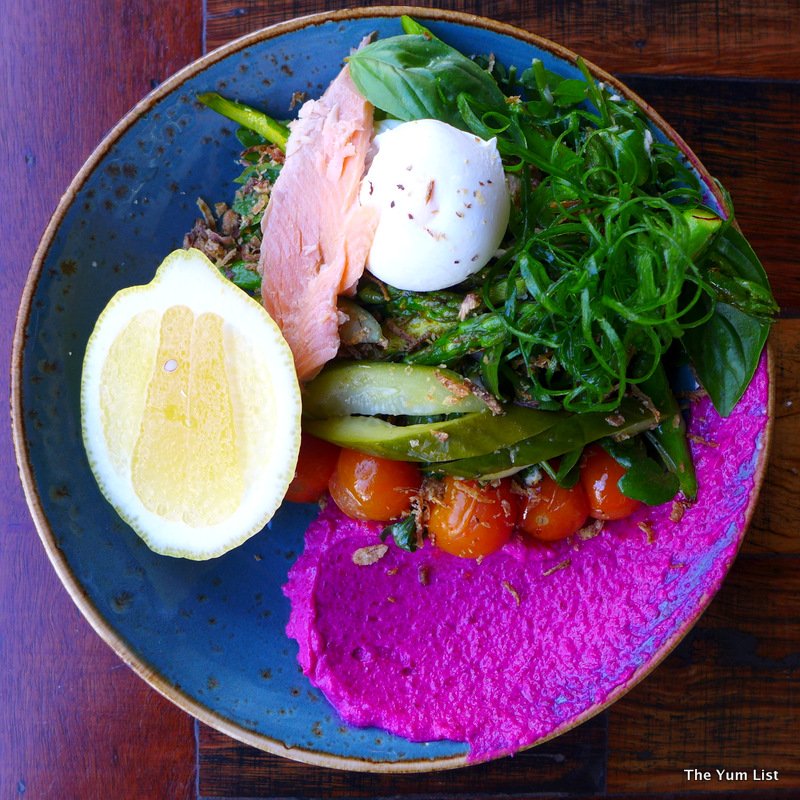 Sweet Corn and Spiced Zucchini Fritters ($17) see one of my favourite brunch delights crowned with a poached egg, house made romesco sauce, a tangle of rocket, pine nuts, a halved roasted roma tomato, marinated feta and mixed herbs. Three plump substantially sized fritters are arranged on the plate. They're cooked all the way through but remain moist within, with a thin crispy casing. This is an incredibly good value meal for the generosity of portion, and it tastes scrumptious too. (available in KL)
Moving onto to some lunchier items (although hubby might beg to differ that a burger is perfectly acceptable for the earlier morning;-), the Crispy Fried Chicken Burger ($17) is next to test our stomach expandability. Crispy spiced chicken, avocado, kewpie (not the doll but the Japanese style mayo), cos lettuce, tomato, onion and chilli sauce swell between the clutches of a hamburger bun. Three huge pieces of chicken fill the middle and the chef has done a magnificent job of sealing in the moisture of the breast. (available in KL)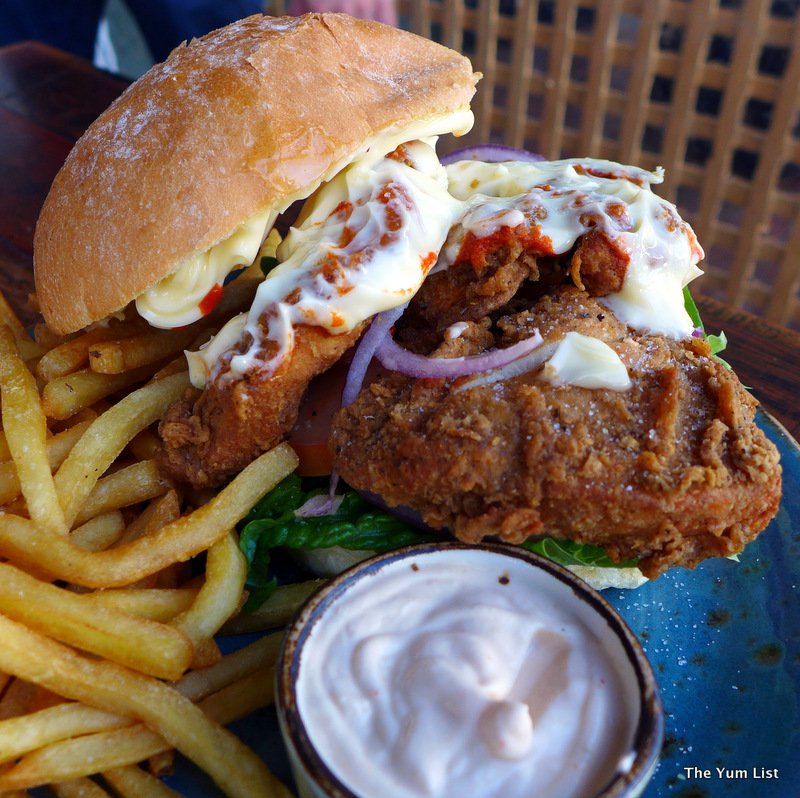 The Freak Burger ($22) is something hubby would dream about (unfortunately he doesn't get to partake in the spoils of this trip, but dad is sure enjoying the perks instead). A double tower of ground beef patties is moist and juicy and accompanied by double layers of American cheddar, crispy bacon, Patissez bacon jam (oh what a cool invention), fresh tomato, cos lettuce, sweet gherkin mustard and Patissez special sauce. This is a whopper of a burger and we hear that some even accept the challenge of polishing off this monster along with a FreakShake – now that is stomach credibility.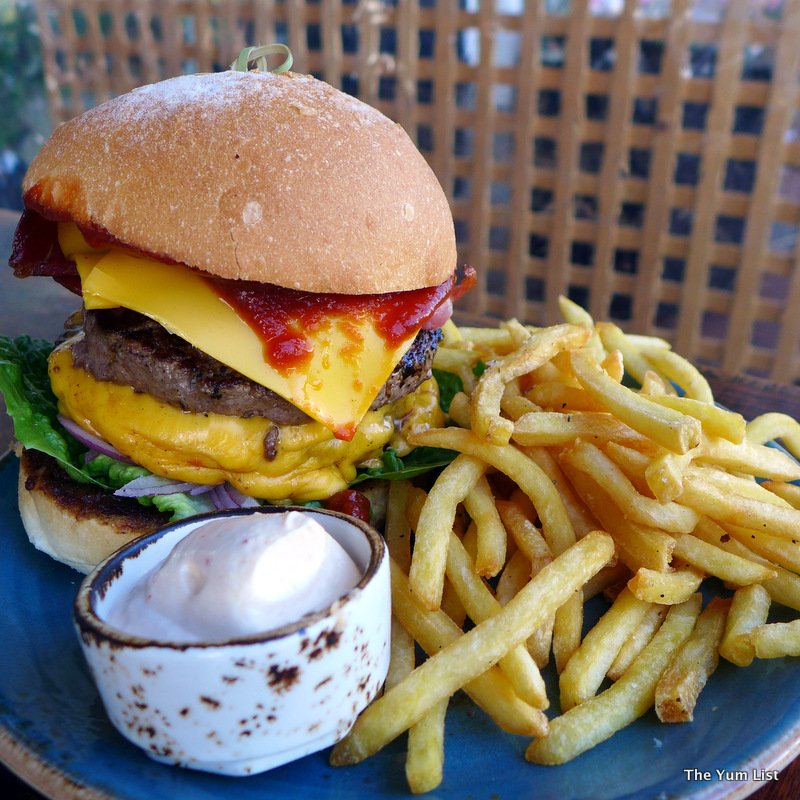 We're begging to allow some space for those phenomenal sweet creations Patissez is so famous for, but were assured the savoury items are too rapidly becoming the talk of the town so we follow up with Warm Winter Potato Salad ($17). True to its name, it does make a fine tummy comfort for the frigid outside air. Smoked Pialligo bacon (award winning loot from a local farm), green peas, golden chat potatoes, shallots, red cabbage, chipotle emulsion and fresh herbs make a tall hill on the plate.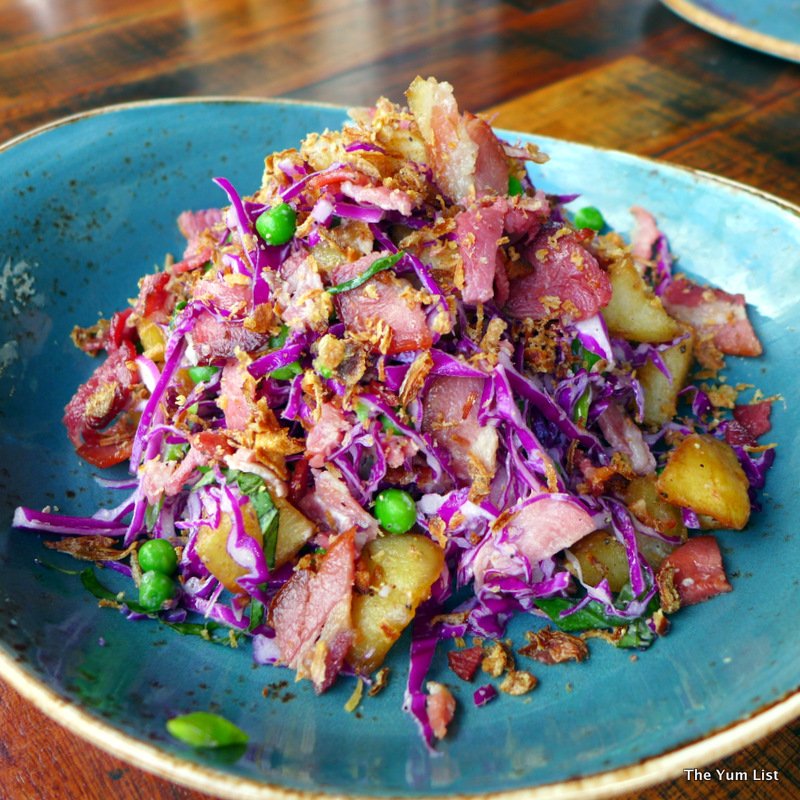 While the burger might be the epitome of hubby's fantasies, the Sam Choy Trout ($18) makes a strong contender for mine. Smoked trout, quinoa, red onions, capers, cherry tomatoes, lentils, creme fraiche and citrus olive oil fill five crisp lettuce cups making for another considerably sized portion. This would make a great sharing dish, but as a main it too is a satiating plate.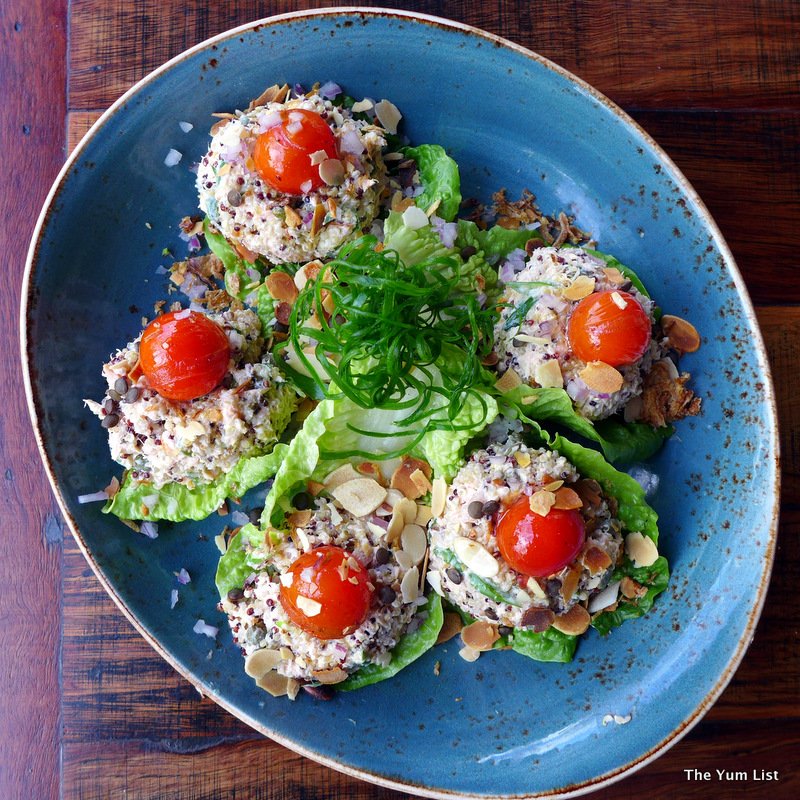 And now for the Shakes!
You've probably seen the Pretzella ($13.90) blasted all over social media. This was one of the originals. It comprises an opulent mix of Nutella, salted pretzels, and French vanilla bean mousse topped off with more Nutella and pretzels. Pretzels devoured, I futilely attempt to resist swiping my finger around the edge disposing of all last remains of Nutella. Decadent! (available in KL)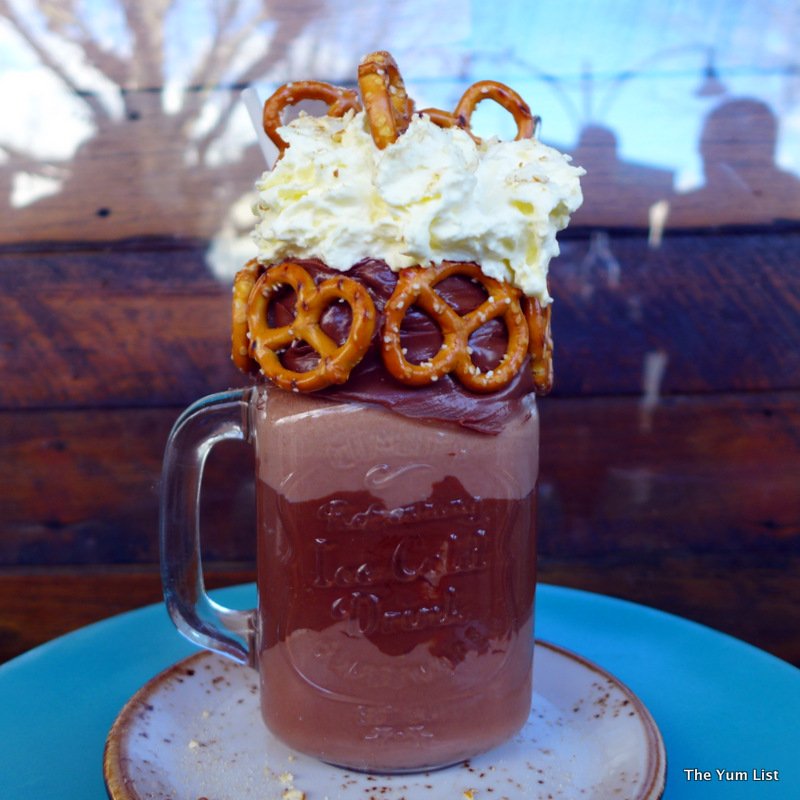 Mint chocolate ganache and chocolate buttons are finished with a mint mousse and house made choc mint semifreddo biscuit to form The Mint Condition ($13.90). Mirroring the original, the toppings plunge over the crest and down the flanks of the glass, affixed to the sides with soft sticky dark chocolate. It's one of the most popular yet to be made, and we can see why. (available in KL)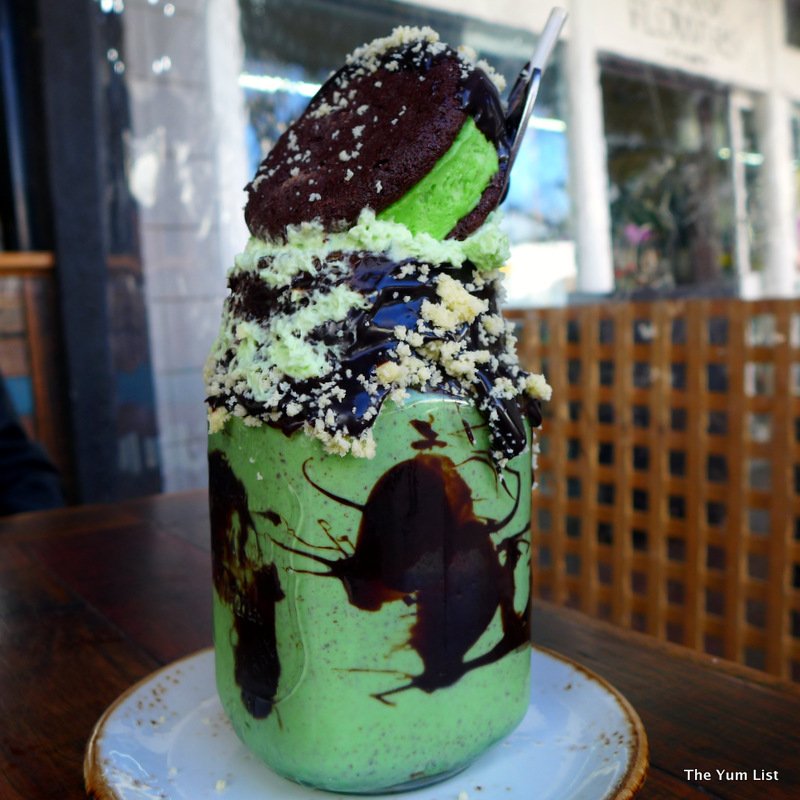 We've been extremely impressed with both the quality and portion sizes of the entire menu at Patissez. And, while FreakShakes are definitely a reason to visit, a delicious breakfast and lunch menu is what will keep us returning.
Reasons to visit: CRAZY good shakes and cakes; but not just the sweets – the brunch and lunch items are equally as delicious and make great brekkies and midday meals.
Patissez – Manuka Location
21 Bougainville St., Griffith
Canberra, ACT
Australia
+61 02 6156 3413
Opening hours:
Monday – Friday: 7:30am – 4pm
Weekend: 8am – 4pm
Civic Location
40 Marcus Clarke St., Canberra City
Canberra, ACT
Australia
+61 02 6156 3783
Opening hours:
Monday – Friday 7AM – 4PM
Weekend 8AM – 4PM