Monica Tindall
Celebrating one year of opening, Joe's Bar at East Hotel Canberra has been bustling from the beginning, and the buzz surrounding the good food and friendly chic atmosphere does not seem to be easing.  It's here where dad and I are fortunate to enjoy a meal during our stay at East Hotel Canberra. Clearly there's something special here as it's only 5:30pm on a Wednesday evening and the crowd flows in in a constant stream.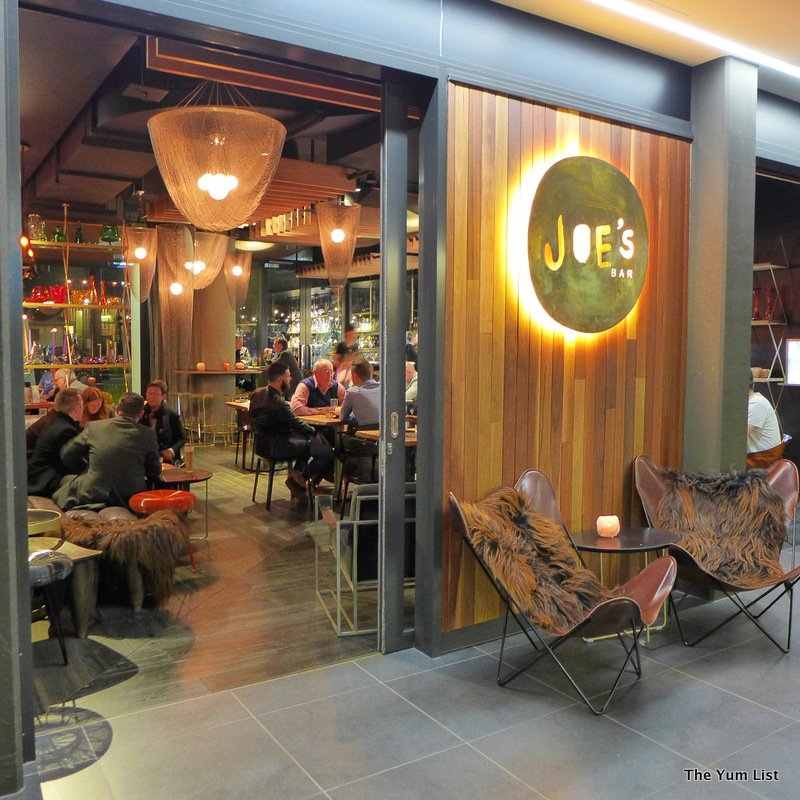 Chain metal light shades in various geometric forms hang from a ceiling paneled with layers of timber slats. Steel and hard plastic chairs with leather cushions surround bare wood tables, while lounges and bar stools offer additional seating. Tables are simply adorned with candleholders that resemble large crystals, and a long marble bar offers a view onto an attractive collection of liquor bottles. Accompanied by friendly service, the overall vibe is warm and chic.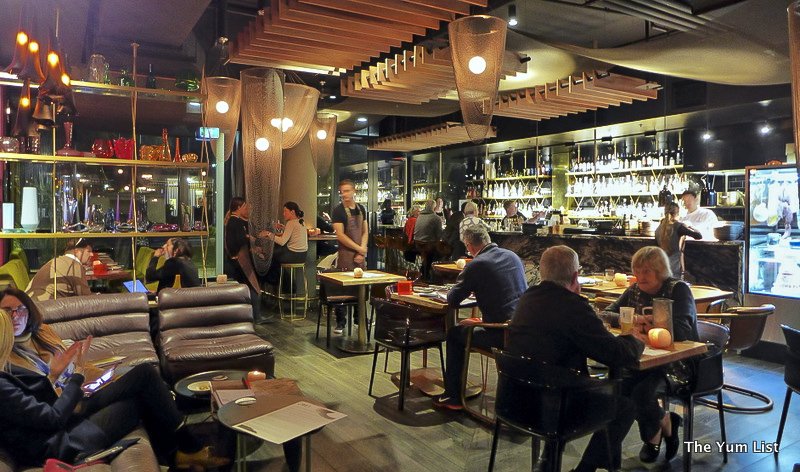 Chef Francesco greets us, "You want a drink? You like Negroni?" You already know my answer. It's ($16) made with Bulldog gin, Cinzano Rosso and Campari: a classic and done well. Dad tries an Italian beer, Peroni Nastro Azzura ($7.50) and reports satisfaction with the new draft. Popcorn sprinkled with paprika and Parmesan is delivered along with the drinks. It's a delicious bar snack, postponing hunger pangs, and encouraging us to drink more, as we quiz chef about the menu and concept behind Joe's Bar.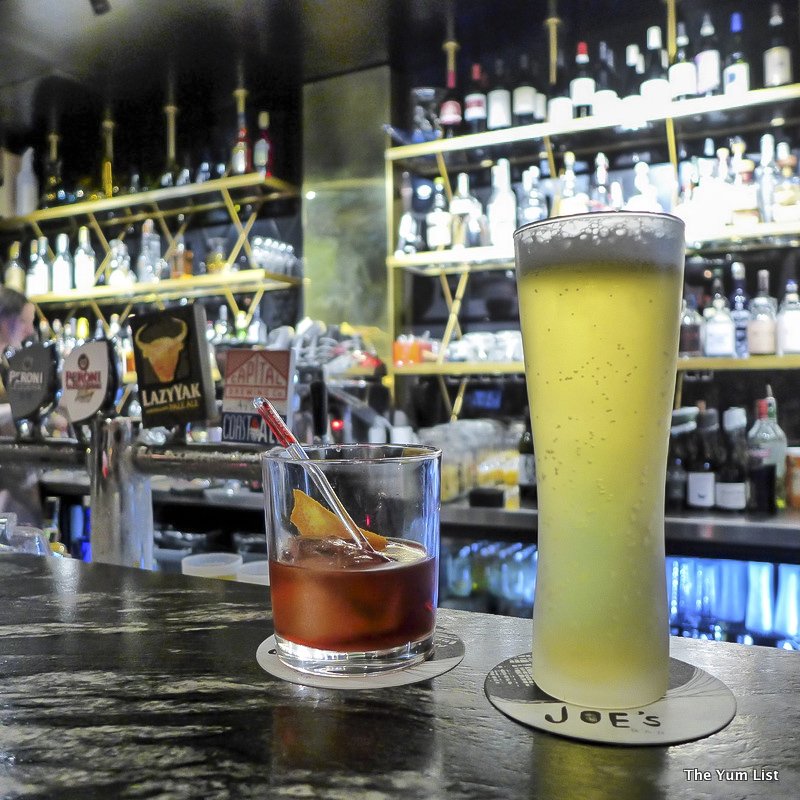 The menu is Italian, with Chef Francesco changing the menu seasonally, using mostly produce from small farmers from around Canberra. Chef explains his philosophy, "Only fresh pasta is sold here and it's all made in house. I insist on making everything from scratch. Sometimes my staff don't like it so much, but I teach them only the best. We make our own ice cream. Steak is the best, from Tasmania. The vegetables: they come from an Italian farmer near Canberra, they're not all perfect in shape, but they are full in taste. All the ingredients are local, except for the cheese and the prosciutto – they have to come from Italy."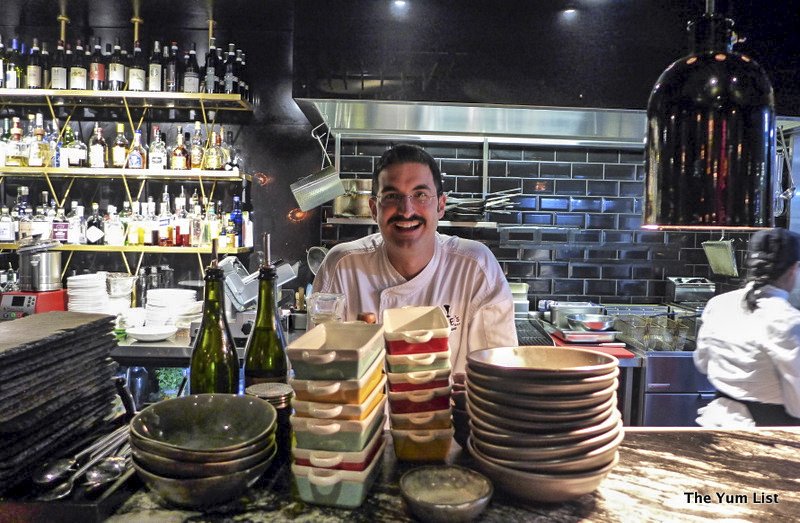 We're trying the winter menu. Francesco prides himself on creating menus that nobody else has. It's one page, just how I like it, and divided into two sharing sections ideal for social gatherings with friends, and two segments for dinner with individual plating.
Burrata con Tartufo ($24) is a dish typical of the Puglia region in Italy, and arrives in a cloud of mystery. It's encased in a smoke filled glass dome, which is lifted once set on the table enabling the smoke to tickle the nose before dissipating and revealing the beauty beneath. Covered with edible flowers, micro greens, yellow grape tomatoes and a shaving of truffles, it resembles a spring garden. We've just been on a truffle hunt at Blue Frog Farm with chef Francesco and witnessed him digging up and carefully selecting the best of the harvest to take back to the hotel. We can assure their freshness, but also the seriousness of chef in choosing the highest quality of ingredients. Oozy decadent burrata, made from cows milk and cream, slides off our forks in our first attempt to scoop it up. We soon change strategy, setting aside our forks and using knives to spread the velvety centrepiece onto chargrilled slices of baguette. Yum.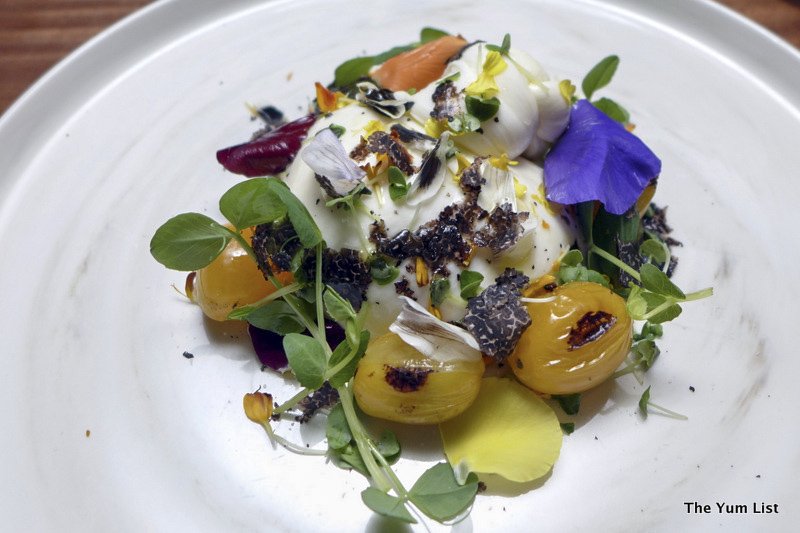 While my preference is generally to drink local, it's hard to ignore the fantastic Italian selection that the owners have curated and so I succumb. The 2014 Cantina Vietti Roero Arneis ($16) from Piemonte is a dry, crisp white, with typical characteristics from the region. The acidity cuts through the cheese and matches well with the truffles in our first cheesy starter.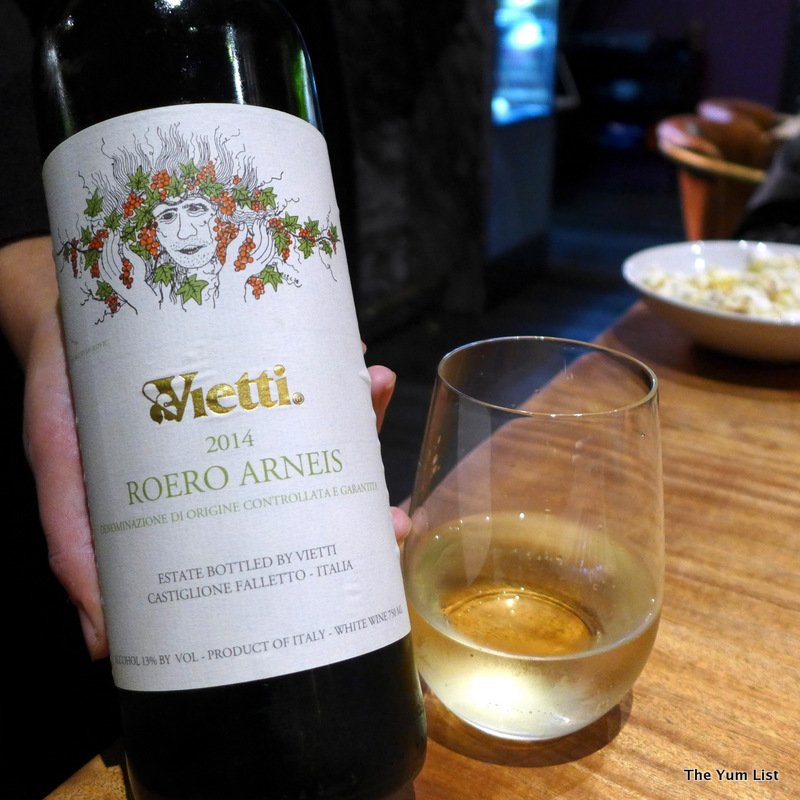 Chef is proud of the Fennel Pork Sausage with Broccolini ($15) made with chili and fennel, as it's his own recipe. The production is outsourced as Joe's kitchen space is limited, but Francesco personally visits (around breakfast time with bread he smiles) and ensures it's prepared exacting to his order. Dark leafy greens, the florets and leaves of broccolini, pad the plate, and lightly oiled, herbed and toasted baguette slices are ideal partners. The sausages are balanced in their herbiness and mild spice that lingers on the sides of the tongue well after swallowing. Delicious.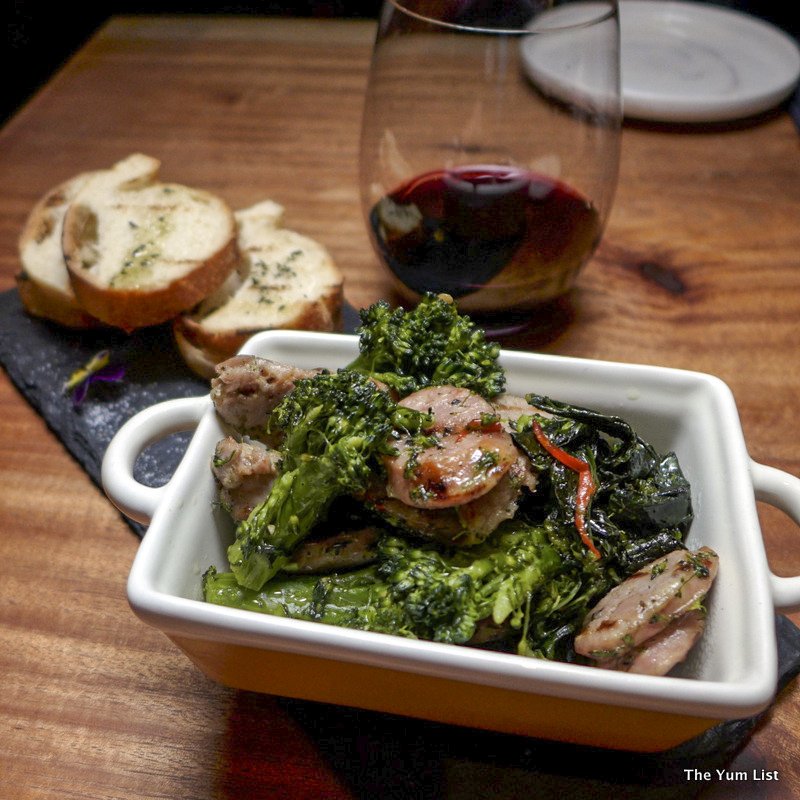 2008 Masseria Maime Negroamaro from Salento ($18) in Southern Italy is the recommended red for our mains. Produced from a small dark black grape, the wine is full of bold bright fruit flavours. The richness is well suited to pasta dishes and slow braises. Our friendly waitress discloses that it's a favourite of all the staff: a unique standout wine, and I have no trouble quaffing it either.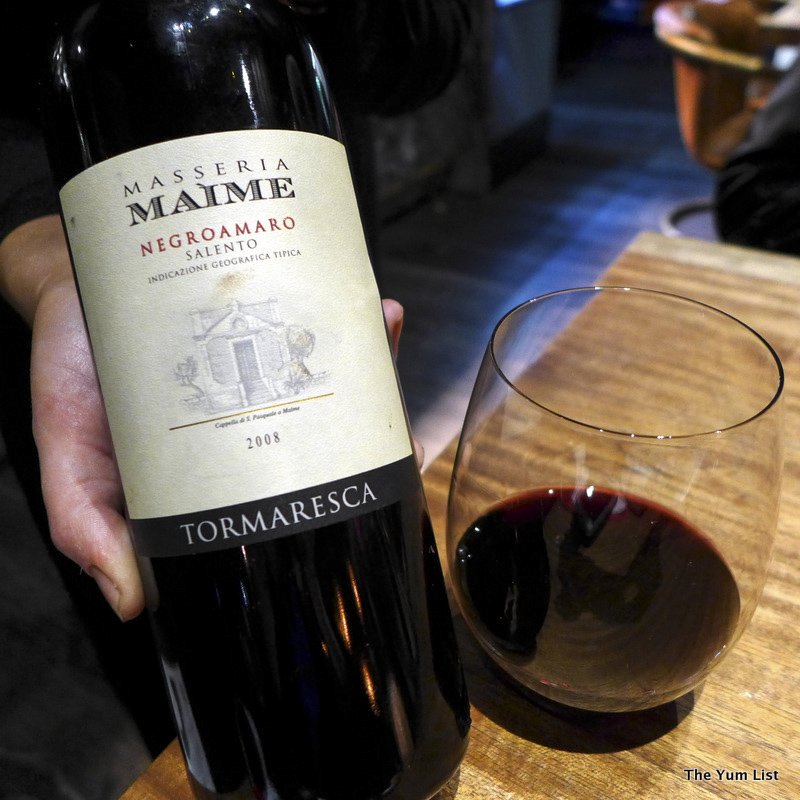 Gnocchi al Ragu ($18) is another dish that seems to make chef smile. The house made gnocchi is accompanied by ox tail ragu, which takes over seven hours to prepare. Delivered on a large rimmed plate, it's rustic in presentation and in flavour. This is certainly a tummy-warming dish befitting the biting winter months.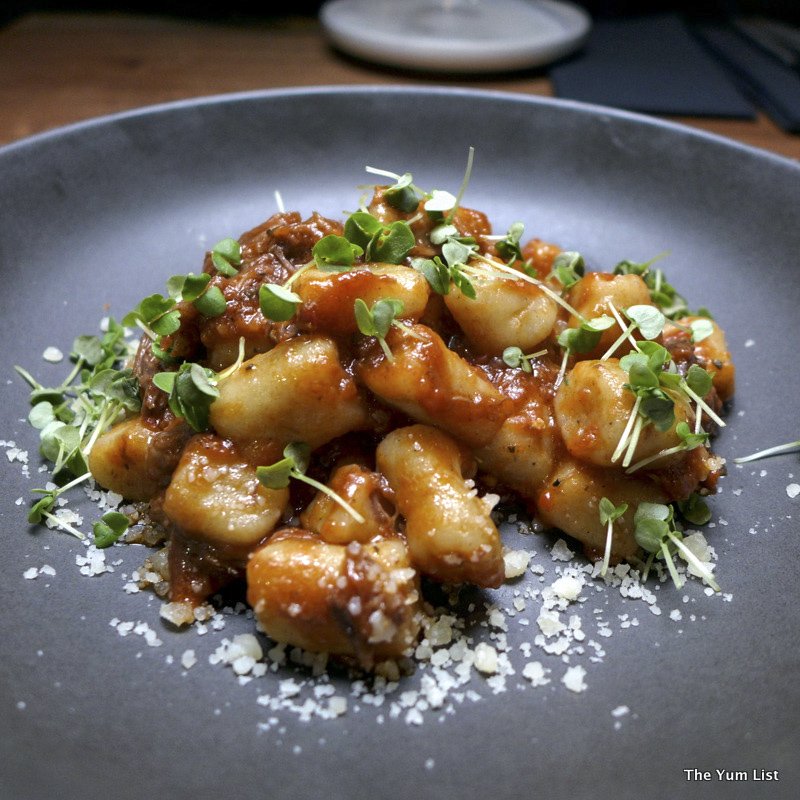 Ravioli di Zucca ($16), house made of course, is stuffed with pumpkin and ricotta and served with stracciatella di buffalo. Another pretty plate, the squares of pasta are sweet with the vegetable. The pumpkin is so gloriously sweet that I'm compelled to ask chef if he has cooked the pumpkin in milk and honey. He laughs at my naivety and says savour is due to the high caliber produce from local farms and a slow cooking technique. The cheese gives a milky liquid softening the edges of the al dente pasta, and flower petals add colour to the top.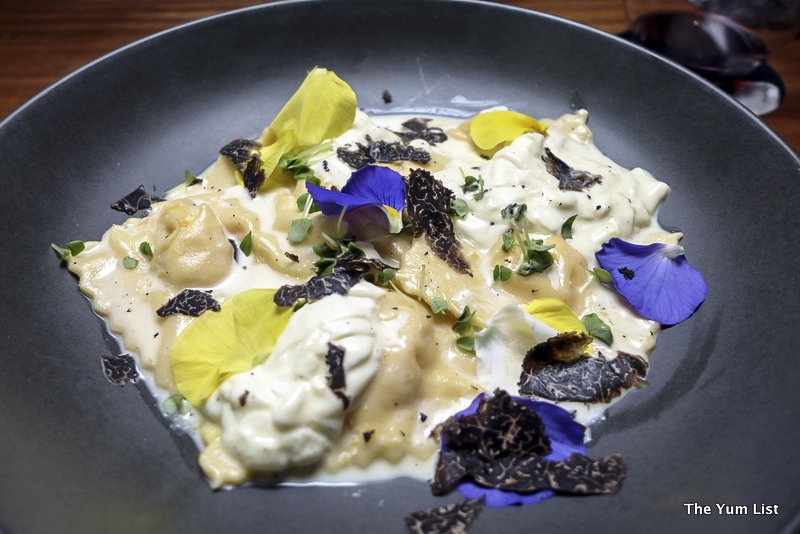 Broccolini ($10) is vibrant with its intense green hue. Again I quiz the chef on his secret, to which he replies that he has just handled quality ingredients from a local farm with care. The leaves and florets of the broccolini have been blanched and then quickly tossed in the fry pan with olive oil, chili and garlic. Dad can't resist a Popeye reference, and I'm superbly content having my green intake for the day.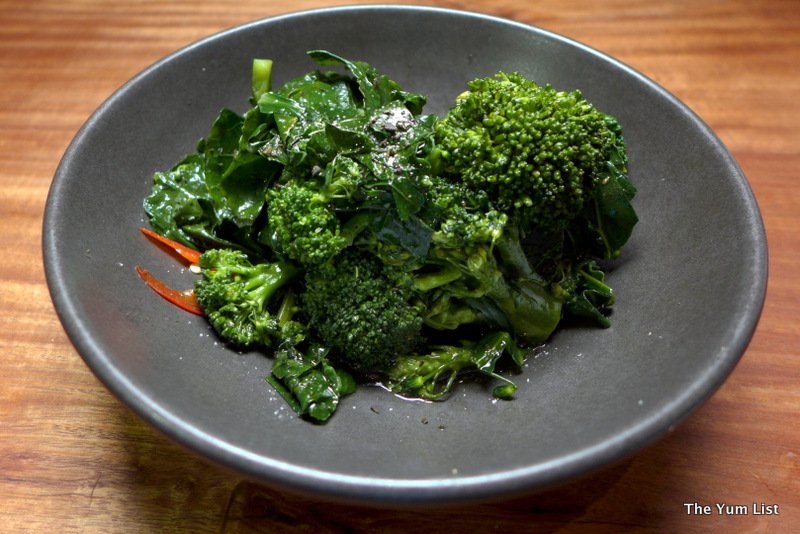 The Tramezzino al Gelato ($12) is another labour of love all made in house. Fig and brandy ice cream is sandwiched between crisp and buttery vanilla cookies. Chef catches on to my guilty addiction to Nutella and sends out the "children's" Nutella ice cream too. Thank you chef.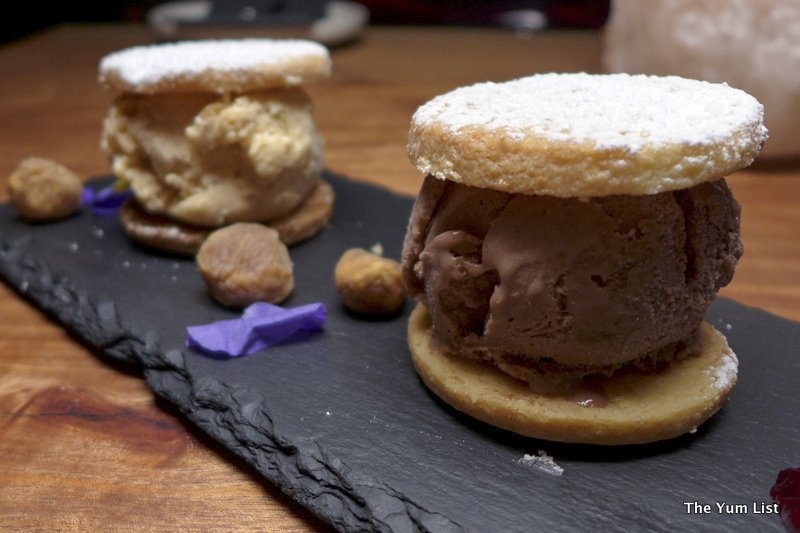 While choosing a digestive, we again see the influence of the Italian owners with their extraordinary selection of grappa – over 20 types. Sensing dad's apprehension towards grappa, chef starts off with Nardini's Acqua di Cedro, which is softer and easier to drink. It's infused with cedro (lemon) from the region of Bassano, which is clearly evident in the palate and ends with a gentle sweetness. We're rather fond of this one, but it's time to get serious according to chef so out comes the next "grown up" drink.
Marolo's Grappa di Moscato is 42% alcohol, and a much stronger aroma immediately alerts our nostrils. Chef declares this as his favourite and assures it will digest our food. It's certainly much more powerful, but also with additional complexity and a long enduring finish. Dad's preference is still the first, lighter sweeter aqua vita, while I'm with chef on this one – I can almost feel the food being broken down inside.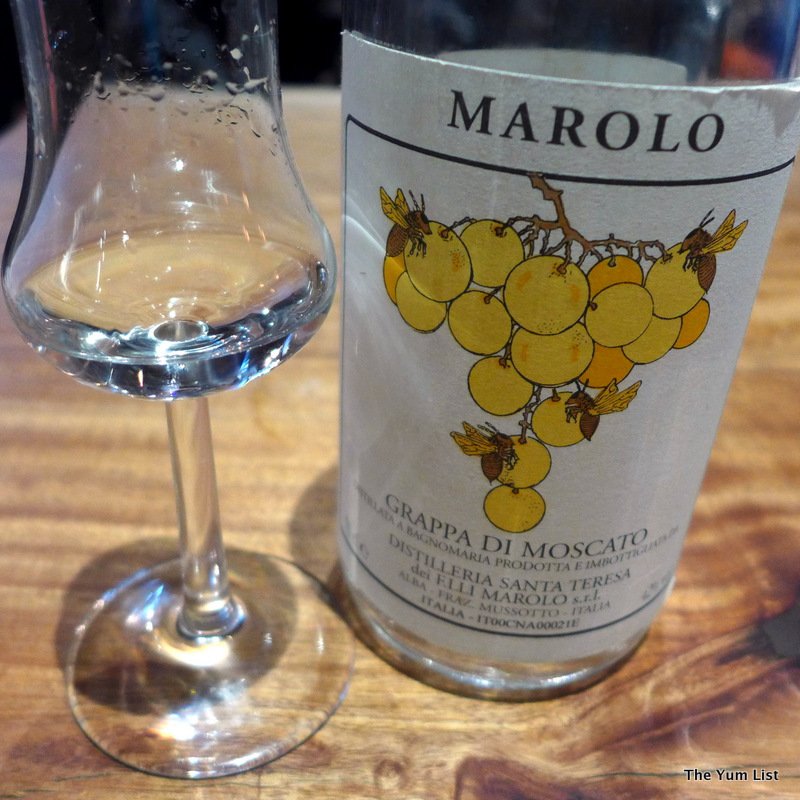 Reasons to visit: buzzing vibrant setting; high quality handmade everything; fresh pasta; chef Joe's chili and fennel sausages; gnocchi al ragu extensive Italian wine list; possibly the largest selection of grappa in Canberra.
Joe's Bar
East Hotel Canberra
69 Canberra Avenue,
Kingston ACT 2604
+61 2 6295 6925
[email protected]
www.easthotel.com.au