I was first enamoured by Chef Bo Sorensen's recipes last year during a stay at the Shangri-La Hotel Sydney. Hotel Head Chef, Bo provides guests with traditional comfort dishes for their stay away from home, but also cooks up an enticing revamp on classic Asian cuisine in Cafe Mix. Based in Malaysia, Beef Rendang will never be the same for me again after trying Chef Bo's lush version with prime cuts of meat and decadent macadamia nuts. Needless to say, we (I'm with my high school friend and master foodie Sharon today) can't wait to discover what he has been cooking up (literally) a year on.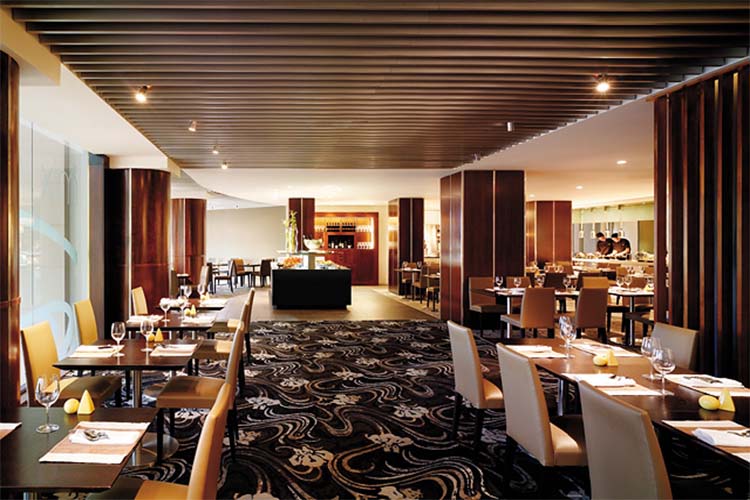 "I like ugly veg," declares chef as he brings out the first dish, Ponzu King Fish with Seaweed Salad and Radish ($15). "Vegetables shouldn't all be uniform. They should be odd and different, the way nature intended them to be," he continues as he talks about the locally sourced vegetables, naming farmers and where each ingredient comes from. Baby elk micro greens, watermelon radishes, toasted sesame, torched grapefruit and chili salt accompany the thin slices of hiramasa Carpaccio. It's a well-balanced dish and we can taste the obvious freshness and quality of ingredients.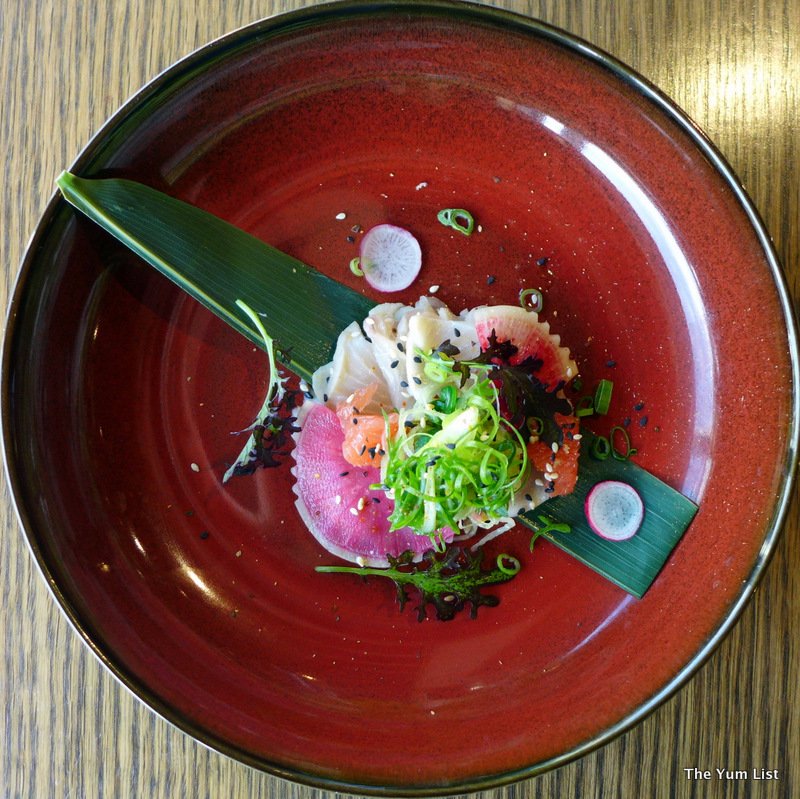 Shangri-La menus across the world use leaf icons to indicate items rooted in nature – recipes that feature sustainably sourced produce, responsibly harvested and with minimum carbon footprint. I've long admired Shangri-La hotels for being one of the first hotel groups in Asia to banish shark's fin from their menu and their general CSR policies, and this leaf coding of the dishes makes it easy for me to further support their 'green' efforts.
Our timing is perfect for the special of this week – hand-dived scallops from Kangaroo Island. The unique purple shells provide a pretty base for both a hot and cold version. The warmed scallops are accompanied with a creamy pea puree, master stock, crisped braised pork belly and given a zing with finger lime caviar. The cold sashimi is topped with a Japanese inspired salad of daikon, seaweed and sweet onion vinaigrette. I think it's an awesome start and, "Ah, ooh, it's delicious," confirms my dining buddy Sharon. Chef Bo impresses again by not only telling us a little about the sustainable fishing techniques used to attain these beauties, but also with the name of the actual diver, Paul Pallaco, who caught them!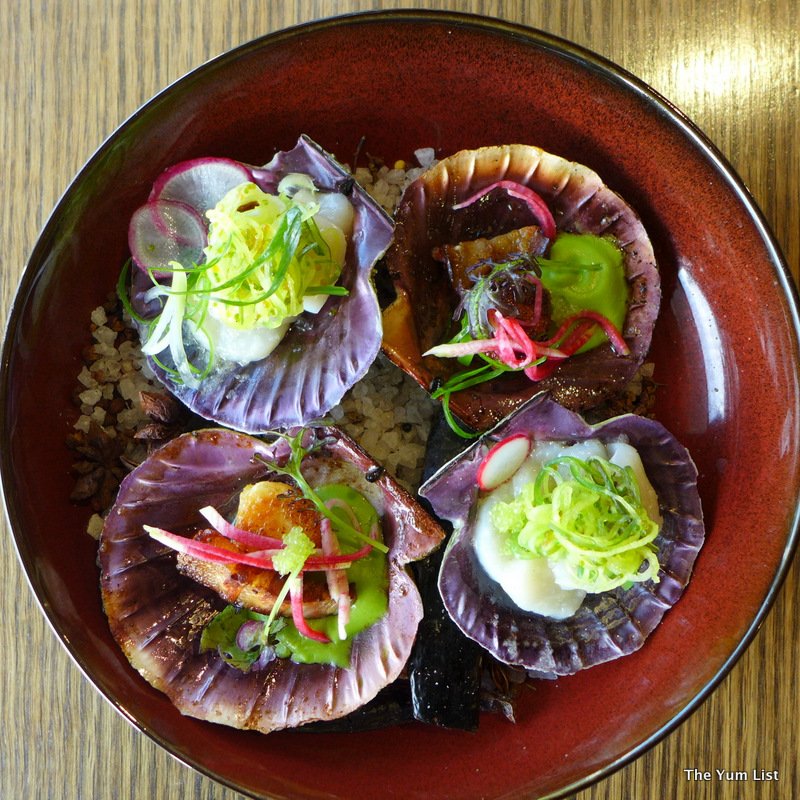 We're fortunate another rotating special is on the menu today, one of my favourites, Mamacini – that's right, arancini, only bigger, mama dimensions! The filling is a moist and flavourful master stock braised oxtail with pickled bok choi, encased in risotto and drizzled with a delicious stream of sriracha mayo. Its partner in crime is a similarly made, Faux Pop on a stick. This is a meatier version of the mamacini omitting the veg and rice. It's been pressed in an ice cream mould to give the distinctive shape and coated in a thin brioche crumb. Yum!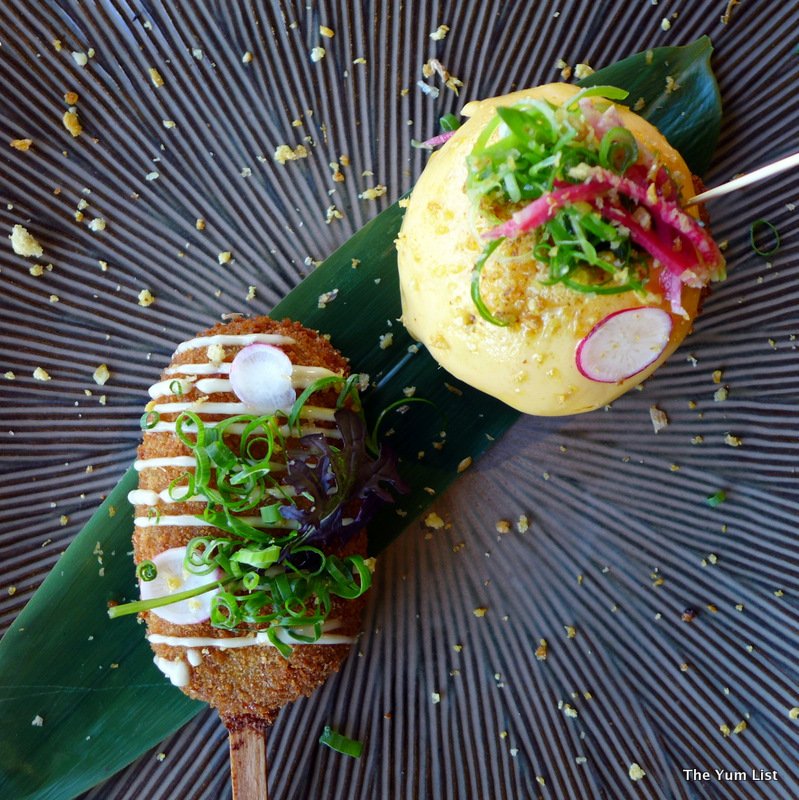 "This is my playground. I was trained in western cooking techniques, but I'm half Chinese, so I love experimenting with Asian street food," reveals chef as he delivers one of the most popular dishes on the menu. Rou Jia Mo ($15) is braised pork and oxtail wedged between a soft white bun – a 'Chinese burger,' and supposedly one of the oldest sandwiches known to man. Chinese veggies that have been house pickled gift a light saltiness, which is smoothed over by sriracha mayo, and freshened with raw bok choi. I check in on Sharon and find I need no other words to describe this gem other than a direct quote, "I inhaled it. It must have been good."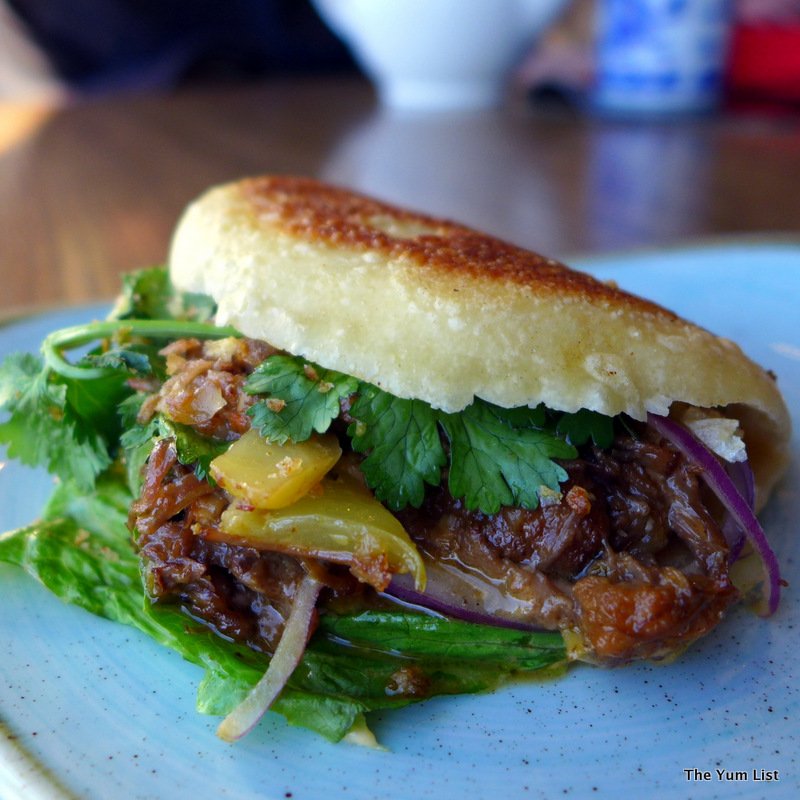 'Chionguing' Sweet Potato Noodles ($19), we're warned, are "… messy. You might want to wear a bib." Joined by spicy pork mince, crushed peanuts, pickled radishes, bok choi, black fungus, red chilli slices, and hot and sour soup, "Everything is made sure to Chinese style." "Bare tables, no cloth, more fun," assures chef departing with a cheeky smile. The slippery transparent noodles slide off our metal chopsticks. We poke and pick, swap chopsticks for forks and spoons, bring the bowl close to our mouths, return to chopsticks, slip, slurp, splash and enjoy every single messy moment. Chef was right. They're both fun and delicious.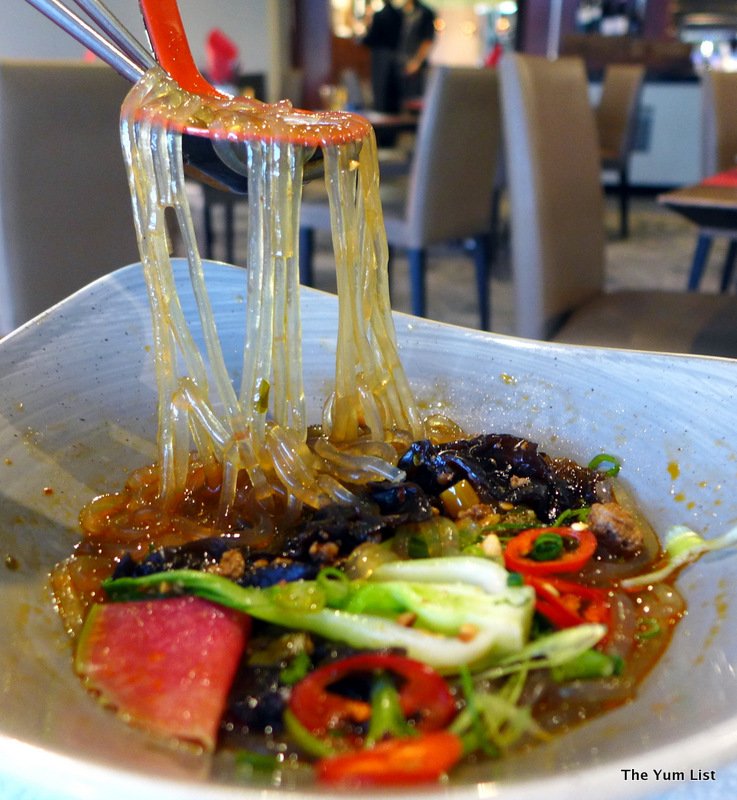 "Every Asian restaurant must have a fried rice," informs chef Bo, and so we are presented with Shang Fried Rice ($18). It's meticulously made with luscious char siu that's been marinated overnight and prepared from scratch in house. Prawns and eggs add more protein, and rice that has been quickly fried in the wok has a seductive crispness to it.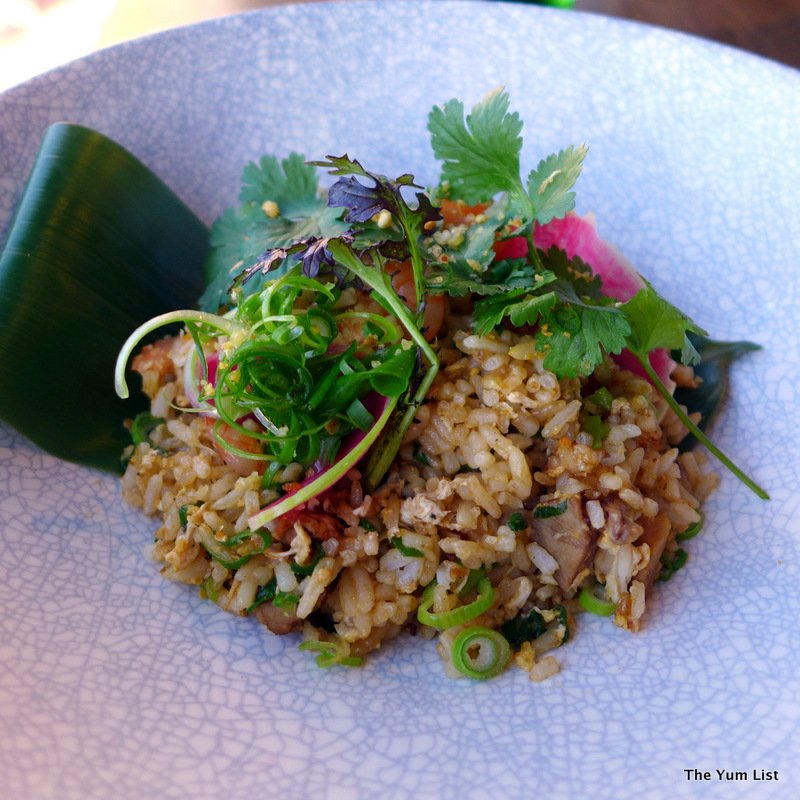 Another dish with fabulously crisp rice bits is tendered in a cast iron pot. Black Pepper Beef Short Ribs ($25) get 'wokked,' (I think chef just invented a new verb) then tossed with baby corn, sugar snaps, fried garlic, cherry tomatoes, capsicum and white onion. As in all good pan dishes such as paella and bibimbap, the best bits are the crunchy rice grains around the edges. Full flavoured meat falls off the bone, "full of beefy goodness," Shaz proclaims. We both drool as we scrape the edges of the pot and appreciate our last main.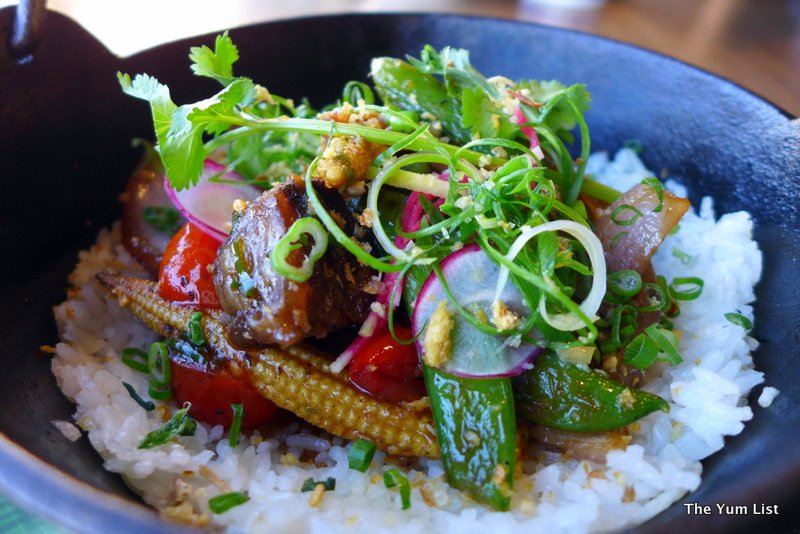 There are four dishes on the dessert menu and chef enquires which one I haven't yet tried. I smile a broad grin and proudly state we polished ALL of them off on our last visit so ask Shaz which one grabs her fancy. Fried Coconut Mag-Anna Ice Cream ($12) with shredded young coconut and palm sugar is the pick and it certainly does not disappoint. Quick fried ice cream provides hot and cold in one mouthful and the scrummy caramel sauce it's based in gets mopped up until the plate is polished clean.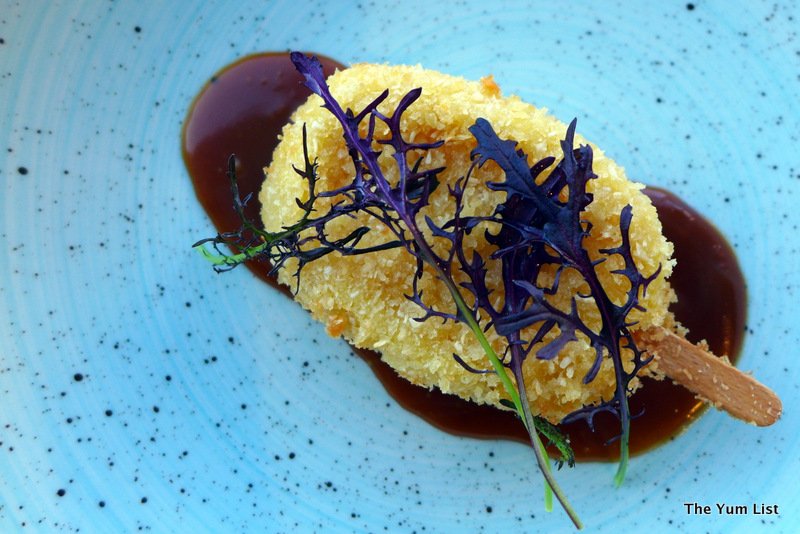 Reasons to visit:  the environment and the menu give no hint to the deliciousness that exits the kitchen – it's almost like a speakeasy – you don't expect such creative dishes to come from the all-day-dining outlet of the hotel; every dish has an uncomplicated yet fun presentation; a real effort to use local sustainably sourced ingredients; don't miss the Mamacini, Scallops, Rou Jia Mo and Sweet Potato Noodles for a bit of fun.
Café Mix
Shangri-La Hotel Sydney
176 Cumberland Street
The Rocks, Sydney
NSW 2000, Australia
+61 (0)2 9250 6000
www.shangri-la.com/sydney/shangrila