Part of one of Sydney's hottest boutique hotels, QT Sydney, Gowings Bar & Grill first caught my attention with their breakfast menu. Natural leavened stone baked bread, spelt, organic, flax, pomegranate molasses, raspberry sherbet, choice of milks – almond, soy, rice, cow -, free range eggs: basically a whole lot of healthy options on top of the double smoked bacon and chipolata chorizo sausage (sausage times three!). This was a place where hubby and I could both be happy.
Encouraged by the brekkie selection, feeling unadventurous due to the biting outside temperatures, and also stimulated by the stylish, quirky and fun experience I'd already had since checking into the hotel, all signs were suggesting that dinner at Gowings Bar & Grill would be a good thing.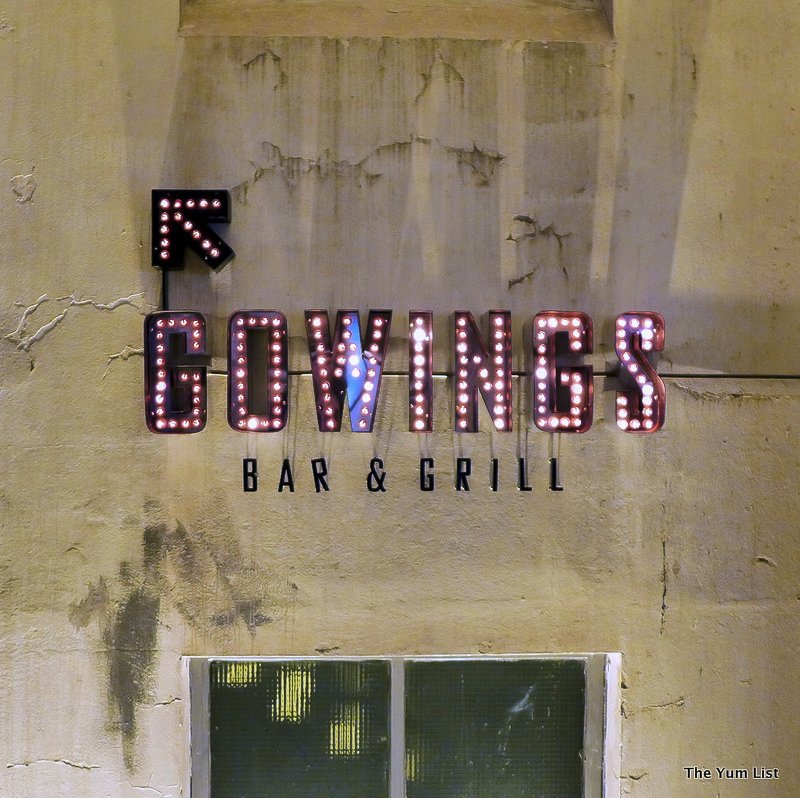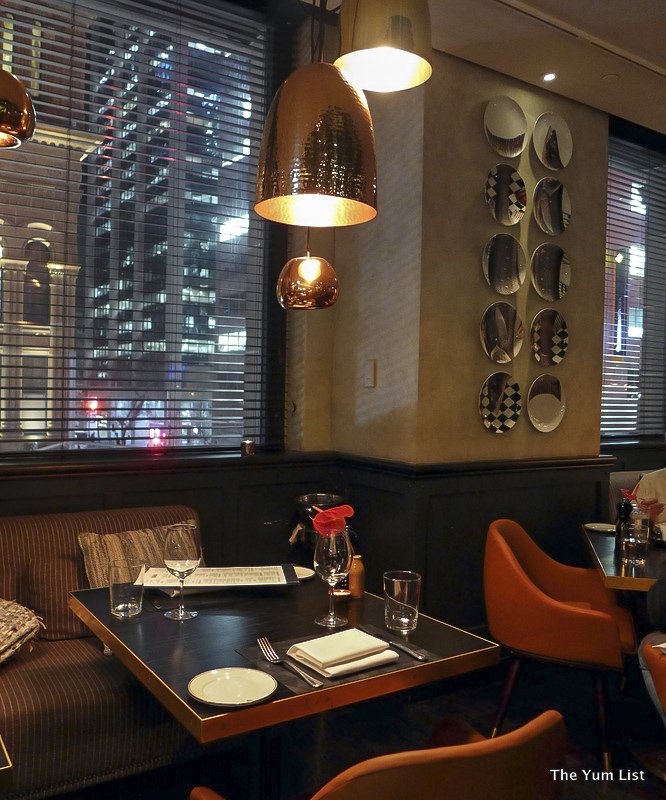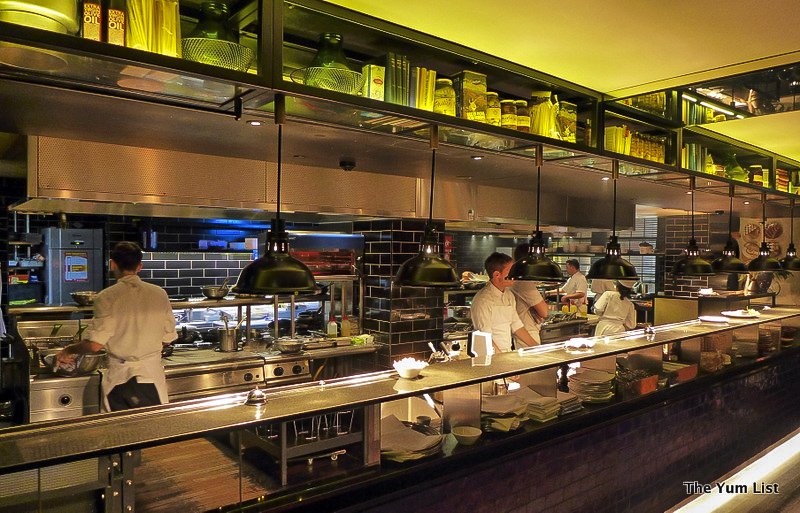 The European style brasserie was created by acclaimed restaurateur Robert Marchetti, and the kitchen is headed by Chef Paul Easson also of culinary fame with his prior appointment at Rockpool Bar & Grill in Melbourne. Upon first glance it's a contemporary setting with lots of shiny surfaces. Closer inspection though unveils edgy art and eccentric details that keep interest sustained over a number of visits. The menu promises quality local ingredients from artisan suppliers, rotisserie ovens and grills, and a significant assortment of fish.
A bit of Aussie bubbly seems an appropriate start, and the Deviation Road "Altair" Rose Brut NV ($16) from Adelaide Hills, South Australia proves a satisfying drop.  A blend of pinot noir and chardonnay, there are some fresh summer berry aromas on the nose and a mild spice, which continue into the mouth. It would be easy drinking on its own, but it has a lengthy finish and the effervescence cleanses the palate between bites of my cheese and veggie starter.
Stuffed Up Globe Artichokes ($34) are one of the house specialties featuring local produce for this month. The veg comes from Greg Xerri at Freemans Reach NSW. To know a farmer by name shows how much importance the kitchen team places on sourcing the freshest and highest quality produce. Filled with fresh goats cheese and pecorino, and fried in a light crumb, the artichokes are accompanied by a salad of raw zucchini, fennel, squash and dill. A smooth vodka tomato sauce moistens the base. It's a fantastic combination of warm and cool, garden fresh and creamy. I'd order this one again without a doubt.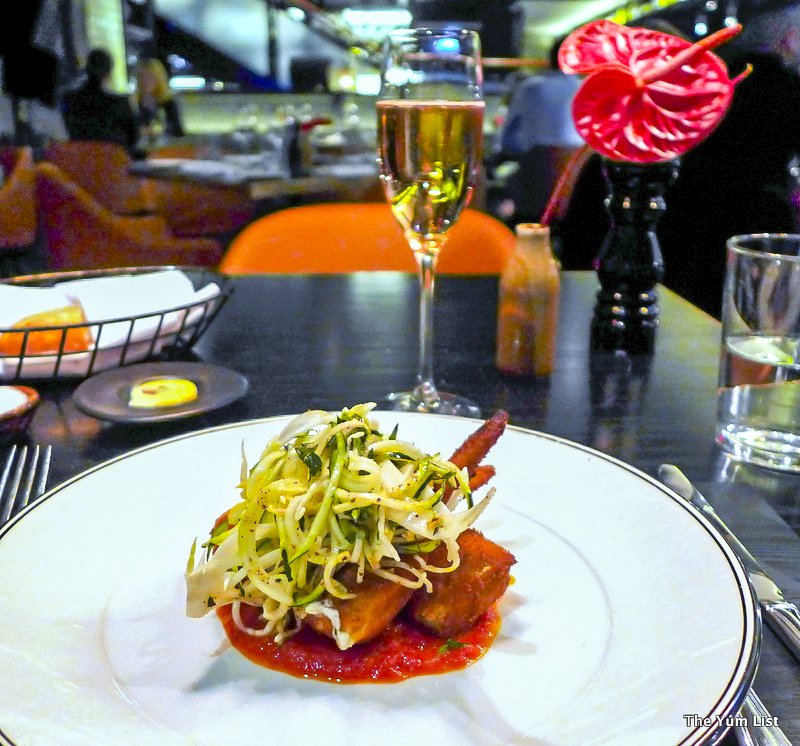 I'm impressed with the quick and knowledgeable recommendations of the staff for wine. I ask for something to pair with my trout main, and my waiter rattles off five different wines and gives reasons for each pairing. I want something Aussie so choose the Moorilla Estate "Praxis" Pinot Noir 2015 ($15) from Tamar in Tasmania. The first thing I notice is its brilliant colour. Bright young cherry in the glass, I'd love to own a dress in this hue. It's luscious and fills the mouth with berries. The soft acidity plays well with the fish.
The Healthy Fish Dish ($36) is composed of wood-roasted ocean trout fillets that have been dusted in sumac, rare with its roe. Roasted garlic chives and wild steamed black rice provide a great chew basing the fish, and a 64-degree free-range egg tops the pink flesh. The fish has been cooked flawlessly and the rice has a great bite with a delicious mildly tangy dressing. My personal preference for egg is for the white to be cooked all the way through to the edges of the yolk, but the yellow to remain a little runny in the middle. This egg is not overcooked, but the yolk is cooked through, so depending on your preference you might like to request your eggs to be cooked to personal liking when you order. All in though, it's a superb dish.
Pressing Matters Riesling R139 2015 ($18) from Coal Valley, Tasmania is the suggested wine to go with my dessert. It has lovely savoury aromas and presents as sweet but not saccharine on the palate. It's much lighter than my usual sticky botrytis choices, and I'm pleased with its balance and acidity as a complementary but not overdoing-it partner to my sweets.
My Pavlova ($16), Australia's national dessert, is given an upgrade at Gowing's Bar and Grill. Soft and sticky baked meringue (for the record, the best pavlova is sticky in the middle, if it's dry, it's not pavlova, just meringue) is drizzled with passion fruit sauce and topped with slices of sugar bananas, shreds of green coconut flesh, toasted dessicated coconut and vanilla Chantilly. My mum still holds first place for her rendition of this classic, but this is an admirable version and the wine pairing is superb. Kudos to my waiter who (a man after my own heart) recommended I change my dessert order based on my chosen wine.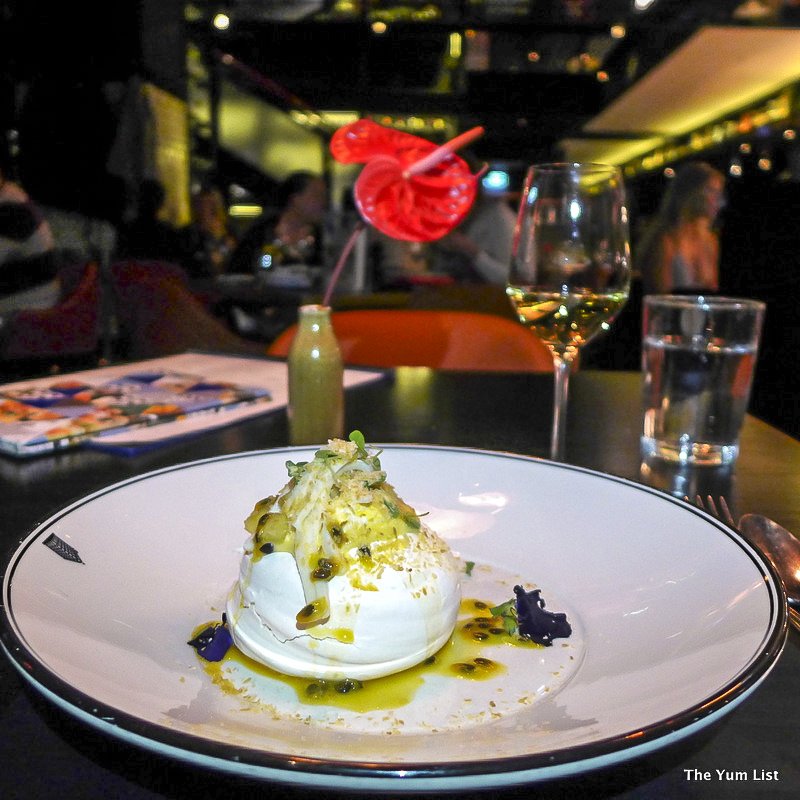 And hey, as it's Friday night, and the beverage menu has been excellent, I should be having one last drink to conclude. Something simple, but of high quality, Ron Zacapa XO ($40), is the perfect nightcap.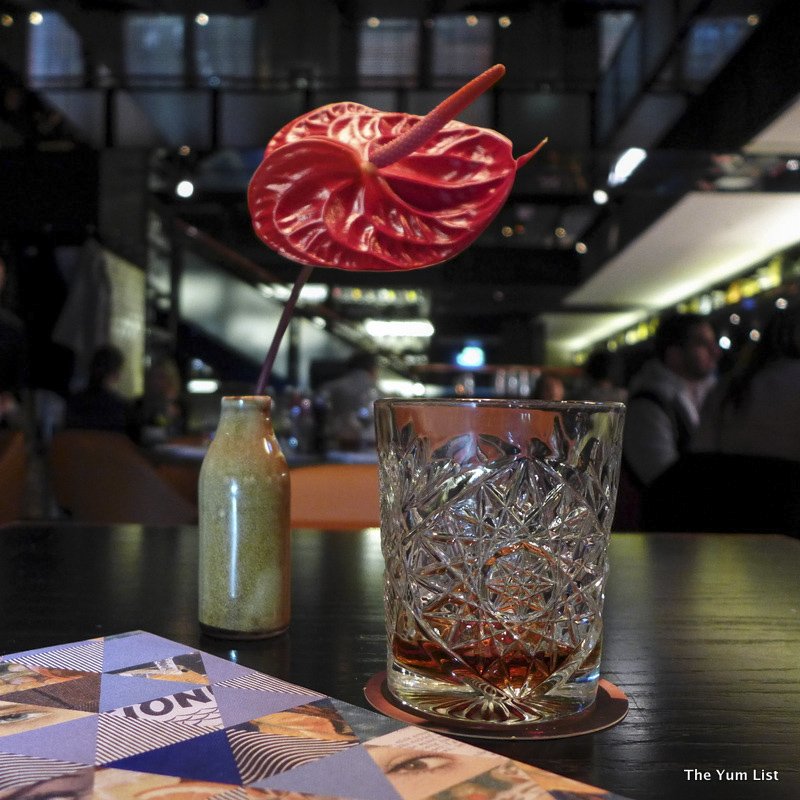 Dinner was highly successful so I return the following morning ready to try out some of those interesting brekkie options. Straight off, coffee is good. I've found few hotels that do a decent barista style coffee and Gowings Bar and Grill is officially one of them. I have a hard time deciding between dishes and my waitress kindly advises that the portions are large – really too large to reasonably polish off more than one. She does offer to have a sweet word with the chef though and try to convince him to give me a smaller serving of one of my requests.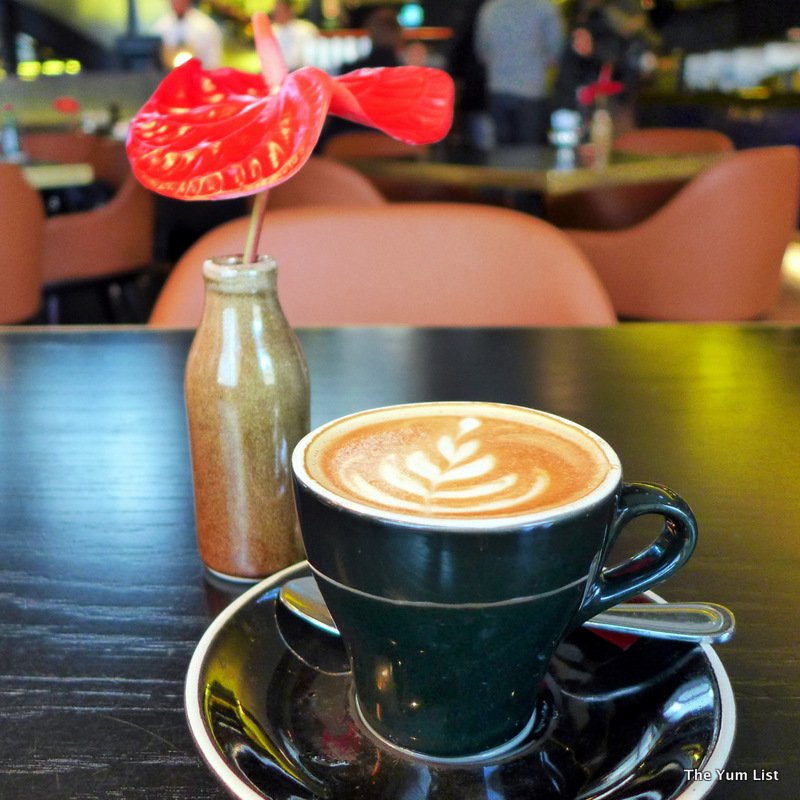 And so it is, I receive a half portion of the Watermelon Salad (full portion $12), which features juicy vibrant cubes of red melon sprinkled with pomegranate aril, pomegranate molasses, mint and ricotta. My large dish is the My Idea of Nut Butter Morning Toast ($18). Thick dense slices of toasted fruit spelt bread provide a filling base for macadamia nut butter, riberry (Aussie bush berry) jam, fresh kiwi triangles and crushed macadamias. A generous bowl of thick creamy natural yoghurt drizzled with honey makes a fantastic finish.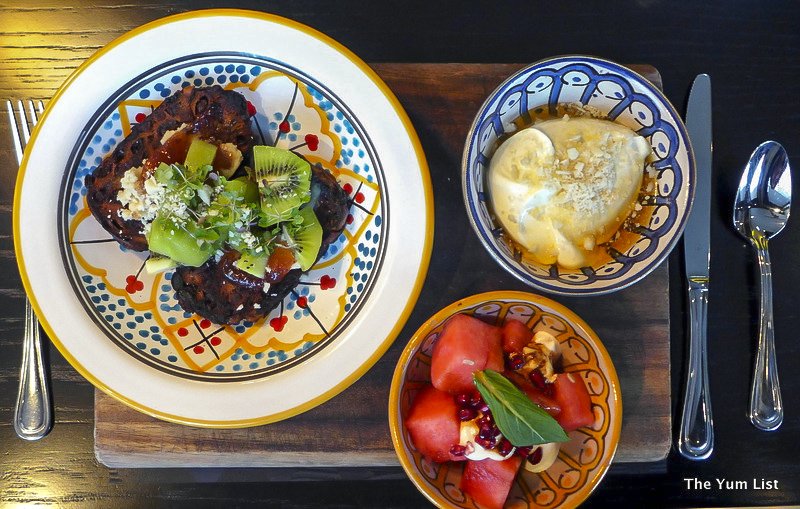 A quality and creative breakfast and dinner menu, excellent beverage selection with expert pairing recommendations, friendly and fun service, and a stylish and contemporary setting are all indicators of a great experience at Gowings Bar & Grill.
Reasons to visit: menu based on fresh local produce; good variety of healthy and more decadent options; expert service; good drink list.
Gowings Bar & Grill
QT Sydney
49 Market Street
Sydney, NSW 2000
Australia
+61 2 8262 0000
[email protected]
www.qthotels.com.au